Click here to see the trip continuing from Oct 28th
* * * October 1/2 - SFO to Hong Kong
Today I have started a long adventure to Asia. I'm traveling with Tom O'Reilly. Our friend Ron Moy will join us in Bangkok, shortly. Before we return home on November 20th, we will have gone to Thailand, Myanmar, Cambodia, Laos and Vietnam.
Our flight was at 1:35PM on Cathay Pacific. While I'm away, my cousin Roger and his friend Nick are staying at my house. Roger and Nick drove me to the airport where Tom O. was waiting. The plane took off on time for the 13:30 hour flight.
I was seated in the upper deck, in a little narrow cubicle. All of the controls are on the left side: lights, LCD screen, electrical plug, seat adjustment, etc. One button made the seat go flat. The head rest was a pillow and a comforter was provided.
I could not find my sleeping pills (I think I left them at home!) so I watched movies until I fell asleep. I saw: Angels and Demons, Night at the Museum - Battle of the Smithsonian, Taking of Pelham 123, Hutong Days, Iron Man, Terminator Salvation, Fast and Furious. I slept through most of the last one.
We landed about 7PM and passed through immigration and customs quickly. TomO got some HK dollars from the ATM and we bought tickets for the Airport Express train to Kowloon Station. We found out there was a free shuttle bus that took us to the metro station near our hotel. Unfortunately it was the wrong station and we ended up walking a mile to the correct station.
In Kowloon, we are staying at the CityView Hotel right next to the Yau Ma Tei metro station. Very convenient location.
After breakfast at the hotel we set out to explore our neighborhood. We are in the densest area of Kowloon and about 3 blocks from the Ladies Market. We were too early and a lot of shops are not open. One alley was lined with open-air stalls and we will go back later on when they open. And one street had vendors of fresh vegetables and fruit
Sunday October 4 Ngong Ping
On Sunday, we decided to take the cable car to Lantau Island. This is the largest island in Hong Kong and is home to the new Hong Kong International Airport (on filled land), the Disneyland Resort and the tourist attraction Ngong Ping Village.

To get there we took 2 metro lines to Tung Chung, a city opposite the airport where there are a number of highrise apartment buildings. It was also the terminal for the cable car which takes you over land and sea to the village. We chose the "Crystal Cabin". You pay a little more to ride in a cable car with a glass bottom. And you wait in shorter lines!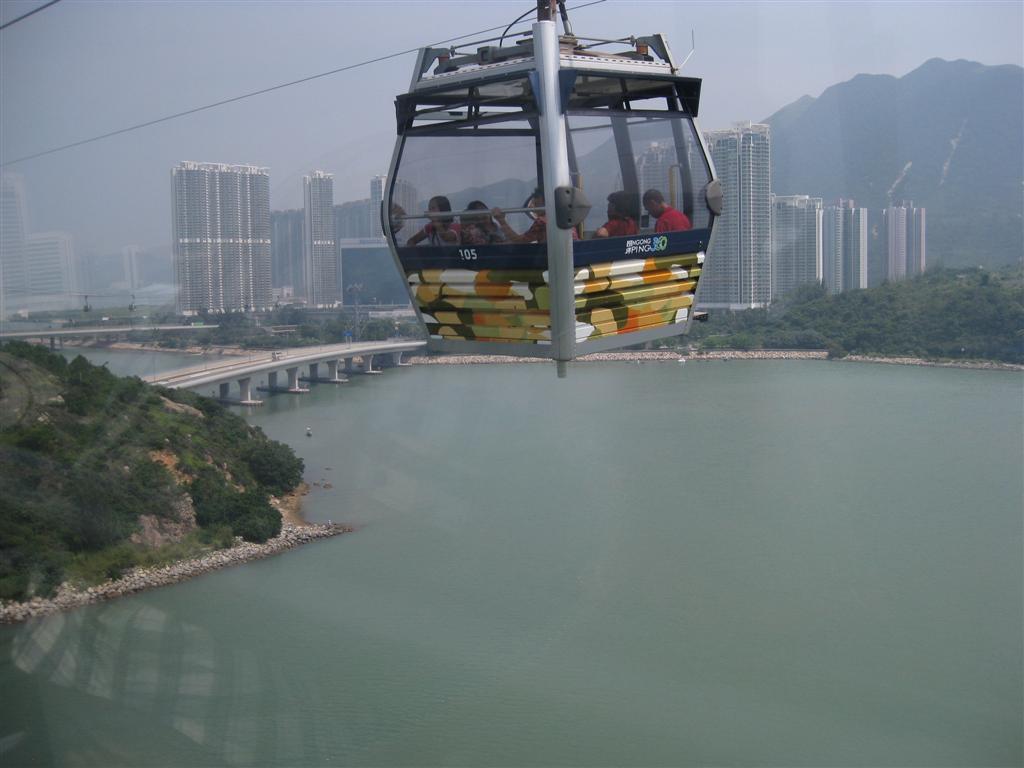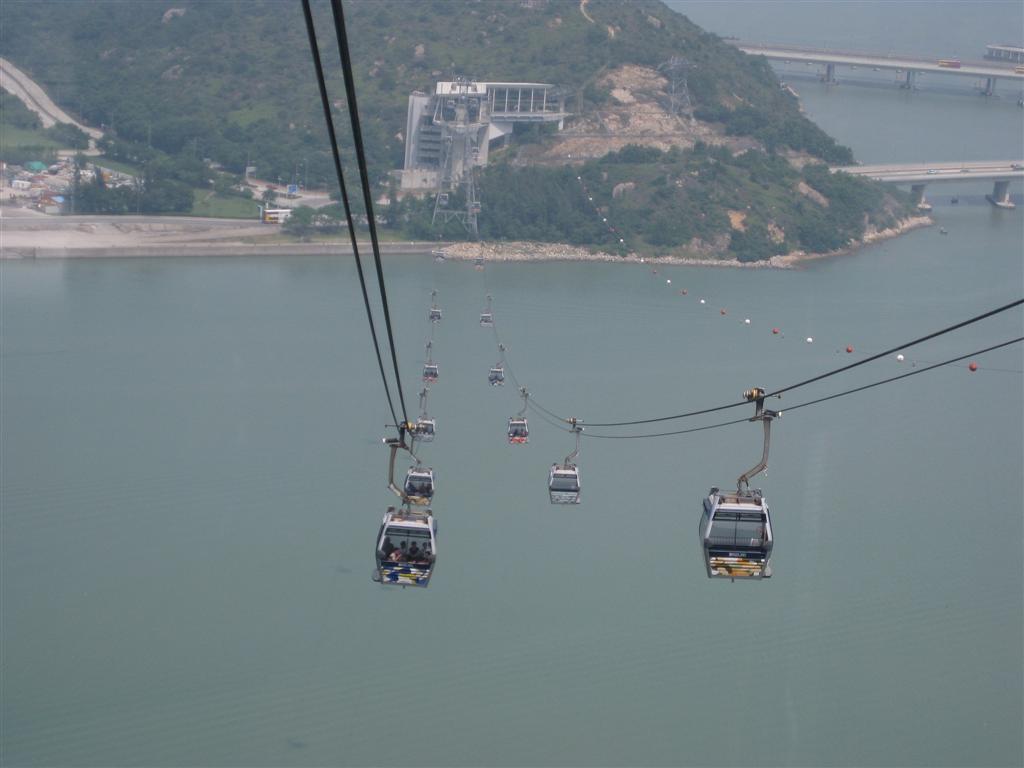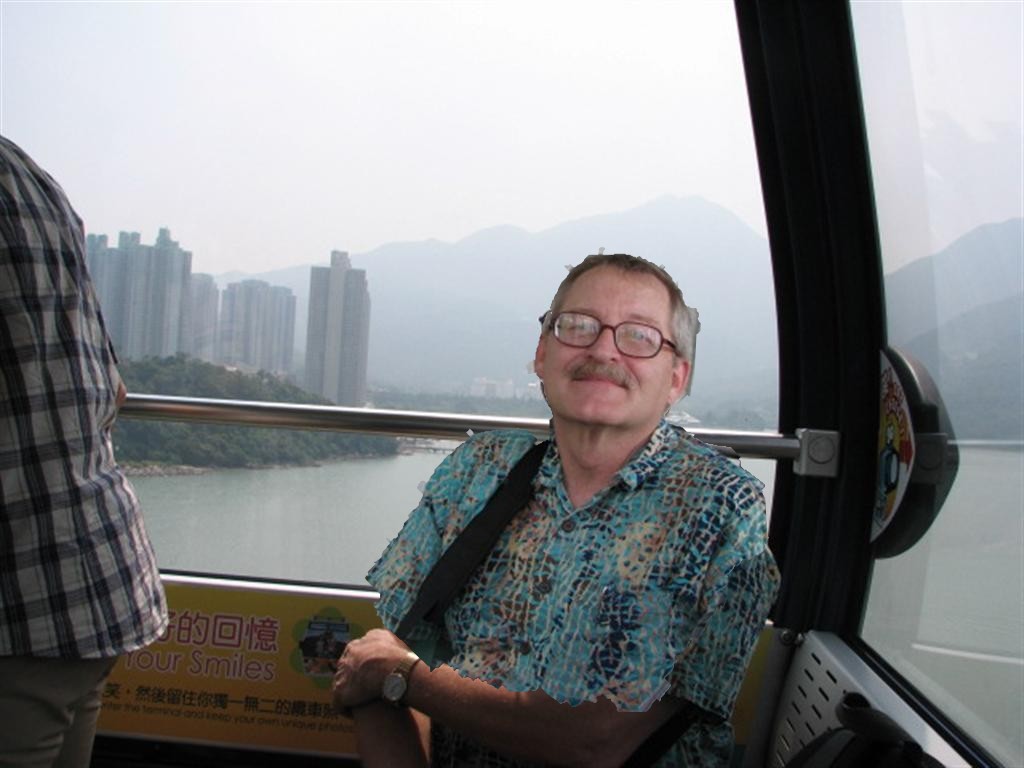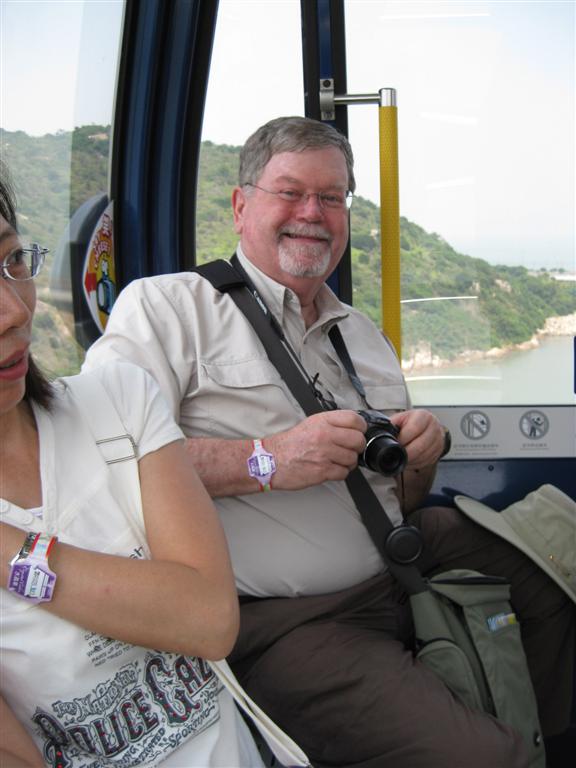 The 5.7 km ride takes you to a this village of tourist shops. We walk through it to get to the huge Tian Tan Buddha Statue. It was built in 1993; the base is modelled after the Heavenly Temple in Beijing. We walked up the hundreds of step to the top (ugh).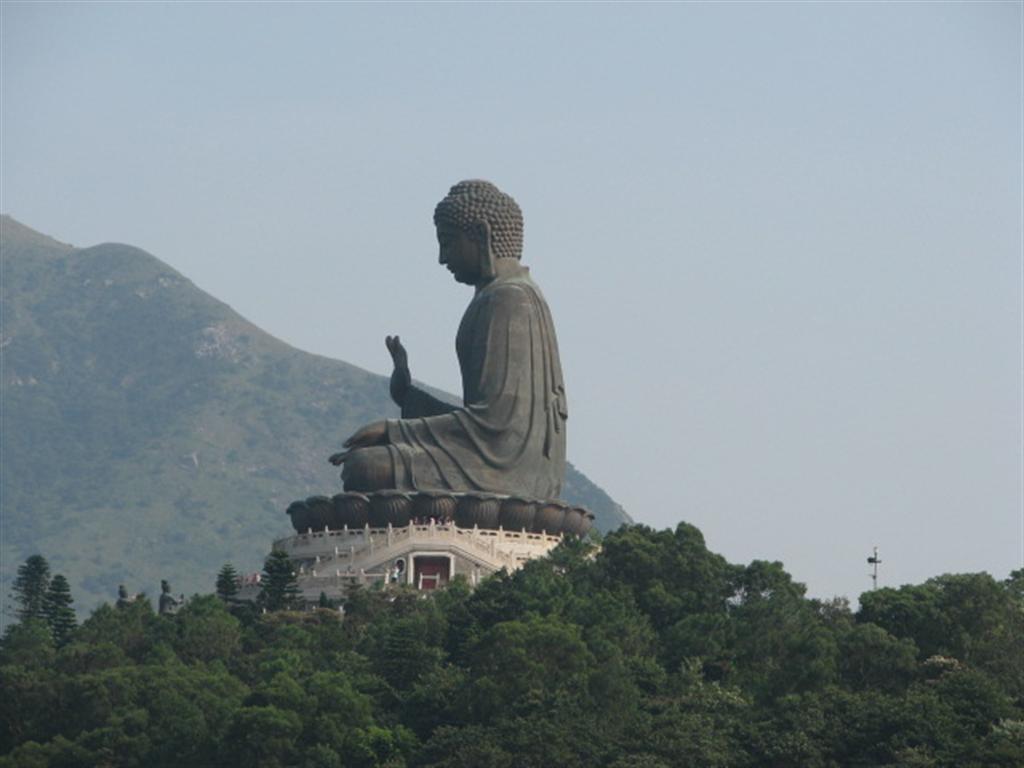 Afterwards we walked over to the Po Lin Monastery. We decided to have the vegetarian lunch there. The meal began with the worst soup I've ever eaten. The subsequent dishes were better, but we couldn't get over the soup which looked like dirty dish water with squares of squash with inedible rind. There were other inedible bits and pieces!!!
Monday October 5 Aberdeen
Our Monday excursion was to Aberdeen, a one time pirate's den, located on the "other side" of Hong Kong Island. We found out from our hotel that there was a bus that would take us from nearby Nathan Road all the way through an underwater tunnel and across HK Island. While we were trying to read the signs at the bus stop, an elderly man stopped and told us how the bus works (how to pay the fares, etc.) This man was from England but had work his whole live here. He said he came to Asia for the 3 W's: Wife, Work and Weather. When we got on the bus, we paid the "concessionaire price" (for retired people!) which is 1/2 the regular fare.
Aberdeen is kind of tawdry (IMHO) in spite of a beautiful harbor and lots of high rise apartment buildings. We didn't realize that there was a pier near the bus terminus where we could have gotten a free shuttle to one of the floating restaurants. Instead we walked for a mile or 2 through an industrial area before we stumbled upon another pier that takes you to the same restaurant where he had lunch. We ordered friend rice with vegetables, spring rolls and rice rolls filled with vegetables.
The restaurant prices we've seen are more like what we'd see at home. I think we could eat really cheaply if we went into a little mom and pop restaurants.
Tuesday October 6 Tai O Fishing Village
Map of Lantau Island
Today we went back to Lantau Island, via Central Metro Station on Hong Kong Island. From the MTR we walked to the port terminals and boarded a ferry that was going to the town of Mui Wo on Lantau. There is a lot of construction at the waterfront near the ferry terminals. We were told this is for a public buildings and a waterfront promenade.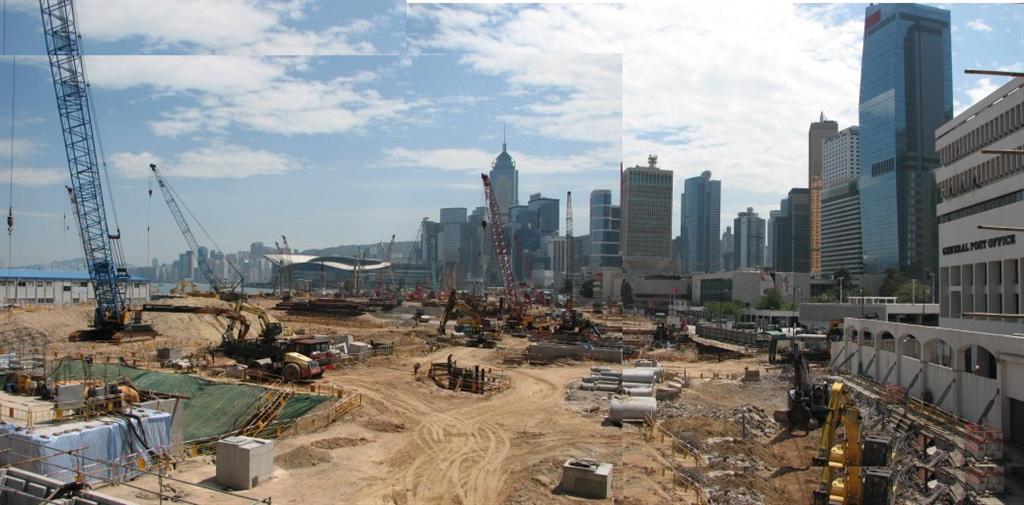 From Mui Wo, we took an hour bus ride, making many stops, on a winding road through largely undeveloped hills and dales. The vegetation was lush and included taro and bananas plants.
The fishing village of Tai O seems quite authentic although there were a fair number of tourist there. When we got off of the bus we walked through the narrow streets of the town, across a foot bridge Onspanning a creek that separates the town. The market sold lots of dried fish parts.
Once past the shopping street, we walked along the water and saw the fishing huts on stilts. They are mostly 2 story, boxy looking structures. They almost look like they were made out of containers. They were painted a metallic color ... to reflect the light?
Although the village may be authentic, it is dying out. A fire in 2000 destroyed many homes and squatters have moved in. The young people move away.
On our last night in Hong Kong, our Hong Kong friend Robert came by and took us to a Cantonese restaurant near the Kowloon waterfront. We were served some exotic dishes which included pickled duck eggs, pigeon, tofu and bamboo fungus, jelly fish and barbecued pork.
October 7-8-9, 2009 Bangkok
On Wednesday we flew from Hong Kong to Bangkok. We caught a free Airport Express Train shuttle from our hotel to Kowloon Station. And the neat thing was being able to check into our Cathay Pacific flight there, getting our boarding passes and checking out bags.
The flight was on time and arrived in BKK ahead of schedule. The airport in immense. There was no one in line at immigration and our bags came shortly. We used our ATM cards to withdraw Thai Bahts. The current rate is about 31 baht to the dollar. We took a limousine to our hotel at the cost of about $US35 for both of us.
We really like our hotel (Centre Point Silom ("Executive Serviced Apartments"). The rooms are large and we have a kitchen with a washer/dryer. Very handy for travelers. We are located at the Taxsin Bridge and the Central Pier on the Chao Phraya River. We are next to the Shangri-la and Peninsula Hotels.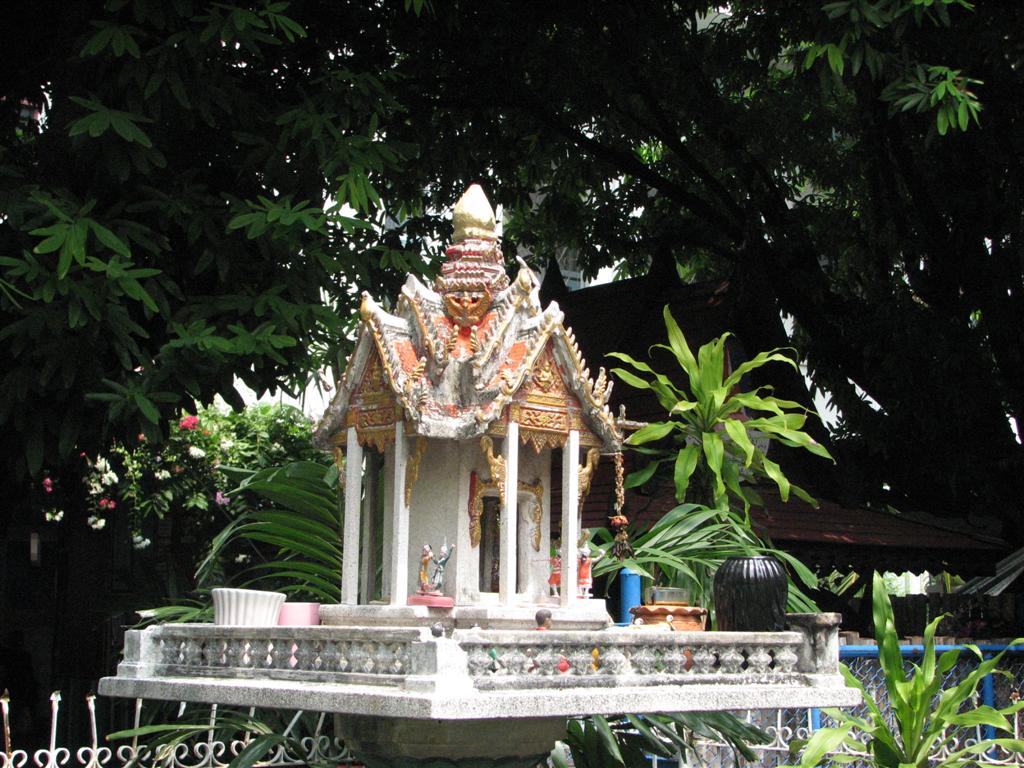 On our first full day here, we took a water bus up to the Palace area. We are deferring serious touring until Ron gets here in another week. The cost of this boat ride was 18 baht ($0.50)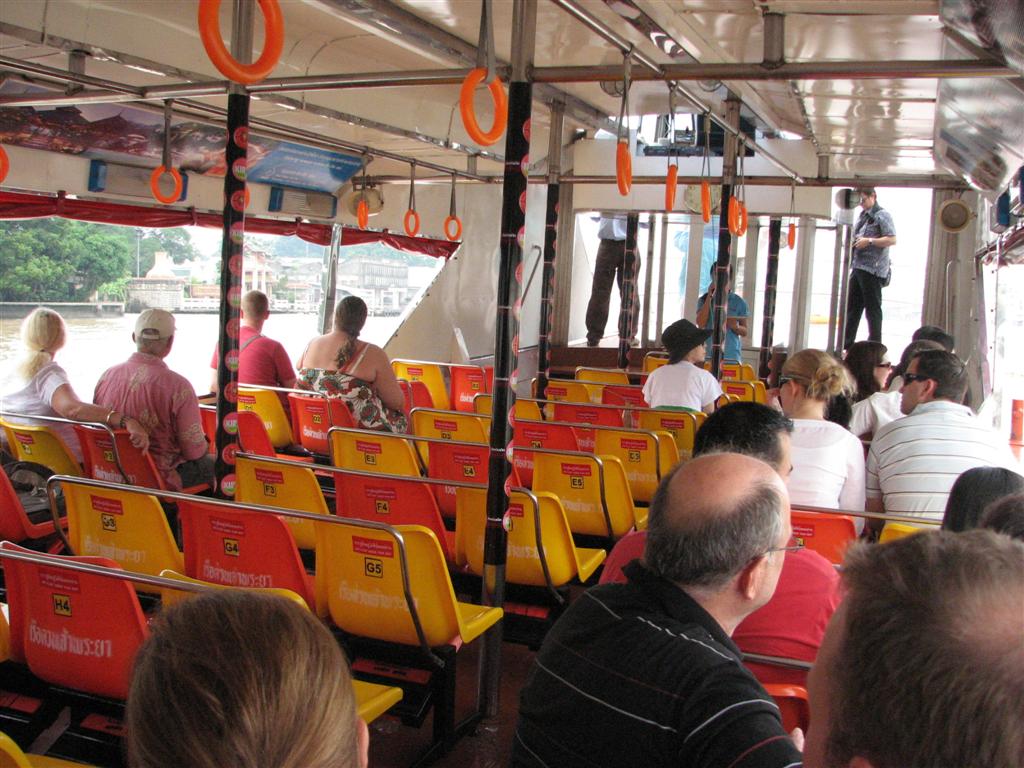 Near the pier where we left the water bus was the Rama Viii Bridge. It is an asymmetrical cable-stayed bridge which I think will be similar to the suspension part of the Bay Bridge ???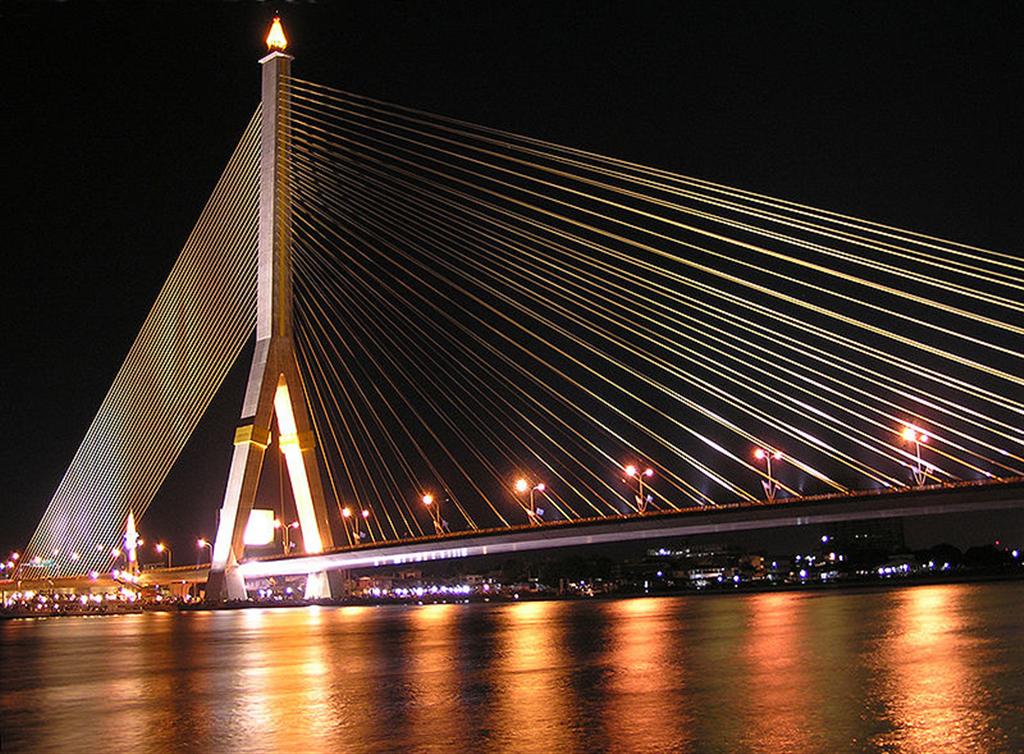 We first went into a temple complex called Wat Mahathat. We saw a huge courtyard. Along the covered walls were gold Buddha after gold Buddha. There are memorials to the departed at the base.
When we made out way out, we ran into an economics student at the adjacent university. He was extremely helpful. He told us that the government subsidized some Tuk Tuks (open "motorcycle" taxis). You can tell them apart by their white license plates. They charge a very low rate. On the map he marked 3 places we should see. About that time, a Tuk Tuk driver (white license plates) came over and our student friend negotiated a rate of 50 baht (about $1.60). We squeezed in the back and were on our way.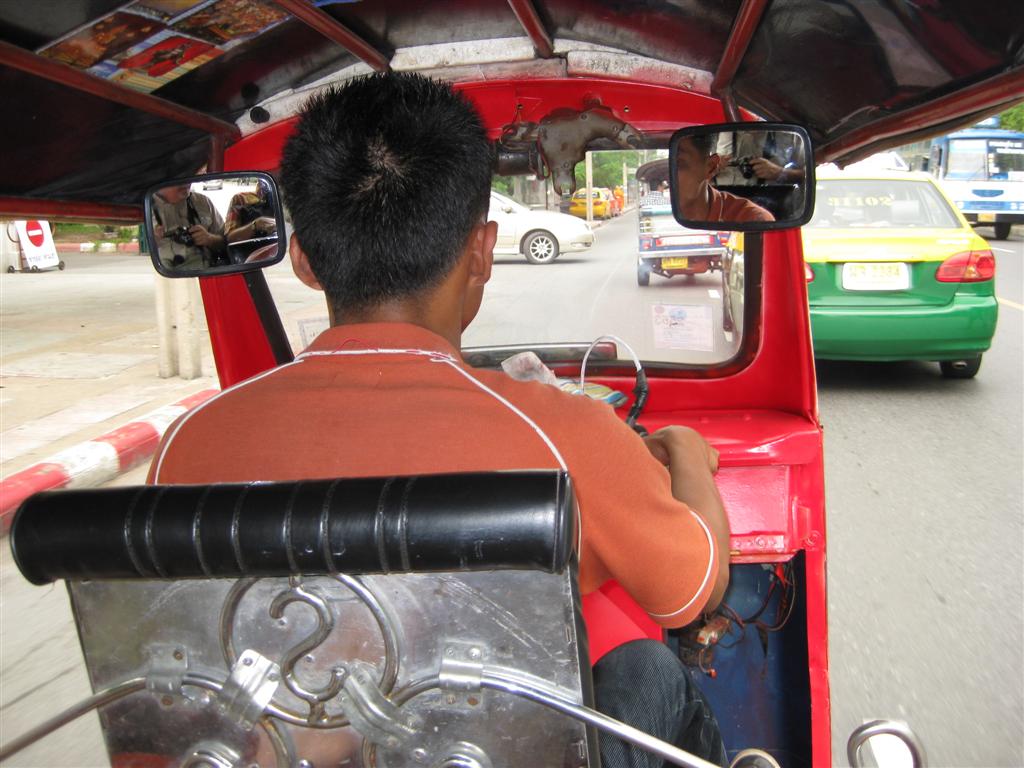 We saw the several temples, a teak museum, government buildings, etc. A highlight was a point on the river where you feed the fish (for good fortune).
For dinner we walked to the nearby State Tower and ate at the Lebua Hotel's Cafe Mozu. The menu was Indian, Middle East, Italian and Thai and our meals cost $100.
October 11, 2009 Yangon, Myanmar (Rangoon, Burma)
Today we left Bangkok for Yangon, Myanmar. We decided to take a metered taxi. It's a 40 minute ride and cost less than $15 for both of us. We flew on Bangkok Airways to Yangoon. At the Bangkok Airport, we ran into 2 guys on their way to Cambodia. They had found a guide on the Internet. We want a guide for Angkor Wat and will call them for a recommendation!
The Yangon Airport is quite new. At passport control, we had some special steps because we'd applied several weeks ago for "VOA - Visa On Arrival". By then, our guide is Ko Ko Aye Kyaw and goes by his last name Kyaw which sounds like "Joe" He found us and he handled the paperwork. He asked us for change for a $US100 and Tom gave him 5 $US20. He came back two times to get "better" bills ... no marks, tears or sharp folds. The military government thinks the bills have to be pristine in order to be good.
We were dropped off at our Hotel (Traders) where we found our room on the19th Floor. I immediately tried to access my email and got the message "Access Denied". I didn't have enough time in our hotel to work on this problem very much. Later on, I found I could read my Earthlink e-mail using the PocketPC version of Yahoo Mail.
Our guide's name sounds like "Joe" so that is what we call him. We really liked him. He is professional, intelligent and knowledgeable. This is his contact information:
Ko Ko Aye Kyaw (English)
Yangoon, Myanmar, Tel 09-5084912
E-mail: KoKoAyeKyaw@tomdaniels.com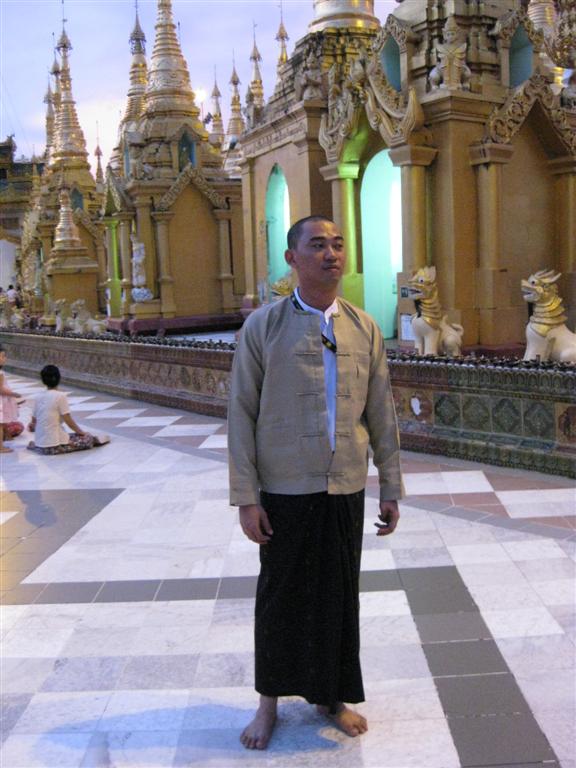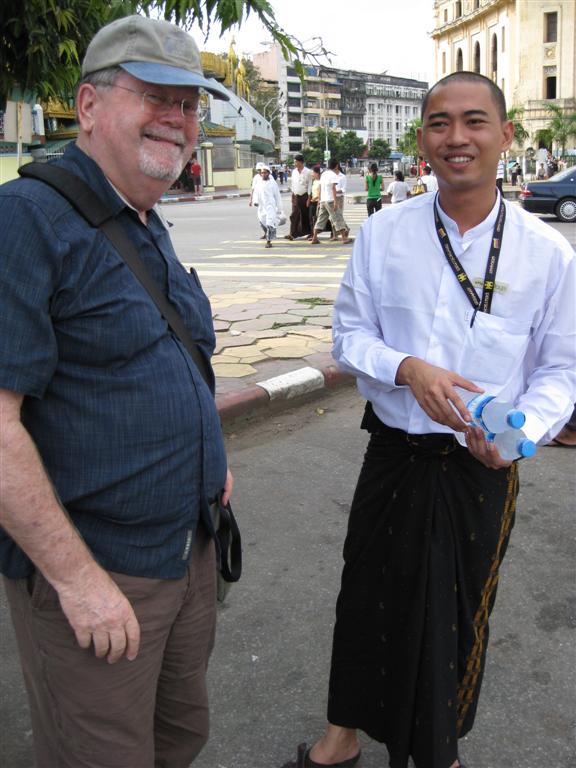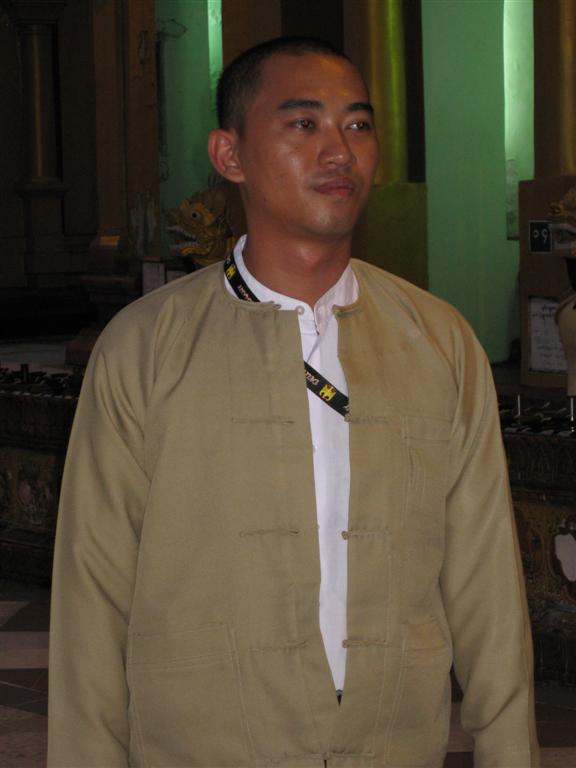 He took us on a tour of downtown and the old "European-looking" buildings a result of the British colonization. Many are now vacant because the government has moved the capital from Yangon to Naypyitaw, a new city to the north. It was Sunday, so there was not a lot of activity. At one point we watched a women preparing cold water by pouring water over a big hunk of ice.
Two rivers converge in Yangon: the Yangon River and the Bago River. We drove to the riverside and watched small ferry boats load up with about a dozen people then head off across the river (maybe 1 mile across).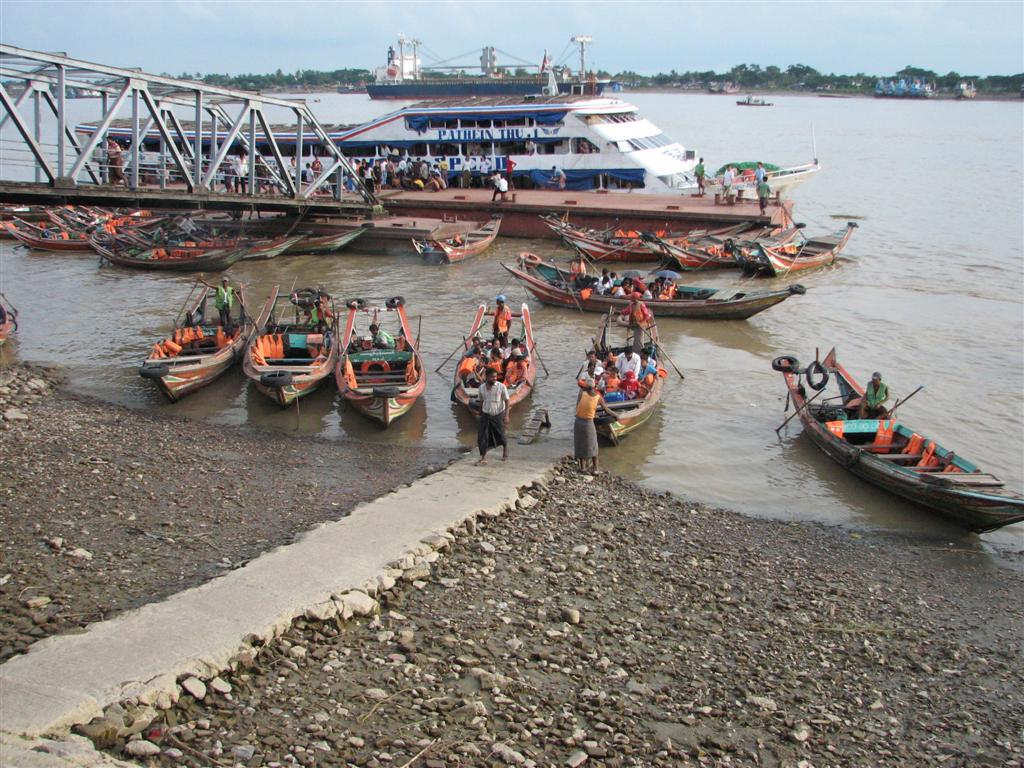 We observed sunset at the Shwedagon Pagoda, a huge Buddhist complex, prominent in the city skyline. The Shwedagon Pagoda is also known as the Golden Pagoda. It is dominated by the 325 foot tall gilded stupa. (A stupa is a solid, obelisk-like structure with a sacred relic inside.) The stupa is surrounded by many, many temples. It is the most sacred Buddhist pagoda for the Myanmar people with relics of the past four Buddhas enshrined within.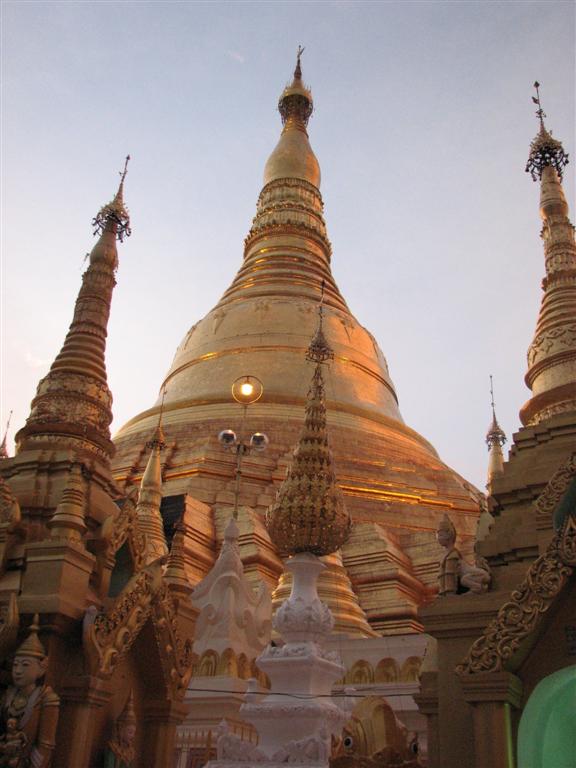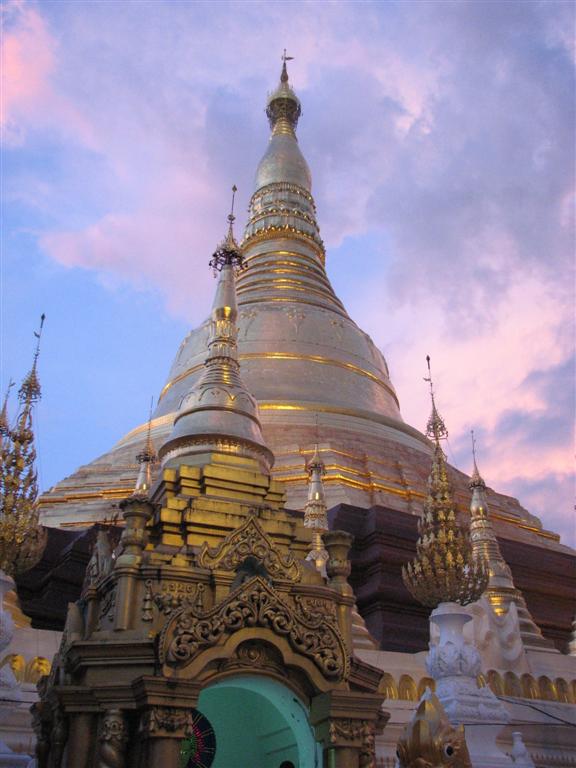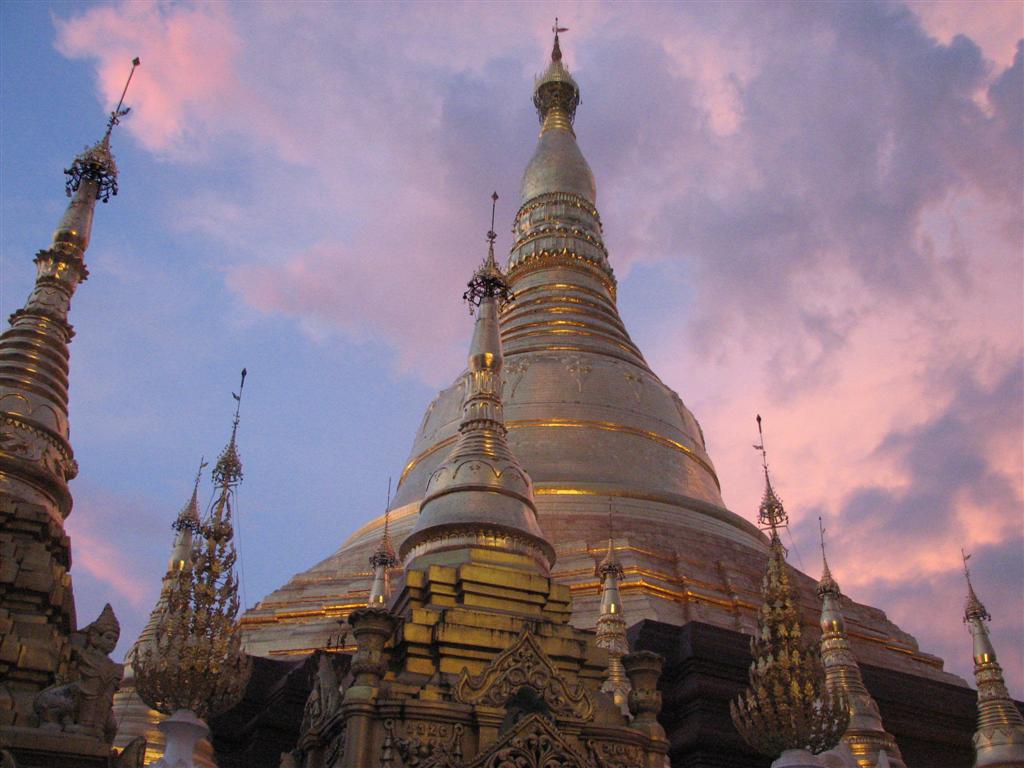 October 11, 2009 Bagan, Myanmar
We left so early for this segment, that the hotel had to send a box breakfast along with us.
We flew on Yangon Airways, on a 70 seat ATR 72-210, turbo prop. There are 3 domestic airlines in Myanmar. The tickets for each leg were hand written (just like in the olden days.) Whereas the international airport is new and gleaming, our terminal is old and shabby. When it's time to board the flight, a man walked through our waiting room with sign board. ox
When we arrived in Bagan, a "Nurses" stuck electronic thermometers into each persons ear! They are checking for H1N1 flu virus.
Bagan is located about one and 20 minutes north of Yangon on a flat, semi-desert plain. The population is about 60,000 and it is known for the 6,000 pagodas (religious structures) that dot the landscape. We toured most of them, it felt like. The ones here tend to be older (eleventh twelfth centuries) compared to the other cities we visited.
We didn't see a real city ... lots of narrow roads, often unpaved, with horse carts and few cars. Although the area was dry, everything is bright green. Our Hotel was the Tharabar Gate. The lobby was a large open structure with beams and wood. The restaurant was open-air where tables were set along the big swimming pool.
The Ayeyarwaddy River runs through Bagan and is the longest river in Myanmar, running 1,200 miles north and south. The cars in this country tend to be old models old, mostly Japanese. The duty on new cars is so high, they buy used ones.
We visited a lacquer work shop and sales room. I really liked this. I didn't realize what lacquer is and how it is used. It is sap from a tree, harvested in a similar way that latex (rubber) is. There isn't much processing other than filtering. Lacquer can be applied to most anything ... woven bamboo, woven horse hair, coiled bamboo, etc. The process takes 3 months, most of the time spent drying between layers. Sometimes the lacquer is scraped, sanded and polished. Intricate Designs are carved second and third colors are applied.
The bowls made out of woven horse hair and fine bamboo are flexible when lacquered.
We bought some lacquer ware at good prices (compared to those we've see in the past). Later on we the hawkers we waving lacquer boxes at us and saying "$1.00, $1.00" (we paid $6.00).
The pagoda in this region are quite old. Inside you can find murals, painted in the 11th to 13th centuries. Over the years, the murals were covered by white wash. Now many are waiting to be carefully restored when the funds and expertise become available.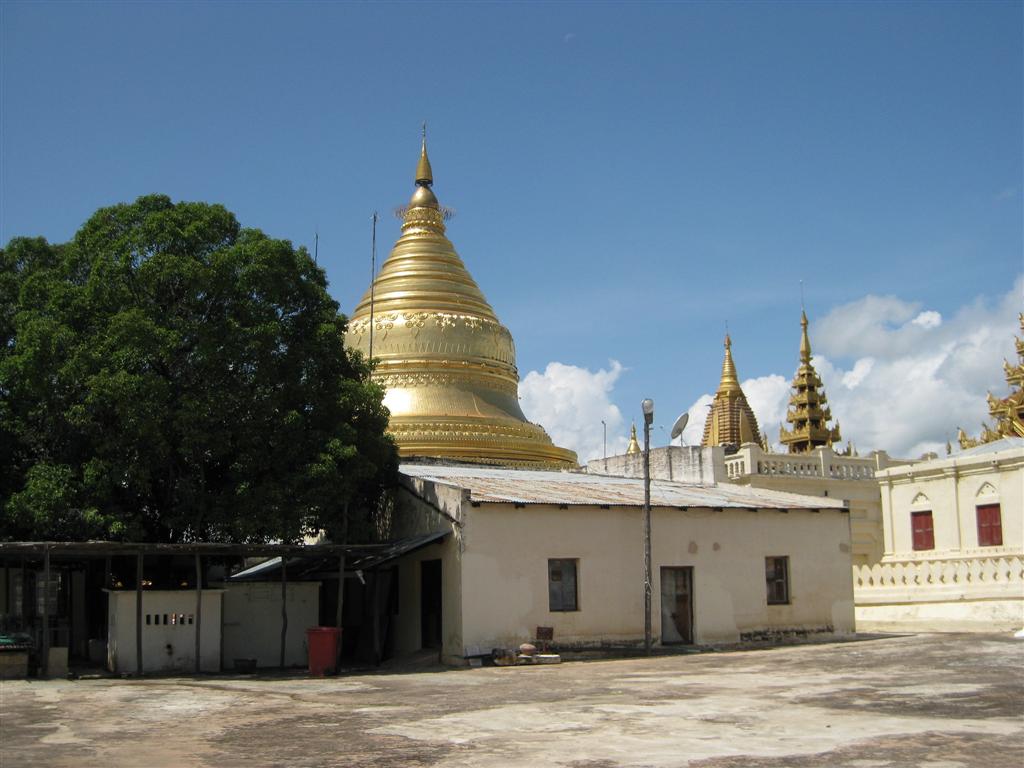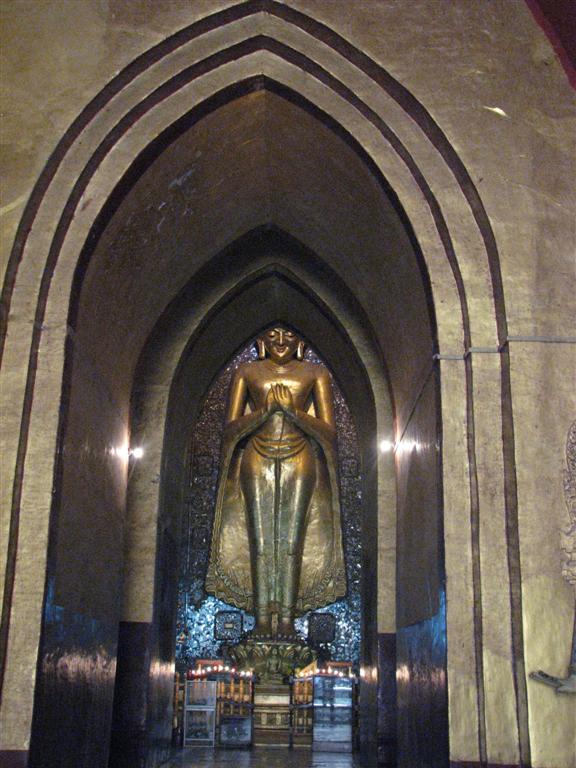 We ended up at a "Sunset Temple", climbing several stories high on narrow, steep steps, joining lots of Europeans to watch the beautiful colored skies over the Ayeyarwaddy River.
Our guide in Bagan was very knowledgeable regarding the history of the area and the Buddhist theology. We would recommend him for your English speaking guide. His name ias Kyaw Swe. He can be reached at tel. 95-61 60632 and E-mail him at KyawSwe@tomdaniels.com.
The set-price Asian dinner at our hotel was $18.
October 12, 2009 Mandalay, Myanmar:
After breakfasting under the trees at the Tharabar Gate Hotel in Bagan, we were taken to the airport. We paid our bill in US dollars. If we were to pay in Kyat, they would add another 20%.
A 30 minute flight took us to the Mandalay Airport. From there we had a long drive into to the city. We stopped at Amarapura, the location of the Myanmar King, shortly before the invasion and colonization by the British in the late 1880's. At that time, the Royal Palace was moved to Mandalay.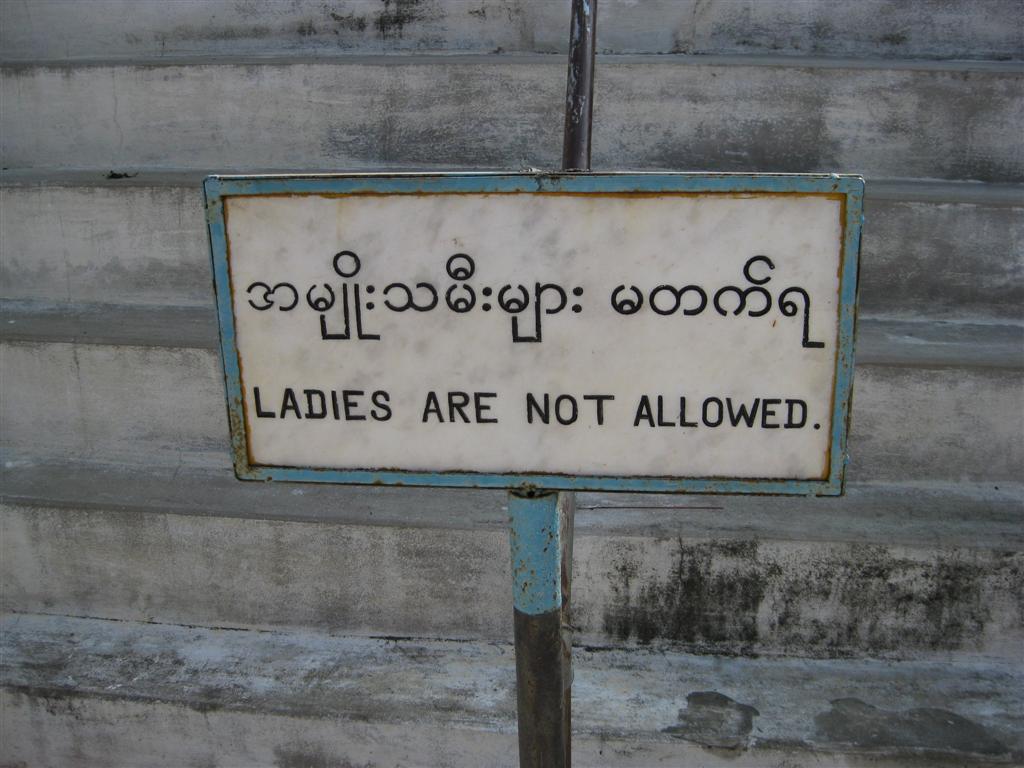 Sign at a Amarapura pagoda
The long drive in from Mandalay Airport took us to the Sedona Hotel where we are staying. There was a sign over door welcoming a distinguished Army General from India, and his wife. There was heavy security at the hotel and around the city. The Royal Palace (on our itinerary) was closed and some streets were closed as well as the escalators to Mandalay Hill!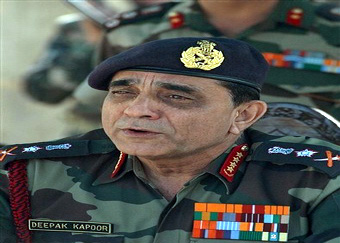 Gen Deepak Kapoor
We went and visited a monastery where we observed the ritual of the monk's lunch procession. When the gong is sounded, many young Buddhist men lined up with their eating bowls and enter dining halls. Tourists stand along the walkway, a gauntlet of cameras. This is at 10AM and is their last meal of the day. They must not eat anymore after 12 noon.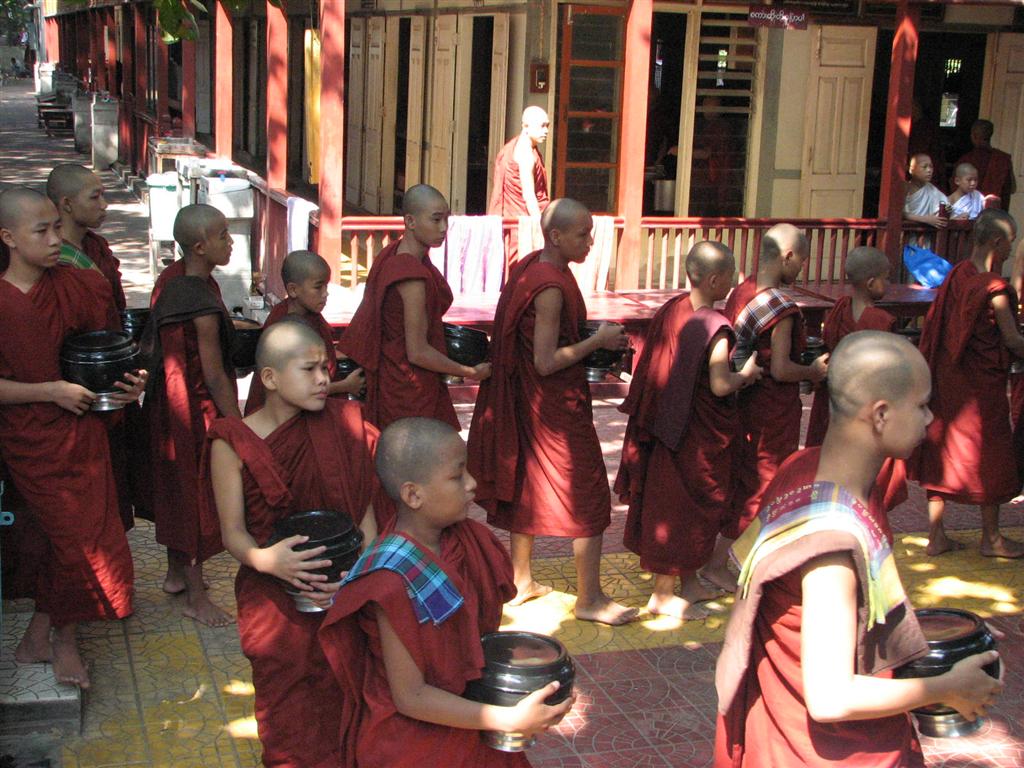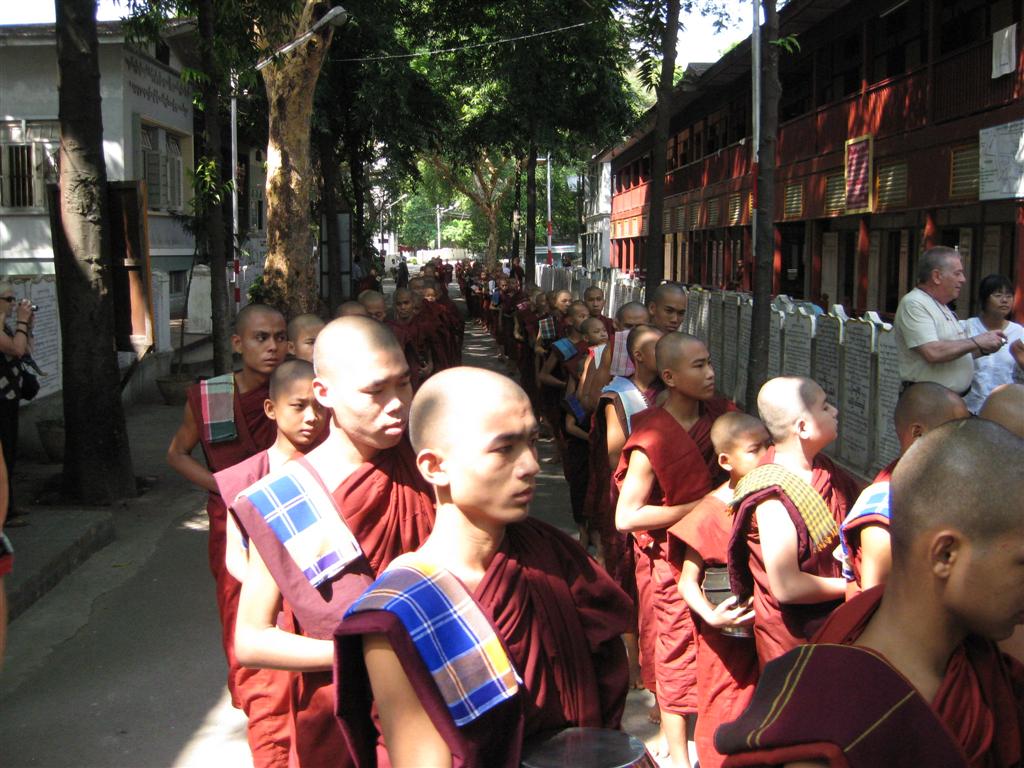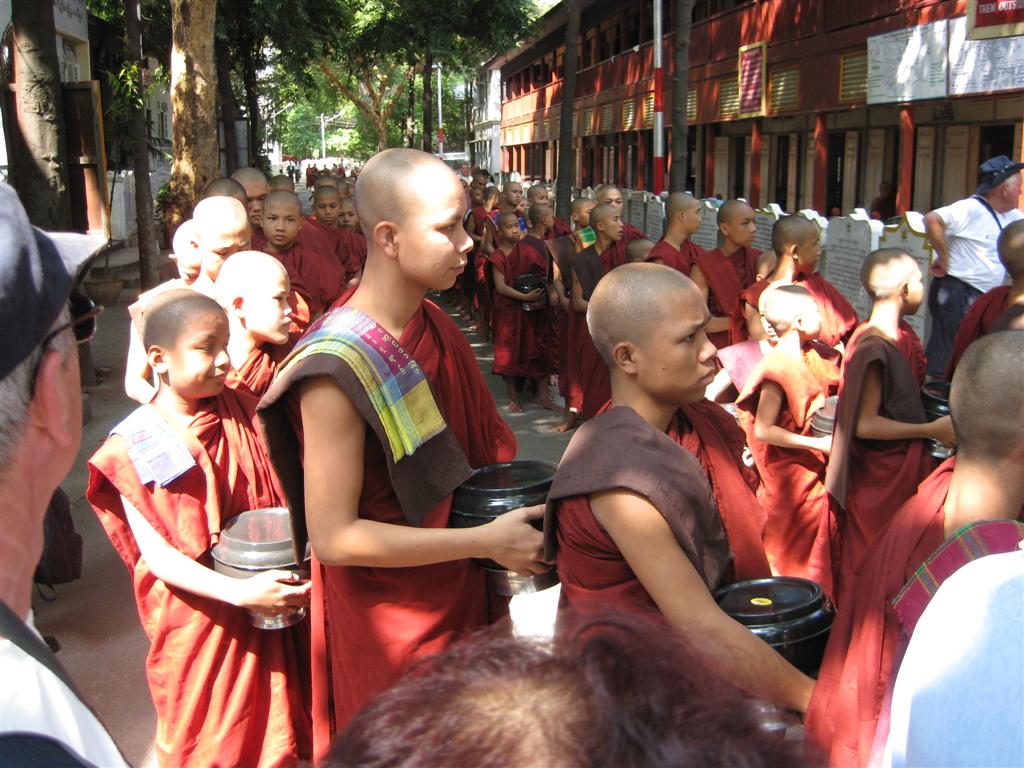 At nearby Lake Taungtaman, we walked across a 1.5 km Teak Bridge bridge and saw boatmen (like gondoliers) and a duck farm.
We asked about buying men's Longyi's, a long skirt like garment, so we were taken to the weaving shop and saw where the material was actually woven. They come in several sizes and we bought several of the largest ones, as all of the men here are very thin!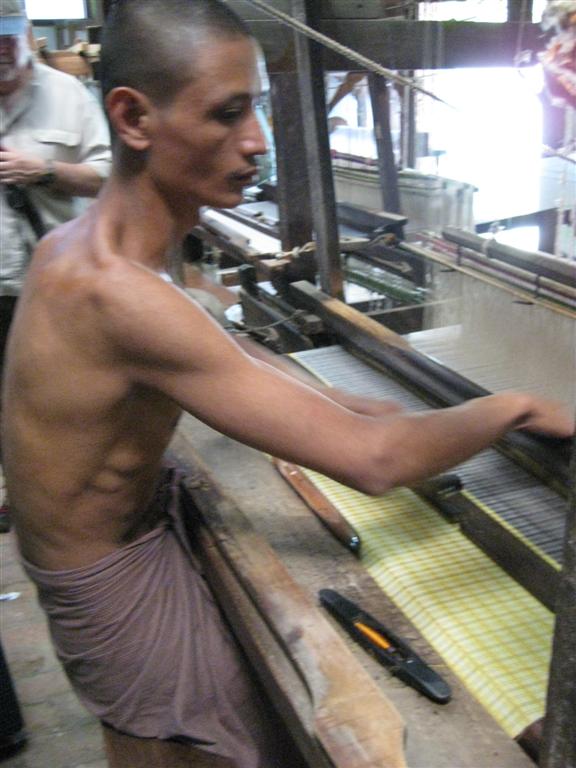 Weaving cotton fabric

Smashing gold to make gold leaf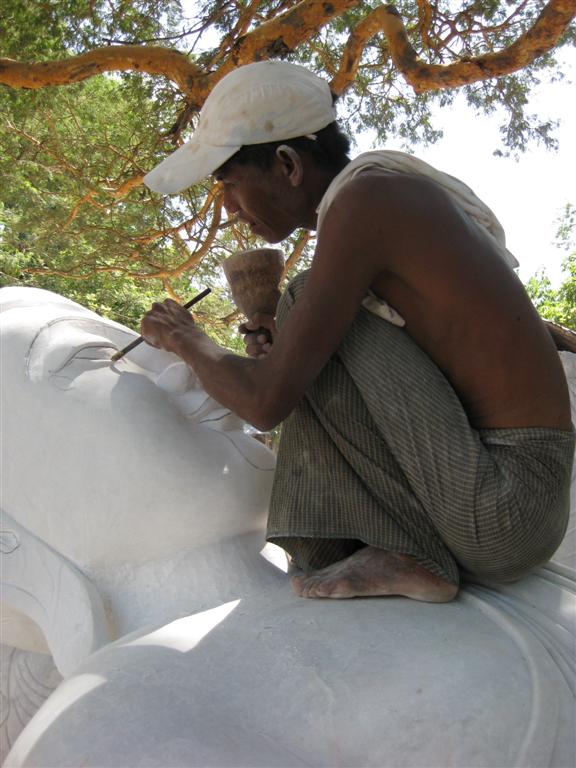 Carving marble
The Royal Palace was closed (the Indian VIPs), so our guide took us to a Tea shop. We sat around a table on little low chairs. There were 4 of including the guide and driver. We had 1 coffee, 2 teas, 1 "7Up" soda and a tea pot for the 4 of us. The cost was 90 US cents. Coca Cola and coffee usually cost around $2.50.
at a tea shop with guide and driver
We saw the beautiful carvings on the Teak Pagoda before going on to the Kuthodaw Pagode known as the world's largest book. There are 729 marble slabs, inscribed with Buddhist doctrine. The tour ended with a view of the sun setting on from Mandalay Hill.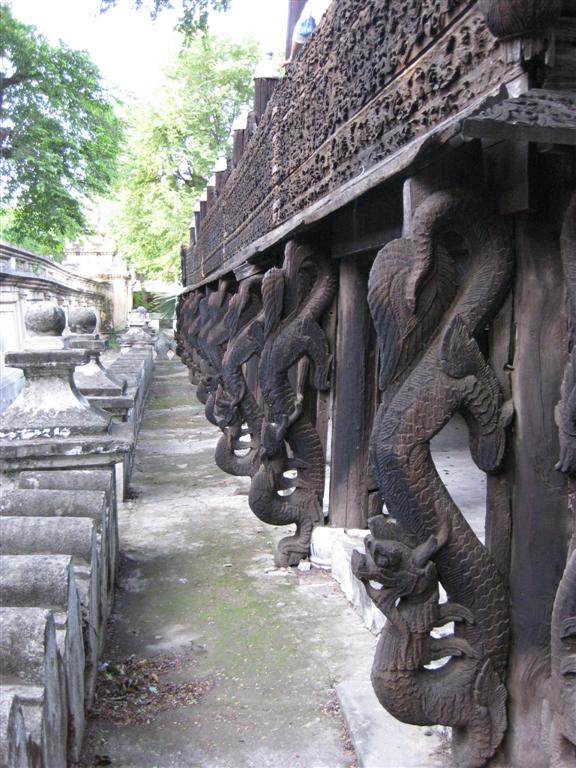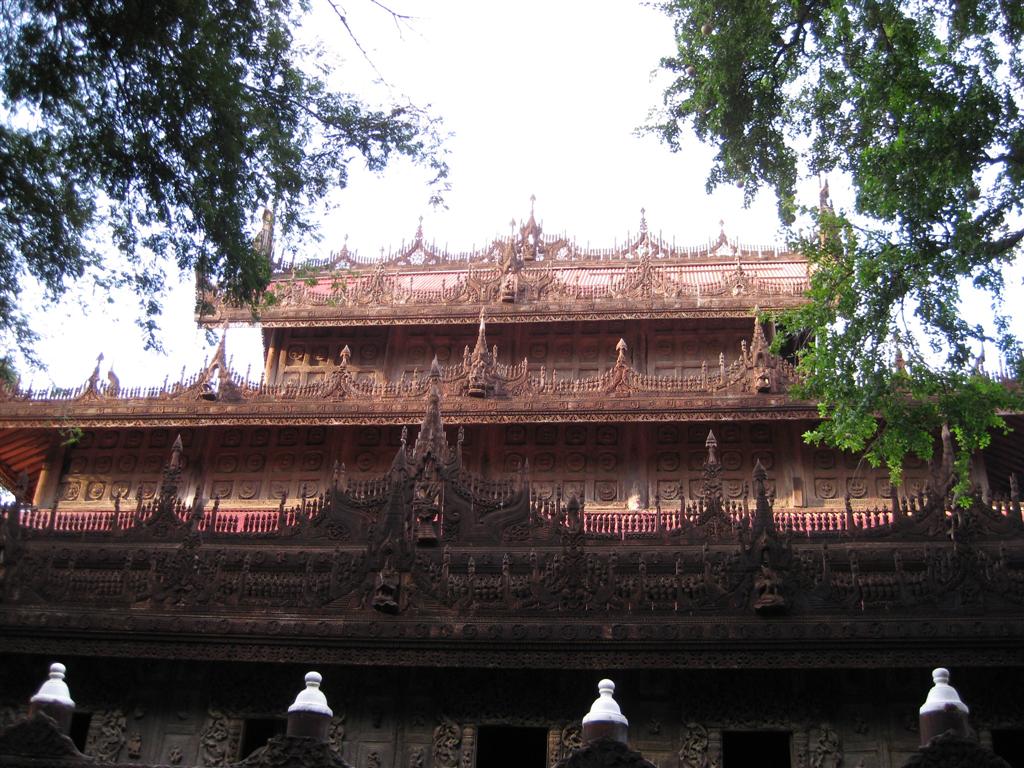 Teak Pagoda
Our guide joined us for dinner at local Yunan (Hunan) Chinese restaurant. Very good. It was close to our hotel so we could walk there past the many police and army security people.
Our guide in Mandaly's name sounds to us like "Al Al", and it is spelled "Aung Aung". He was friendly, had a great sense of humor and really knew his subject area ... history and geography and religion of the Myanmar. His name is Aung Ko Myat and hisE-Mail is AungKoMyat@tomdaniels.com We highly recommend this English speaking guide.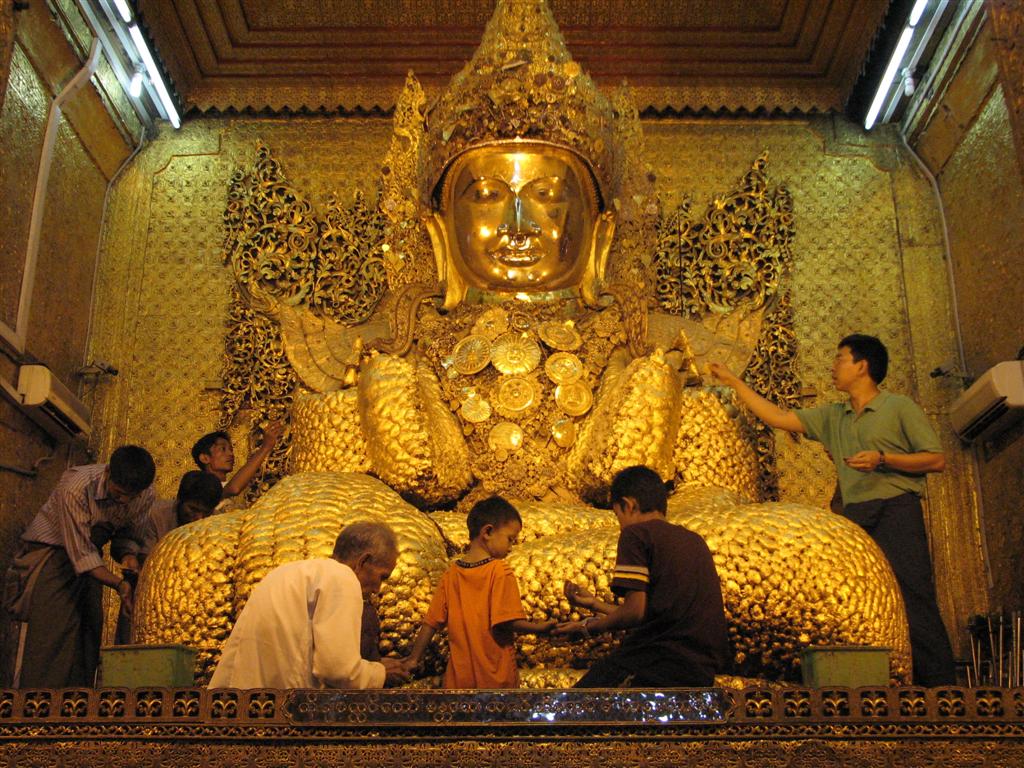 Applying gold leaf to Buddha
October 14, 2009 Lake Inle, Myanmar
Our 30 minute flight was 30 minutes early (in taking off and landing!) and we were met by Ei Ei ("Ee Ee"). Her name is Nang Aue Nyein Ei and her E-mail is NangAyeNyeinEi@tomdaniels.com Ei Ei was very upbeat and friendly. Her English was very good and she knew the area very well. She show us so many different things. We highly recommend her when you need an English speaking guide in Myanmar.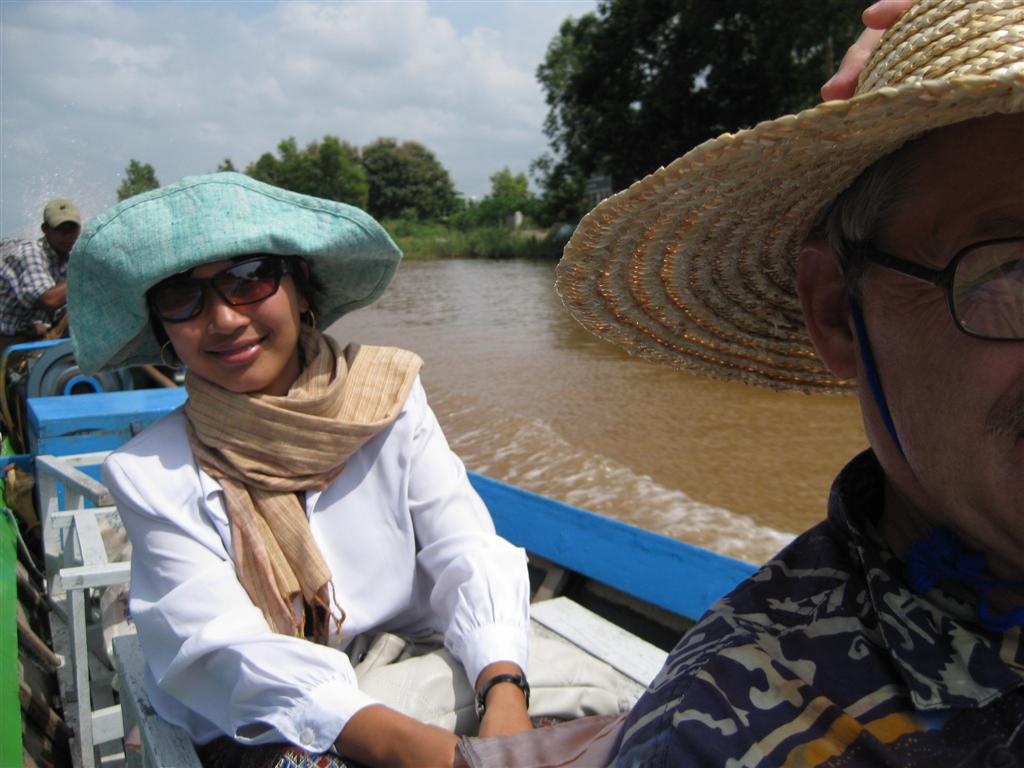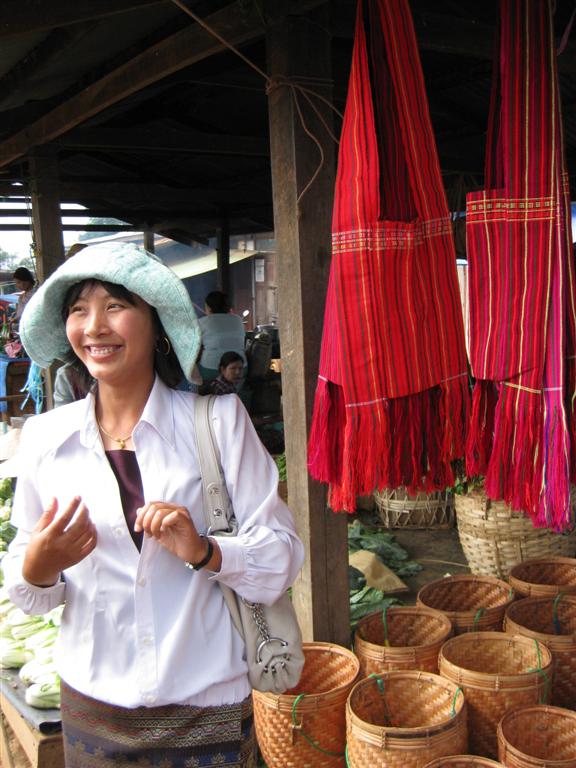 We arrived at the Heho airport and from there she took us to Lake Inle, but along the way we stopped at a "once in every five day" market. Everything imaginable was for sale. Food, clothing, meat, fish, spices, vegetables. I bought a straw hat. The strangest thing I saw was tofu made out of garbanzo beans (yellow color).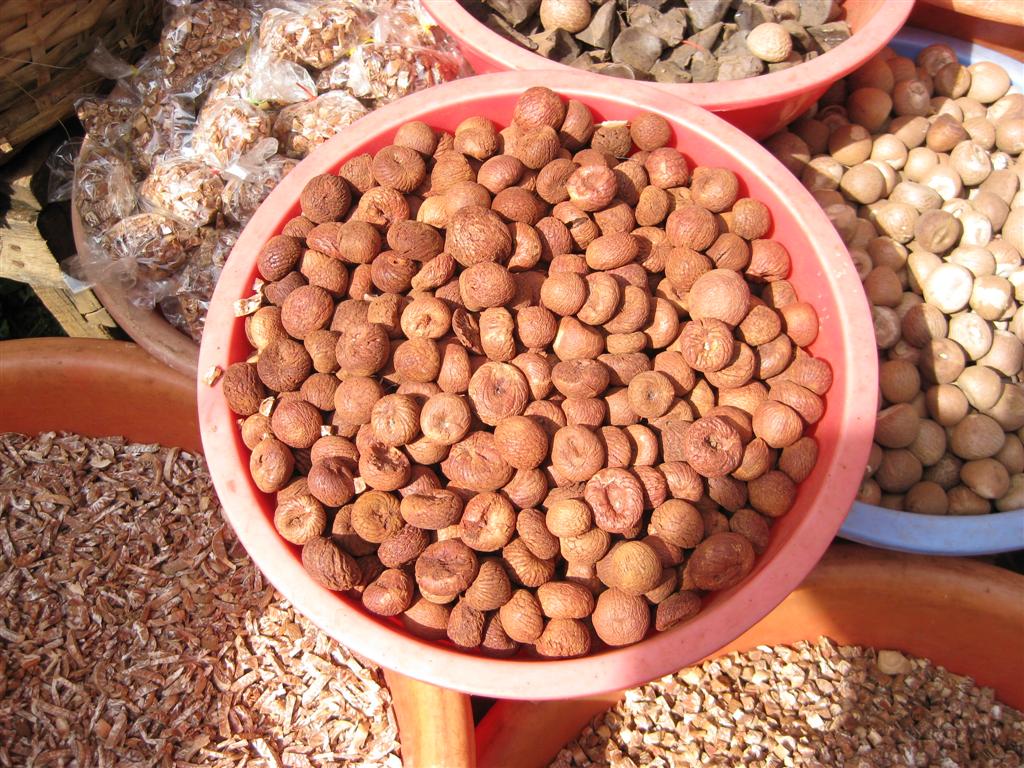 Areca nuts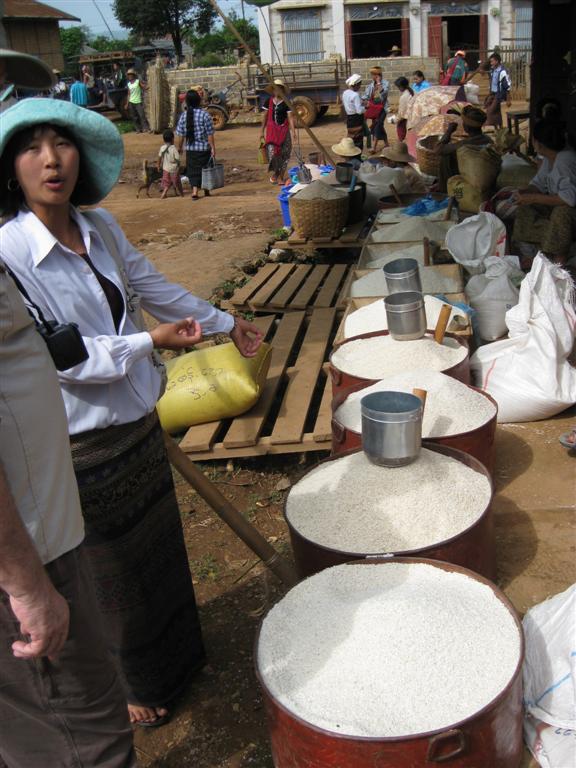 Different grades of Rice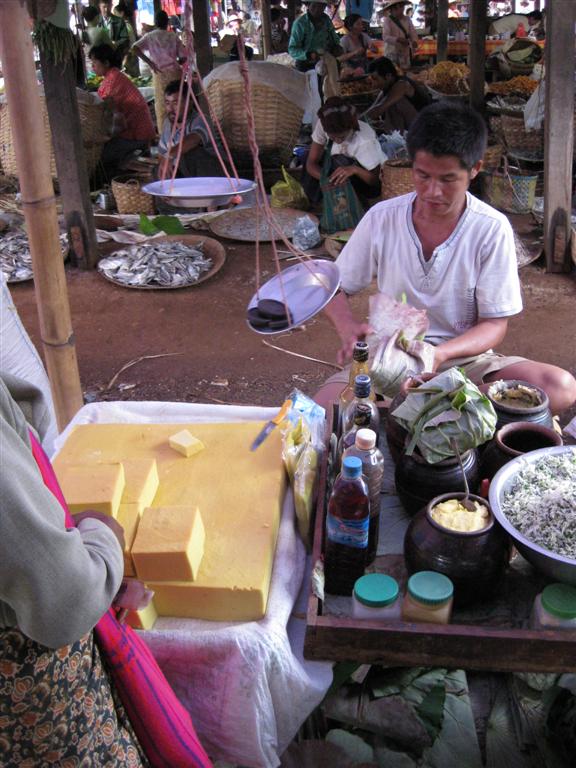 Tofu made out of garbanzos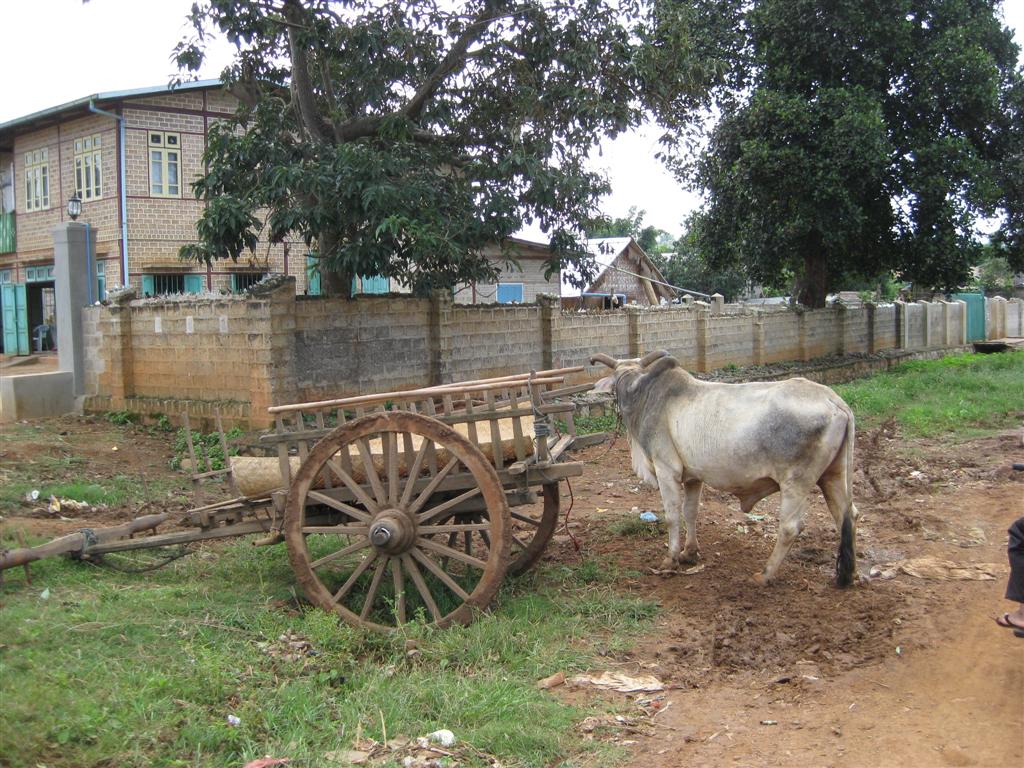 Farmer's transport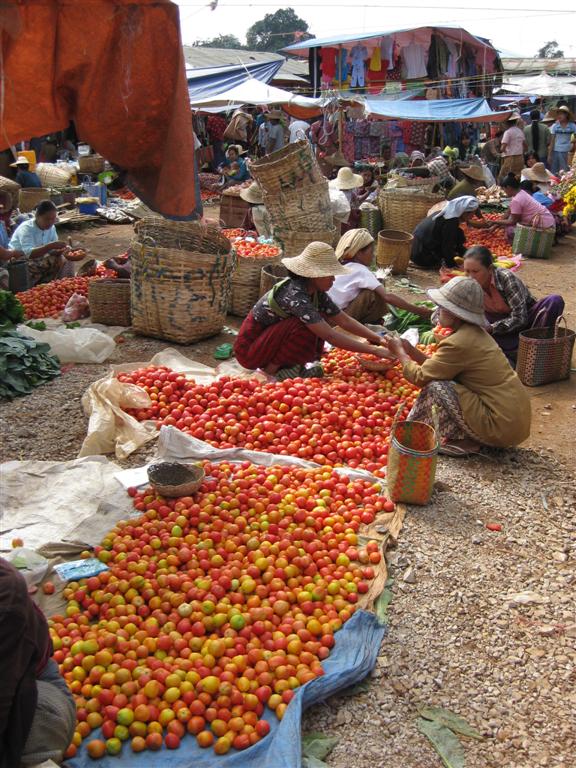 Tomatoes (big crop here.)
We also observed how the local people prepare and chew betel. It is the betel leaf in which is wrapped flavored tobacco, areca nut (often inaccurately called the "betel nut") and lime. These ingredients react with the alkaloids in the leaf to enhance the effects when chewed. A red juice is spit out and the teeth turn black.
From the this market at Heho, we drove to the south end of the lake and boarded a narrow, long boat with seats for 4 plus the boatman. A diesel engine propels the boat. The boatman starts the engine with a crank. It seems to have a lot of power and the boat is speedy. Lake Inle is the larger of 2 lakes joined by a river. The people moved here in more recent years (several generations ago) and make their living by farming, fishing and making crafts.
We stopped at a number of temples and monasteries before reaching our hotel, the Inle Resort. From the lobby of the hotel, we walked down paths to our villa ... a large, two room accommodation. After a short rest, we took off to see the sights.
Before we reached the first one, a fisherman out in the middle of the lake showed us how he fishes with a large conical hoop, lined with a net. The conditions have to be just right ... he watches for bubbles (from the fish) and drops the trap on top of them, stirs up the water inside and drops the net on them.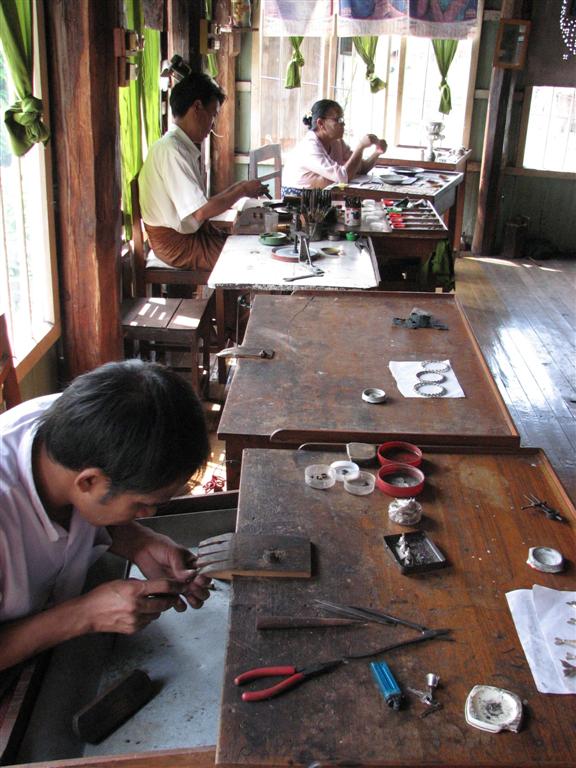 Silver workshop
The first stop was to see Padaung women with the neck ring, a band of metal worn as an ornament around the neck. Multiple neck rings are worn usually to stretch the neck. They begin to wear neck rings when they are children. Gradually with age the number of "brass coils" worn increases to elongate the neck. The Padaung region is 6 or so hours away, but these women come here to weave cloth and make money from tourists.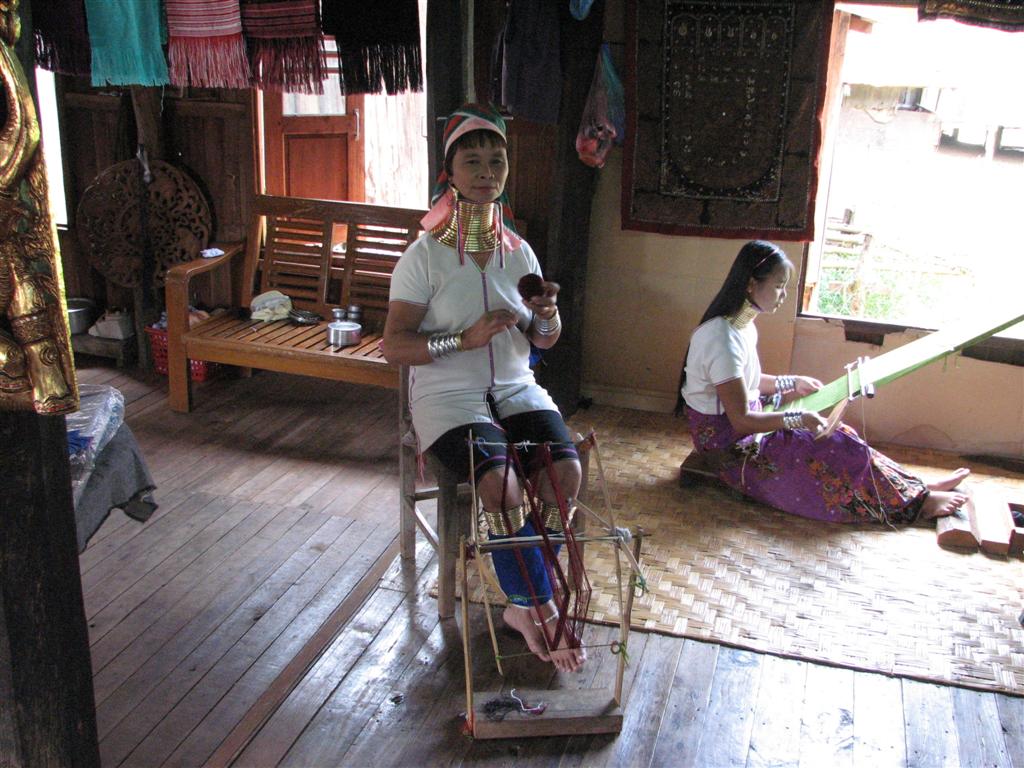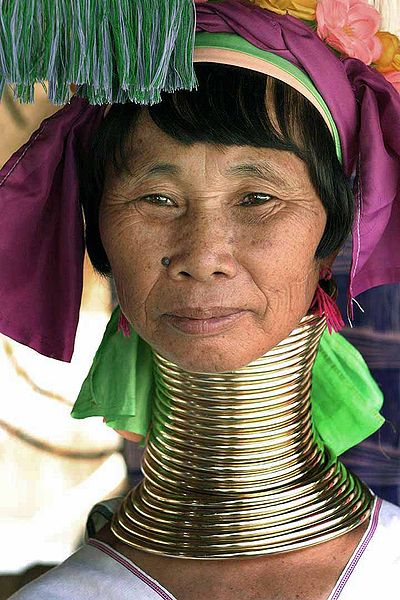 Neck Rings
We boated past the Royal Barges. Each year the barge comes out at carries the 5 golden Buddhas on a procession to all of the villages which takes 18 days. Recently the barge capsized. Four of the Buddhas were recovered. When they got back to the temple, the 5th Buddha was there. Since then, only 4 Buddhas make this journey.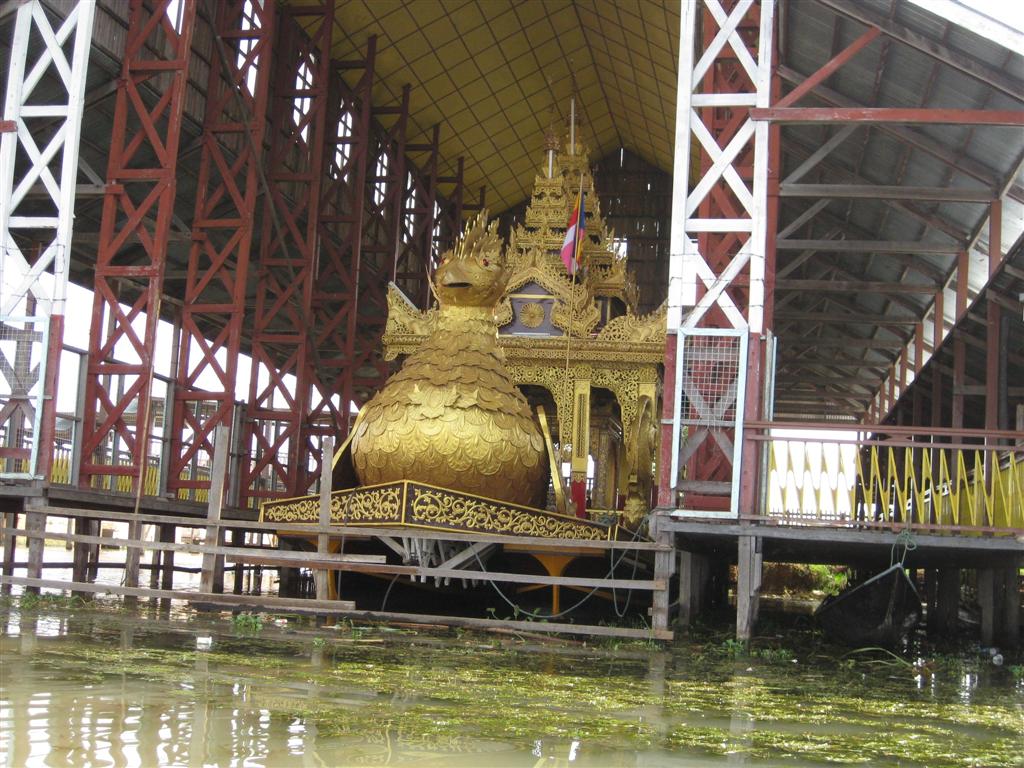 Royal Barge
We went to the weaving workshop, we saw how thread is harvested from the lotus stems. The woman help about 5 stalks and made a cut about 4 inches from the end. When she snapped them apart, translucent threads were pulled out. With her hand she rolled the new thread into the prior threads to make a long string.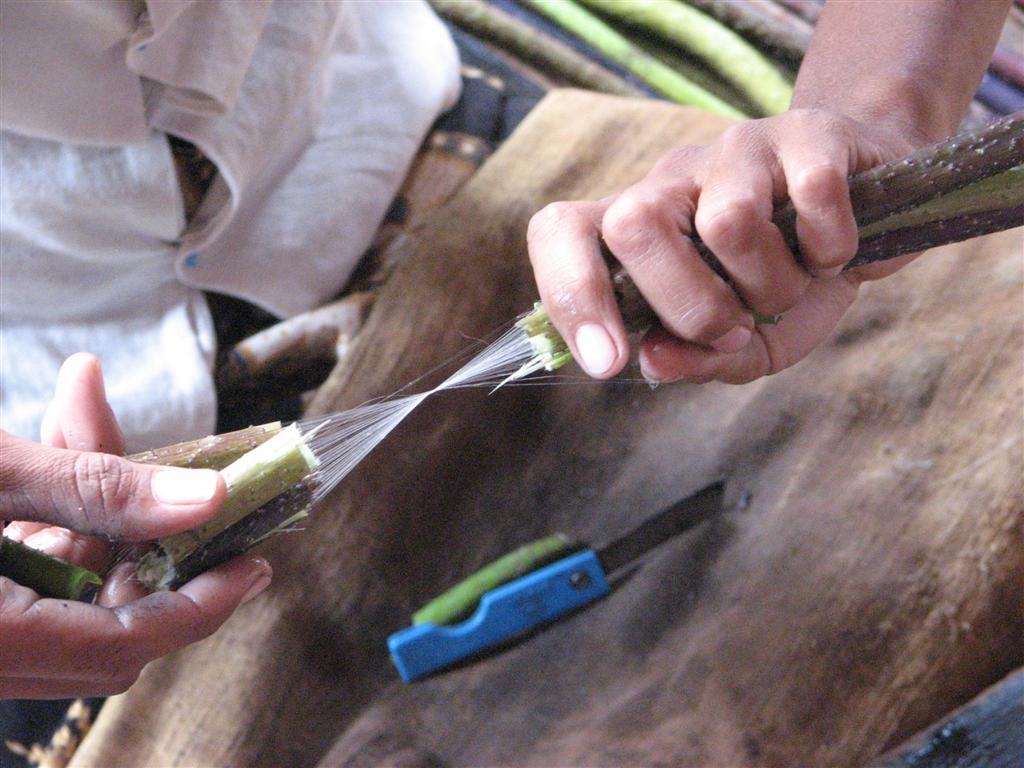 Lotus Threads
That night we ate at the hotel. We didn't have much choice since we are out on an flat tropical island by ourselves. There were only 2 other tables of guests. I don't think the hotel is very full. This is the beginning of the high season in this country.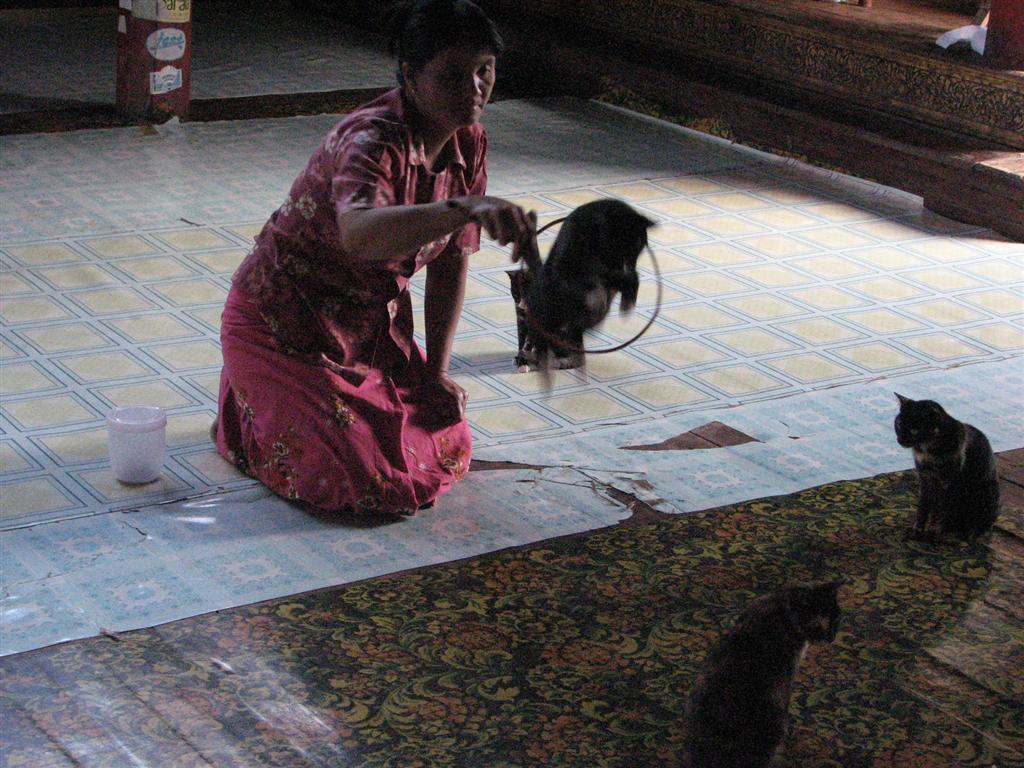 Nga Pe Chaung monastery the monks are know for training cats to jump through hoops. We saw the cats jumping! I took a movie of it.
Some last comments on Myanmar. The steering wheel is on the right side (like England). However, they drive on the right side (like the USA). We tried to find out why. Our guides did not know. One guide said at one time there were political parties called "Left" and "Right" and the winning party changed the driving side of the road???
Many women use a local product on their faces. It is Thanaka, a yellowish-white cosmetic paste made from ground bark. It is a distinctive feature of Myanmar seen commonly applied to the face and sometimes the arms of women and girls and to a lesser extent men and boys. It smells nice, is cool on the skin and protects them from the sun.
October 17-22, 2009 Bangkok Interlude
TomO returned to Bangkok from Myanmar with a little cold/flu. We took it easy the next couple of days, making some forays out during the day and getting to bed early. We have been in touch with friend Australian Ex-Pat John who owns a restaurant and bar quite close to our hotel We have eaten there 3 or 4 times and enjoy his Thai and western menu offerings.
One day I walked through Chinatown. It was very busy, with lots of alleys and streets with many stalls selling about everything: DVDs of recent movies for $2.50, food (including fried insects, clothing, bags, jewelry. Oakland friend Charlie encouraged me to get lost in Chinatown, and I did. To get back to my hotel, I got a Tuk Tuk and he got lost. He took me to the other side of the river. I recognized buildings along the river, so I knew where I was! He stopped at several hotels and asked directions.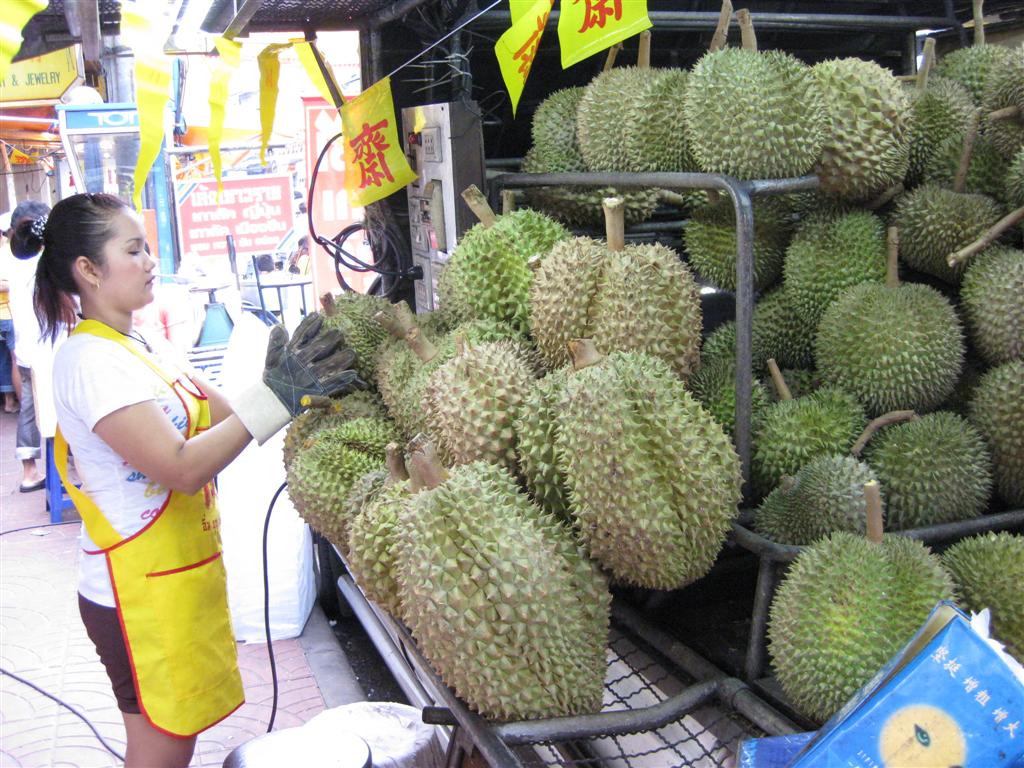 Exotic Durian Fruit
On another day, Tom and I took the water bus to the Amulet Market, near the Royal Palace. It went for many blocks. It was hard to understand what all of the objects were. There were empty glass cylinders (in which you put something and wear around your neck), small rectangular stones with Buddha carved in them, little statues, stones and so on. Three or four different sellers were offering false teeth.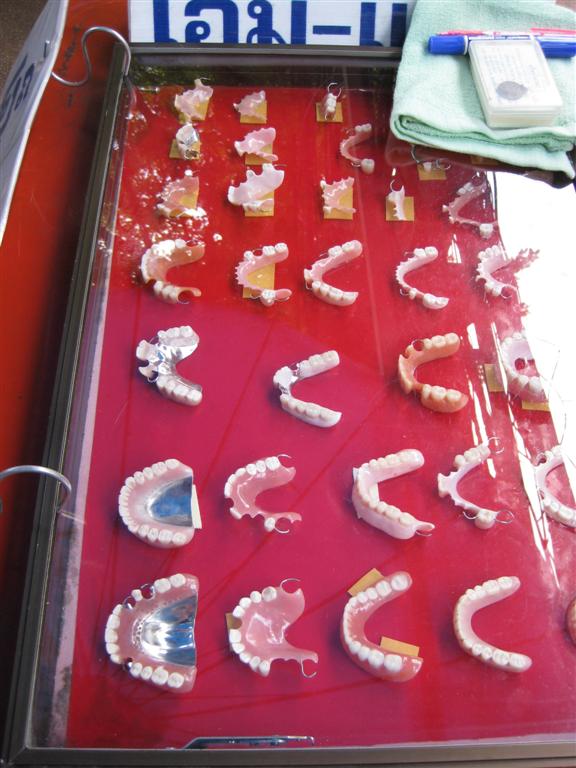 Amulets and teeth
Our Oakland friend Ron arrived on Wednesday to join us for several weeks. Tom and I took a taxi out to the airport to meet his flight. The airport was quite busy at midnight when he emerged out of customs. We took another taxi back to the hotel and got to bed as quickly as possible! We each have a room here at the Centre Point Silom hotel.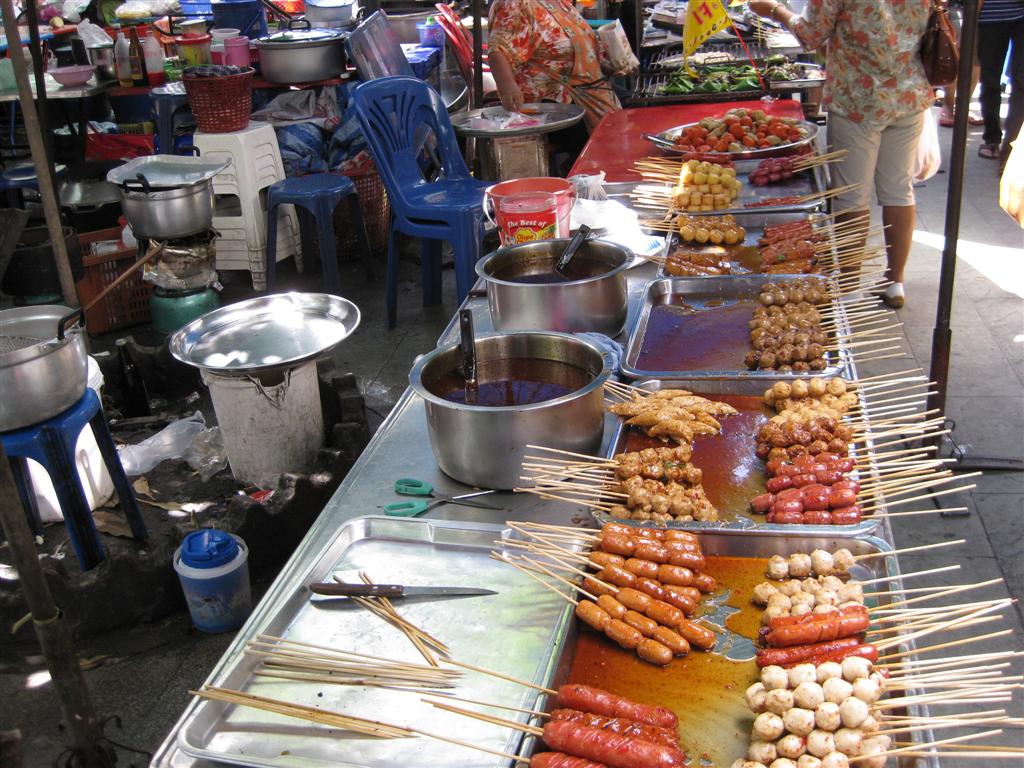 Street Food ...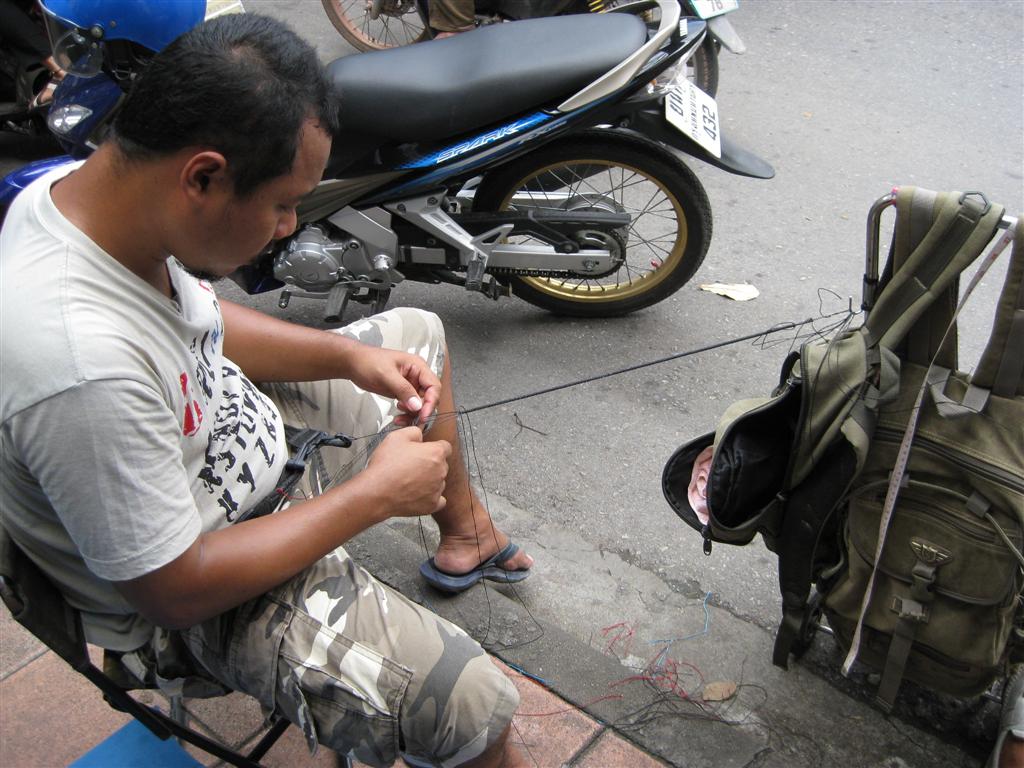 Braiding threads into necklaces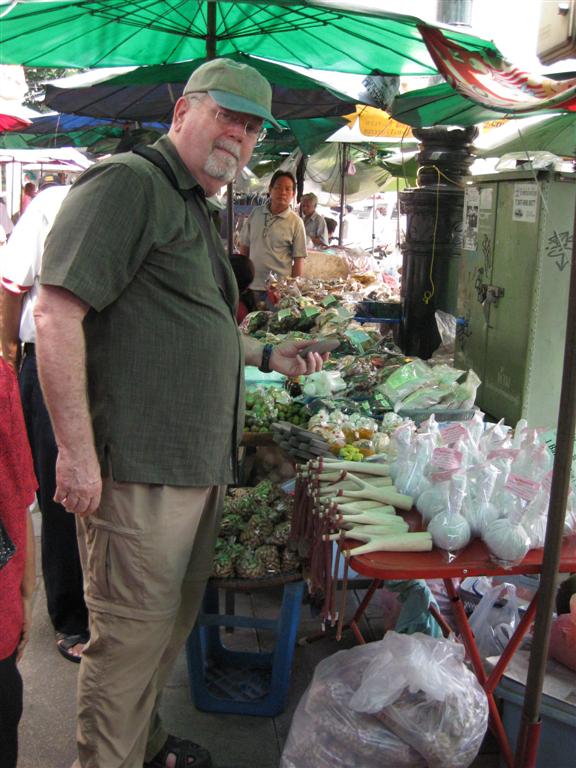 Nice smelling Massage balls (I think)
The next day we met for breakfast. Tom decided to say close to the hotel and Ron was reacting to some pain meds and felt it best to sleep it off. I went out and decided to see more of the city by riding the Sky Train. I bought a ticket for one station and then rode both lines to their ends.
On Thursday, we flew to Chaing Mai where we are spending 3 nights. I'll tell you about this old kingdom later on.
October 23, 2009 Chiang Mai
We arrived in Chiang Mai in the early afternoon. This old kingdom lies between mountains to the west and the Mekong River to the East (good feng shui). The kingdom was unified about 300 years ago and had a royal prince up until recent times. There are 500,000 people in Chiang Mai proper, and 2 million people in the greater area.
The hotel sent a car for us and it was a short ride to our hotel.
We are across the street from "Old Town" which is defined by the old moat and fragments of the old city walls. After settling in, we walked into the old section. It was hot and we sought refuge in an electronics store. I bought a new memory card from my camera as my old card just died???
We returned to the hotel where we ate dinner and turned in.
The next day we scheduled a city tour. Our guide was "Lucky" and he took us to the most famous temple of Chiang Mai, located 15 km away (called Wat Phrathat Doi Suthep). "Wat" is the word for "temple".
We took an elevator from the street up to the temple area. There were many people because it was Friday of a holiday weekend. At one point we had a view of Chiang Mai and could see the airport, the outline of the moat and could locate our hotel.
We had added a stop at the Winter Palace, still used by the royal family. The Thai people are very fond of the king and queen. It is against the law to say anything negative about them. The king is about 81 and has been in the hospital with a lung problem. The palace reported that he is over that and gaining his strength. TomO and I were wearing shorts and were obliged to rent pants that were still short on us, but several inches longer that our shorts!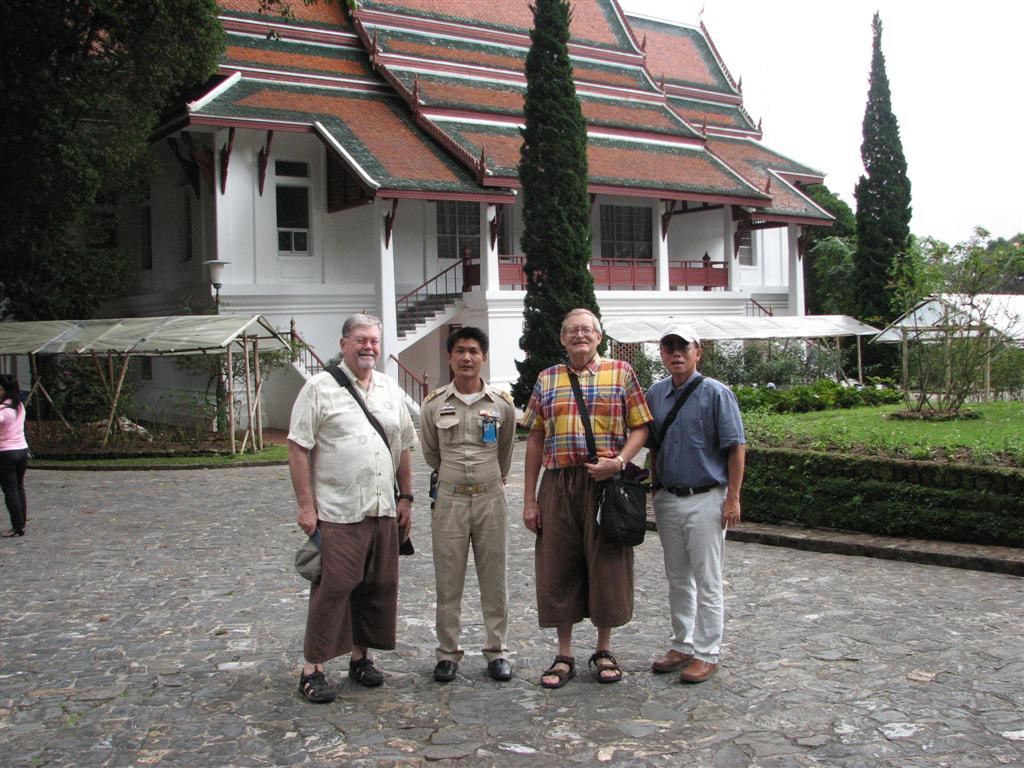 We returned to the city and visited several more temples. One (Wat Chiang Man) was built in the 13th century by Man Rai, the founder of Chiang Mai. It was almost destroyed by an earthquake 400 years ago. The center part was supported by huge, carved elephant buttresses. Only a few remain.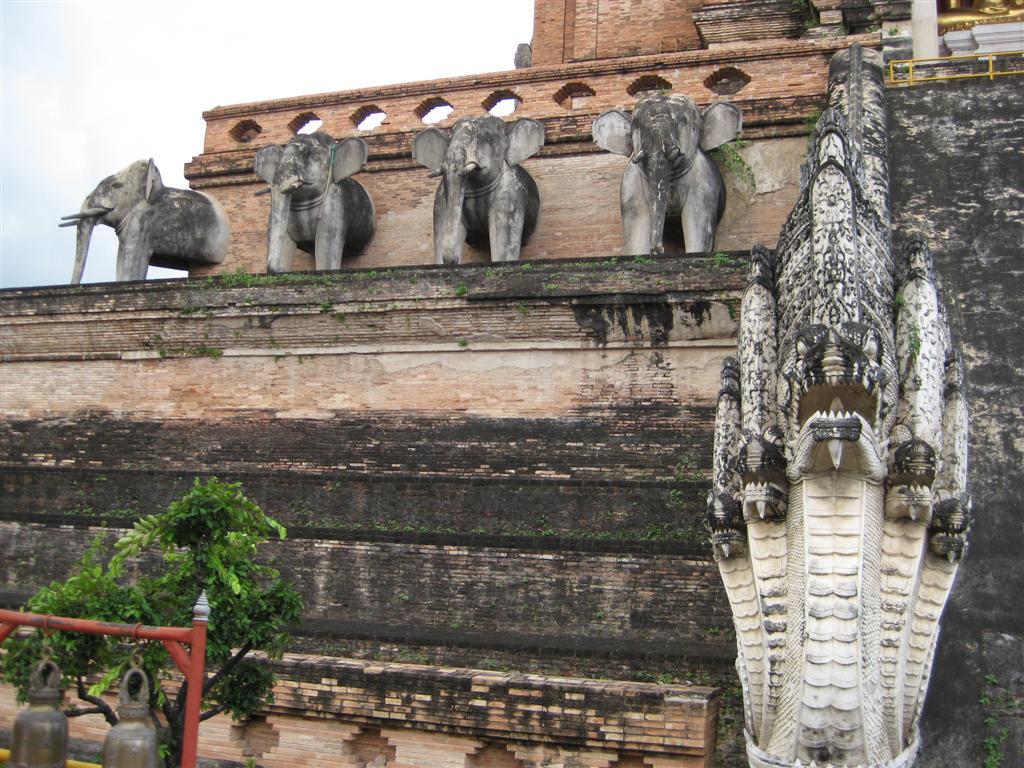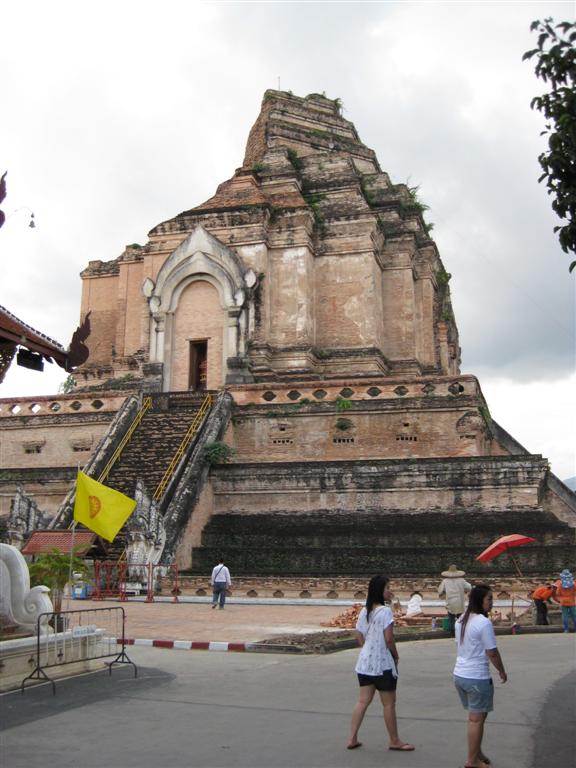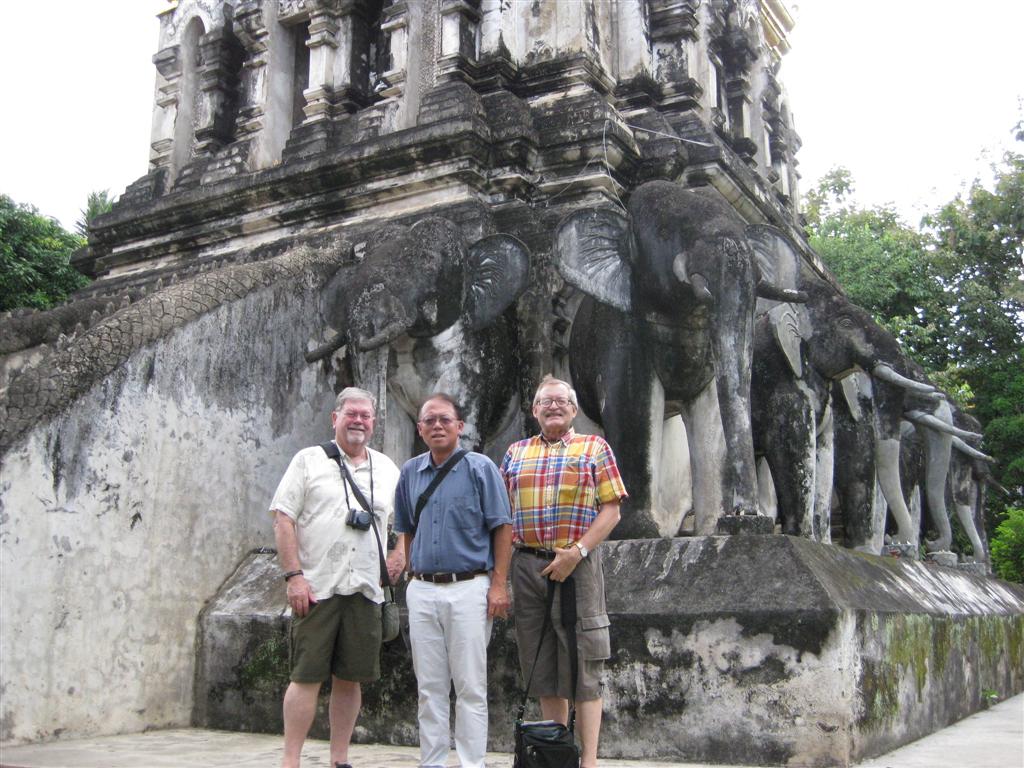 We stopped by a jade workshop across the road and watched the artists carving pieces.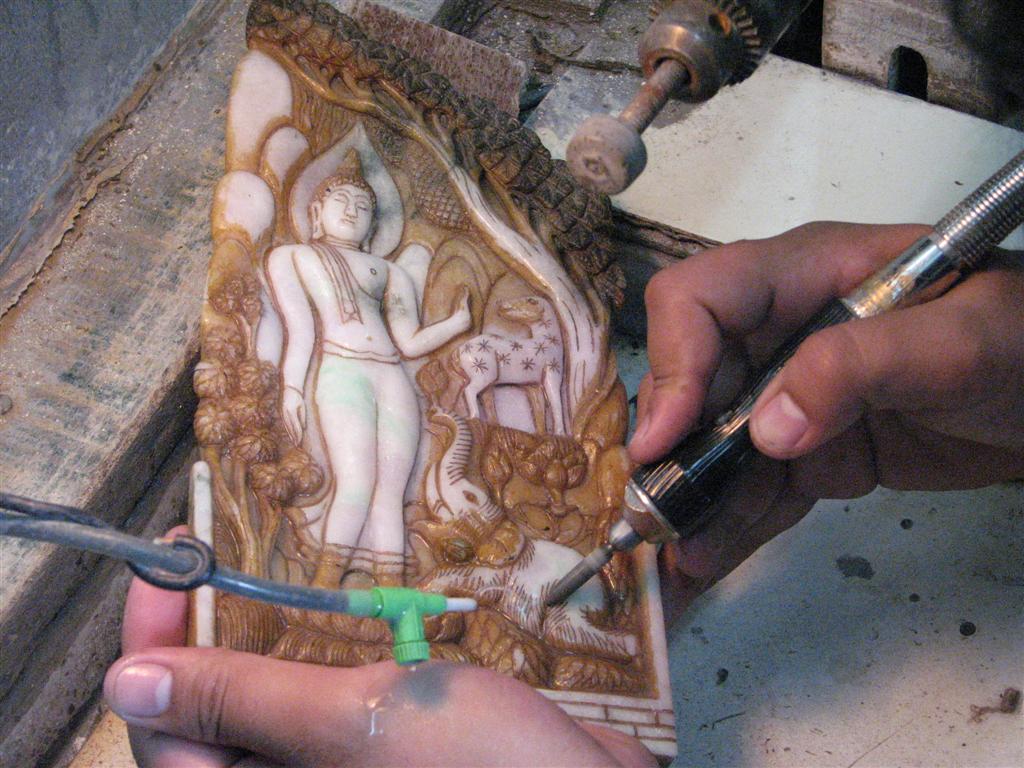 Jade carving
That night we talked Lucky into taking us to a restaurant. He showed us how to use the red open-backed "taxi" pickups. You just tell them where you want to go, and it cost about 60 cents per person. He selected the River View Restaurant, owned by a Dutch couple, which is situated on the Mekong River. We sat out on the outdoor dining area adjacent to the river and the restaurants dinner boats.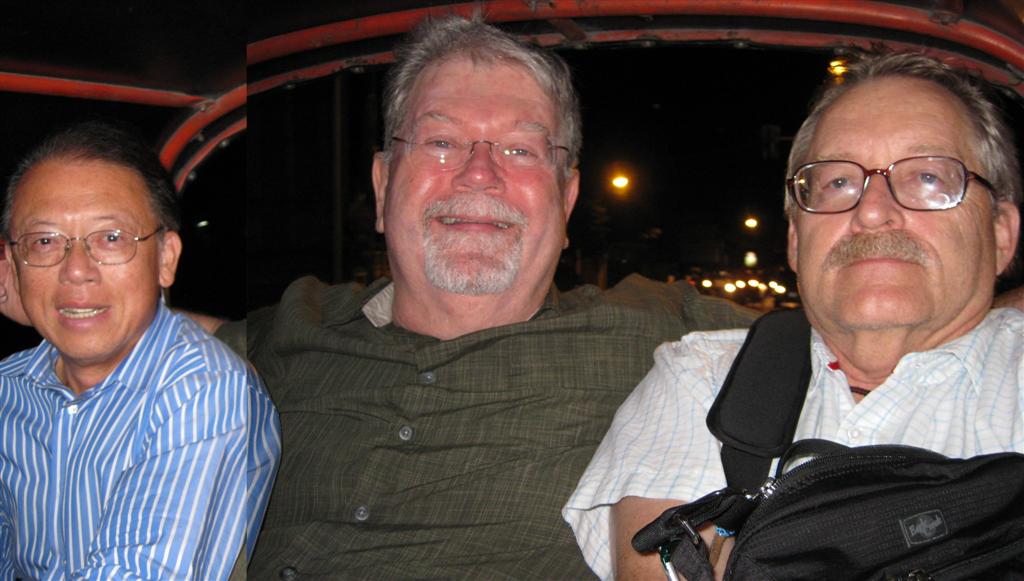 Open backed red taxi (songtaew) ride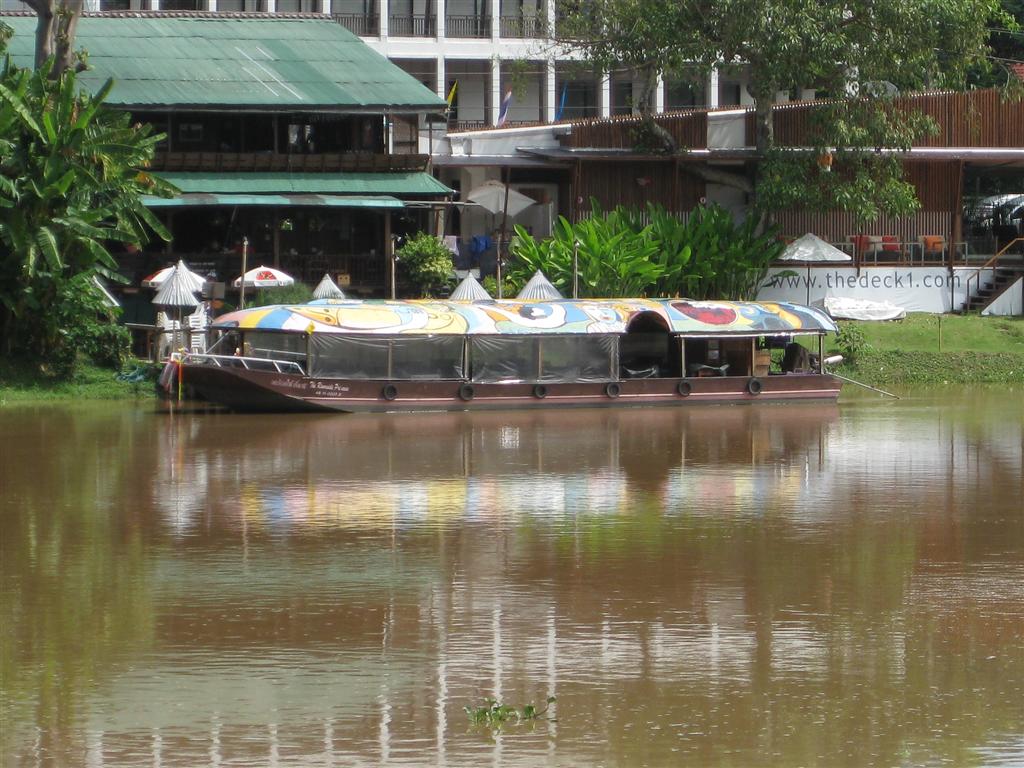 Riverview Restaurant
We saw "paper balloons" rising in the air. These are thin paper boxes, open at the bottom. We were told that these balloon represent you sending off your bad luck. (So you must not pick up a paper balloon that you might find on the street, or you will get that bad luck!)
After dinner, we bought a paper balloon. They wired a fuel source to the bottom and lit it. We had to hold the balloon for a bit for the space to fill up with hot air, then it took off.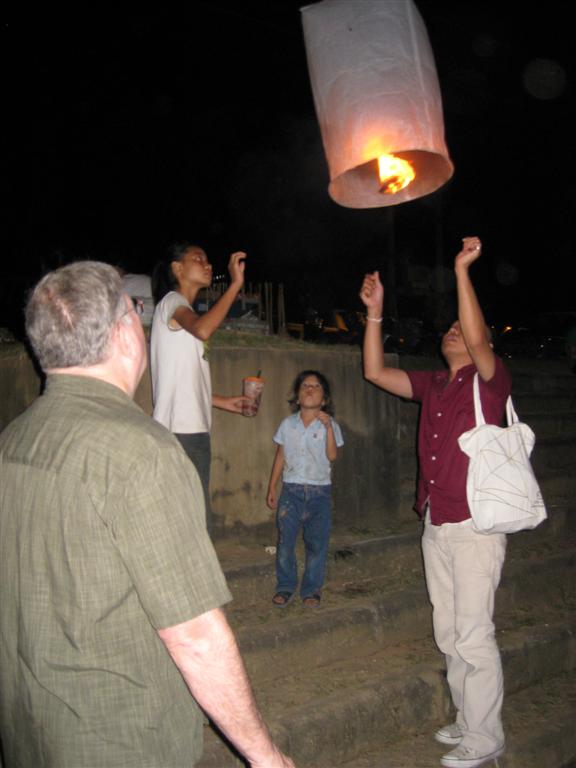 TomO and Lucky sending off paper balloon
On our last day, we took another Chiang Mai tour around the old city moat and walls. We rode into Chinatown and walked through the shops. Another stop was the flower market and the huge selections of blooms. $3.00 for a huge bunch of orchids.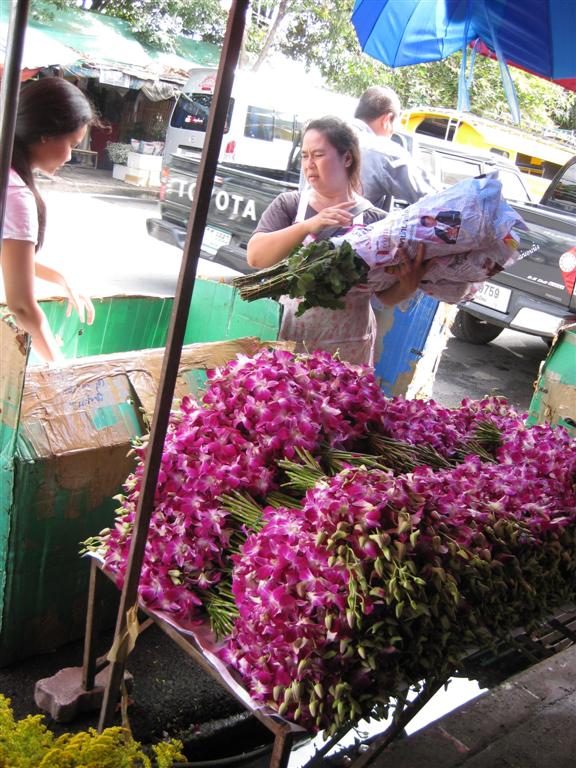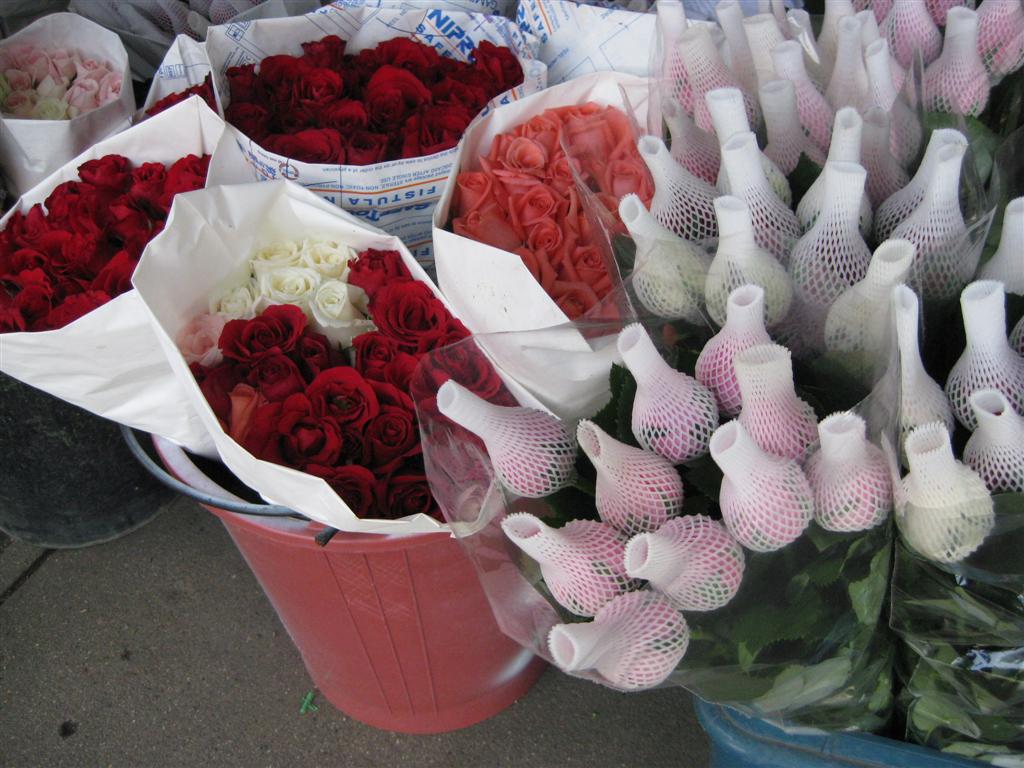 Orchids and (wrapped rose buds)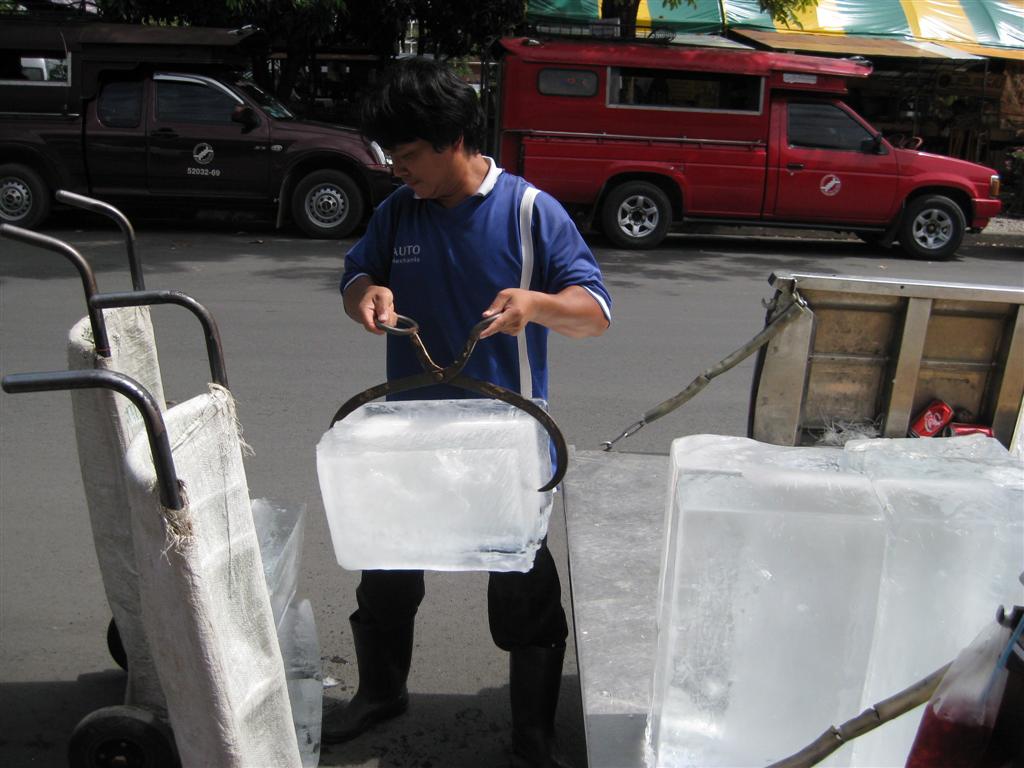 Ice man making a delivery
We were treated to a tea break in a garden hidden by the surrounding buildings. The green shade provided a cool refuge. Tea was served in individual celadon tea sets. TomO's cup was an elephant's trunk.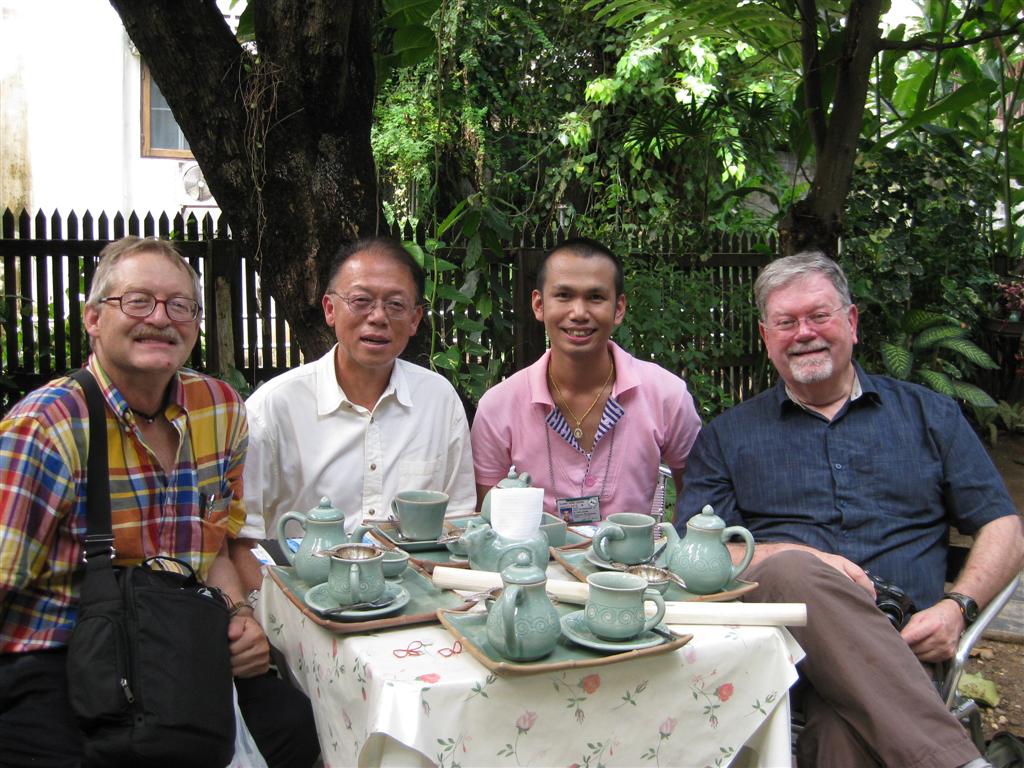 Guide Bird treating us to a tea break
October 24, 2009 Chiang Rai and the Golden Triangle
We booked an all day tour to take up north to the old city of Chiang Rai and the golden triangle which lies beyond. Our guide was "Tree". He has a distinctive voice and his friends call him "Speaker Phone"!!!
We left the hotel at 8:30AM and didn't return until about 10PM. Our road started uphill and was very windy. We stopped at the Mae Ka Chan hot springs where the water that boils up is hot enough to cook eggs. Tourists could buy a little basket of quail eggs or chicken eggs. We saw the results being eaten at a table nearby.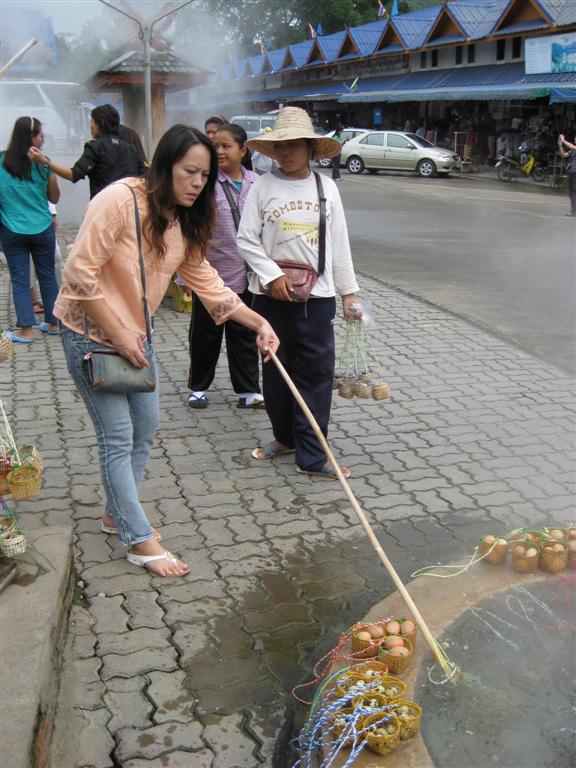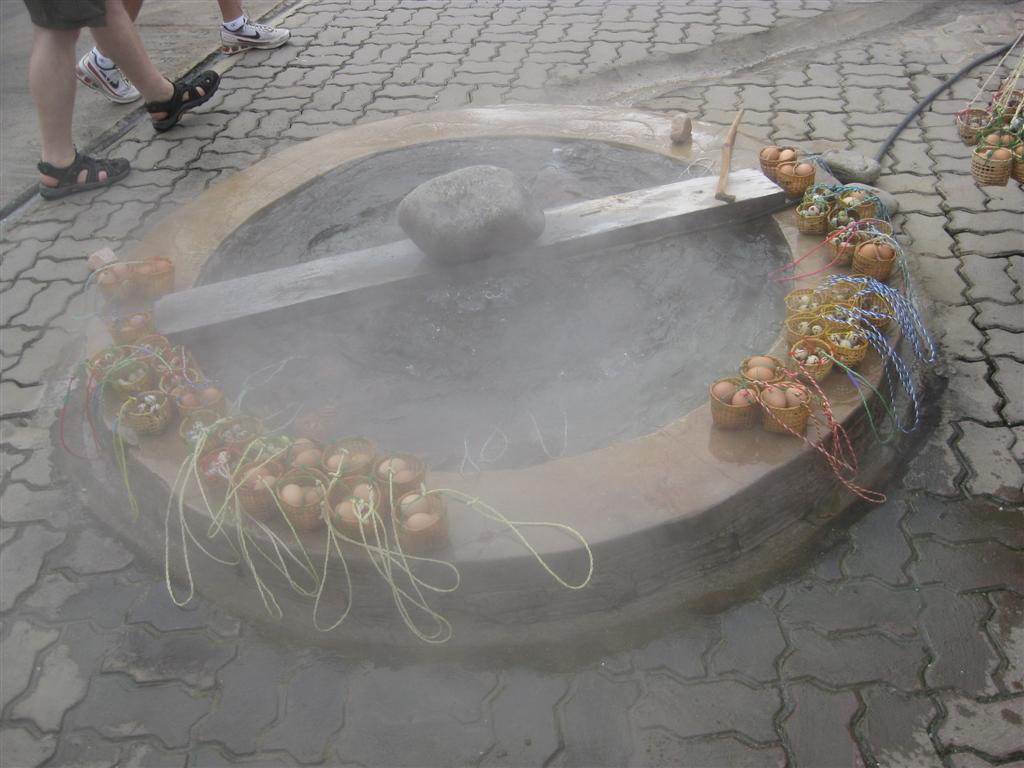 Boiling eggs in hot sulfur smelling hot springs
There were lots of tourists shops there and I looked a ruby rings and Ron looked at US silver dollars. We both retreated thinking both were fakes.
Just outside of Chiang Rai is the Rong Khun (White) Temple. It is very new construction and the design is by a famous Thai artist. The white surface of the temple is inlaid with glass and mirror to make it sparkle. When you approach the building you walk beside a pond of white choi fish. Then you go over a bridge where on either side are hands reaching out of hell. Inside the temple, the artist has represented hell at the entrance (with paintings of Bush and Bin Laden and other contemporary images. As you move towards the alter, the drawings advance you to Nirvana.
We arrived in Chiang Rai we stopped at a 12th century temple ruins.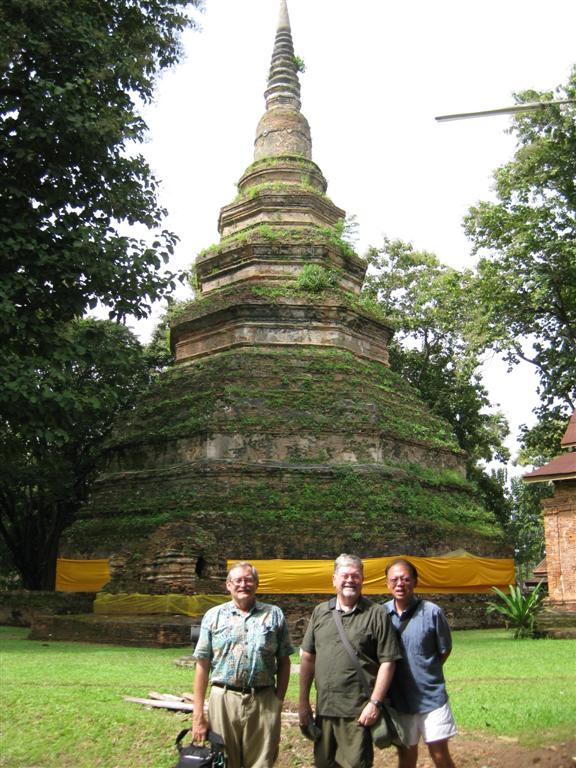 Temple Ruins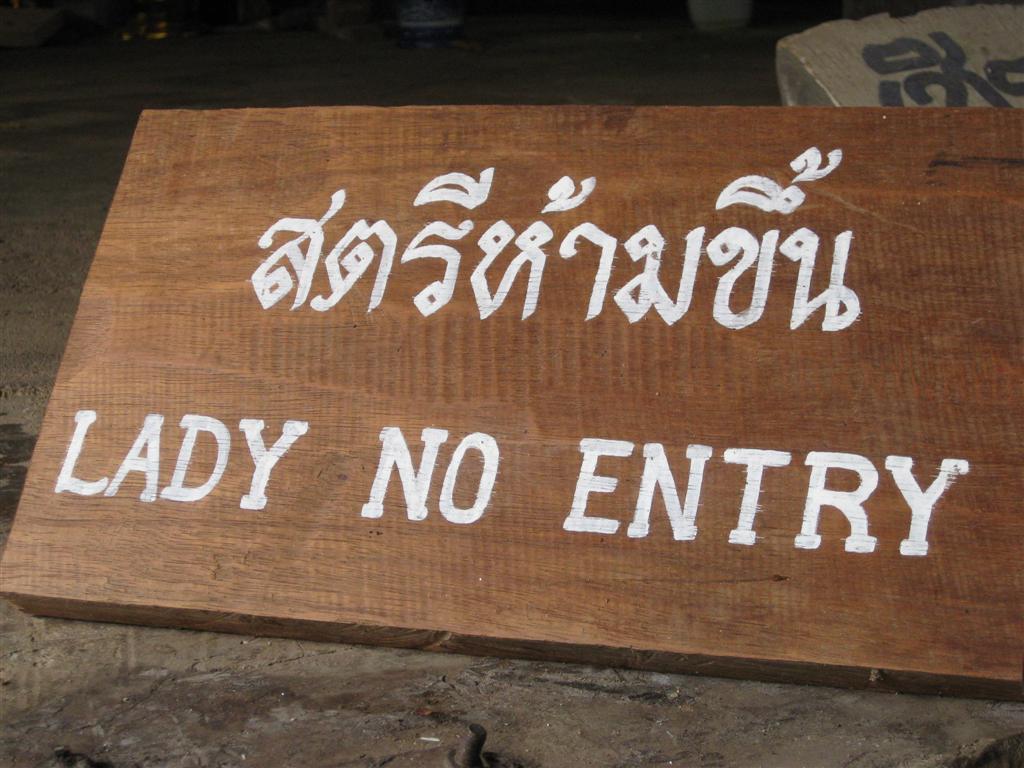 Continuing north we eventually wound up at the Golden Triangle, where the borders of Thailand, Myanmar and Laos meet at the Mekong and Ruak Rivers. We took some photos before eating our buffet lunch at the Golden Triangle Resort.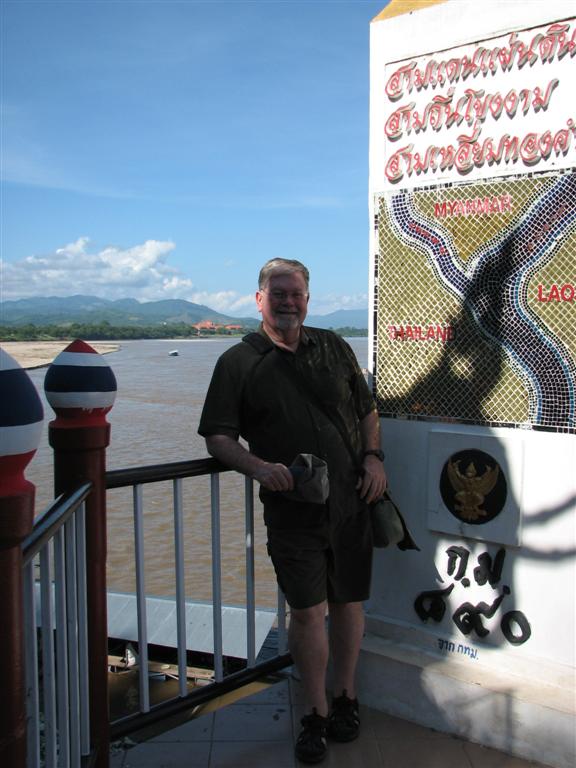 Outside of the restaurant, a woman and her young sister were selling soap carvings ... in the shape of exotic flowers put in lacquer containers.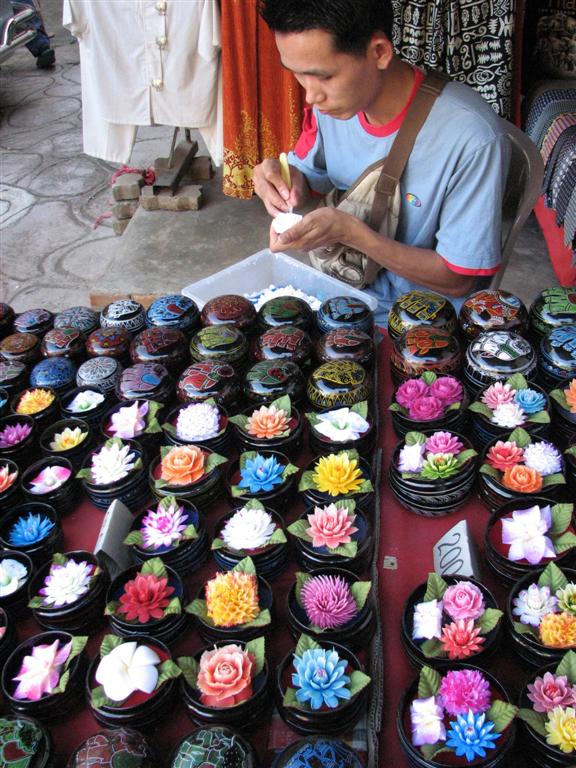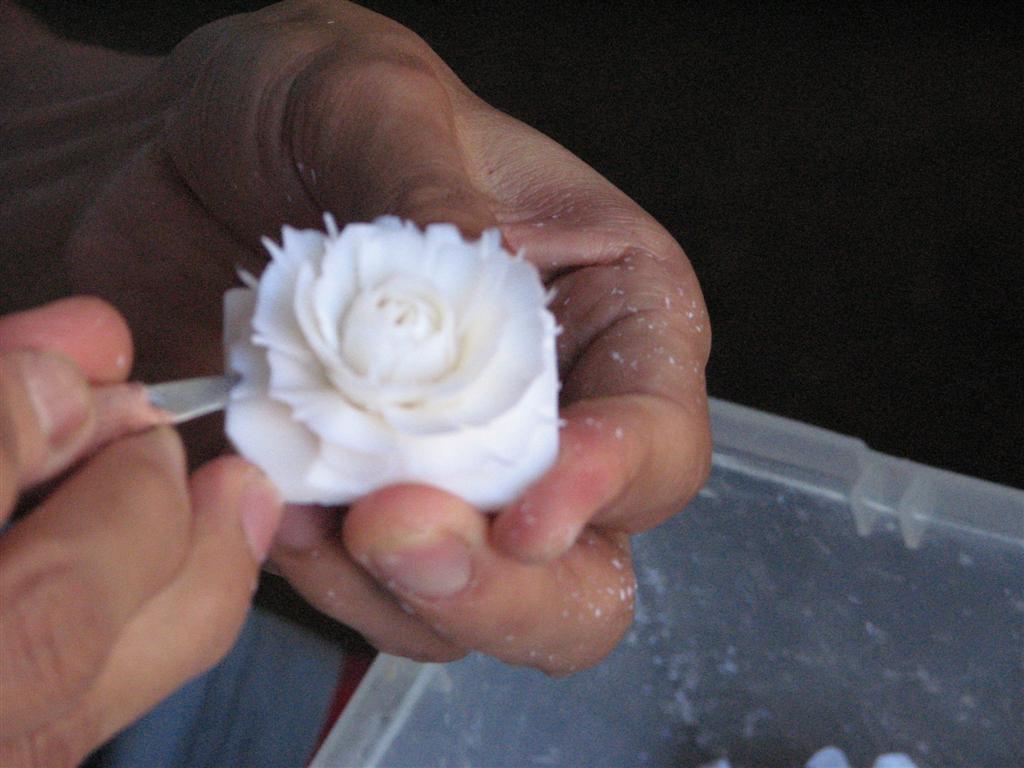 Soap Carving
The Golden Buddha and Happy Buddha were on the banks of the Mekong River we saw them next where we took even more pictures. The big new building in Myanmar is a casino and I think Laos is wanting to build a similar structure. Gambling like that is illegal in Thailand and I think the locals are afraid of losing tourist. The Opium Museum was next ... showing us how to cultivate and harvest this valuable crop.
A short drive further north took us to the Myanmar border. I think because of the late hour, our guide told us we could not go across without passports and visas.
There were lots of shops, many with Chinese imports, lining the street. Our guide bought a round fried thing on a skewer. It was bread dough around a short sausage (a Thai corn dog!).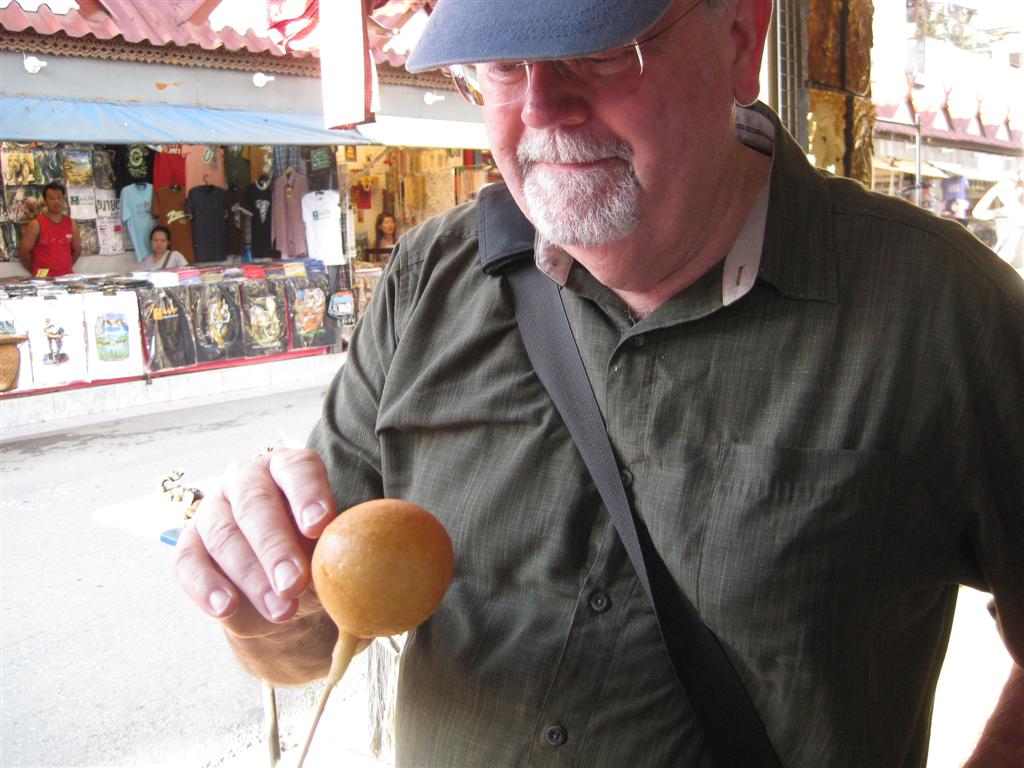 Thai "corn dog"
October 25, 2009 Back to Bangkok
Our 8:30PM flight to Bangkok turned into a 11:30PM departure. We didn't get to our hotel until after 1AM so we were pretty tired the next day!
We booked "Charlie", a Bangkok guide for the next 2 days to show us around the historic religious and national sites. The places are near each other, along the river.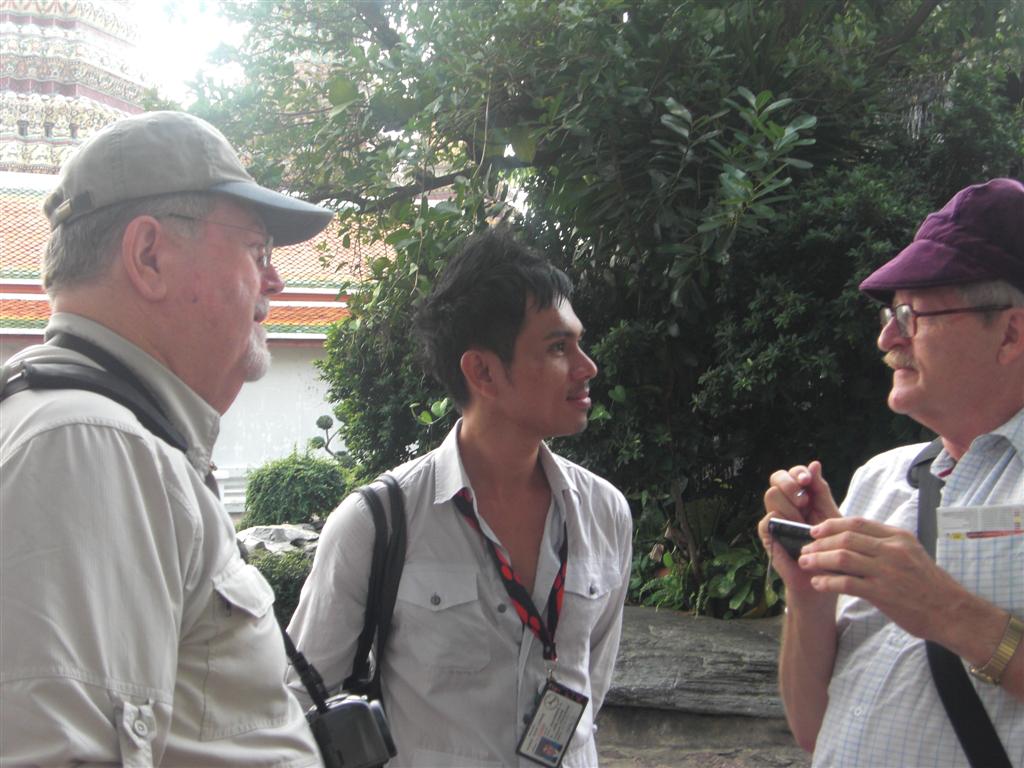 TomO and TomD with Charlie
The first stop was an exhibition hall which had been the former throne room on the royal palace grounds. We stopped for coffee at Doi Tung coffee shop. This coffee company came out of the queen mother's effort to divert the poppy farmers to other crops ... like coffee and macadamia nuts. I bought some coffee beans to bring home.
Then we went on to the royal palace grounds. Very spectacular. The dress code is strict and our guide went to a changing room to put on long pants! (And it was one of the hottest days we've had. The structures are beautiful ... gold and glimmering with jewels. The reclining Buddha is the 3rd largest in Thailand. It is considered the most beautiful in Thailand, if not the whole world. It is 138 feet long and 45 feet tall and is constructed of brick and stucco, covered by gold leaf. It is located at Bangkok's oldest and largest temple, "Wat Po", or Temple of the Reclining Buddha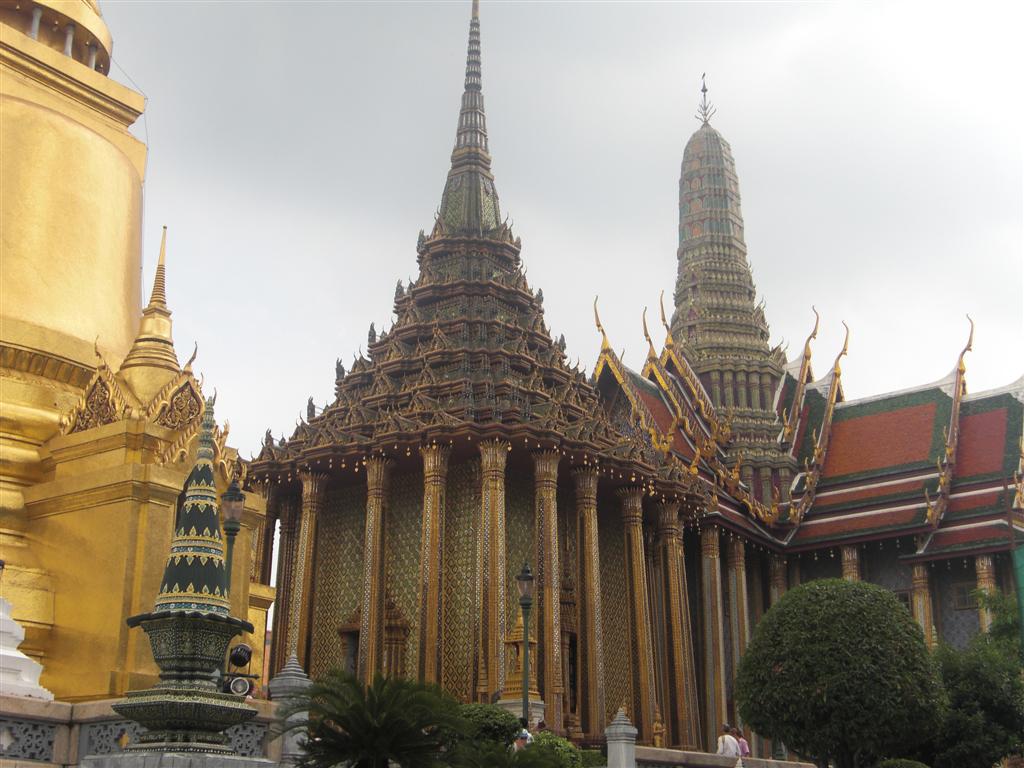 Royal Palace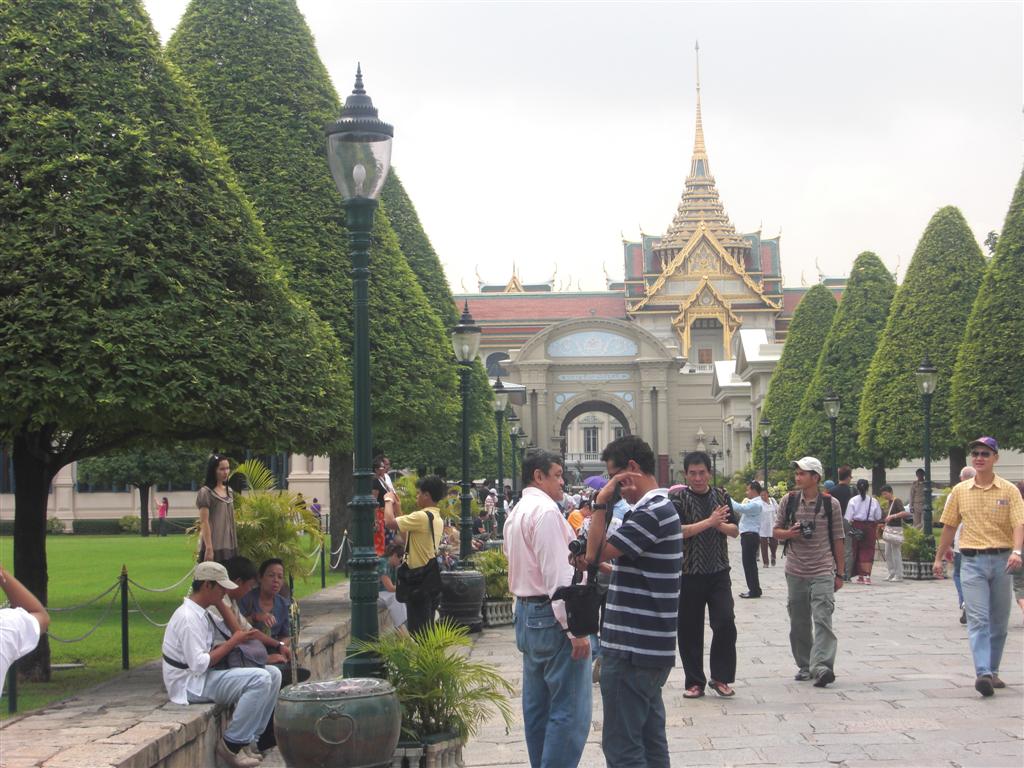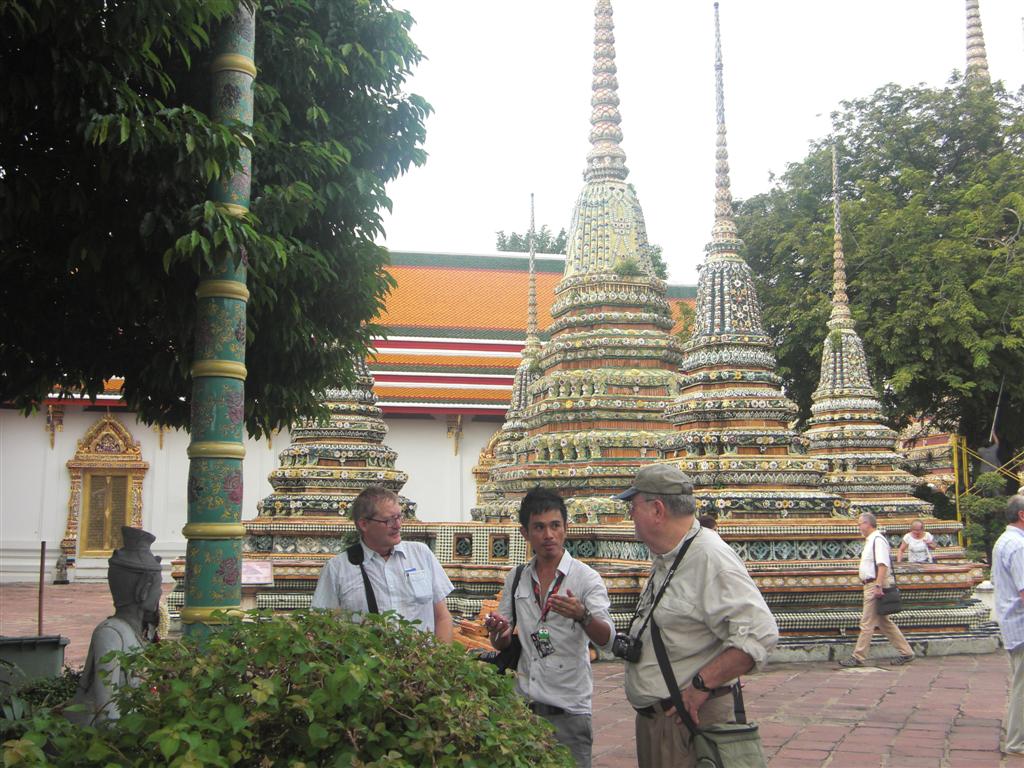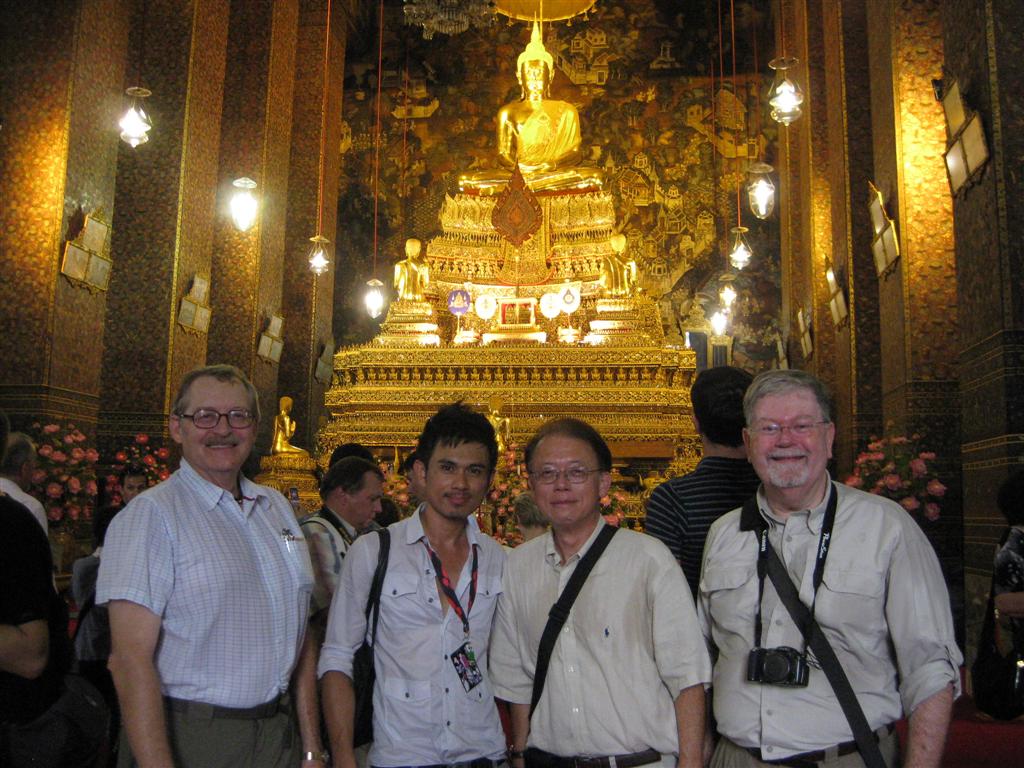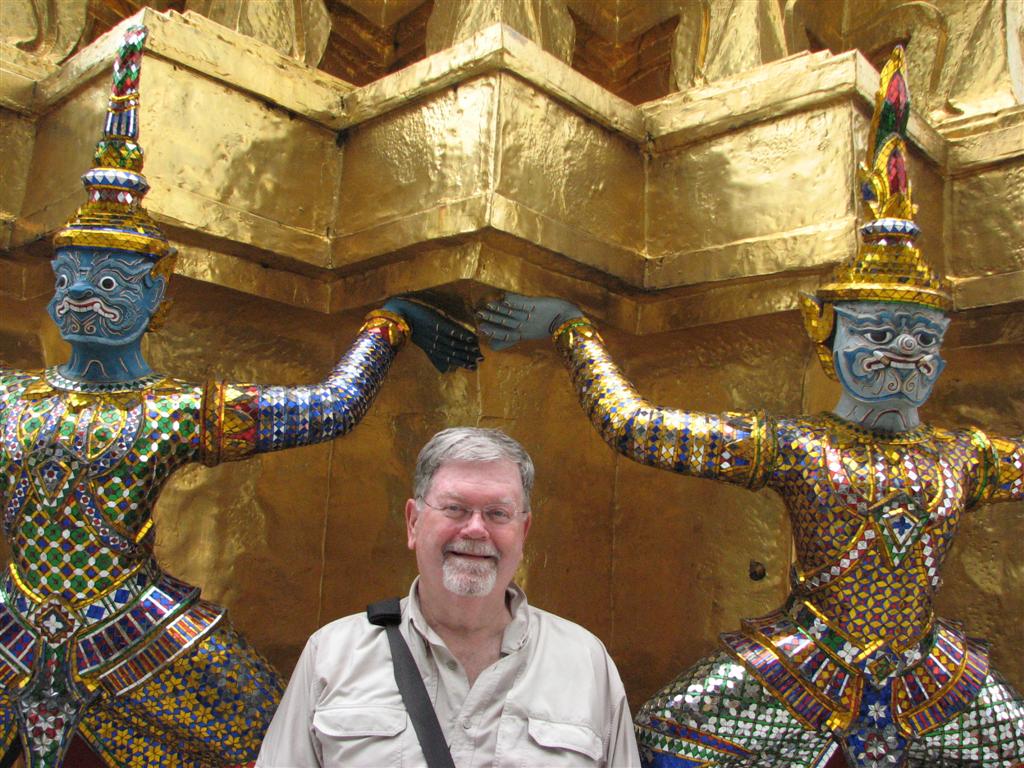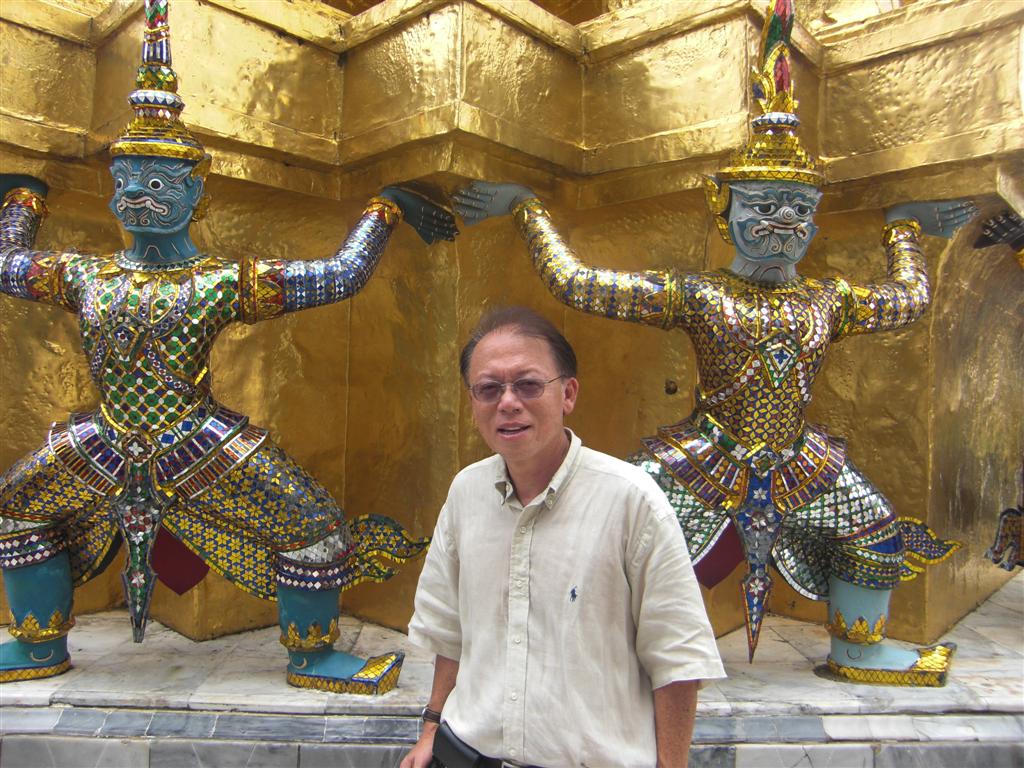 Elsewhere was the Jade Buddha. It had been covered by plaster for many years and at one point they went to repair the nose and discovered jade beneath.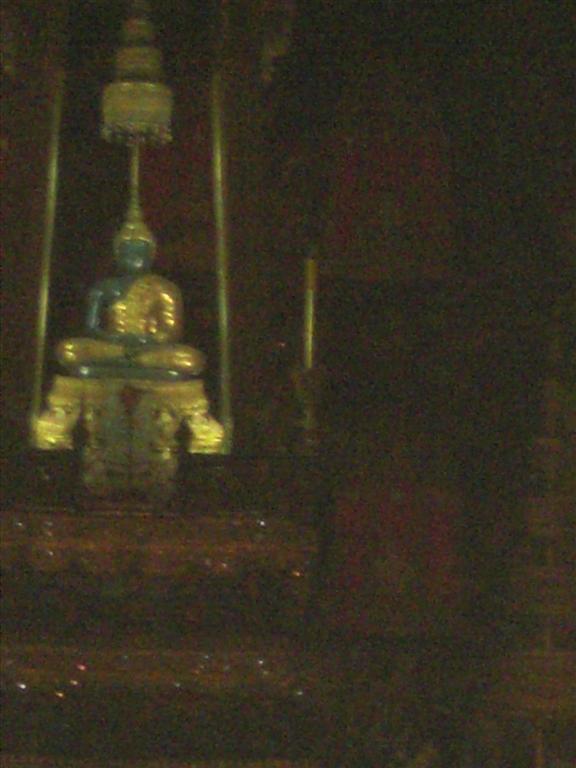 Jade Buddha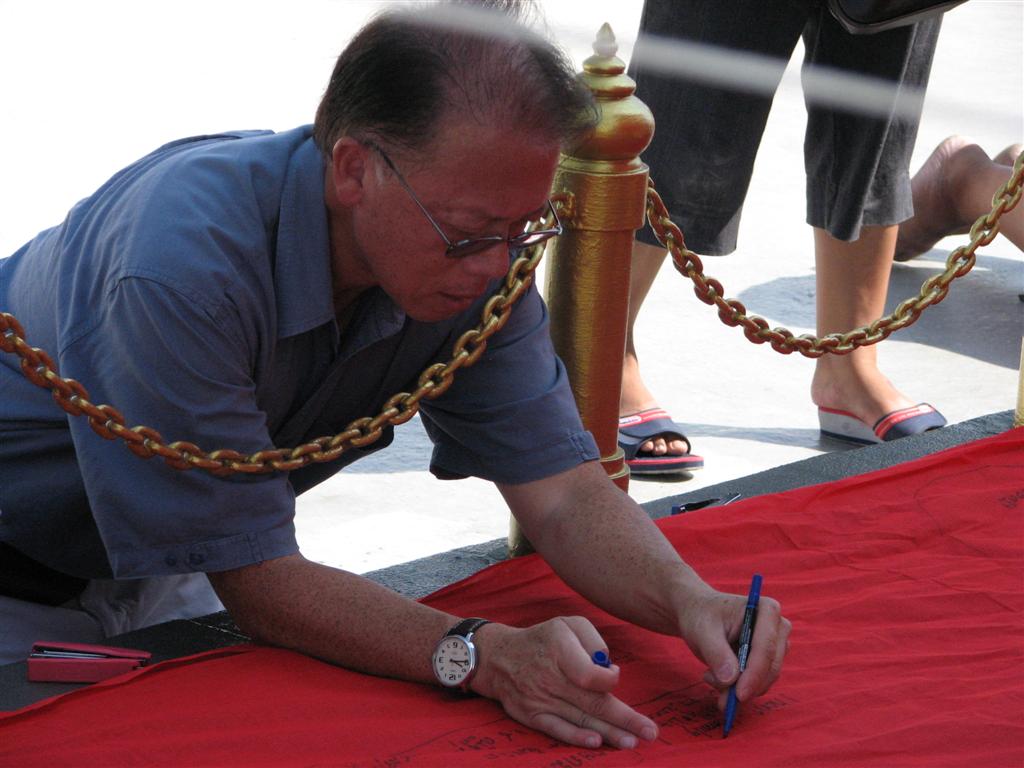 Ron writing wishes on red cloth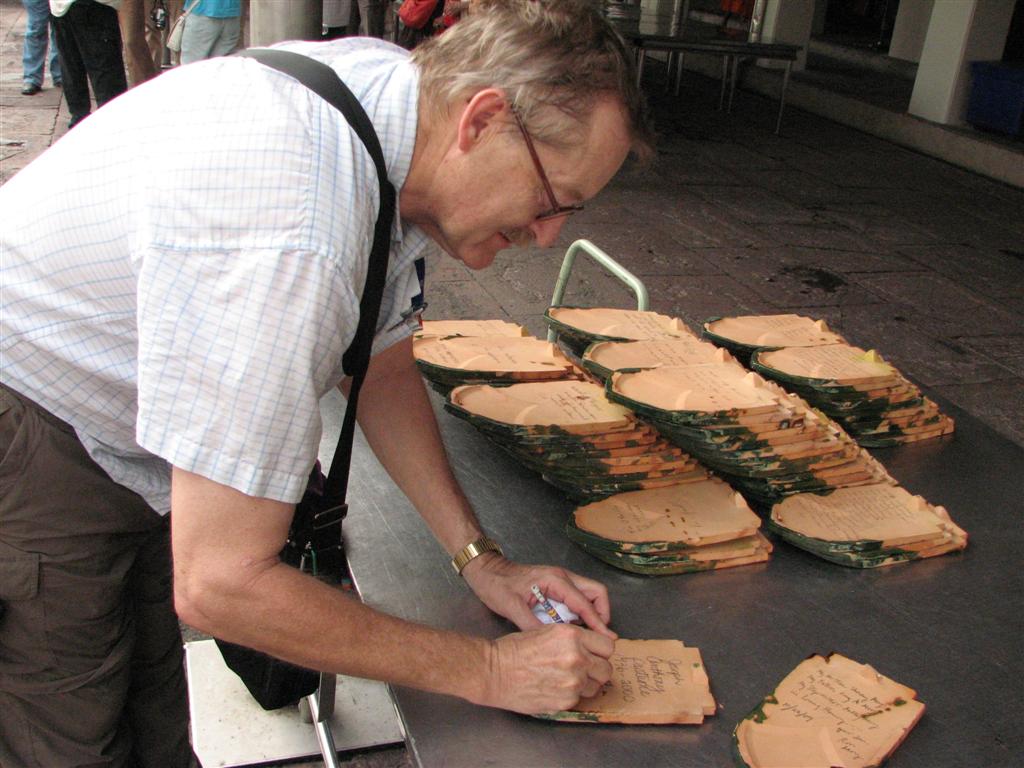 TomD writing on roof tile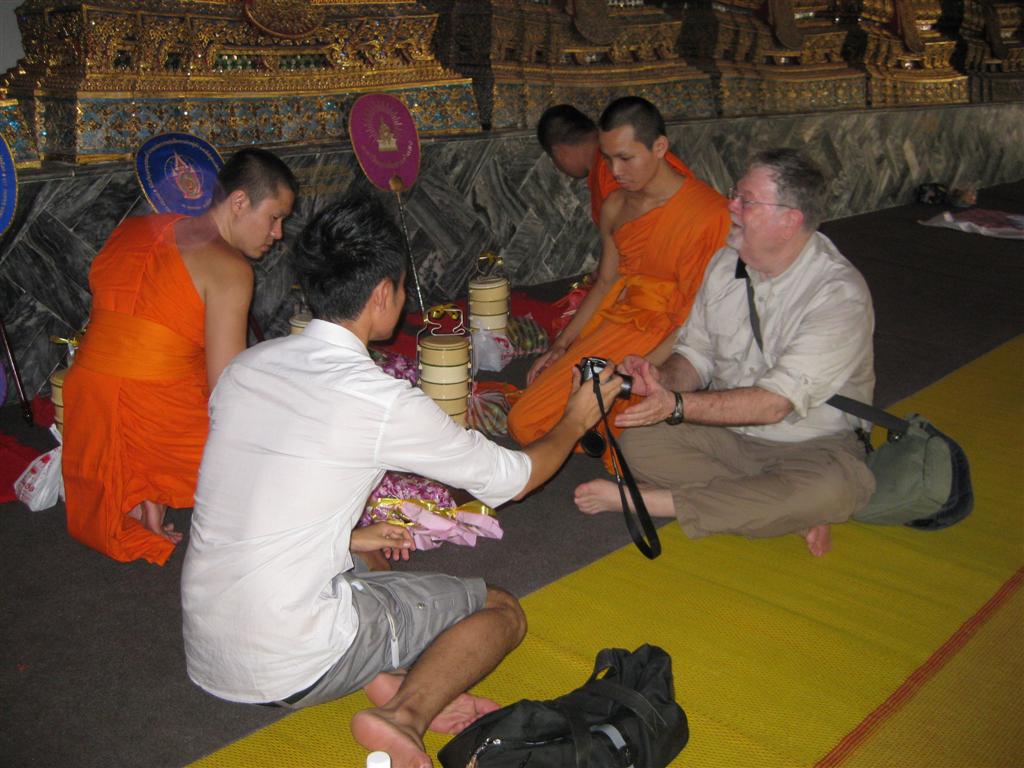 TomO giving lotus flower to monks
We had lunch at a funky Supatra restaurant on the River. We stayed in doors, but you also eat on the upper deck with better views of the Temple of Dawn on the other side. Mango shakes were popular here!
Our guide engaged a fast "motorized long tailed-boat" to take up the river and up one of the main canals ("klong") to the Royal Barge Museum. This was refreshing on a hot day! At one point we bought a loaf a bread and pulled off pieces to fee the fish.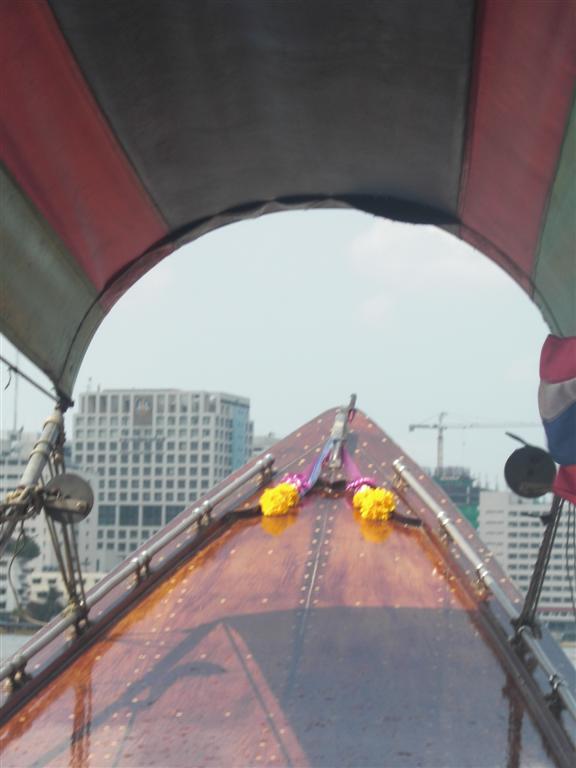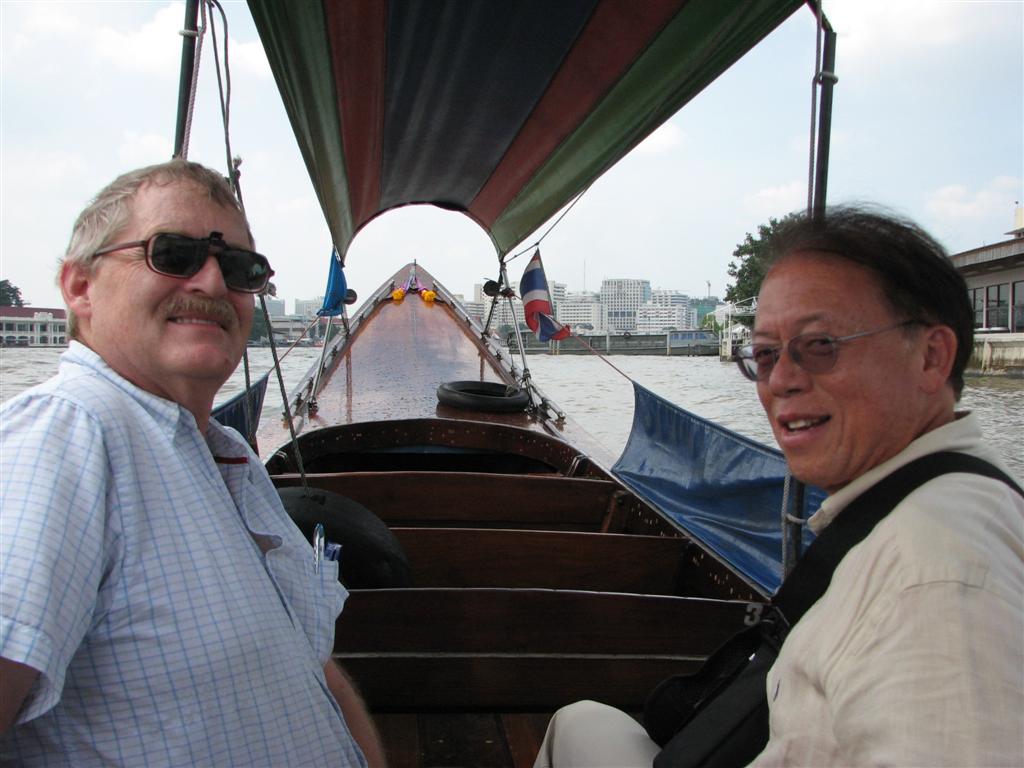 On the long motor boat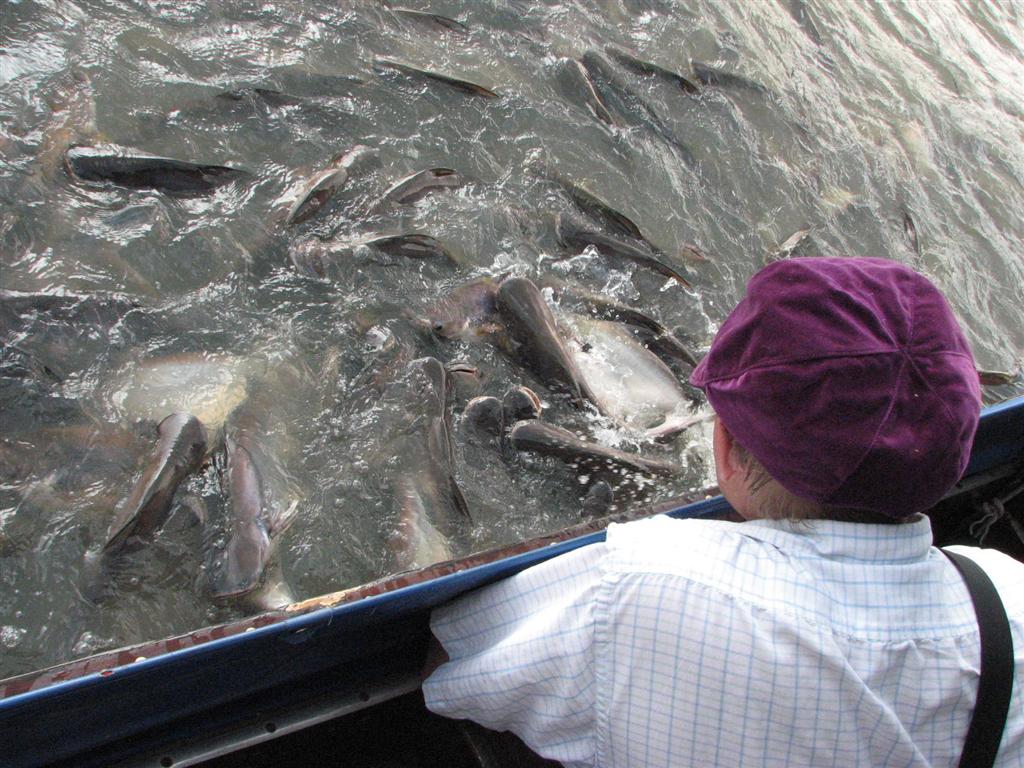 Feeding the fish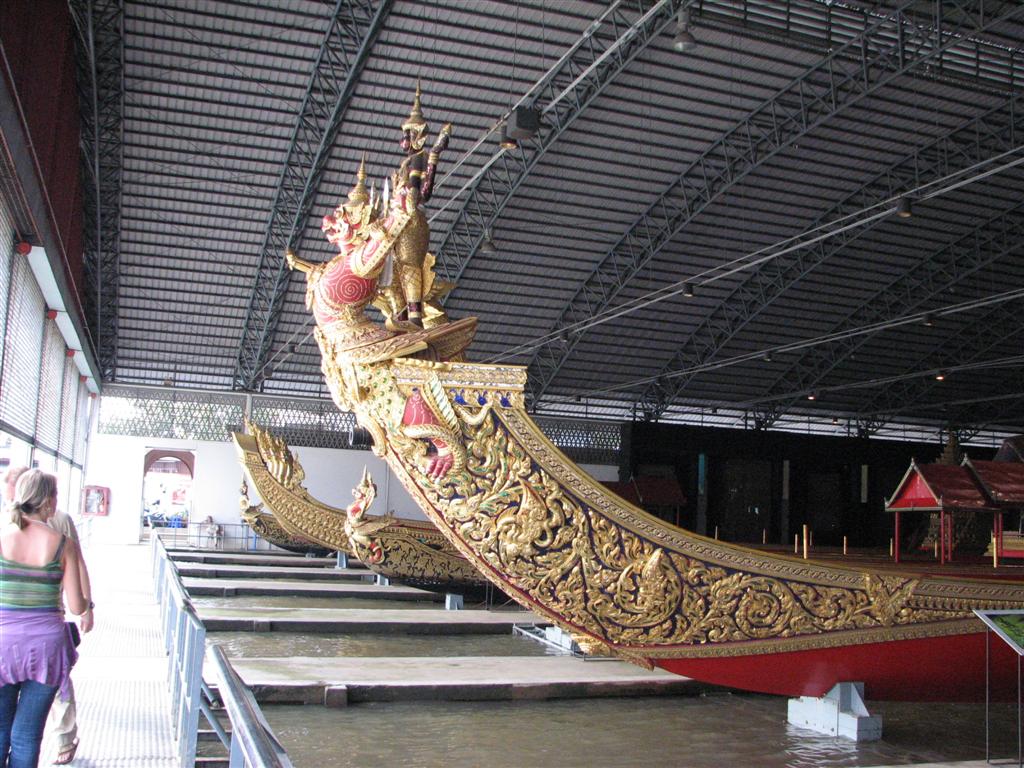 Bow of Royal Barge (one of many)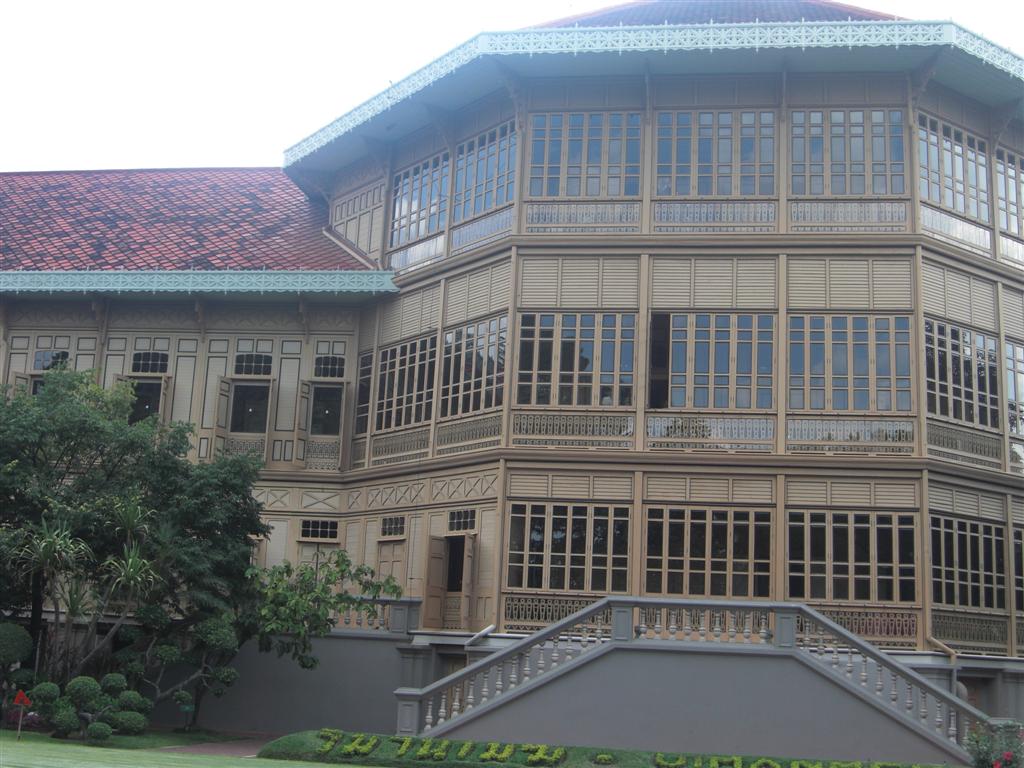 Teak Palace, built ca 1906
We paid 20 baht (65 cents) to dock at the "Wat Arun", or Temple of The Dawn. We climbed up high for great panoramic views of the river and Bangkok.
At the end of the second day of touring, we went to the Suan Pakkad Palace Museum where we saw artifacts from ancient Thailand which consisted of painted pottery, the cord-marked pottery, bronze axe, bronze spearhead, bronze necklace, precious stone bracelet and glass beads. It is also well known for the traditional Thai houses that were dismantled and rebuilt on this spot (a cabbage field "Suan Pakkad").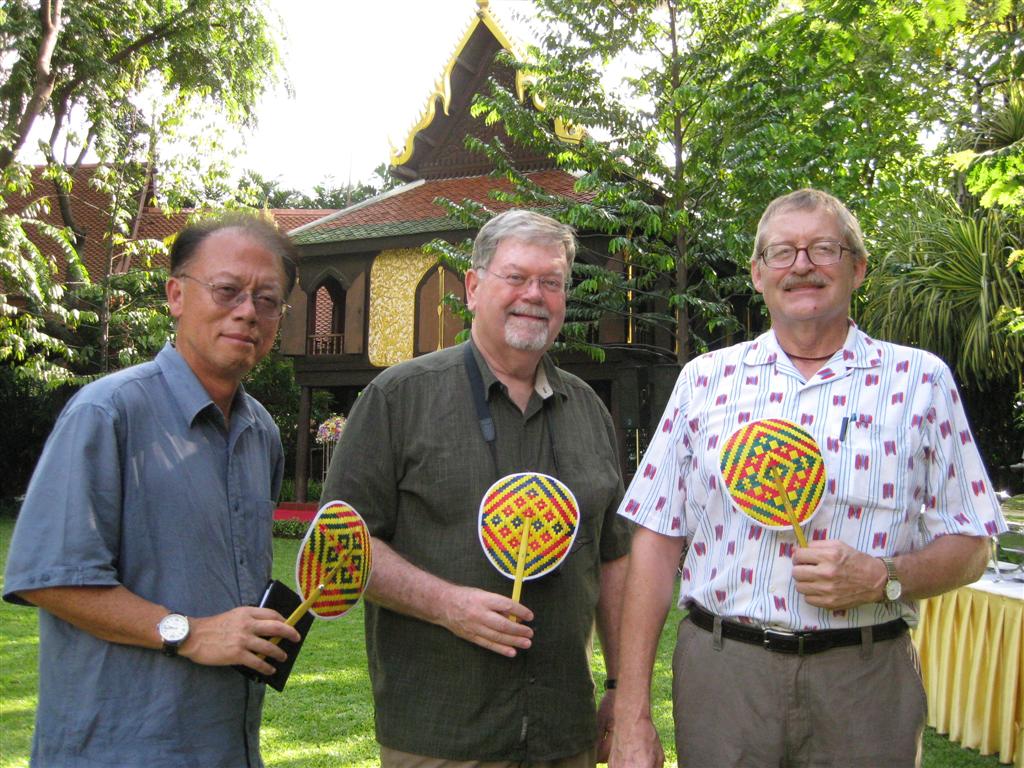 Nearby was the Jim Thompson house and museum. Thompson was an American architect who moved to Thailand after World War II (serving in the OSS). He helped revive the silk industry and preserved some classic Thai wood homes, by moving 6 of them together and jointing them together to make his home. He also collected many fine Asian antiques. He disappeared mysteriously in Malaysia in 1967 at the age of 61.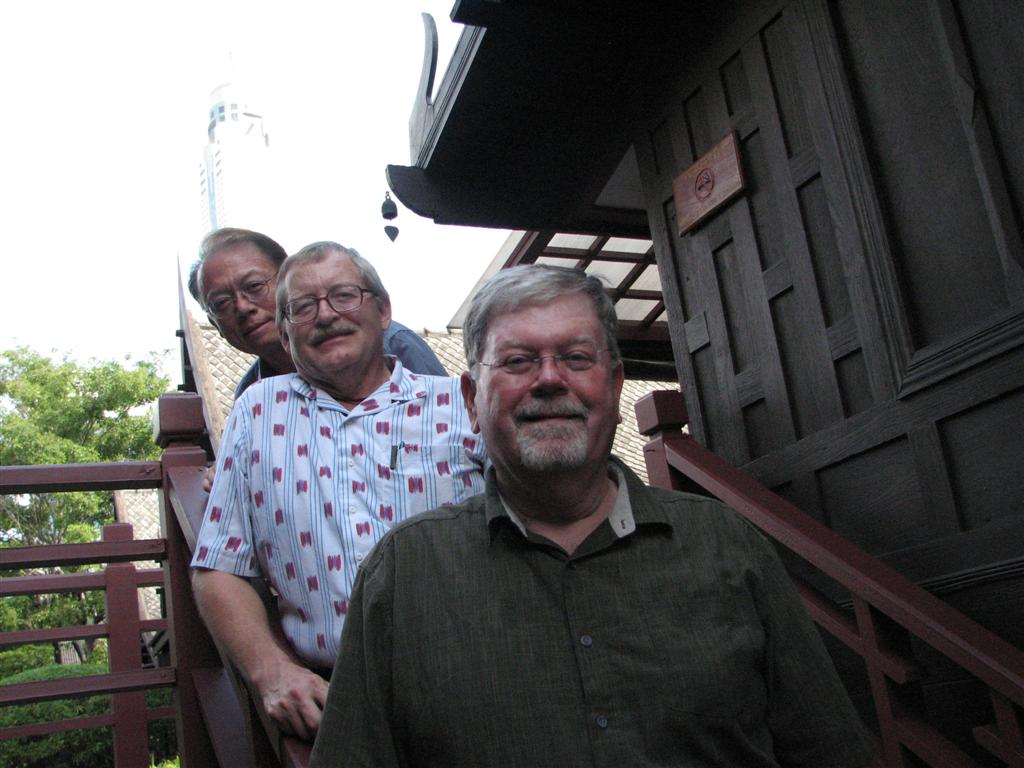 J im Thompson House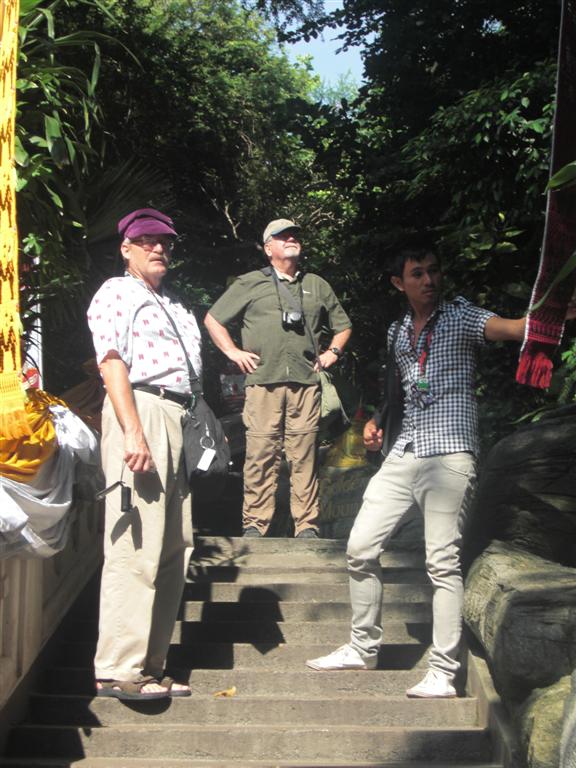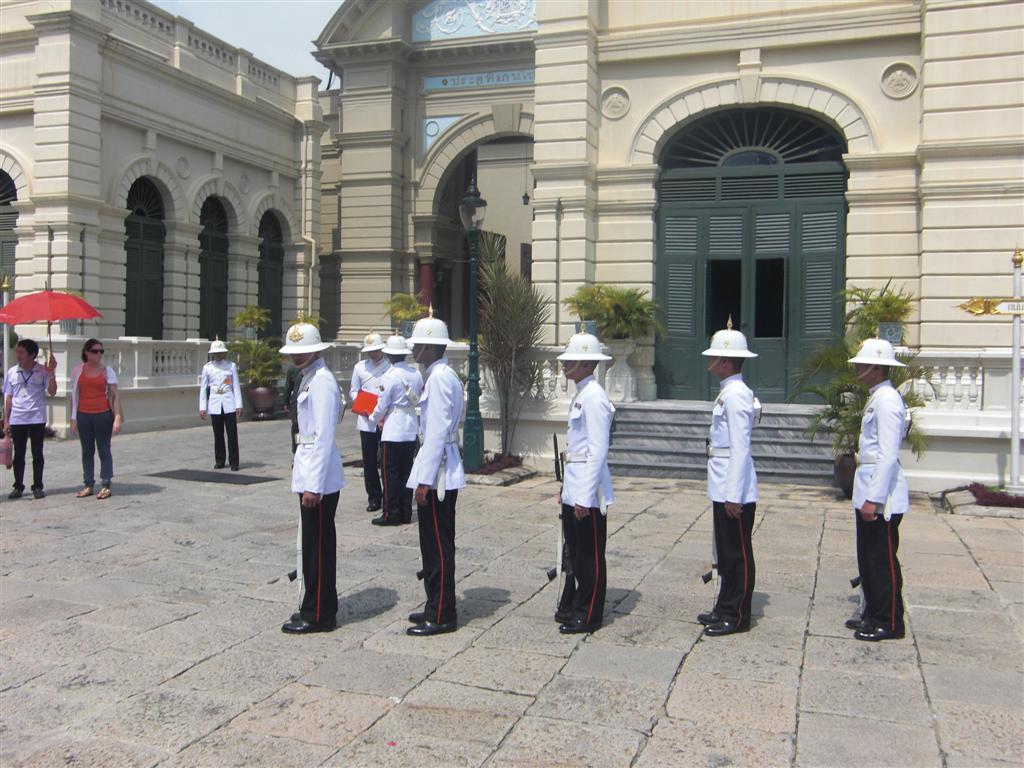 Palace guard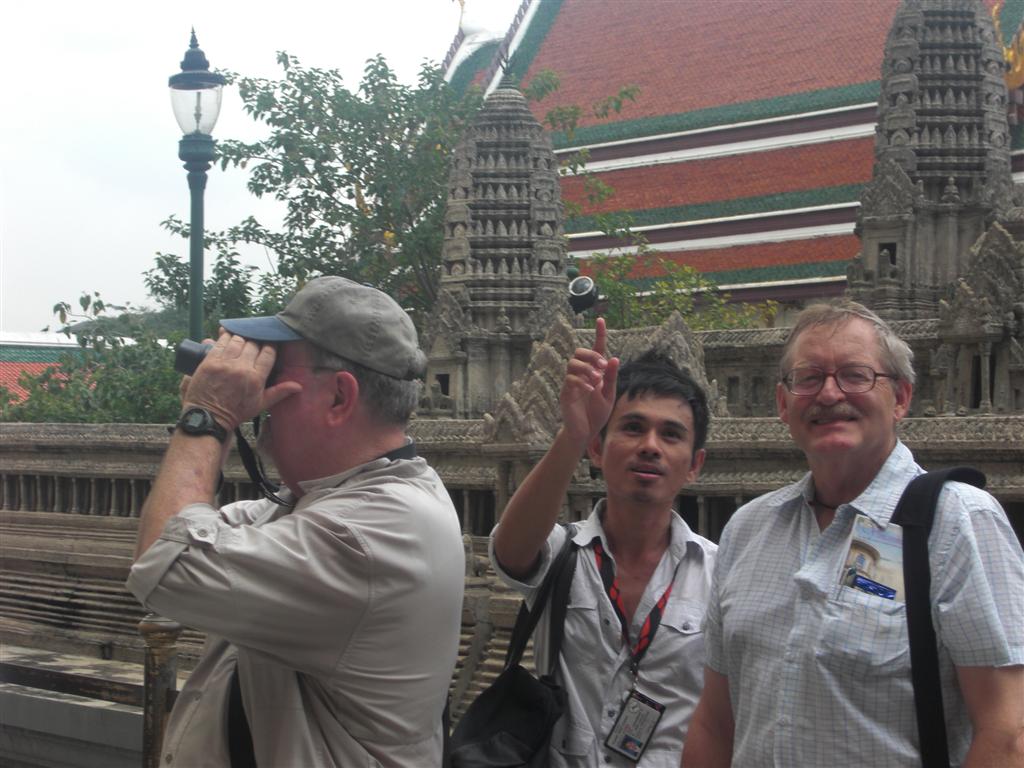 Suan Pakkad Palace
Our Bangkok guide was Charlie. We liked him very much and would recommend him to Thailand travellers. You can reach him:
CHALERMCHAI DUANGSUWAN (Charlie)
E-Mail: chalie_ybkk@hotmail.com
Mobile phone: +66 (0)83 7016569
Independent Licensed Tourist Guide THAILAND
Click here to see the rest of the trip!
This site was last updated 08/18/10