This site was last updated 08/22/10
On Tuesday, May 4, 2010, I flew the red-eye from San Francisco to Boston with brother Richard, Judy and her sister Vicki. We arrived at 7AM the next morning and were picked up by Kate, Richard and Judy's daughter. We were there to attend Kate's graduation from Northeastern University. She got her masters degree in nursing. She also received certification for nurse practitioner in neonatal intensive care.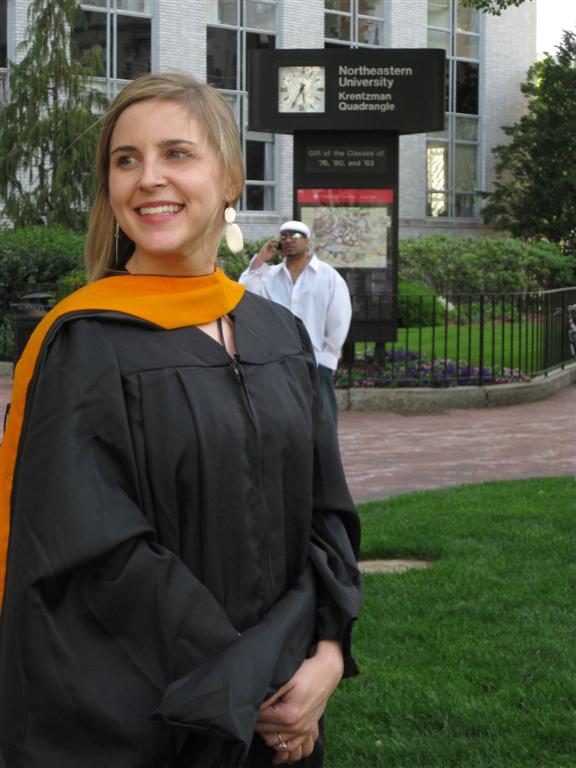 (Click on the thumbnails to see a larger photo. Then click on the browser's back button to return to this page.)
The Northeastern University School of Nursing Convocation Ceremony took place on Thursday, May 6, in the Blackman Auditorium of Ell Hall. Prior to the event, we toured the nearby Isabella Stewart Gardner Museum. These were some pictures of the graduation event.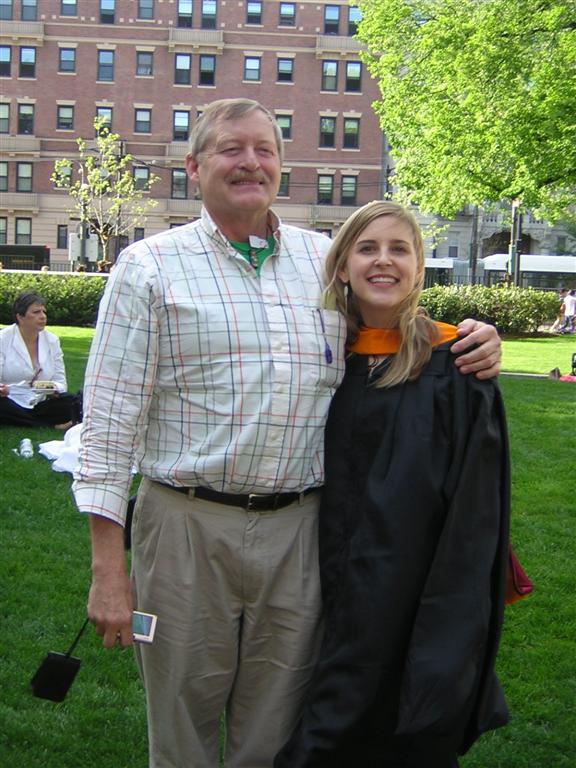 Tom and Kate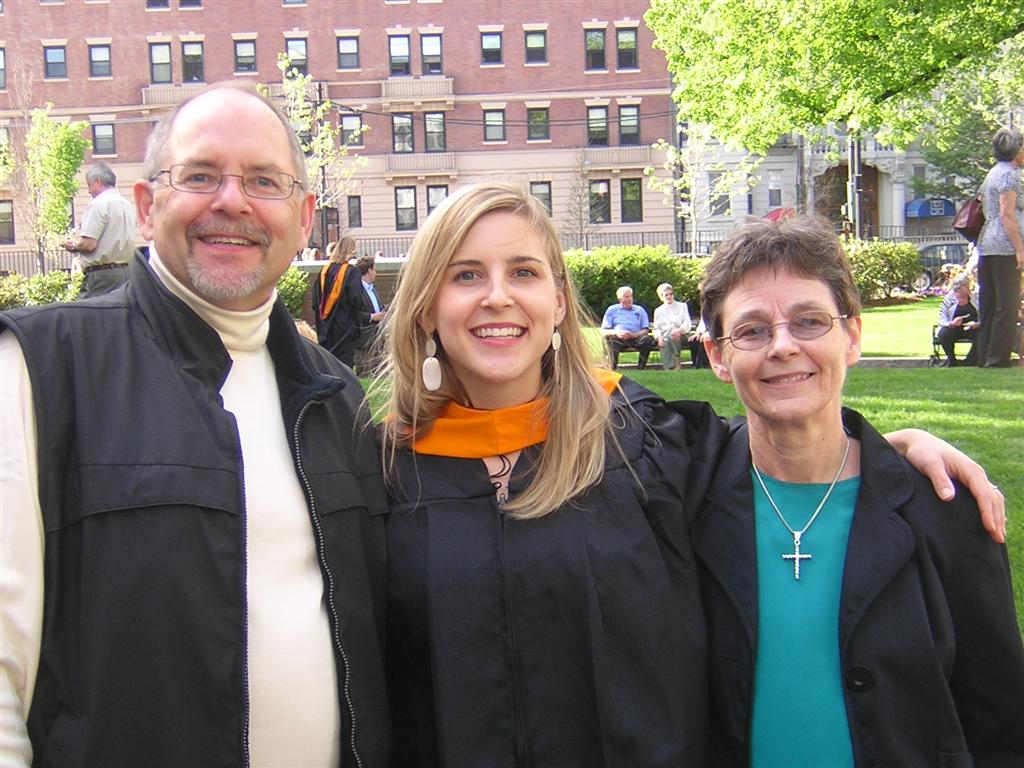 Richard, Kate and Jucy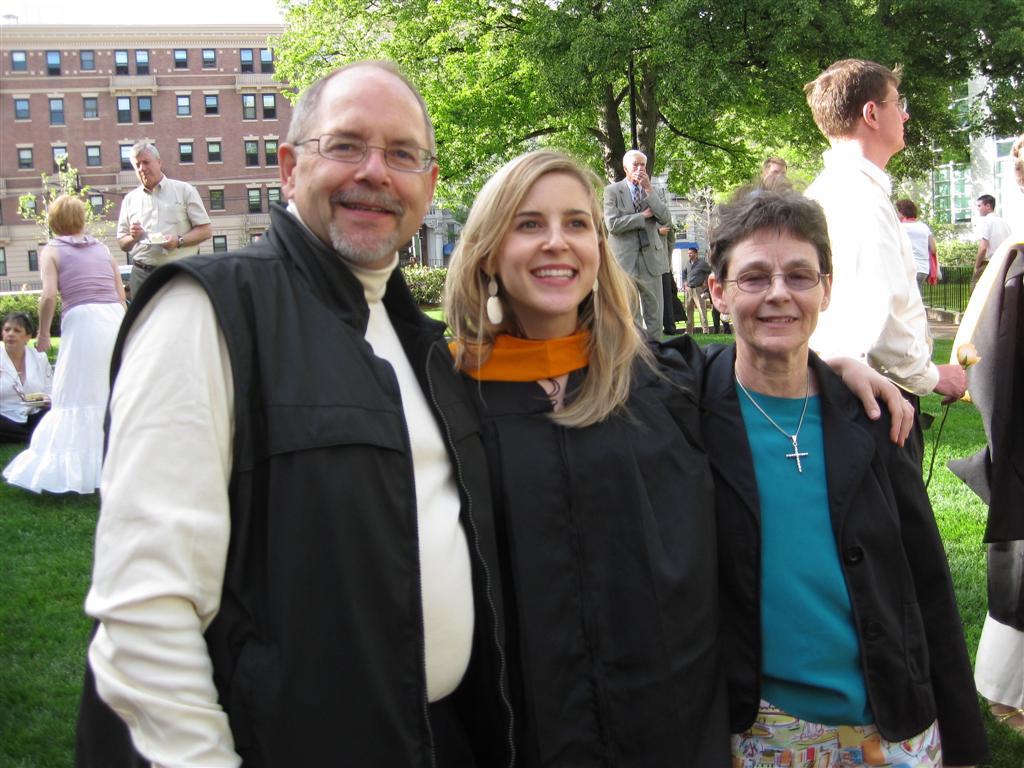 Richard, Kate and Judy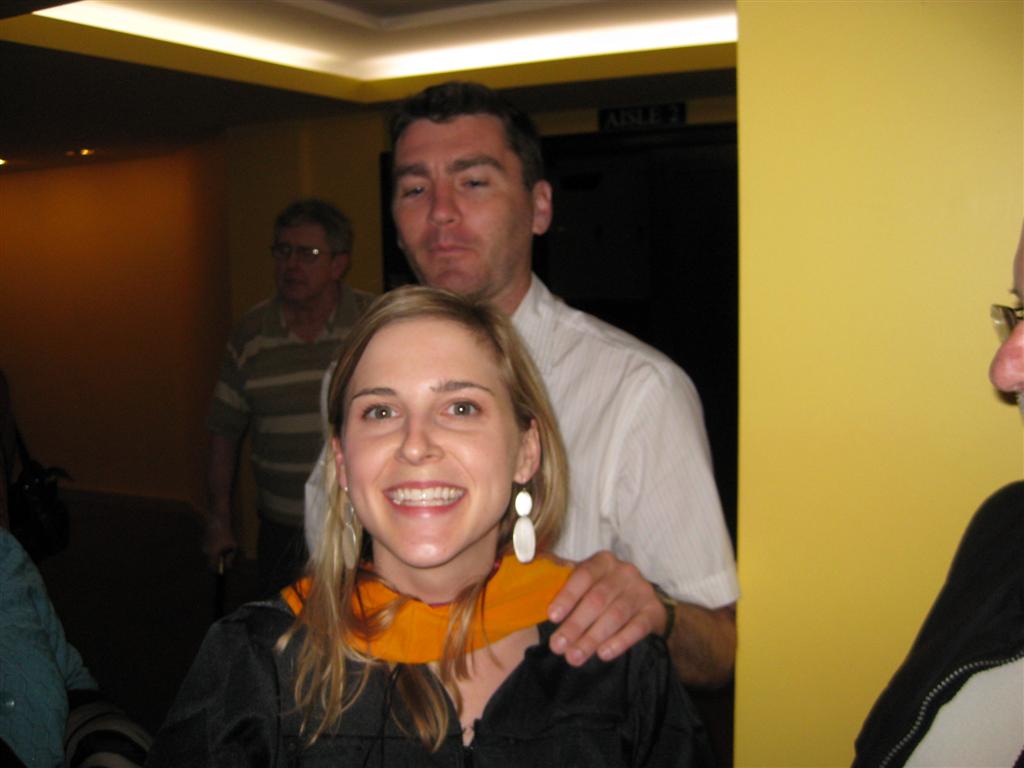 Kate and Jamie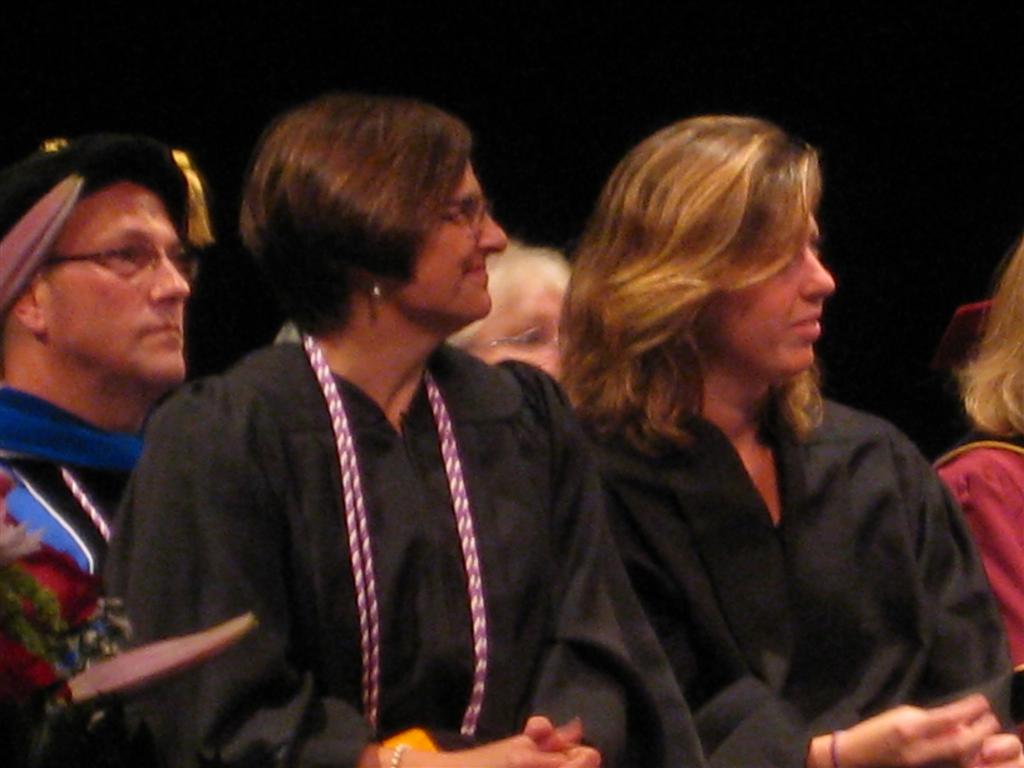 Speakers at Commencement: Pamela Gorgone and Keziah Furth.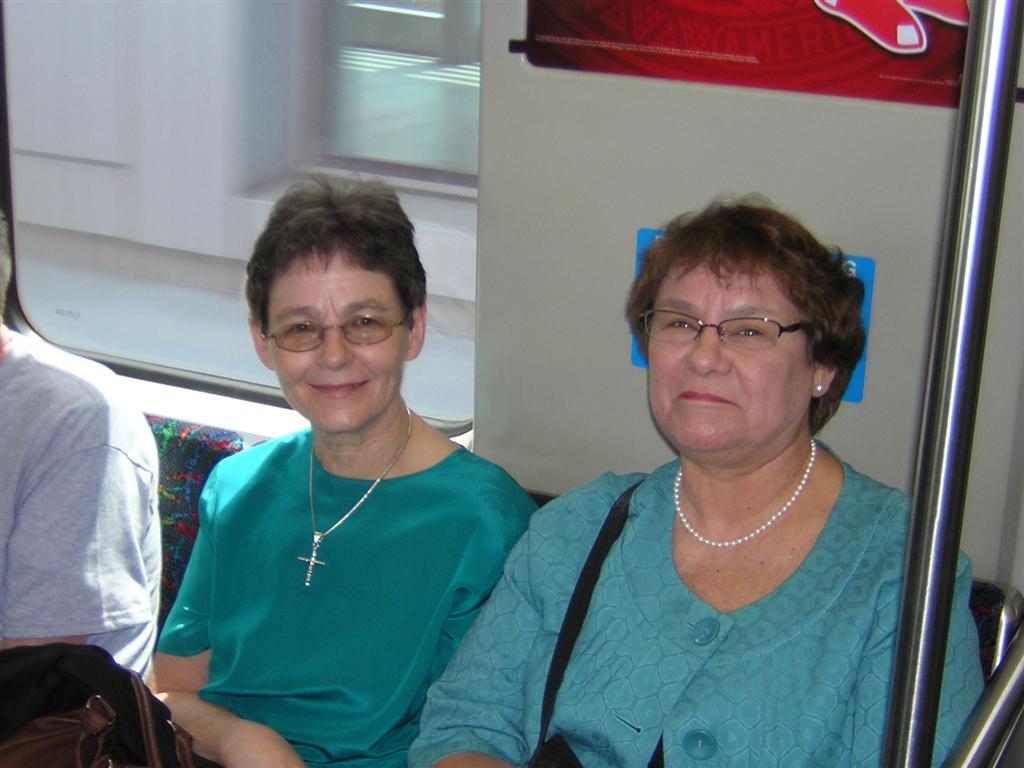 Judy and Vicki
Reception for the graduate students: Kate, Jamie, Tom, Judy, Vicki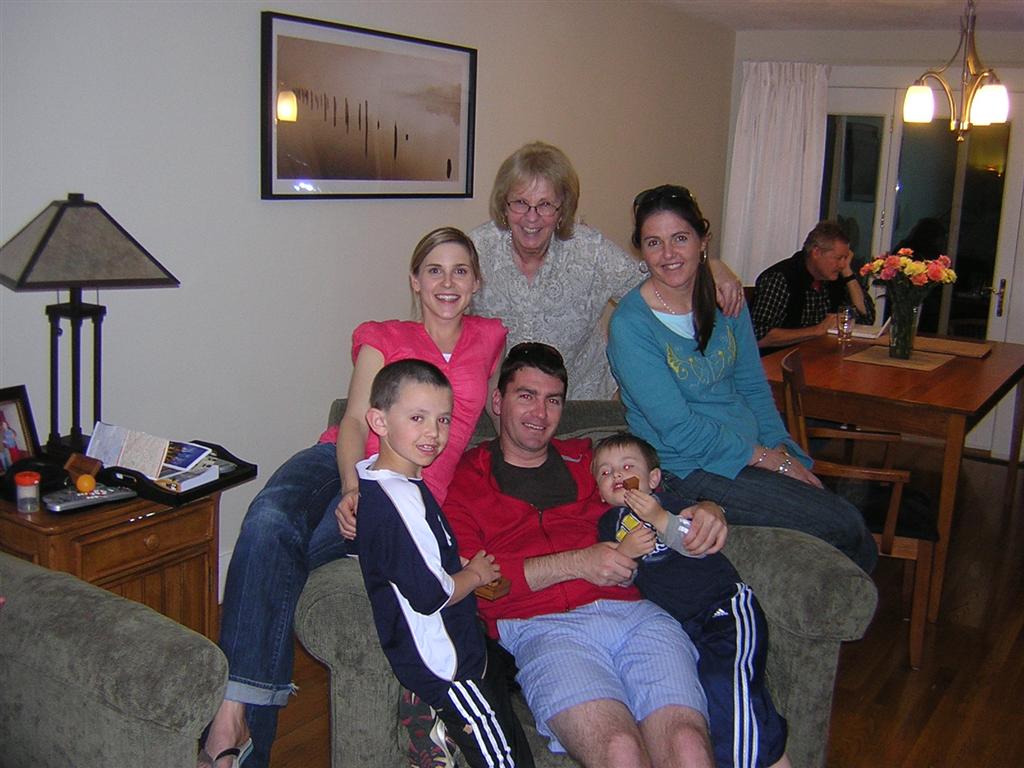 Jamie & Kate, Jenn (J)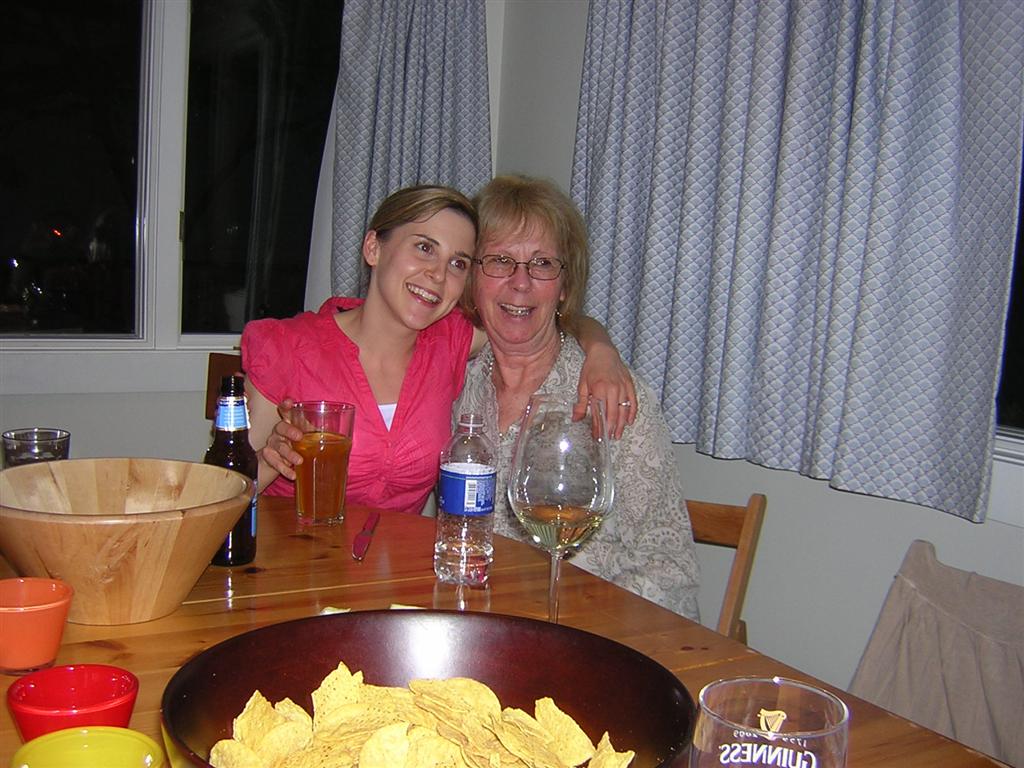 Richard and Tom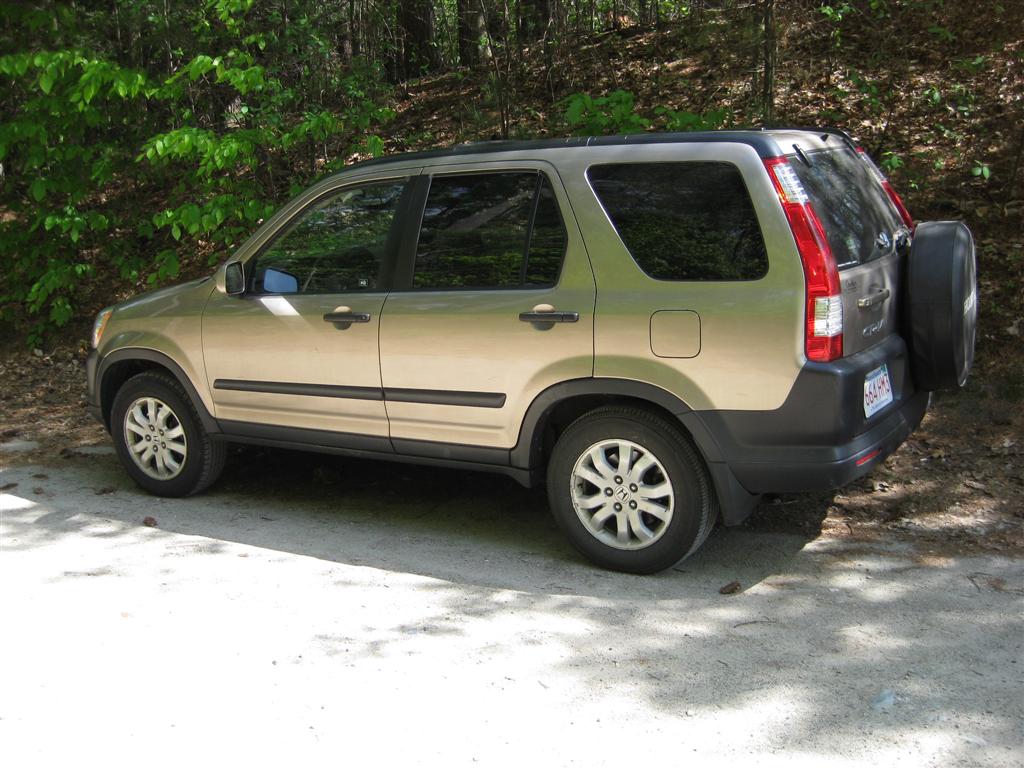 Kate and Jamie's CR-V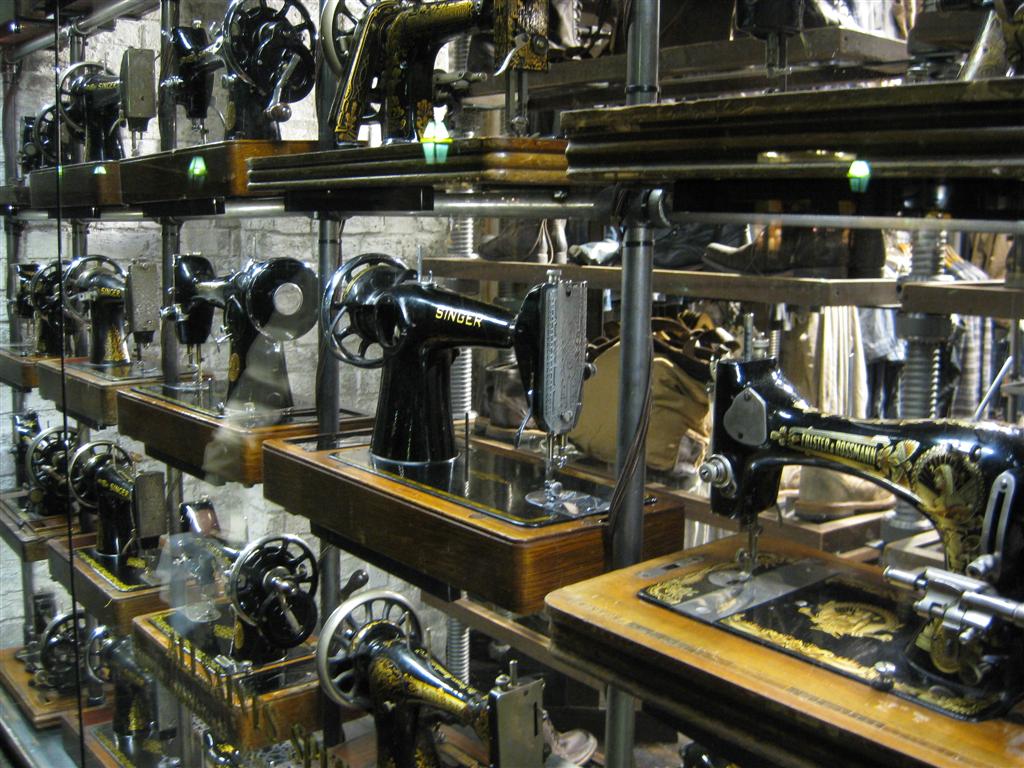 Several hundred antique sewing machines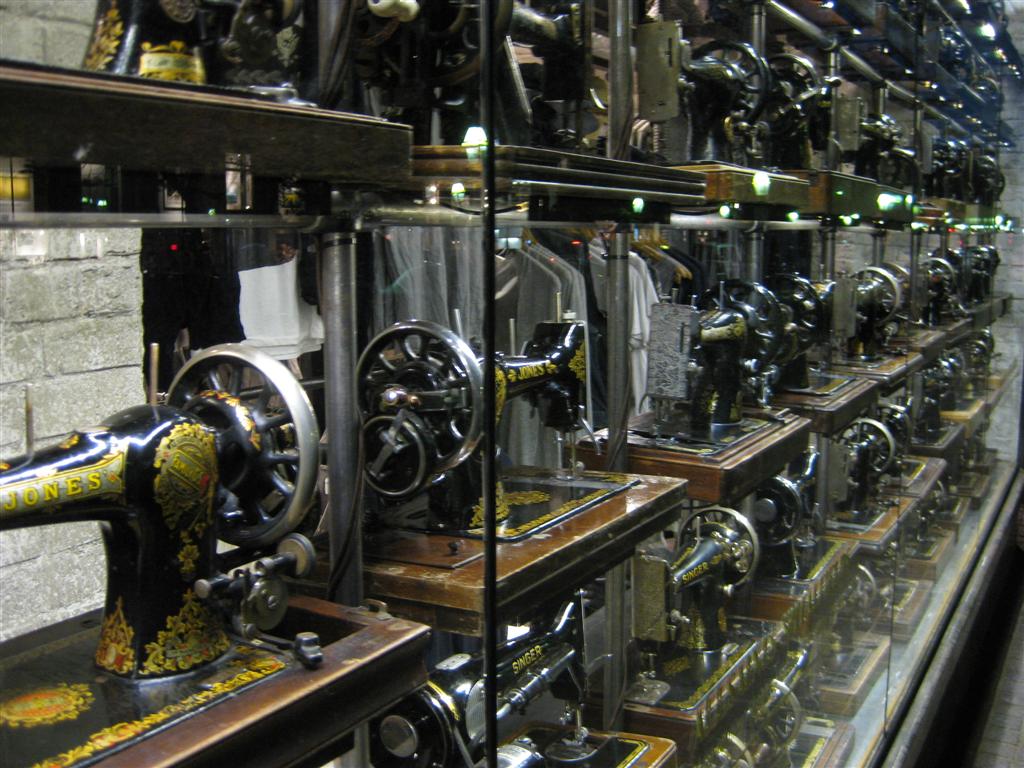 Outside of clothing store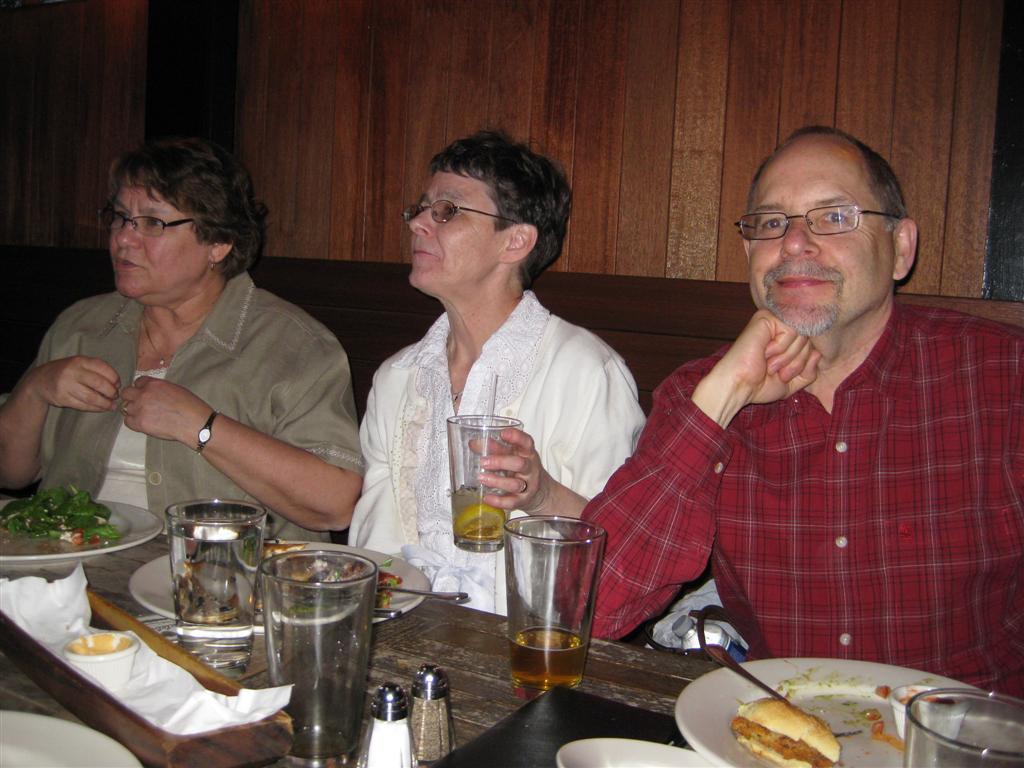 Vicki, Judy and Richad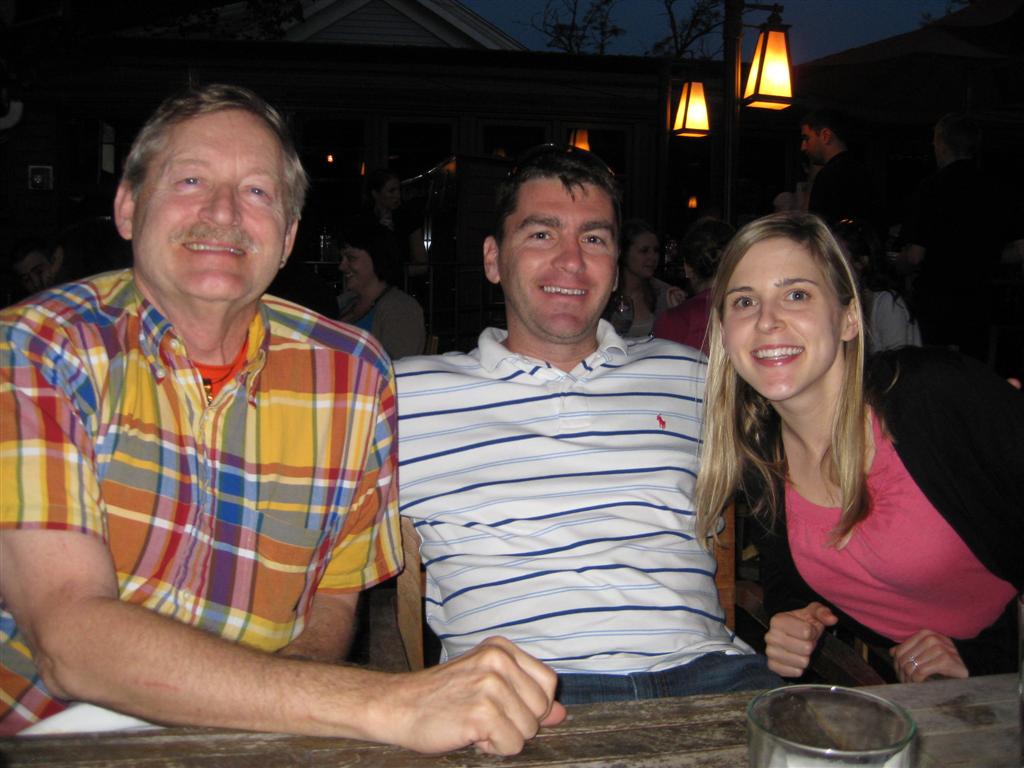 Tom, Jamie and Kate
A beautiful engagement party was thrown for Kate and Jamie on Saturday. It was hosted by Susanna and Tommi (Jamie's brother) at Susanna's parents home on Beacon Hill. Jamie's mother Bette came from South Bend, Indianna. Jamie's sister Jenn and her 2 sons came from New Hampshire. Many other friends (from Stanford and Harvard and the Boston area) joined in the celebration.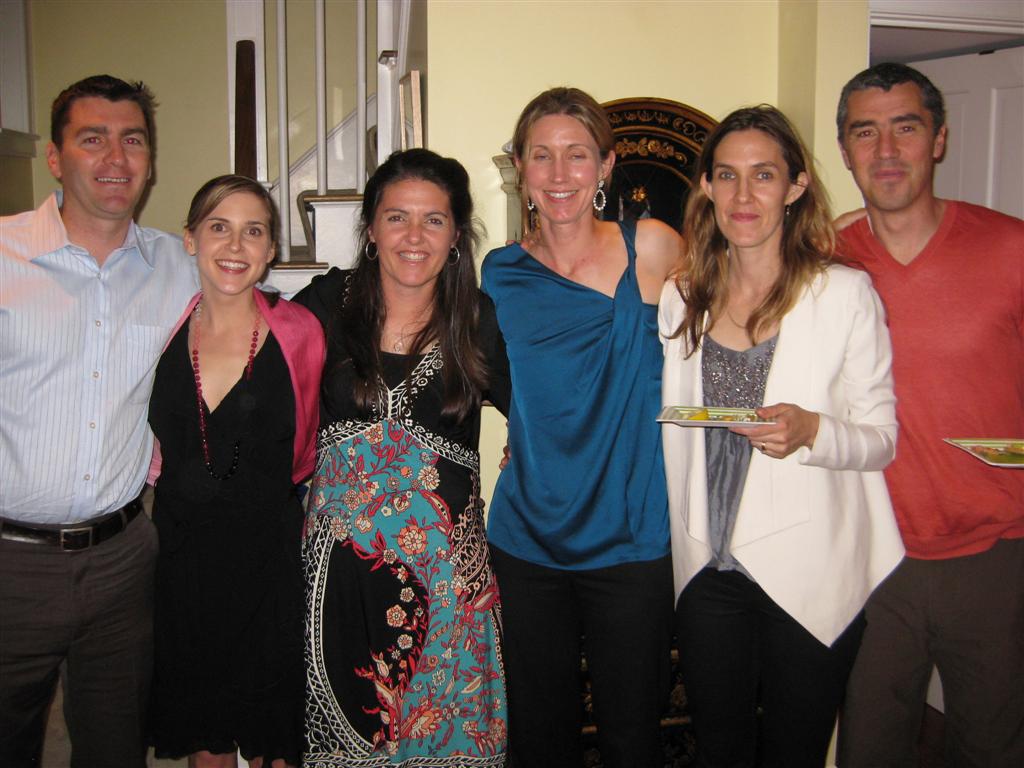 Jamie & Kate, Jenn (Jamie's sister), Susanna (Jamie's brother Tommi's wife), Leslie (Susanna's sister), Tommi (Jamie's brother)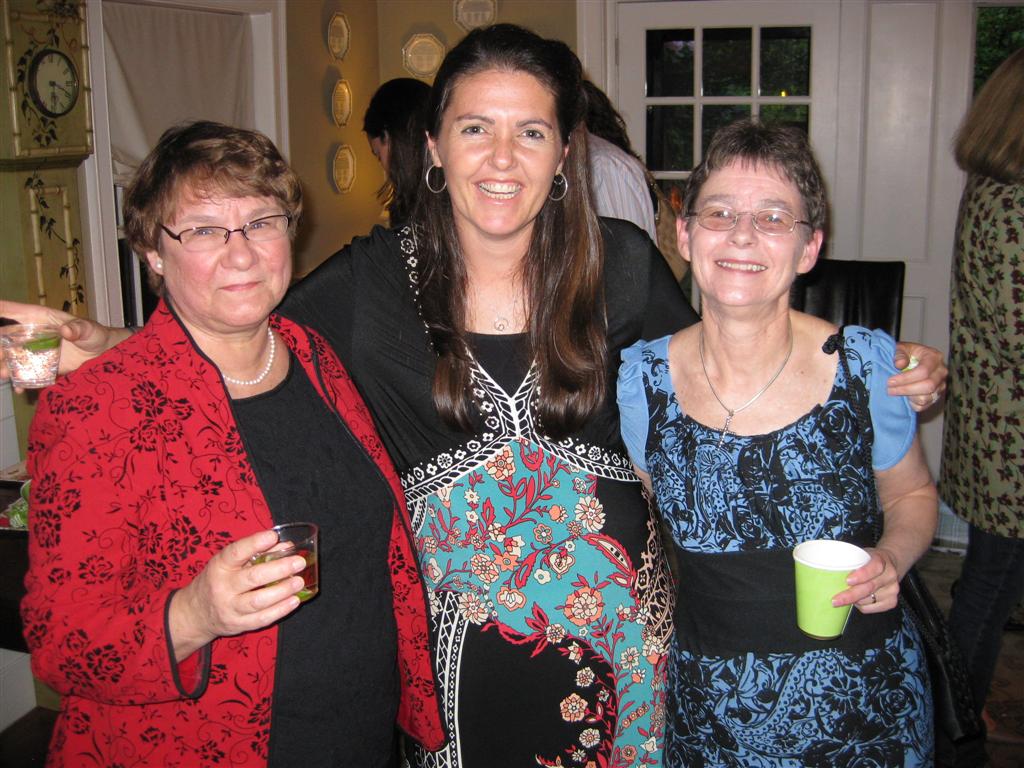 Vicki, Jenn, Judy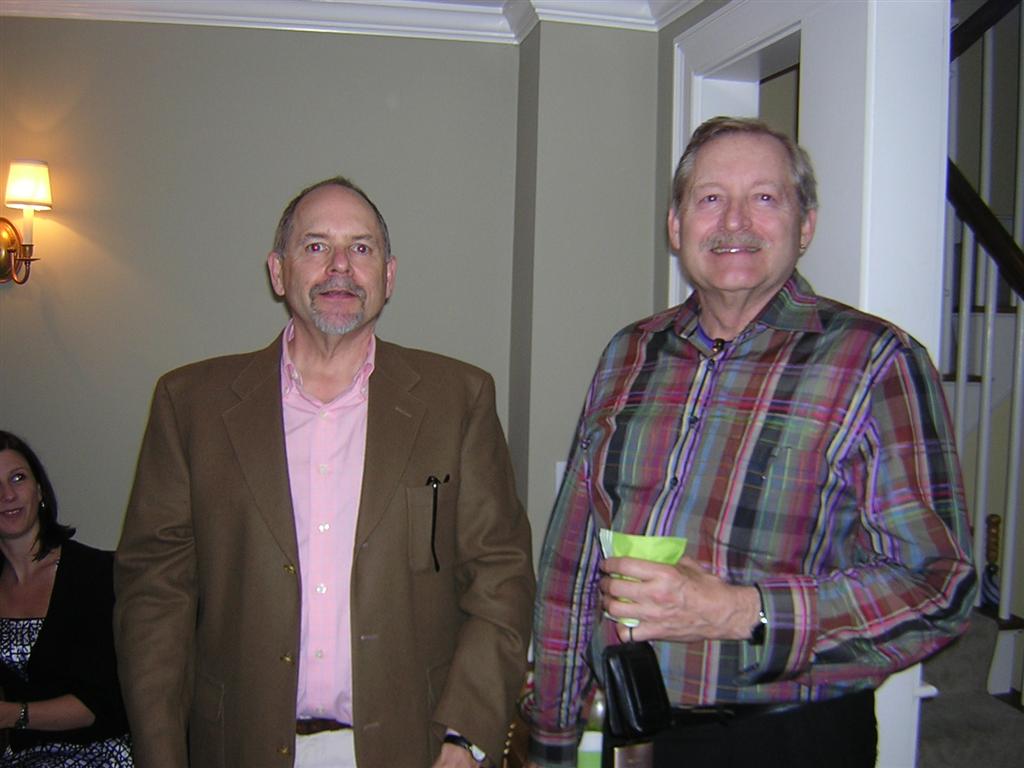 Richard and Tom
An associated goal of this trip was to look up some historic Daniels (Daniell) sites. Our 8th great grandfather Robert Daniell (b. 1592, d. 1655) arrived in Cambridge from East Anglia, England in 1635 or 1636 and landed in Watertown, MA. Robert and his family moved to Cambridge (formerly Newtowne) in 1639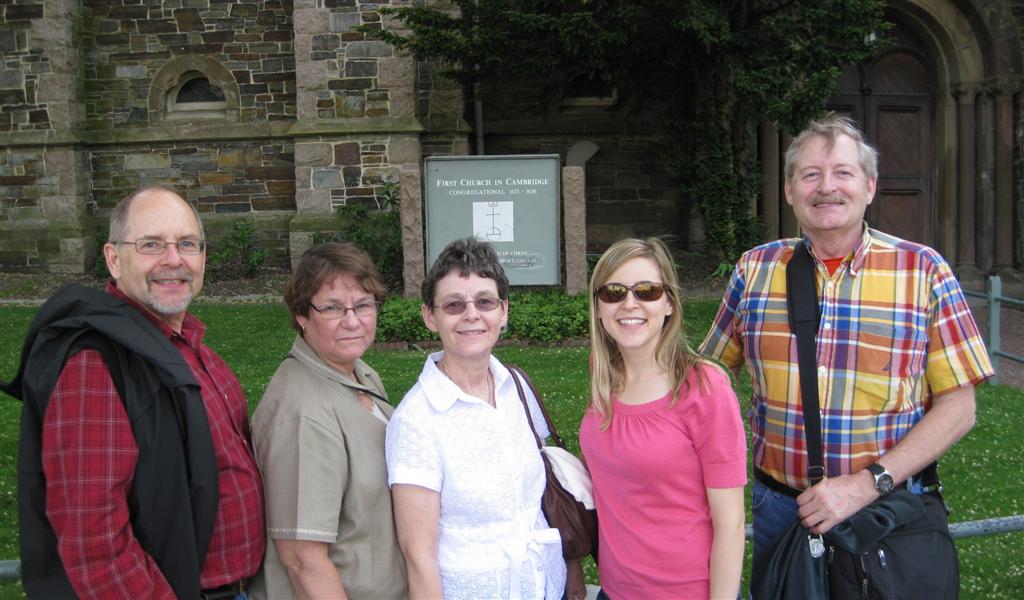 Richard, Vicki, Judy, Kate, Tom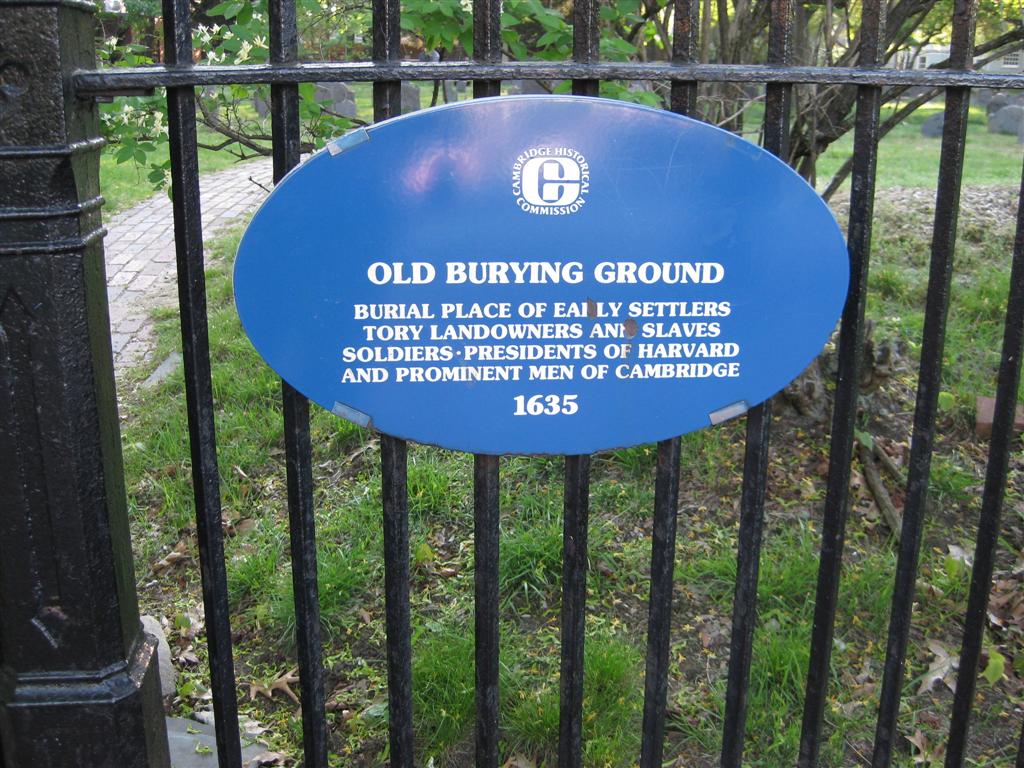 Old Burying Grounds (Cambridge)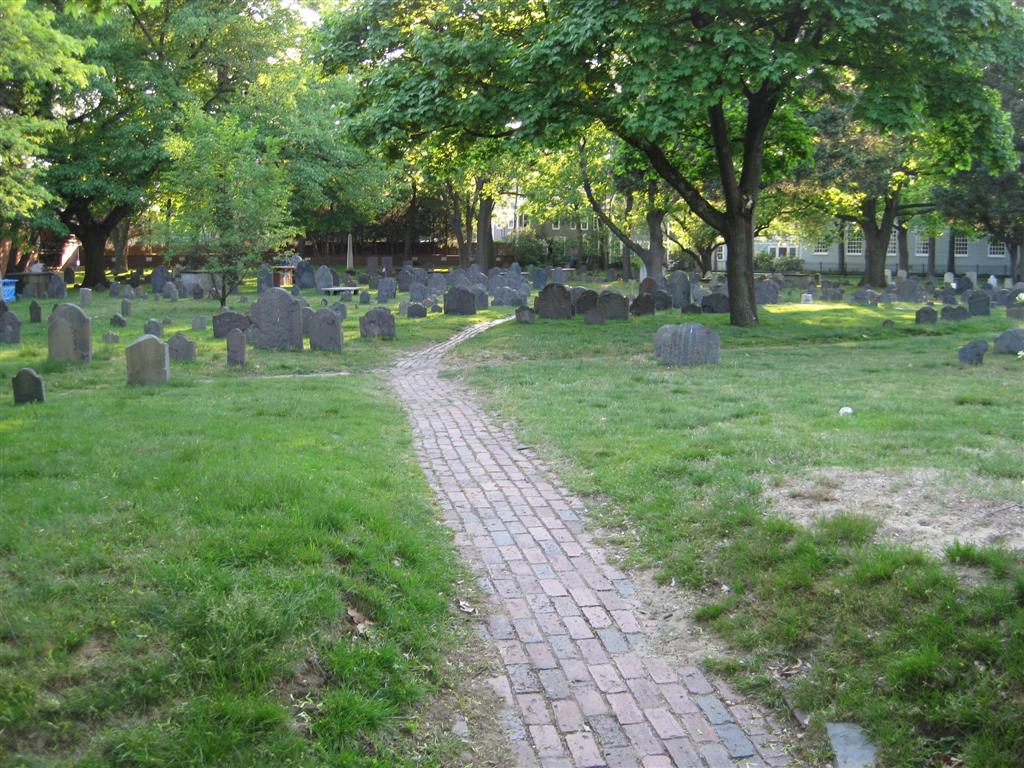 Historic cemebery

Cambridge Commons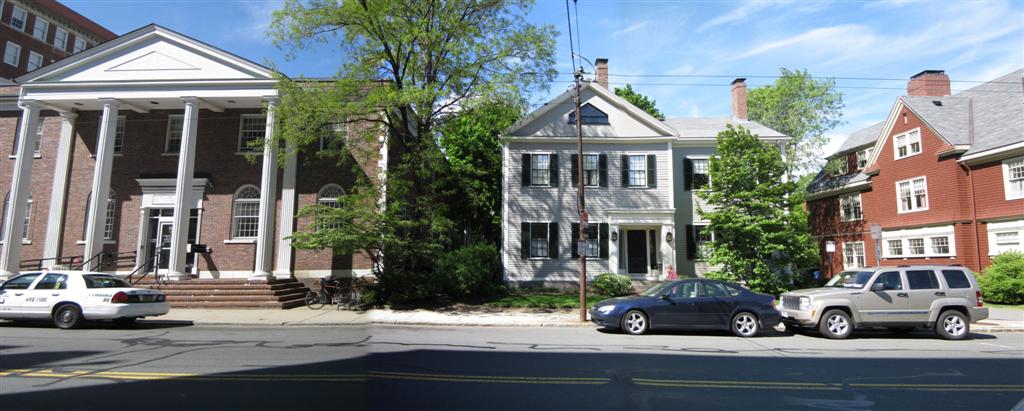 Site of first Daniell house in Cambridge (mid 1630's). 22 Garden Street
His son Joseph and his family moved a little further west to an area now called Millis. The original house was built around 1660. It was burned down by the Indians in the King Philip War and was rebuilt in 1676. The family fled to the safety of a stone fortress on the shores of nearby South End Pond.
Richard and I drove about 25 miles west of Cambridge to Millis. We had the address for the Joseph Daniell home and found it easily. There is a sign indicating that it is the 4th stop on the Millis Historic Trial. We were able to talk to a tenant of the current building and the owner. A bigger, taller structure was added some time later. The barn did not burn and is located about 100 feet from the house. Both are situation on a small bluff overlooking the Charles River.
Both the house and the barn and been divided into a total of 7 or 8 apartments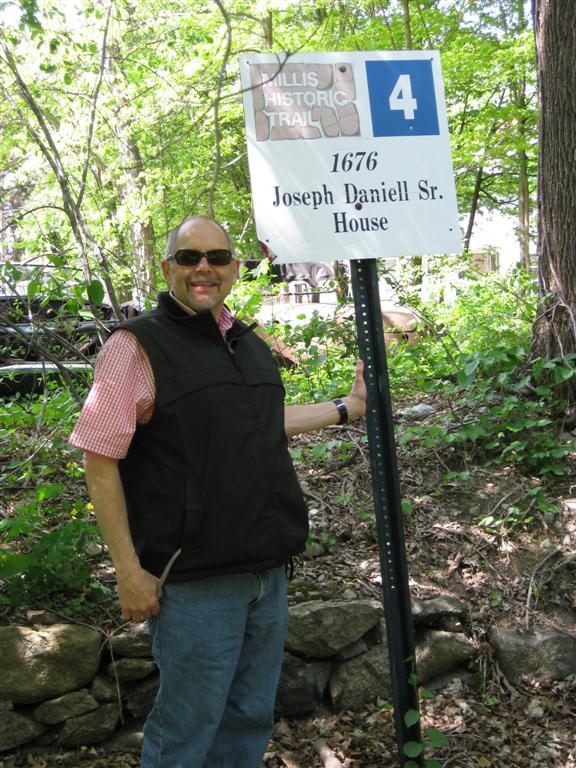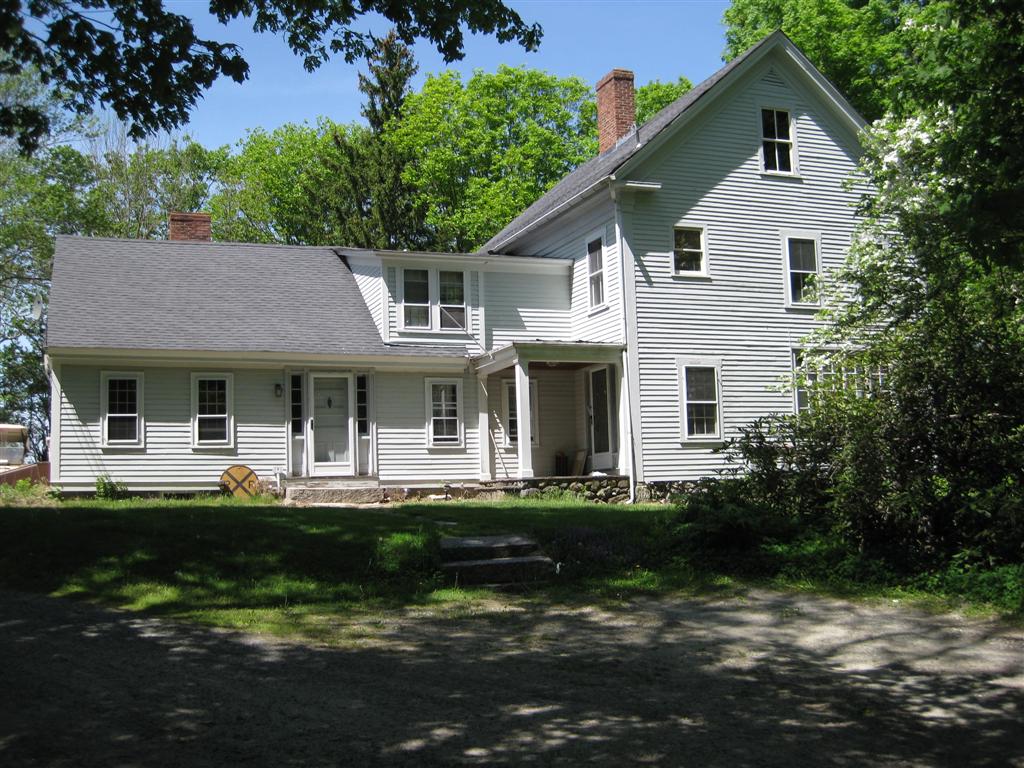 Joseph Daniell House (1676)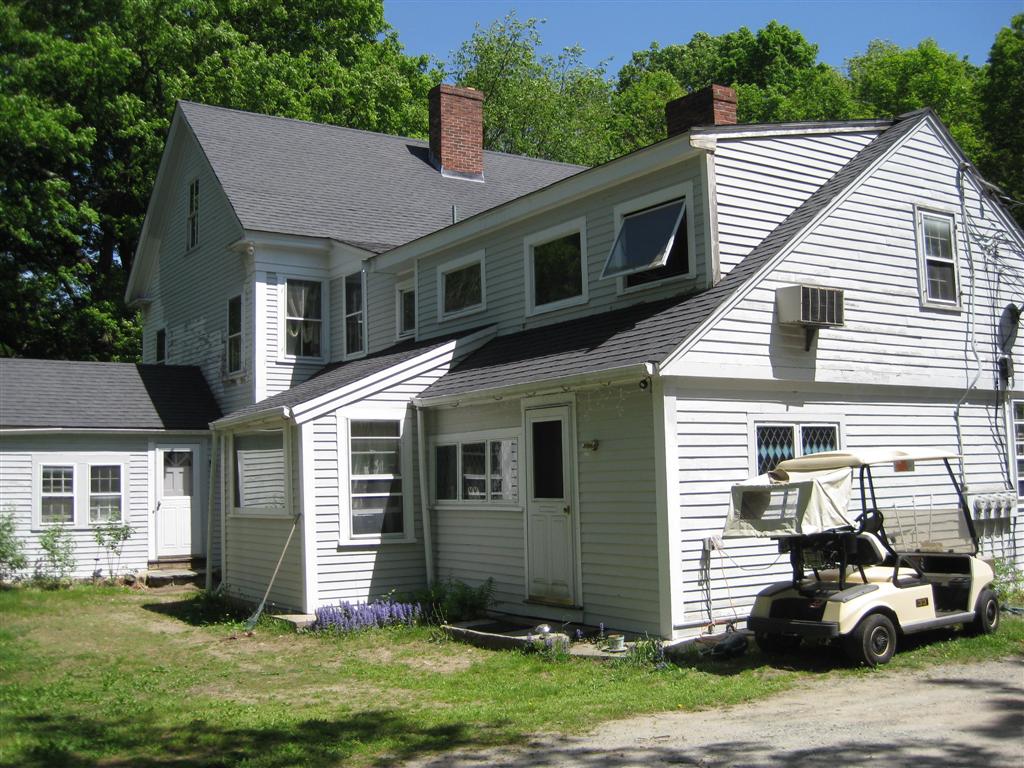 Prior structure built in 1660 was burned down.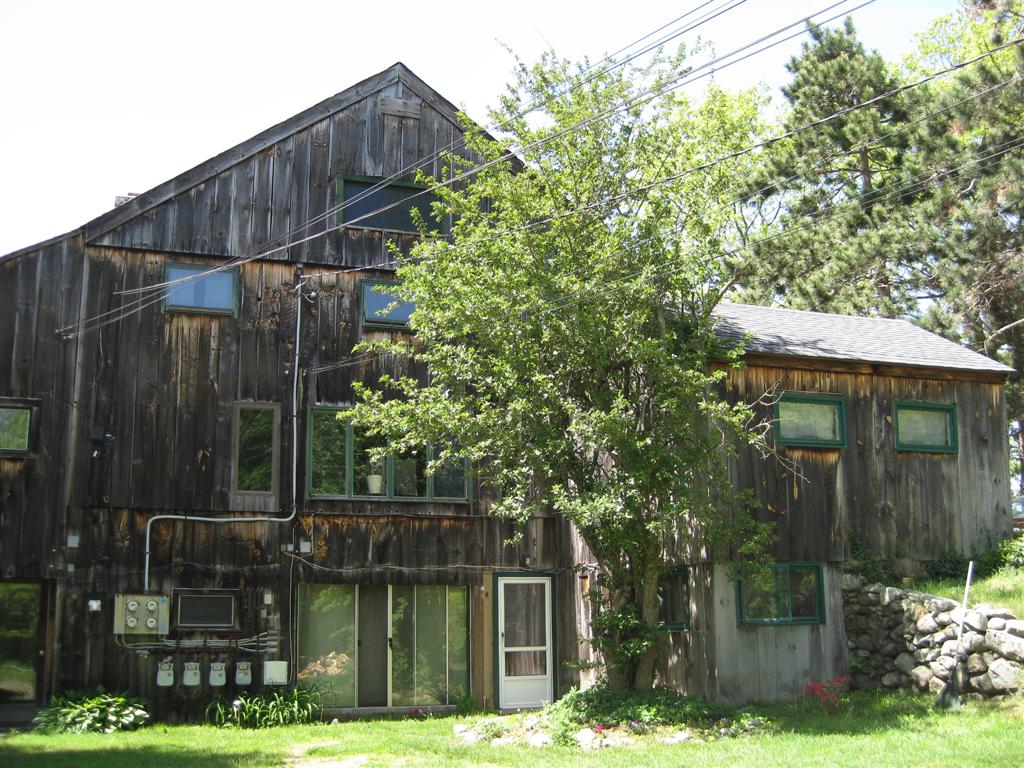 Joseph Daniell Barn 1660 - oldest frame structure in the US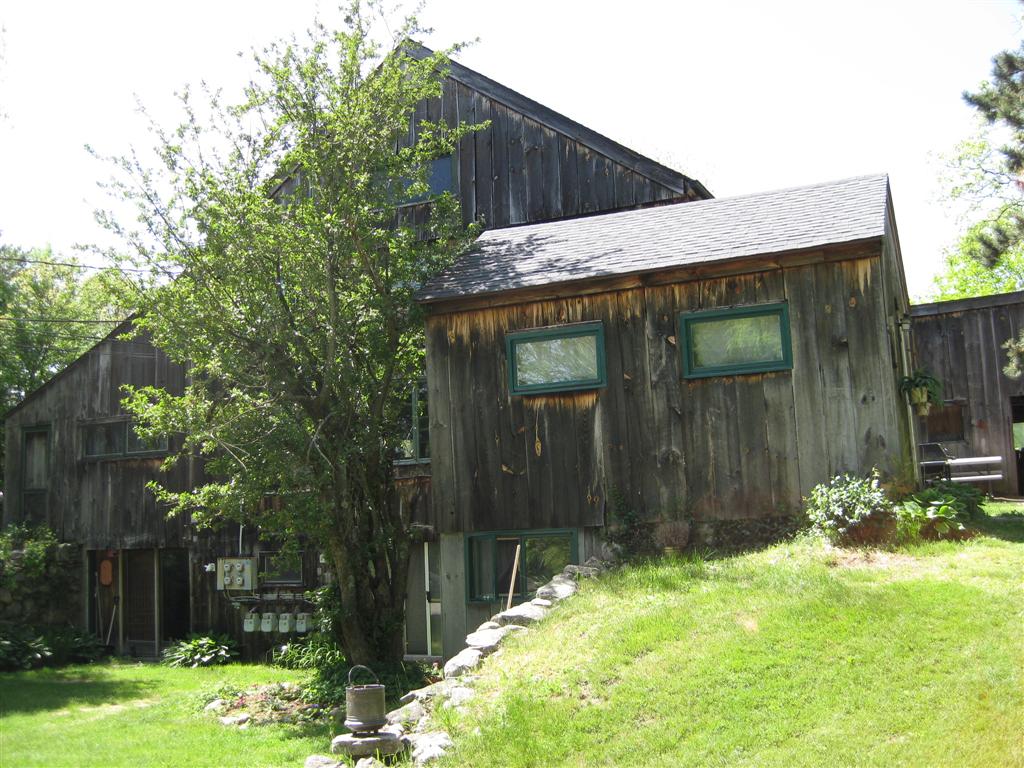 Joseph Daniell Barn, 1660
Richard and Tom at Joseph Daniell house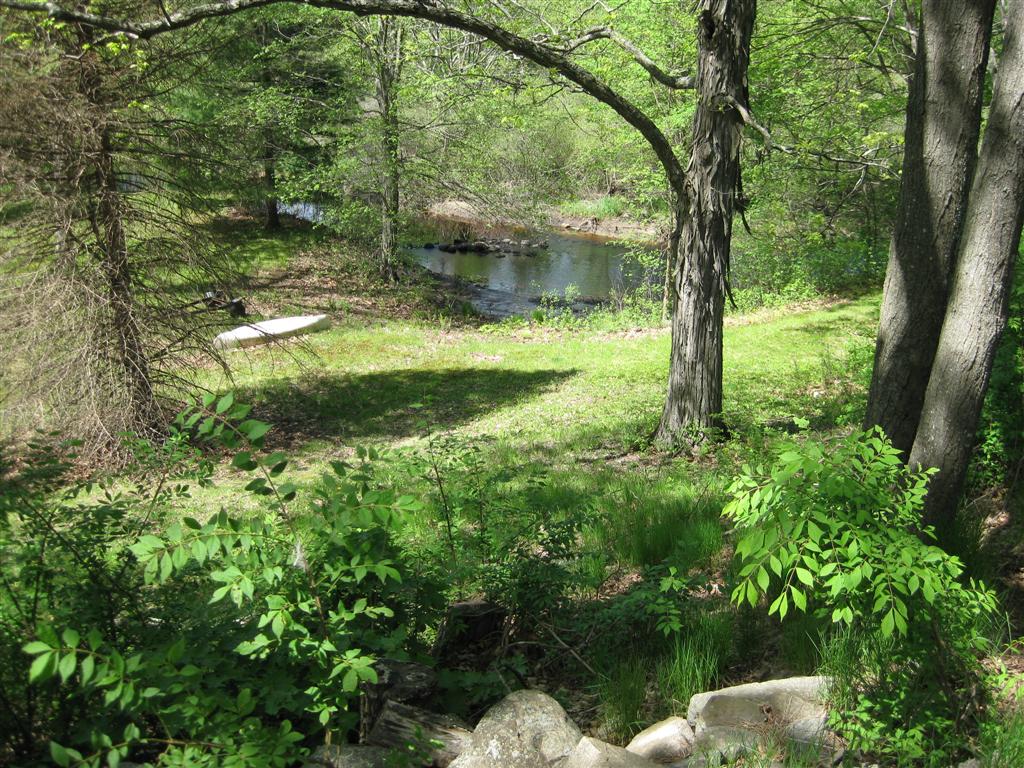 Charles River, down below Joseph Daniell house

South End Pond near Millis, MA. Site of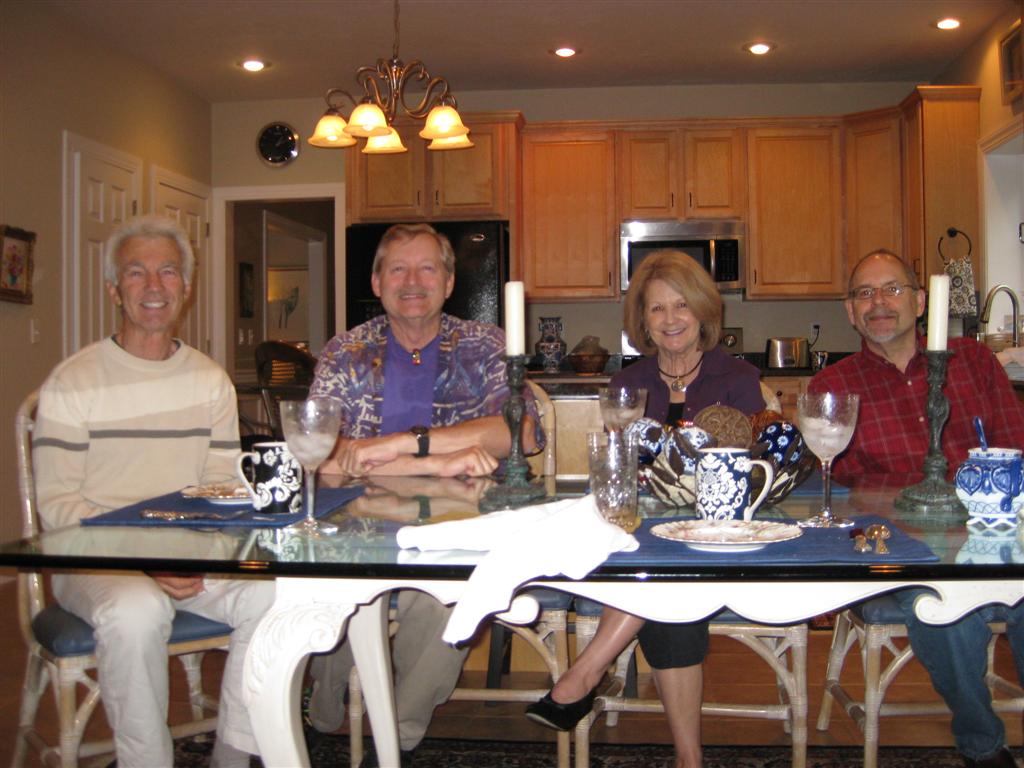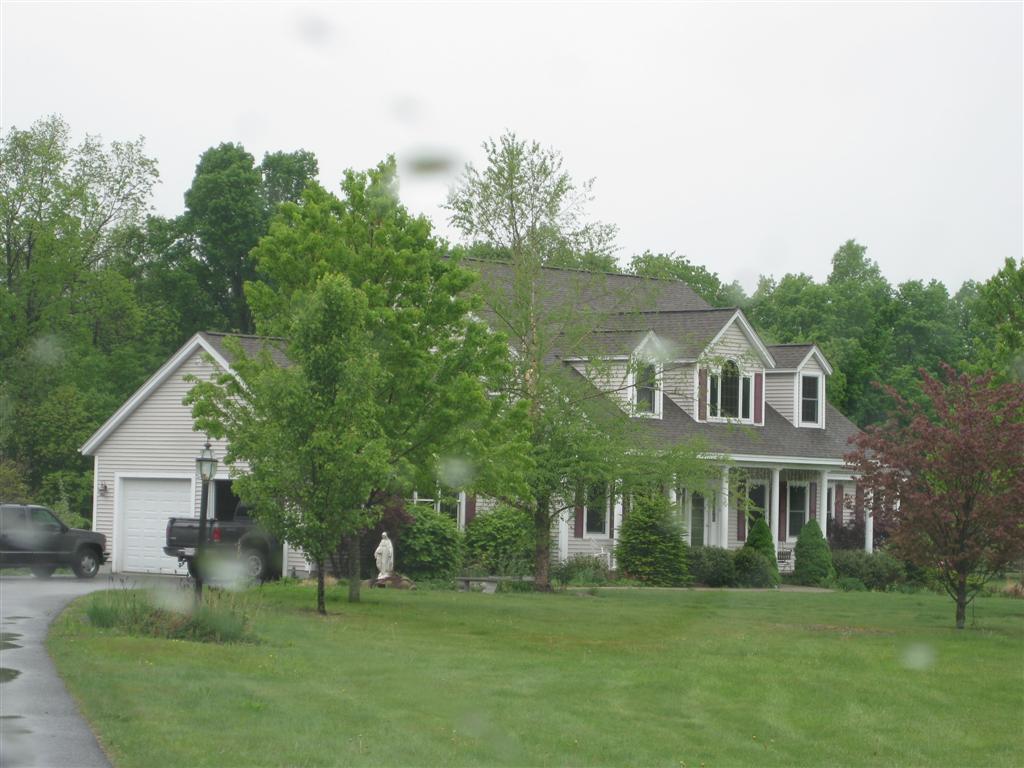 On Saturday, Richard and I drove Kate and Jamie's car to Lancaster, MA to visitng John and Jill. They moved into their youngest son Craig and Krista's old home. Just before reaching Lancaster, the skies opened up and we drove in a downpour for a number of miles!

Jill served us a delicious lunch and we had a good visit, catching up on family news.

After that, we drove about 5 miles to Craig and Krista's present home. They are on 5 acres on which they raise alpacas, chicken, and ducks. Their children were home, so we got to see them too.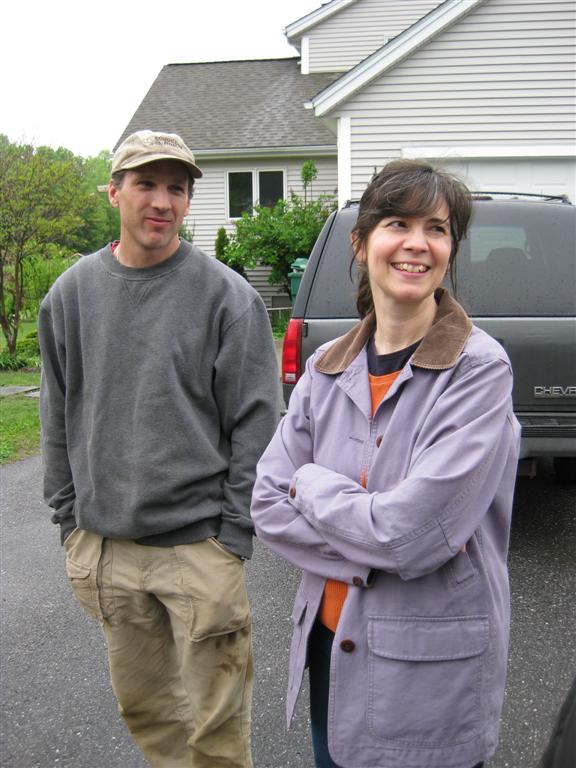 Craig and Krista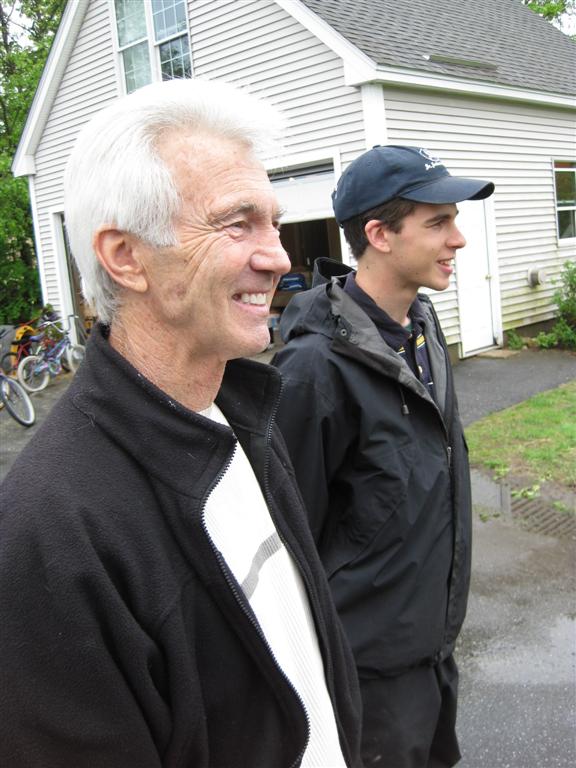 John and John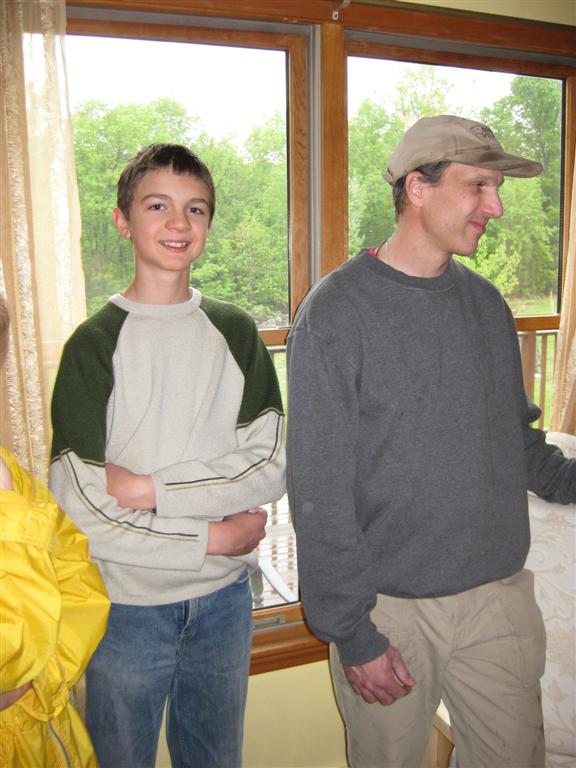 Philip and Craig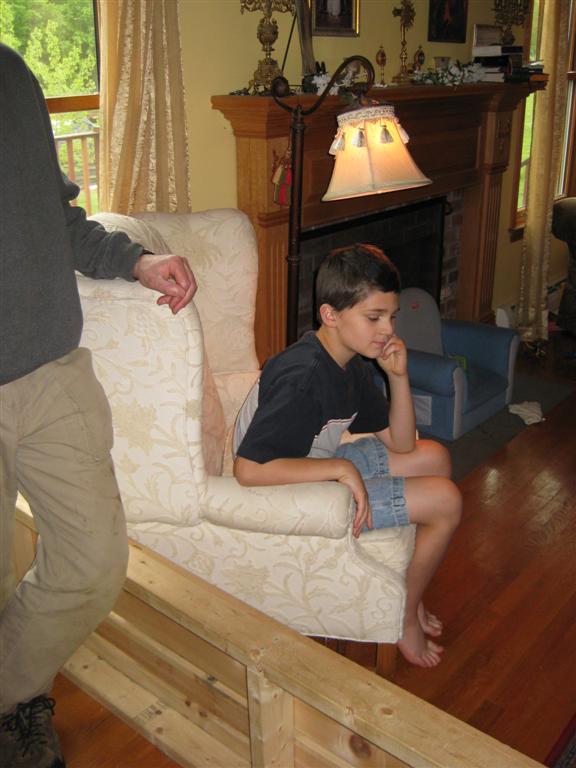 Michael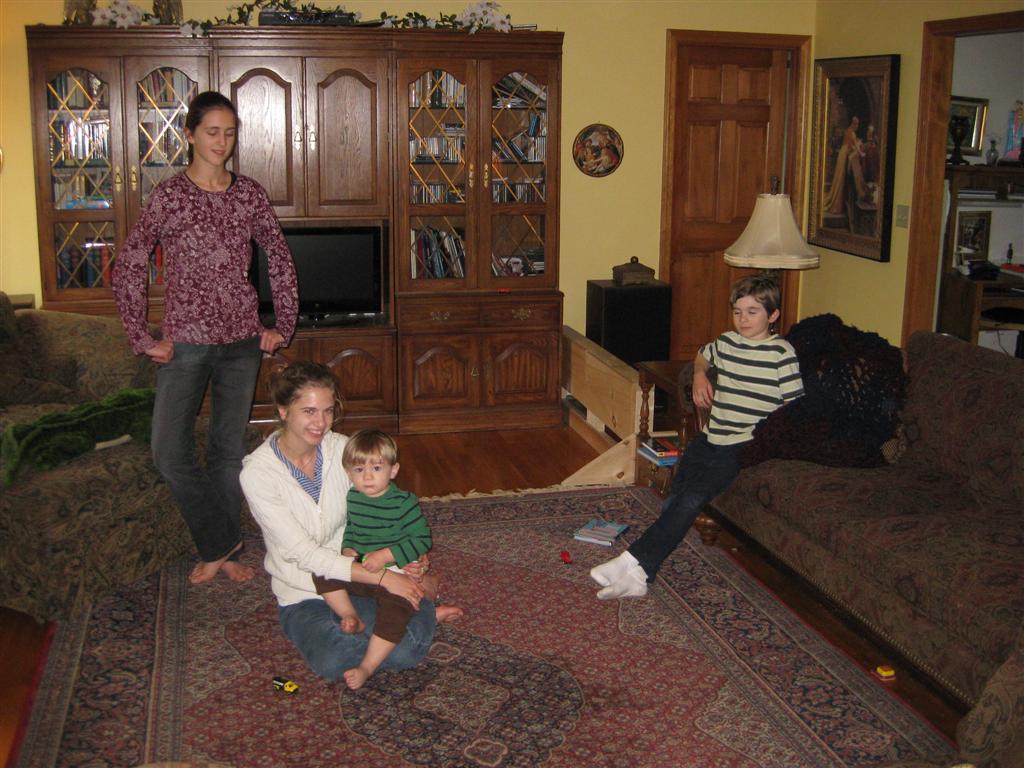 Cecilia, Felicity, Hillaire and Edmund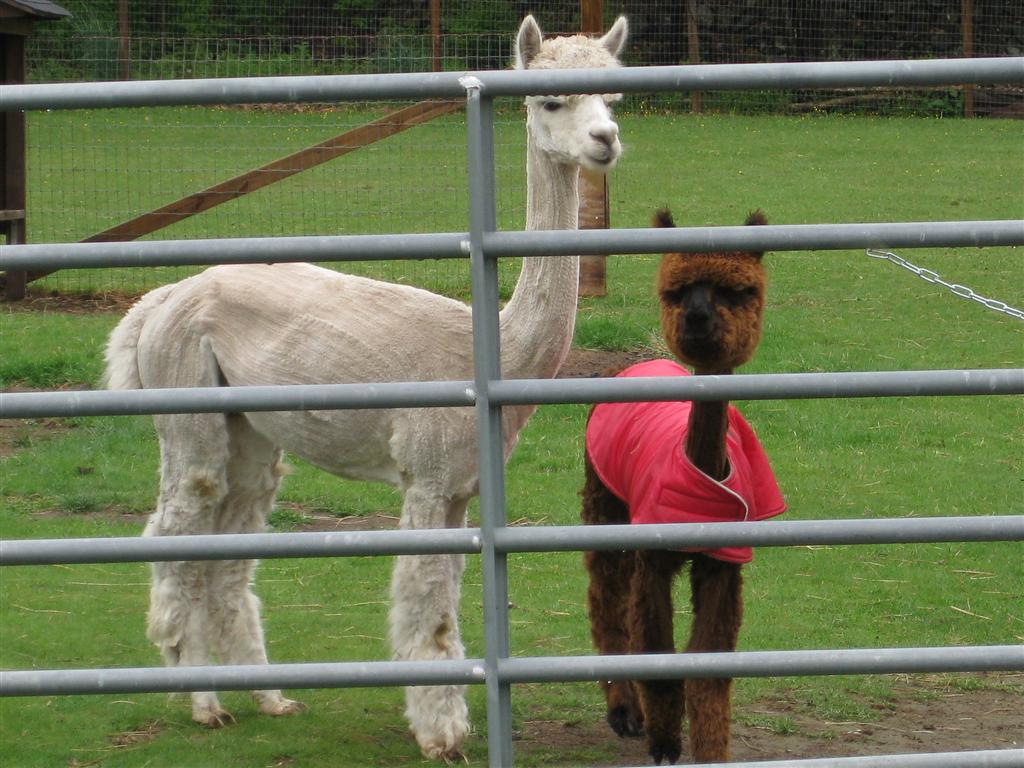 Newly Sheared Alpacas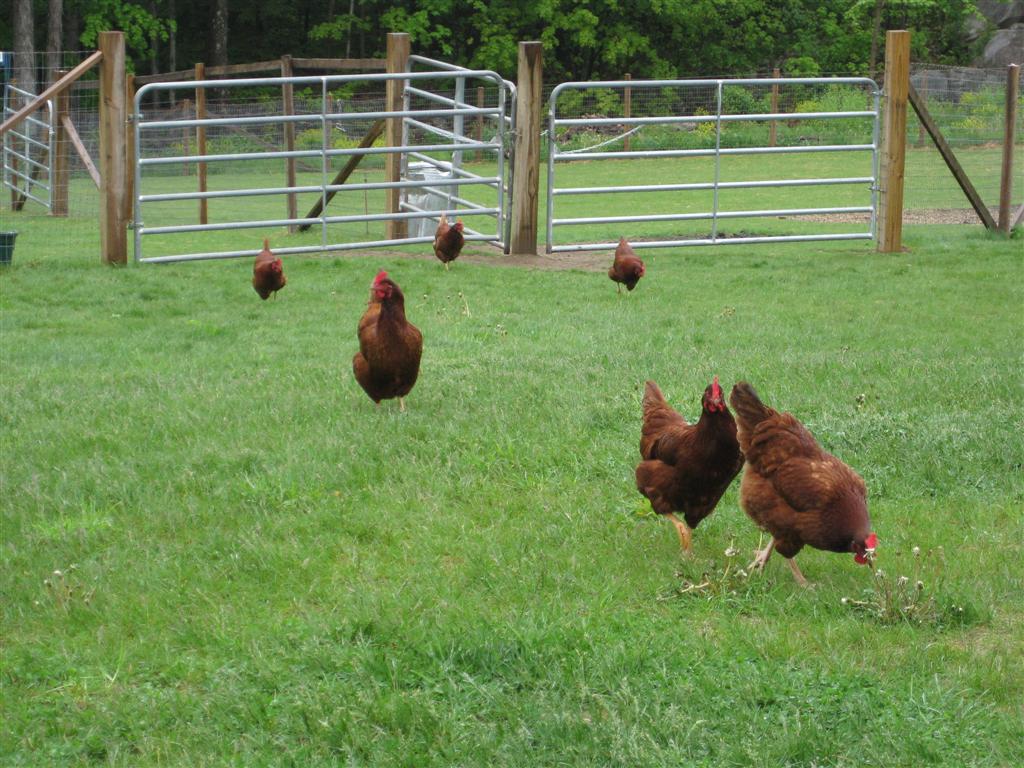 Rhode Island Red Chickens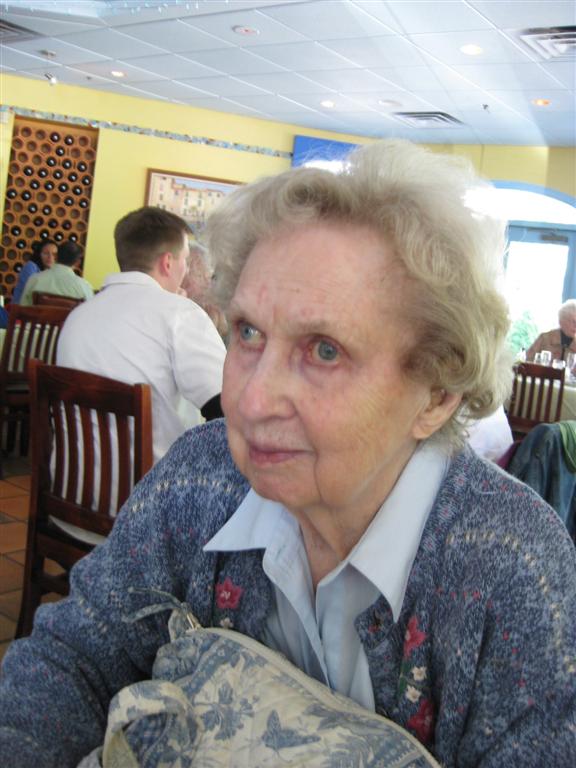 On Sunday I drove to Norwalk, Connecticut to visit Charles' Mother Jean. Charles was also visiting her. She lives in a big, very comfortable home in a rural area of large home, many trees and lots of greenery. Charles had been putting in budding plants, refreshing pots and getting the pool ready for the season.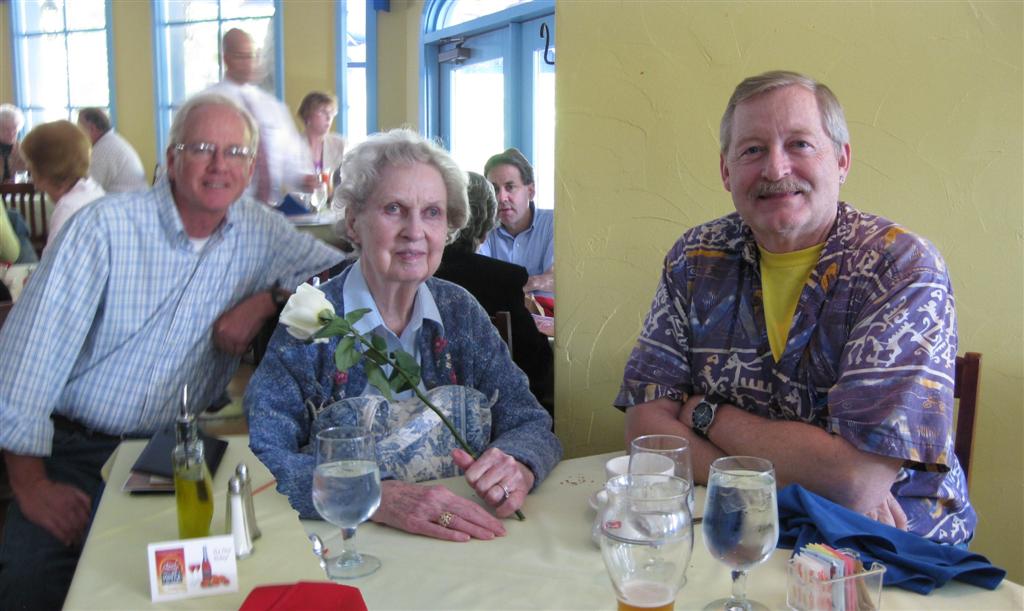 We went out for lunch at a Mediterranean restaurant. It was Mother's Day and they gave Jean a long stemmed white rose.
After lunch, Charles drove us are Norwalk and the neighboring communities. We saw the cemetery where his faterh Raymond is buried and a historic Benedict home and farm. A huge elementary school was built on the farm land.