This site was last updated 10/17/10
For trip reports after September 27, 2010, click here.
On September 9, 2010, I began a 35 day trip to Europe. I started out with 10 days in London. Carl and TomO left on August 22 and spent a week each in London, Budapest, Bulgaria and Romania. Joel, Elaine, Rick, Levonne, Nancy, Marv, Pat, Rod and Burt - my brother and cousins) flew to London from Portland on September 17th. After some furious London touring, we all flew to Bucharest where we met TomO and Carl to begin a 14 day deluxe river boat cruise on the Danube.
Here are the details! (Newest blogs at bottom. Click on thumbnails to see larger photo.)
Tom D in London
I'm staying at the Holiday Inn on Cromwell Street, 1 block from the Gloucester Road Tube station, on the line that comes from Heathrow, as it turns out. I am 1 block from 2 other hotels where I've stayed before.
I bought a 30 Day Broadband thingy and a SIM card for my travel phone ... both for 30 pounds ($45) ... My hotel wants to charge me 15 pounds a day for Internet. The thingy is a really bargain if you want to be connected. It's limit is 3 GB which is a lot and I don't expect to exceed that. If I do, I can buy more gigabytes for little money.
Here is a pix of me while I'm writing this. I'm at a little cafe directly across the street from the Gloucester Road tube station. It's a very cute neighborhood. The second photo is my view rom the cafe. There is a flower shop, a Tesco Express (mini market), Starbucks, Burger King, KFC and several other restaurants.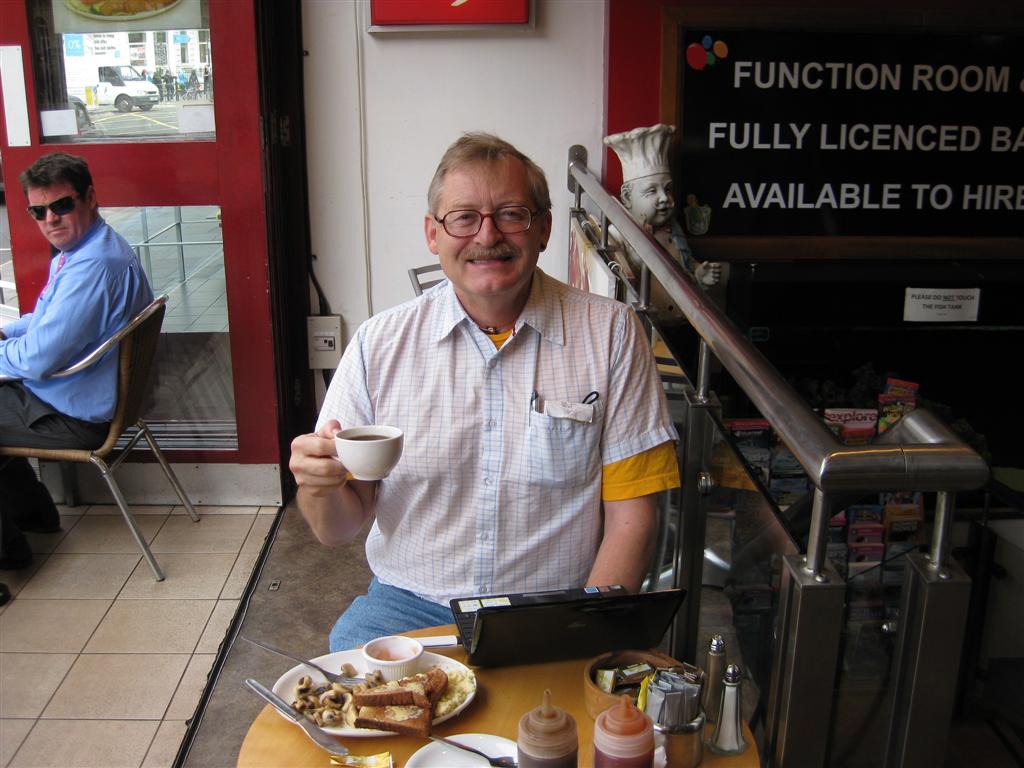 The photo show the hotel where Roger and I stayed (Bailey's) when we were getting ready for the Baltic Cruise. Next door to it is the hotel where Martha and I stayed in 2003.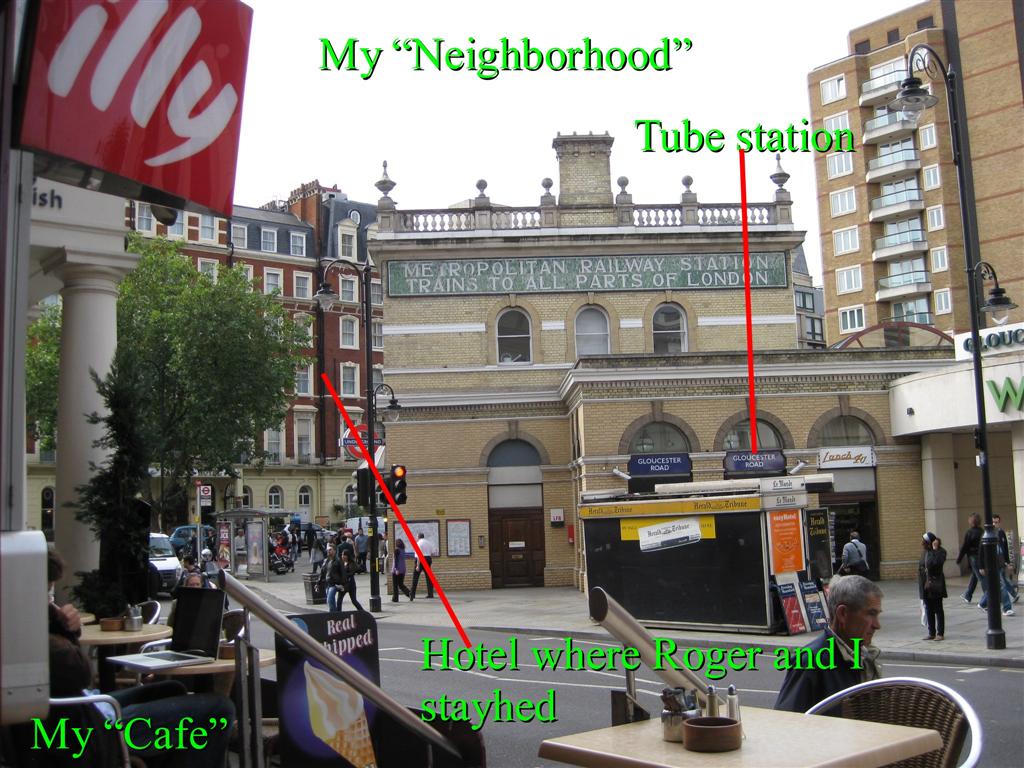 Sept 11: London to Manchester
On Saturday, I took the train to Manchester where I met Megan Neesom. She is the mother of Paul the partner of my friend Teddy. She in 87 years old and spent the day taking me all around the downtown city.
Royal Exchange Theater: This is a theater in the round, built inside of the old Royal (stock) Exchange building. The building sat empty for a few years before this conversion. The theater seats 700 people. Megan and her late husband Arthur bought seats in their and Paul's name.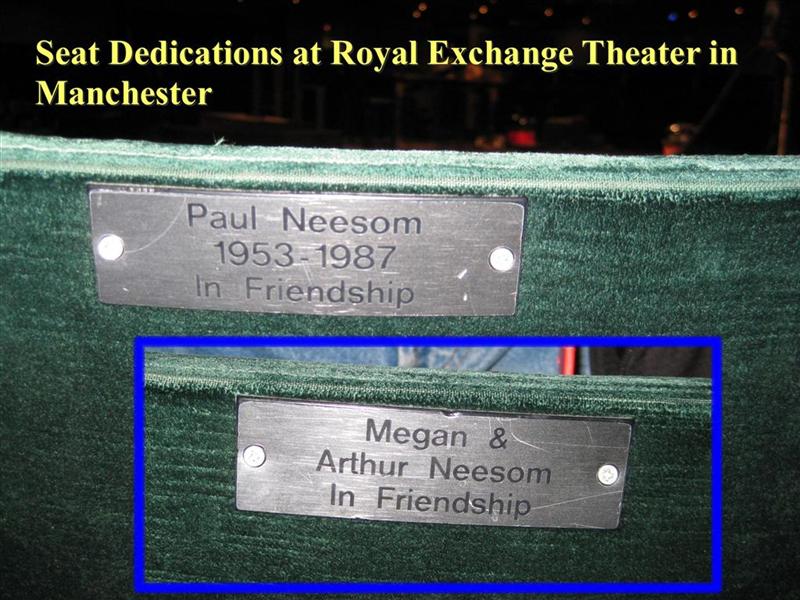 The current production is Doctor Faustus.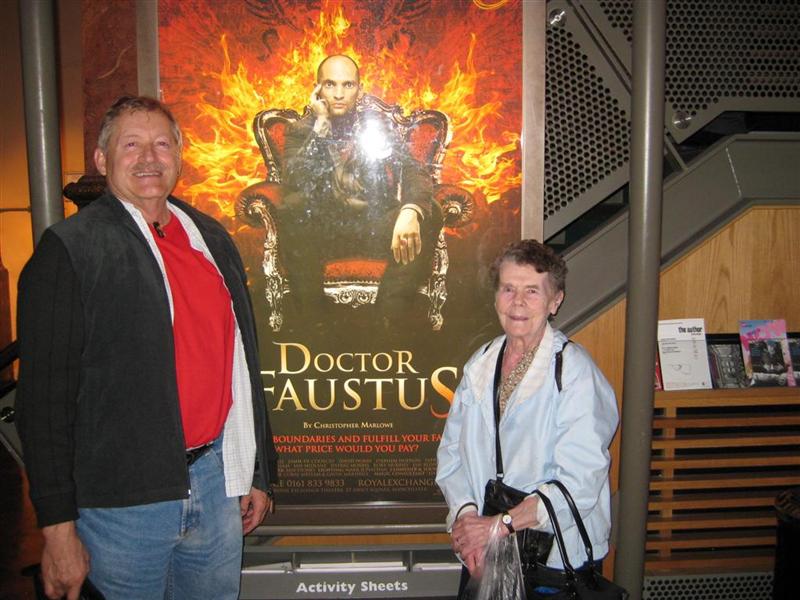 The theater is in the structure beneath this beautiful dome. The theater was bombed by the IRA in the 1990's and was relocated during the repairs.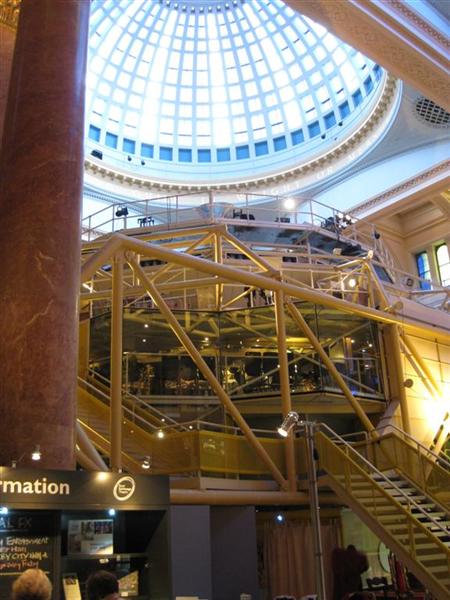 Megan's mother worked in the Old Wellington in the background. It was built in 1552 and is one of the oldest of it's type in Manchester. In 1999 it was moved about 1 block to Shambles Square, next to the Manchester Cathedral.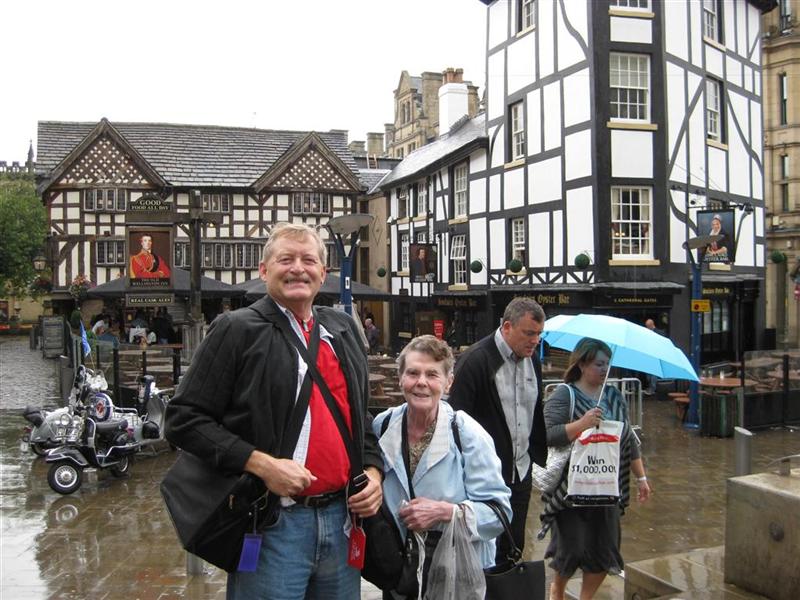 Hanging flower baskets on New Cathedral Street.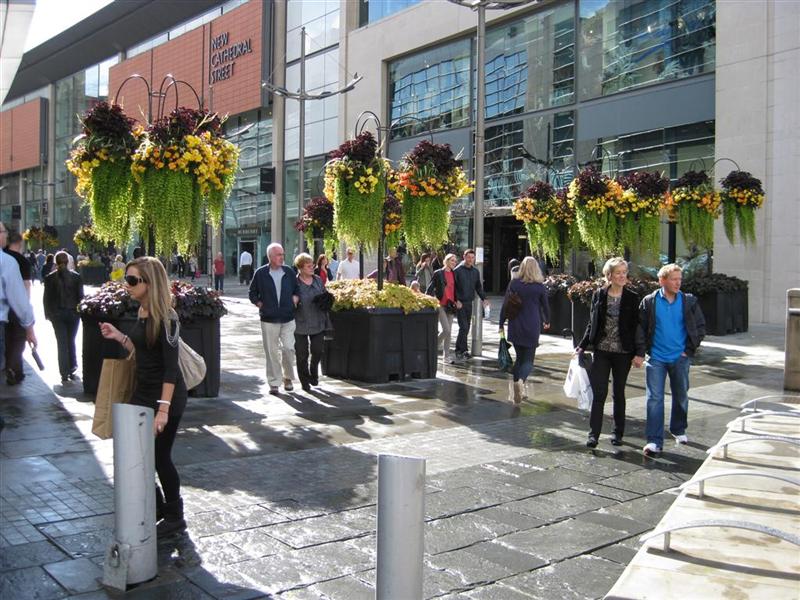 We went inside the Manchester Cathedral (Anglican). While we were there we listened to the choir practicing.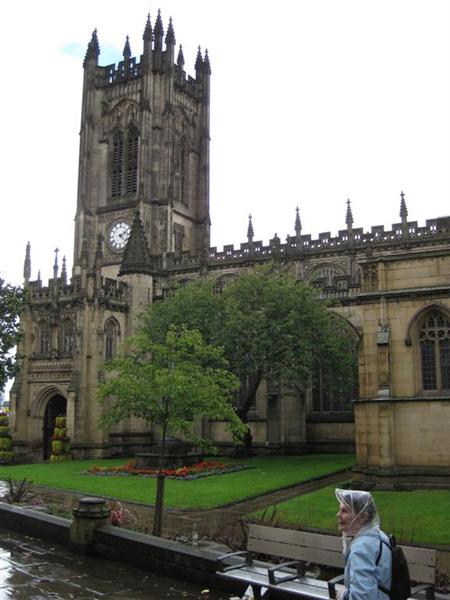 This memorial tree is dedicated to the 376 people who were killed during the World War II blitz in late 1940. The names are listed on the metal plates wrapped around the "tree trunk".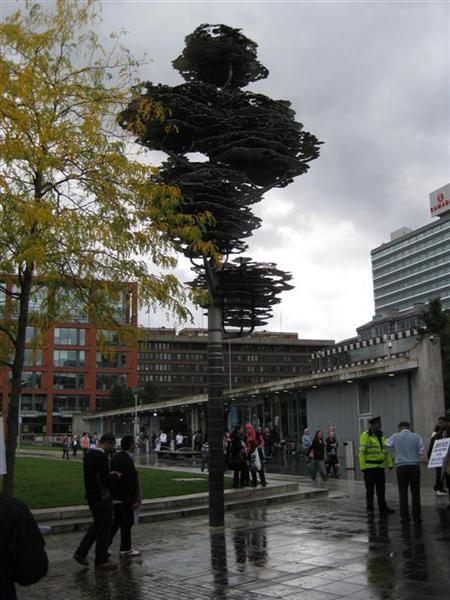 Tues, Sept 14 - Hayden Bridge (20 mi W of Newcastle)
Today I again boarded the train for a trip to the North: Newcastle and then a train to a nearby village of Hexham. This is where This is where Doris (Engelmayer) and Alistair Wardle live with their children, Rebecca (2.5 yo) and Jack (7 mo)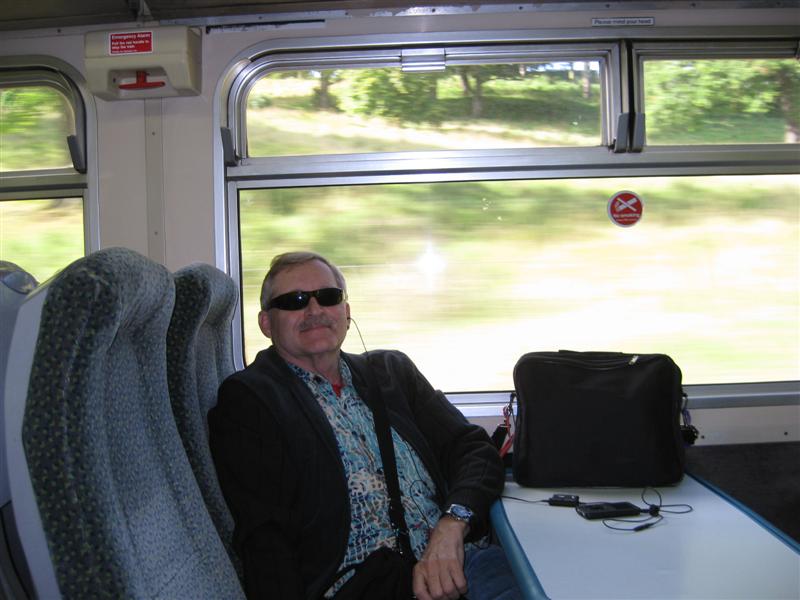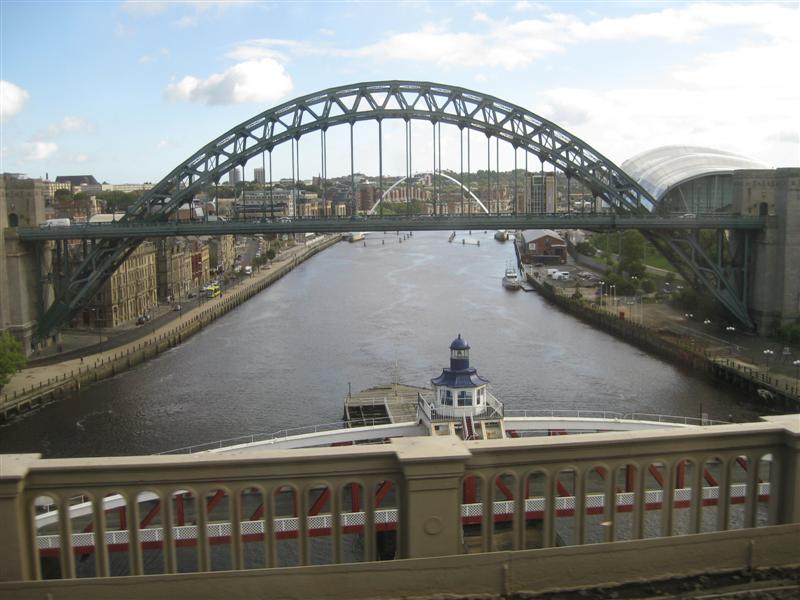 Train to Newcastle, bridge over the Tyne.
The 4 of them picked me up at the Hexham train station and we drove a short distance to Corbridge, a beautiful and historic village, nearby. We were early for lunch, so we walked around town and stopped at St. Paul's Cathedral (Anglican). The earliest portions were erected in 574 AD. Subsequent additions of Roman and Gothic arches, complete the small church.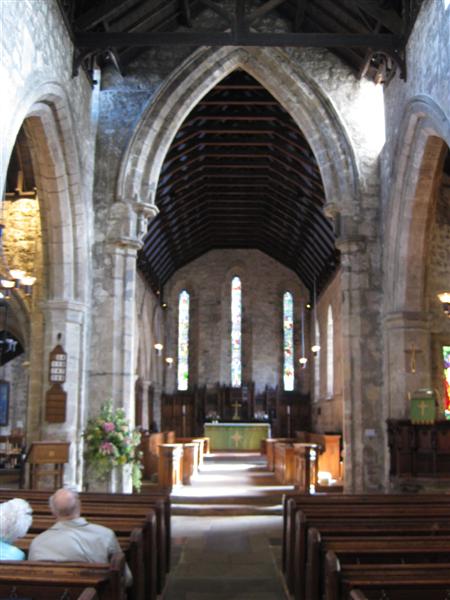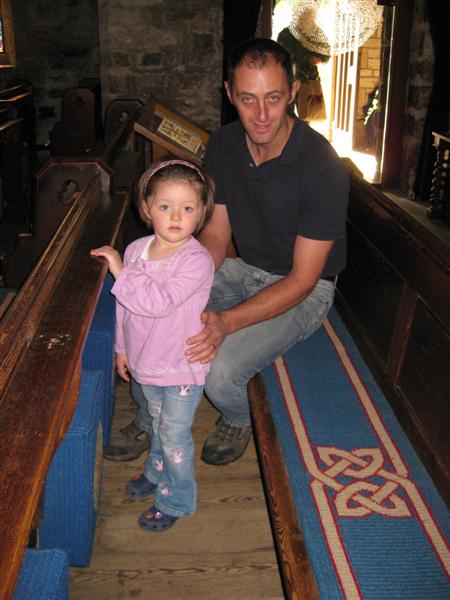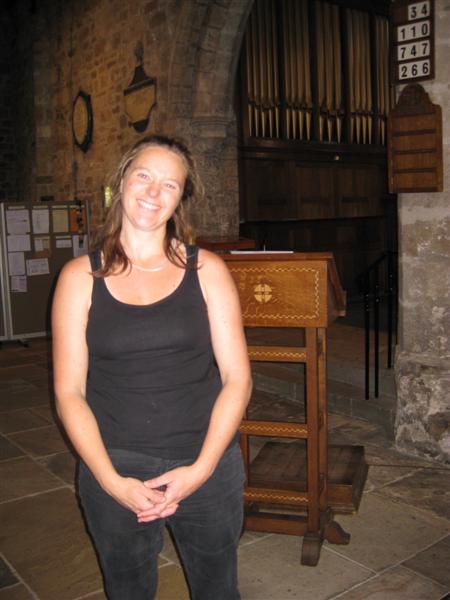 At historic St Paul's at Corbridge.
We went back to the pub, called something like "Old Oak". The menu was large for a pub and they had several vegetarian things. I had a spinach/cheese/breaded burger (pictured). Rebecca had sausages, Doris ate lasagna and Alistair ordered salmon. (The best salmon fishing is at the river that runs through this area.)
The Romans settled this area and Hadrian built his famous wall. It goes most of the distance between from the west to the east and it runs right through this area. You can visit forts and walls and go on walks there.
After lunch, we dropped Rebecca off at her twice weekly nursery school (1-6PM) and took the scenic route to their farm. The countryside is beautiful, rolling hills, hedge lined fields, narrow roads, green everywhere.
The Wardle family has owned many, many acres in this area for generations. Over time, adjacent farms were acquired, along with the farm building and homes. Back at the farm, Alistair went off to finish his work and Doris and I viewed the 2 gardens and picked Victoria plums which had fallen on the ground after a recent strong wind. She will make preserved from them. The food gardens need to be rabbit proofed, so there is finer meshed screen all around the perimiter.
Doris teaches at a local university. She is on maternity leave and hope to return to a part time position later in the year.
We talked about the drives we could take and things to see, but ended up drinking coffee and talking in their warm, comfortable kitchen which suited me fine. I'd already accomplished when I had set out to do for the day
September 15/16: Portland to Heathrow
Today is the first day for most of us of a four week trip to Europe including a 15-day cruise on the Danube River through eight countries. In the afternoon 10 of us boarded a horizon jet in Portland for a short hop to Seattle where we took the only British Air service from Seattle for Heathrow Airport in London. The BA aircraft was a little on the old side of the fleet and after a mildly alarming shudder, we were off at about 7:30 p.m. We were supposed to be at the airport early for an international flight, but the mid-day check in at PDX went very fast. We had a nice lunch knowing it would be late before dinner was served. We had about 3 hours to wait in Portland and then another 3 in Seattle. That's nearly as long as the 8 hour flight to London.
Our route to the UK was up over Canada, Hudson's Bay, Iceland coming in toward London from the northeast. We all slept some, but these old bones don't do too well crammed into a small space. The movie selection was the worst I've experienced in a long while, so after dinner, it seemed better to try to get some sleep.
After the 8 hour flight, we ended up at Heathrow having lost another 8 hours to the time change. Brother, Tom, had already come to London from San Francisco last week and he was there to meet us and move to our hotel. It was about 12 noon local time and although we were all exhausted, it is not a good idea to go right to sleep. One would have a much harder time adjusting to local time. So what to do? Heathrow Is west of London about 15-20 miles and it didn't seem worth the effort to go into the central city. The choice we took was to go to Windsor, about 20 miles further from the central. To take a bus would have meant a 1 ½ hour ride and we decided for 11 of us, cabs were the best deal, although the fare to Windsor and back was around $200 for 11 of us. Just to ride the bus from the terminal to our airport hotel, almost in sight, costs $6 each. 4 of us could share a cab for $16.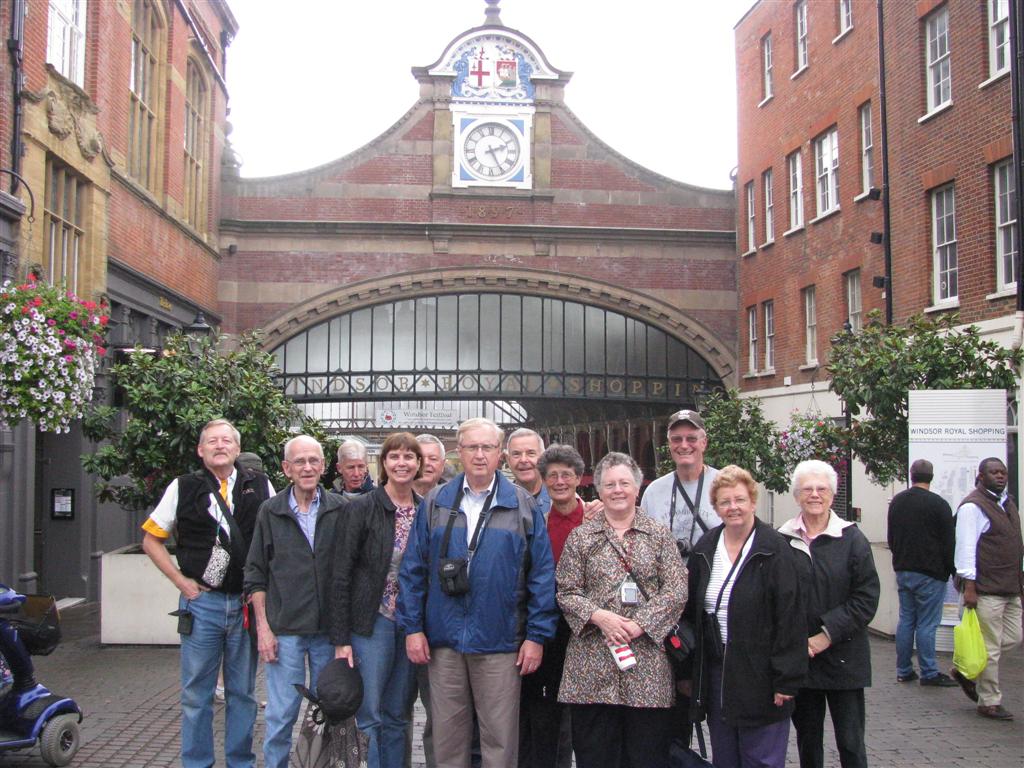 Tom, Burt, X, Nancy, Joel, Marv, Rick, Levonne, Blanche, Rod, Pat, Elaine
Recent discoveries of the Daniels' lineage include our cousin Betty who divides her time between the palace in London and Windsor Castle. I hadn't had a chance to contact her ahead of time for a private meeting, but we were in luck and her flag was flying over the round tower that is one of the signatures of the castle. She usually spends weekends at Windsor, but the table was being laid and entertainment arranged for a special dinner honoring youth golf, a special interest of Prince Philip. We knew that the last entrance to the castle was 4 p.m., and we weren't sure we would arrive on time, but It turned out we had plenty of time to get our tickets and go on a self-guided tour. Headsets were provided giving lots of good information about each area. The castle is huge and the gardens beautiful. We walked around outside and then went into St. George's Chapel, a high gothic building with lots of decoration and stained glass. We saw the final resting place of George VI and Queen Mother Elizabeth, a stone over the crypt where Henry VIII is buried with his favorite wife, Jane Seymour, (At least she died with her head intact.) and many others. Windsor is the seat of the Knights of the Garter and there are lots of shields, armor and plaques in their honor.
Another part of the tour is the State Apartments, grand rooms where kings and queens entertained housing a fabulous art collection: Reubens, Rembrandt, Breugel, Hans Holbein, the younger, etc. in the grand rooms. We saw the grand hall where the Queen hosted a lavish dinner which you might have seen on a special series about how she lives on PBS. A smaller dining room was being set up for last night. On Nov. 20, 1992 (Don't ask me how I remember that date), there was a disastrous fire in the State Apartments that did significant damage. Miraculously, the art was saved, but roofs were destroyed and there was lots of water damage. New ceilings were constructed in the medieval way out of oak, sawn and bent in a green state when it is still pliable. It shows cracks that occur when it dries out. The restoration was completed five years later, Nov. 20, 1997 on the Queen and Prince's 50th wedding anniversary. It was masterfully done, and it is not possible to see where it was. One room had a very elaborate oak parquet floor that had been blackened. It was saved by turning each piece over and using the backside.
Drooping considerably, we ended our tour and walked back across the street into the town. We had tried to get into the private quarter to see HRH, but we were unsuccessful. We plan to tour Buckingham Palace on Saturday, and maybe we'll have more luck. Betts, you know your poor relatives deserve some respect, too. The tourbus drivers we talked to recommended a pub where they eat down the street. We were really hungry since we hadn't had anything since the sumptuous breakfast we had on the plane. Oddly, for a British Pub, there were a lot of French words on the menu.
Sept. 17 – More London:
I think I woke up about 2 thinking it was morning and didn't really get back to sleep. We see that Pope Benedict is in town, so we know HRH is busy helping to entertain him so we'll lay off trying to find her for a day and find some other things to. Our plan is to set off for the London Eye before the weekend and early in the day before the crowds get too large. We had arranged for a service to take us all into London by car which worked out to be a good deal and much quicker. This very enterprising company based in our hotel buys Mercedes, Lexus and Volvo type cars that are several years old, but able to accommodate 4 or so passengers comfortably. We were able to drive into the city on the M-4 and see the sights. The cost was similar to taking the train or tube.
For the celebration of the year 2000, it was decided to erect a huge ferris wheel on the banks of the Thames just upriver from Westminster. I think the original plan was to take it down later, but it has proven to be so popular that I think it is permanent. It has an egg-shaped car holding up to 25 people takes about 30 minutes to complete a revolution up to a height of about 135 meters giving the occupants a splendid view of the London skyline. It was a beautiful, rare(?) sunny day ideal for taking pictures.
As we neared the end of the rotation, an announcement asked us all to stand in the corner for a photo ... which we did. When we go off, we saw our photo on the monitor. We were all standing with our backs to the camera!!!
Upon disembarking, we walked across a fairly new footbridge next to a train bridge going into Charing Cross train station awarding us with more views of Parliament and Big Ben. All the areas across the river from the familiar skyline have been cleared out with numerous new buildings set in open land. Our goal was Trafalgar Square after hitting up some banks for cash exchange. We have pretty good luck changing money at cash machines, but traveler's checques must be dealt with in a bank. Credit cards usually exchange at a good rate and some credit unions have very low fees. This is all good since London requires large amounts of cash! The exchange rate is about 1 pound for $1.60 but the prices seem to be closer to equal. A hamburger for £8 pounds looks pretty good 'til you remember that's about $12. The rate is a little more in our favor than it has been, but it's certainly no bargain. A few years ago, the British would fly to New York to do their Christmas shopping because they could buy their ticket and more with the savings.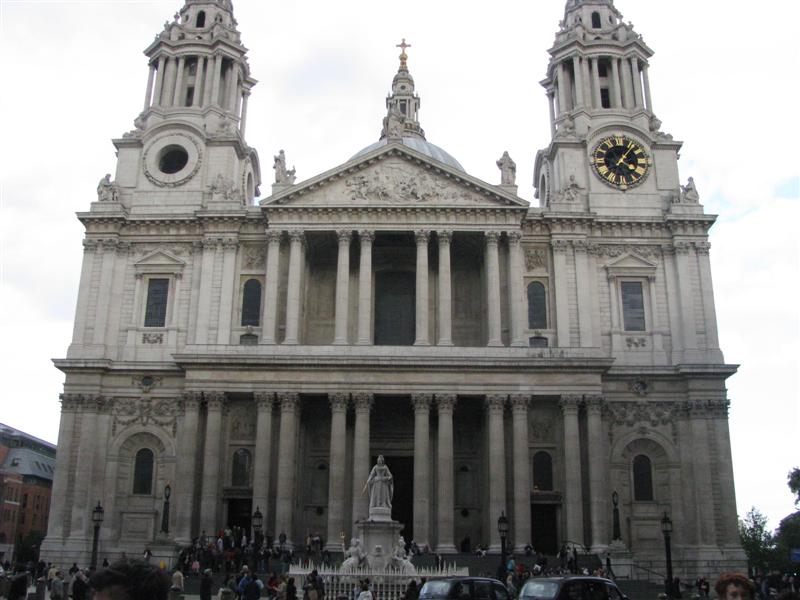 St Paul's
Soon it was time to think about Lunch and Elaine had read about a must-go-to place called Gordon's Wine Bar, the oldest one in the city. It is a hole-in-the-wall and you go down stairs, pick up your food and go into a cave-like cellar to eat. It was a good choice. It turned out that it was several doors down from the hotel where Rick, Levonne and Mark had stayed in 2005.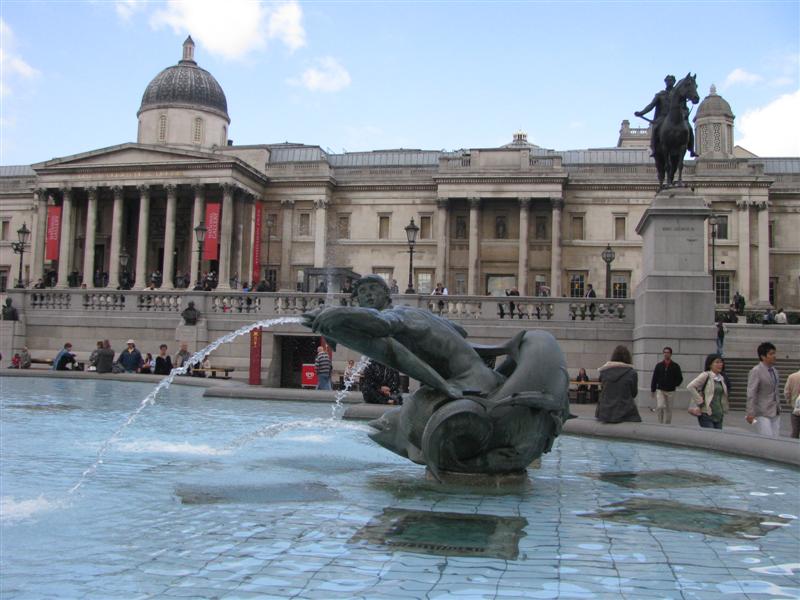 Trafalgar Square
Next it was back to Trafalgar Square with the imposing Lord Nelson column anchoring a plaza enclosed by buildings such as the London Gallery and St Marin in the Fields church famed for its music. It had been 45 years since Elaine and I had been there and it was interesting to compare our memories with the reality of today.
Then on to the tube to make our way to Westminster Abby. We could walk around outside, but everything was roped off for the Pope. The security was tremendous and streets closed off. We decided to go on to another site and try another day. It was back on the tube to ride out to see St. Paul's cathedral, Christopher Wrenn's masterpiece built after the London fire around 1700. We were too late for a full tour, but if we would just wait half an hour, we could get in without charge for a vesper service sung by the choir. If we said we were genuinely interested in being a participant in the service, they let us beyond the ropes up closer to the unaccompanied men's choir. If we had understood, we could have taken the empty seats in the choir. The reverberation is unbelievable in this huge edifice with beautiful mosaics and other decoration. After 45 years it only seemed grander to us. The service lasted about 45 minutes.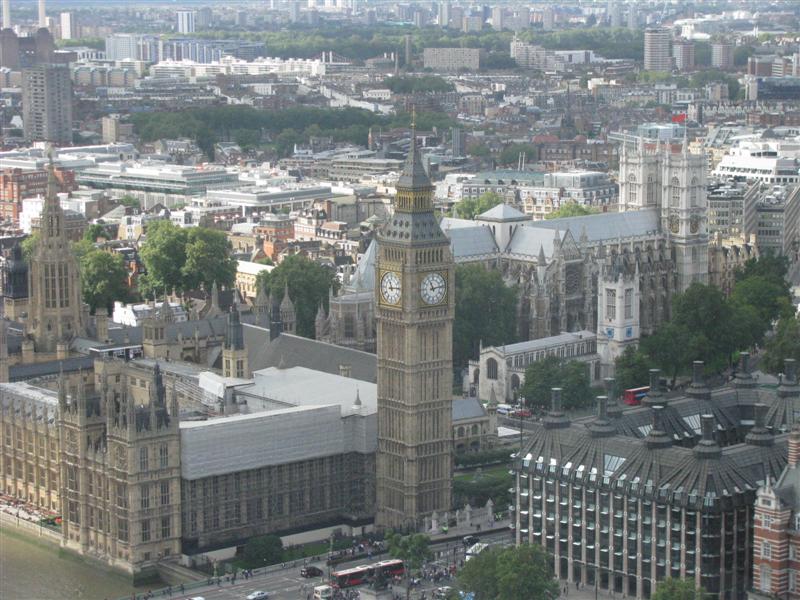 Big Ben, Westminster
Our next stop was Covent Garden. I wanted a book of German road maps to replace one I had lost and there is a large travel store in this area. We had to walk a bit not knowing which end of the street it was on ending up at Leicester Square. It was dinner time and there are lots of restaurants. We found an Italian one that was very nice. By then it was time to find our way back to the hotel catching the Piccadilly Line which goes to Heathrow and then find a bus to the hotel, about an hour trip altogether. We had had a long day and were past due for bed.
Saturday Sept. 18 – Still More London:
We arranged to have the same service into London so that we could tour Buckingham Palace. We were a bit concerned since thousands were expected to hear the Pope in Hyde Park. Traffic didn't seem to be that bad and soon we were at the gates. Surely we would see the Queen or cousin Prince Chuck today. The system for tours works great and although we had our tickets ahead of time, I think we could have walked in. It has only been in recent years that the palace is open for tours and only for several months each year. They are self-guided, and you have a headset describing all you are seeing. They are very thorough and have lots of options for commentary about a variety of things. The tour includes the staterooms which take your breath away with furnishings and art that is unbelievable—more so even than Windsor. One leaves the palace through the 60 acre grounds where the Queen has her garden parties with 1000's each year. Since she wasn't able to see us this time, surely we'll get our invitation soon.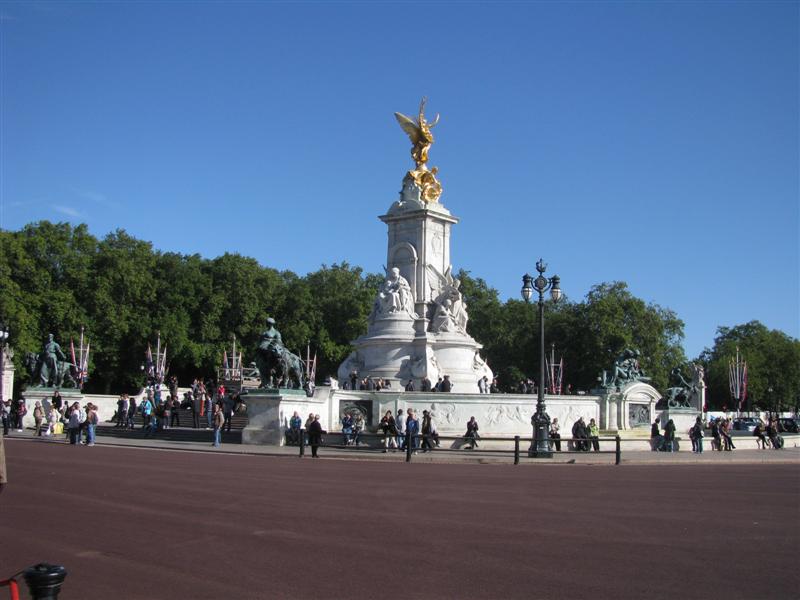 Victoria Memorial
We learned that Westminster was closed again today for papal events (I don't know why he would have priority over us) so it seems that we will miss it for the second time. It was closed 45 years ago when we were there also. We decided we would have to settle for the crown jewels at the tower of London. It was back on the tube for a ride to Tower Hill. I had purchased Oyster Cards before we left on this trip and we could use them for transportation. When we ran out of money on the card, we could add more. They worked great. We were able to use them 2 days for about £15. After touring the tower, we went to Piccadilly Circus for dinner at a Lebanese restaurant and then back to the hotel so we would be ready to get up at 4 for a flight to Bucharest, Romania
Sunday, Sept. 19 – 20: London to Oltenita, Romania
Wow! Four a.m. was early for a wakeup call, but our flight to Bucharest was at 7:25. We had our usual drivers come by and pick us up. We could have struggled with our suitcases onto a bus, but these guys agreed to do it for the same price. Heathrow's international terminal is new and easy to maneuver. Our plane was only half full and it was a smooth 3-hr flight with a hot breakfast (better than we got from Seattle), and constant beverage service. Bucharest's international airport is quite a contrast. Much smaller of course, it looks like most of the rest of the country, needing repair and refurbishing. Jets no longer used sit in the weeds at the side of the runway.
We soon linked up with our Viking Guides and were put on a bus for the ride to Olineta on the Danube River, about 1 ½ hours away. Since the airport is in the north of the city, we had a chance to drive through the middle of town.
Romania is the third largest country in Europe with about 22 million people; the capital, Bucharest has a population of 2.3 million. It was called the Paris of the east in its earlier days with wide boulevards and streets radiating out from traffic circles. Older buildings are ornate contrasting with the newer Soviet Modern style. The government building that houses parliament was built in the 80's and is the 2nd largest building in the world next to the Pentagon. It still is not finished.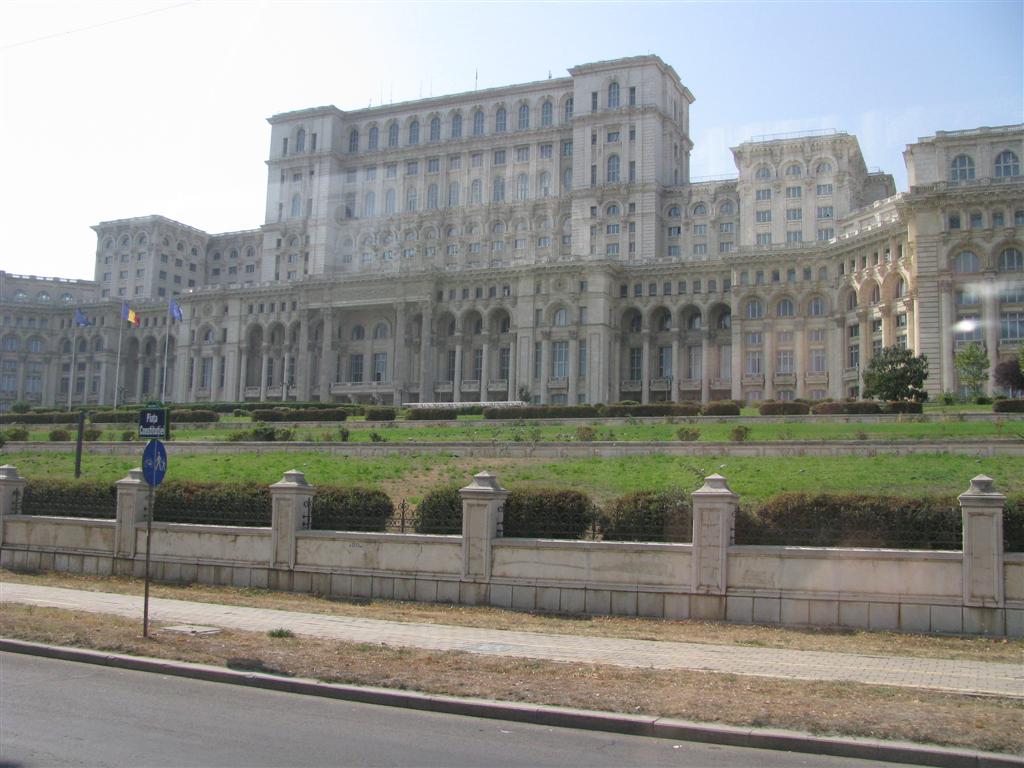 For about 25 years from 1965, the dictator Ceauşescu, ruled the country with an iron hand until he was overthrown just before the collapse of the Soviet Union and executed with his wife Elena on Christmas Day after an aborted escape attempt. As they faced the firing squad, they still didn't believe they would be killed, Elena saying, "You can't kill your Mother and Father." The guides we've had were quite direct in their assessment of the era. Lasting legacies are hard to overcome. Most of the factories, dependant on a captive market in the eastern bloc, closed. Our guide's parents went back to university and studied for new careers. The farms had been collectivized under the Soviet model. After the revolution, it was decided to give the land back to the original owners. Now the farms lie fallow since most of the owners can't get to their land, and haven't the capital to make them productive. Romania could feed 80 million people, but currently only 8 million and depends on imports. Romania needs to rebuild the irrigation system that was stolen after the revolution for example. Now, a member of the European Union, the country seeks loans from richer countries in the west.
Ceausescu preserved the churches, but cajoled priests into telling on people who confessed. 90% are Eastern Orthodox, the rest, a variety of other faiths. Romanian is a Romance Language, about 80% from Latin so it is much like French, Spanish and Italian. I hadn't remembered that Romania fought with the German's against the Russians in WWII. Afterward they have had an uneasy relationship with the Russians, and although communist, they didn't think of themselves so much as a Russian Satellite. We arrived at the ship The Primadonna at about 1:30 in time for a light lunch. We had time to unpack and roam around aboard which didn't take long since this is a small ship with 150 passengers. Some of us have staterooms with a balcony, others (I won't mention who) chose the cheaper ones with a porthole barely above water. It's kind of nice to lie in bed watching the water splash up on the window through the moonlight. This ship is the only one on European rivers that is double-hulled. That means those on the lowest deck have to go up stairs and over and down to visit those on the other side. In the middle of the ship there is a glass window where one can see the water rushing by. The purser said he had a button to push and dispose of anyone who caused trouble.
Dinner was very nice and we had two tables for our group. Afterward it wasn't long before eyelids were drooping, and we were ready for bed.
Oh, by the way, I was pulling your leg about HRH Betty and Prince Chuck. As you saw, we had a very nice visit and appreciated having them for guides.
Monday Sept 20, Constanza, Romania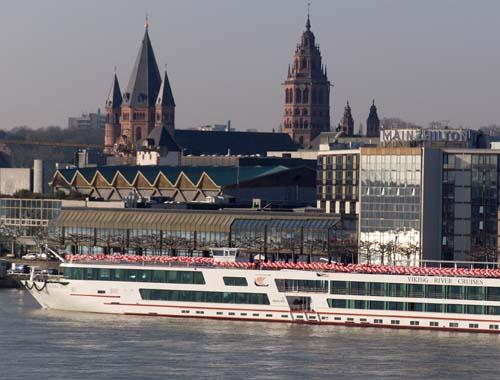 With the gentle sound of water, the double-hulled ship glided through the Black Sea Canal taking a shortcut from the Danube to the Black Sea town of Constanza, the major port of Romania. There were locks at either end of the canal, and we slept through them on the way down. We were amazed to see the size of the port facilities.
After we docked, we were taken by bus on a field trip to various sites. First stop was the museum to see the artifacts from Roman times: beautiful glassware (the picture is of an early baby bottle), statuary and jewelry mostly found in the tombs of the patricians. Although not too large, the collections were in good condition obviously a source of pride for the locals. We had a guide on our bus from the area, and she was a fount of information. We were issued hearing devices that are connected by radio to our guide. You don't feel like you need to push to the front to hear. Several Japanese passengers have joined us, and their interpreter can use them without having to bother us.
The museum was followed by a visit to an orthodox church with rich carpets on the floor and beautiful icons on the walls. There are chairs around the sides for the elderly, but usually the rest stand during the service. There is chanting and singing, but no organ or other musical instrument. Down the street was a mosque with a minaret, which we didn't go in. Romania was ruled by the Ottoman Empire for centuries, but most left when the Turks were defeated so I don't believe the mosque is currently in use.
Constanţa had been a major Roman city, and there was a large market area with mosaic tile floors and brick walls on multi levels. Much has been destroyed by time and earthquakes, but archeologists have been working to restore what they can. There are so many antiquities in the Balkans that need to be excavated, but that takes time and money.
A little further on, we visited a huge casino built in the earlier part of the 20th century. It was massive with lots of Art Nouveau windows and decoration. During the world wars, it was used as a hospital. Despite the red cross on the roof, it was bombed. It is mostly in rack and ruin, but were told it is used occasionally for weddings.
Mamaia was our next stop, a wide strip of resort area with a lagoon on one side and the Black Sea on the other. It is all hotels and other recreational facilities. It is a favorite place to come when it is hot inland. Out destination was a modern hotel where we could have coffee and cake while sitting on the terrace above the beach. There was ample opportunity to get a sample of sand for Mary's kids and put our toes in the water. Since it was a cool day, no one went swimming.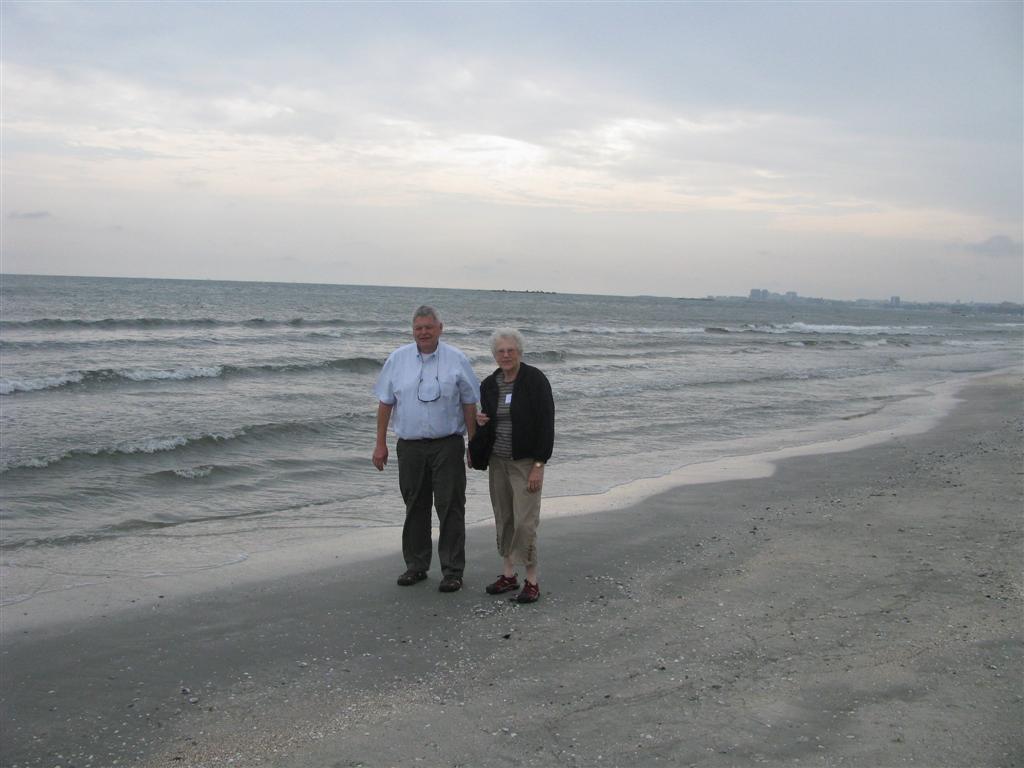 Joel, Elaine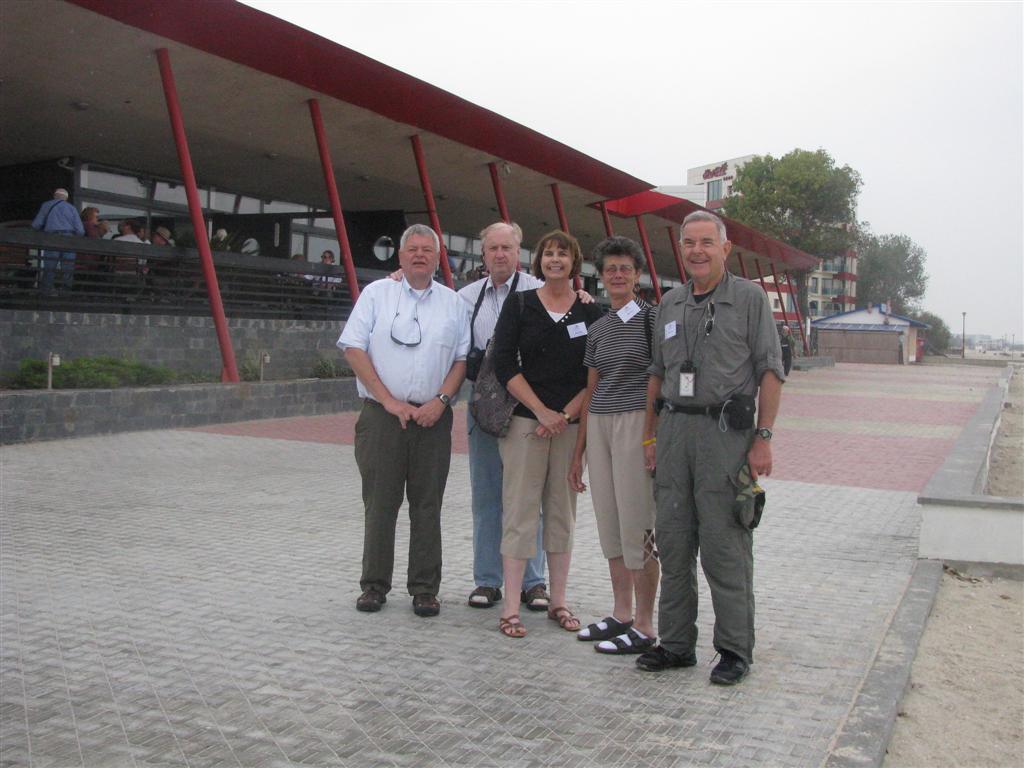 Joel, Marv, Nancy, Levonne, Rick
Back on board, the ship turned around and began the journey up the canal to the Danube, a pleasant afternoon of sailing. The river is very wide at the point with numerous islands covered with scrub trees reminding me of the lower Columbia. At times we could see farming enterprises, lots of cane berries and at one point some wind turbines. While we will continue to see Romania on the right side of the ship for hundreds of kilometers, this is our last visit to the country.


Special local tomatoes from Vidin, Bulgaria, called Beef Hearts!


Piano Player, Primadonna River Boat, Bellevue Room


Atrium, lobby area on Primadonna River Boat


Spa, sauna, Jacuzzi, Primadonna River Boat

On top of the mountain, Belogradshick, Bulgaria: TomD, Carl, Rod, Rick
Tuesday, Bulgaria
Two Days in Bulgaria The Danube flows west to east and forms the border of many countries. On the east before it flows into the Black sea, it forms the frontiers of Romania on the north and Bulgaria on the south. After 2 days in Romania, we turn our attention to the neighbor on the south. Bulgaria is distinctly different from its neighbor. Bulgarian is a Slavic language related to Russian or Serbian and as we were proudly told a number of times, the Bulgarians developed the Cyrillic Alphabet which is recognized by the European Union along with the Roman and Greek. Signs are harder to read, but the Bulgaria's membership in the EU requires that there be dual signage especially for road signs. There is a remarkable amount of English used as well.
We hit the deck early (for us) to board the bus for our day's tour inland. Our group is assigned to the same bus, and everyone is very congenial. There is a small group from Japan with a guide and interpreter. As our guide speaks to us, she is using the radio to translate for them. It's very smooth and not obtrusive. We were headed to Veliko Tarnovo, a lovely former Bulgarian capital about an hour and a half ride through the gently rolling farmland. The farms seem more prosperous here, wheat, corn, sunflowers and vineyards. We were told about the valley where damask roses were grown to make rose oil, a very valuable commodity. We stopped at a shop where we could sample a rose brandy and buy lotions, soaps and handcrafted souvenirs. I think our guide got a cut.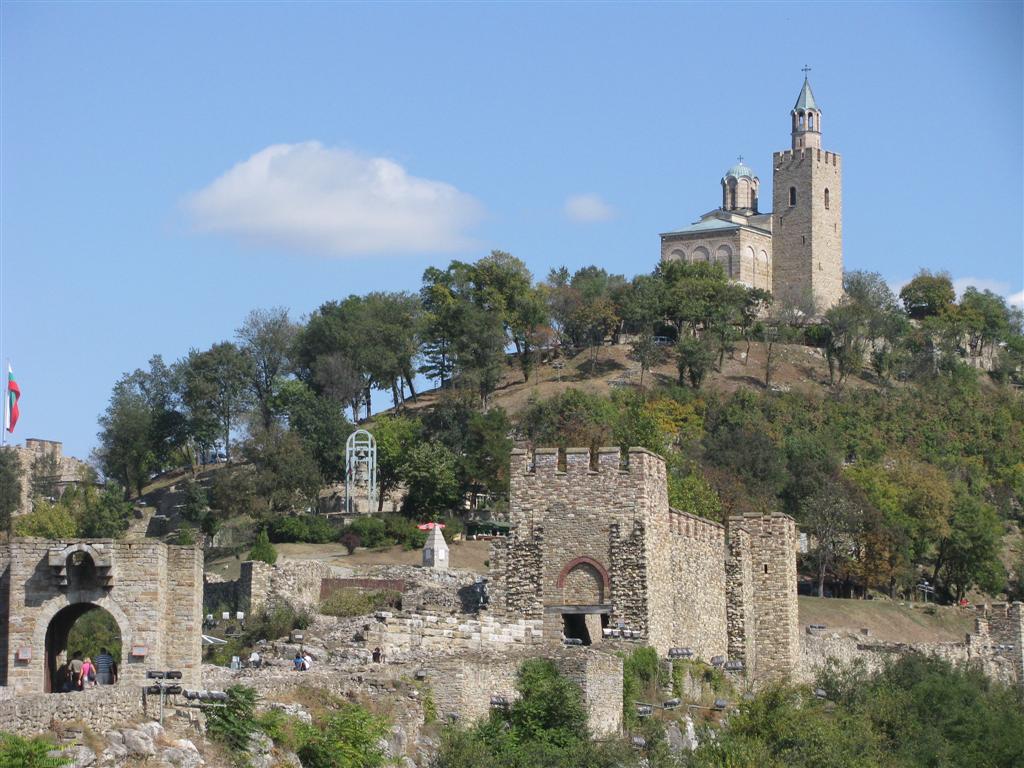 We went on to the small village of Arbanasi where we toured a very old orthodox church, the Nativity, from Ottoman times. It was purposefully low and plain so as not to compete with mosques. Inside, we found hundreds of frescos of icons painted to tell all the Bible stories. A docent very descriptively and enthusiastically explained them to us. It is no longer used as a church since an integral part of the service involves candles and the smoke would be damaging. Through the centuries the walls and ceilings had become black, and they have all been cleaned and are bright and beautiful with lots of gilt.
From the church, we walked down the street and toured a home that has been restored to the way it would have been several hundred years ago. It is a chalet-style house of brick with a tile roof and spacious well-lit rooms. It even had indoor plumbing, or I should say a hole dropping down into a cellar.
A short walk took us to a sprawling restaurant for lunch. Our group was lucky to sit outside in the sunshine treated to a typical Bulgarian dinner. Salad was wonderful tomatoes & cucumbers with feta cheese followed by soup. The main course was a goulash of chicken, onions & peppers. While we dined, we were treated to dancing by traditionally dressed performers accompanied by flute, accordions and drum.
Soon it was time to reboard the buses for the ride back to Veliko Tarnovo to a do some shopping on a street of local craftspeople. We managed to find a few knickknacks to take home.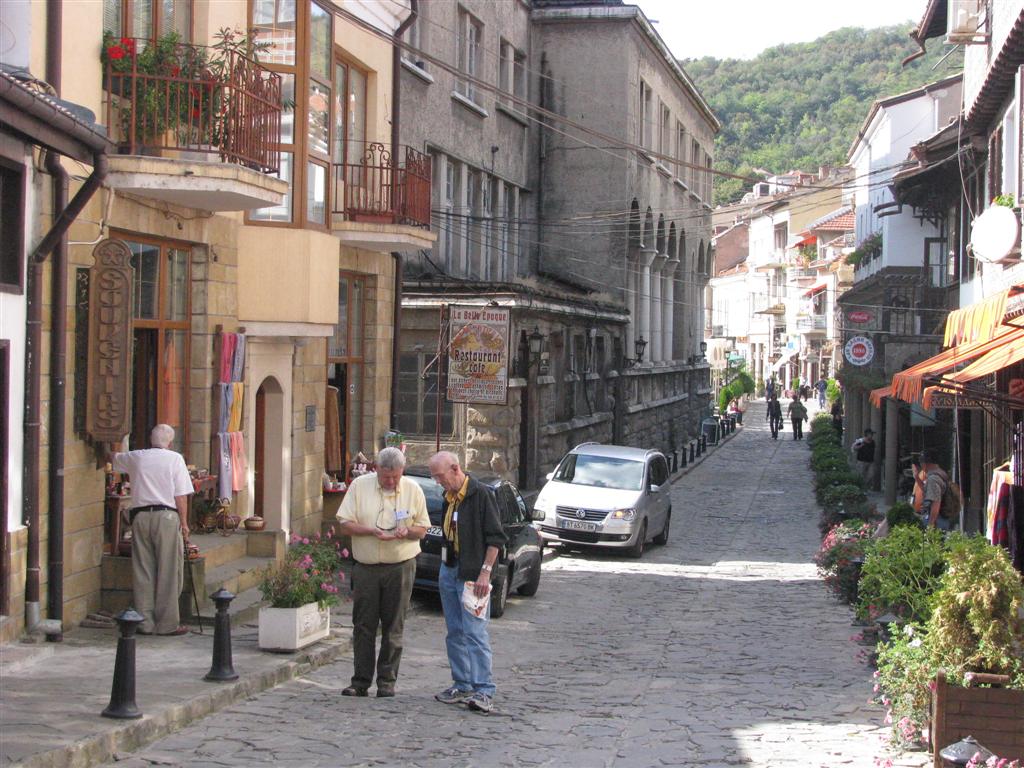 While we were on tour, our ship moved upriver to the city of Svistov where we were taken on our return. Most of the time while we're on board, the ship is moving.
Bulgaria is a country of about 7.5 million down from 9 twenty years ago. There is a negative growth rate and many have left the country for jobs. A number of those who remain depend on money sent home to live. Pensions are low and retired people often return to the villages where they can have a garden, cut wood for heating and generally live off the land. Large farming operations lease land for agriculture, but much is still fallow after the days of collective farming. Most Bulgarians are Eastern Orthodox Christians, although after 50 years of religion being outlawed, most would consider themselves atheist. Our guide thought that religion didn't seem relevant to young people as it has not changed or reformed for hundreds of years. There is a great distrust of authority and a legacy of communist times is the opinion that all politicians and businessmen are crooks. Organized crime moved in after the fall of communism. The newest president has tried to bring corruption charges against some of the kingpins, but the courts found them non guilty leading the EU to demand judicial reform.
By the next morning the ship had reached Vidin in the northwest corner of Bulgaria. At 8:30 we were back in the bus for a trip to Belogradschick about an hour away, high up in the Carpathian mountains. The sign on the bus said: "Well-bred people don't eat on the bus. It is forbidden." From there it was a short drive to the odd-shaped huge sedimentary rock formations pushed up from a primal sea and eroded away through the millennia. One can see a school girl with their backpack about to be attacked by a bear, etc. At one point in the narrow valley, a fortress had been constructed going back to Roman times. We had the option of hiking to the top of the fortress for a splendid view of the surrounding area. The guide claimed 200 steps, but being a compulsive counter, I can attest to many more than that. We could look down on the prosperous vacation village and see other rock formations for as far as the eye could see.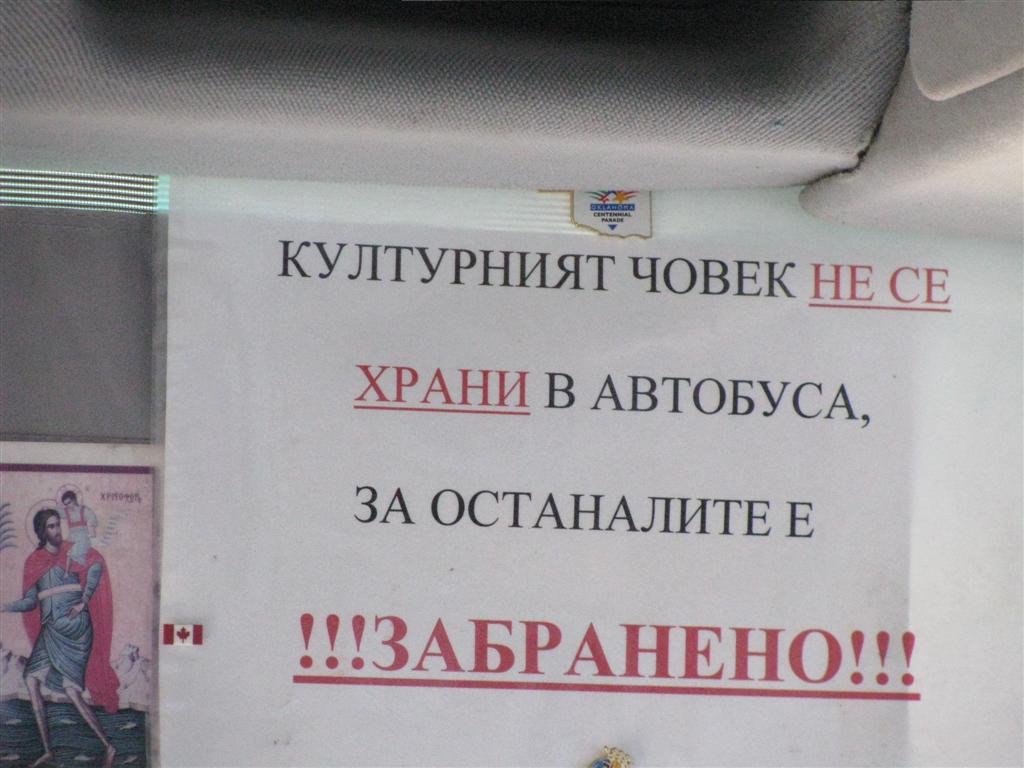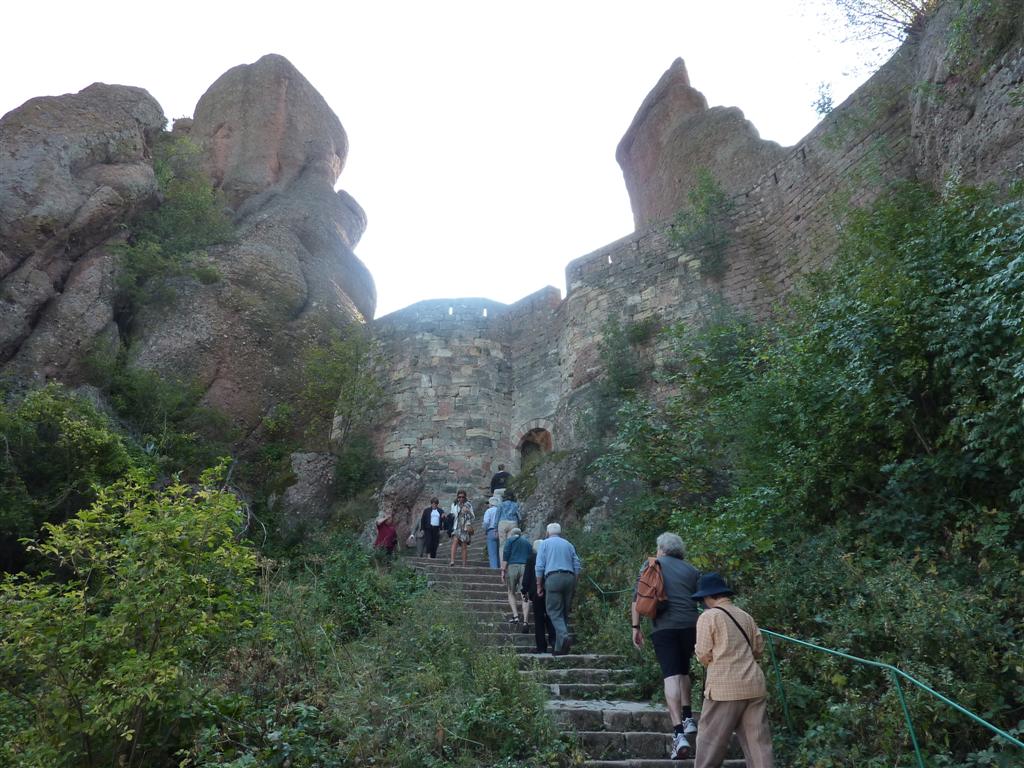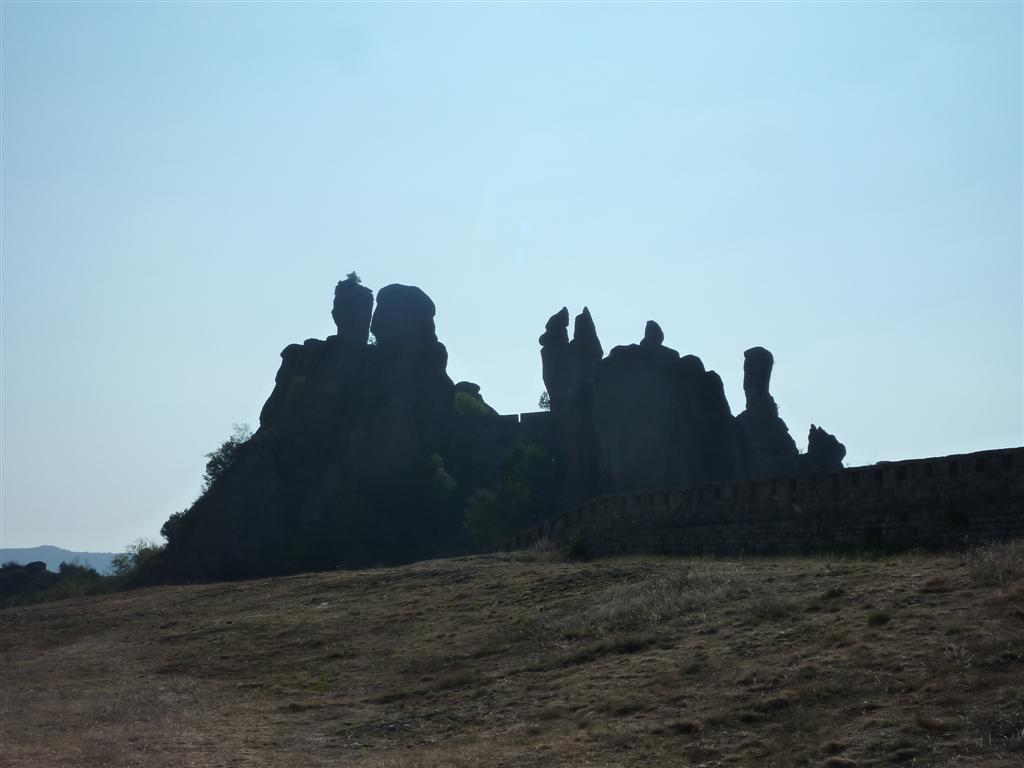 "Well-bred people don't eat on the bus. It is forbidden."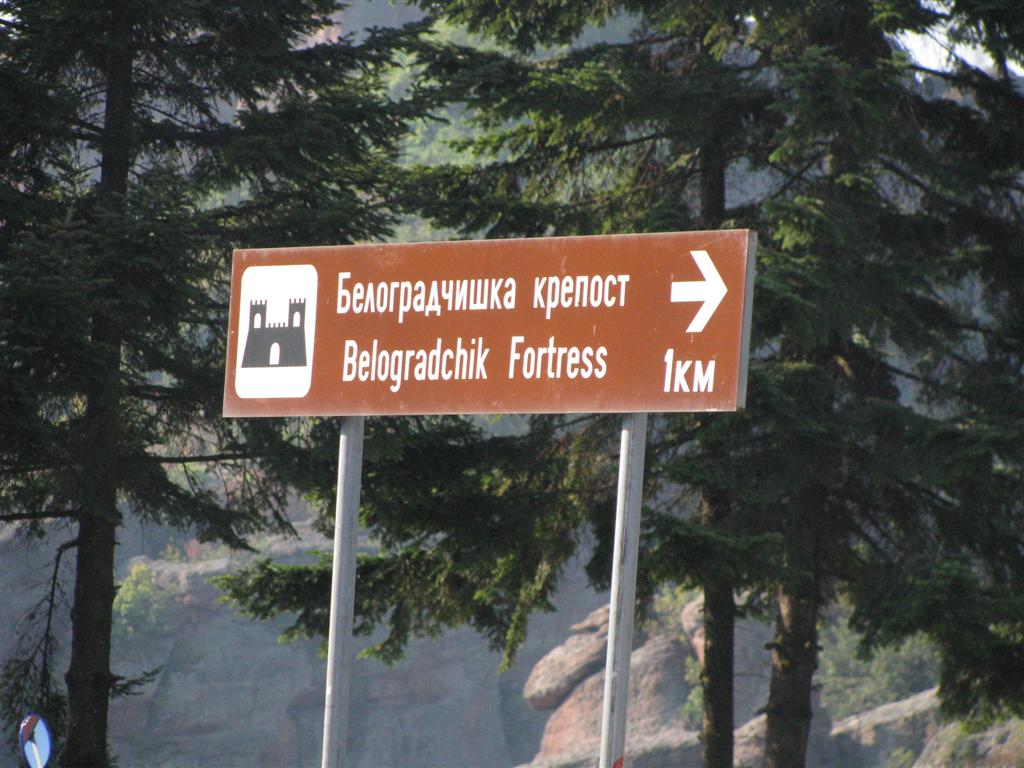 After a coffee and éclair break at a local hotel, we were heading back to the boat. Serenading us as we boarded the bus was a local band in the square. Apparently they were celebrating a bank holiday commemorating an independence day of some sort. We were a little puzzled by a sign on a smart little shop "Weiner Salon." Could it be Dachshund Grooming, or……?
Our guide had some jokes to tell us about communist days. In former times there was shop called George's. You could go in and see meat to buy. During communist times, the name was changed to Meat Market, and then all you could do was go in and see George. Or, the communist President was in his bedroom combing his hair which was odd since he was bald. His son walked in, saw his dad and said "Oh my God!" His dad replied "We're at home now, you can call me daddy." Apparently they only felt free to tell these jokes after the fall of communism. Our guide said that there was one thing she was nostalgic for and that was the curiosity they had as youth to find out all they could about the West. Now, she though kids didn't care much about anything. The afternoon was free time to stay aboard ship or walk around the town. Dinner is usually not over until nine and soon we're collapsing to get ready for another day.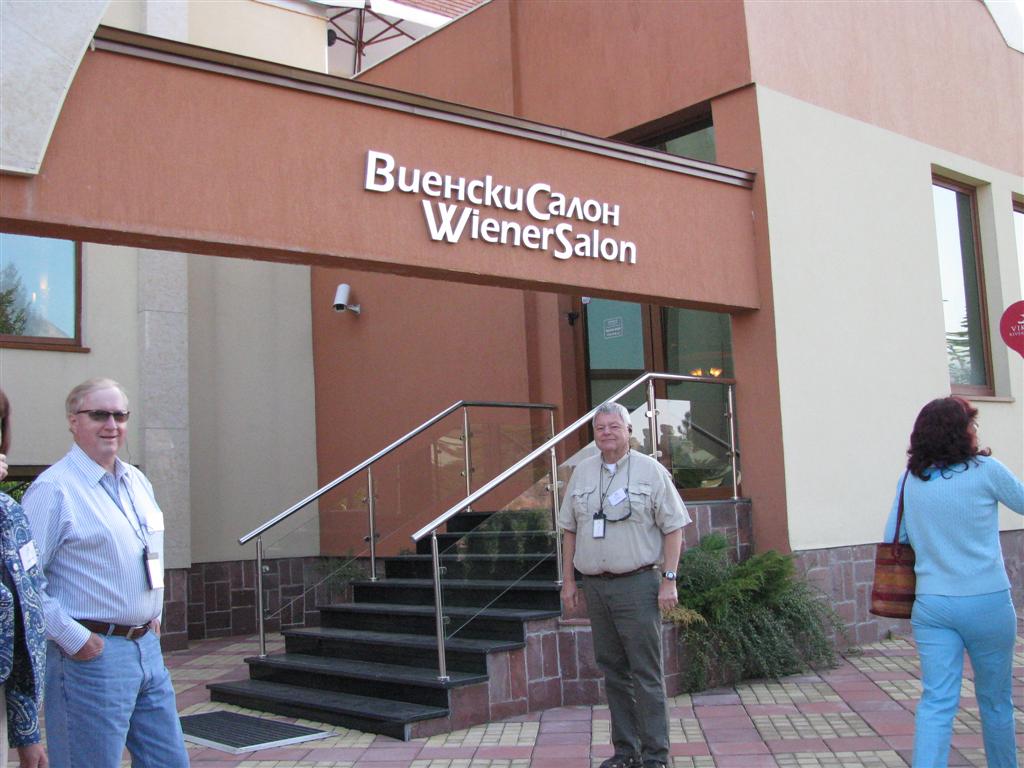 Weiner Salon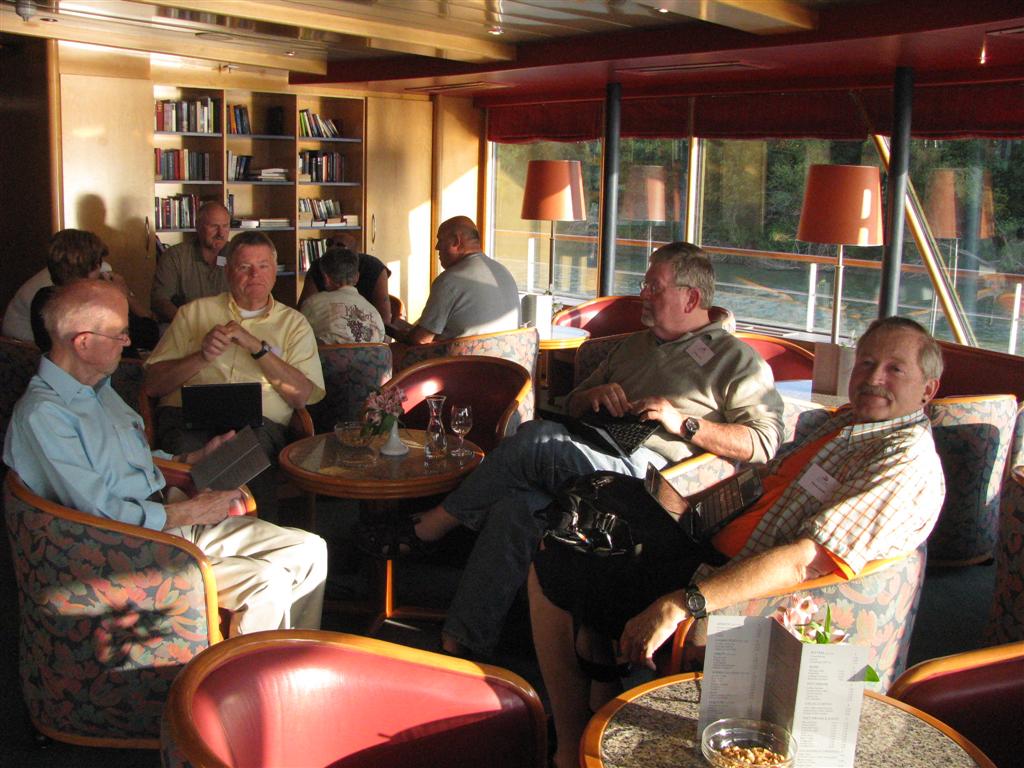 Burt, Joel, TomO, TomD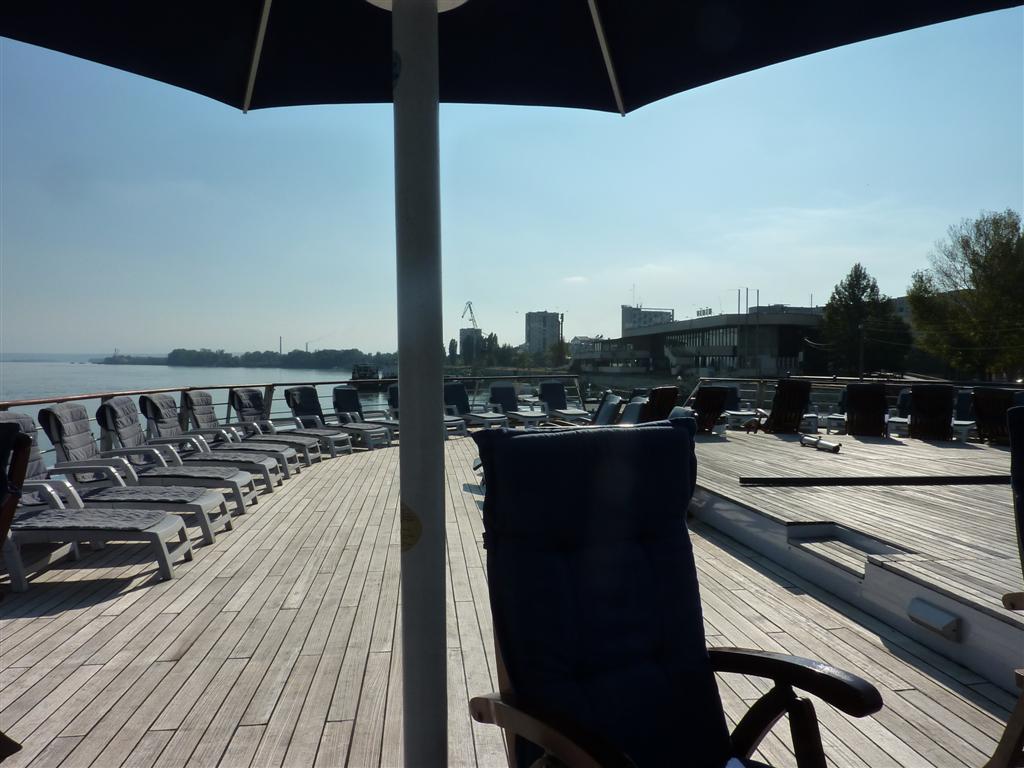 Sun Deck
TomO, Blanche, Carl, Rod, Nancy, Marv, Pat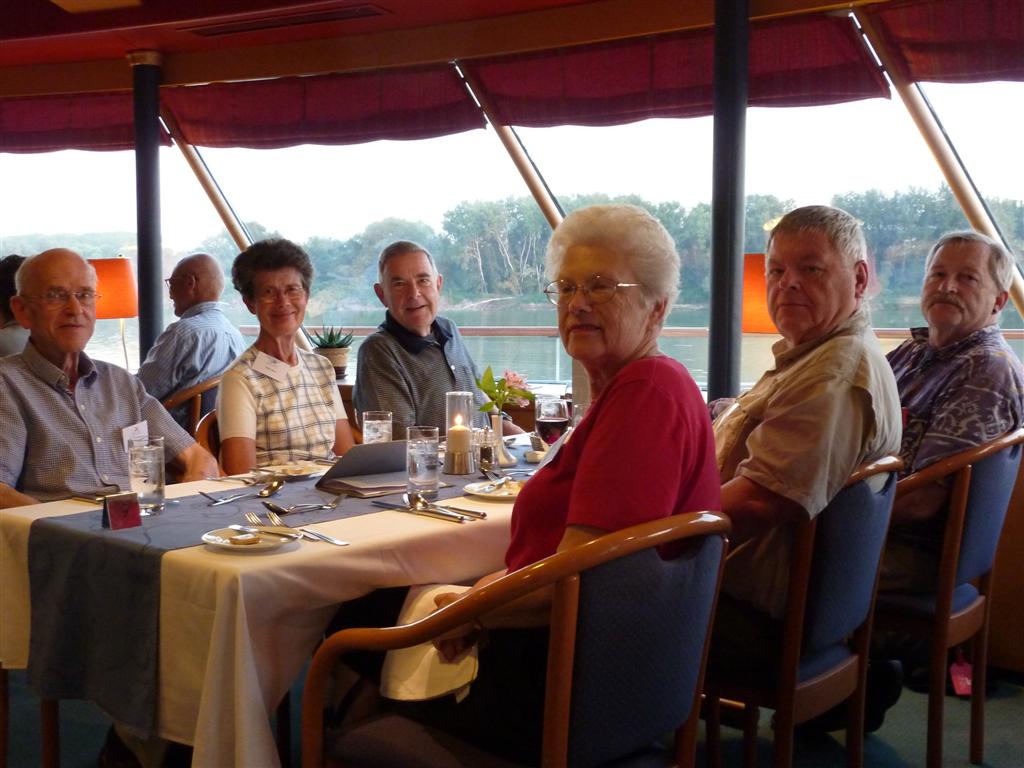 Burt, Levonne, Rick, Elaine, Joel, TomD
It's Thursday, it must be the Republic of Serbia (Република Србија, Republika Srbija in Cyrillic and Latin characters.)
With German efficiency (this is a German registered boat, I think) we were ordered to be up at 7:00: "Achtung! You vill be out on the Sundeck to start sailing through the Iron Gate." Since we're rather lackadaisical, it is good for us to be moved along. The Iron Gate is four successive deep gorges going between the Carpathian and Balkan Mountains in the Danube where it narrows travelling through steep cliffs, a magnificent, awe-inspiring section of the river.
As it presented major difficulties to ships navigating up and down, Tito of Yugoslavia and Ceaucescu of Romania built a hideous dam to raise the water level 35 meters. We were asleep and didn't see it as we traversed the two locks. The area still looks much like the Columbia River Gorge in Washington and Oregon with beautiful vistas.
We could see the guard houses from former times: when the ball was up, a ship was coming downstream, etc. Rail lines on the banks were used to pull the ships upriver. Thousands of people were relocated and villages flooded. At one point we could see an ancient face carved in the rock. It dates back to 2001; an American paid $1 million for it. There was some fog, but Photoshop can take care of that.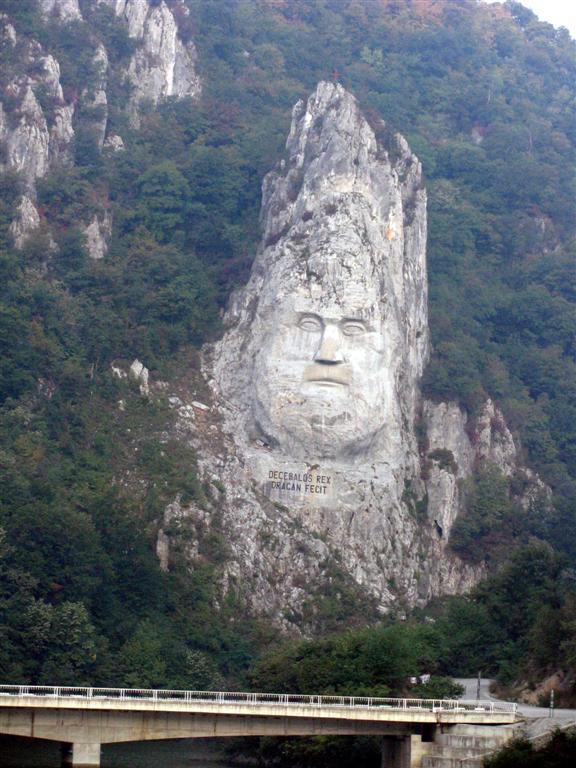 Our port of call was Kostolac in Serbia, the left side of the river. Landlocked Serbia is one of the countries formerly a part of Yugoslavia. Just a short way from the ship are two large coal-fired power plants fueled by coal mined in the area. Just as in West Virginia, they are now using a strip-mining technique. As they began to open the mines, they ran into the ruins from an early Roman Garrison in one of the further reaches of the empire along the Danube called Viminacium, the Balkan Pompeii. Excited archeologists called for a halt in mining until they could survey the extent of the settlement. With the use of modern ground penetrating radar and satellites, they were able to determine where everything was. Then they arranged for a cessation of mining in sensitive areas until 2040 by which time they think they will be able to finish the excavations. The archeologists monitor all the mining and are finding graves every day.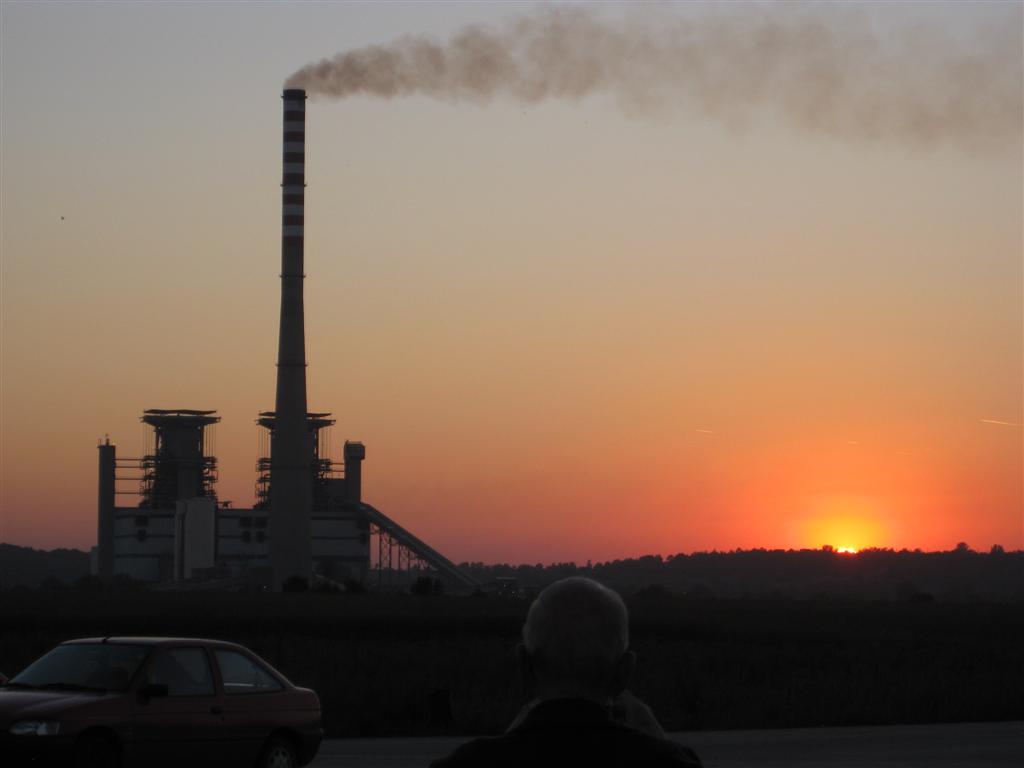 Our first stop was the baths that have been partially reconstructed from the remains strewn around. They have erected a large tent for protection, and the results are impressive. Going by other baths which have been reconstructed in Europe, they can determine what this one should look like. There was central heating from adjacent furnaces and various pools for bathing. An aqueduct nearby brought in water from springs in the hills which was cemented and enclosed with tiles and had cleanouts at various places. There was even a common latrine flushed with water. Originally men and women bathed together, but after Christianity came to the empire, men and women used the baths on alternate days.
Our next stop was the garrison of Porta Pretoria where the soldiers lived, and the third, the mausoleum not too much different from those we have today. Some were buried in built up graves, others in larger structures and many were cremated. Apparently as today, it was a matter of personal choice or means. Most of the graves contained a lamp, coins to pay to cross the river Styx, and glass containers of water since the dead are always thirsty. Actors in costume were at this site and a black robed and hooded man pounded his stick on the ground as he lead us down into the underworld. It was dark and the ceiling low, but we could step into areas where we were looking up into a grave where we could see frescoes that depicted something about the deceased's life. Emperor Hostilian was buried there in the 3rd Century a.d. Coming out of the mausoleum, we were ushered to the Taverna where we were given a cup of wine or water and our guide passed around "fortune cookies", clay shards with sayings written on them in Latin and English.
Sometime before we awoke, we docked at Belgrade (the White Fortress) , Serbia, just up the Sava River from where it comes into the Danube. Belgrade was on the dividing line of the Ottoman and Austro-Hungarian empires. A city now of 1.5 million in a country of 7 million citizens, it was the capital of the former Yugoslavia and now of the country of Serbia. It has been through major trauma since the fall of communism—the NATO bombing in 1992 and rampant inflation. I now own a 500 billion Dinar bill from that period. It was very hard on most, but as our guide Milan said, if you owed money, it worked in your advantage. His parents had bought an apartment with the price of $100,000 set by the government and were able to pay it off for about $500.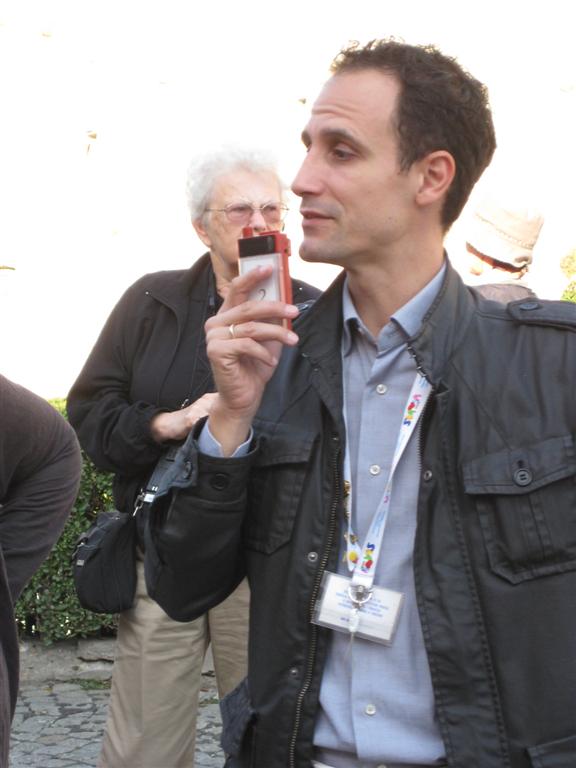 After breakfast, we left the ship for a tour of the city beginning at the Kalemegdan Fortress that looms over the city with its medieval gates and dry moat. It is a huge park now with lots for people to do. The city zoo famed for its white animals, including white lions.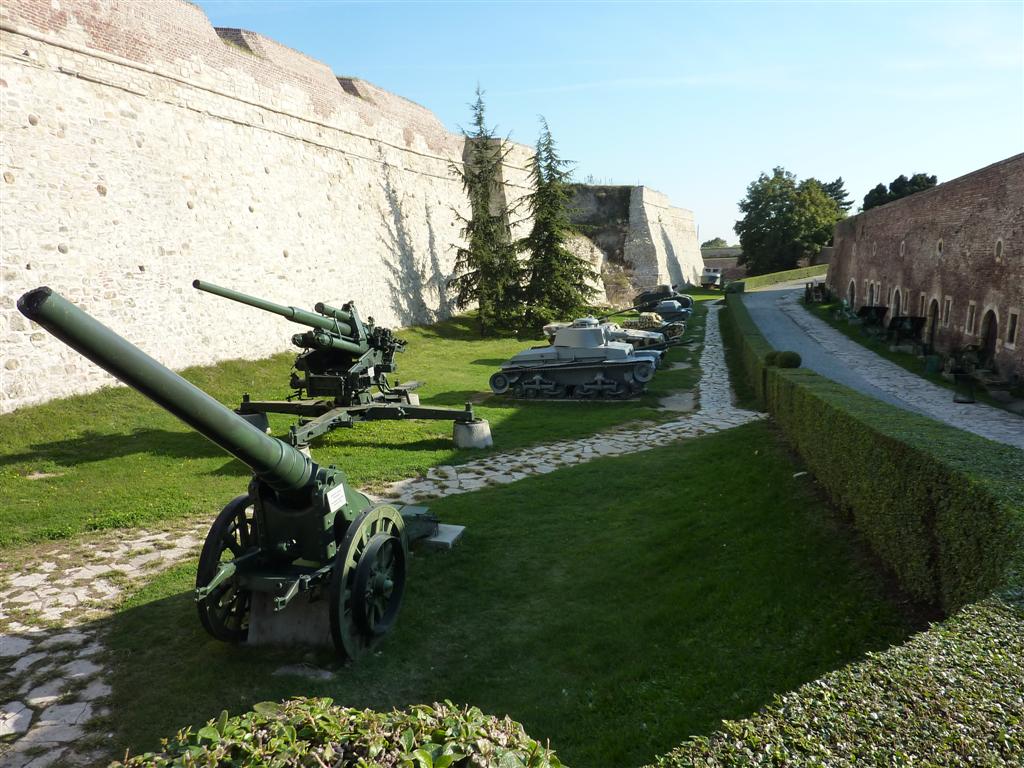 Downtown in Republic Square, we had refreshments in a hotel and some time for shopping on the wide streets, some pedestrian only. There are hundreds of outside café's where people gather in the afternoon to stroll along and sit for hours with a coffee or a drink, visiting and watching others go by. The weather was perfect for a fall day when rain is all too common.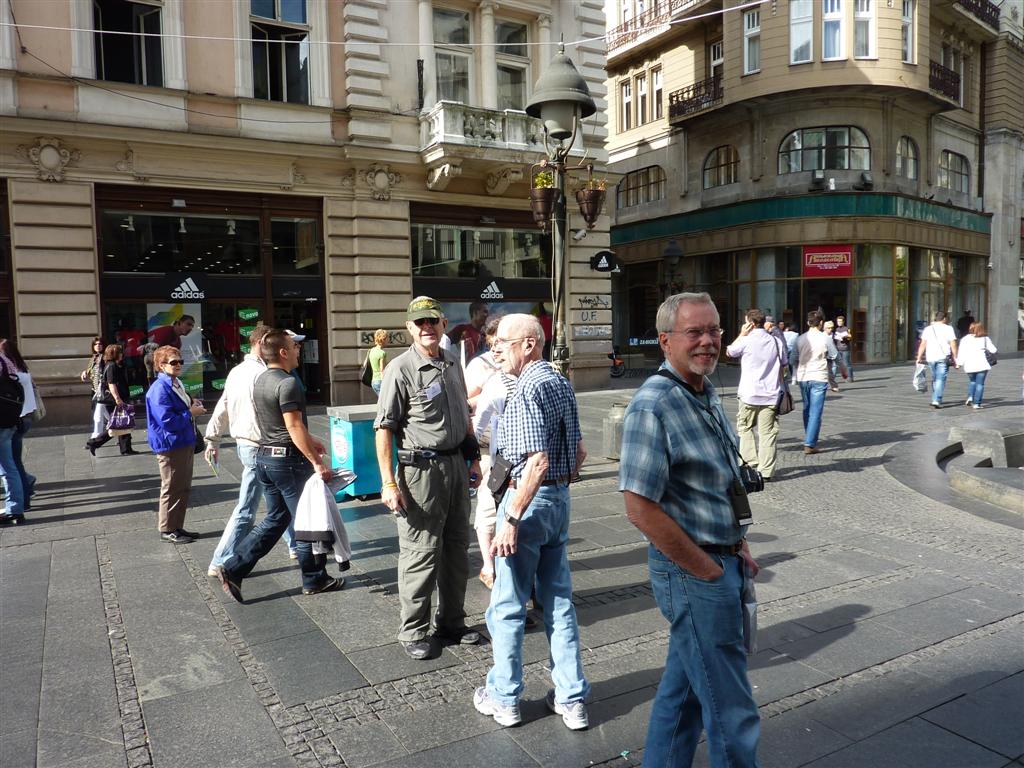 Rick, Burt, Carl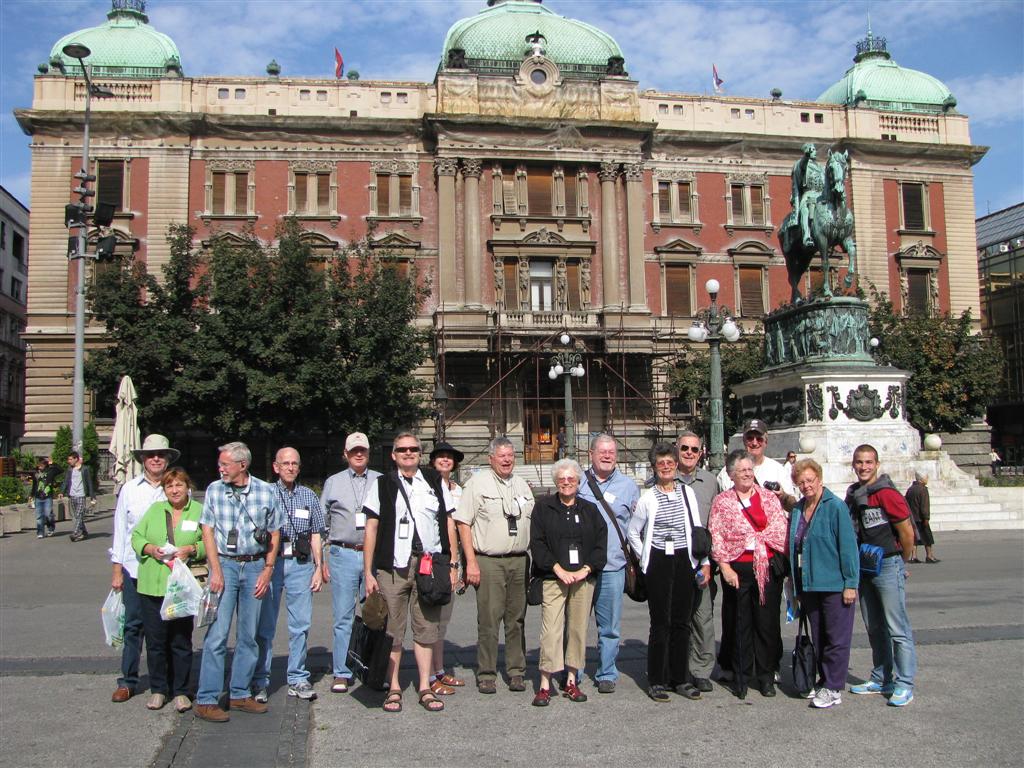 "X", "Y", Carl, Burt, Marv, TomD, Nancy, Joel, Elaine, TomO, Levonne, Rick, Blanche, Rod, Pat and "Serbian Smarty Pants"
Another stop was the huge new Serbian Orthodox church, St. Sava's, the founder of the Serbian Orthodox Church. Modeled on the Hagia Sophia in Istanbul, the domed edifice was begun early in 1935 without much progress. During the occupation in WWII, he Nazis used it as a parking lot. There wasn't much interest during the 45 years of communism which discouraged religion and churches. About 1992, construction began again and now the edifice is complete. What remains is to complete the surface on the inside walls which will be covered with mosaics that are being constructed in various workshops. There will be special gilt tiles made by putting gold leaf between glass sheets and firing them. They are angled to reflect light and make the surface glitter. I would love to see it when it is completed. Much of the money has come from small donations of the people in difficult times.
In the evening, we were treated to a performance by a representative group from a folkloric company dedicated to preserving the music and dance of the regions. There was a tremendous amount of energy expended by these young people. We don't know what they were singing about but presumably it was about eternal issues, love, war, death, life, etc.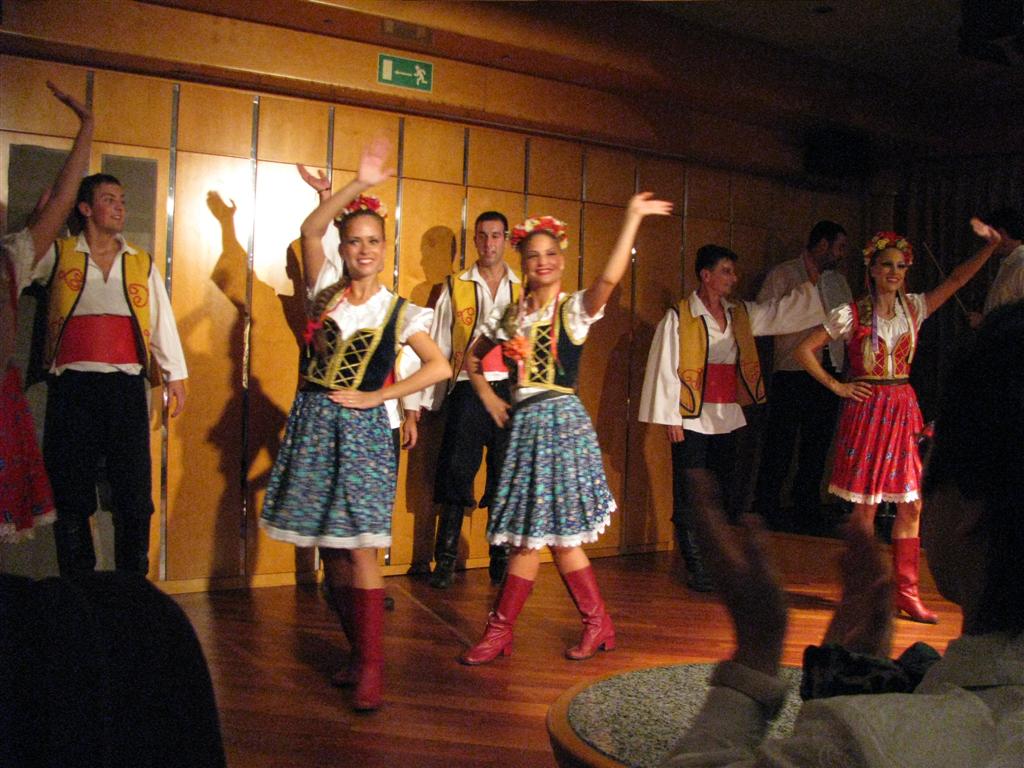 Yugo (Yugoslav car) jokes told by two speakers today: The Yugo is very fuel efficient, it's usually in the garage being repaired; or, the Yugo has heater strips embedded in the back window. They're very helpful to keep your hands warm while pushing the car.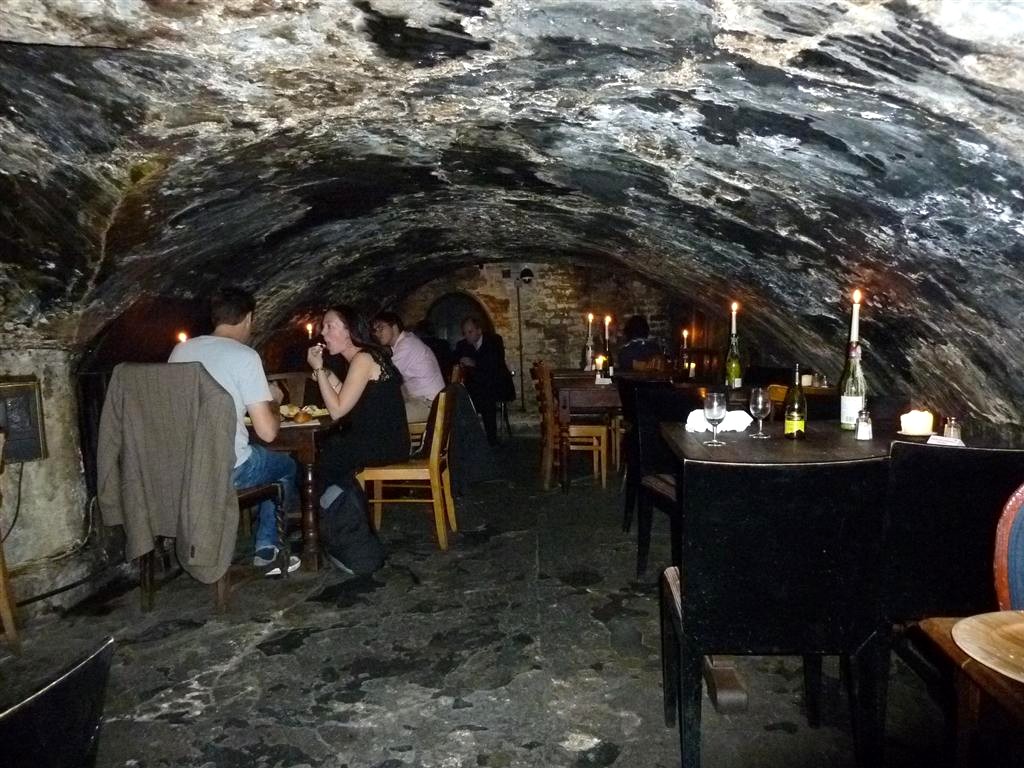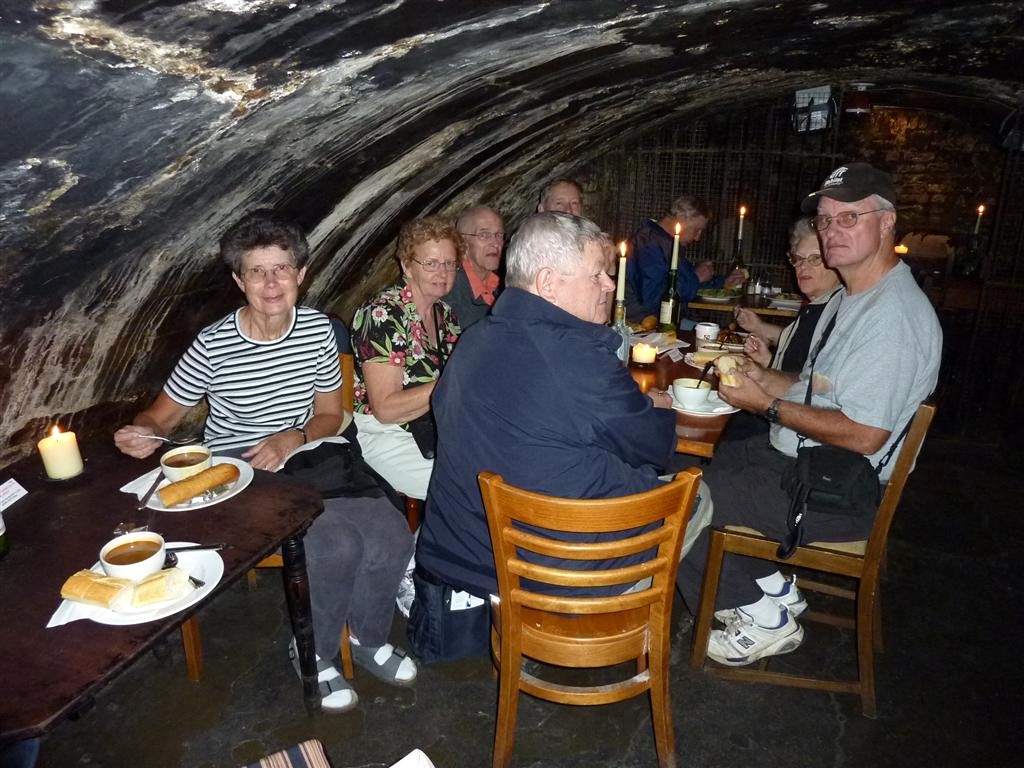 These are photos of us in Gordon's Wine Bar where we had lunch one day in London (2 blocks from Trafalgar Square)). The tables were in underground caves.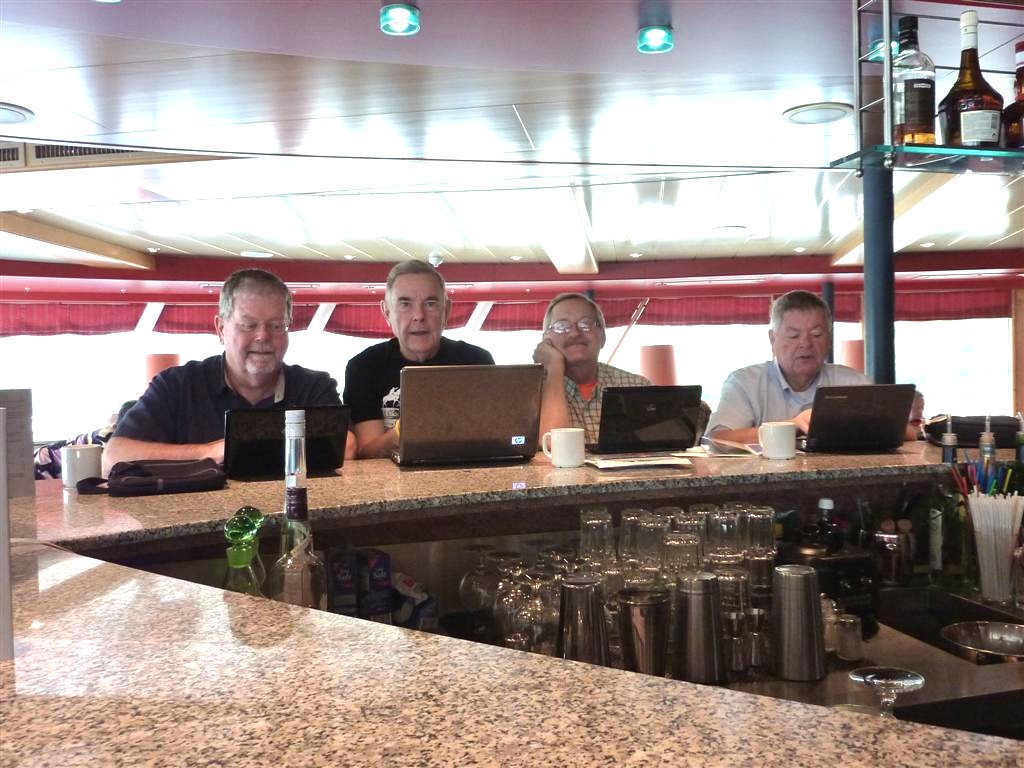 Data Center in the Bellevue Bar: TomO, Rick, TomD, Joel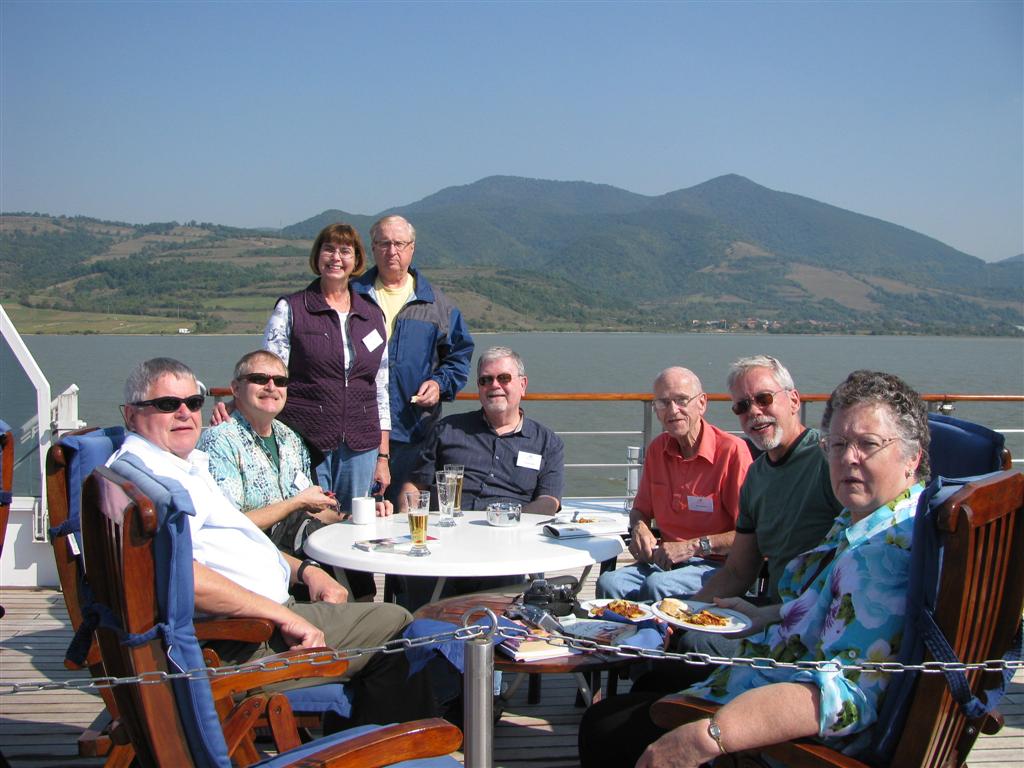 Joel, TomD, Rick, Burt, Carl, Blanche - Serbia Mousaka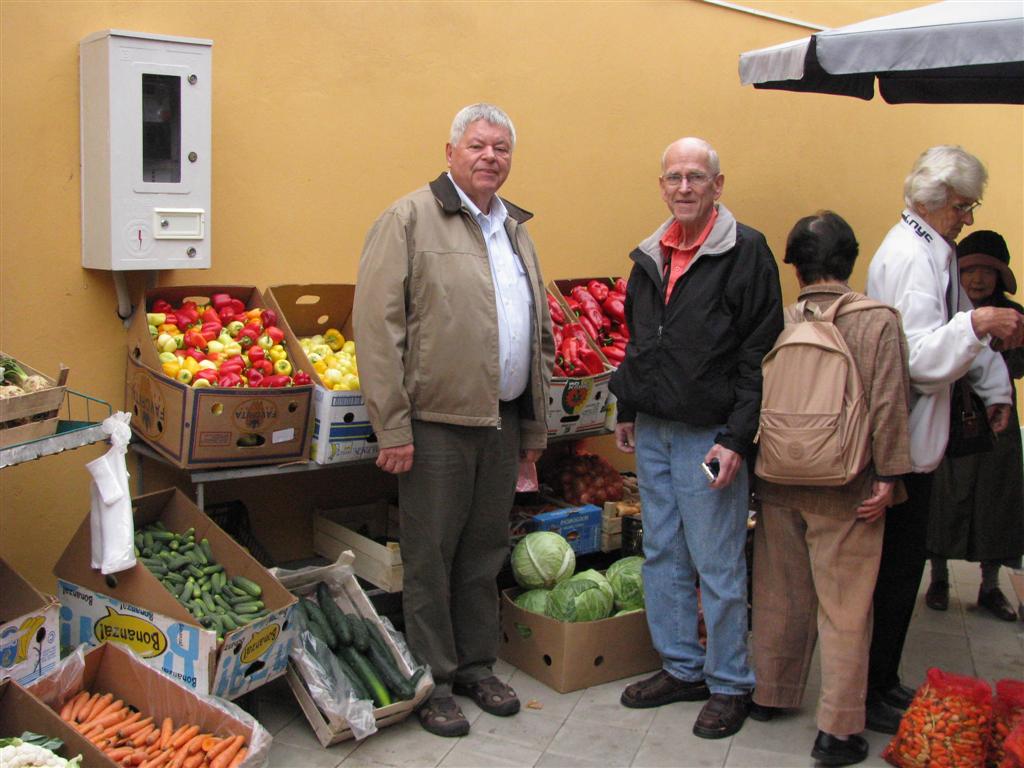 Joel, Burt at farmers market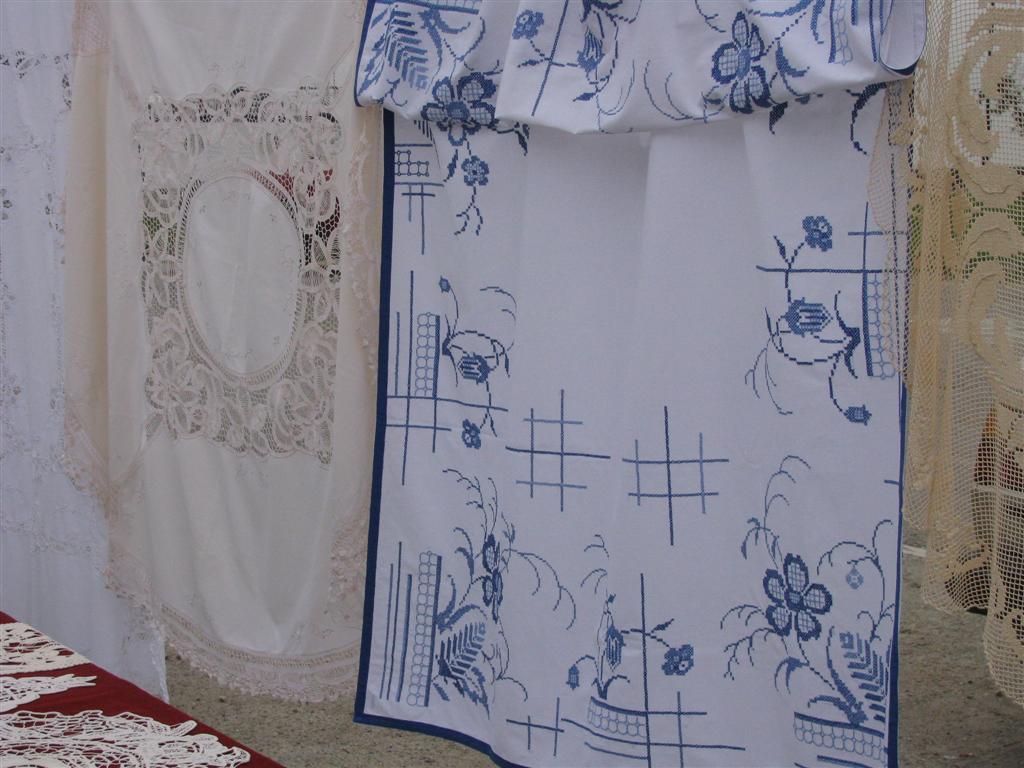 Typical Serbian crafts ... embroidery, lace, crochet, etc.
Croatia: Shipwrecked
This morning we are having a leisurely time sailing up the river from Serbia to Croatia. It is very windy, but we are snug inside looking at the homes and vacation houses along the river. It is surprising to see them so close to the water since flooding could be a problem. It appears by the vegetation that the river is full. The first glimmer of trouble is evident when an announcement is made during the morning lecture that one of the engines has quit and we would be late to our next port of call. At least it won't be that late and the schedule is to be adjusted accordingly.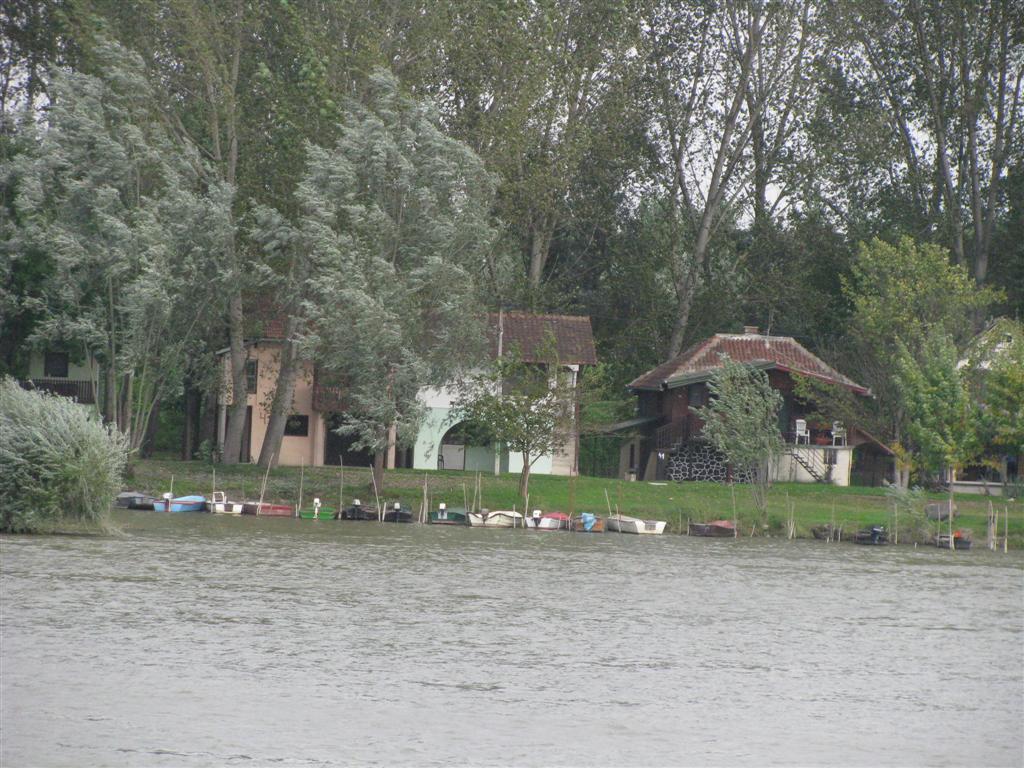 Along the Danube
Our lecture is an overview of the European Union given by our Hungarian hostess, Mercedes. She does a very informative presentation of the development of the union since just after WWII. Of immediate interest to tourists is the fact that once you enter a member state, you are through passport control and can go from member country to member country without having to show a passport. Many have adopted the Euro as currency, so it is not necessary to change money as has to be done in other countries. So far we have been in non-euro countries and have had to deal with various currencies. Usually shops will take Euros or dollars particularly if they are tourist oriented. It is possible to bargain. I asked about something and was told it was 3 Euros. I asked about dollars and she said 3 dollars, a much better deal.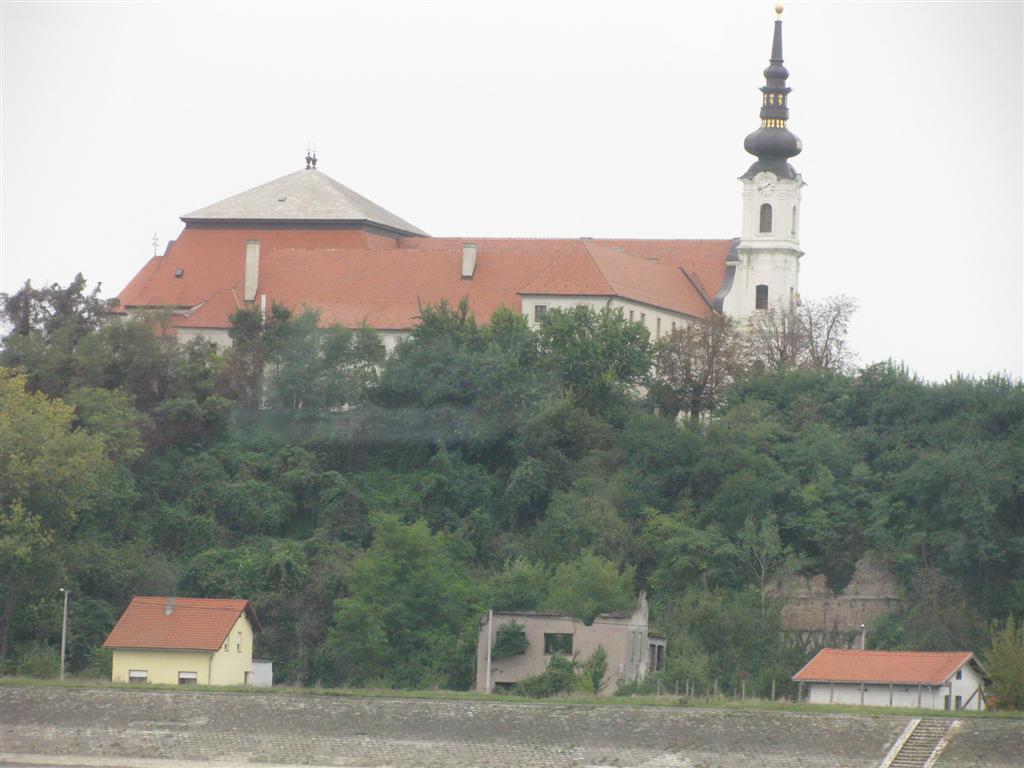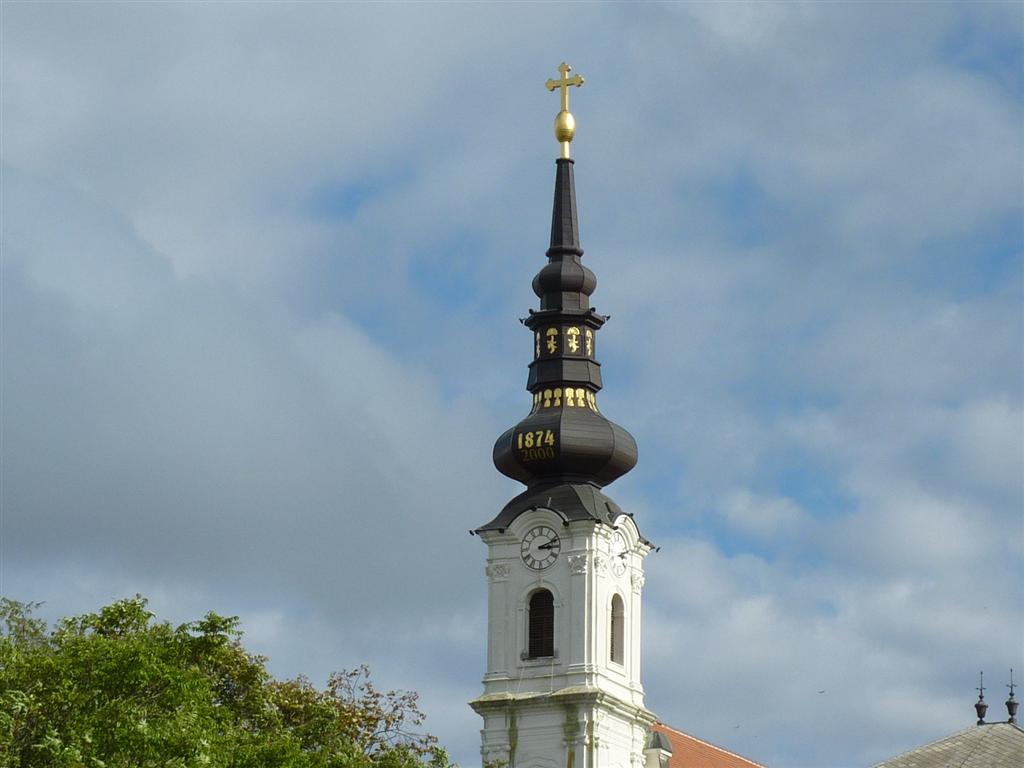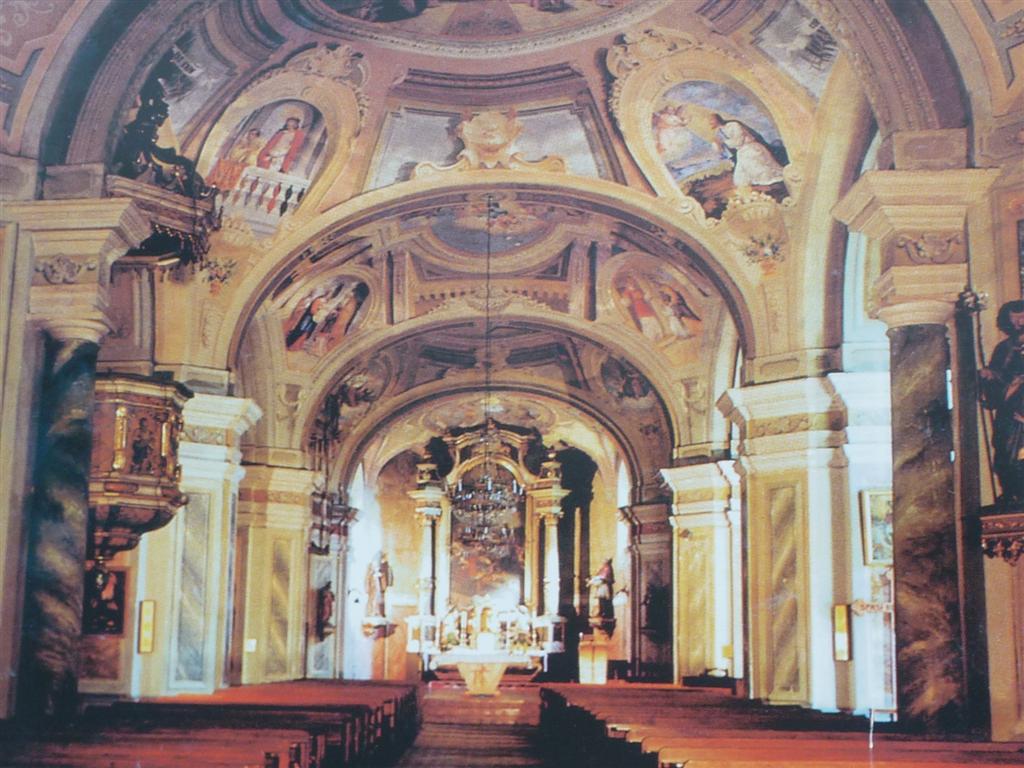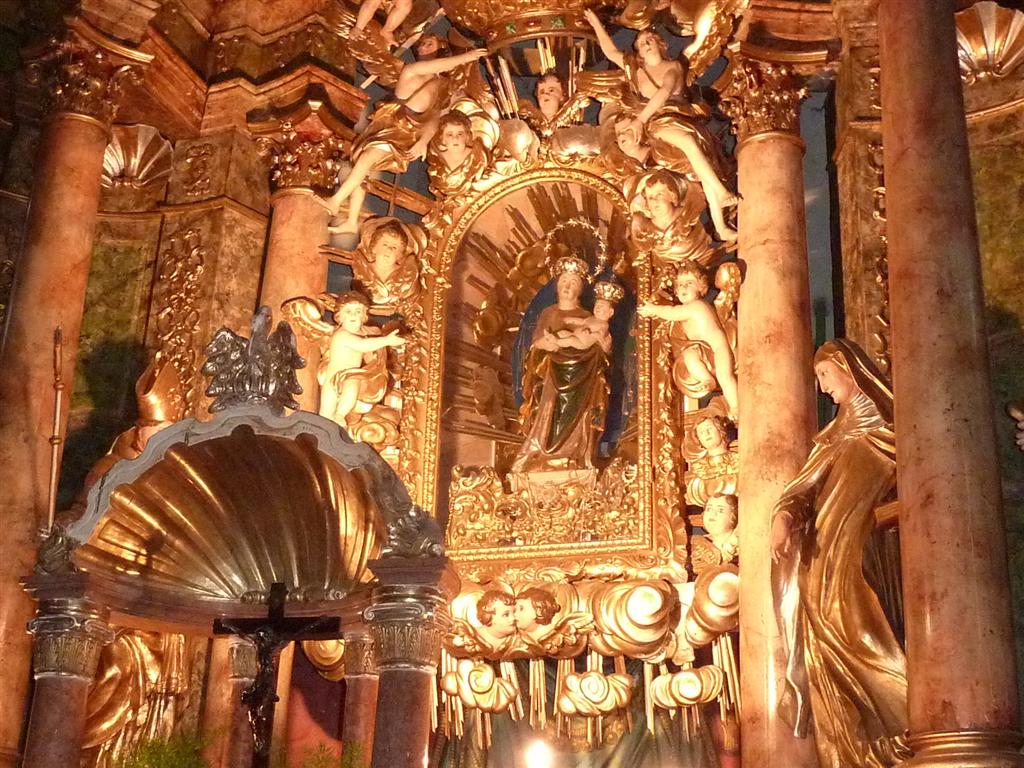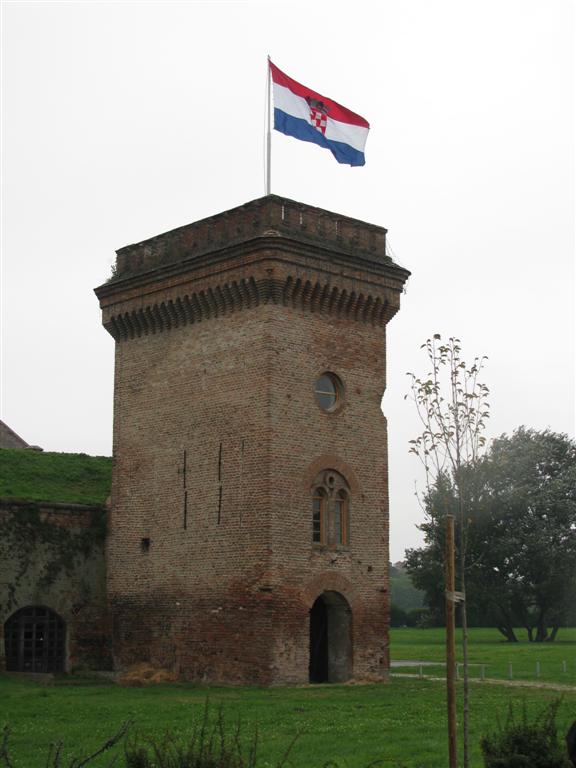 Catholic church and tower of fortress, somewhere in Croatia.
Mid-afternoon, we disembark at the city of Vukovar (city on the Vuko River, Croatia) for a bus tour. In 1991 Croatia declared its independence from Serbia and was attacked by the Serbian army. The intricacies of this conflict lasting until 1997 are not to be sorted out here, but the effect of the suffering is evident. We are taken first to a Benedictine monastery and church that was largely destroyed in the war. A moving film documents the plight of Vukovar's residents as the bombing and shelling destroyed 90% of the city. The church has been rebuilt with lots of work left to do in the sanctuary. Everywhere, bullet holes, shrapnel and bomb damage are evident, and fifteen years later homes are still being rebuilt. The progress is slow, and many from the area have left. Much of the money has come from overseas and the EU.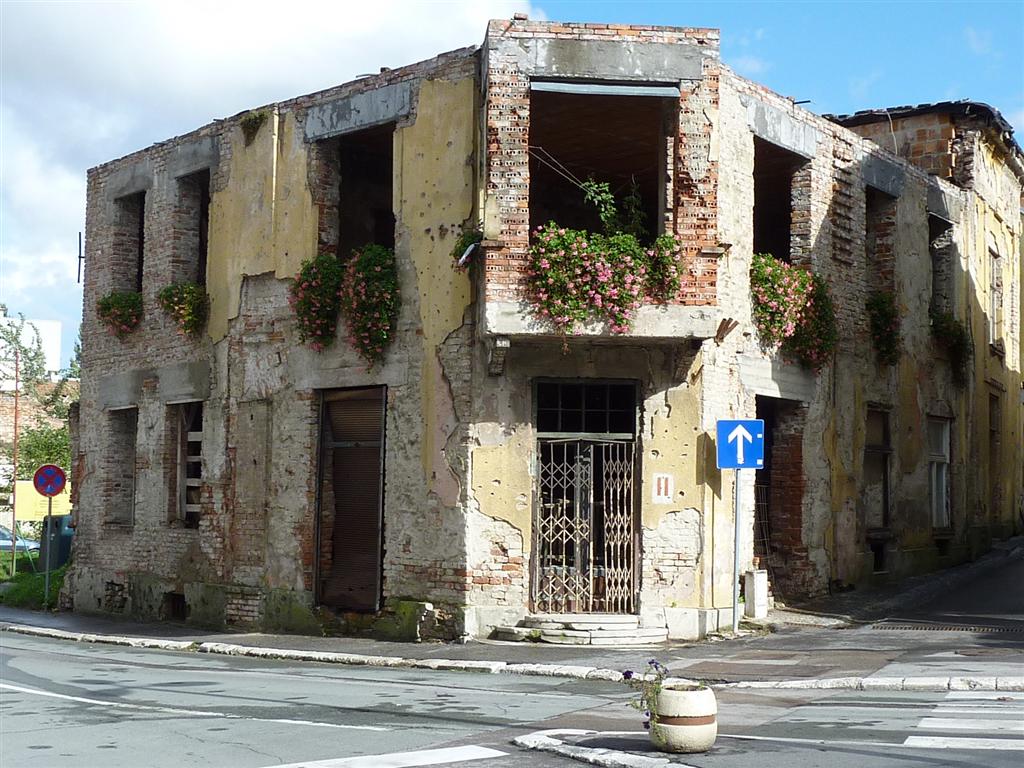 This bombed out house with flower boxes was on the cover of National Geographic.
We next we are bused for 45 minutes to the town of Osijek. There we experience light rain and put our raingear into play for the first time on the trip. After some time in a church and gift store we end up at at coffee shop:
Nancy & Marv
Carl, TomO, Blanche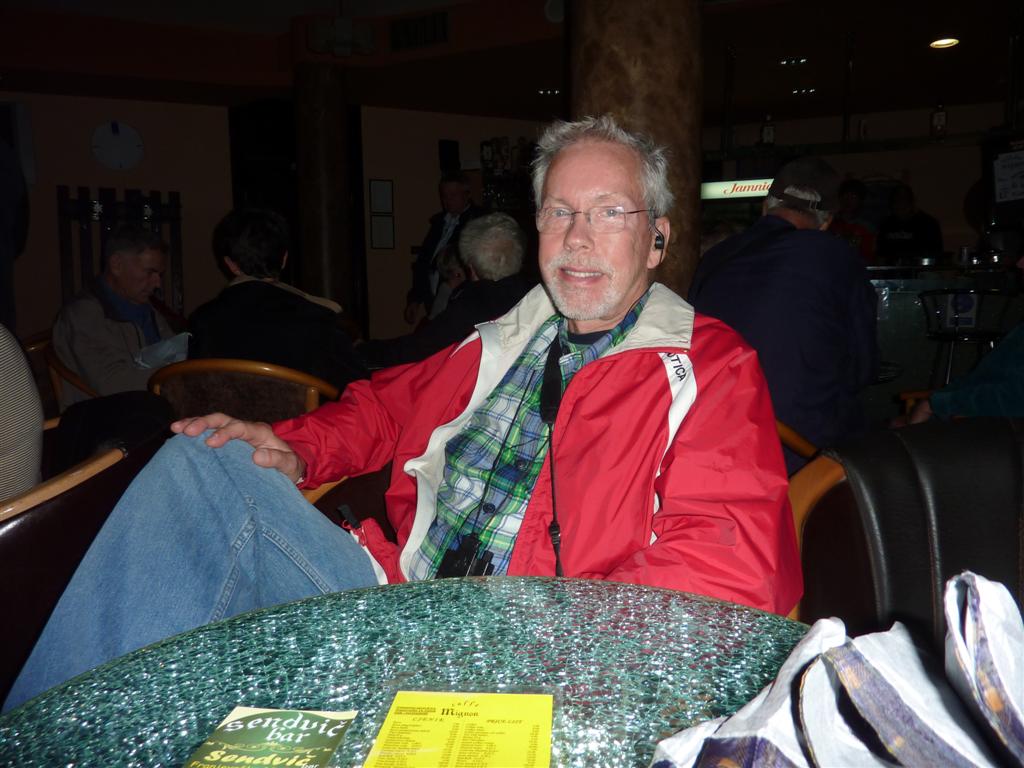 Carl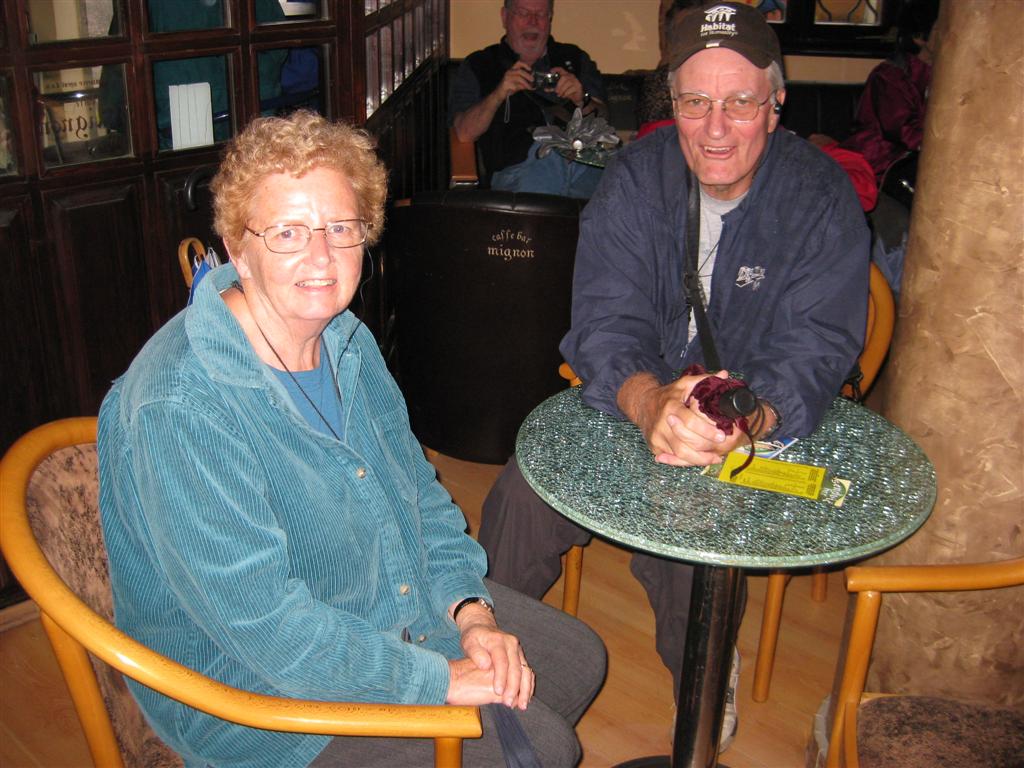 Pat & Rod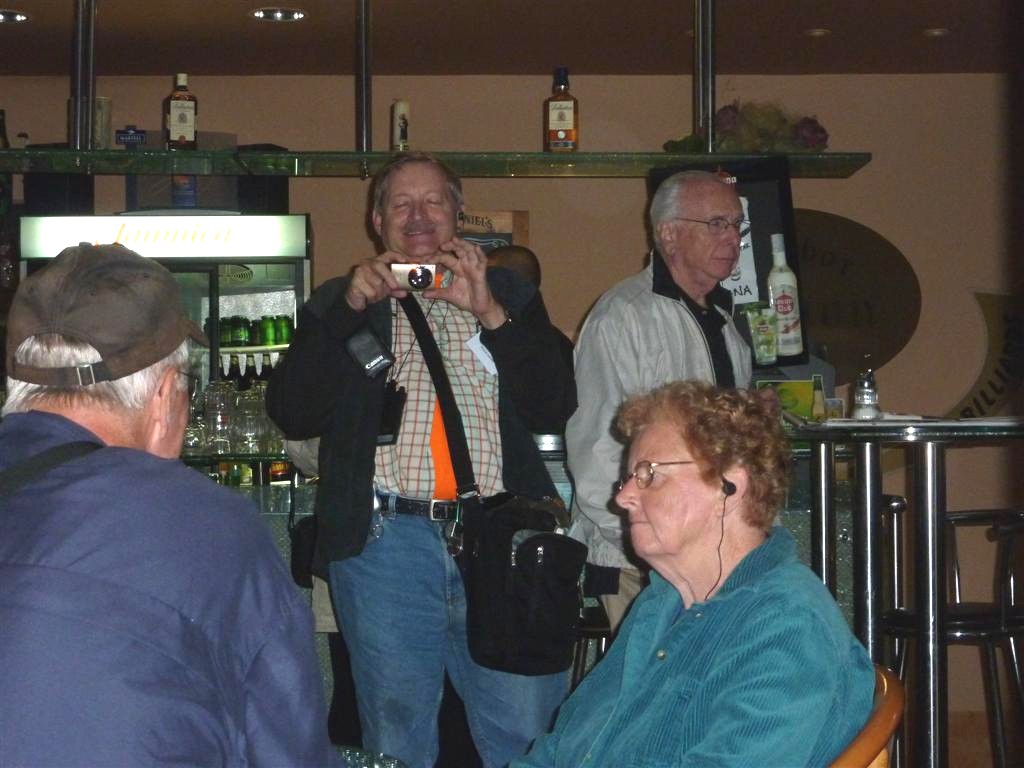 TomD taking pix of Rod & Pat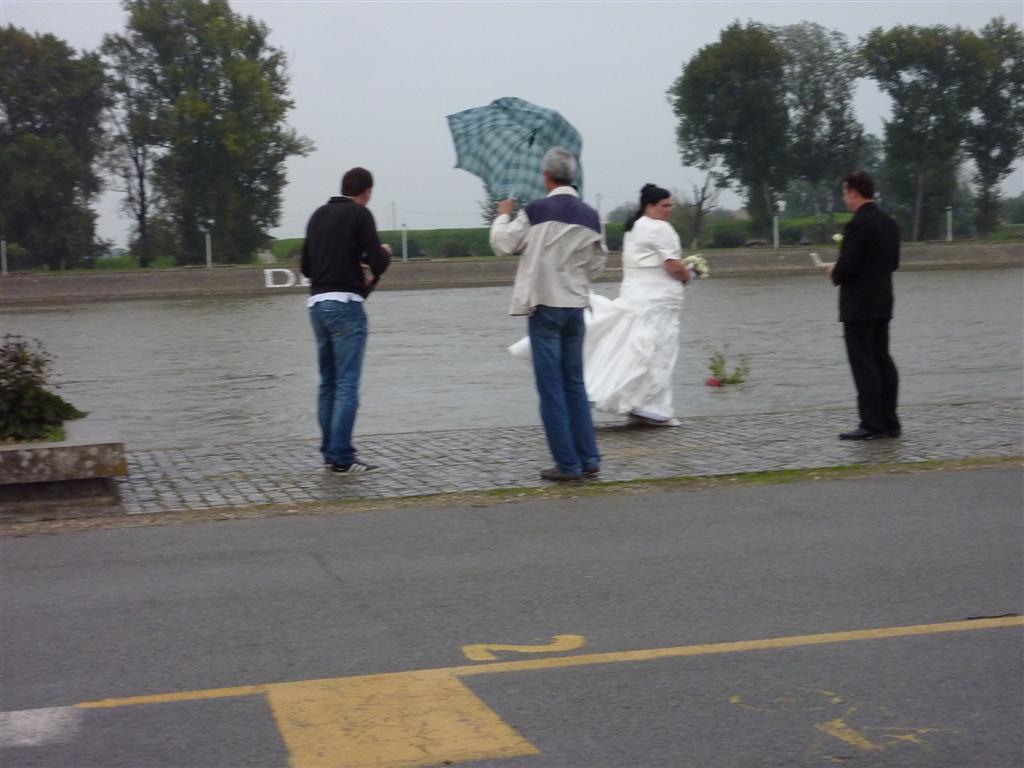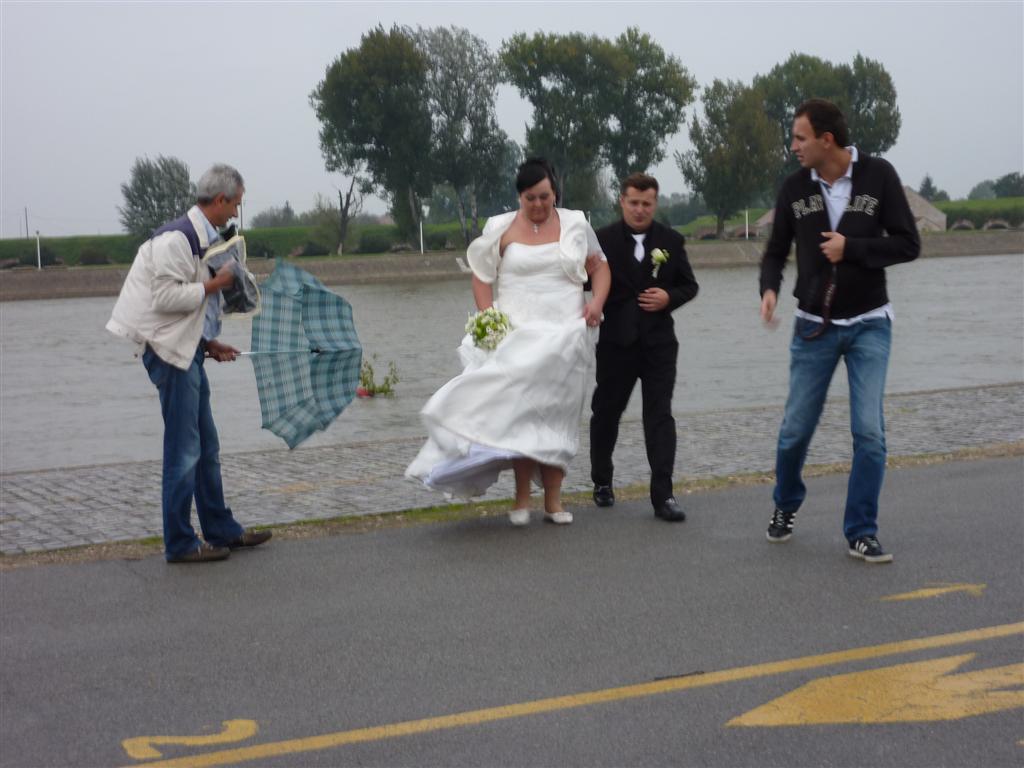 Taking wedding pictures, in the rain.
We are on our way back to the ship, where we learn that both engines are down and repairmen are being flown in to assess the damage. Since one of the engines is new, the company making it needs to come so as not to void the warranty. They're in Spain.
One joke today: Nixon, Breshnev, and Tito were meeting with God. Breshnev ask God when the Russian Ruble would stabilize. God said 2030 at which point Breshnev burst into tears and said he would never live so long. Nixon asked when men would get to Mars, and God said 2050 at which Nixon burst into tears and said he would never live so long. Tito asked when Yugoslavia's economic plans would be accomplished, and God burst into tears saying "I'll never live so long."
And another joke: Vukovar has storks returning each year to the same house on the same date. (This part is true). Stork one ask stork two what he was bringing to the family. He said that he was bringing a girl to a family of 4 boys. Stork one said "Oh, that's so nice. They will be so happy." Stork one then asked stork three the same question. He said, "I'm bringing twins, a boy and a girl to a childless couple." "Oh how nice, that's even better than stork number two." Then stork three asked stork one the same question. "Oh, I'm not bringing anything this year. I'm going to a nunnery and scare the heck out of them."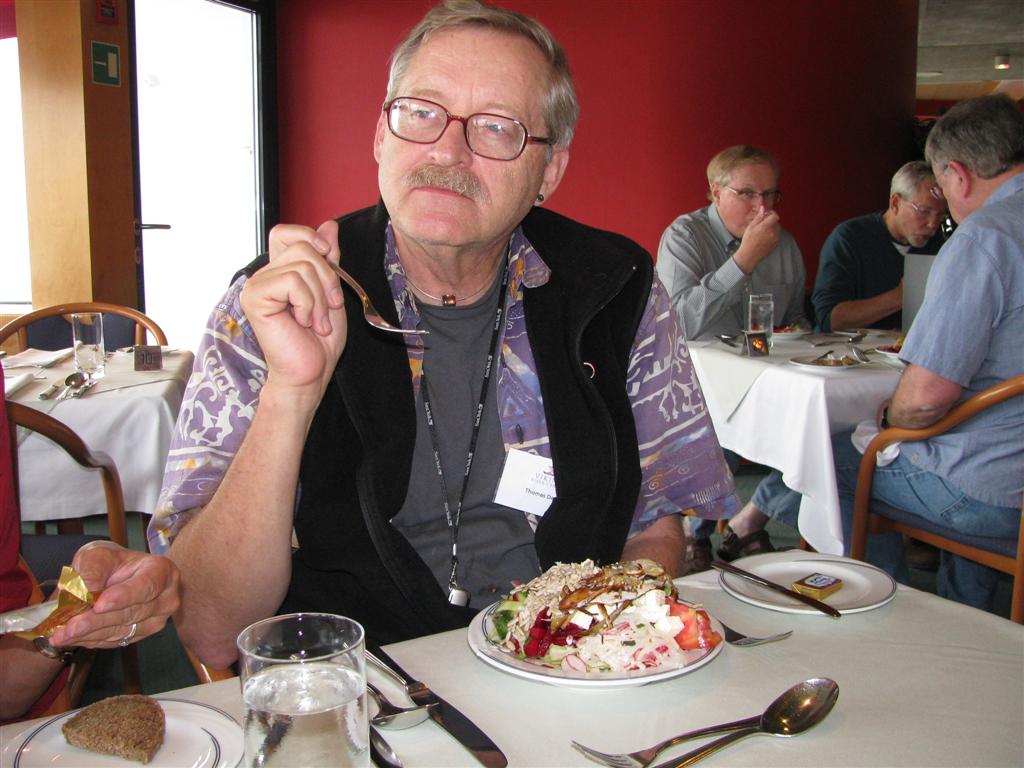 TomD, eating AGAIN!!
It's the next morning now and rumors are flying about the mechanical troubles. We are not exactly in the best place to bring in the repair people, and so far no estimate of time. One passenger put it in a philosophical manner. "Viking has the responsibility of taking care of me until Oct. 3, and I'll leave it up to them." Viking and God, I guess. We learn that the Spanish repairmen are being flown to Budapest five hours away by train. The will be brought here by taxi (where the roads are not super highways.)
The tour bus pulls up to take us out to visit a farm that raises Lipizzaner stallions. We were supposed to go to a similar place in Hungary today, but Hungary seems farther away than ever. After an hour's drive, we walk through 3 horse barns and look at horses, drink a few sips of plum brandy, and hear about economic stimulus plans by the government to aid them and board the bus to return to the ship. The Lipizzaners have a long bloodline and are used for dancing as done in the Spanish School in Vienna, or dressage. Most are colts are born black and turn mostly white by 3 years of age. This farm boards horses, has a riding club and offers therapeutic classes for children. At present training only occurs in the summer, but the new hall ("arena," one guest corrected her), designed for 1000 spectators. This farm was very proud of the fact that Queen Elizabeth, Prince Philip and Princess Anne visited in 1972 and were presented with 4 horses and a carriage. "She should have given YOU horses since she is so rich" retorted one of our group. The guide patiently explained that they had been extremely honored by the visit and to receive a signed photo of the queen.
On the way back we drive on a brand new toll throughway. 400 kms. have been constructed of the arterial road which will stretch the full length of the country. There are hardly any other cars on Sunday morning, maybe because there was too much partying on Saturday night. We travel through flat farmland with canals for irrigation, I presume. Lots of corn is left un-harvested which seems odd to me. It is rather short and planted close together. Occasionally we see something like cabbage and lots of stubble. I think there is/was millet, too. In one place we saw warning signs for land mines.
Upon our return we learn that the mechanics have landed in Budapest and should arrive by car between 2 or 3 this afternoon. We wonder if they brought any spare parts? We are considering a walk in the town this afternoon. One minute it is sunny, the next pouring down rain. "But it's a warm rain" said our usual waiter George from Bulgaria. "Not cold like in Austria and Germany."
This afternoon Elaine and I get off the boat and walk for an hour around Vukovar. It is Sunday so nothing much is open. We have umbrellas, but don't have to get them out, as we pass several churches, many homes and businesses more interspersed that we would see at home. One church looked fine from afar, but when we got close, only the steeple was intact. Churches here have very high steeples and are visible from far away. Most of the people are Roman Catholic. Nearby is the town cemetery and it is very large. People appear to be buried in crypts that are about a foot above the ground. Often families are in the same crypt. Most of the monuments are black granite and have pictures of the deceased, either photographs in glass or etched on the stone. As with the rest of the town, many stones had bullet holes.
Aboard ship, we go for our nightly briefing. We are greeted at the door with champagne. Something's up. Either we are being prepared for bad news (which seems to be the consensus), or we are celebrating. The captain, first officer and tour director stride in exactly on time and the captain addresses us in German. I catch a few words "Heute …sechs Uhr" but have to wait for the translation. The repairs have been made to one engine and we will be underway after clearing customs at about 22.00 hours.
A treat after dinner is a music presentation of Croatian folk music with six young men playing small guitars, a bass and a very small guitar-like instrument called a pearl. We were told that a group like this would always play part of the time during a wedding celebration.
As we prepare for bed (partiers we are NOT) the engine fires up and we're off. Hungary, here we come. We will need to travel all day tomorrow to make it to Budapest. Something on our itinerary will have to be left out. Some of the passengers get a little testy and the tour director has to plead with them not to shoot the messenger.
A joke leftover from our Belgrade tour guide: We have our Silicon Valley here in Belgrade. No, it's not high tech, it's a street filled young women with surgically enhanced body parts. That guide was quite dramatic. At one point, he burst into song with a rendition of "Summertime, and the livin' is easy…" I didn't know that Serbian folk tunes had African roots.
Just so you know who the "I's" are, usually Joel writes these messages with the help of several editors. Tom manages the web-site that brings them to you. We all appreciate the many responses we have had. The computer network on the boat while free is challenging at times. We have learned where the hottest spots are and ways to work around the foibles.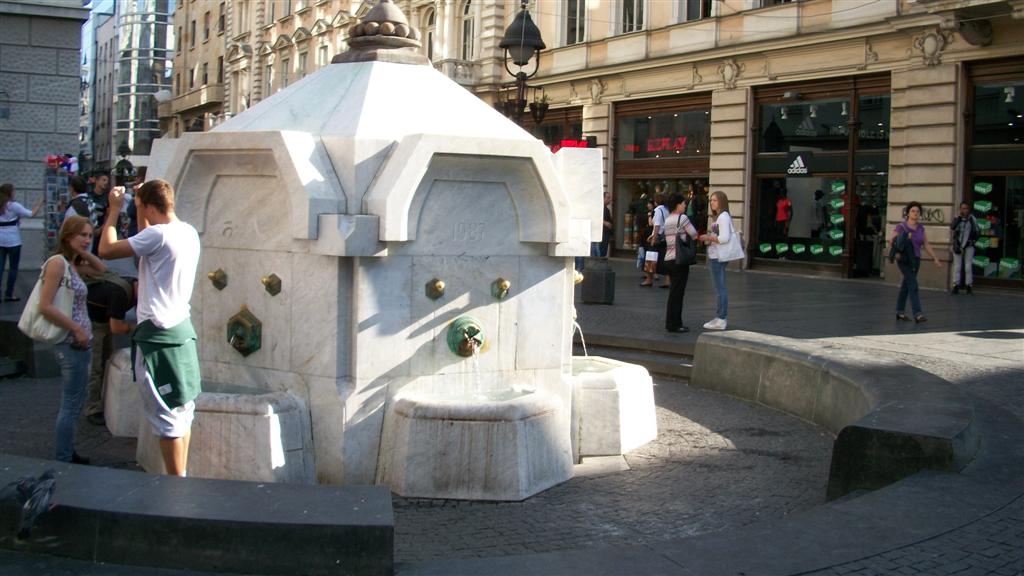 Public drinking fountain in Belgrade, Serbia
For trip reports after September 27, 2010, click here.