217 Main Street
O Box 168 Molalla, OR 97038
Phone: 503.829.2301
By Tommy Daniels, Special Oakland Correspondent to the Molalla Pioneer
Redlands Bowl: Randy and I took advantage of 2 offerings of the Redlands Bowl concert season:

DMITRI MATHENY GROUP. Tuesday, July 6

Led by master flugelhornist, Dmitri Matheny, this all-star jazz band balances fresh, original works with polished arrangements of familiar jazz classics and the beloved standards of the Great American Songbook.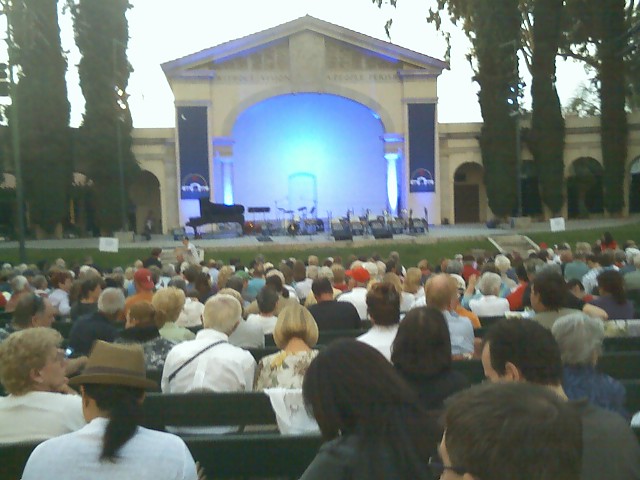 GLENN MILLER ORCHESTRA ®. Friday, July 9 & Saturday, July 10 The world's most popular Big Band returns to the Redlands Bowl for a very special two-night run. More than sixty years after the public first embraced the Miller sound, both the legend and the music live on. Larry O'Brien, music director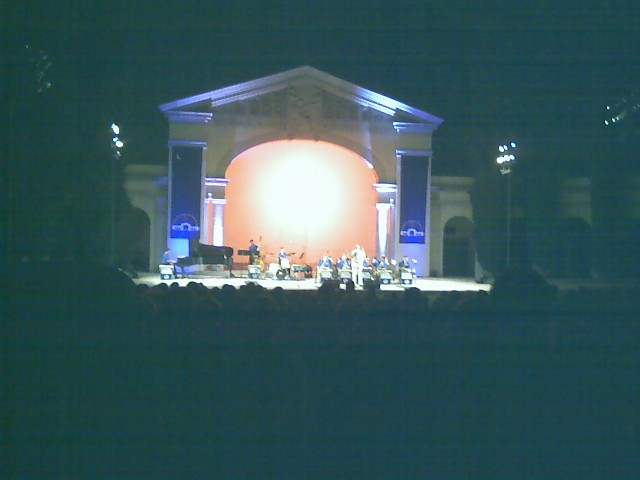 Mexican Dinner: Searching high and low, we found a Mexican Restaurant over in Moreno Valley. This is where we all met on my last night in Redlands. My niece Kristin came from her home in nearby Corona. Bob drove there directly from work in Irvine and Randy I drove from their home in Redlands. We splurged by ordering burritos, fajitas and combination plates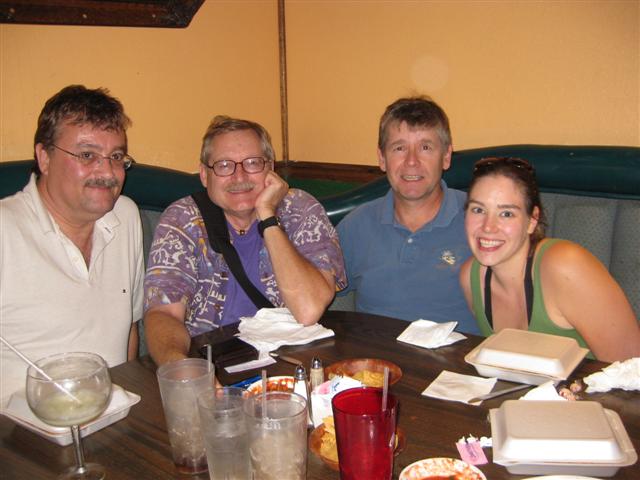 New Car Smell: I finally got to ride in Bob's brand new car. We took a drive along Country Club Drive on a ridge of the nearby foothills, ending up in Yucaipa. It's a beautiful car: peppy and agile.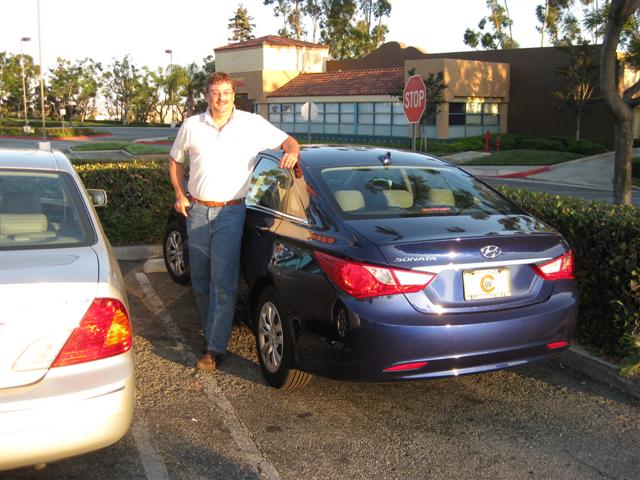 Return to Palm Springs A second visit was made to Palm Springs to the home of Terry and Don who very close to the exclusive Smoke Tree community. After exchanging pleasantries and inspecting the new meditation courtyard, we withdrew to the nearby Manhattan Deli for lunch.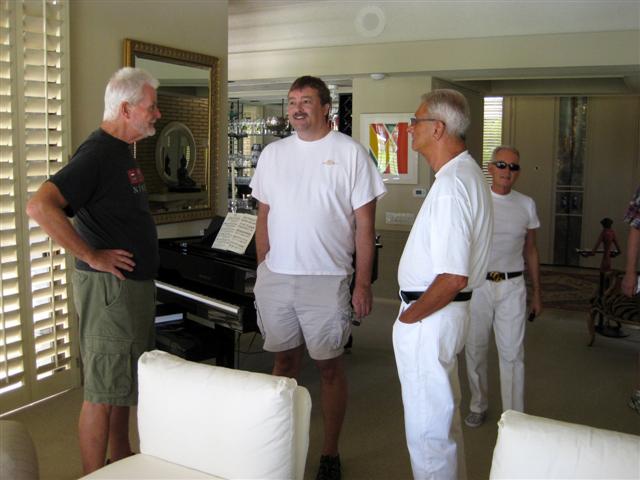 Greg, Bob, Don and Terry
As you can see from this photos, Terry will be shopping for smaller sizes at Desmond's Mens Wear, downtown PS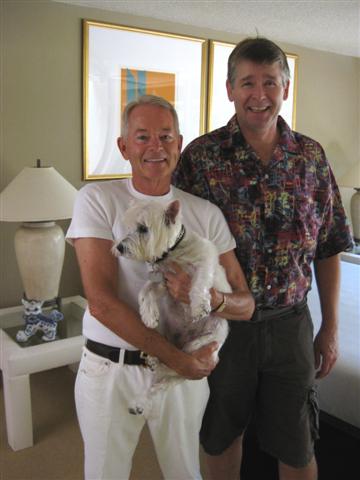 Terry, Sparkie and Randy
Ramada Sails Again Greg is making great progress on his Roman shades on his Ramada. Each of the 4 are attached to wires and can be drawn open and closed.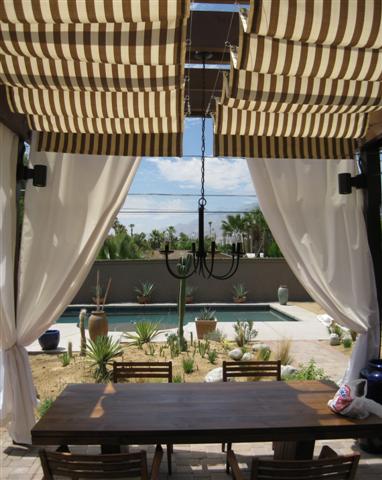 More striped panels are in place.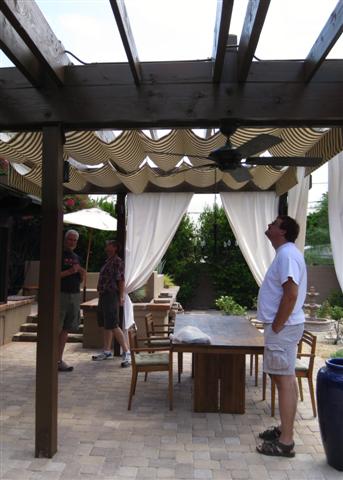 Bob inspecting workmanship.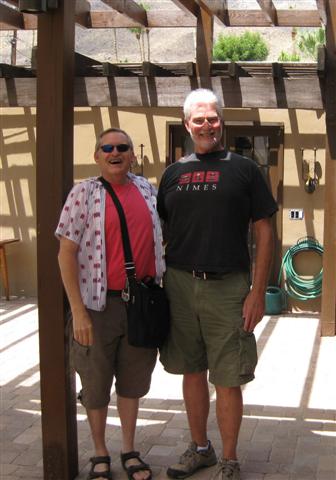 Tom and Greg in newly created shade.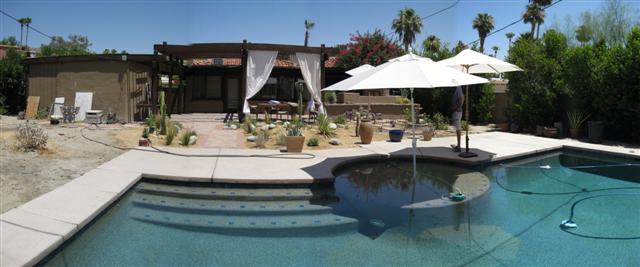 Rosebowl Fleas: Randy and I drove to the historic Rose Bowl to the even more famous Rose Bowl Flea Market. In the short amount of time that we were there we only able to see about 1/4 of the stuff for sale there.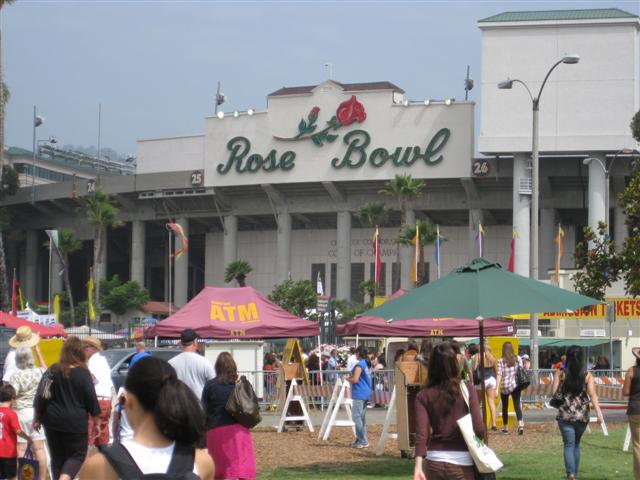 Rose Bowl in Pasadena.
The Fly Catcher or Pitcher (carnivorous) plant was being sold there for $30-$40 each. I'd just seen them at the Academy of Science Museum at Golden Gate Park last month.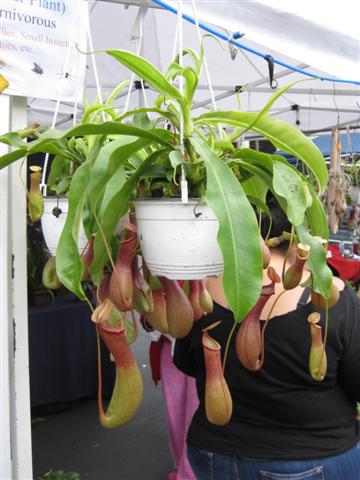 Fly Catcher or Pitcher Plant
Summer School: Friend Claudia is attending an intensive course of study at a school in Pasadena. She is staying at Deanna's (Di Di's) house in nearby Monrovia. Di Di is the grand niece of our late dear friend Howard's. We ate lunch near Claudia's school at the Soup Plantation.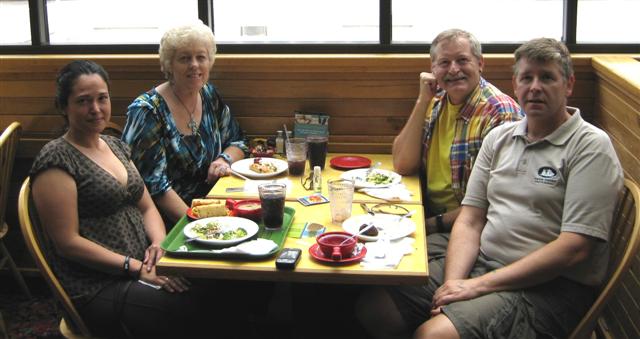 Claudia, Di Di, Tom and Randy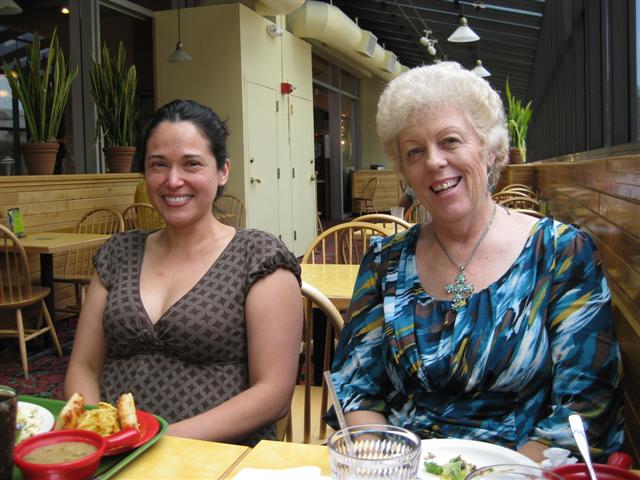 \
Claudia and Di Di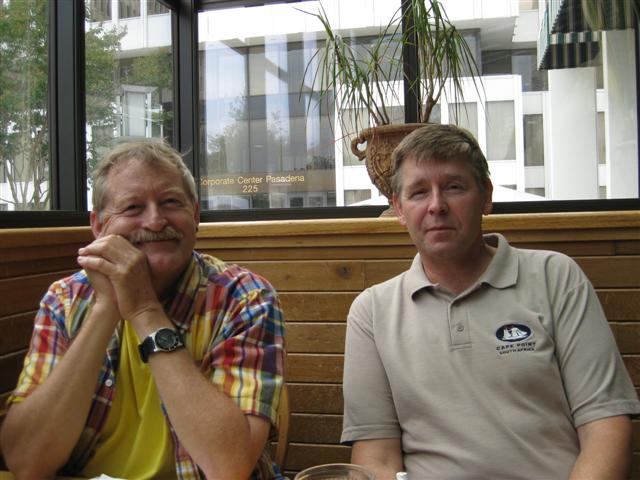 Tom and Randy
Master Baker: Famous bread maker Jon shows his latest batch of whole wheat, buckwheat and polenta bread. It came out of the oven at the perfect temperature. Before he could get it ready judging at the Alameda Country fair, two slices were missing!!!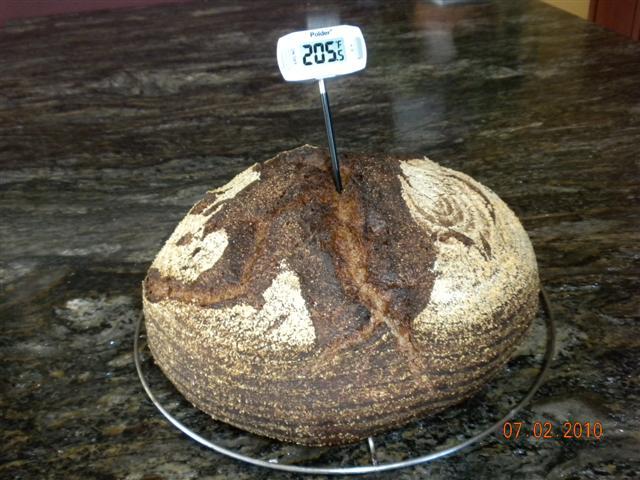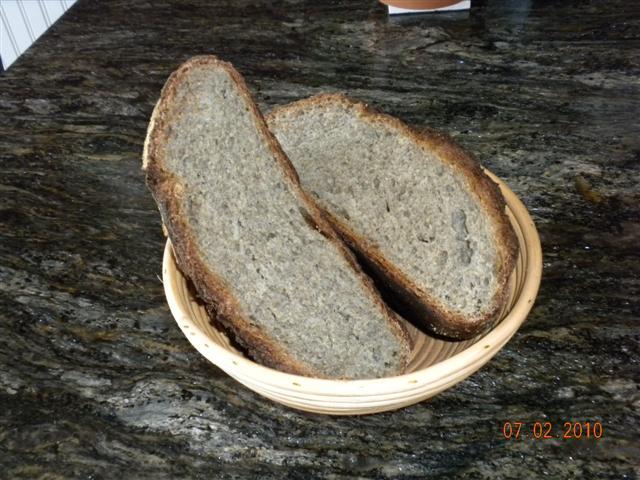 New Job: Bob start his new job on Tuesday. He will commute about 40 miles in his new car ... a 2011 Hyundai Sonata! I've been here a week, but have yet to ride in it!! We don't want to get it dirty.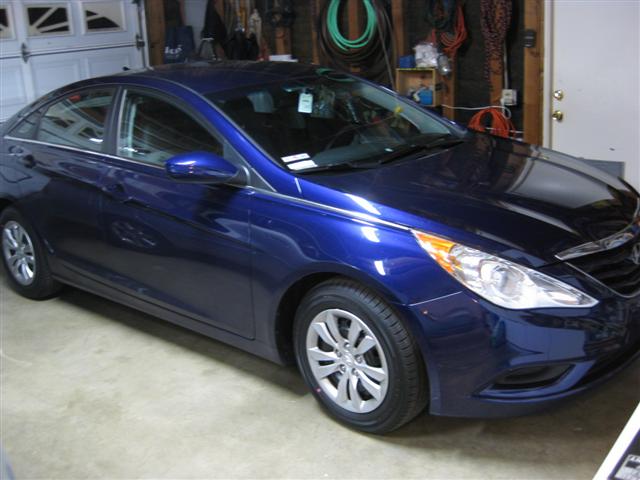 Hurricane Alex: Word has reached us that former Molalla citizen Roger along with amother Molalla ex-pat Sandra living in South Texas had survived the first storm of the Hurricane season! But not without some loss of trees. Sandra's husband Buck works at getting the downed trees cut up for easy removal.

Roger new business, Don's Liquors, was unscathed. He had boarded up windows just in case. Business boomed as residents stocked up on essentials.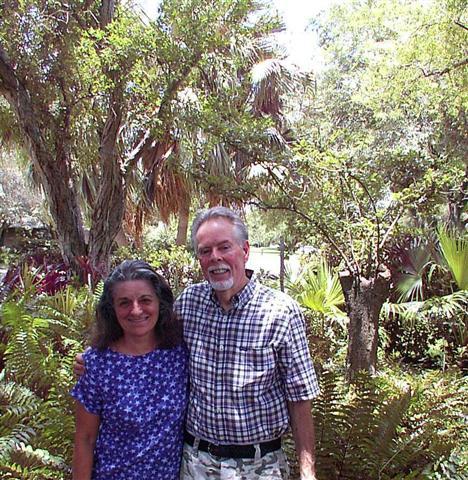 Roger and Sandra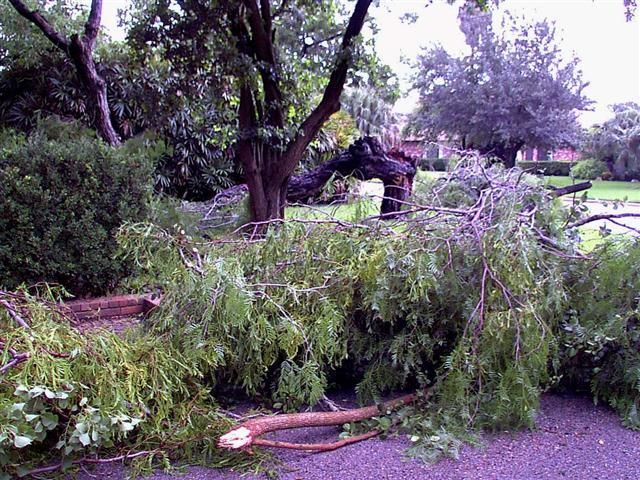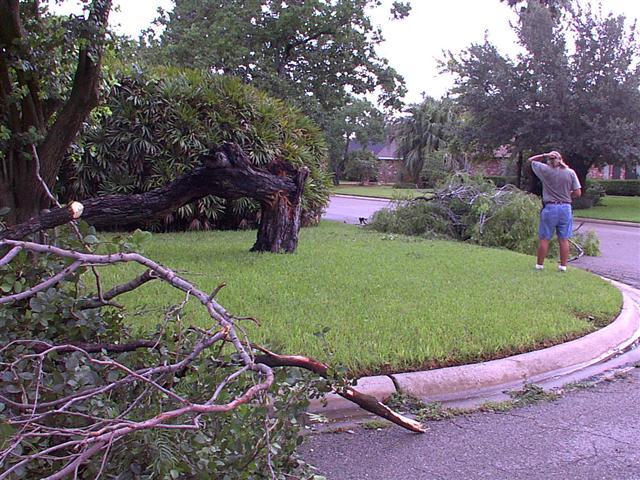 More tree damage from Hurricane (Storm?) Alex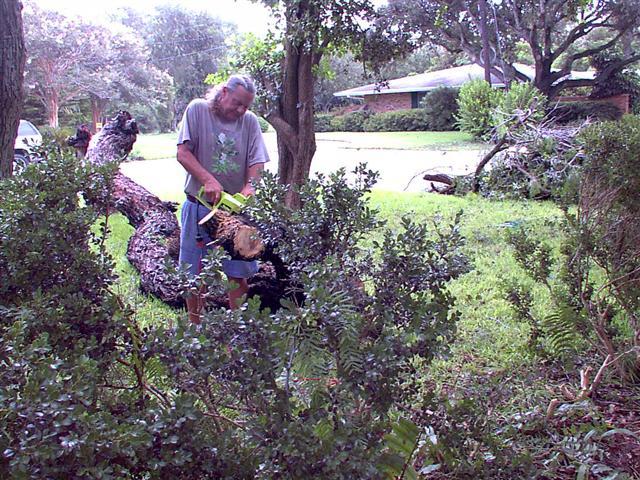 Sandra's husband "Buck" sawing up fallen tree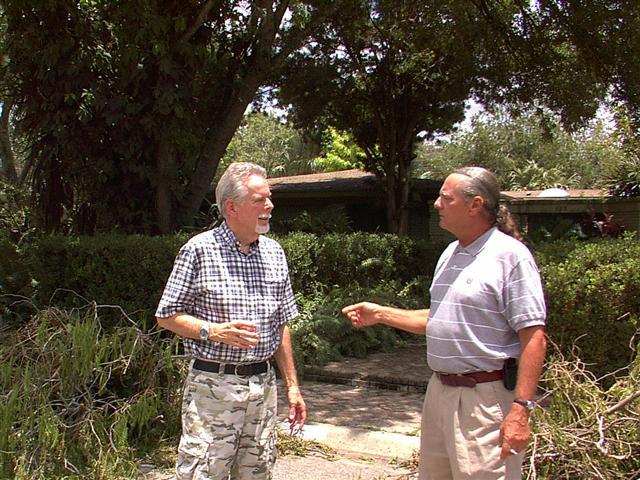 "Buck" and Roger
Palm Springs Outdoor Living: On the day after the Fourth of July, Tom, Randy and Bob drove over to Palm Springs (45 minutes) to visit Greg. He has built a large, tall "ramada". (In the southwestern US, a "ramada" is a temporary or permanent shelter equipped with a roof but no walls ...)

Greg has hung huge side panels and is now working on striped Roman shades for the top.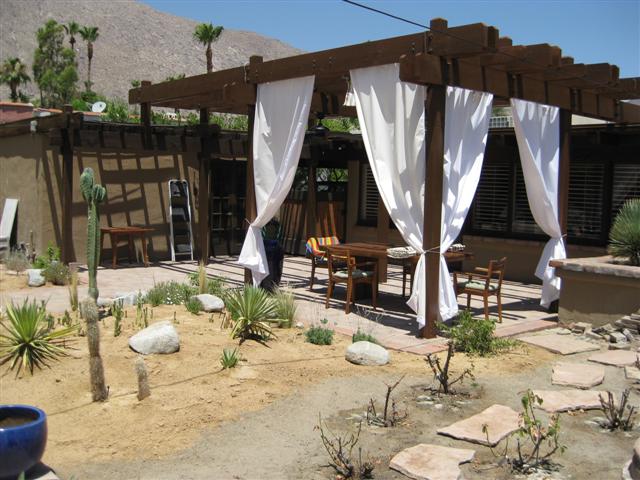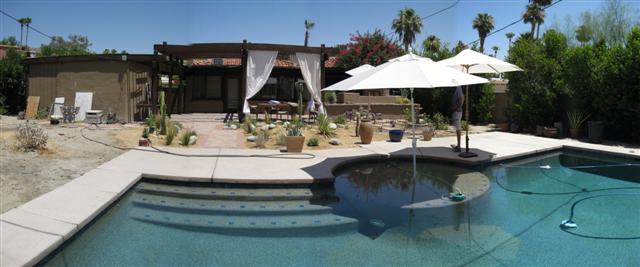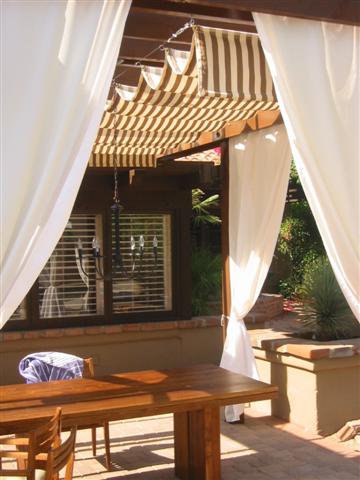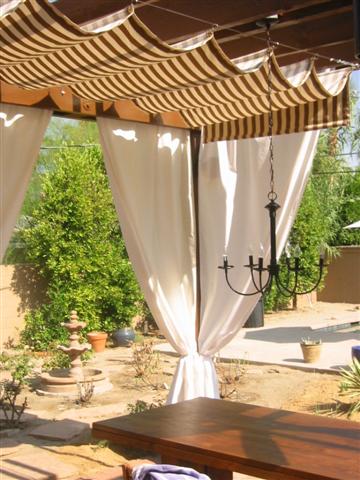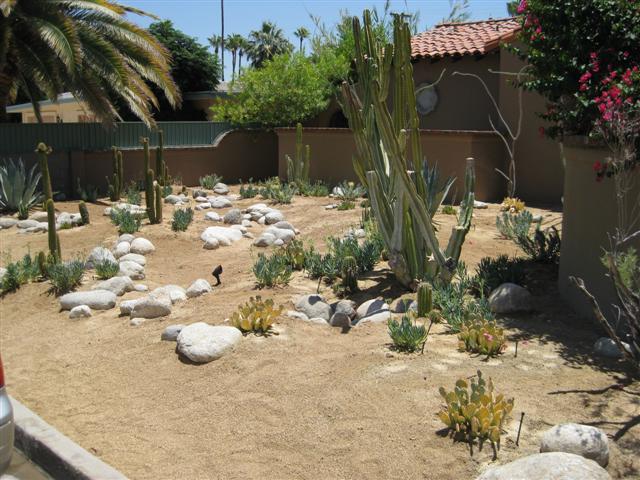 New desert landscaping on the front of Greg's house.
Greg in front of his Mexican Bird of Paradise flowers.
New Addition: With the growing cats Phoebe and Jasmine, it was time to enlarge the "cat cage". This is a structure attached to Randy and Bob's house which allows the indoor cats enjoy the outdoors.

Like an old fashioned barn raising, the stud wall went up quickly. The addition of clear acrylic roofing and screen walls resulted in 30 percent increase in space!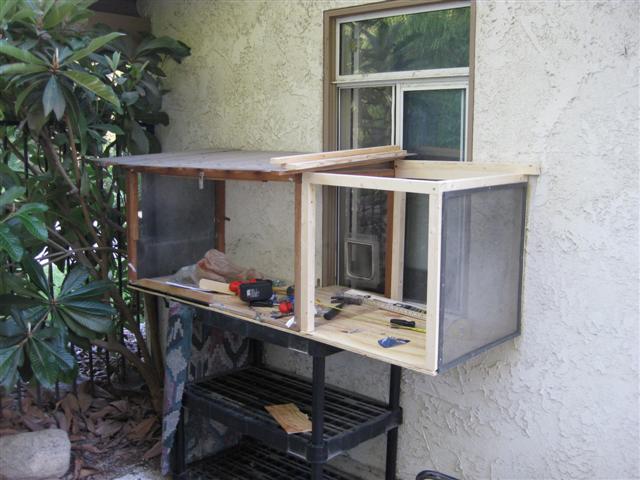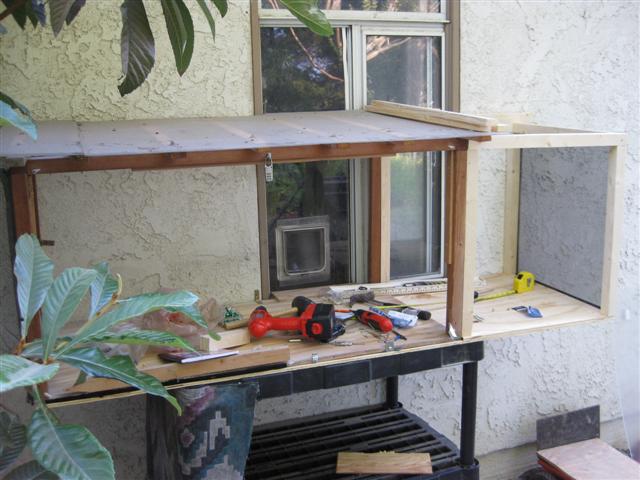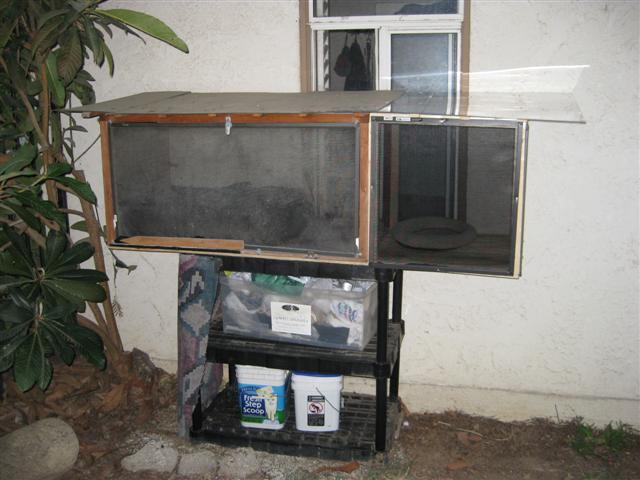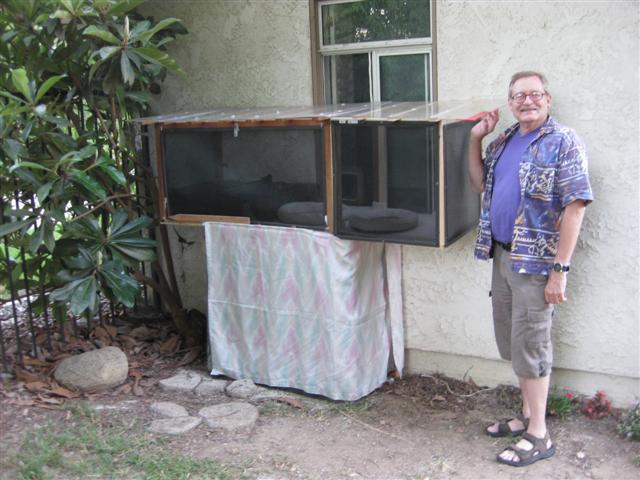 Here are 2 pictures taken during the construction of the original cat house in 2003---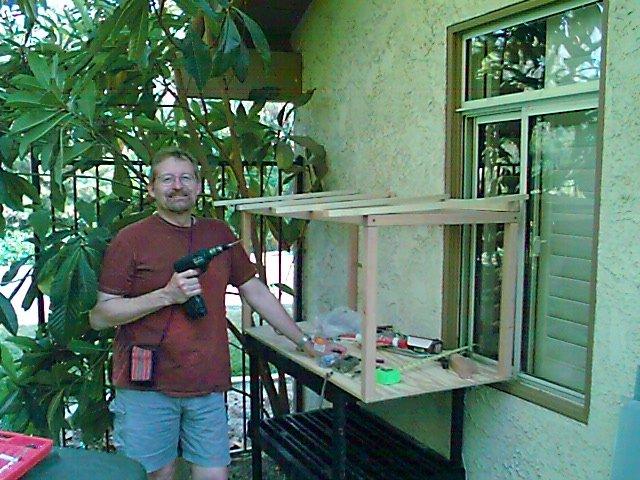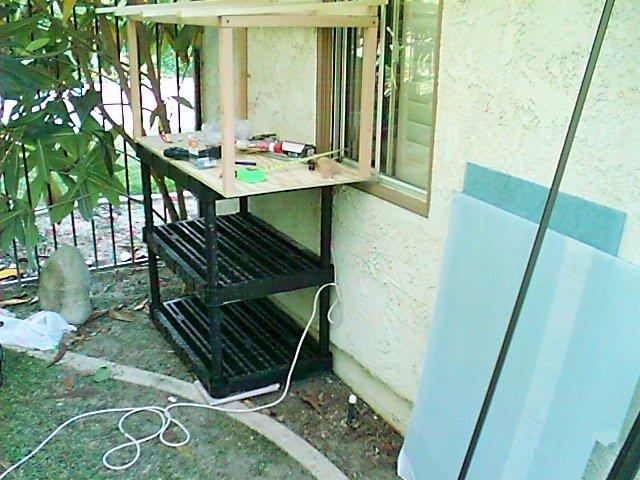 Holiday Crime: I must report a criminal activity that took place on July 4th in our Redland's neighborhood. Suspicious intruders were caught on camera, stealing figs from the tree down the street. About a dozen or so, very ripe black fruit were found in plastic bags.
Renato with fruit picker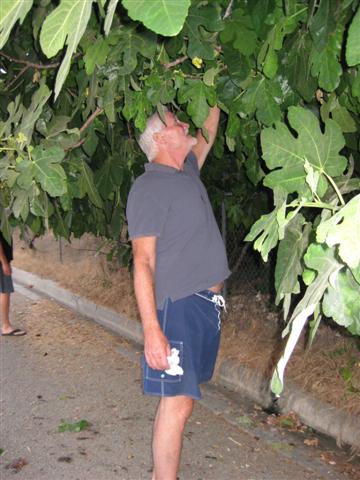 Tall Greg doesn't need a ladder or picker.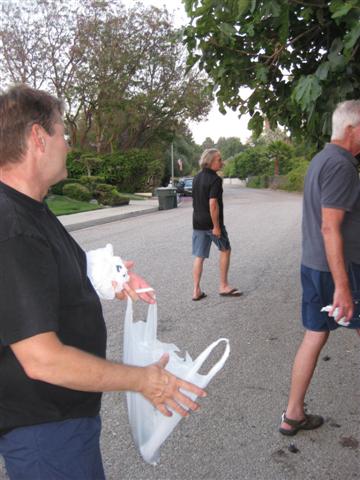 Randy, Tom B. and Greg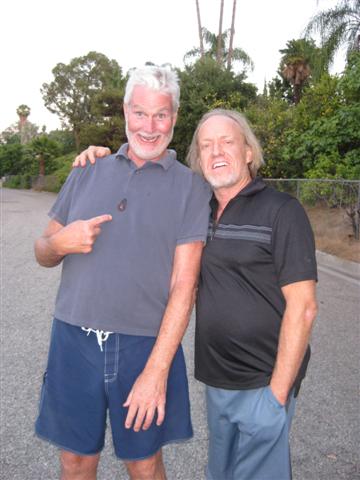 Greg and Tom B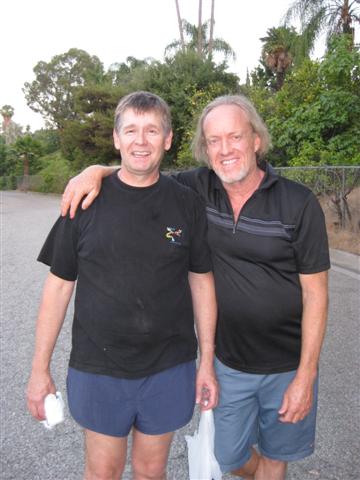 Randy and Tom B
New Car: Word has leaked out that a new car can be found in Richard's driveway! A nationwide search for a Honda CRV resulted in the beautiful Toyota Rav4 shown below.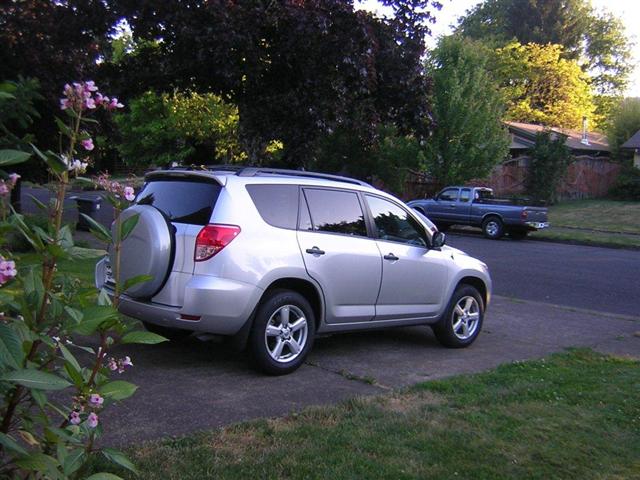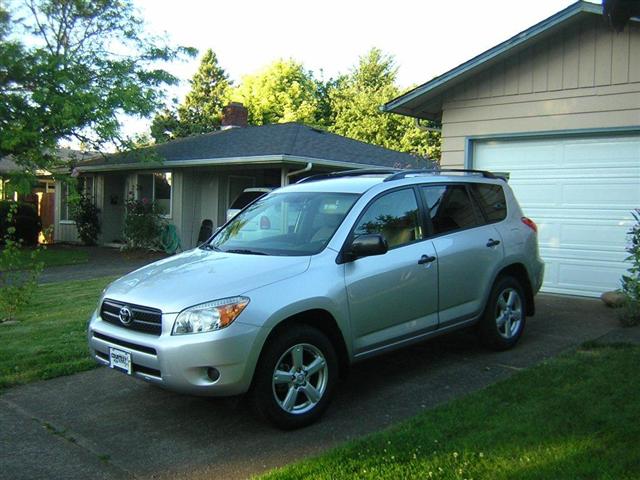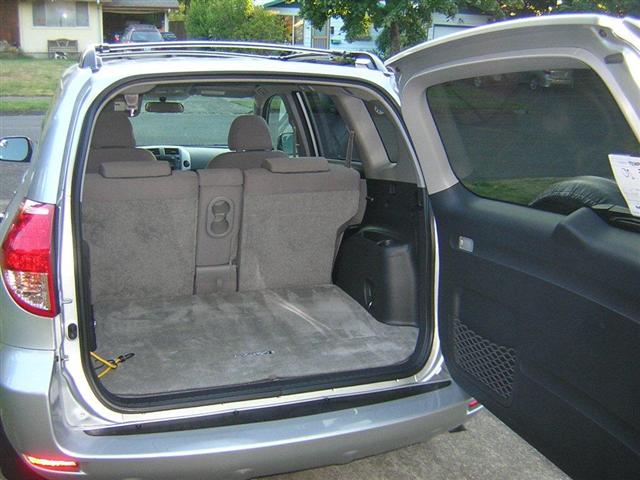 Molalla's Annual Fourth of July Parade: Several people braved extreme weather conditions to watch the usual log trucks, horses and antique cars. (Unfortunately 1967 Chryslers are considered to be antiques!)
Beth, Ben, Kim, Hadley and others.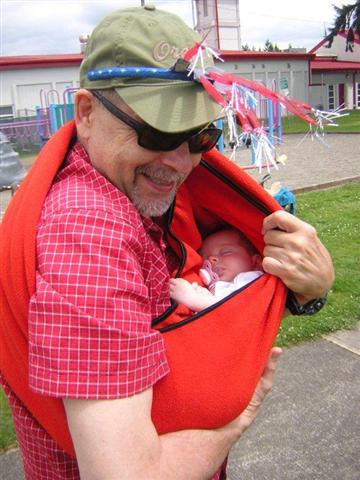 Grandpa Richard and baby Celia at the parade.
San Diego Visit: On Wednesday, Randy and I drove to San Diego to visit Joe. We called Mike and he joined us for lunch at Pizza Nova in the Hillcrest area. We stopped at St. Paul's to get Joe and after a quick visit, we drove to the restaurant at 5th Avenue and University. We each had a different pizza with the house salad. Yum!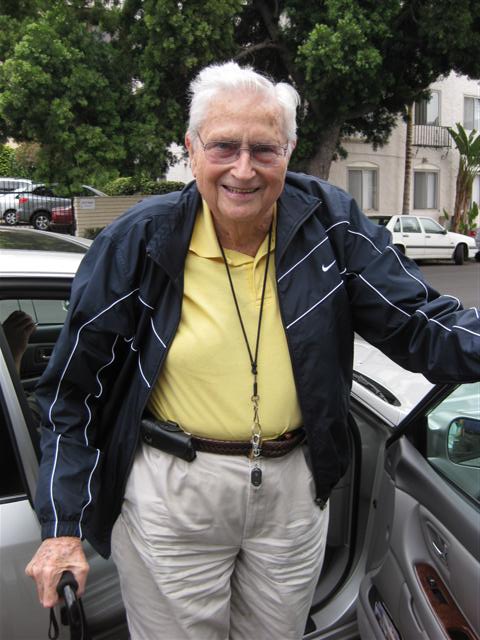 Joe
We drove over to Joe's house on Harvey Road. Friend Angie was at home. She is a great neighbor and has the greenest thumb I know.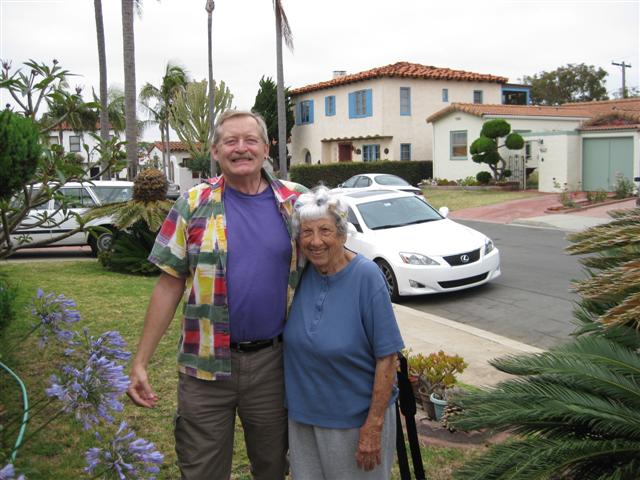 Angie and Tom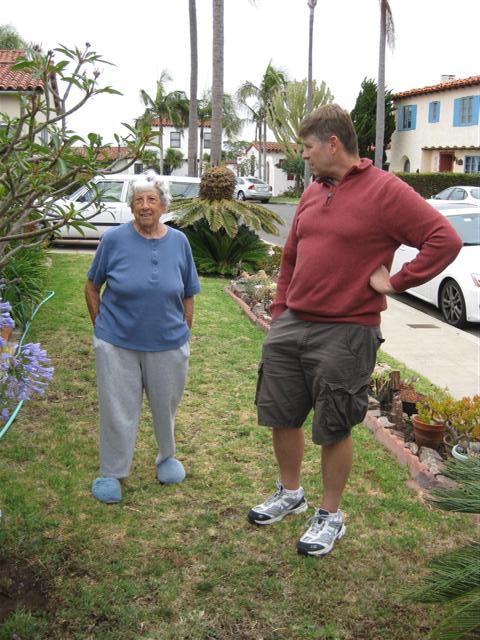 Angie and Randy