This site was last updated 08/21/10
Deep South Texas: On August 12, 2010, I flew to Harlingen, Texas to visit cousin Roger. He moved there this past Spring and has bought and opened a business in San Benito. It is a store called Don's Liquor. Don was the prior owner.

San Benito is a town of 30,000 located in the south-most part of Texas, near the Gulf of Mexico and the Mexican border. It is part of the Harlingen (McAllen?) and Brownsville metropolitan area.

Roger's retail space is bright and clean and inviting. I spent a lot of time in his office, opposite the check-out counter.

Go to www.dons-liquor.com for more information.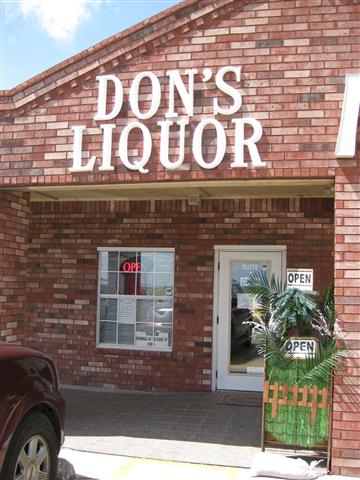 Store Front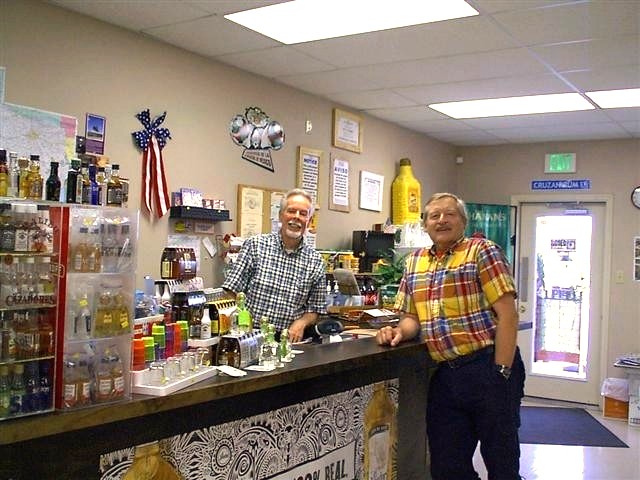 Roger and Tom at check-out counter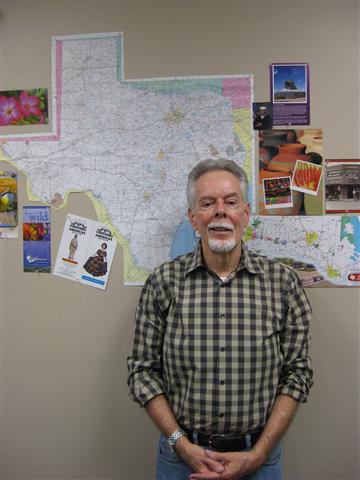 Roger in front of map of Texas

Tom, Sandra (Molalla Ex-Pat) and Roger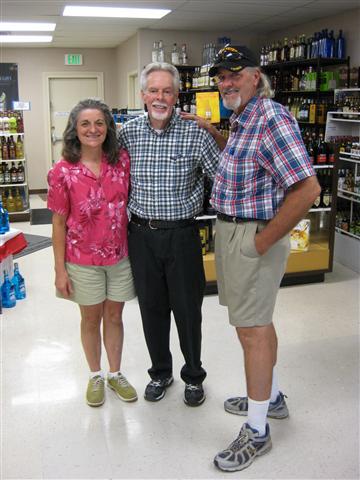 Sandra, Roger and customer Don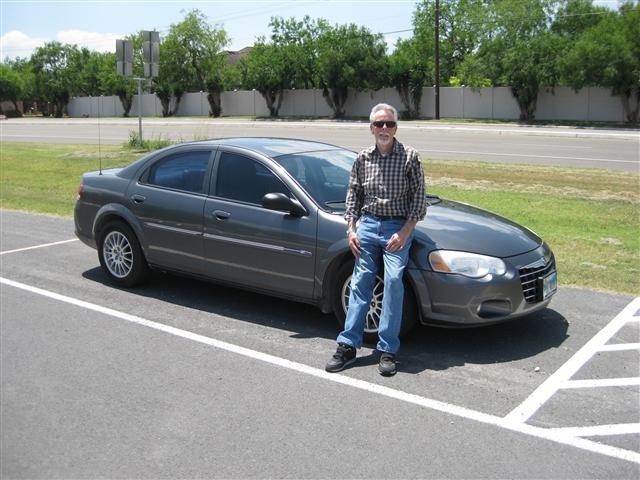 Roger and his Chrysler Sebring
Breakfast with Sandra and Buck
On Sunday, Sandra and her husband Buck invited us over for breakfast. They live about 10 miles away from Roger in Harlingen.
: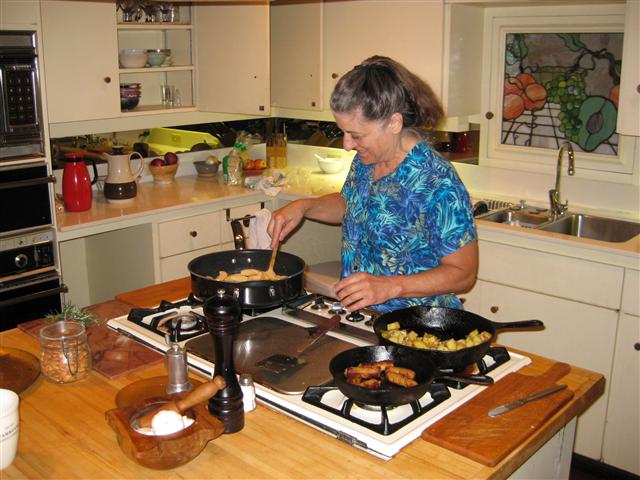 Cooking with Sandra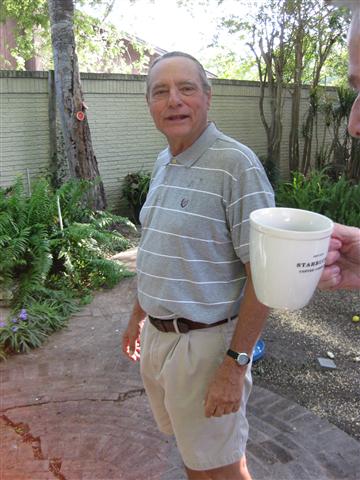 Buck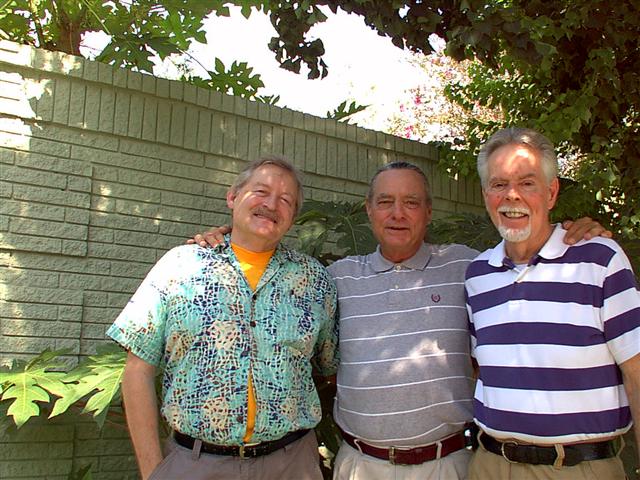 Tom, Buck and Roger
South Padre Island Eco Tour and Dolphin Viewing:
We drove about 30 miles over to Port Isabella and the causeway bridge to the resort town of South Padre Island. We booked a Dolphin Viewing and Eco-Tour boat ride in the waters between the island and the mainland.
A net was drug behind the boat and the contents later collect for a nature presentation by the 2 guys in the photos below. We caught a crab, spine fish, cat fish and flounder.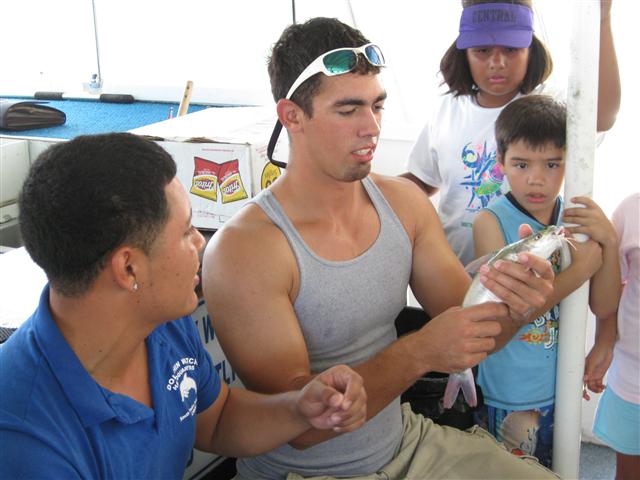 Cat fish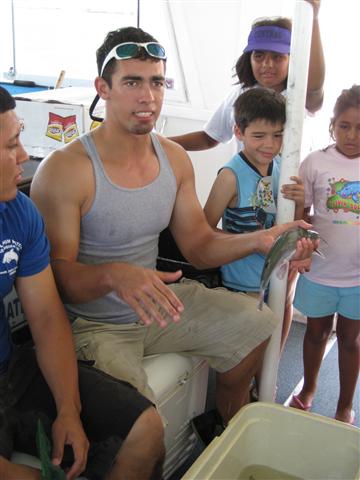 Cat fish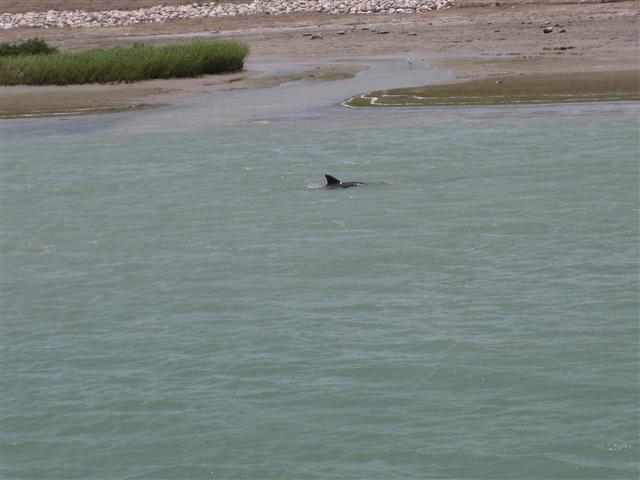 Dolphin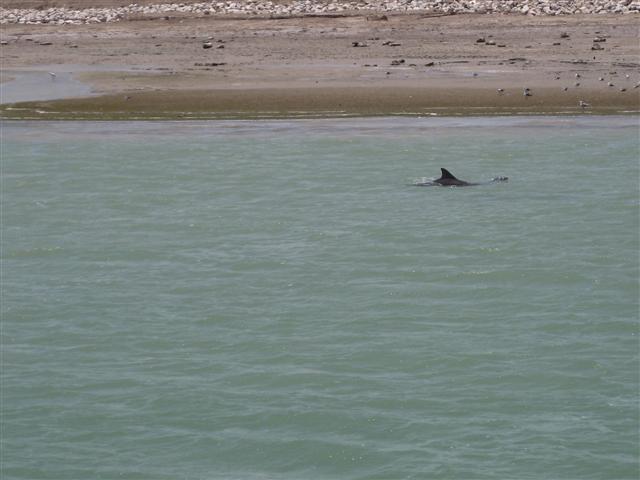 Dolphin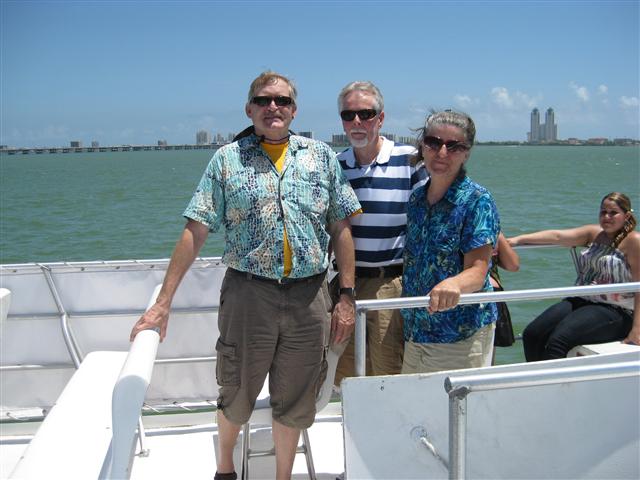 Tom, Roger and Sandra
Hermit Crabs
We stopped in a souvenir shop in Port Isabella. The most interesting thing there was the display of hermit crabs. The were in brightly painted shells. I think that each of the shells had a crab in it. The liked to climb into the little "trees".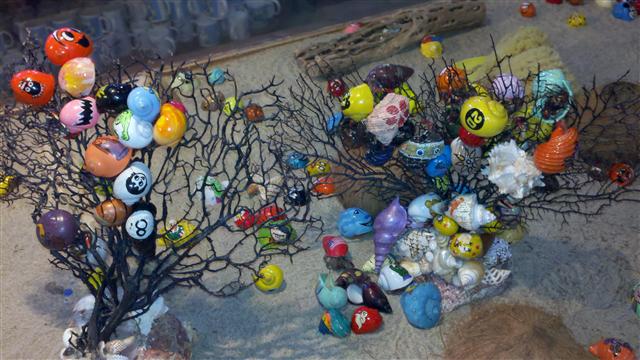 They drink from the sponge (below) and eat some sort of meal in the yellow plate to the right.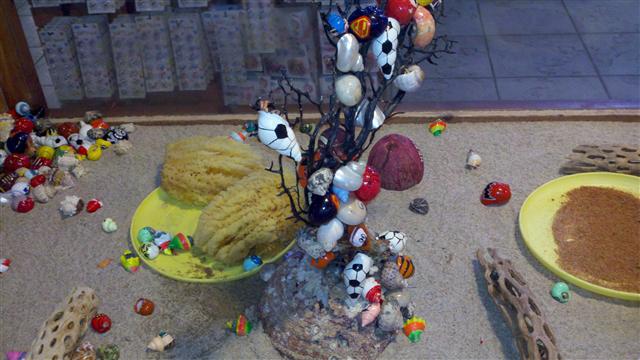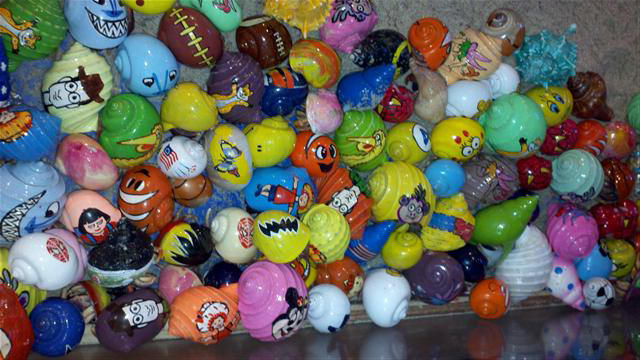 You can buy these crab along with their little habitats.
Russell the Tortoise and others
Sandra found this Texas tortoise (which they named Russell) in the street and rescued it. They are allowed to keep it as long as they don't make it a pet and provide a nature-like setting for it.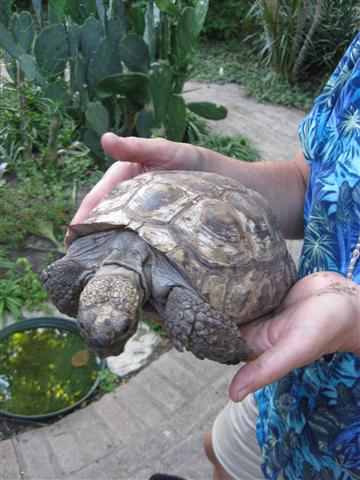 Russell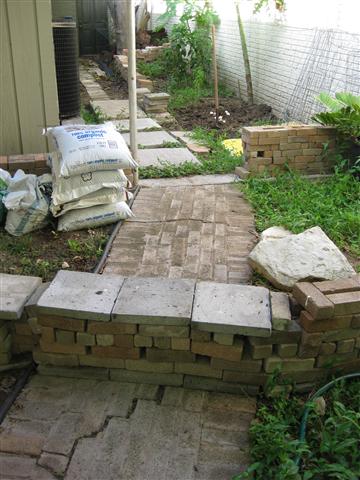 The bricks above form a wall to keep Russell from going into that area of the yard.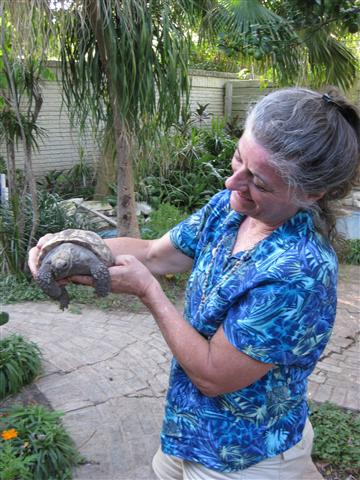 Sandra holding Russell
The Texas Tortoise (Gopherus berlandieri), is one of four species of tortoise that are native to North America. Its range extends from southern Texas southward into the Mexican states of Coahuila, Nuevo León, and Tamaulipas. The epithet berlandieri is in honor of the Belgian naturalist Jean Louis Berlandier, who worked for the Mexican government on one of the first biological surveys of Texas. As such, some sources refer to it as Berlandier's Tortoise.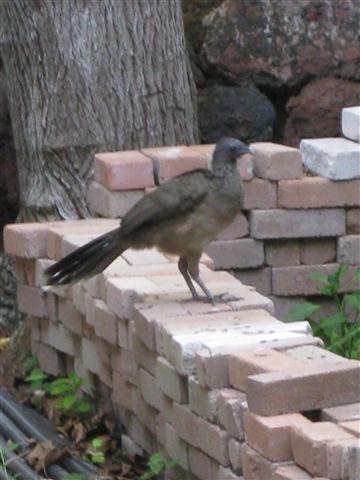 A member of a family of Chachalaca which have made their home at Sandra and Buck's garden.
The Plain Chachalaca, Ortalis vetula, is a large bird in the Cracidae family. It breeds in tropical and subtropical environments from mezquital thickets in the Rio Grande Valley in southernmost Texas, United States to northernmost Costa Rica.
Freddy Fender Memorial
San Benito is the home town for Grammy-Award winning start Freddy Fender who died in 2006. There are several memorial to him including these pictured below. His image is also painted on one of the town water towers and there is (or will be) a Freddy Fender Museum.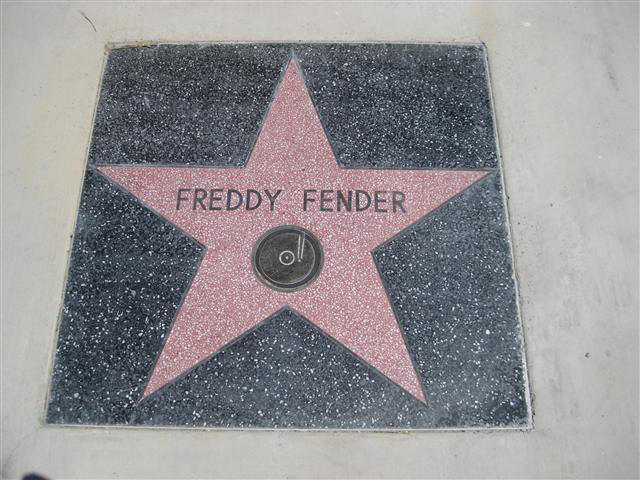 Freddy Fender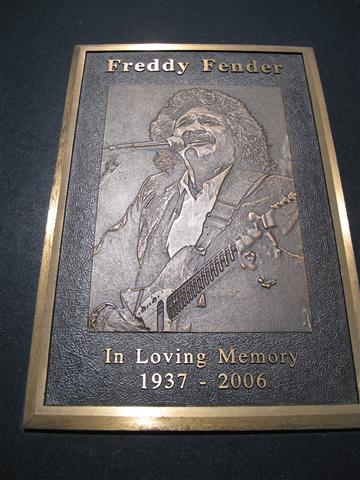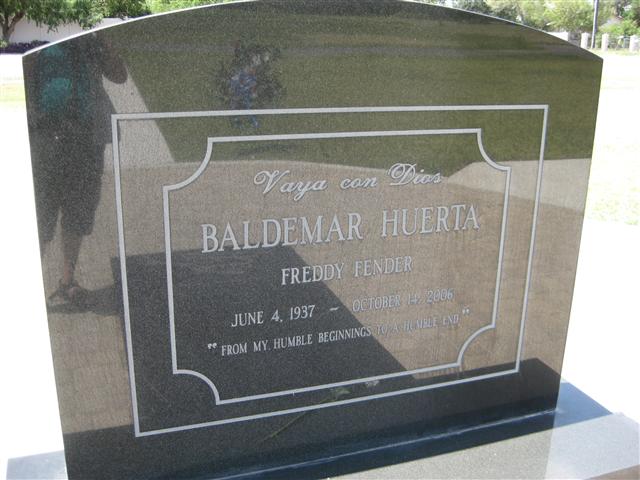 Freddy Fender (June 4, 1937 – October 14, 2006), born Baldemar Garza Huerta in San Benito, Texas, United States, was an American Tejano, country and rock and roll musician, known for his work as a solo artist and in the groups Los Super Seven and the Texas Tornados. He is best known for his 1975 hits "Before the Next Teardrop Falls" and the subsequent remake of his own "Wasted Days and Wasted Nights".