Into Africa November/December

(Click on thumbnails below to see larger photo. To return here, click the browser's back button)

Too big for one page! Click here to see African Safari Part 2 Nov 24 to Dec 07

Our trip begins! November 15/16, 2011 (01)

On Monday, Nov. 14, Elaine and Joel flew down to Tom's in Oakland on the first leg of the journey that would take us to Southern Africa to join with a group on safari. We had decided that it would work out the best to leave from San Francisco since they have a direct flight to London and from there to Johannesburg. Since all the packing was done, we had a leisurely day. Randy and Bob are staying with Tom while they move to the Bay Area and complete a home purchase, we had a full house. They had fixed an African curried stew with sweet potatoes and peanuts which put us in the mood for what is to come.


Bob, Tom and Randy


African Peanut Stew


Randy and "Lucky"

Tuesday, Nov. 15. It was a pretty fall day in the Bay Area which we could enjoy since our flight didn't leave until 4:15. Friend, David Snow was kind enough to drive us to the airport where the boarding was accomplished and the flight left on time.


Elaine, Joel, Tom, David

Tom had suggested that we all reserve seats in the last couple rows on the side where there are only two abreast. This worked very well since there is extra room to stow stuff. We tried to sleep, but since the flight was between 4:30 and 2:30 our time, it didn't work too well to sack out early. Following a recommendation, Joel set his watch for the destination time, and it seemed to help us think on the new time.


British Airways Tail at SFO

We arrived in London at 10:30 AM with the question: "What to do?" since the flight to South African was not scheduled until 8:15 PM. Our tour provided a day room at the very nice Sofitel hotel within walking distance of terminal 5, it was tempting to take a shower and fall asleep. That certainly wouldn't help us for the next day. We needed to stay up and keep moving, so we bought a pass on the express train to London.


Tom, Joel at Paddington Station

We got a 6 hr. return ticket plus a 6 hr. underground pass. The express was just that and we were downtown in about 20 minutes! From Paddington Station we went to a little cafe near Gloucester Rd where Tom had stayed several times. We were starving after the pitiful breakfast of a non-descript muffin, a little lump of something that looked like we would normally flush down the toilet, a little yoghurt to drink, and some raisins in a box about the size of a thimble. It was partly sunny but on the cool side. Because we're facing heat later on, we didn't pack very heavy coats.

From there we went to Harrods Department Store, already lighted for Christmas. If Elaine and Joel had been there before, it would have been 46 years ago. It was fun to walk through part of it with lots of people, and very expensive. We kept our eyes peeled for the owner Fayad, whose son might have married the former wife of our cousin Charles had they not met their fate in the car crash in Paris.


Tom, Joel - Harrods in the distance


In Harrods


Harrod's pink chicken

Returning to our hotel, we ran into a couple from Texas, who are going on our tour. We spotted them since they had the distinctive baggage tags from O.A.T. We are now at the airport waiting for our gate to open, and we met two more fellow travelers, two women from Nebraska.

We're expecting to land in Johannesburg tomorrow morning after another 10 hour flight followed by a tour of Soweto. More later…..

-=-=-=-=-=-=-=-=-=-=-=-=-=-=-=-=-=-=-=-

Tom Just fyi - Fayed sold Harrod's, perhaps a year ago. Cheers David

-=-=-=-=-=-=-=-=-=-=-=-=-=-=-=-=-=-=-=-

Tom, I am so interested in hearing from you about the South Africa trip! I was there in 1993 and had a fabulous trip – Jo'burg, Cape Town, The Garden Route with all the great wineries and ostrich farms, a safari in Krueger Park and lots more. Enjoy it, especially having another go at summer. And keep on writing and sending your great photos. Love, Sylvia

Hi Sylvia, Thanks! Yes, it was definitely Summer yesterday, but in a nice way. We sat outside for lunch at our hotel before the tour of Soweto.

I did the same South African trip as you but in early 1999 with my partner, mother, sister and friends. You were there so close after the end of apartheid!

I'll see you and the rest of my Fromm Friends in January if not before. Love, Tom

-=-=-=-=-=-=-=-=-=-=-=-=-=-=-=-=-=-=-=-

Tom, Joel and Elaine, Keep us on the list. As usual I am enjoying your trip. Wish we could get over there, but AUS draws us always now. Claire

-=-=-=-=-=-=-=-=-=-=-=-=-=-=-=-=-=-=-=-

Hi Tom; I love all the pictures u send me thank you hope u have a wonderful time. gabe:)

-=-=-=-=-=-=-=-=-=-=-=-=-=-=-=-=-=-=-=-

Well, they say that getting there is half the fun. Dick

-=-=-=-=-=-=-=-=-=-=-=-=-=-=-=-=-=-=-=-

Ooooh, goodie, another Daniels trip to read about and enjoy the pictures from! Love to you all, Nancy

-=-=-=-=-=-=-=-=-=-=-=-=-=-=-=-=-=-=-=-

That's right, I remember now that he also is in the Peace Corps. Neat that Paul and Audrey are going to go over, and pretty soon now! I think you have been to South Africa before, haven't you? Sounds like you like to go back, too! Have fun--Judy

-=-=-=-=-=-=-=-=-=-=-=-=-=-=-=-=-=-=-=-

What a great trip you've embarked upon. I hope there will be lots of photos to share at the next Yoder reunion, especially lions and leopards. Pam and Larry

-=-=-=-=-=-=-=-=-=-=-=-=-=-=-=-=-=-=-=-

Hi Tom, We read your email as we sail into Sydney harbour, just completed an 18 day cruise from Perth to Sydney via New Zealand. We have done Africa many times and have a friend living in Botswana who we communicate very often. Kee[ the reports coming, we love reading them and safe travels Cheers Ian & Don

-=-=-=-=-=-=-=-=-=-=-=-=-=-=-=-=-=-=-=-

My best to you, all. Bon Voyage... Keep up the communication! Greg

-=-=-=-=-=-=-=-=-=-=-=-=-=-=-=-=-=-=-=-

Was beginning to wonder when next you would start another journey beyond our shores. Will look forward to your next entries during your three week adventurous foray into Africa. Pity you don't have Namibia on your schedule -- we thoroughly enjoyed our excursion a few years back when our son John and his family were living in Windhoek and when we took a number of trips and mini-safaris around the country -- very lovely time. And we expect so shall you as you go through Southern Africa. Enjoy!! Until soon. Cleo

Hi Judy, It will be quite an adventure (I expect!) As we neared Johannesburg (in London), we kept running into people with the same yellow baggage tags as ours. There are 14 of us. As you might predict, I'm wide awake at 3AM (now 5:30AM). However I slept very soundly until then, so I don't mind.

I'll meet Joel and Elaine for breakfast then we go back to the airport for the flight to Victoria Falls and into the wilds.

And Ryan Yoder is in the Peace Corps in Cameroon. Audrey and Paul are going over to visit him in December. Tom

Oh, I am looking forward to hearing about this! I loved Africa, though I was in a different area. A young man from our church is currently with the Peace Corps in Zambia, working with forestry. I hadn't realized that Zambia had that many forests! Safe journey, and be our eyes, ears, and noses while you explore!--Judy
Johannesburg/Soweto Nov 17-18 (02)

In London, we didn't even take time to lie down in the room we had for the day. However, the shower helped a lot. Soon enough it was time to get ourselves over to the airport for another wait. Even though everyone in the international terminal waits in one big room for their flights to all parts of the world, we managed to single out various members of our tour group, at least those on our flight. We boarded and found that the plane had hardly any passengers. In our section for the most part there was only 1 person in the center section of 4 seats and they were busy getting their beds ready for a good night's sleep. While we didn't change seats, we barely made it through dinner before we were asleep. In fact, Tom hadn't got to his sumptuous dessert before they whisked it away. Since there were so few, it was very quiet and we all felt more rested as we touched down in Johannesburg, South Africa. Out tour guide was there to meet us as we cleared customs and transferred to our hotel a few minutes away.

Lunch at the hotel patio

Protea O.R.Tambo Airport Hotel Room

We had time to get a shower and a little lunch before meeting our guide for an afternoon tour of Soweto (SOuthWEst TOwnship) via downtown Johannesburg. Our driver was a very knowledgeable South African who focused on the 1976 uprising in the township that was one of the sparks that helped to change South Africa's brutal system of Apartheid.

Soweto, originally called shantytown, became under Apartheid, a prime example of the policies that shaped the country prior to 1990 when the system was dismantled. South Africa needed workers from around the country to work in the mines after gold was discovered in 1886. The Bantu peoples (Zulu, Xhosa and others) came there, but there was no place to live but the rudest shanty's made from scrounged materials. As a result of pressure, the government built housing that was very small derisively nicknamed "matchboxes." The government thought maybe if they rounded the roofs it would be better, and they got named "elephant houses."


Elephant House (rounded roof)


Shanty Town


Matchbox Houses


Nelson Mandela's House/Museum

The real problem was that people were not able to acquire any property since the government enrolled all the Bantu workers into tribal groups and designated a homeland. They were expected to go home when they no longer were wanted as workers. The purpose, according to our guide, was to keep the various peoples from building a common culture and getting political power. The breaking point came when it was decreed that all black schools had to be taught in Afrikaans, a Dutch-derived language that most of them didn't know very well or at all. The students began a massive protest.

We visited an excellent museum named after Hector Pieterson, a 13-year old who was the first victim of police action. We also visited the Catholic Church, Regina Mundo, (Queen of the World) where 5000 of the protesting students took shelter. As a choir of children was practicing, we were shown the bullet holes where the police fired inside the building. The massive marble altar had been hit so hard that a corner was broken off. Beautiful stain glass windows depict the uprising and the successful outcome. They proudly showed us Michelle Obama's signature in the guest book and those of Bill and Hillary. We briefly stopped by the first house of Nelson Mandela and nearby, the Soweto home of Bishop Desmond Tutu.


The Madonna


Children's choir practice


Catholic Church in Soweto.

They skies got very dark, thunder rumbled and rain began as we drove back to our hotel, where he had dinner and went to bed early.

Now, the next morning we are preparing to leave for the airport at 8:30. It won't take long since we can see the planes outside our window. We fly to Victoria Falls, Zimbabwe where we will leave excess luggage and after joining our Tour Director will travel by land rover to our first camp in the Chobe National Park of Botswana.

Although we will probably keep writing our journal, it is likely that we will not be able to send anything for some time. Philip, Joel and Elaine's son, wondered we had patches to wear for internet withdrawal. No, unfortunately, the portable satellite receiver just didn't fit in our weight allowance.

-=-=-=-=-=-=-=-=-=-=-=-=-=-=-=-=-=-=-=-

(Note to the homies) Hi, We're all packed ready to leave for the airport. We had a nice breakfast at the hotel. The décor is very interesting, kind of like a warehouse with lots of metal, packing crates, etc. In the toilet room of our room, there is an oxygen mask handing on the wall like you would have on a plane. I couldn't think what that was for, but now I think it is part of the atmosphere—going down like a sinking ship. It is a Protea Hotel which I think we have stayed in before maybe in Australia or NZ. Very nice.

We have met all those on our tour, and think they will be very compatible. We're probably the oldest. One poor lady came over this morning and said she had lost her camera. She thought it might have been left on the bus yesterday. It wasn't a big expensive one, but thinking how to replace it is hard. She was calling around to see if it had been picked up. She and her travel companion are from Lincoln, Neb. I think everyone was on our flight from London except 3 who came on Delta direct from Atlanta. Their flight was 15 hours so with their connection to Atlanta, I don't think it was any shorter than ours.

We were awake early this morning and feel pretty well adjusted to the time changes. S A is 2 hours ahead of London.

Johannesburg isn't a very exciting or particularly pretty city, so I'm not regretting that we have such a short time here. There are about 4 million people. Big heaps of mining dirt all all around.

Now must go, Joel

-=-=-=-=-=-=-=-=-=-=-=-=-=-=-=-=-=-=-=-

How wonderful it is to hear from you and to be part of your trip. I love getting your updates and photos. Thank you. Carol

-=-=-=-=-=-=-=-=-=-=-=-=-=-=-=-=-=-=-=-

Tom, Elaine and Joel - thanks for the detailed account of you travels so far. It seems strange that we just saw Tom the other night and now you are all a half a world away. I hope to hear more when you are able to get the word out. Here's hoping for "the big five" for you. I'd love to see pictures of the animals. I'm very interested as this is a trip I would like to do someday. All the best, Carl

-=-=-=-=-=-=-=-=-=-=-=-=-=-=-=-=-=-=-=-

Thanks for sharing. herb

-=-=-=-=-=-=-=-=-=-=-=-=-=-=-=-=-=-=-=-

You probably won't be receiving this, since you won't have internet, but I am wondering if any or all of you have read Alexander McCall Smith's books? If so, Botswana will seem familiar--Judy

-=-=-=-=-=-=-=-=-=-=-=-=-=-=-=-=-=-=-=-

Hi Tom, Elaine and Joel, it has done fun again to read your report - but I would like be present Have much fun and best regards from the cold Germany, Michael G

-=-=-=-=-=-=-=-=-=-=-=-=-=-=-=-=-=-=-=-

Tom - fascinating! hope the trip continues good. occupy movement continues vigorous. hugs xxxxpam (Peggy M.)

J'burg to Botswana Fri, Nov. 18 (03)

After breakfast we flew out of Johannesburg destined for Victoria Falls, Zimbabwe. Our flight was pleasant. Even though it was only 1.5 hrs., we were served a nice hot lunch. The descent was rough through summertime thunder clouds. The Boeing 737 landed and at the end of the runway it made a u-turn and headed back on the runway to the terminal.

Breakfast in Johannesburg before departure

Once inside, we got in lines to get a visa. It wasn't quite clear where to go, but it soon was evident that one needed to keep gently pushing forward. The cost changes frequently, so those in front could let us know what bills to have ready. Zimbabwe's currency collapsed and now the country uses U. S. dollars. After we gave in your Passport, you had to go back and get in an adjacent line to get have someone else do a double check and do some more stamping.


Arrival in Victoria Falls

Past immigration and customs, we were greeted by a group of African dancers complete with leopard skins singing a welcome song. There, we met our tour director, Tinashe, a Zimbabwe citizen who has worked for the travel company for 7 years. He told us we are not to worry, that's his job. He will be with us for 14 days. We boarded a small bus and began our journey to the Baobab Lodge about 2.5 hours away. As the bus was leaving, we saw two baboons come off the roof of the terminal and climb down the wall to the ground ... not enough time to take a picture. About half way, we crossed the border into Botswana. This included getting out of the bus twice, the first was to exit Zimbabwe. The second was to enter Botswana. Here we had to cross on foot through the Hoof and Mouth prevention dip tank. The pedestrians walked on insectacide soaked cloth and the vehicle drove through a pool of treated water. Our guide had us walk on to Immigration building to get rid of the strong smell from our shoes.

Although we were on the main highway, our transit was somewhat delayed since we were constantly pulling off for photo ops of all the animals. We saw Cape Buffalo, elephants, giraffes, a warthog, numerous birds, and sable antelopes to name a few. We eventually turned off onto a dirt, two-track road ending up at the camp. We were serenaded with a welcome song by the staff as we made our way to the main hall used for gathering and dining.


Camp singing welcome song


Dining room


Giraffe sighted on way to camp

Our breath was taken away by the beautiful vista of the river delta teeming with animals. With binoculars, we could see zebra, antelopes, and baboons. As we were getting our briefing, we were distracted by a herd of elephants passing by on their way to the water. They made us sign the rules to be sure we understood. For example, not going unaided to your cabin at night, or if you have a medical emergency at night you are given an air horn to sound. You are then to turn on your lights, and everyone else is to turn theirs off so that the staff can get to the emergency quickly.


Fresh off of the van!


On the way to Tom's room

We had some time to settle in before putting on mosquito repellant and heading back for our second briefing and dinner. Afterward, our guides walked us back to our cabins. The night sounds surrounded us. We are in the Chobe National Park and there are no fences around us. A furry creature run along where the wall meets the canvas ceiling, and a spider the size of a 50 cent piece scurryed along the floor.


Our cabins

The morning will be started by a drummer (to wake us up) at 5:30 AM, breakfast at 6:00 AM and safari departure at 6:30 AM.
-=-=-=-=-=-=-=-=-=-=-=-=-=-=-=-=-=-=-=-

First I went on safari in Tanzania, just across the border from where you were in Kenya. This was a trip with my college roommate, and we had a wonderful time, and I was rather shocked and amazed to find out I loved Africa! I had thought of it as something to "get through", and was just delighted with it. I had fun studying my Kiswahili tourist phrase book, making some rather colossal bloopers, and finding out I could sort of understand what our guide was saying over his two-way radio. At one time he said (in a nice way) "Watch out for that one! She understands Swahili!"

I can't even think of what I liked best, but probably the animals in such close proximity to our van. Seeing the baby giraffe hiding (sort of) in some brush, seeing the baobab trees, having elephants eating right outside the van window, watching the leopard stalk the wart hogs (go, leopard! But they chased her off, so no meal at that point.) We had a pretty congenial group (and yes, we did meet up with some of them as we traveled from Amsterdam, finding them by their luggage tags and t-shirts. We were on an REI safari.) with the exception of a rather odd woman who was a professional clown, and who carried a stuffed monkey everywhere with her. There were 3 Judys on the safari, and one of them could often be heard commenting on "that damned monkey". Just to make things less complicated, my roommate (Judy Floyd Starr) became "Starr", and I became "Shangazi Judy" (Auntie Judy). Then the third Judy could just be Judy.

The second time I also went to Tanzania, two years later. I had visited with a veterinarian at our church about Tanzania (he and his wife had spent 6 years there with the Heifers International Project/Peace Corps.) and he asked if I would like to accompany him back again, as he was going to go over to do some vaccinating and testing for brucellosis and TB, and would like someone to go along to help. I jumped at the chance! And of course I had spent at that point 40+ years living and working on a cattle farm, so I knew somewhat what I was doing! It was very interesting (walking through streams infested with who knew what kind of parasite, barefoot) and we stayed with a wonderful family Bruce knew from having lived there previously. To little Kathryn, age 4, I immediately became Shangazi Judy. Again, a very interesting situation, because we were (although pretty royally treated) living the same life as everyone else in the town.

It was such a neat experience, and we have kept touch through e-mail. They keep saying, "When are you coming back?" This was in the town of Kilindoni and surrounding farms, on the island of Mafia, east of Dar es Salaam and south (I think) of Zanzibar. We flew in, and the ferry ride back across when we went home was quite another experience to add to my tales to tell! I think I liked this trip the best, because of meeting and getting to know the people (I am looking at a beautiful 5' x 7' handwoven mat that a lady named Aisha gave me, which is now hanging on the wall of my office.) and because Bruce and I were looking for a project that would help the area, that we could come back and raise funds for in Oregon. We decided, after visiting clinics, schools, and farm communities, that we would put in a well in the Baleni school area, which is where most of the farmers lived whose cattle we worked with. My friend Bruce discovered he had terminal cancer when we returned to the US, and he passed away this last May, but we did get the well completed, and now those people have clean water to drink and use, as does the school. (which was quite large.) I guess you can see why I liked that trip the best. I don't know if I'll be able to afford going back again, but it would be really neat if I could.

My friend Judy ("Starr") is just nuts about birds, so our guide on the first trip made a special effort to point out and find them, which was pretty delightful. Early on we bought books that had plants, birds, animals, snakes, etc., and wrote when we saw anything in the book. The birds are really exotic, and sound so different than the ones here. Who knew (well, probably everyone but me) that storks are scavengers? Make the idea of them carrying little babies rather sick! Our guide called them "the undertakers".

Do have fun!!--Judy

-=-=-=-=-=-=-=-=-=-=-=-=-=-=-=-=-=-=-=-

I look forward to opening my emails and seeing your entries! I am so very excited that you 3 are getting to have this experience. If you can collect a teaspoon of sand over there

I would love to add it to my collection! Be safe ~! Hugs, Mar (Mary N .8 Gr. Science Teacher)
Baobab Camp, Chobe Botswana Sat. Nov. 19 (04)

(Click on thumbnails below to see larger photo. To return here, click the browser's back button)

We sat in the dining room just after brunch during our siesta time. The tour leader said we should be spending the time "ten toes up", but we decided it was a good time to write in our journals and sort pictures and such.

The question was asked, "When is a good time to come to Africa?" The answer, "When you are in Africa." We truly are here at a good time! It is late spring, the beginning of the rainy season and the trees and bushes are just beginning to leaf out. There is some water in the Chobe River overlooked by our camp. Later on in this season, the delta will be completely covered with water. No animals then. Looking just across the river is Namibia, the strip that comes across between Zambia and Botswana where with Zimbabwe, 4 countries meet. Any time we look out, we see many animals including herds of cattle owned by Namibians. They are subsistence farmers, we were told.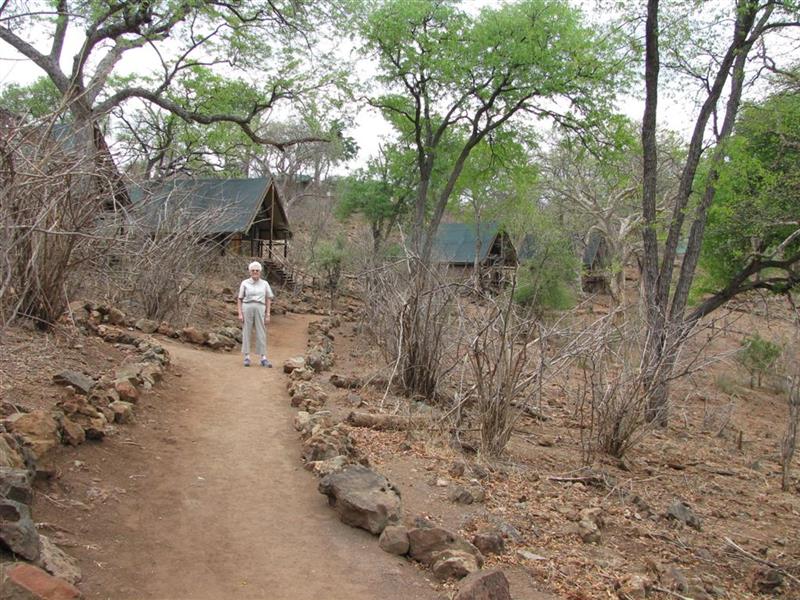 Elaine walking to cabin No. 4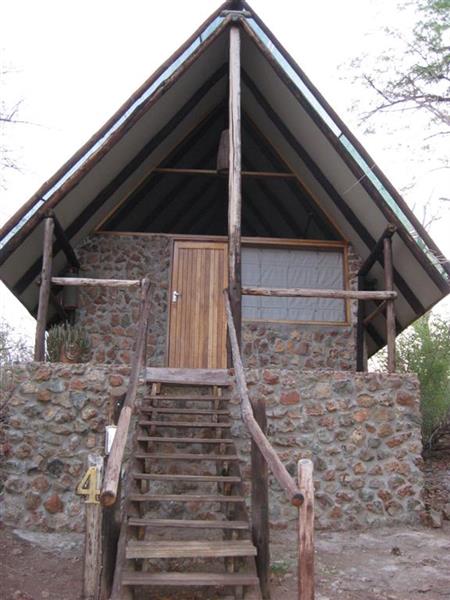 Tent cabin No. 4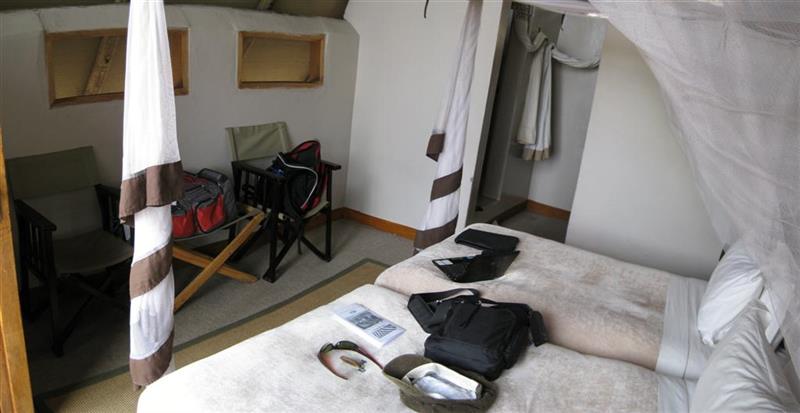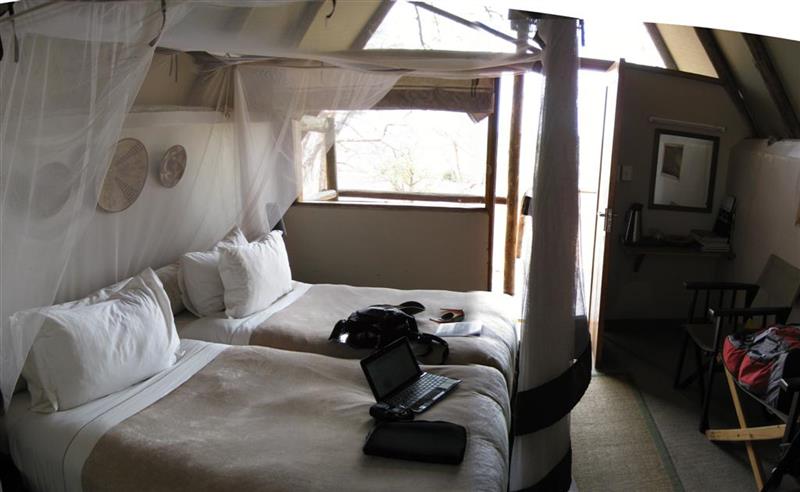 Inside tent room


Our Guide Tinashshe, Tom, Elaine (& Joel) Swinging on the "Python" Vine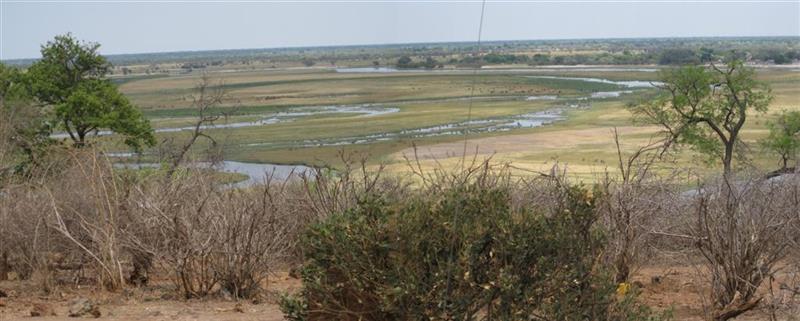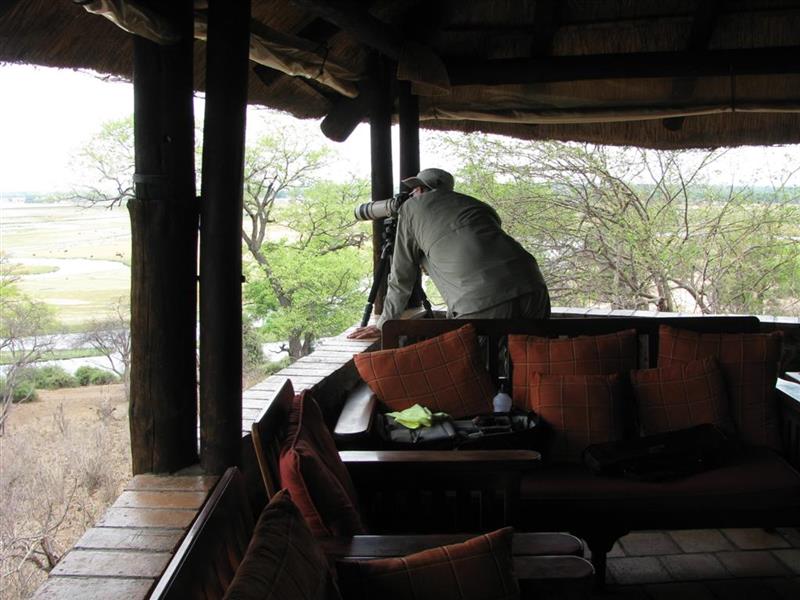 View from the lodge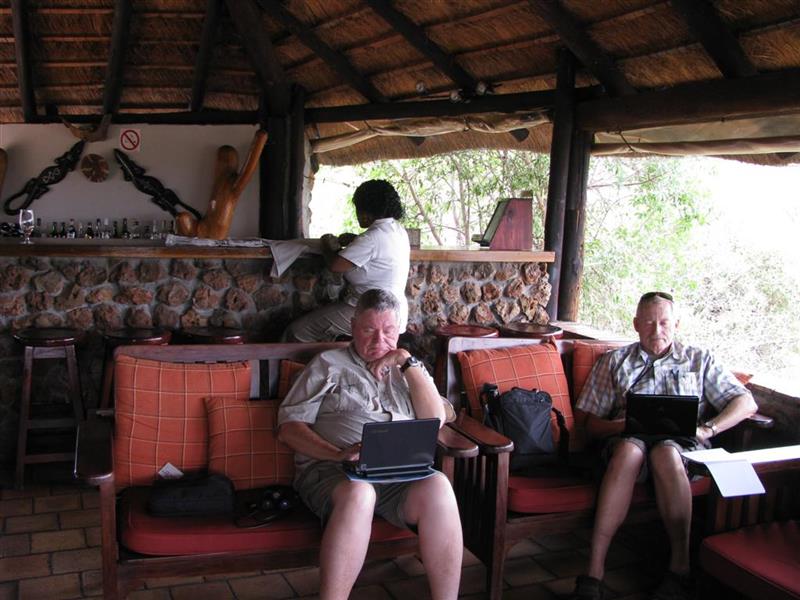 The camp's IT staff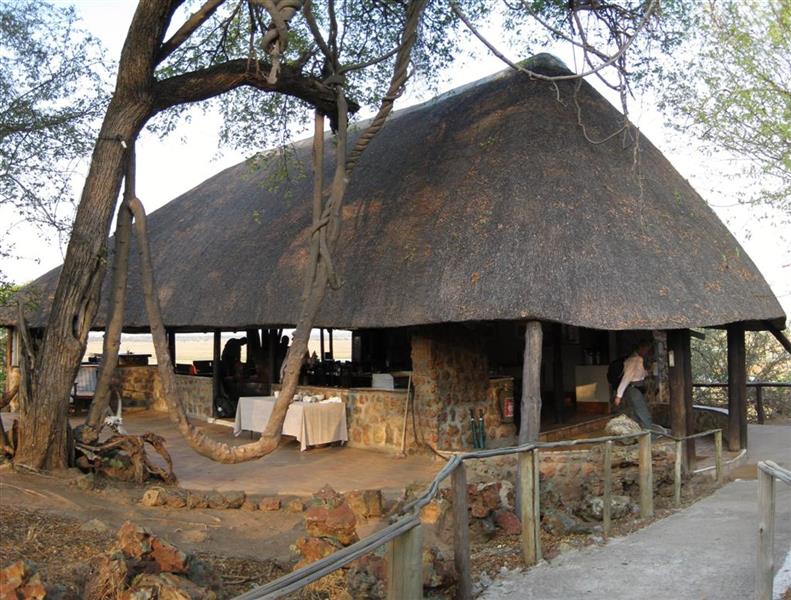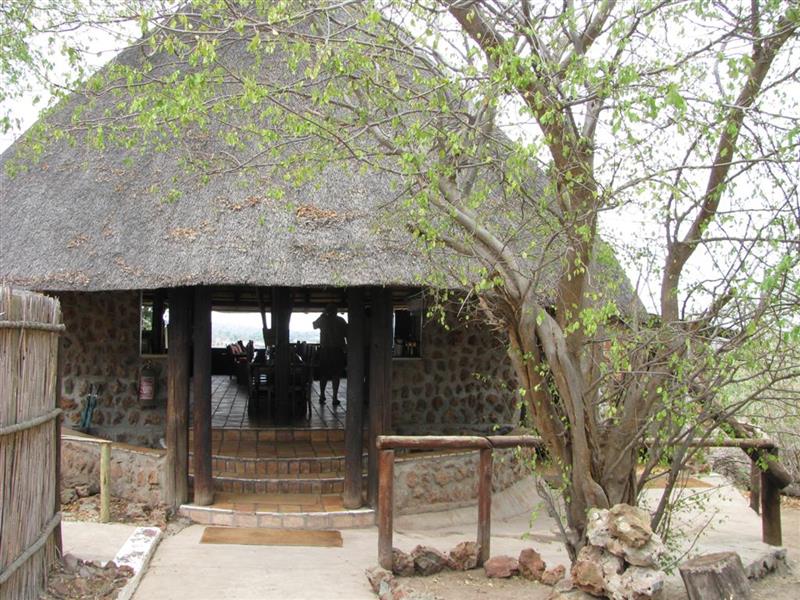 Our lodge/meeting center
The drummer came at 5:30 this morning, but due to the upset of our circadian clock, we were already awake and ready for a quick shower. A light breakfast was served before we boarded the safari vehicles at 6:30. They are typical for this area, Land Rovers, open with a canvas top and four rows of seats including the driver. As you go to the back, each row is higher than the one in front so all have a good view. We set off down the dirt road to the highway to take us to the entrance to Chobe National Park. We had to give our passports to the tour guide so he could get us in. From there, we were on dirt roads some with quite deep ruts. Elaine and Joel got out their inflatable cushions to help smooth out the bumpy ride, otherwise called an "African Massage".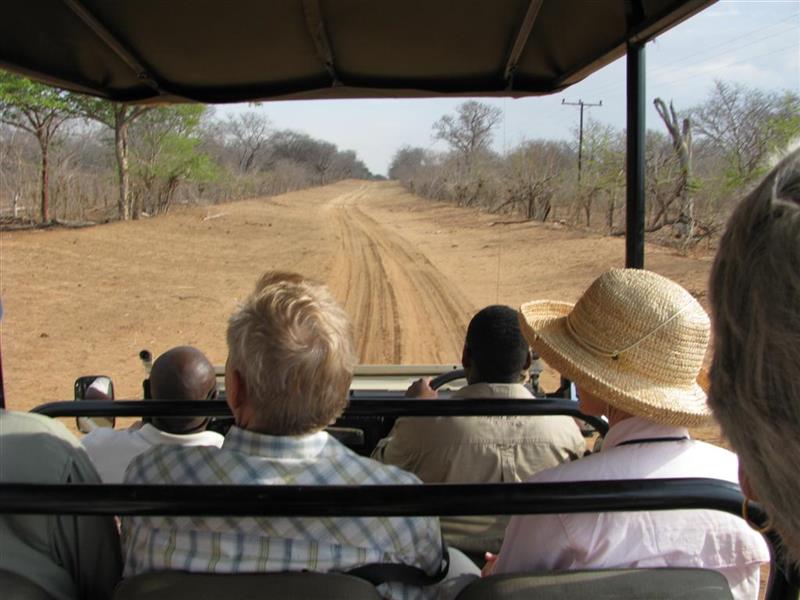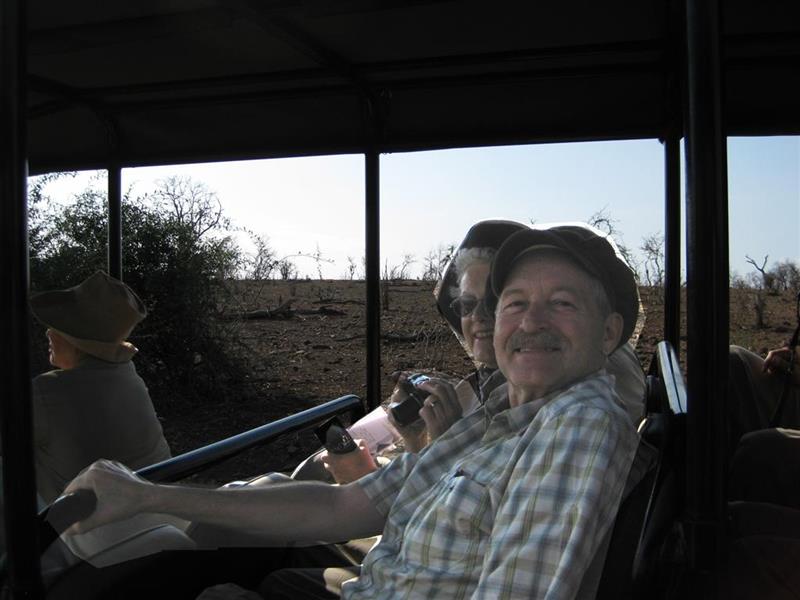 Down the highway in the Land Rover
There was a hard rain two days ago that settled the dust which is a blessing. The temperature was about 70 as we left. We immediately started seeing the animals: antelope, greater kudu's with the spiral horns, cape (or African) buffalos. Many birds including the endangered ground hornbill (with large crimson bill), lilac breasted roller, red billed teal, open billed storks, carmine bee eater, etc. Even the ugly warthogs with a face that only a mother could love, were cute scampering along with their babies. The giraffes were close by and crossed the road ahead of us looking for some trees to nibble on. Our guide has said several times, when looking for animals, look through the bush, not at the bush. It's true.


Entering the Chobe National Park
We dropped down along the river which was clear of most of the bushes and scrub trees. We could see herds of zebra's, maybe more than a hundred, lots of impalas and water bucks. The many birds including flamingos (white), black storks, and even an African fish eagle, about the size and coloring of a bald eagle. The list goes on and on.
The protocol is that when we get to some animals, we take pictures first then ask questions. We are not allowed to stand up since animals see us and the vehicle as one object. Standing up would break that image and perhaps cause the animal to charge or run. We are to wear neutral colors especially avoiding black and blue. The former offends some animals, the latter attract tsetse flies.
Midmorning we stopped for a coffee, tea and "rest room" break.

Break time.
Viewing various African animals.

Ugly wart hogs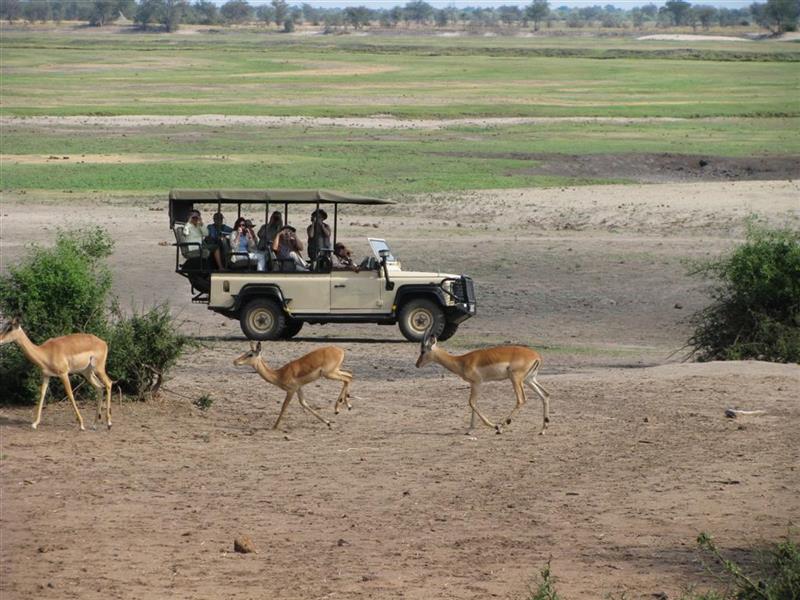 Impalas watching the tourists

Giraffe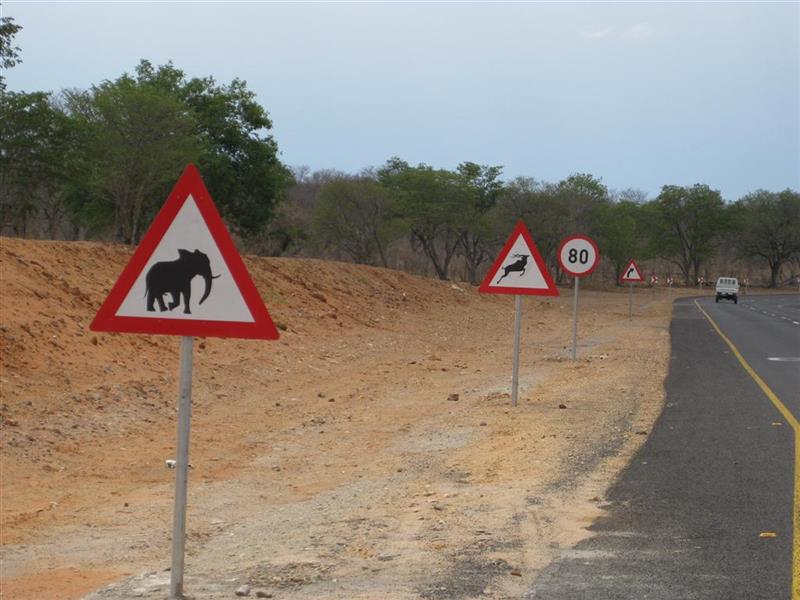 Elephant crossing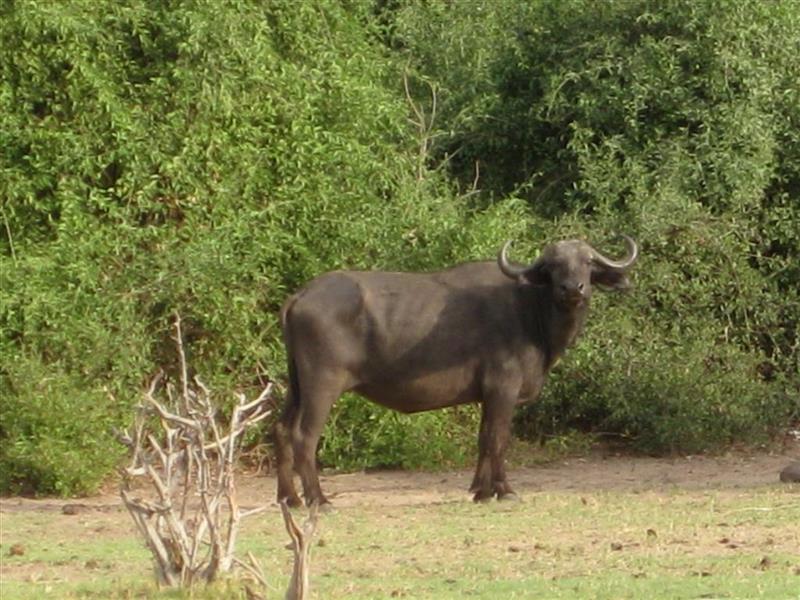 Cape Buffalo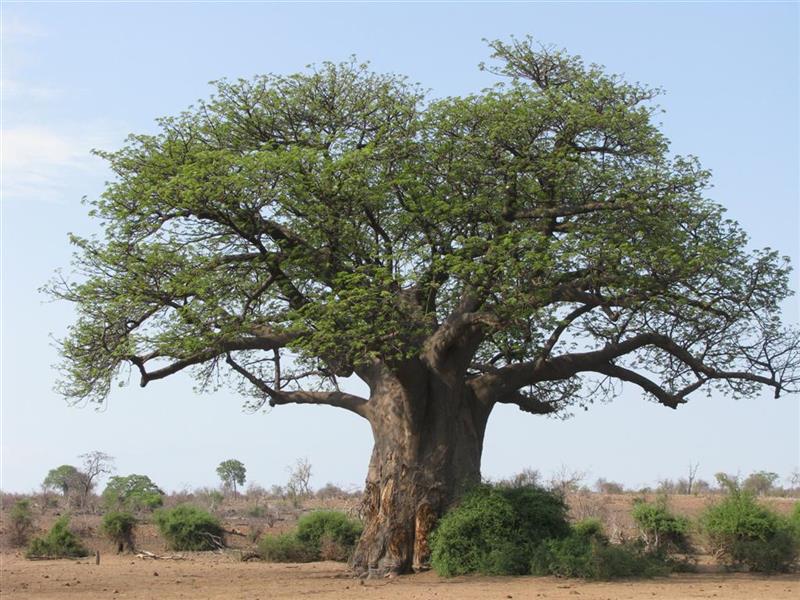 Baobab Tree

African sunset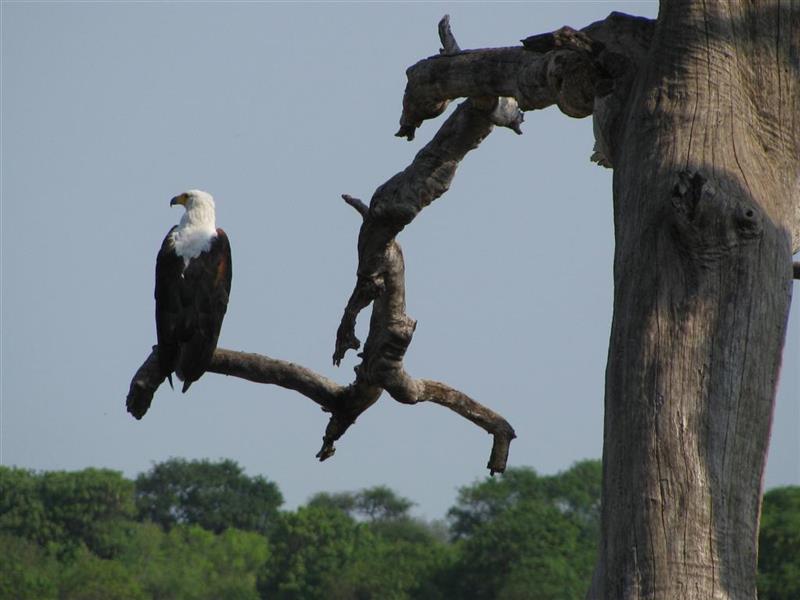 African Fish Eagle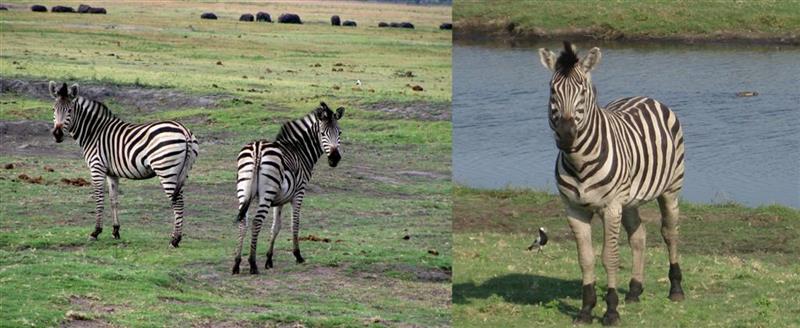 Zebras
A short time later we arrived back in camp just in time for brunch. This afternoon it is probably 100, but sitting under the fans drinking ice water, it is not too bad. At 3:00 some women from the village came to demonstrate basket weaving during which we had tea and coffee. Many baskets were purchased and wrapped to be sent on to Victoria Falls (to keep our luggage weight down. The basket show was followed by an afternoon game drive that ended about 7:00 and dinner. Every review we read of this trip talked about how many animals we would see, but it was impossible to believe. After this morning, we are believers.


Buying African baskets
"The Elephants are Coming" Baobab Camp - Sun. Nov 20 (05)

(Click on thumbnails below to see larger photo. To return here, click the browser's back button)

Many were awakened after midnight to a crashing and thrashing outside our cabins. The elephants were attacking! First we need to tell you a little about where we are staying here at first of four camps. It is operated by Overseas Adventure Travel, from whom we booked. Our group of 14 are the only ones here (and that's about the capacity of this camp). There is a main lodge, open air with a lounge, bar and dining area. We are on a hillside looking down onto the Chobe River estuary. At times the bottom land is all water, but now there is lots of pasture. Adjacent to the lodge is a pool and patio area.

Down a trail from the lodge are 8 cabins each about 50 feet from the other. They are built into the hillside with about 8 steps up to the front door. The walls are cement with rock on the outside and plaster on the inside. The roof is polls with canvas on top. The ends, and windows are a mesh to let air in. There is a bathroom with shower and very comfortable beds with a frame to hold the mosquito netting. We were provided with "Peaceful Sleep" insect repellent, bug spray, and a mosquito coil. We also have a ceiling fan.

Back to the elephants. a small herd decided to feed on the vegetation that is beginning to green up around the cabins. They make a lot of noise doing this. Joel woke up in cabin 4 and heard what first seemed like an animal inside the room. It was determined that it was outside, but didn't seem too bad. He went back to sleep and Elaine slept through everything. Tom, on the other hand in cabin 8 heard a lot of noise got up and looked out and saw the huge shapes plowing through. In the morning there was fresh dung around his place. The ladies in cabin 2 knew that their lives were in mortal peril and blew the medical emergency horn. Another guy looked out the door with his flashlight and saw a mother elephant with a baby. He didn't want to get in between, so he went back in. Needless-to-say, people were not as rested this day.

Today was a whole day of animal viewing. We left camp at 6:45 AM, entered the park and began driving all around in search of lions. The guide knew they were around since he saw fresh tracks, but they are pretty elusive. We drove on all the roads, each vehicle going a different route keeping track with 2-way radio. We did see jillions of impalas and 2 large crocodiles sunning themselves with their mouths wide open for cooling. This aids the digestion, we were told. Finally it was time for "peanut butter and jelly" lunch. Actually the kitchen staff brought a complete meal to us in the field! Chairs were set up for us to eat our quiche, salads, sweet potatoes, fruit, bread, crackers and cheese.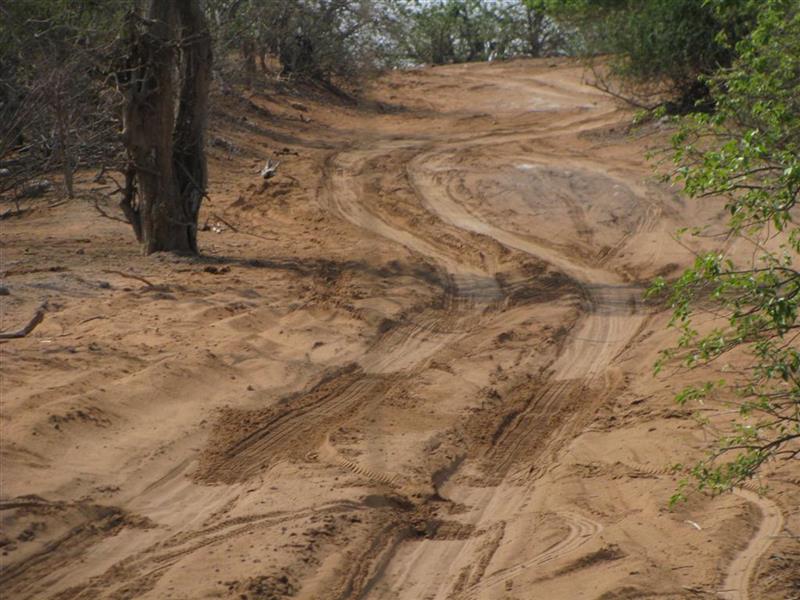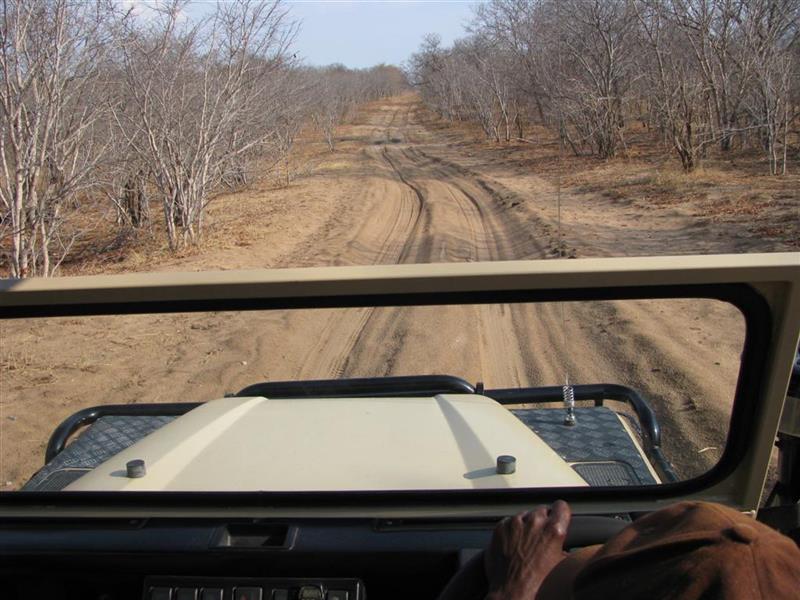 Safari highways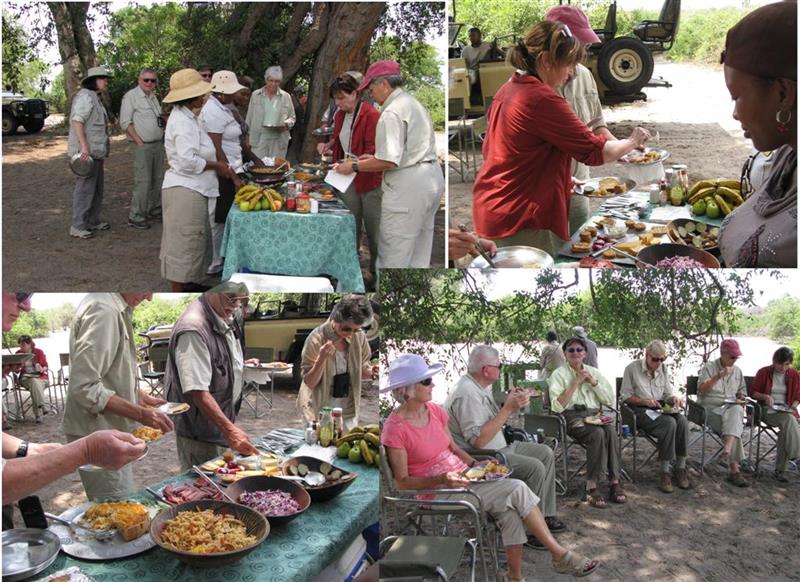 Picnic lunch
On our way to the our river cruise, we chanced upon seeing a lion. The male of the pride was lying under a tree completely sacked out after feeding. I think we could have gone over and sat on him and we wouldn't have flicked an eyelash.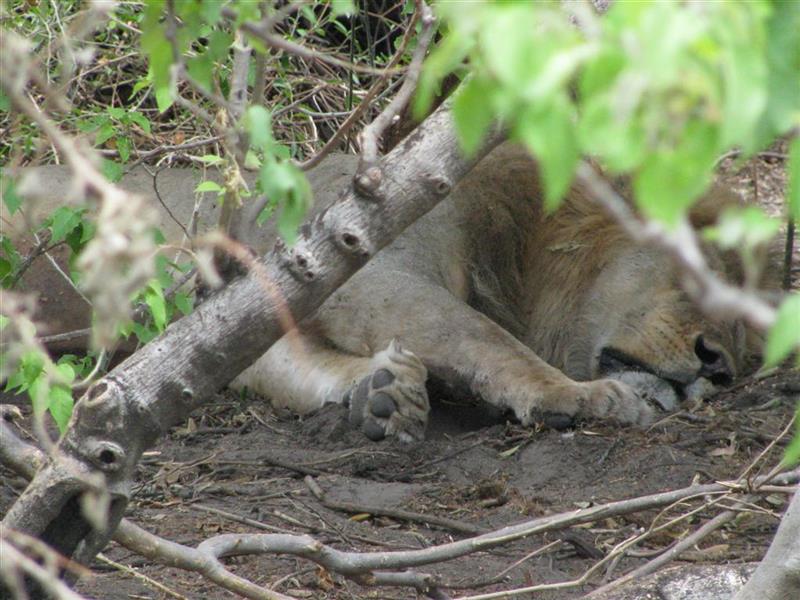 Let lying lions lie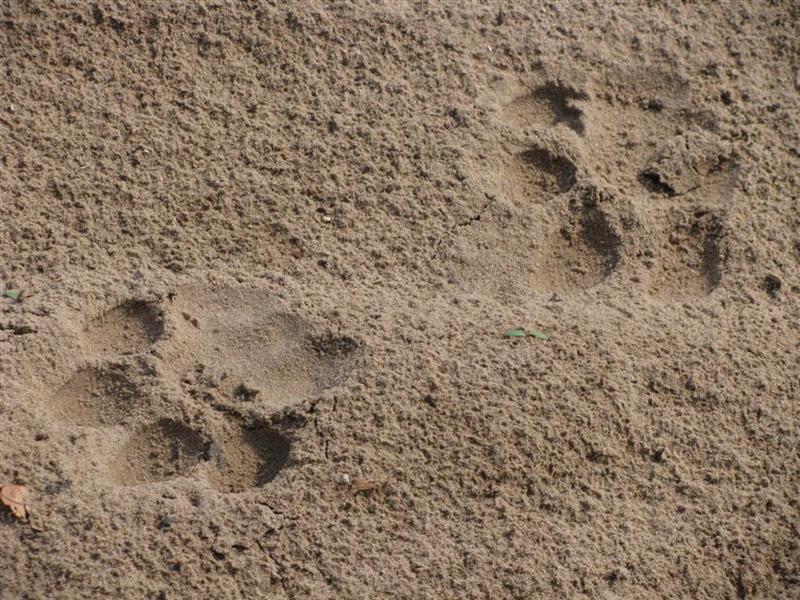 Leopard tracks

Leopard tortoise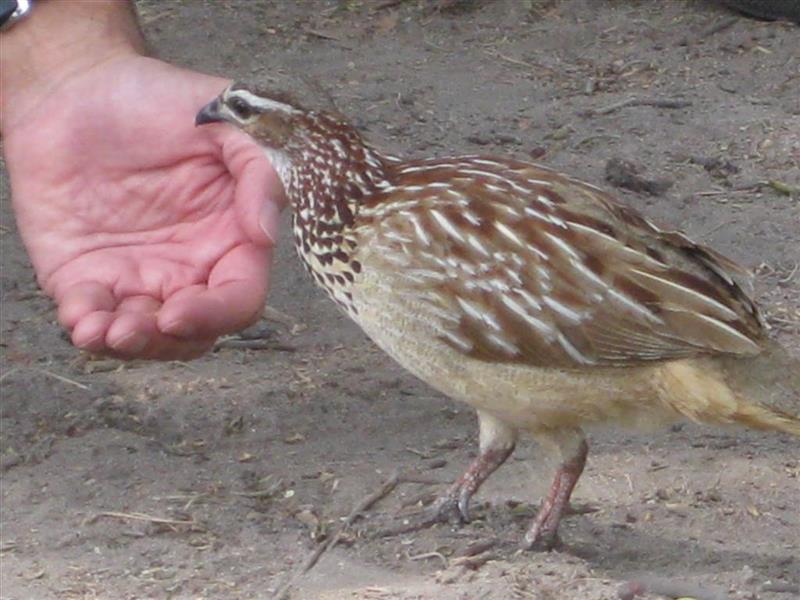 Francolin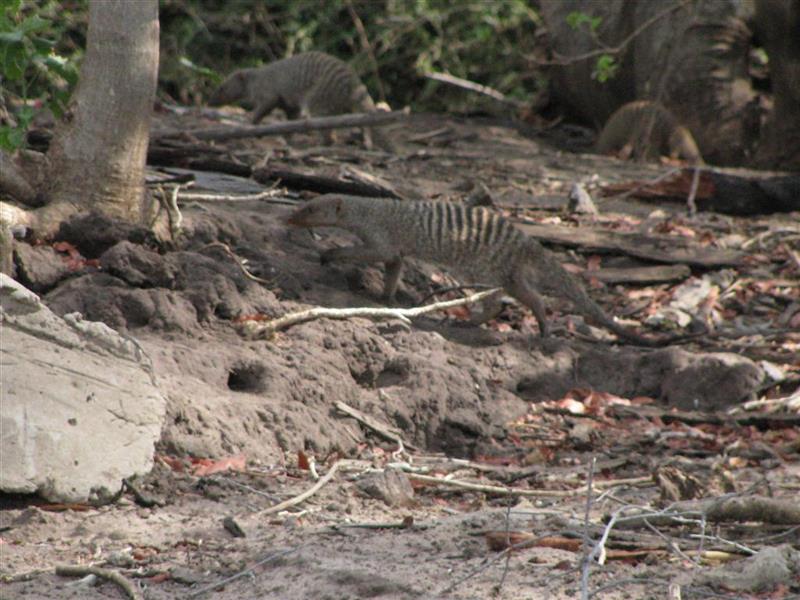 Banded Mongoose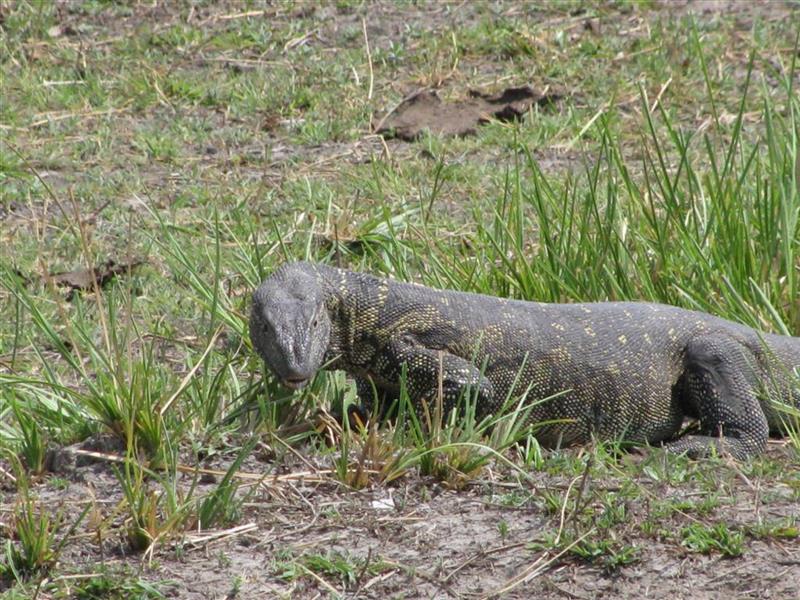 Water monitor
The river cruise launched from the Safari Lodge in Kasane on the Chobe River on a patio boat with a guide/captain. At this point, the Chobe river is just a few miles from joining with the Zambezi were the four countries come together. We soon saw many hippos, crocodiles, birds, Cape Buffalo, warthogs, etc. The highlight for all was getting quite close to about 60 elephants with lots of babies on a trek to the river for socializing. Males come by to see if any females are in estrus, and in a while the family groups separate and the leader of each group charts a course and they go back up the hill. The males stay behind then go off in a group.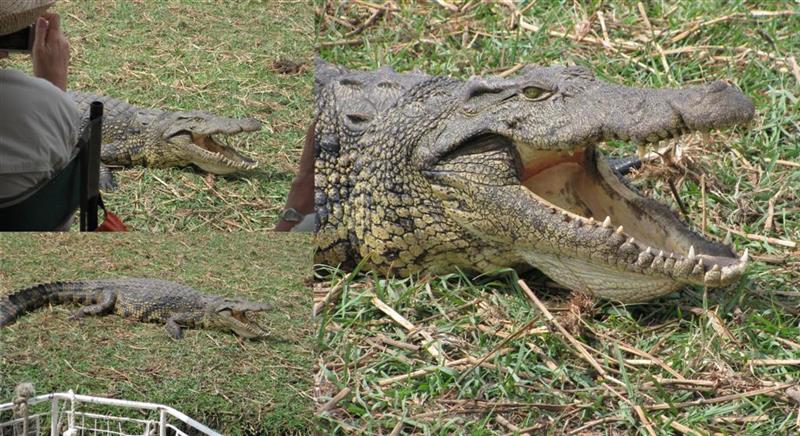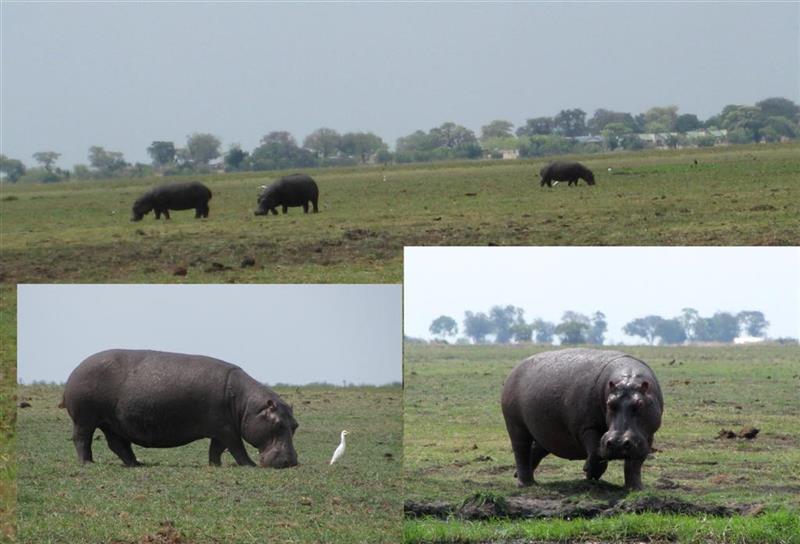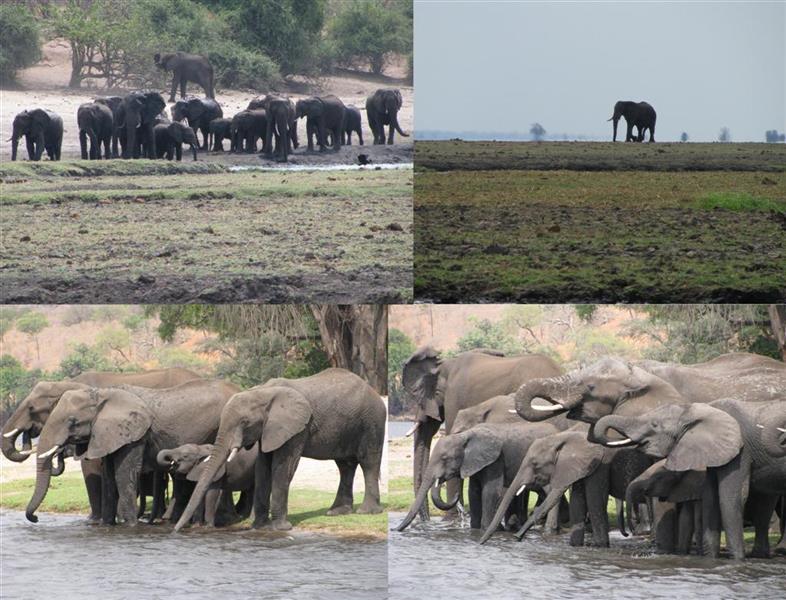 Animals at the Chobe River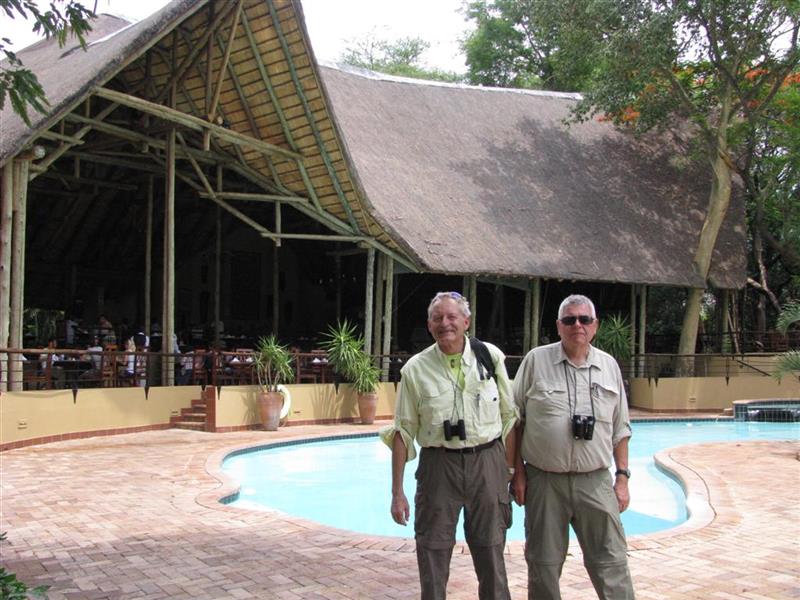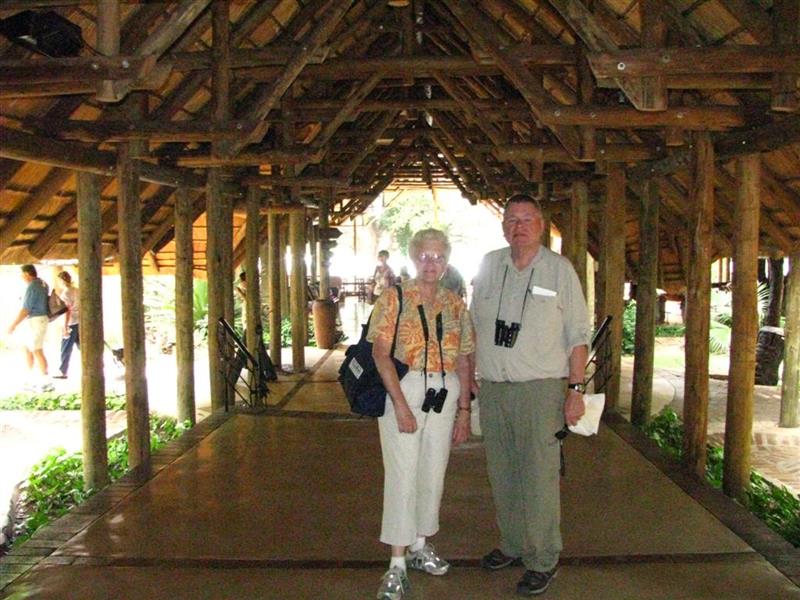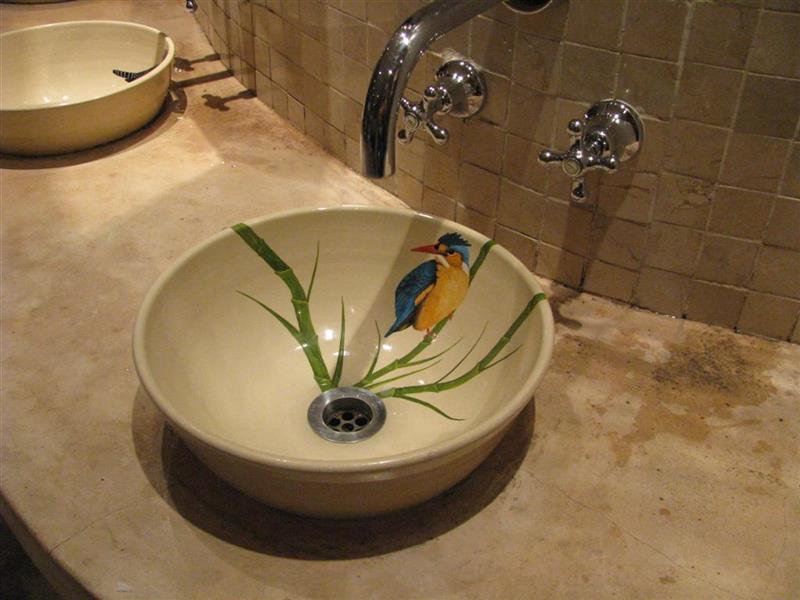 At the Chobe Safari Lodge
The dinner on our last night was a special barbecue in a fenced area near the lodge. We were invited to the "Chief's (the camp manager) Meeting" where disputes are usually settled. Before we were ushered in, we at on the deck where the camp staff performed for us. We heard traditional African music and saw the tribal dancing. Then it our turn to entertain for them!! June came up with the idea that we would sing "Old McDonald's Farm" with a different twist. The animals would be African and our tour director would have to give sound effects for them. He had done them previously, so we knew he was up to it. It needed a little more polish, but was declared to be more than 90% perfect by our more than gracious hosts, who had begged us NOT to do the "Hokey Pokey."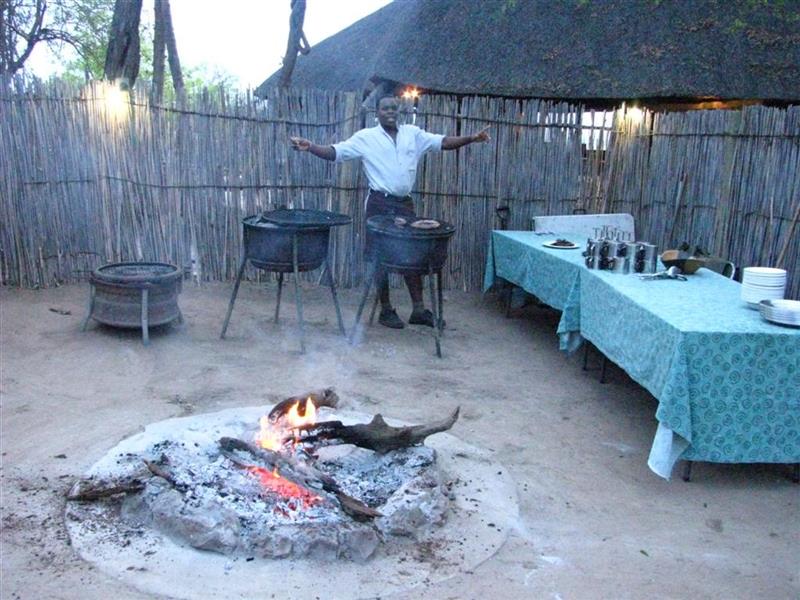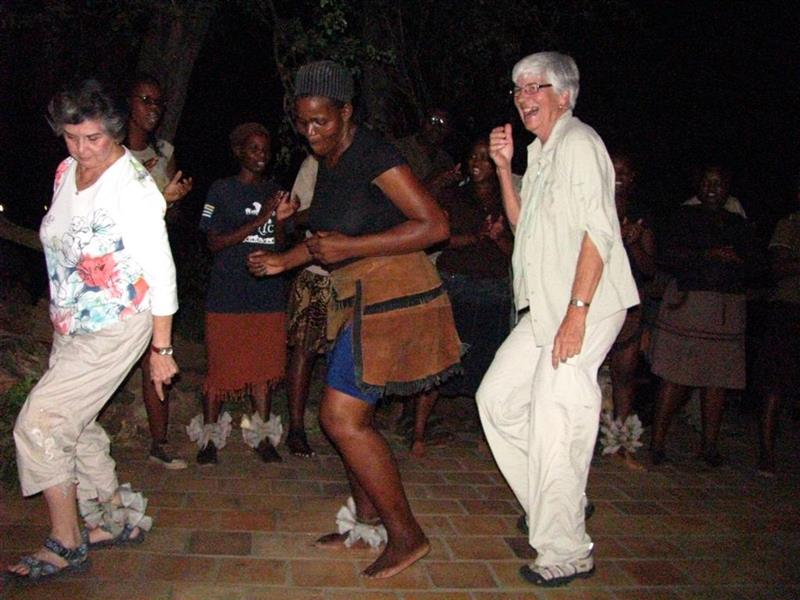 The chief called the meeting because he had been informed that there had been a grave violation of customs by the camp. On one night, the ladies had been allowed to go to the buffet table first. This could not be tolerated. In fact, the ladies should come around and wash the men's hands. We were then served traditional food: beef, lamb steak, spinach and butternut squash. We were told there would be no dessert. It is not their custom. However, soon after dinner out came a cake with candles and a card wishing Joel a Happy Birthday at such a revered age.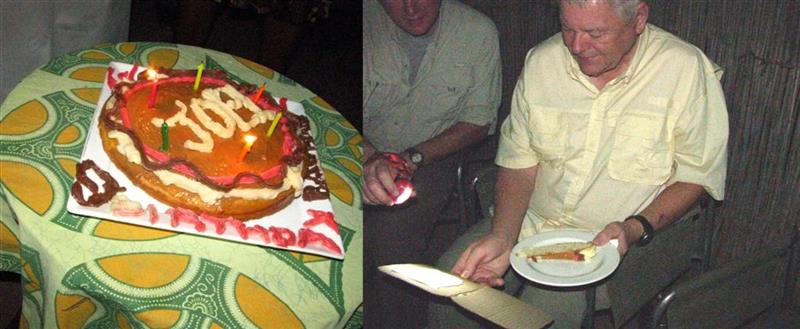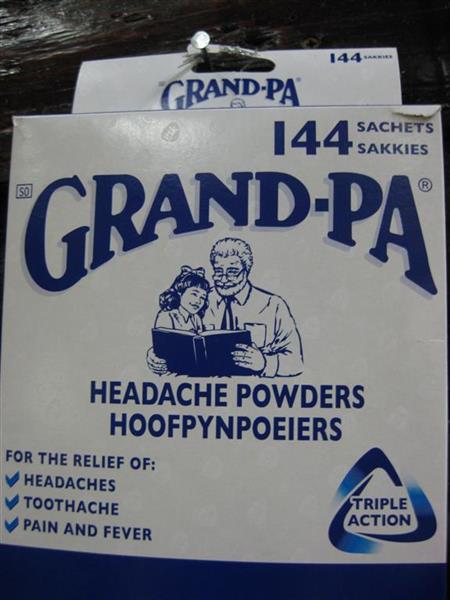 -=-=-=-=-=-=-=-=-=-=-=-=-=-=-=-=-=-=-=-
Love the photos and journals! Ginger R.
-=-=-=-=-=-=-=-=-=-=-=-=-=-=-=-=-=-=-=-
Hey Tom Thanks for sharing....amazing trip for you.....I love the 'feature' of a 5:30 Drum Alarm to wake you up.... have fun....Janek B.
-=-=-=-=-=-=-=-=-=-=-=-=-=-=-=-=-=-=-=-
What a treat to get to "see" what you all are up to! It looks fascinating! Be safe! Mary N.
-=-=-=-=-=-=-=-=-=-=-=-=-=-=-=-=-=-=-=-
Hi Tom, Greetings from Portland! Thanks for your truly fascinating and well-written accounts of your African adventures. What a trip of a life-time! Bart O.
-=-=-=-=-=-=-=-=-=-=-=-=-=-=-=-=-=-=-=-
Tom - Thanks for the new travel update. I hadn't received one for awhile. Jim Y.
Chobe to the Moremi Tented Camp Okavango Delta, Mon Nov. 21 (06)
(Click on thumbnails below to see larger photo. To return here, click the browser's back button)
Tinashse is the name of our guide/escort for the entire time we are at the wildlife camps.

Beating the drum to wake us up!
Today we slept in an extra hour since we would be travelling to our next stop the Moremi Tented Camp in the Okavango Delta. We drove about 45 miles to Kasane, Botswana to the airport. It is small with mainly propeller planes to ferry adventurers to remote destinations. Our group boarded two fourteen passenger Cessna Grand Caravan 208B's for an hour's flight to a dirt strip at the edge of the delta. There was no copilot as would be required in other places. Dan, in our party, was a pilot in the the US Air Force sat up in the co-pilot's. Our pilot was a young woman, pretty new to flying, learning the business and getting her hours in.
We were met by the camp's Land Rovers and began the drive to our camp. We didn't quite know what to expect since Tinashse, our fearless leader, had emphasized that this would be a "tented" camp. Before heading back to camp, we were driven on a bumpy ride to the side of the airstrip where we saw a pair of male lions. They were returning to this lion territory to try to claim leadership of the pride they had been kicked out of several years ago. They had been in a big fight last night, but now were just lion in the shade where they spend most of their time. Later that afternoon game drive, we returned to find they had moved to the edge of the runway close to the terminal (looking like a bench at a bus stop!). Two university students were in a vehicle watching them for research. They will follow them all night.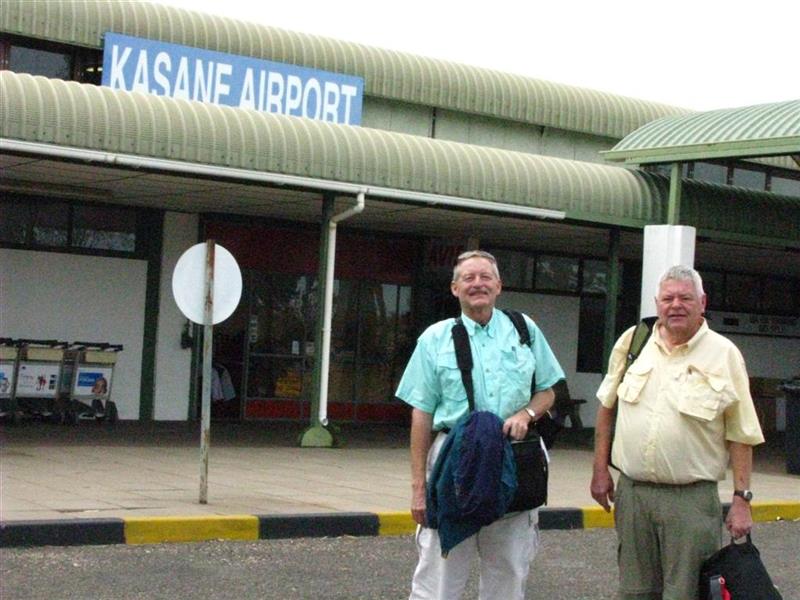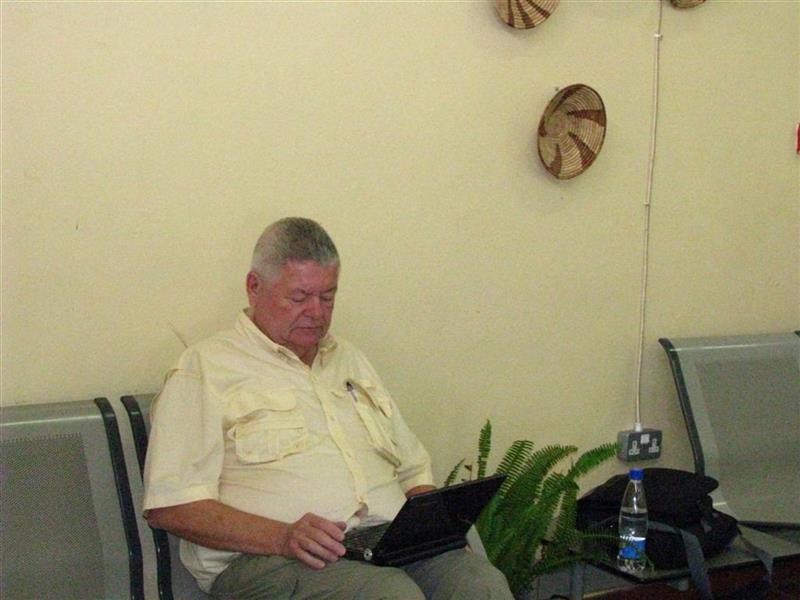 Found free WiFi at Hasane Airport (Botswana)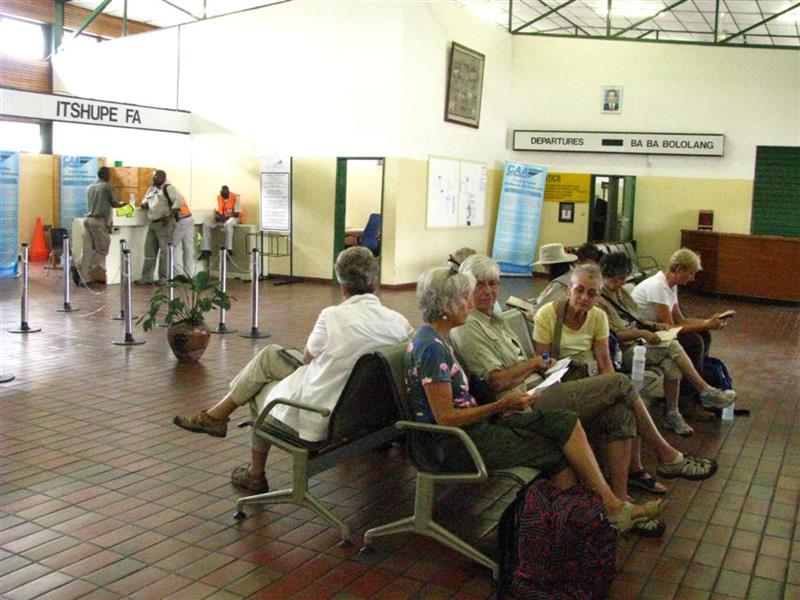 Departure lounge at Hasane Airport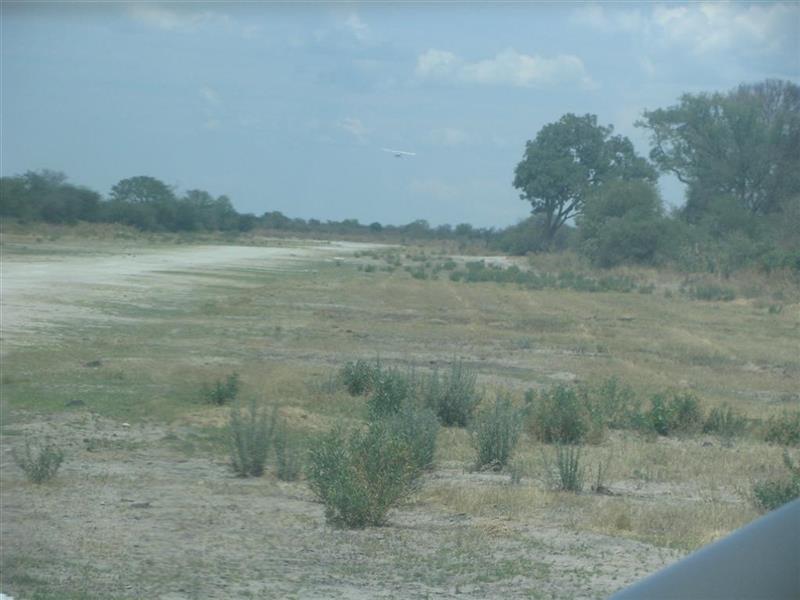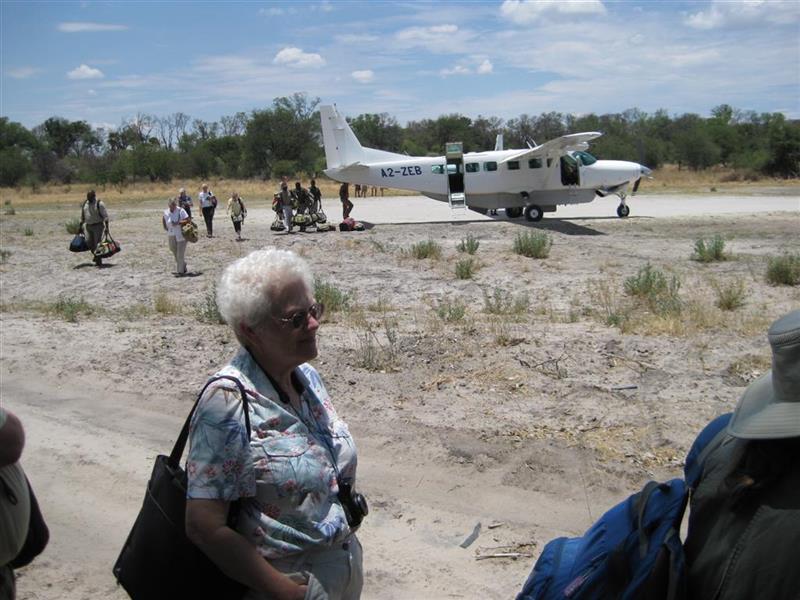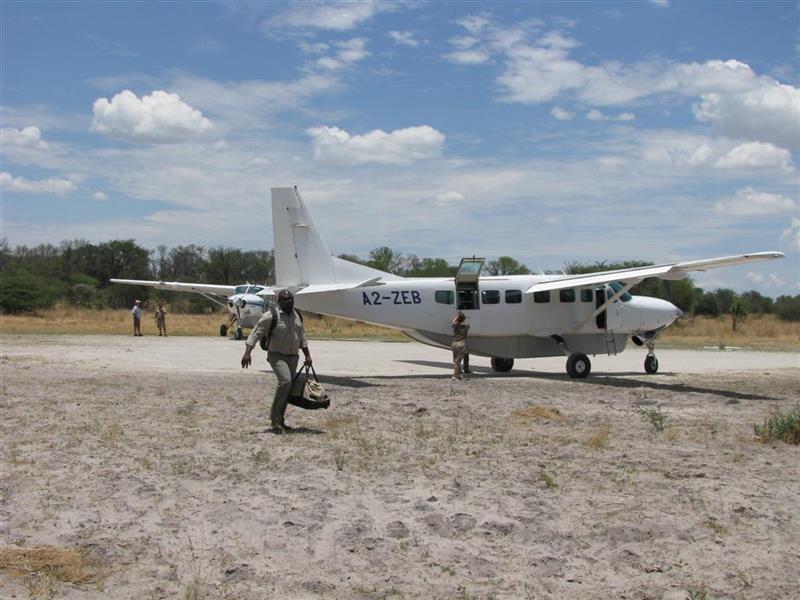 Airstrip called Santawani for the Moremi Tented Camp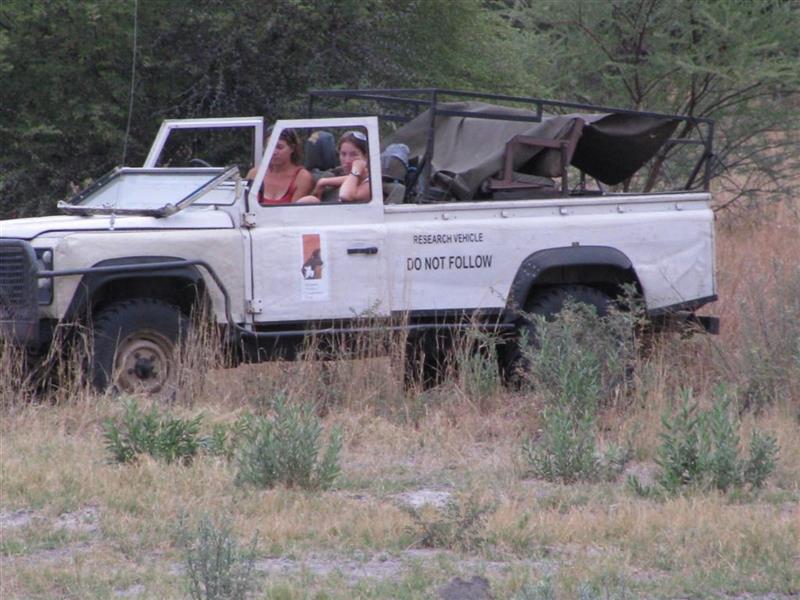 Lion Trackers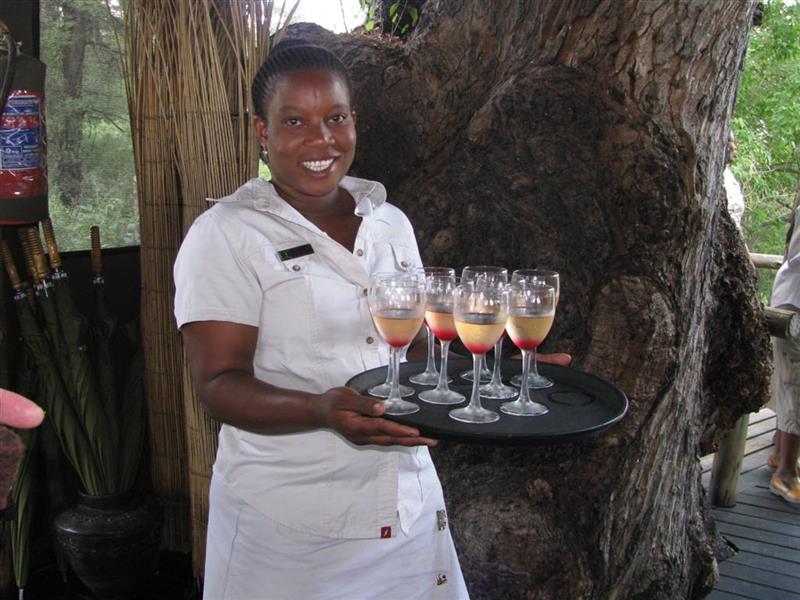 Welcome to Moremi Tented Wilderness Camp
After lunch, Tinashse, gave us a talk regarding the problem of the overpopulation of the elephants in the African national parks. The good news is that the decline in numbers (from hunting and ivory harvesting) has turned around and they are no longer on the endangered list. The bad news is that in Chobe, for example, there are estimated to be 120,000 in an area that can comfortably handle about 40,000. They need a tremendous amount of feed each day, and they eat almost everything, including twigs, branches, bark, roots, leaves, grass and dirt. All the bushes look like they have been pruned (mangled), and huge trees are girdled and left to die.
One difficulty is that if you kill one elephant, you need to kill the entire family since those remaining will take revenge, so to speak. For example, if a vehicle drives up, shoots and kills one, the others elephants will attack the next vehicle they see. An elephant never forgets. An organization called Elephants without Borders vigorously opposes culling and the issue is not resolved.
Any concerns about our quarters quickly subsided as we walked into a beautiful canvas roofed common area built around a huge tree, on piers which are about four feet off the ground. On either side raised walkways go out to the individual tents, placed far from each other. When you are in yours, it seems like there are no others around. They have toilets and showers and a very comfortable bed. There are down comforters that seem excessive when the daytime temperature approaches 100. You find yourself pulling them over you before morning comes. (More photos of our tent cabins, to follow)
We were escorted to our tents, and told to remain there until daylight unless there was a medical emergency when we could use the air horn. It had been a long day.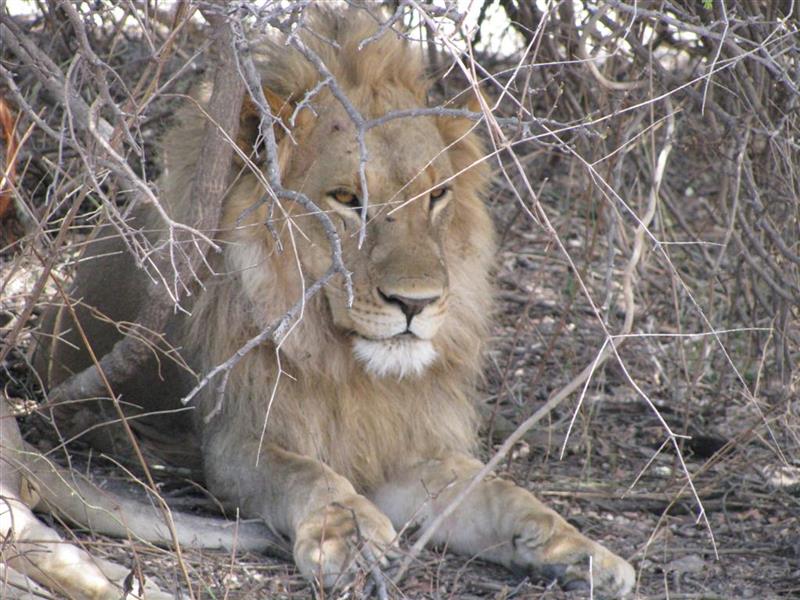 Young male lions near air strip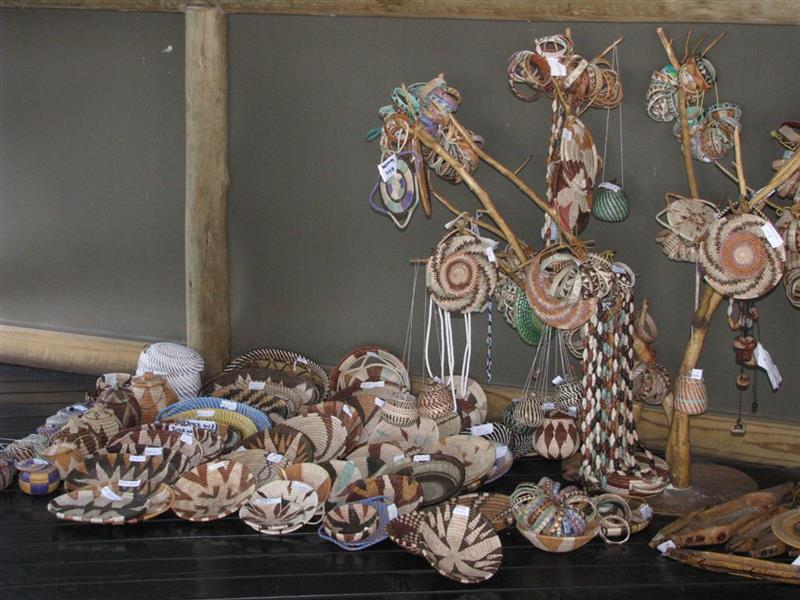 Gift shop at Moremi Tented Camp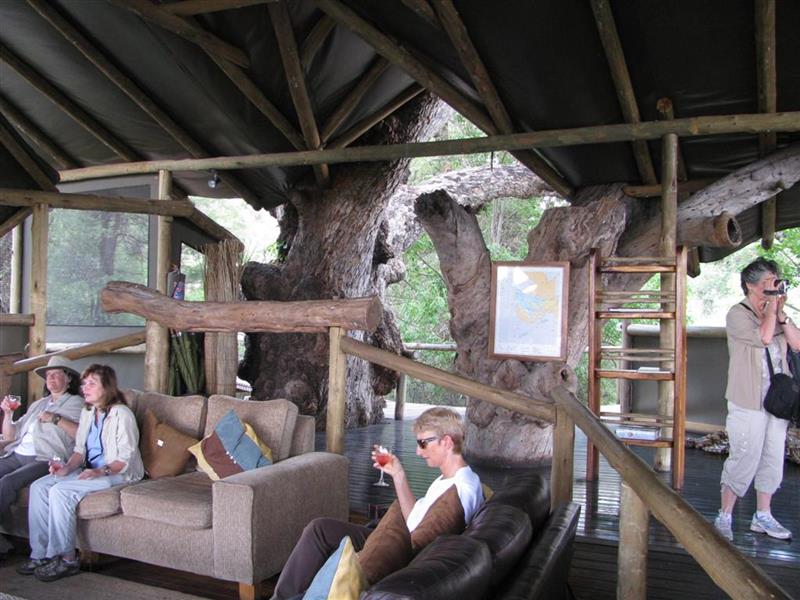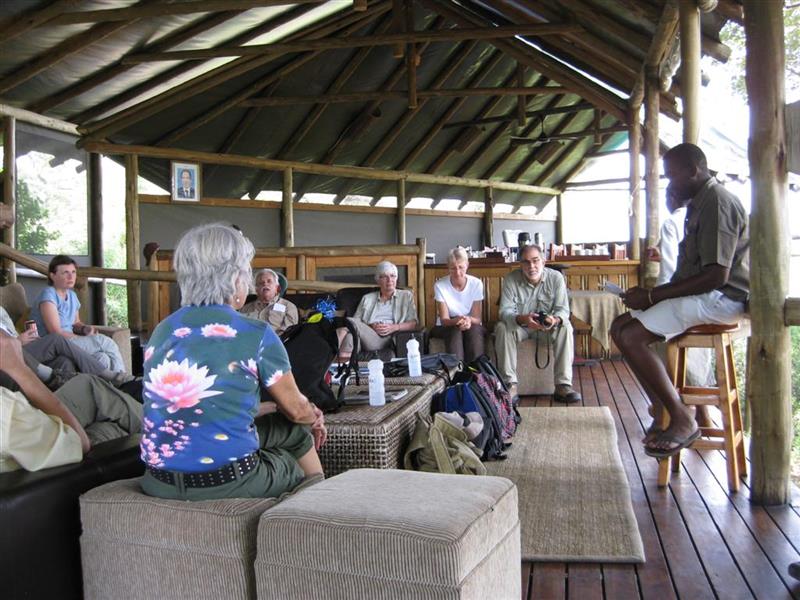 Lounge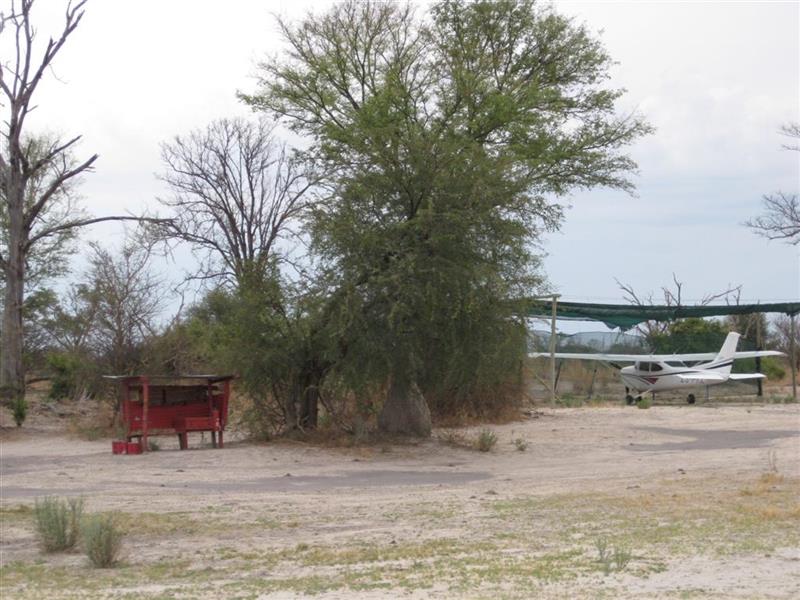 The Santawani "Airport Terminal"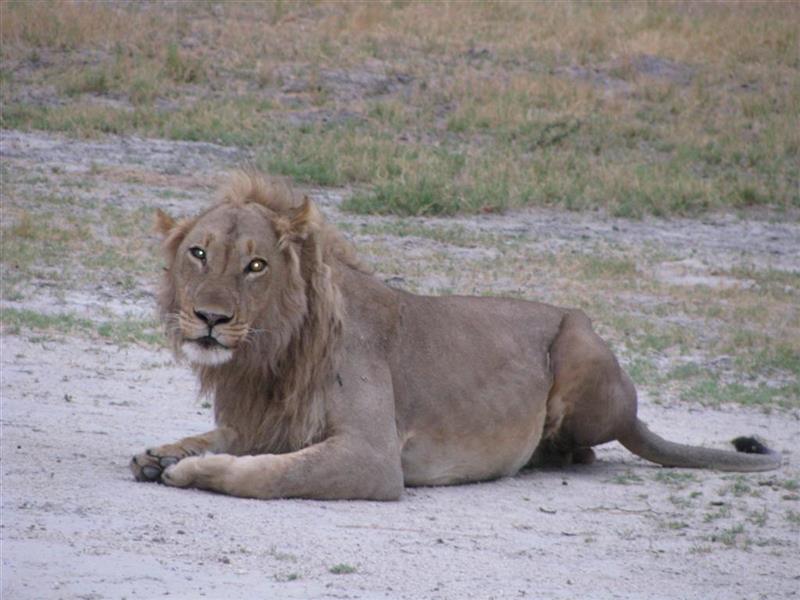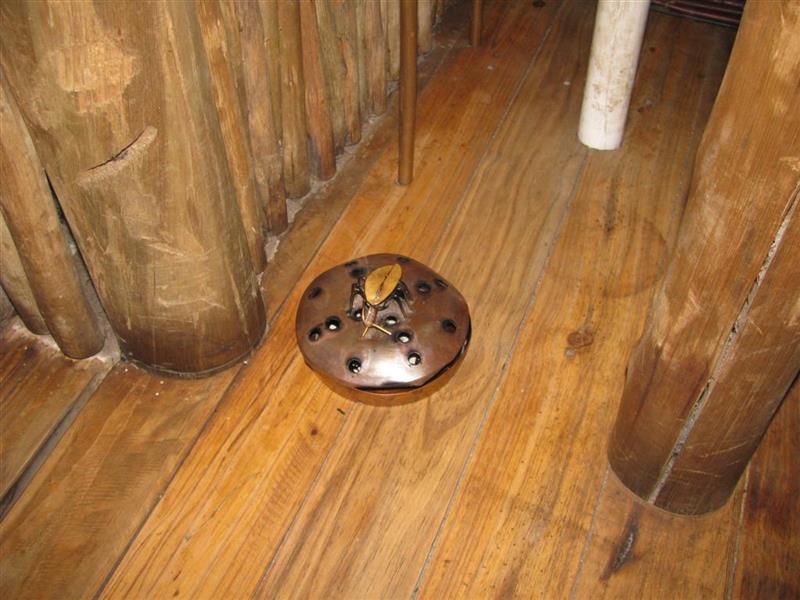 Mosquito coil
-=-=-=-=-=-=-=-=-=-=-=-=-=-=-=-=-=-=-=-
Hi all, (Nov 21, 2011) We are at the Kasane Airport awaiting our flight to the Okavanga Delta. It will be a little under and hour. We found wifi, so I'll try to get a message off. It really isn't possible to send more installments of our travel journal with pictures, so this will be a stopgap. Our messages are written, but will probably not be sent for at least another week.
We are finishing our first leg at the Baobab Lodge in the Chobe National Park in northeast Botswana. We were there for three nights and three incredible days. The lodge overlooks the Chobe River delta, and we could sit in the open air lounge area and gaze upon animals of all sorts who have come out to graze on the green grass as the rainy season starts. We heard thunder and lightning, but didn't experience any rain. It could get up to 100 at midday, but was comfortable at night as we slept under mosquito netting in our cabins. Second night excitement was when a herd of 20 elephants or so decided about midnight to forage around our cabins. Quiet and dainty they're not!
We had game drives beginning at 6:30 until about 11:00 and from 4:00 until 7:00 when the park closes. One afternoon was spent on the river in a patio boat watching the crocodiles, Cape buffalo, lots of birds, many hippos, some in the water and some out, and about 70 elephants with lots of babies that came down to drink and socialize.
Last night kids came in from the villages and the staff to sing for us traditional African songs. Then we had a traditional African dinner complete with a birthday cake (not traditional.)
Must go, we're moving to the next room. ... Joel and all
Wow, this so takes me back to my safari, that I am going to forward your reports to my college roommate, who went with me on ours. The presentation of the meals (don't you find the food really good?), the closeness of the animals (no telephoto needed, right?), the danger outside your tent at night, the luxurious tents--wish I were there!
I had heard about the elephants in Botswana, and that the farmers really have a plight, because what (besides shooting them) is going to stop a herd of elephants? I hadn't realized they take revenge, but why not? But having been one, I really feel for the farmers, who have currently a losing battle.
The daughter of my friend from Mafia, Tanzania, is studying to be in the hotel business, and I think that probably means working at the lodges. We really liked the lodge workers, and were especially appreciative of the "guards" who walked us to our tents, etc., because there were lions, buffalo, wildebeestes, etc. right outside the tents and near the paths.
I should tell you that for my computer the pictures don't come through, so Nancy is forwarding her letters to me, and then I get them. No idea why I don't!
I bet you are using the gift shops for Christmas shopping! When you get back it will be cold December in Oregon again, though Tom will be in sort-of-sunny California!
Sure enjoying your reports--Judy
Exploring the Okavango Delta, Moremi Tented Camp Nov 22 (07)
(Click on thumbnails below to see larger photo. To return here, click the browser's back button)
We were awakened before five this morning with someone calling in the tent to ask if we had any water. Thinking they were referring to drinking water, we said yes. Later, we went to start the shower, and found out he meant something else. First we heard it was caused by elephants, who sense where water is there and dig up the pipes with their feet. Apparently it was a mechanical failure, but we like the other version better.
We figured everyone was in the same boat, so we put on our clothes and trudged down the wooden path to a continental breakfast. Our path does go down to the ground for a patch, so that the animals can cross, then back up. At 23 degrees south latitude, the sun comes up with a bang, no long sunrises here.
Today's plan: one group would go on a game drive, and Tom, Joel and Elaine's group would be taken to the nearest Okavango channel. This, the world's largest inland delta, is formed by the rivers coming down from Angola with no outlet to the sea. The water levels ebb and flow with the seasons due to evaporating and filtering into the sands of the Kalahari Desert. We boarded fiberglass versions of the "mokoro" (traditional dugout flat bottomed boat) used through the ages by peoples along the water. They are poled by a person standing on the back. Ours seats two passengers. Some native people still use the wooden ones but in an effort to conserve the large trees they are made out of, they are encouraged to use the fiberglass ones.
Before we go further, just a word on restroom facilities in the bush. There aren't any! When we pull up for a stop, the driver says, "women to the left, men to the right after I check out the bushes." This is fine for men, who would like this all the time. For women in the western world, it's a little different. Just ask Elaine about the "Freshette" or "Lady Jane" devices. If we need to make an emergency stop, we tell the driver we need to check out a bush.
Speaking of the facilities, the common lavatories in the lounge area are referred to as the "loos with views." Appropriately, there are anatomically correct figurines on each door.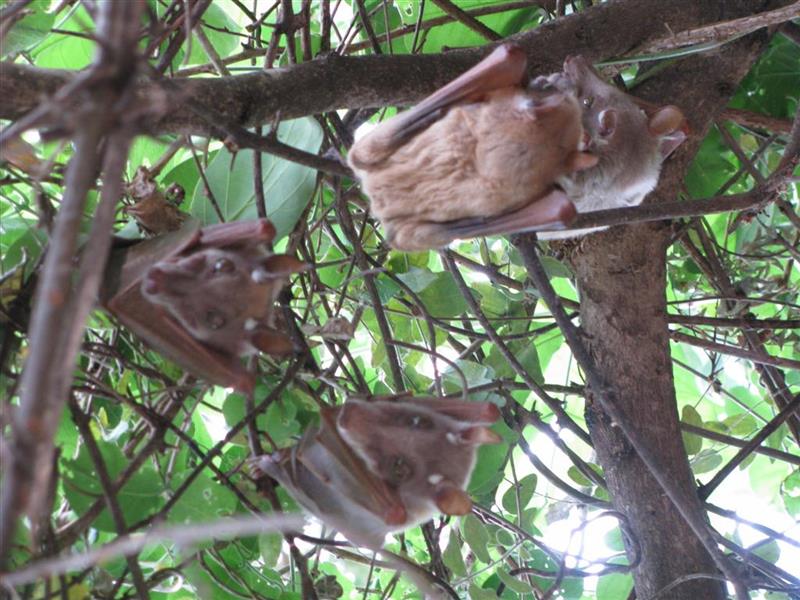 The "bat room" on the way to the bath room!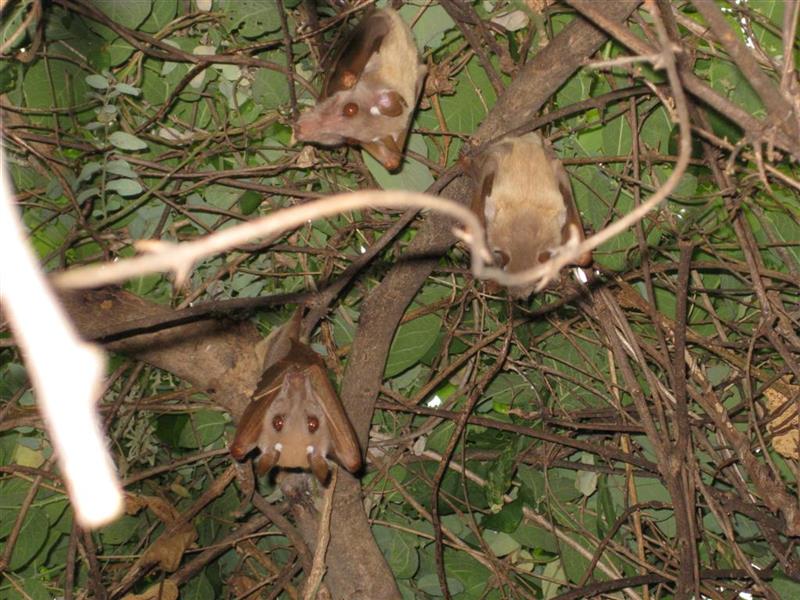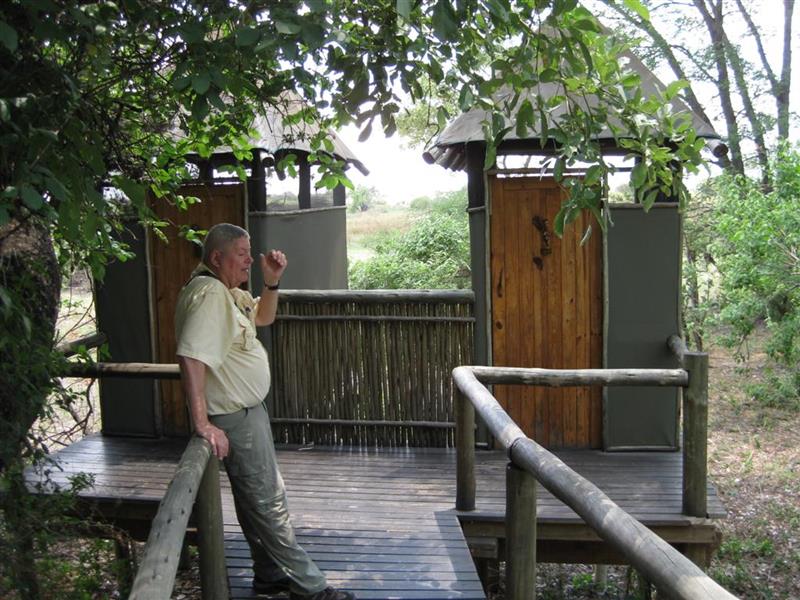 Standing under Bat Room waiting for Bathroom
Back to the delta: we boarded the boats and began a lovely, peaceful trip of about 2 hours. The boats felt a little tippy at first, but one soon got used to it we were instructed not the lean to far to the right or left lest we cause the poler to lose his balance. The polers gave us all sorts of information about what we were seeing. We learned that they take courses and must pass tests and be licensed in Botswana to be a guide.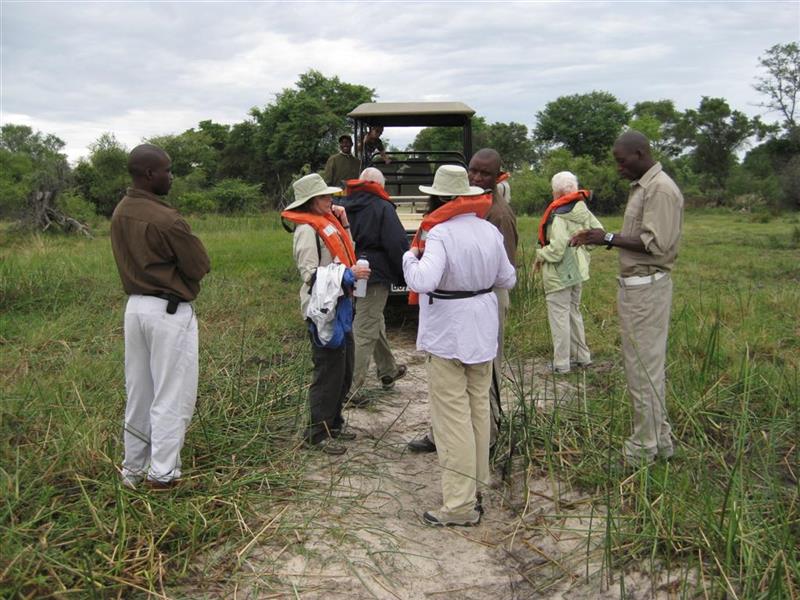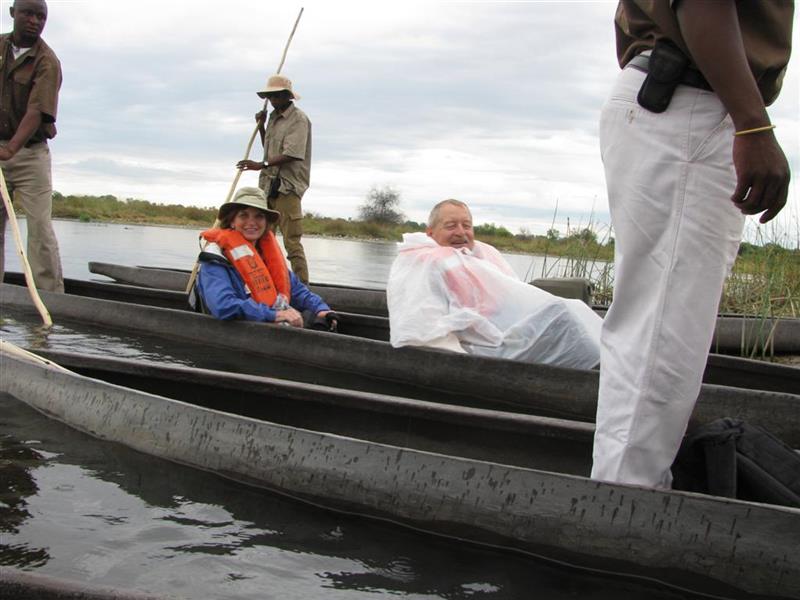 Mokoro "native dugout canoe" ride with poler propulsion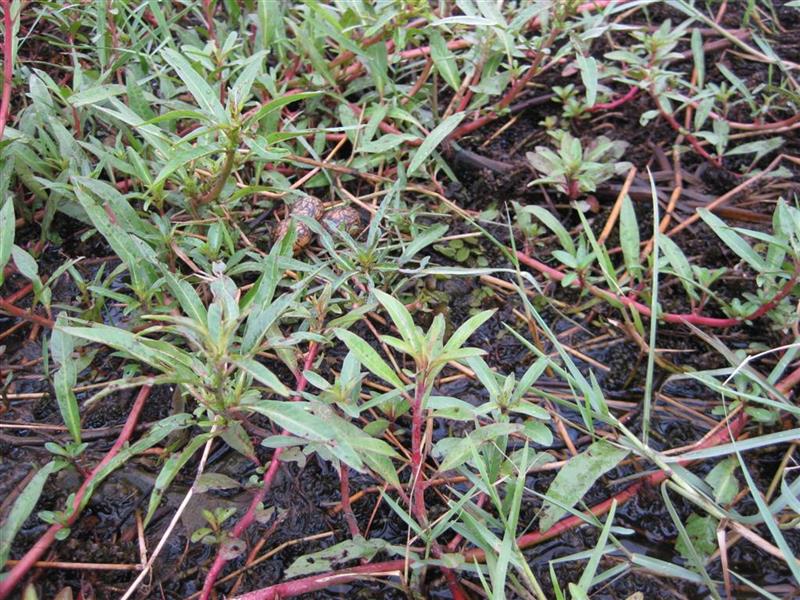 Find the eggs of the African Jacana ("Jesus bird")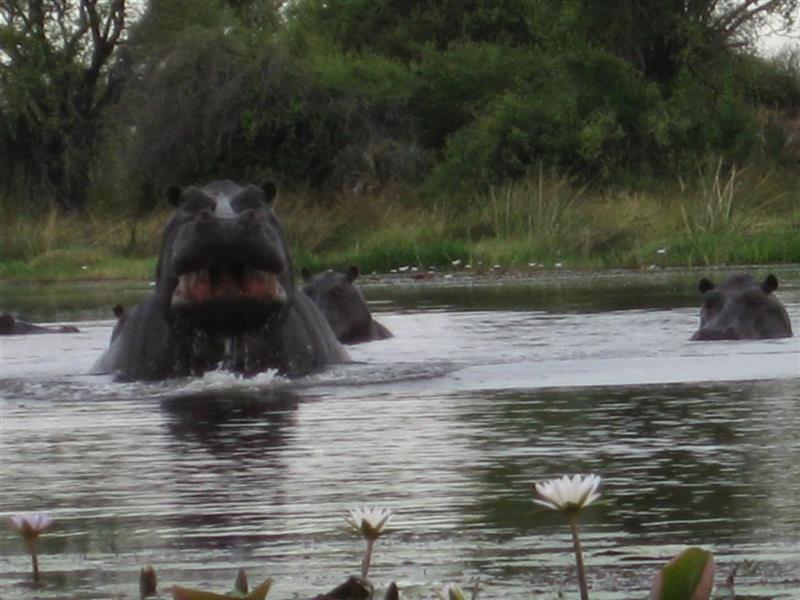 Hippo "road block"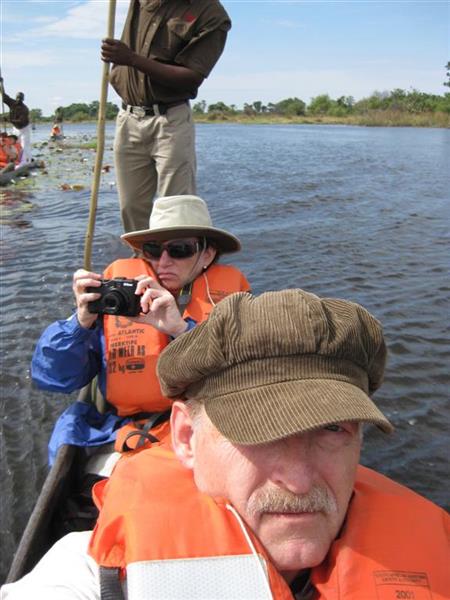 We saw beautiful water lilies, many bird species, including the huge saddle bill stork that has to make 3 or 4 jumps for takeoff. The African Jacana, nicknamed the Jesus bird, is especially interesting since it appears to walk on water. It has long toes and is actually walking on the vegetation. At the furthest point, we saw 7 or 8 hippos making a pretty effective barrier. We stopped about 100 yards away and watched them. Although more humans are killed by hippos in Africa than any other animal, they won't bother you if they don't feed threatened. Solitary ones are the most dangerous. If you are attacked, the best defense is to swim underwater making no splashes, we were told. Fat chance.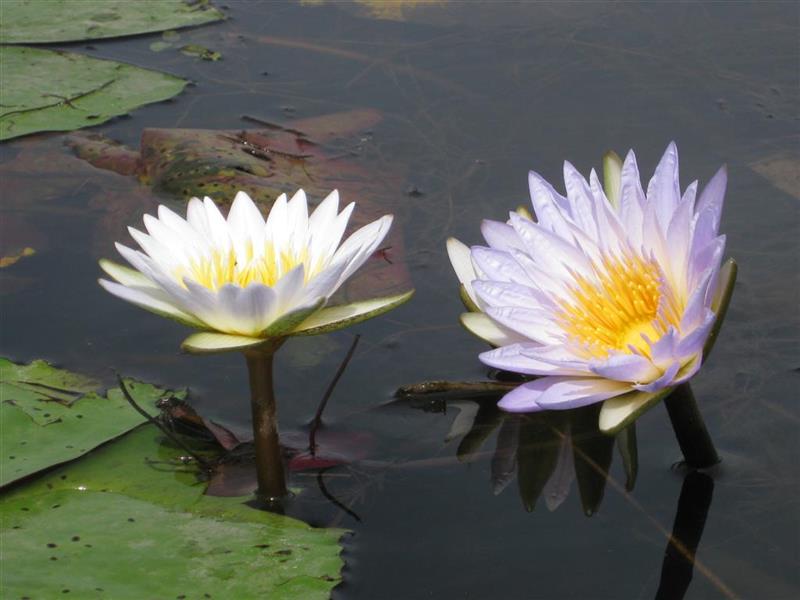 As we sit here and work on journals and pictures during the afternoon ten toes up time in the afternoon, we can look out and see a grassy partly open area. Cape buffalo are grazing, and we can see just a few feet out where elephants have pushed over a tree and stripped bark. We can walk on the walkways during the day, but we are instructed to retreat if we see an animal. They will come get us if they don't see us for a while. Or, perhaps, we didn't heed the warning, and they won't find us at all.
Later in the afternoon. At high tea we had a lecture on Zimbabwe from our trip leader, who is a Zimbabwe citizen. He wanted to talk to us about the political situation there, dire, while we were still in Botswana. When we get to his country next week, he doesn't want us to talk about politics. Since most news organizations have been banned from the country, if we were to be holding a camera and seen talking to anyone about what is going on, we could be considered to be a reporter and arrested. We wouldn't be seen again.
We had a very nice afternoon game drive with the main objection to find lions. When the call was sounded, Capt. Jack Sparrow, our driver, took off hell-bent for leather , ripping across the bush mowing down whatever was ahead of us as we held on for dear life. We found 5 female lions several with radio collars getting ready to go out hunting as the sun went down. Our drive back was illuminated by headlights, lightening and a gorgeous sunset.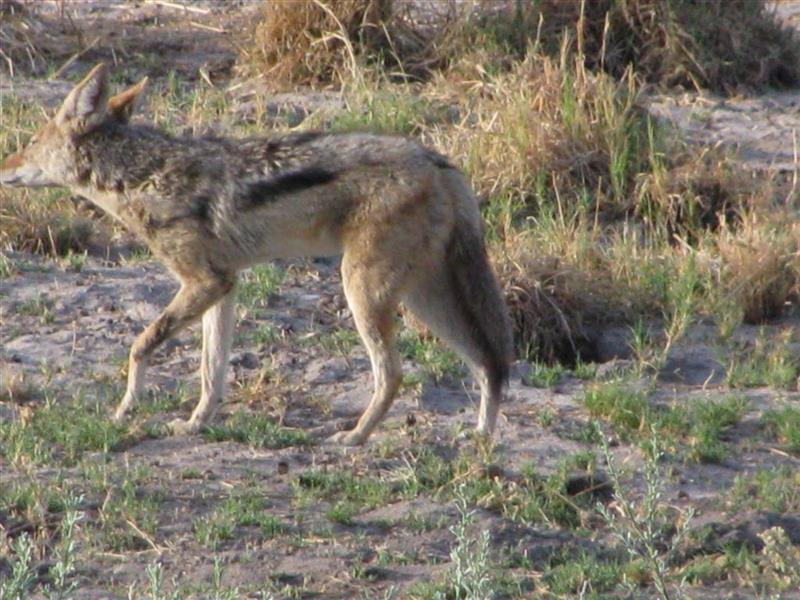 Jackel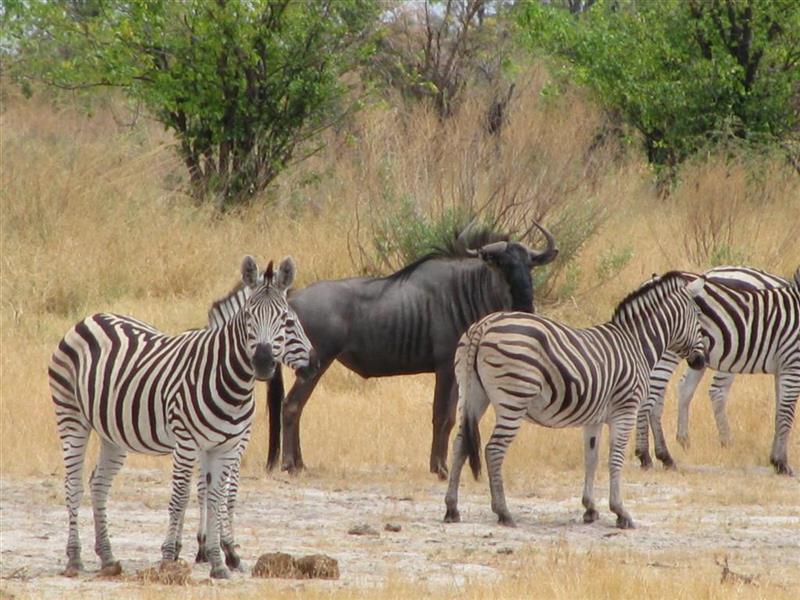 Wildebeast hiding among the zebras
Dinner was about 8, and then we were escorted to bed. We're asleep as our head hits the pillow.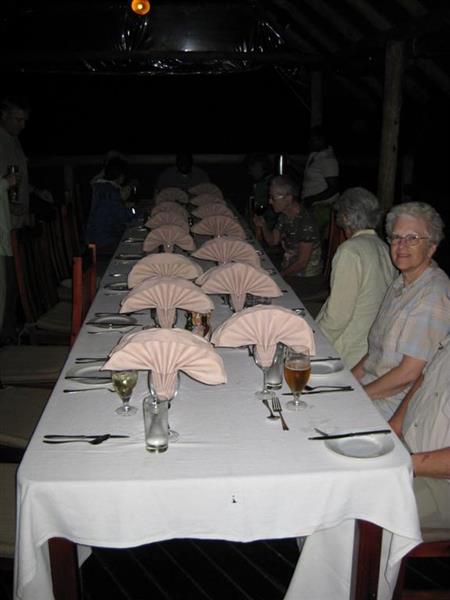 Dinner is served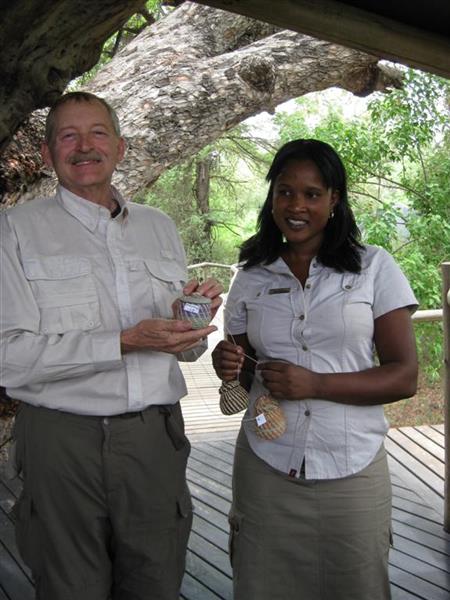 Tom and Gracious who made the baskets he bought.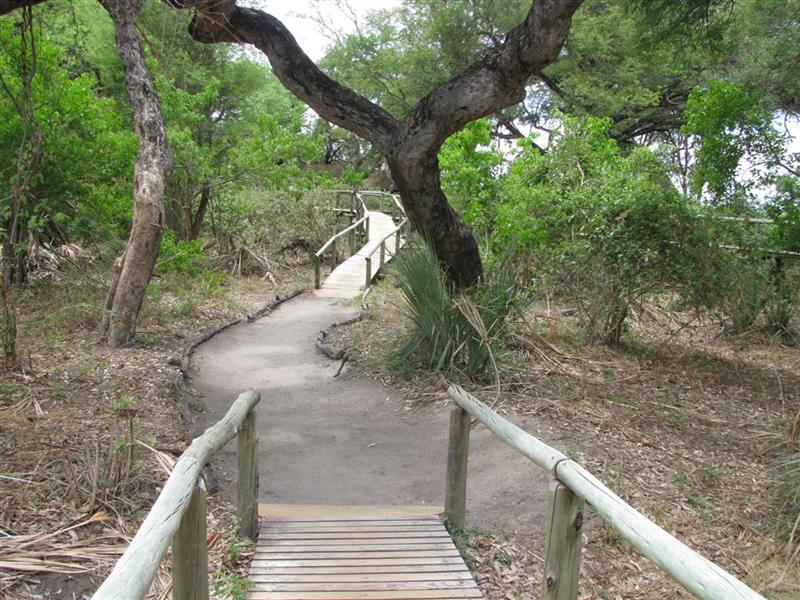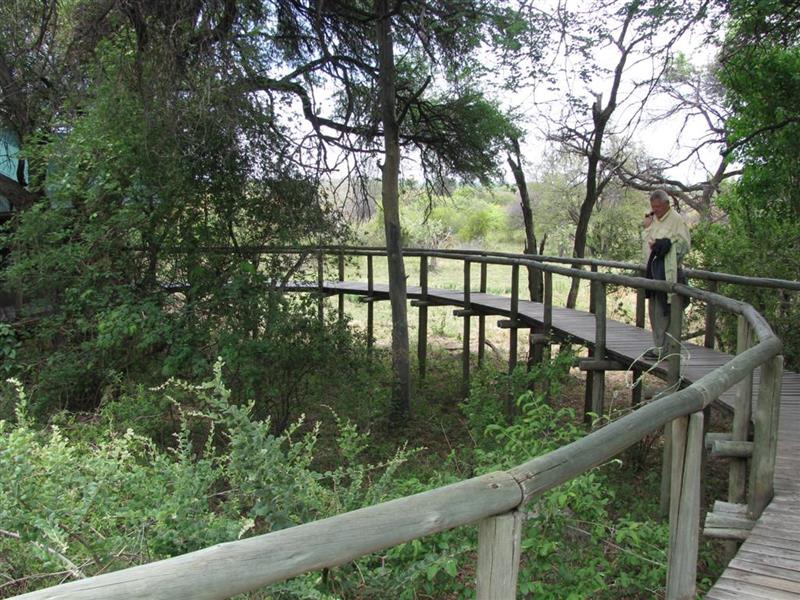 Elevated pathway to tent cabins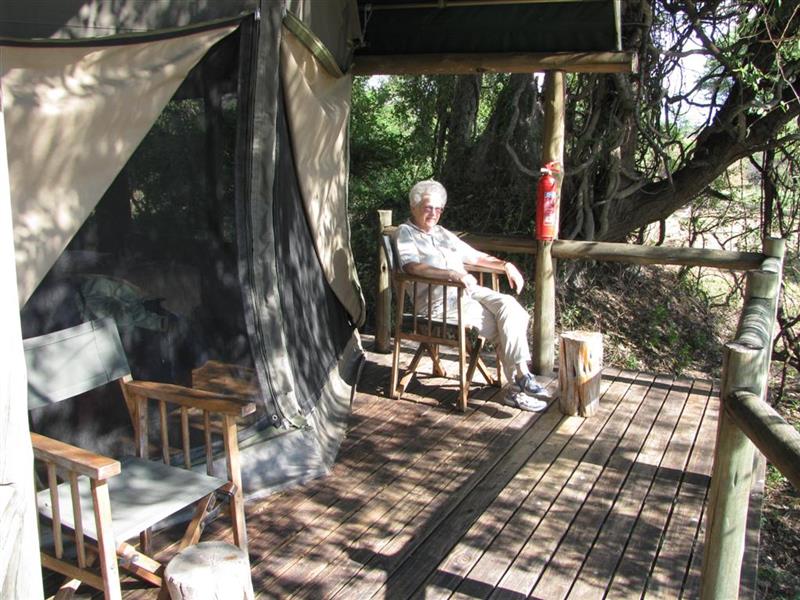 On the porch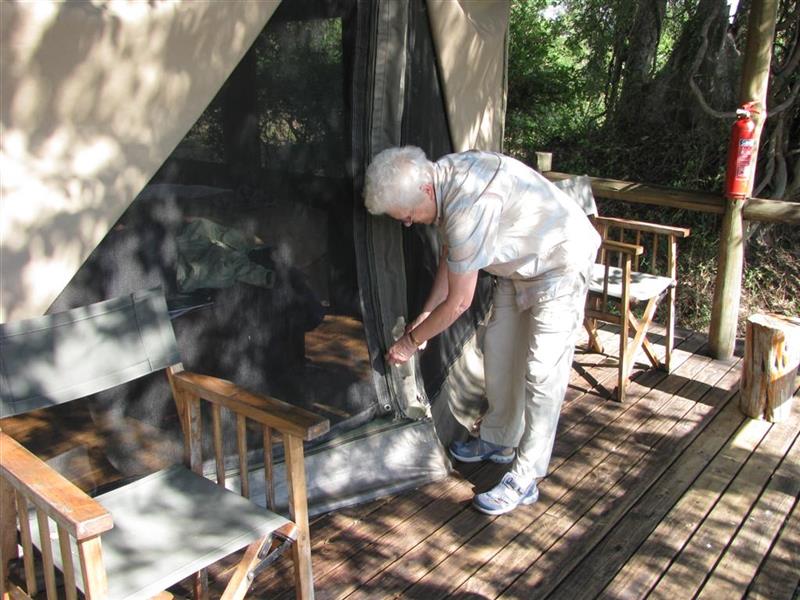 Closing the "door"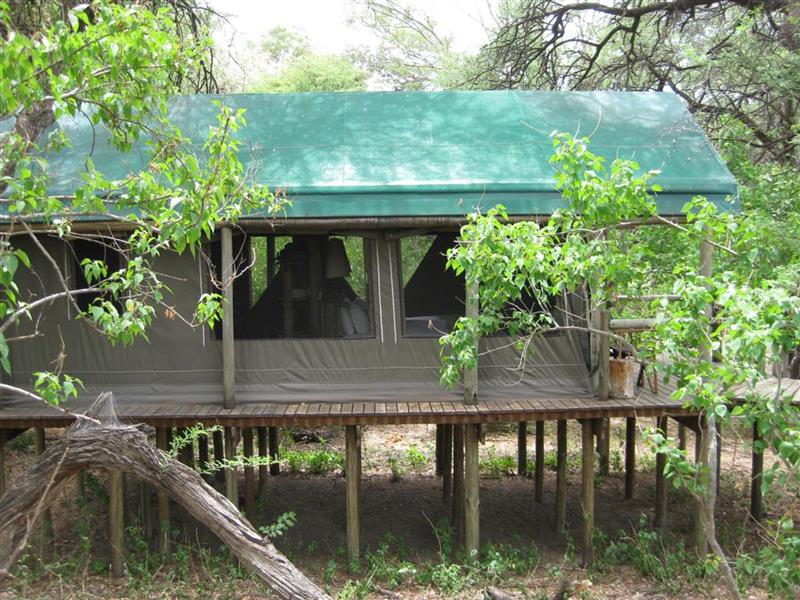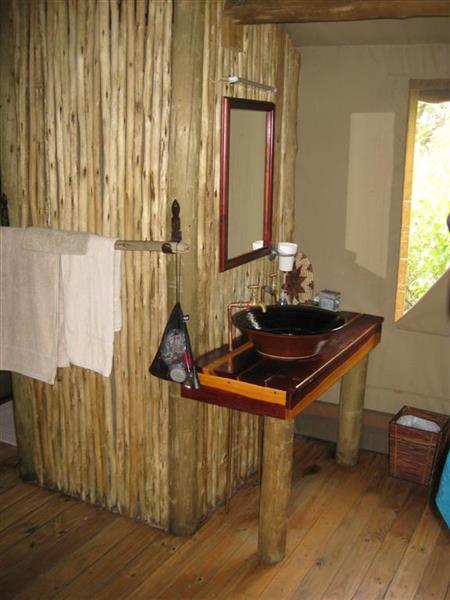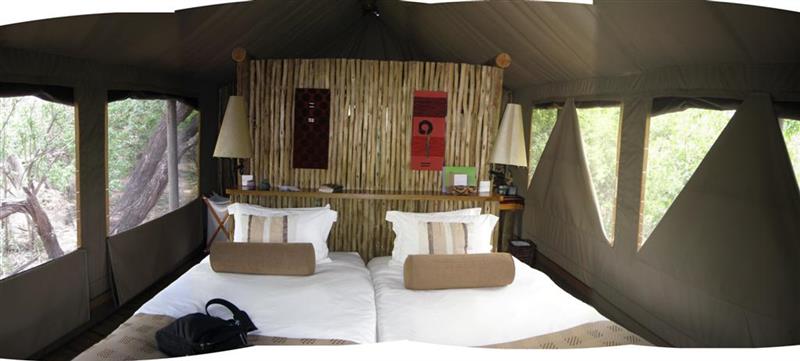 Tent Cabins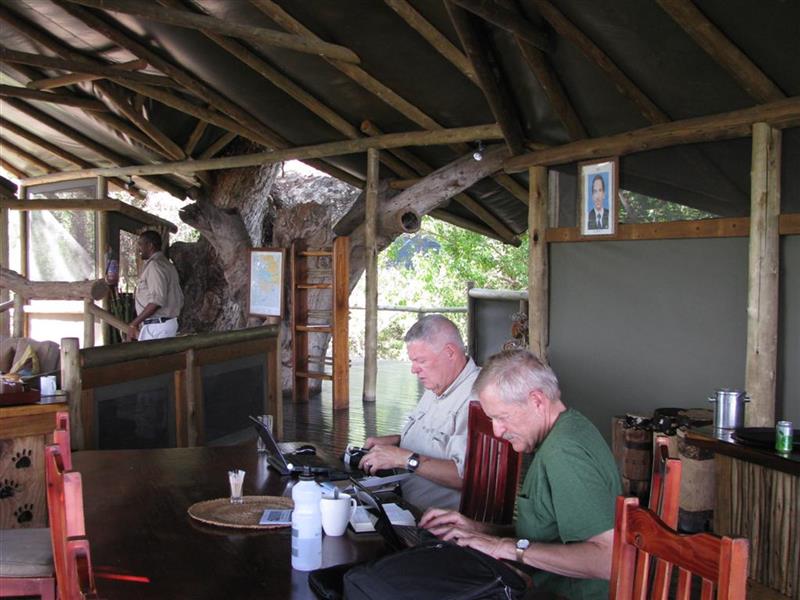 The IT Crowd at Moremi Tented Camp
-=-=-=-=-=-=-=-=-=-=-=-=-=-=-=-=-=-=-=-
Time to celebrate. My Lovely daughter Eilona gave birth to my second grandchild...she is a healthy 8 lb. 1 oz girl..Her name is Eva Rose... Love ....Janek
Too big for one page! Click here to see African Safari Part 2
This site was last updated 12/03/11