June 2011: Joel and Elaine take their family to Alaska
(Click on thumbnails below to see larger photo. To return here, click the browser's back button)
Here is Joel and Elaine's Alaska trip report:
Saturday, June 11, 2011 - Helen's Graduation:
Helen's 8th grade graduation from St. Luke was on Saturday in Woodburn, OR. There was a mass and presentation of diplomas. We went to lunch in Wilsonville afterward.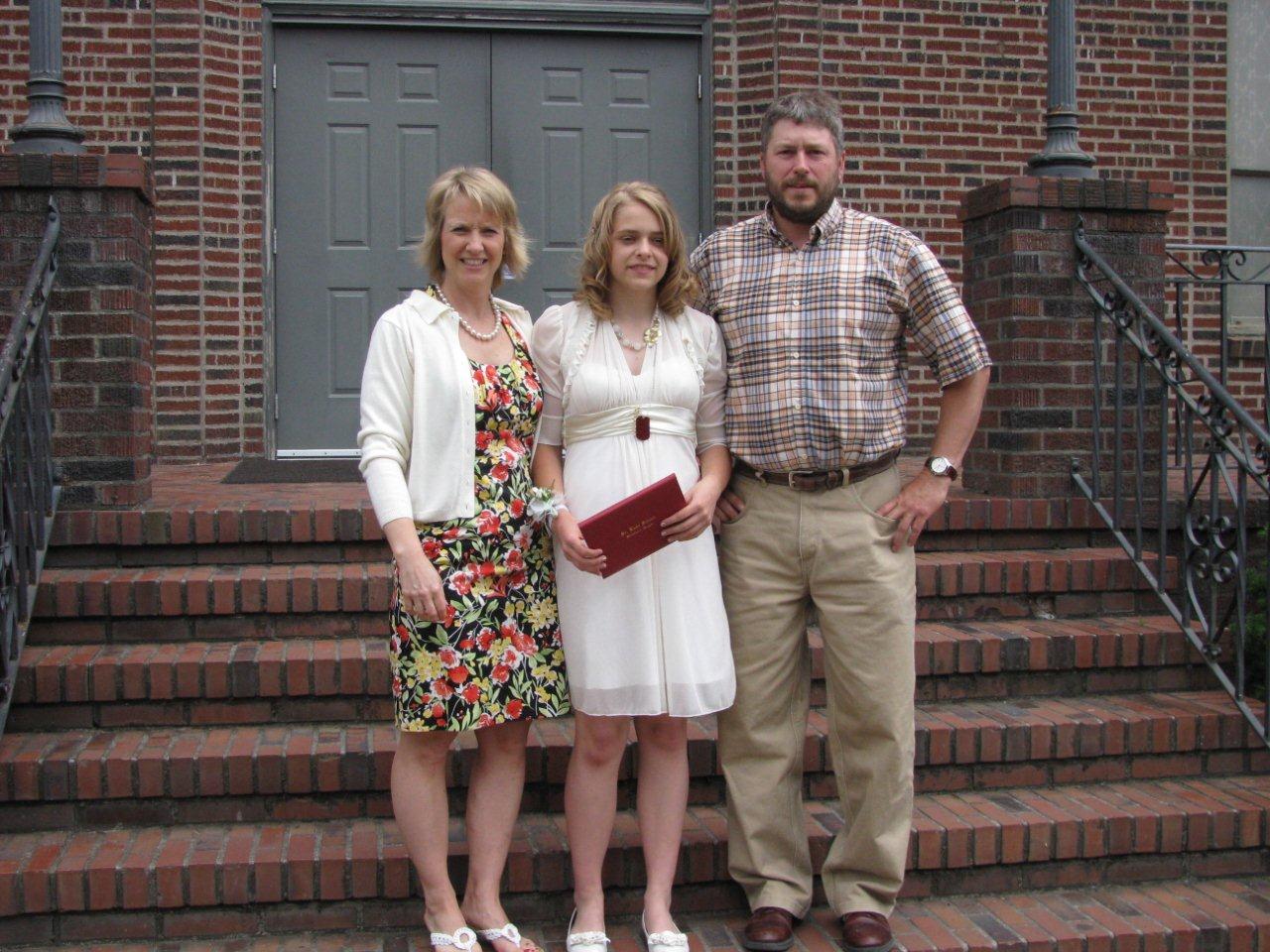 Barbara, Helen, Philip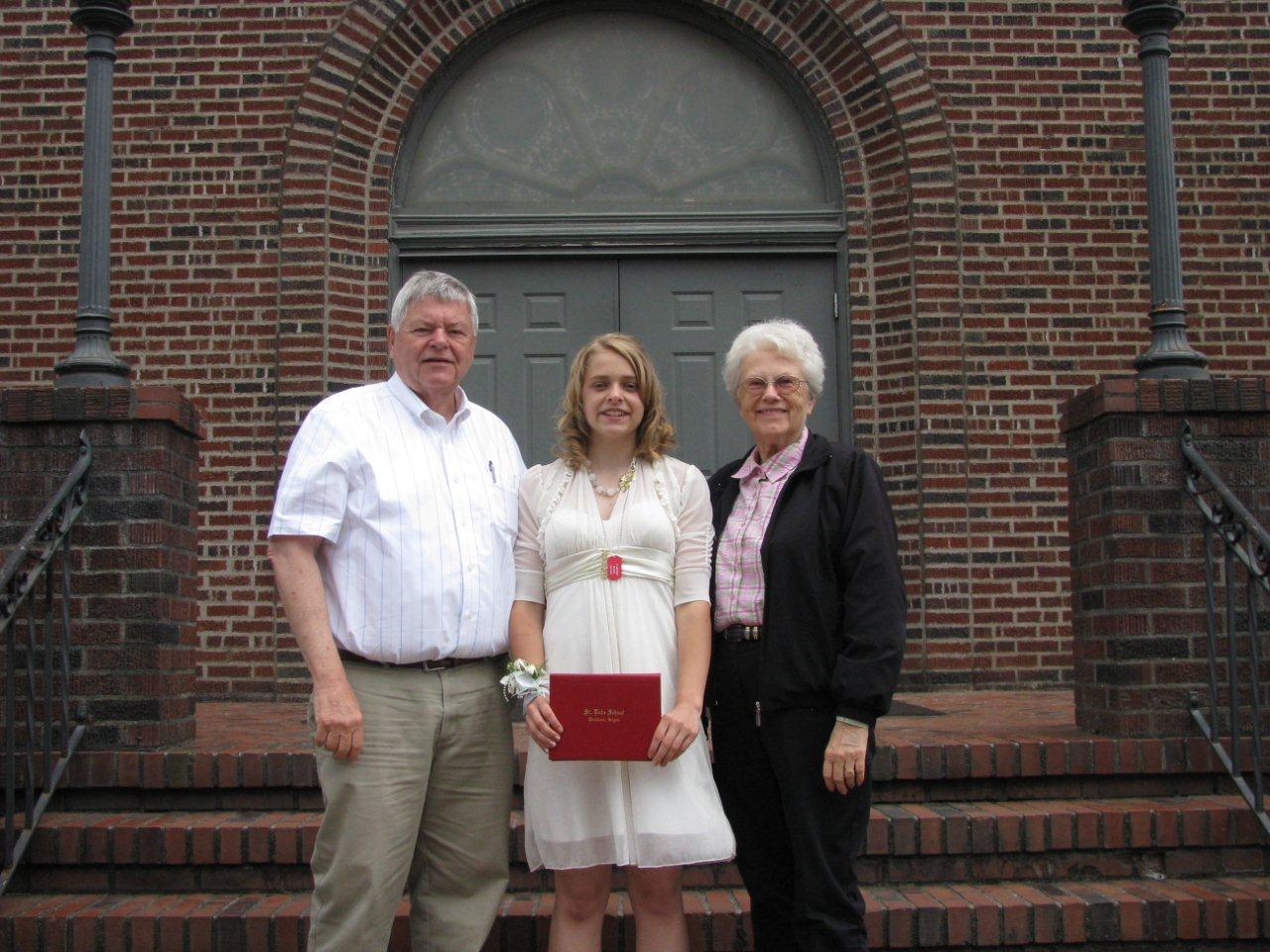 Joel, Helen, Elaine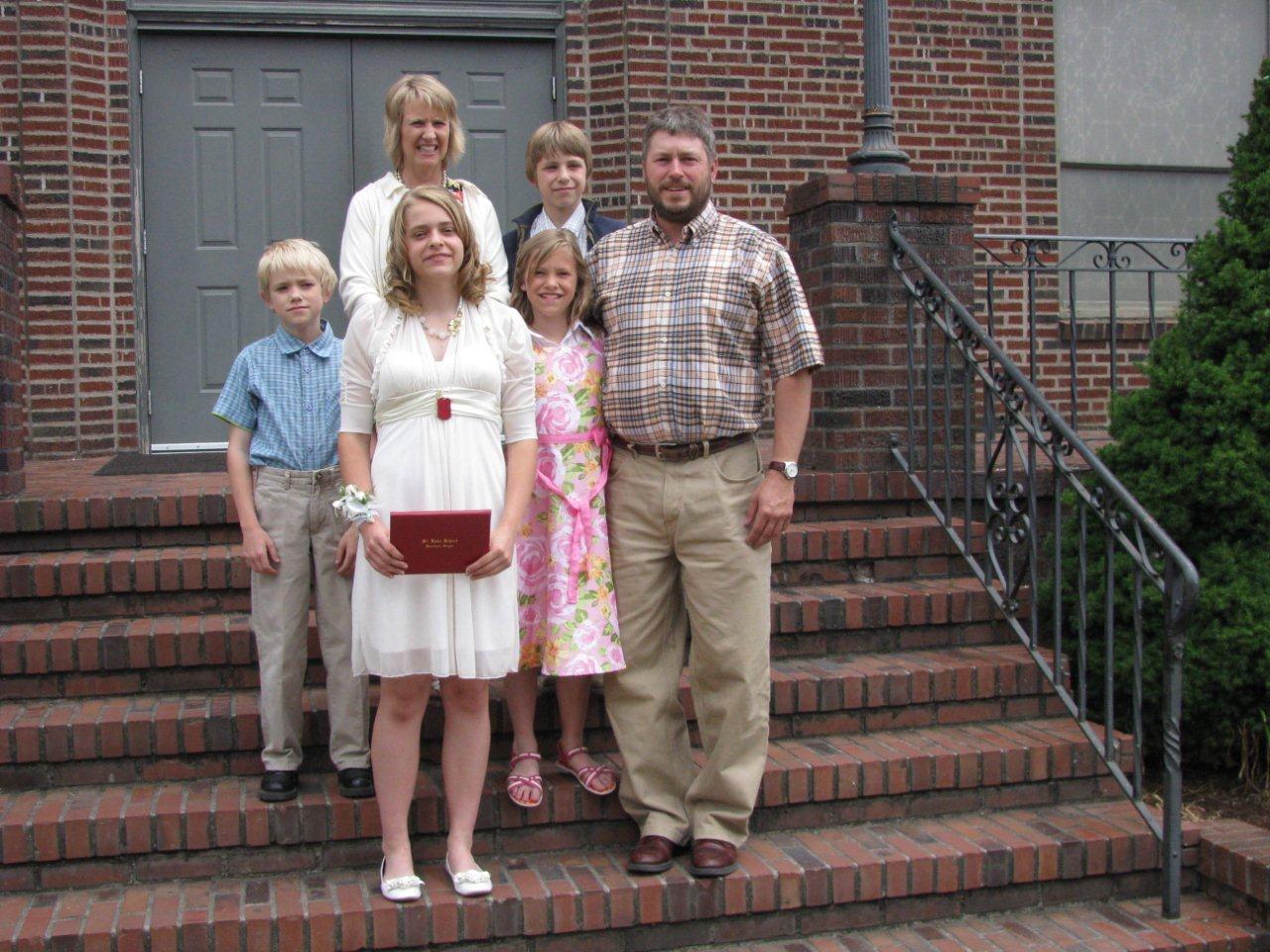 Ben, Barbara, Helen, Andrew, Marina, Philip
Saturday, June 18, 2011: Departure from Seattle
Good Morning,
We had an uneventful day yesterday getting parked and checked in. It rained all the way. The Golden was berthed alongside and has been following us all the way. Busy afternoon and everyone was very tired by the time midnight came—not too tired to go upside to get a snack. Helen was hungry again by that time and had a plate of spaghetti while the Andrew found pizza. Growing as fast as they are, they're bottomless pits.
Sunday, June 19, 2011 - Day at Sea
This was the conversation this morning at our table: "And where are you from", "near Portland", "so are we, Canby", "We're Molalla", "We're between Woodburn and Molalla", "Oh, do you know Irene Schriever, my aunt." It was Dolly's daughter, Jeri. Small world!!
This was our first full day and it was at sea on our way to "Southeast Alaska".
The kids are enjoying the video games and activities in Club Hal. They are very independent and each has his own key to the room so they can come and go pretty much as they wish. They have learned their way around the ship better than some of us old folks. There are about 200 teens and preteens to participate in the various activities.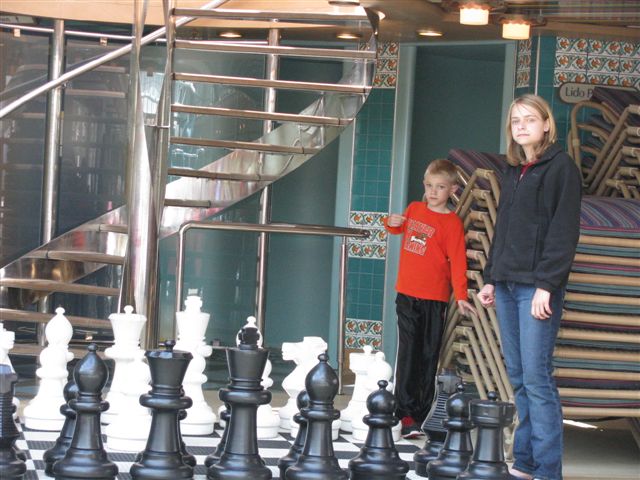 Ben, Helen
We had a little sun this afternoon and during dinner. Helen was watching a movie this evening at about 10 pm and looked out the window and saw a whale. Bae and Marcus saw some earlier when they were out promenading around the deck.
Tomorrow we arrive in Juneau around noon and will be in port until 9 p.m. or so. We have tickets to go up a tramway, and Marcus and Bae are taking a helicopter ride up on the glacier. There was talk about a zip-line, but it was sold out.
June 20, 2011 - Juneau:
Monday we sailed into Juneau about noon. Expecting rain, we were pleasantly surprised to find partial sun. We had purchased tickets for the Mt. Roberts Tramway so we gathered our coats, caps and mittens to disembark by tender. There were two other cruise ships ahead of us, and after we arrived, our sister ship sailed in and took the position at the dock.
At the top of the tramway, we were able to see a show with a smaller version of the Van Trapp family who showed beautiful pictures of SW Alaska, and sang and played a variety of music. They were dressed in typical native costumes-somewhat at odds with their blond hair.
There are wonderful hiking trails with spectacular views at every turn. As we were coming down the trail, someone shouted bears. We heard there was a mother with 3 cubs ripping up the hill. Andrew was ahead of us and saw them, but they were going so fast, we didn't. We heard people on the upper trail shout as they went past. Later we saw the sign: "Rarely, you will see a bear."
Back down at sea level, we walked by numerous shops, all new since our last visit, I think. Marcus and Bae left us for a ride on a helicopter over the Mendenhall Glacier where they were let of to walk around. They made it back in time to join Elaine, Philip and I for dinner in a largely deserted dining room. The kids were on their own.
Elaine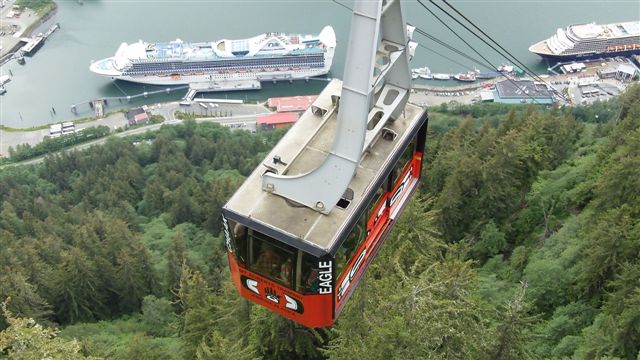 Mt. Roberts Tramway
Today is again partly sunny and we are sailing on glassy sea to cruise past the glaciers later in the afternoon.
Tuesday, June 21, 2011 - Hubbard Glacier:
Some enterprising young people in our room ordered wake-me-up coffee and juice. Ben was ready to serve Grandma at the rail, followed by breakfast in the dining room.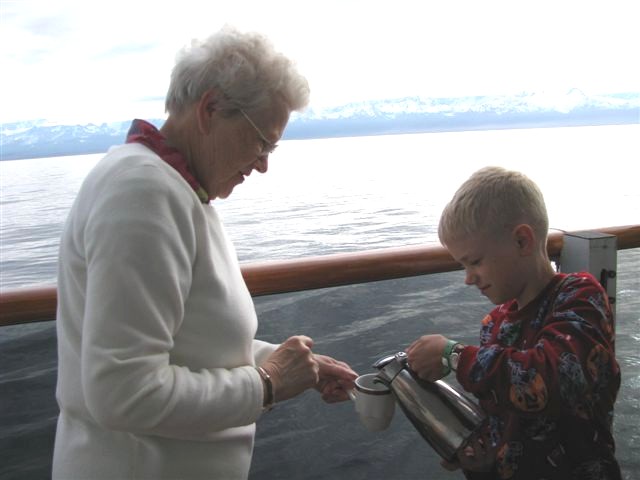 Elaine and ben
After a leisurely morning, we turned right into Yakutak Bay to cruise into the Hubbard Glacier, one of the few that is actually growing and advancing. We heard along the way that our ship had been hit by an iceberg the size of a bus as it was parked in front of the glacier a few weeks ago, so we were concerned that the captain would be "berg-shy" and unwilling to venture very close in. Also, a couple of weeks ago it was so foggy that the glacier couldn't be seen. The gods were with us and neither rumor proved true. It was a beautiful afternoon. We learned later that our captain and ship had the previous record of getting close to the ice-400 meters. Yesterday it was broken at 399.5 m. They lie a lot, too.
The day was partially clear adding to the contrast of the snow against the trees and rocks reminding Elaine and I of what we had seen in Antarctica a few years ago. We were lucky to hear a big boom and see a huge chunk of ice break off the glacier and tumble into the water. After the evening show, we went back the room via the promenade deck in balmy sun. Later, Helen and I went up for a late nite snack and saw the sun setting. She ran down and got Elaine and Marina to come and see the sunset at 10:25 with the luminescent mountains to the side.
Helen, Marina and Elaine
This morning, we anchored at Sitka. It's Ben's birthday, and he received a card from the captain and crew. (For balloons, we would have to pay for the birthday package.) Philip's have left the ship for a morning of kayaking and we will disembark soon. It will be by tender. It was fun to sail in this morning as we were eating breakfast. There are many small islands with beautiful houses.
Reflections on Sitka
We understand that Sitka has opted out from the chain gift shops largely funded by the cruise lines. They decided that they would only have locally owned stores, and it definitely shows. There is no Diamonds International, Tanzanite International, Venetian Jewelers, Treasures of Alaska, or Blue Diamond like you will find in any other port in Alaska, the Caribbean, or Mexican Riviera. Consequently, not as many cruise ships anchor in the old Russian settlement, the capital prior to Juneau. Sitka was where the Russians took down their flag after Seward's purchase in the 1860's. Several people asked about where the film "The Proposal" was filmed. Maine was the answer. Sitka would have had to forgive all kinds of taxes and stop cruise ships for a year to do the filming. They declined.
As the ship sailed into the area, it passed numerous tiny islands, most with a single house. They would only be accessible by boat. I don't know if they were vacation houses or not. Some had very large yachts docked alongside. It was not hard to spot eagles along the way. Yesterday was Ben's 10th birthday and we looked around to find some decorations at Ben Franklin. I found a bear bell for him to wear when he goes hiking. He thought it would work for coyotes, too. It was another formal night and the waiters brought a cake with Happy Birthday Benjamin" on the top, finishing off his surf and turf with lobster. Most at our table didn't try the escargot.
Happy Birthday Ben!
Later there was the dessert extravaganza with ice sculptures, carved watermelons, etc. and the chocolate fountains flowing. It was fun to look at, but I couldn't think of eating even a truffle. I was almost revolted to see people with plates piled high. Ben and Andrew were playing chess and ping pong until nearly midnight. Everyone slept in this morning as we glided into Ketchikan.
I think we were last here in about 2005. I couldn't believe how much it has changed. Tourist shops are built up all over the place. It's amazing how many restaurants are nearby that the cruise passengers flock to. This morning there were about 5000 passengers flooding the streets buying their diamonds, tanzanite, and Alaskan art treasures.
We have just returned from the Great Alaskan Lumber show and watched log rollers, tree climbers, etc. The kids enjoyed it. We sail about 1 and will be making our way to Victoria by evening tomorrow. Then it's Seattle and home on Saturday.
This site was last updated 07/28/11