April 19, 2014:
We met Dorene, Greg's NYC friend at the New Amsterdam Theater for the matinee of Aladdin. She is the same friend we saw last year.
Disney's "Aladdin"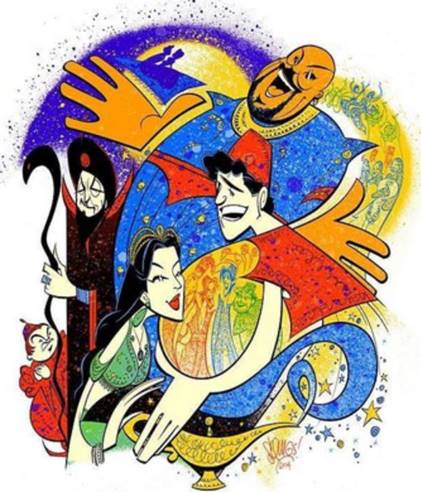 For those of you who have seen the animated movie "Aladdin", the magic is all there. The play is cast to perfection with Disney's squeaky clean characters in brilliant costumes and voices to match. The full orchestra brings back the "Big Broadway" sound to theater, with the added bonus of the new technology available to amaze. The famous ride on the "Magic Carpet" (I Will Show yYu the World) was brilliant—haven't a clue of how they did it.
There is one character who stands out. It appears like this genie is attempting to live up to the "Genie" character created by Robin Williams in the movie version—a task which is daunting to say the least. Well, he steals the show. James Monroe Iglehart, from Hayward, California accomplishes that task. "Never Had a Friend Like Me" with choreography, and choreography, and even more CHOREOGRAPHY runs the chorus dancers through 4 changes of costumes before he is whisked off to a ventilator until his next number. Quite a show! (--- Greg)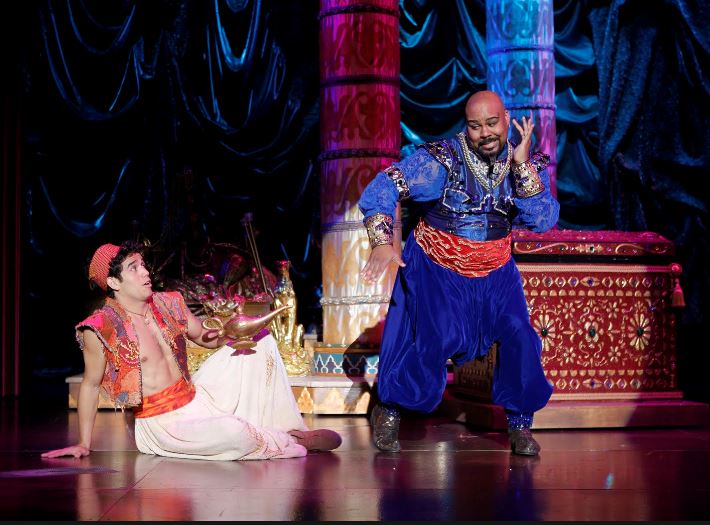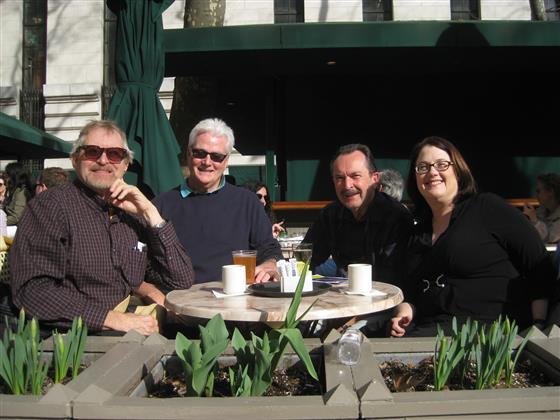 Libations at Bryant Park in the sun with Tom, Greg, Ken, and Dorene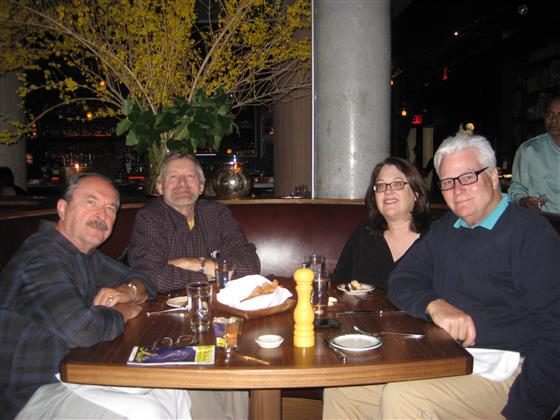 Dinner after Aladdin at Butter Midtown, a restaurant run by Alex Guarnaschelli (pix below) of Chopped, the TV cooking competition show.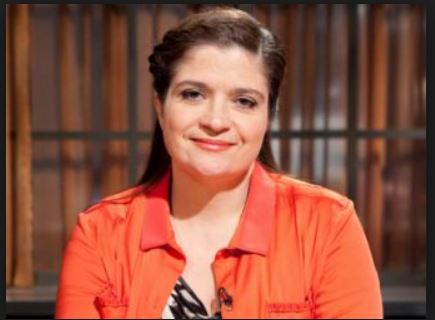 Alex Guarnaschelli of Butter Midtown.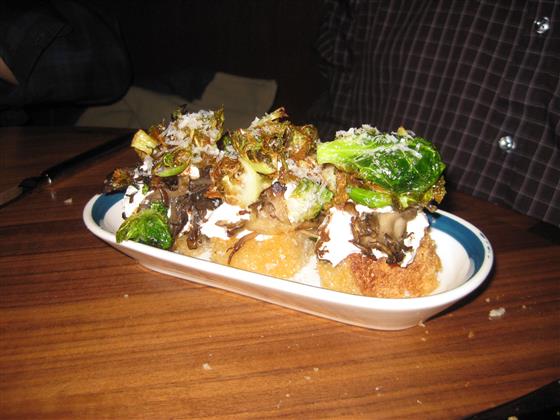 My bruschetta appetizers with hen-of-the-woods mushrooms, ricotta, grilled brussel sprout leaves.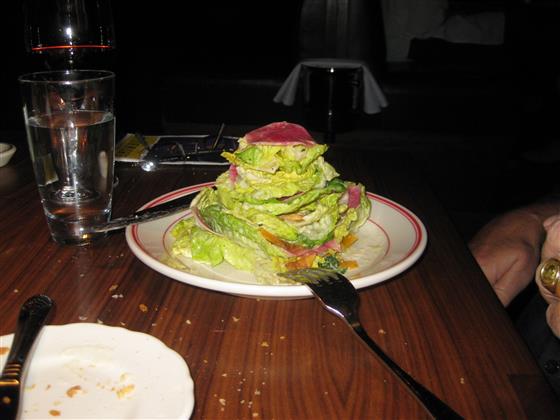 Ken's butter lettuce tower of salad topped with a watermelon raddish slice.
A Gentleman's Guide to love and Murder
Take  a charming, handsome proper British young man (Bryce Pinkham) who is desperate to win the heart of a beautiful social climber (in pink),  throw in the recent news that he is the 9th in line to inherit the fortune and the family estate of the famous "D'Ysquith's" [die skwiths], and you know that MURDER will ensue. But you needn't shield the children—just stay away from the first 2 rows in the theatre.
All 8 of the D'Ysquith successions are played by the same actor (Jefferson Mayes) in break neck changes of costumes, as they meet their demise(s).
A great deal of laughter, and a shot gun pace keep this show extremely amusing.

Jefferson Mays and Bryce Pinkham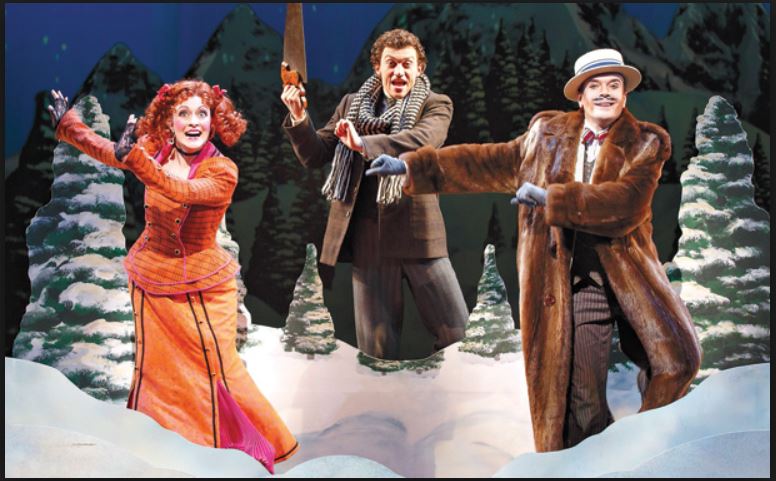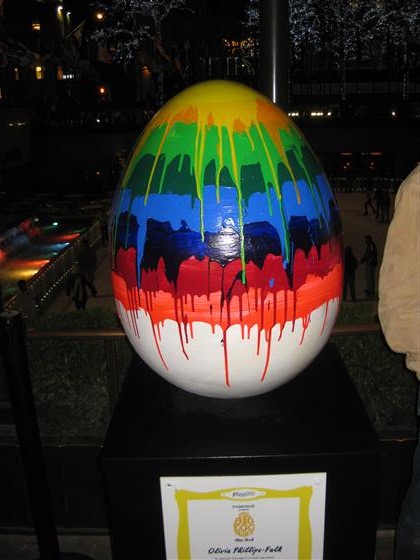 This is really a 3 foot high painted egg. There were many dozens of these at Rockefeller Center. I'm having trouble rotating photos (in Windows 8).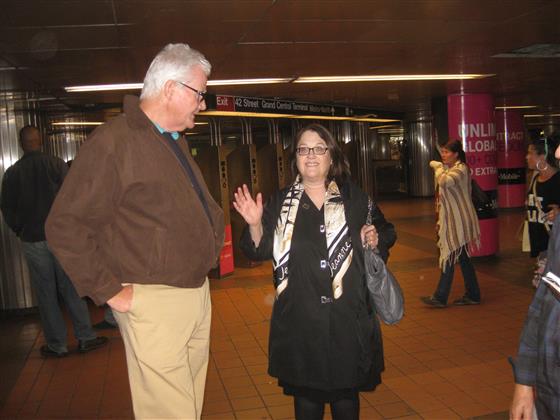 Saying "good-bye" to Dorene at Grand Central Station.