Roberta Barbara (Eyman) Daniels
---
date of birth September 14 1913
date of death September 7 2015
Roberta Barbara Daniels was born at home on the family farm west of Molalla, Oregon to Albert and Nellie (Yoder) Eyman on September 14, 1913, the eldest of four children. It took several days for her to arrive and Dr. Dedman came out from Canby to assist. She was the descendant of Swiss farmers and Amish Mennonites who settled in the area in the 1880's. Roberta's extended Eyman and Yoder families, provided a wonderful place to be raised. She often told of the many Sundays the living room of her grandparents, Fred & Rosetta Eyman, would be filled with relatives, who were accomplished musicians. The children would be admonished to sit quietly and listen to an instrumental and vocal concert. Many of her Yoder relatives lived nearby and she saw them often.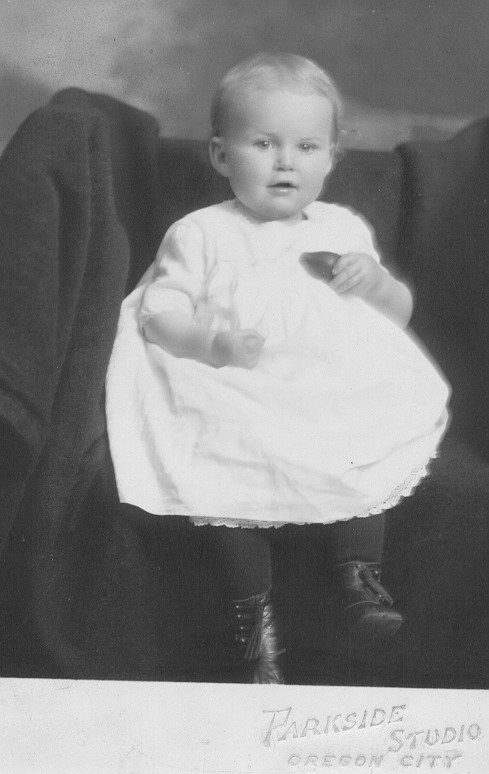 In a rural area of dirt roads, the family usually stayed at home. There was plenty of work to be done on the farm with hired hands often joining them at the table. When they did get away, it was a treat. She recently described going with her father in the buggy to Molalla to run errands. They put the horse in the livery stable and rounded out the day by going to a movie. They loved Harold Lloyd films. At Christmastime, the family would be joined by aunts, uncles and cousins to drive to Portland. They had to leave early after the chores were done to make it in time for the blue-plate special followed by a matinee. Coming from a neighborhood lit by kerosene lamps and candles, the holiday lights of the big city were a wonder.
Roberta attended the one-room Rural Dell School and in 1931 in Molalla was the first in her family to graduate from high school. For several years she was the oldest living alumna of the school. After a fifth year at Molalla working in the office and taking more classes, she went to Oregon City to Lou's Business School. She lived in an apartment and began her career as a secretary for the Agricultural Extension Service, an adjunct of Oregon State College in the new Post Office Building next to the paper mill. Except for a time out when her children were young and a brief stint at Swan Island Dahlias, Roberta spent all her working career with that organization retiring from the Warner-Milne Street site in 1978. As a farm girl, she was in her element. The office's mission was to bring modern techniques to the farming industry and she could give out information and answer questions with the best of them. Up to the end she might get questions like: "The flea-beetles are on my beans. What should I do?" "That would be publication 529, just use rotenone," she would answer.
On August 28, 1937, she married her high school sweetheart, Donald (Jiggs) Daniels from Mulino at her parent's home. It must have been love-at-first-sight when he roared up on his Harley Davidson. It was harvest season, and her father and brother had to stop work to come in for the small wedding. The Methodist minister, Paul Ackerman, officiated and afterward the reception featured ice cream molded in the shapes of brides and grooms. She remembers that after an Oregon Coast honeymoon at Taft, they later went to Portland and stood on Powell Blvd. watching FDR's motorcade on its way back to the train station after dedicating Bonneville Dam and Timberline Lodge. The New Deal meant a lot to them as they were profoundly affected by the Great Depression although she always said that the family had plenty and got by just like everyone else she knew.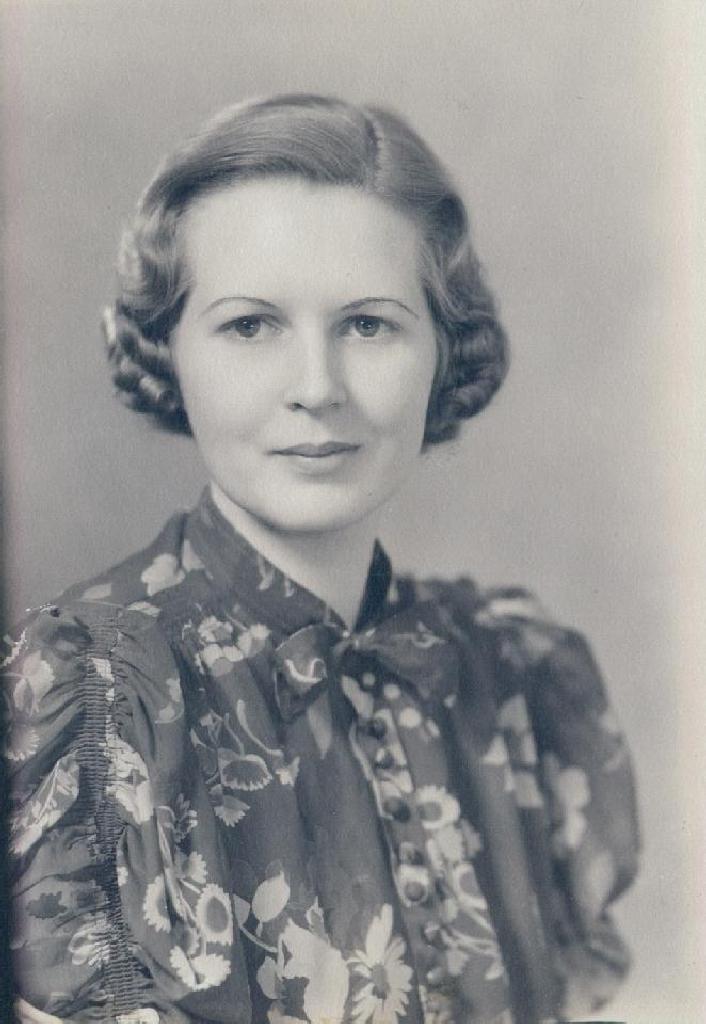 Roberta and Donald bought a small farm across the road from her parents in 1940, and began building a home. Asked by her father what crops they might raise, they just said "children." He was working away in road construction and made a quick trip back when word reached him that Joel was born. He soon had a job as a log truck driver allowing him to remain at home. He was able to hire a carpenter and buy materials for the house and without incurring any debt it was finished in two years. Barbara was born when they moved into their new home. It was wintertime and the furnace wasn't yet installed so they made do with the fireplace. The first twins Thomas & Terrance came nineteen months later making four children under four. There was more of a break and then more twins, Richard and James, followed and now there were six children under the age of eight.
Roberta and Donald wanted their children to be successful and it was just understood that they would take music lessons, be involved in church, 4-H, scouts and Camp Fire, and get good educations. It would not be unusual for the family to spend a Sunday at Washington Park in Portland listening to an opera in the amphitheater. There was always the zoo nearby if it got too long for Dad and the younger ones. Roberta had tickets to the Community Concert series in Oregon City, and the family went to special exhibits like the Van Gogh collection at the art museum.
Roberta was not afraid to try new things. She made some of the first pizza in the community wowing the church youth group, took Asian cooking instruction, and learned to decorate cakes, for example. The family had a large garden with lots of produce to preserve for winter. There was always a cow which provided beef, milk, butter, cottage cheese, and, of course, ice cream. Chickens were occasionally raised and it did not take her long to dress one out for dinner.
No one could argue that she was not frugal. Several times when she hit a pheasant while driving down the road trying to think of what to have for dinner, the children were mortified to have to jump out and retrieve it. At least there was no buckshot, and it was good, too. Neither could one argue that she was not generous with her money, time and talent.
Roberta and Donald were very active in their community, and both served on the Rural Dell School Board where she also became the clerk. They joined the I.O.O.F. and Rebekah lodges and the Grange, Lions Lioness Club, and Elks. She was a member of the Rural Dell Extension Club (FCE) for 70 years. Roberta started attending Smyrna United Church of Christ taking her children to Sunday School. The church was founded in part by her great-grandfather Jonathan Yoder and uncles and aunts. She served in various church offices and continued to be active in Women's Fellowship and The Stitch Club which she helped found as a women's group that met at night when the husbands could babysit. She rarely missed attending Sunday services up until the last several weeks. She was keenly interested and involved in the new kitchen project at the church, and it is dedicated in part to honor her 100th birthday.
Roberta loved to travel, saw much of America and went to Europe several times. She also toured Japan, South America, and went on safari in South Africa. Donald became a pilot in later years, and they were members of the Oregon Pilot's Association at Mulino and the Oregon Flying Farmers. They flew as far as Alaska and Cabo San Lucas, Mexico. Her family built a beach cabin at Lincoln City in the 1960's and she always enjoyed spending time watching whales in the wild waves. After retirement, they purchased a travel trailer and spent winters in the desert of Southern California as long as they were able.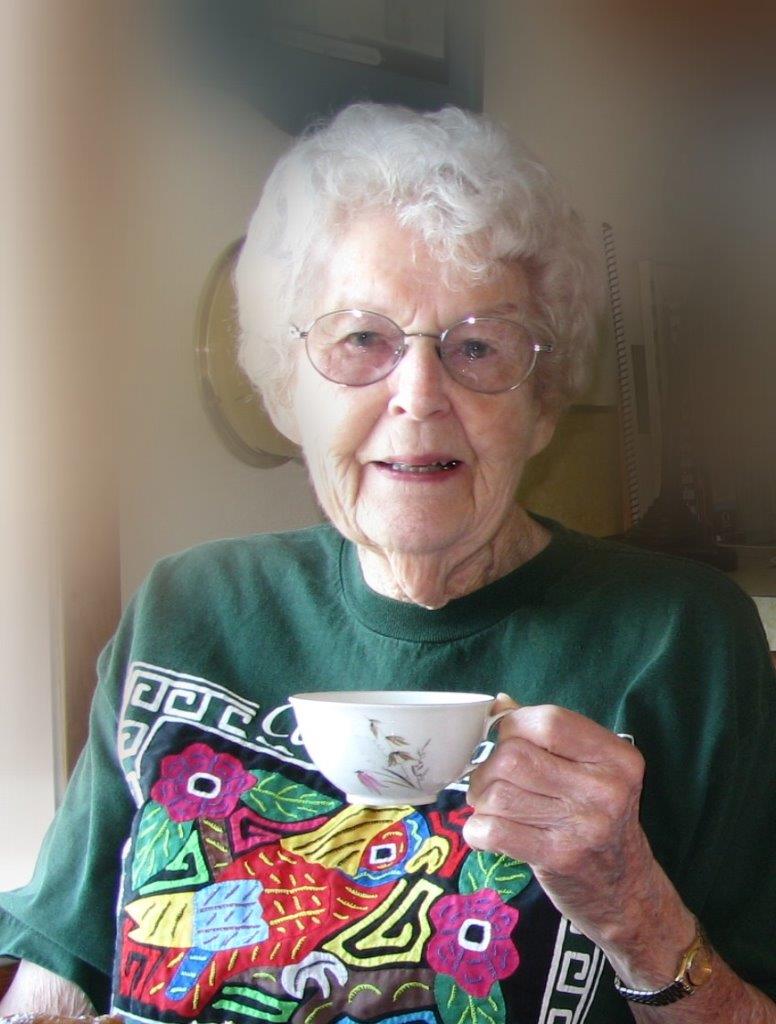 Times might have been simpler in the early days without jets, freeways, computers, and television, but Roberta was not one to sit around dwelling in the past. She remained actively interested in current events, politics and technology. After purchasing an iPad when she was 99 so that she could continue to read a magazine that discontinued print editions, she discovered that she could read books on it, too. Her radio and television were mostly tuned to public broadcasting to which she unfailingly contributed. She only gave up driving four years ago when her license expired. She knew she could still do it, but her family was happy to give her rides.
In later years, Roberta considered herself to be lucky to have Guillermo Velazquez live at her home, take care of the landscaping, and be on call. She became acquainted with many of his relatives and friends which broadened her understanding of a culture different from her own.
Longevity is no stranger to Roberta's family. She leaves two sisters, Lucia Schuebel, 100, and Anna Lou Case, 98. Their mother lived to age 104. Her only brother, Steven Eyman, died a few years ago. She is survived by her six children: Joel (Elaine) of Canby, James of Canby, Barbara of Keizer, Thomas of Oakland, CA, Terrance of Palm Springs, CA, and Richard (Kim Smith) of Eugene; eight grandchildren: Marcus Daniels, Philip (Barbara) Daniels, Beth (Ben) Kersens, Kate (James) Clark, Kristin Daniels and Lauren (Eric) Humphreys; ten great grandchildren: Helen, Andrew, Marina and Benjamin Daniels, Hadley and Celia Kersens, Noel & Alexander Clark, Skyler Wilson, and Oliver Humphreys.
In her last days, all her family was able to come home to say goodbye. She died on Labor Day, September 7 just a few days short of her 102nd birthday. They are grateful that she lived such a long life and know that her impact will not be forgotten as she goes on to join Donald and others in her final rest.
There will be a memorial service for Roberta on October 24, 2015 at 2:00 p.m. at Smyrna United Church of Christ, 31119 S. Canby-Marquam Hwy. (170), Canby. Memorials may be made to the Molalla Alumni Donald and Roberta Daniels Scholarship (Molalla Alumni, P. O. Box 1050, Molalla, OR) or the Smyrna United Church of Christ Memorial Fund
---
Roberta Barbara Daniels
September 14, 1913 – September 7, 2015
Roberta Barbara Daniels died on September 7, 2015 at her home in rural Canby surrounded by her entire family.
The eldest daughter of Albert F. and Nellie Yoder Eyman, she was born September 14, 1913.
Roberta graduated from Molalla High School and completed business school in Oregon City. She married Donald E. Daniels in 1937. He died in 1996.
She worked as a secretary for the Extension Service in Oregon City until her retirement in 1978. Roberta served as a board member and clerk of the Rural Dell Elementary School, was a member of Rural Dell FCE, Molalla Grange, The Oak Rebekah Lodge, The Mulino Lionesses, and Smyrna United Church of Christ in Yoder.
Roberta is survived by her sisters, Lucia Schuebel and Anna Lou Case; children, Joel and James of Canby, Richard of Eugene, Barbara of Keizer, Thomas of Oakland, Calif., and Terrance of Palm Springs, Calif.; six grandchildren and ten great-grandchildren.
A celebration of her life will be held on Saturday, October 24 at Smyrna UCC, 31119 S. Hwy. 179, Canby, OR 97013 at 2 p.m. Remembrances may be made to the Molalla H.S. Alumni Donald and Roberta Daniels Scholarship or the Smyrna UCC Memorial Fund.
An extended obituary may be found at www.autumncares.com