August 19-20, 2015 Cooking Opera
Day 3-4- Santa Fe.
Tom's niece Bae came by our house Wednesday morning so we could plan our day as our tour guide. Just as she got here, the Santa Fe artist Bernard Marks came by to deliver a new painting to Greg.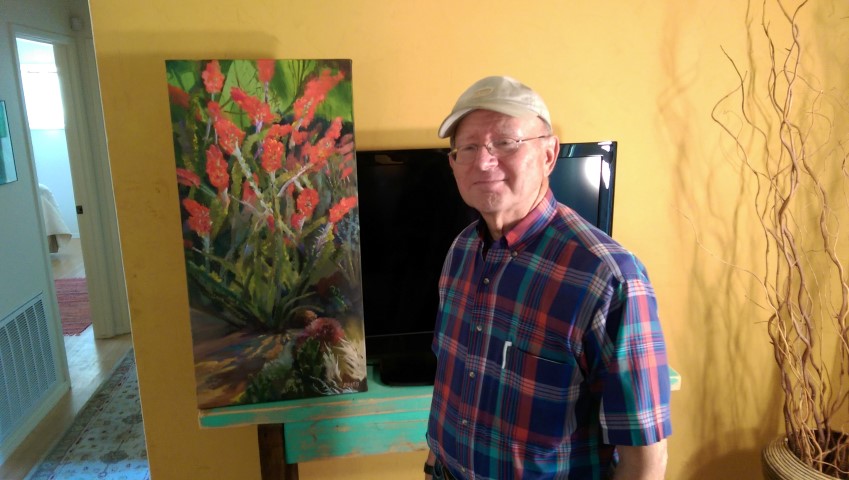 Flowing Ocotillo by Bernard Marks
Our first stop was at the Tesuque artists colony where we walked through the two sculpture gardens and fine arts gallery. We ended up at the Shidoni Gallery and foundry. The gallery manager gave us a tour through the foundry and told us how these imense glass pieces by Charles Miner are created using the lost wax technique.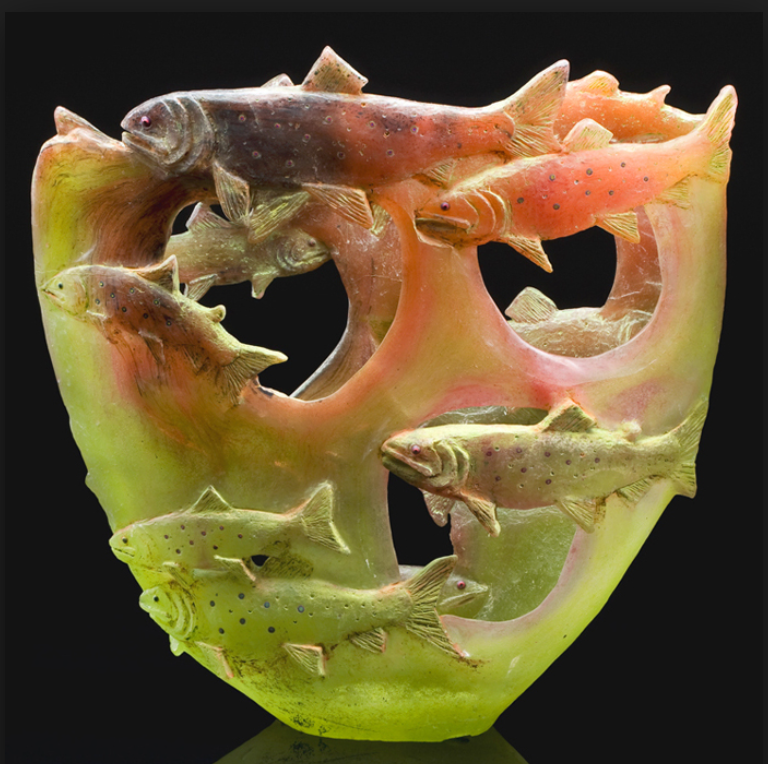 An example of Charles Miner's work.
Afterwards, we drove nearby to the Tesuque Village Market for lunch.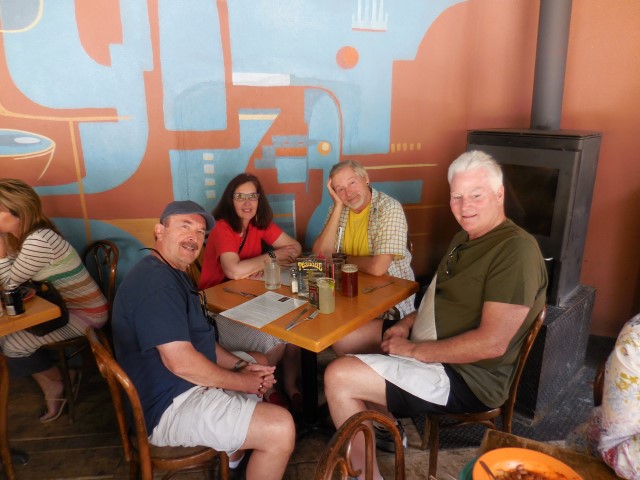 Ken, Bae, Tom and Greg at the Tesuque Village Market
Next Bae drove us across town to Canyon Road where we walked up and down visitng the many interesting art galleries.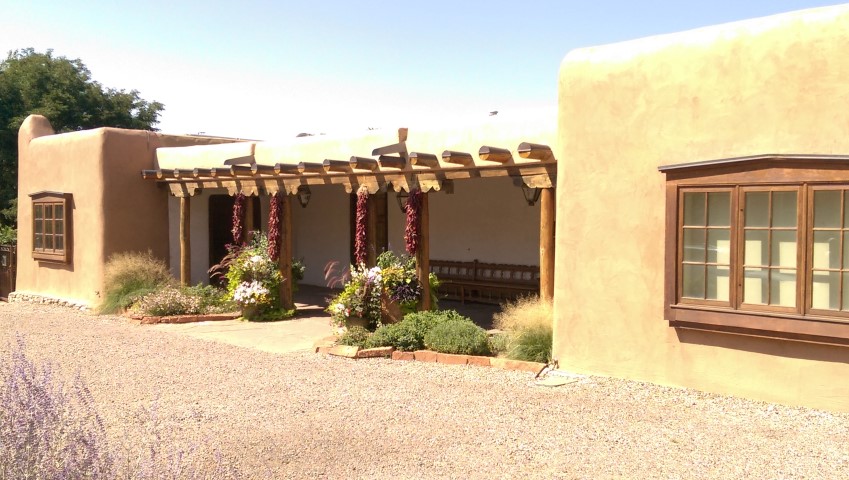 Iconic adobe, chili-pepper-hanging hacienda (art gallery) on Canyon Road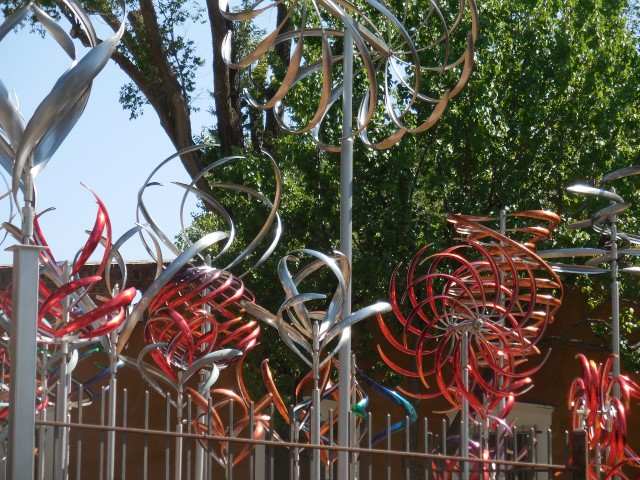 Kinetic art sculpture.

For dinner, Bae and Marcus (Tom's nephew) made reservations for us at Café Pasqual - a popular restaurant downtown Santa Fe.
Tom had Mole Enchiladas ~ Sautéed Organic Tofu , Zucchini, & Spinach, Cilantro Rice Orange ~ Cucumber Salad with Fresh Corn Torte
Ken ordered Pan Seared Cape Code Sea Scallops - Orange~Saffron Butter, Saffron Rice, Sugar Snap Peas
Greg ate Housemade Tamales ~ Red Chile, Organic Chicken and/or Green Chile Jack Cheese with Christmas Chile Sauce (red AND green)
Marcus ate Mole Enchiladas ~ Organic Pulled Chicken , Zucchini, & Spinach, Cilantro Rice Orange ~ Cucumber Salad with Fresh Corn Torte
And Bae ordered the special: Oven roasted pork ribs.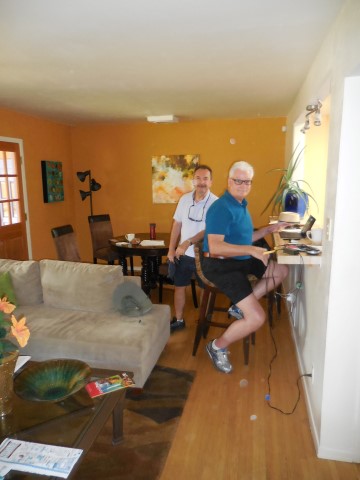 Ken and Greg in our rented house.
On Thursday we headed out to our cooking class: Southwest Party Fare. The chef showed us how to make the following dishes: SW Gazpacho, Crab/Corn Fritters, Chile Relleno, Pork Tacos on home made Mini Corn Tortillas. For dessert was Dixon Apple Pie Tamales.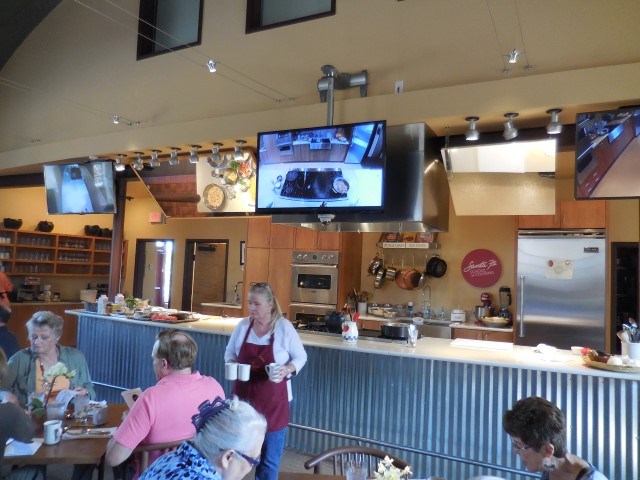 Facing the instruction space with mirrors above the work surfaces and closed circuit TV monitors.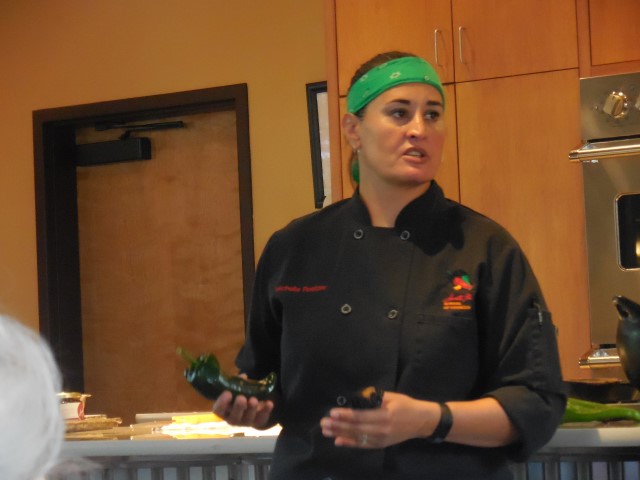 Michelle (Mika) Chavez, our instructor. We really appreciated how she incorporated the many aspects of Santa Fe and Mexico into the session: history, local produce, chilis, indians, geology, etc.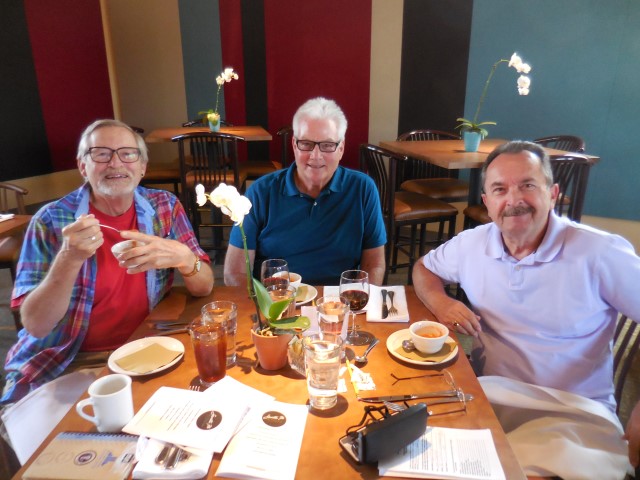 After all of the dishes had been prepared, they were served to us. Tom, Greg, Ken enjoying the gazpacho soup.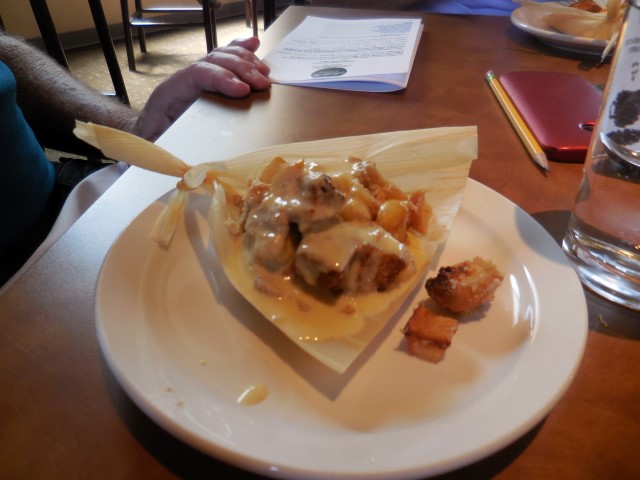 The lunch ended with an apple pie tamale served in a corn husk boat.
.... Next time, The Daughter of the Regiment at the Santa Fe Opera which we see tonight.