Day Two in Delhi
Yesterday was our first full day in India after a welcomed sleep. We met the other 13 members of our tour group and had an introductory lecture. The take-away was "India: you will either love it or hate it; there is no in-between. " We set out at noon by motor coach for the first installment.
First impression of this capital city, officially New Delhi, with 22 million people: it's run down, dirty with garbage all over the place and infrastructure in disrepair. OK, now that we got that out of the way, let's start experiencing it.
First stop was the Gurudwara Sikh Temple, the largest Sikh temple in Delhi. This small minority recognized by the men wearing turbans to cover their hair which must not be cut ever after baptism. The Sikh religion is 300 years old and in it all people are equal (for example men and women) and exhorted to do good works. Difficult for some of us was the requirement that we take off our shoes and socks: difficult for someone who can't walk barefoot across the kitchen floor unless it has just been mopped. We also had to cover our head (no hair showing).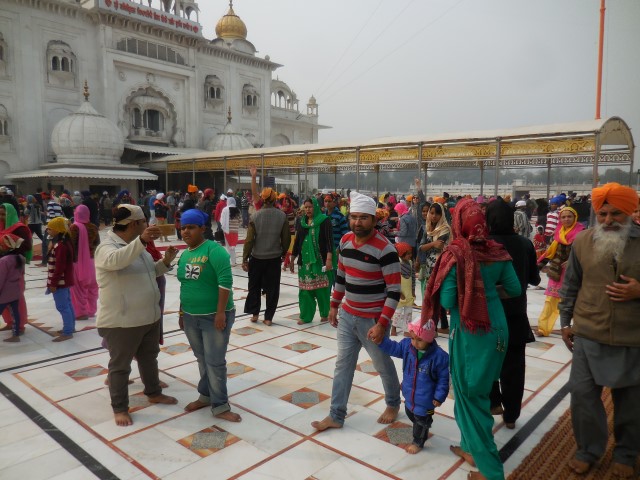 Gurudwara Sikh Temple
Inside the temple, we walked counter-clockwise around a central shrine with a golden camopy under which the "living book" lay. Many people were kneeling, singing and praying.
From there we were taken to a large marble hall (the "common kitchen") where volunteers were donating, preparing and serving food. This temple feeds 15,000 each day. Our first thought was that it was a soup kitchen for the poor and down-and-out. Actually it is a communal meal shared by all. Millionaires and lepers sit down together to share.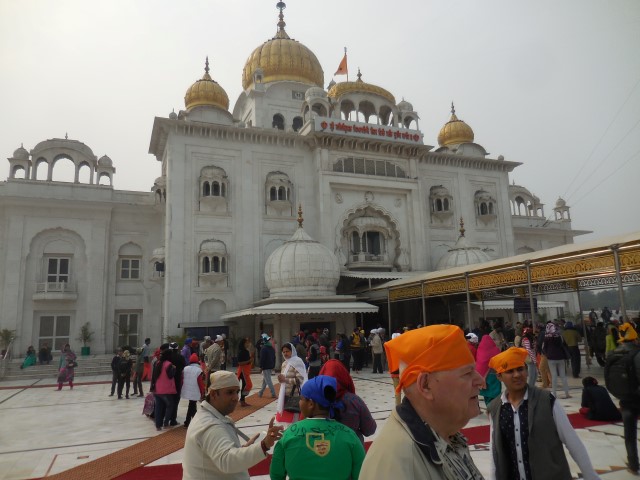 Joel (orange head scarf) at the Gurudwara Bangla Sahib Sikh Temle in Delhi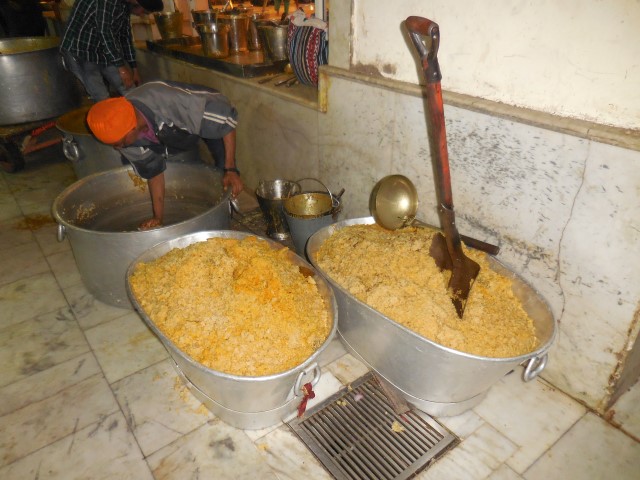 Cooked Rice!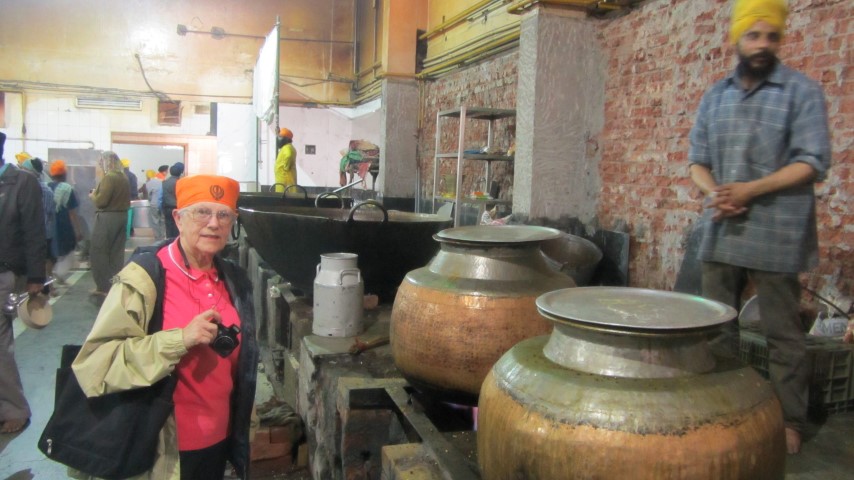 Elaine checking out the lentils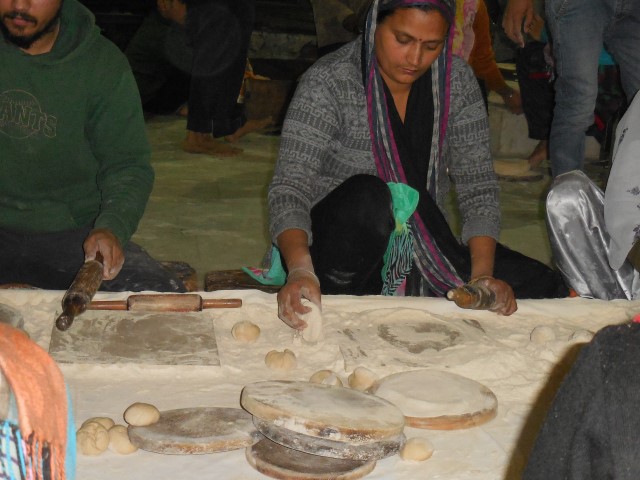 Chibata bread dough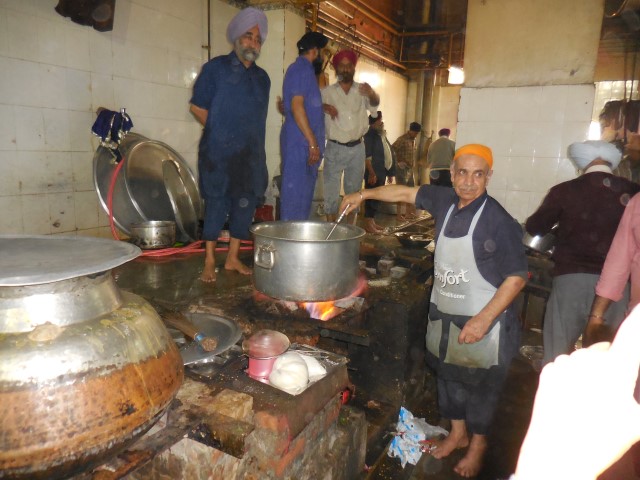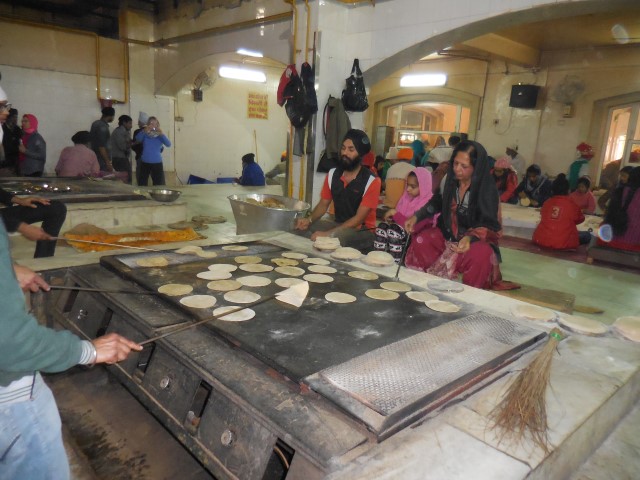 Frying chibata bread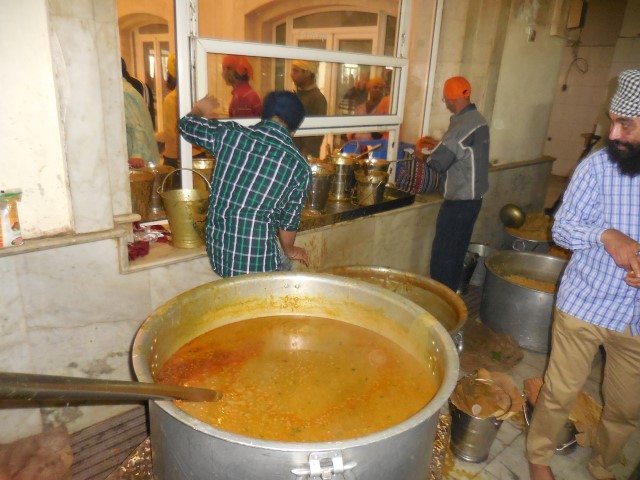 Curry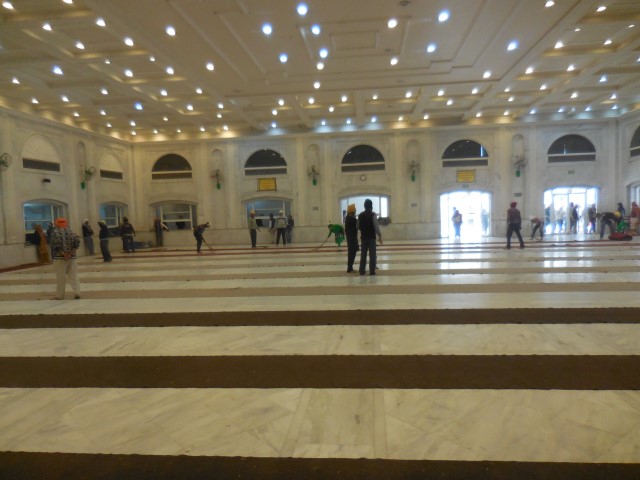 Preparing the hall for the next sitting/serving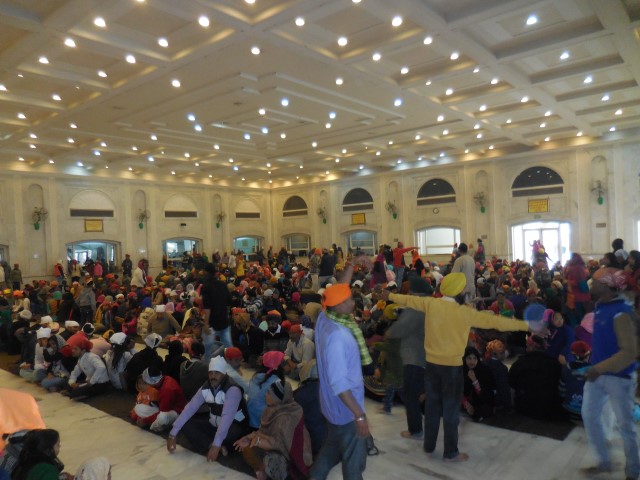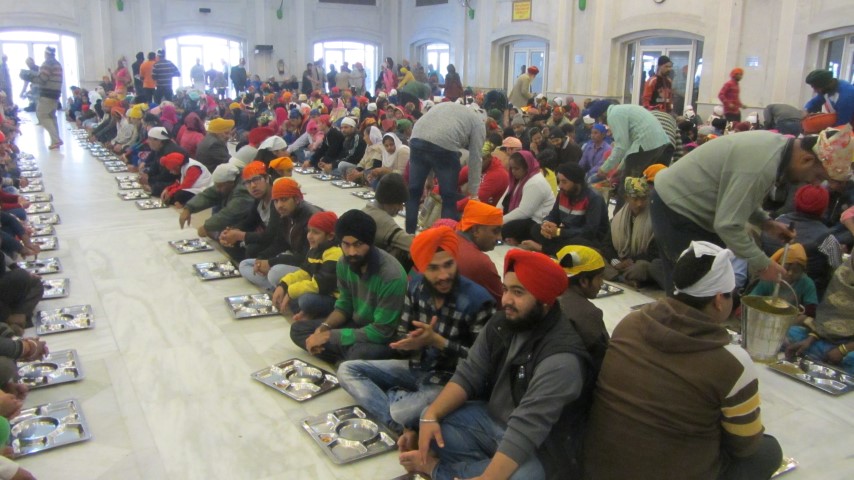 With precision, the people came in (at least 750 in a sitting and sat on the floor in long rows, back to back and facing others in the next row. Spoons and large metal trays were passed out and after prayers, people began serving a full meal. Elaine and several others passed out chibata (bread). In about 40 minutes, the people take their trays and utensils and wash them, the floors are swept and the runners re-arranged and a new group is ready to file in and it starts again.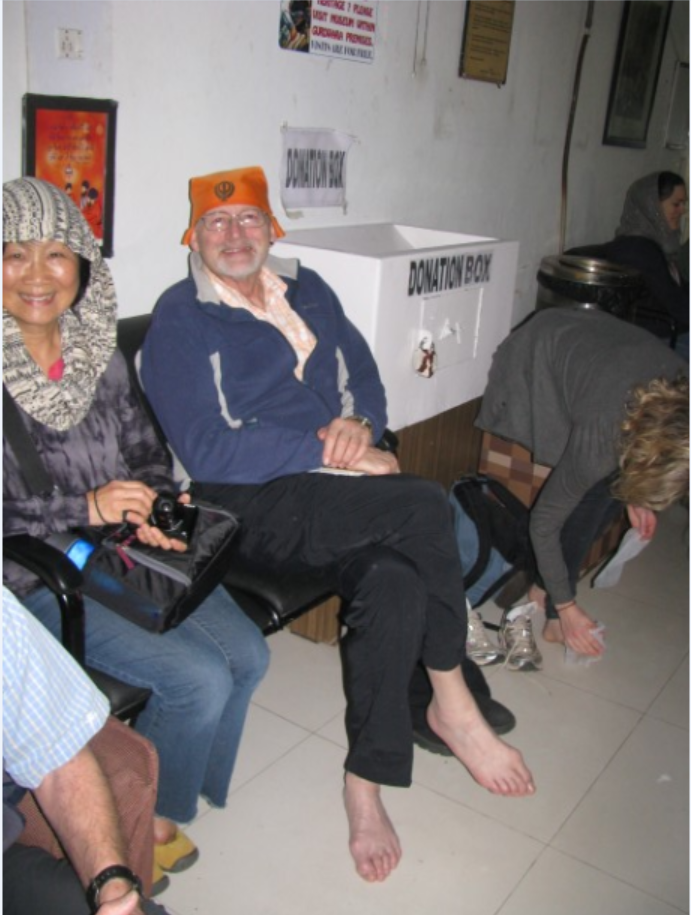 Min and Tom with hair covered and feet uncovered.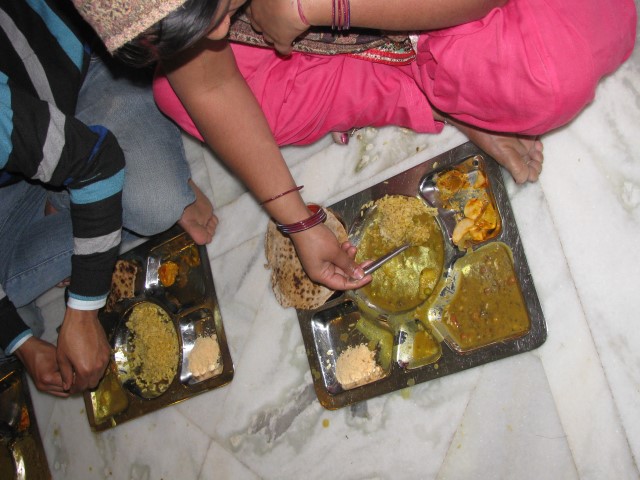 Though we decided not to eat here, it was a very moving experience.
Next stop, was the Jama Masjid the largest Muslim Mosque built in the 17th century by Shah Jehan, who also built the Taj Mahal. When India was partitioned at independence in 1947, the country of Pakistan was established as a home for Muslims. Ironically India has a larger population of Muslims, second only to Indonesia. Muslims are more liberal here than many places in the Middle East, and most women don't wear burkas and are allowed in the temple.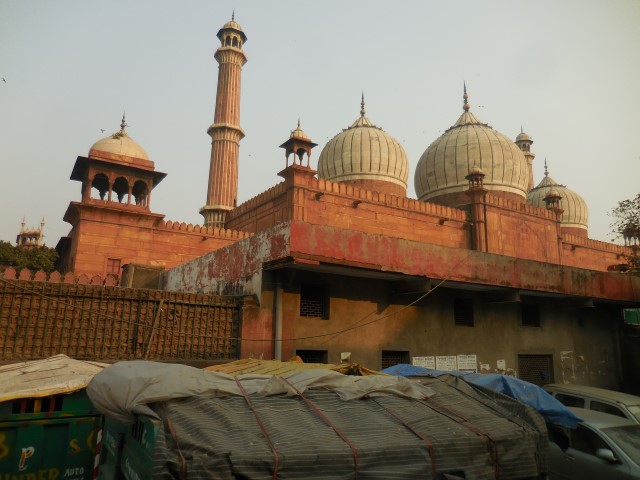 Back of Jama Masjid Mosque (Largest in India)
Here we needed to remove our shoes, and women put on a covering (like a thin, colorful robe). It was intended to make sure that knees and elbows weren't showing. It was easier to just give every women a robe than to go through lengthy explanations of these customs, in many languages. Men were given a length of cloth to wrap around their waists if they had on shorts.
Here local people came up and asked to take pictures of us or to be in a selfie with them. Our guide said that we are an oddity (white faces and grey hair) to them.
Afterward we transferred to rickshaws and were pedaled through the narrow old winding streets. It was mostly a wholesale market. Most shops were closed since it was Sunday.
To get to the rickshaws, some of us walked through an outdoor flea market. There seemed to be many vendors selling seconds of new men's clothing. The area was mobbed and we slowly edged through crowds of people.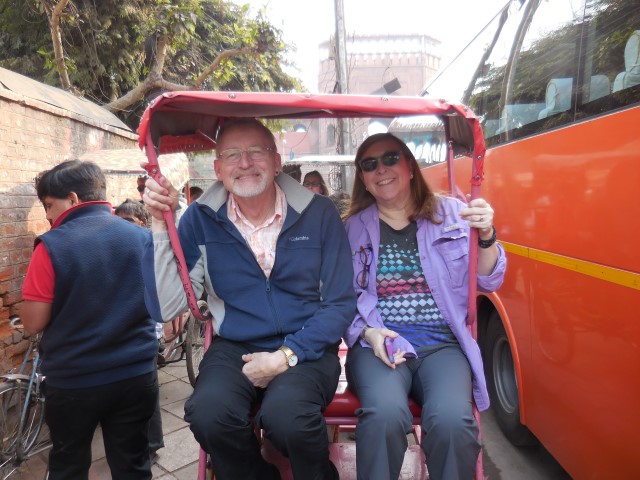 Tom and Donna on a Rickshaw Ride through old town/bazaar
Our guide Prabhu said that to cross the street you just need to step out and go. Car, motorcycles and tuk-tuks would go around you like a river. He, who hesitates is lost. Well….. that's one way to look at it. Prabhu also told us when we queue up, we need to stand very close to the person ahead of us or it is assumed that you are NOT in line. Here, people don't say "please" and "thank you" and "excuse me" much. No need to waste time with those niceties.
Mahatma Gandhi was assassinated in 1948. We were taken to the site of his cremation, there is a beautiful park and memorial. Hindus don't believe in memorials, but something had to be done for the father of their independence. He thought if anything were done for him, it should be a place that all people could enjoy. The trees and flowers are beautiful, and it was built in a reclaimed wetlands where the river used to be.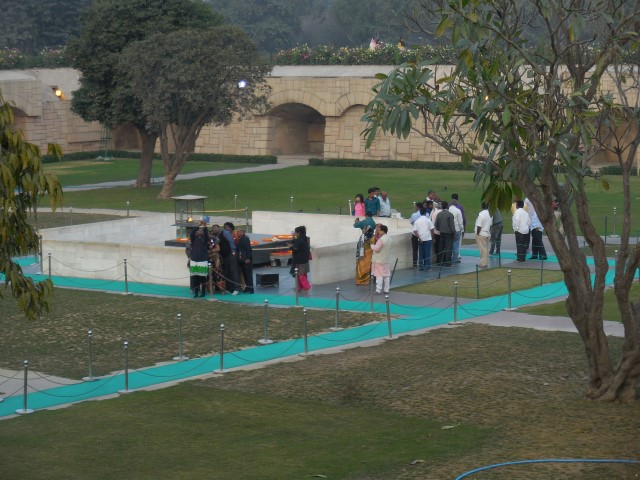 Gandi Cremation Site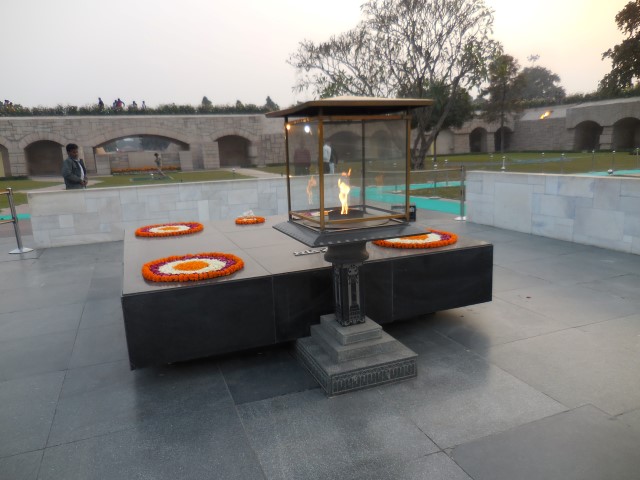 Gandi Cremation Site Memorial/Eternal Flame
After these last intense few hours, it felt good to relax at a very nice restaurant where we were served a wonderful Indian meal. Lots of highly spiced small dishes with lentil flour bread, thin and crispy and flat wheat bread (nan) baked in a tandoori oven.
The plan was that we would take the Metro back to the hotel. Delhi has a new popular subway system. It will grow to three times in the next several years to help alleviate traffic.
When the train came, we were literally pushed into the car and found ourselves wedged a little way from the doors. We needed to go 4 stops, and I could see that few were getting off at the intervening stations. In fact a few more were getting on. We could see that it would be a problem to get off. I said something to Elaine and some young men were smiling at the predicament. Miraculously, we were expelled as the doors kept shutting and opening and hands were outstretched to pull us out. Whew, we all made it.
Our hotel was only a couple of blocks from this station. We were told that the traffic was light since it was Sunday. We can see the elevated trains running every 2 minutes right after the other outside our hotel window. We fell into bed and were instantly asleep.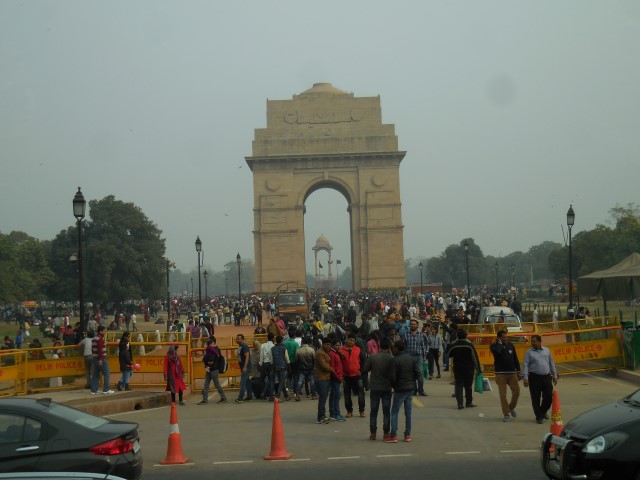 India Gate - War Memorial to the Indian soldiers who fought under the British in World War I.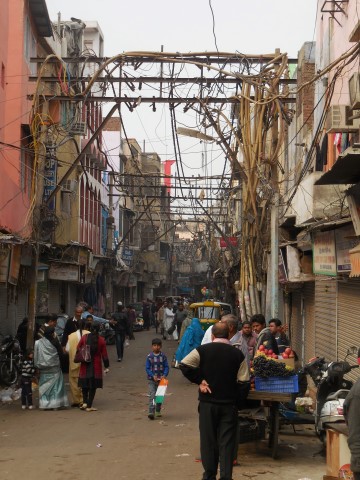 Electrical Phone Wires. If you are a lineman, you have a job for life.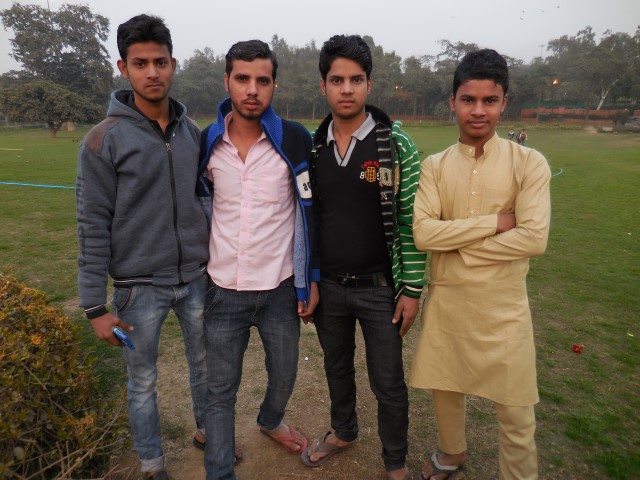 These guys wanted me to take their picture!