Showtime: April in New York City
SFO - JFK
Dear Family and Friends,

Tom, Greg and Ken are returning to Broadway for 10 days. On Monday, the three took BART to Terminal 2 at SFO. After coffee at the Lark Creek Grill, we boarded our American Airline's flight to New York City.
We breezed through the airport and got to the taxi stand where an independent ride provider found us and drove us into the city in his black Suburban. We are staying on 44th Street near 9th Avenue. Very close to the theater district.
Our Manhattan Apartment
These are some photos of the apartment we rented on 44th Street near 9th Avenue.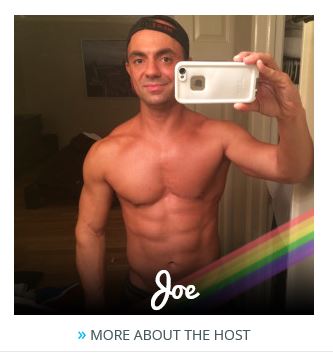 Joe our Manhattan host. We didn't meet him. His friend Ruben let us in and showed us the ropes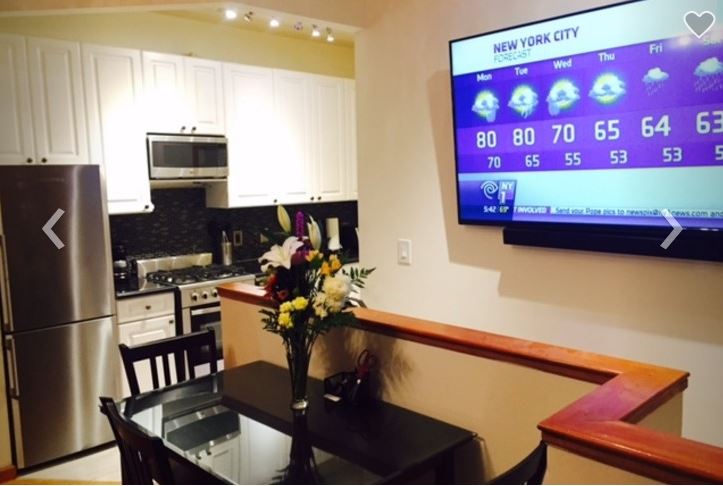 Main floor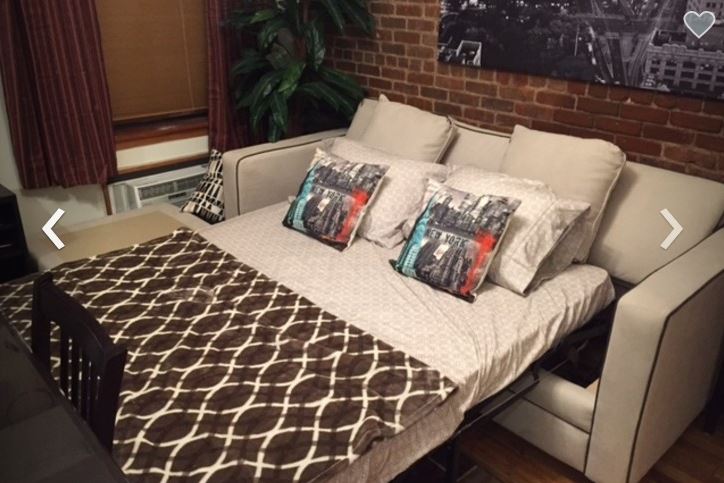 Sofa bed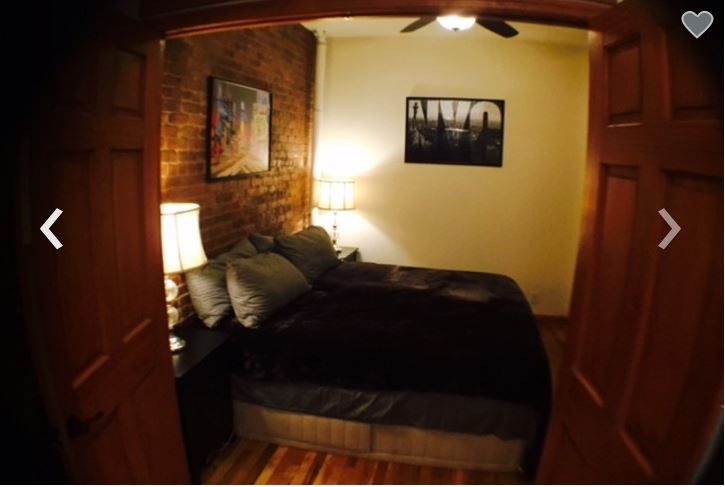 Main floor bedroom.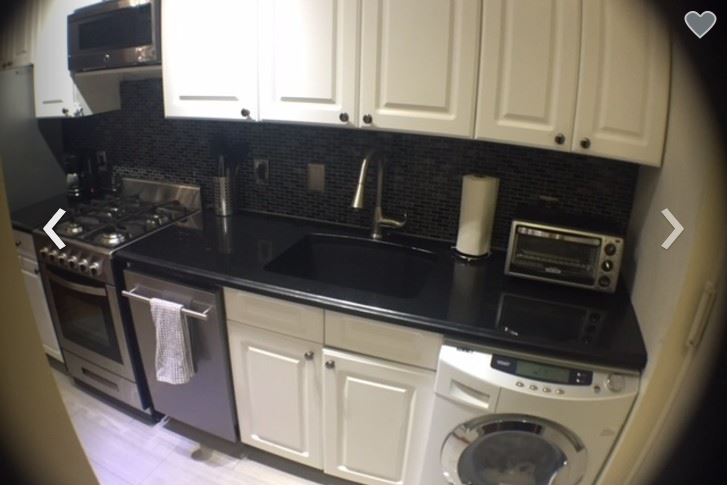 Kitchen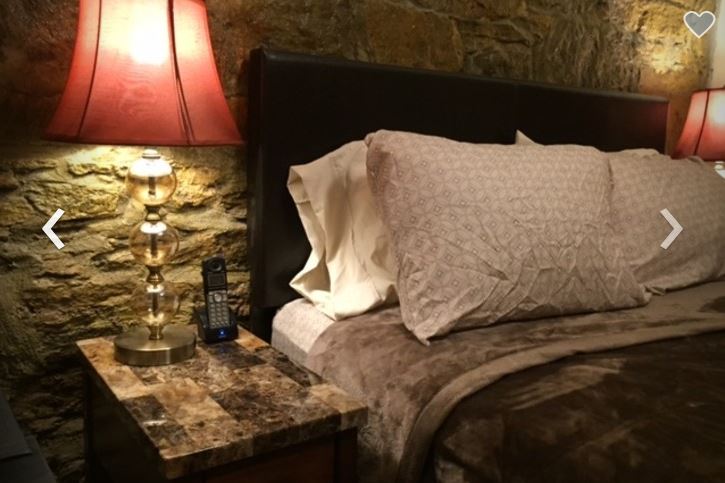 Bed in basement bedroom.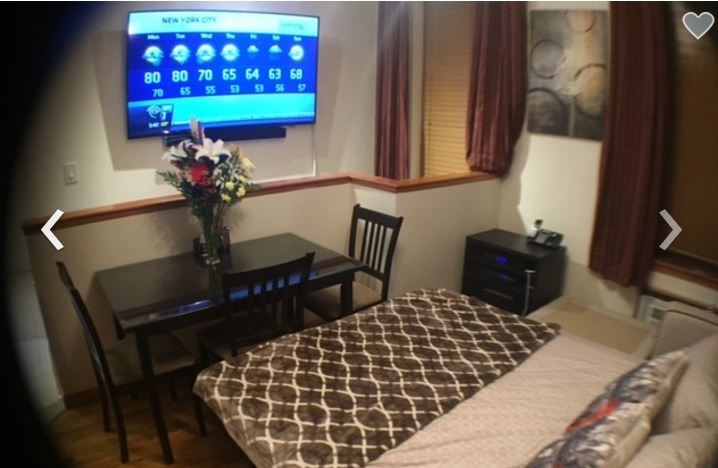 Fold out sofa bed.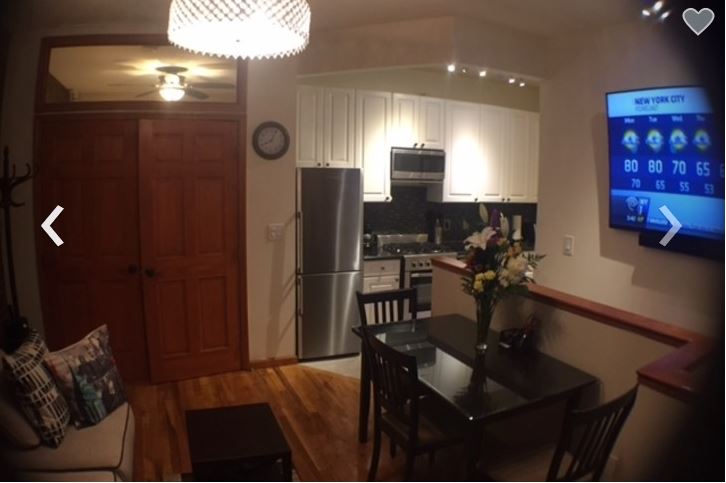 This is the table where Greg and Tom sat most of the time! Coffee cup and mouse in hand.
Tuesday - April 19, 2016
This morning we hit the streets early and by 1:30PM we had purchased tickets to 8 musicals and plays. Tonight we saw Shuffle Along: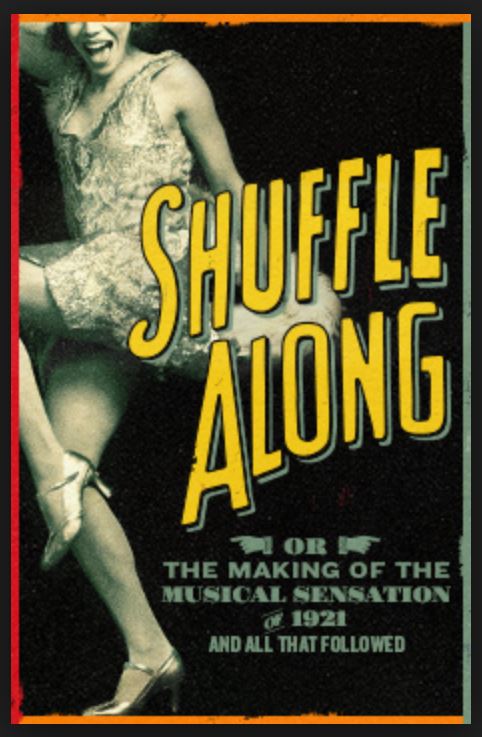 Shuffle Along (In previews until 28 April, 2016) is a new production in honor of an historic all black 1921 production which was the first of its kind. Rather than reproducing the original show from the 63rd Street Music Hall, they chose to tell the story of how that show came about. A group of talented dancers, singers, and musicians who, against all odds, produced a show which ran for over 500 performances. Many of the performers went on to receive accolades primarily in Europe as jazz performers, then fell into oblivion back in the USA. Josephine Baker, Florence Mills, Paul Robeson, Eubie Blake (Sissle and Blake) and Lottie Gee were just a few of the performers who were involved with "Shuffle Along."
The show was full of original music as well as some of the songs which came from the 1921 production (I'm just wild about Harry.) This show featured the dancing style which became famous after the original production--NO upright, arms contained, back straight gentle tapping here. These dancers tapped with the full on, lunging forward, arms flying, legs agape, pounding rhythm which became known as "Syncopated Jazz Rhythm" of "Shuffle Along."
The show has a brilliant cast: 6 time Tony winner Audra McDonald, Brian Stokes Mitchell, Billy Porter, choreography by Savion Glover and a cast of the greatest dancers. Audra McDonald, who apparently can do everything, attacked the dancing admirably. I noticed, however, that her feet didn't just fly up after hitting the floor—like the others. But, by the time the show opens, I'm sure that she will do that, too.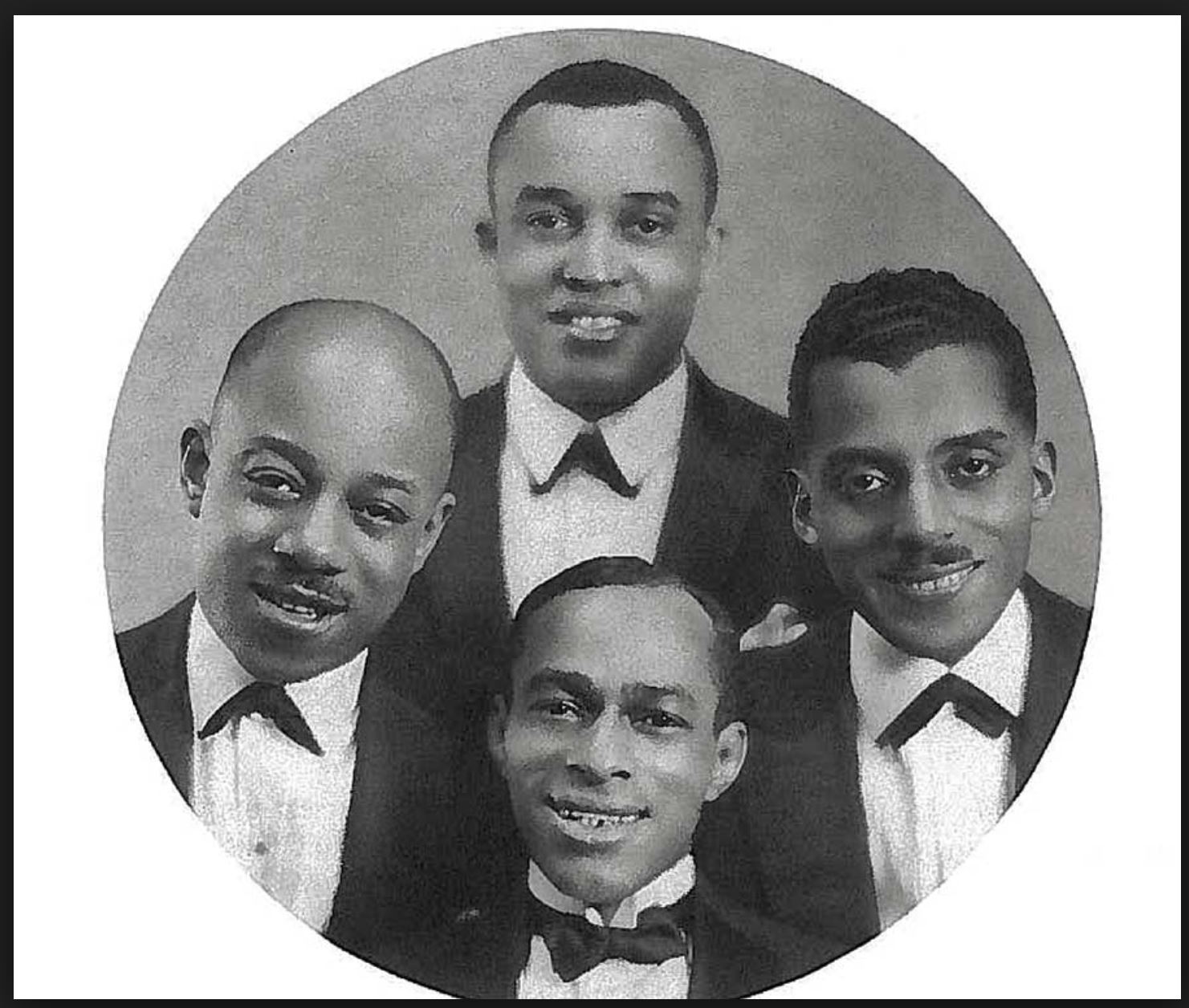 Eubie Blake, Noble Sissle, F. E. Miller, Aubrey Lyles: The musicians, composers, lyricists, choreographers and creators of the original 1921 Shuffle Along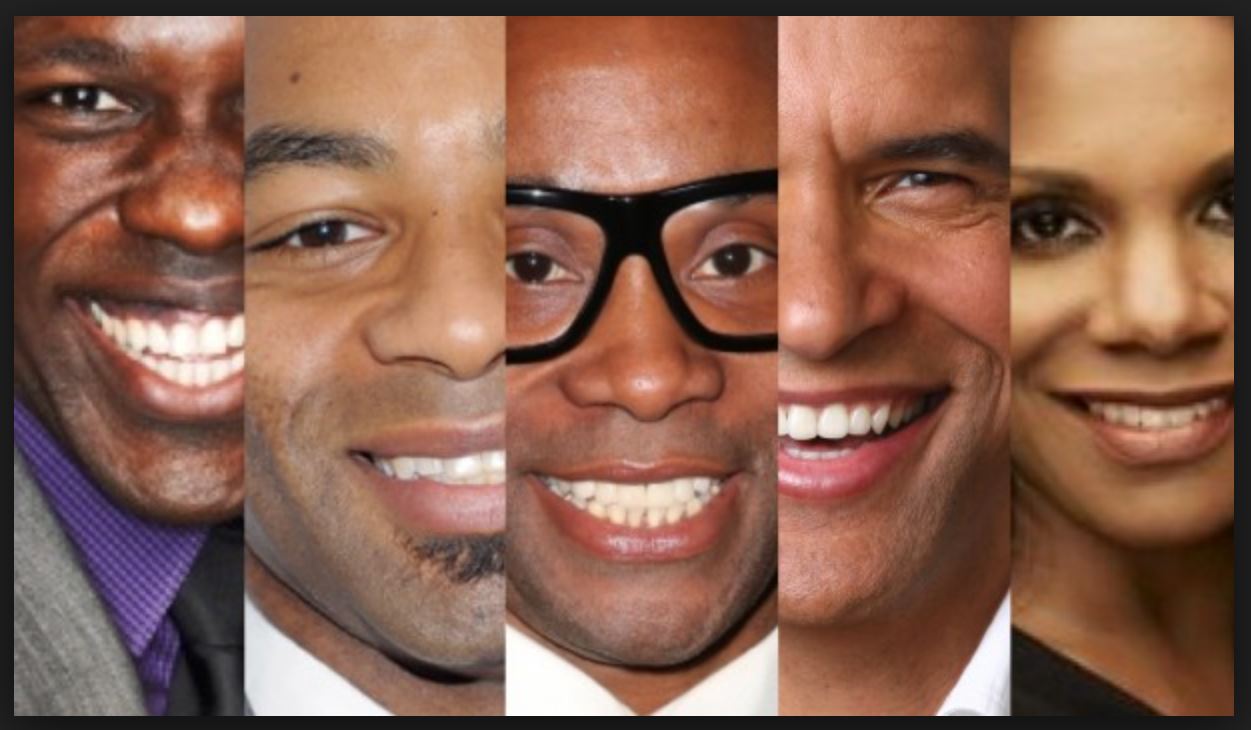 Joshua Henry, Brandon Victor Dixon, Billy Porter, Brian Stokes Mitchell and Audra McDonald.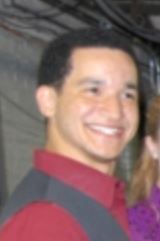 A note for Tom's family: Richard Riaz Yoder is in the ensemble - a dancer we saw last year in On the Twentieth Century. A cousin, maybe? ?
For this performance, we were not seated together. Tom was in row 4 at the left aisle. Ken and Greg were in row 6 at the right aisle. Oprah and Gail were in row 3 & 4 on the right aisle just several seats away!!!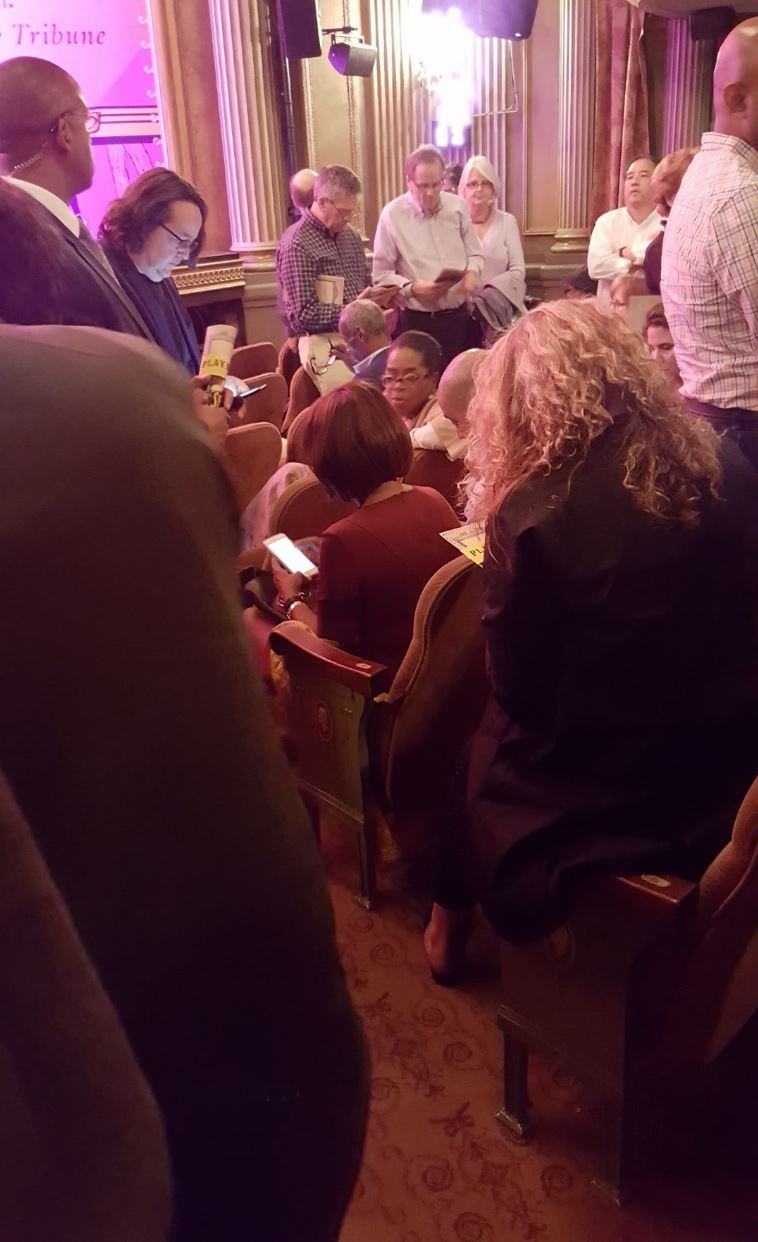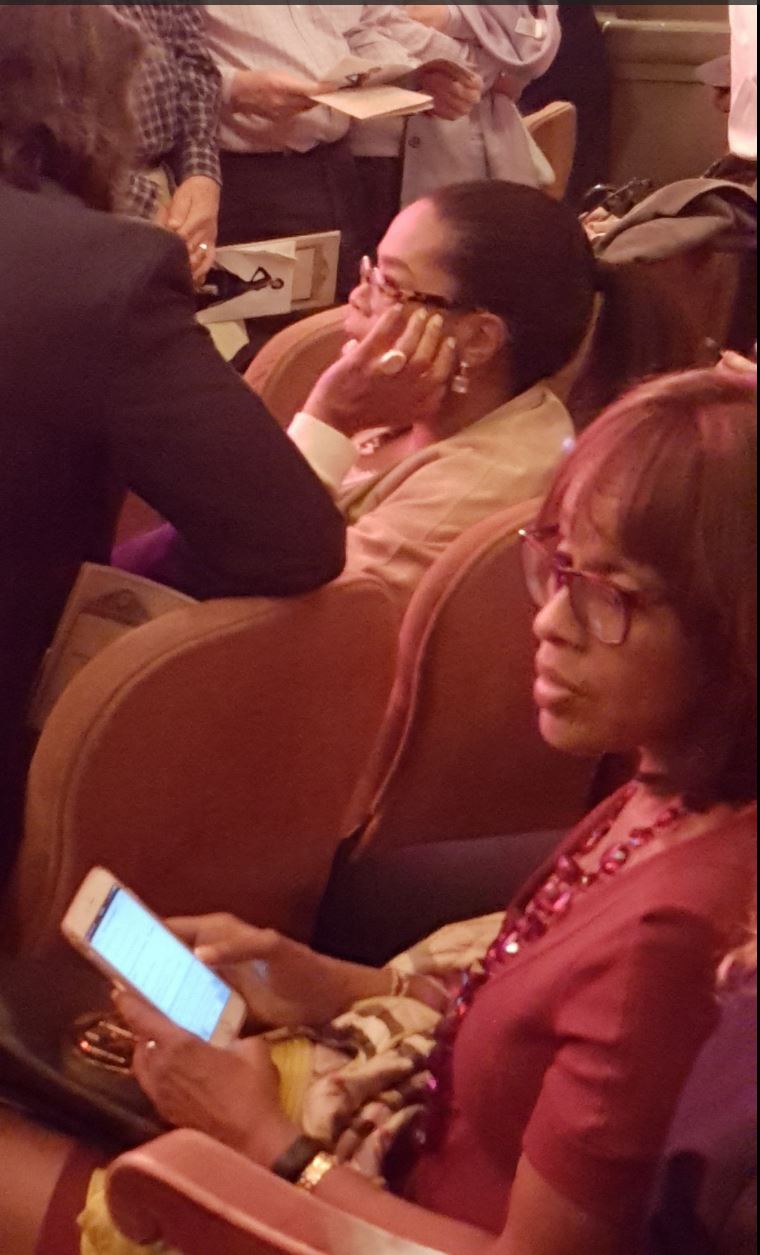 Have a wonderful time in the Big Apple. Always luv your photo essays. Miss you. --- Peggy
It all sounds brilliant and I remain this year as jealous as ever. Please give your travel mates a shout out hello --- Kevin
Tom, ... I love your account of New York experiences. Love, Sylvia S.
Hi, You're off to a great start!! Major celebrity sighting already- sounds like fun. Be sure to walk carefully on those NYC sidewalks. Watch your step, if you know what I mean!! --- Cheers, Jim
Looking forward to living vicariously and wildly in the Big Apple again. Love it!!! --- Sylvia K.
Oprah and Gail appear to be wearing the same clothes and hair that they wore at their first WW meeting which was posted on Facebook yesterday! --- Randy
Morning, Tom. Welcome to New York! We've ordered up some decent weather for you and your friends. I'll be seeing the matinee of "She Loves Me" today. A bit disappointed to learn one of the actresses (Jane Krakowski) will be out for at least the performance I'll see. --- Mick
Wednesday - April 20, 2016
Two shows today. We saw the matinee performance of Waitress.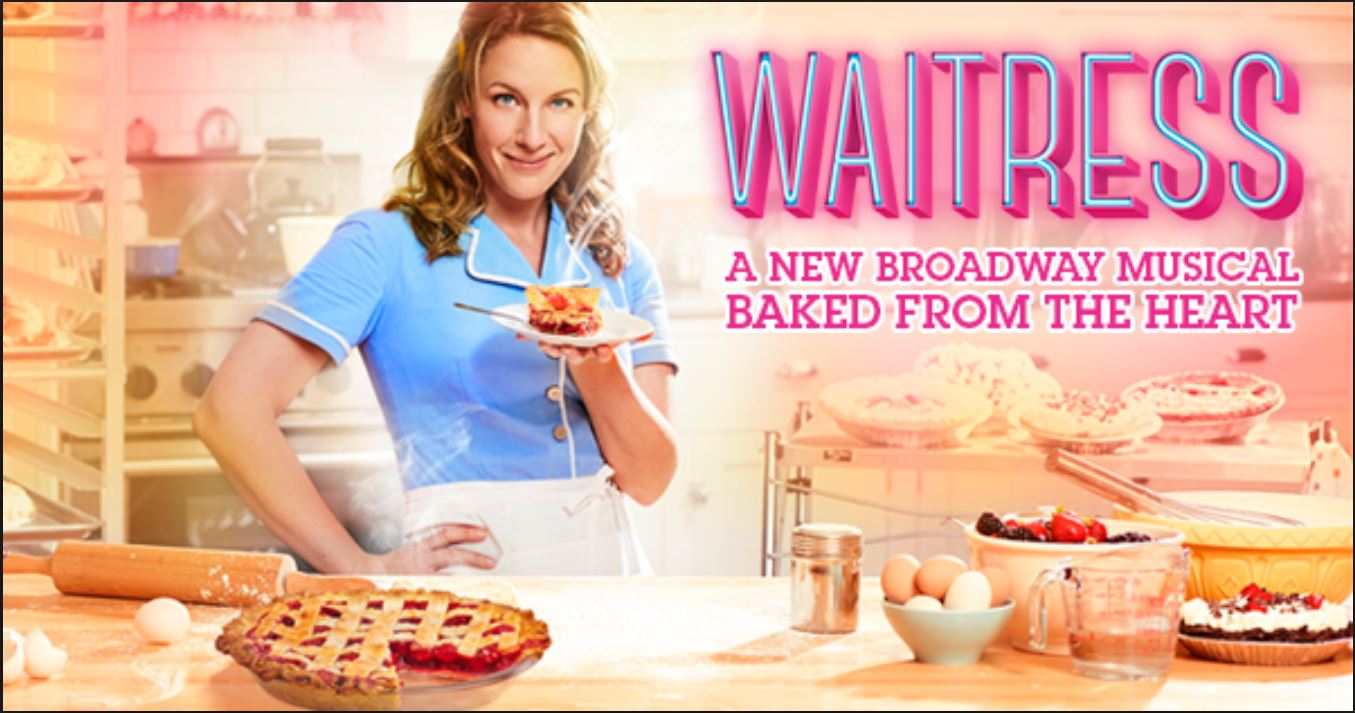 If you follow independent movies you might remember in 2007 there was a movie called "Waitress" about an unhappily married woman, Jenna, whose talent is baking pies. She has to win a pie-baking contest so that with the prize money she can leave her abusive husband. To escape the reality of her life, she invents pies which are inspired by her situation: " 'I Hate My Husband Pie' You take bittersweet chocolate and don't sweeten it. You make it into a pudding and drown it in caramel."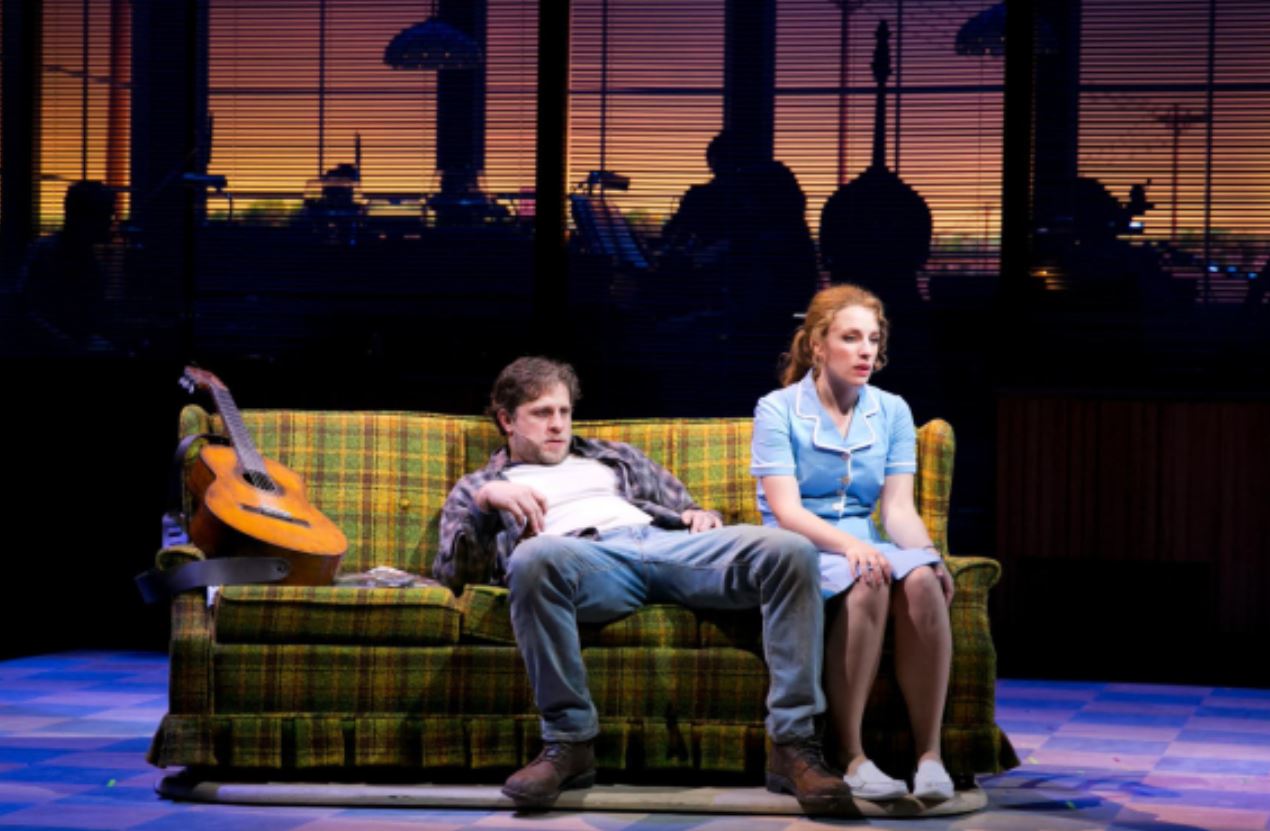 Jenna and abusive husband Earl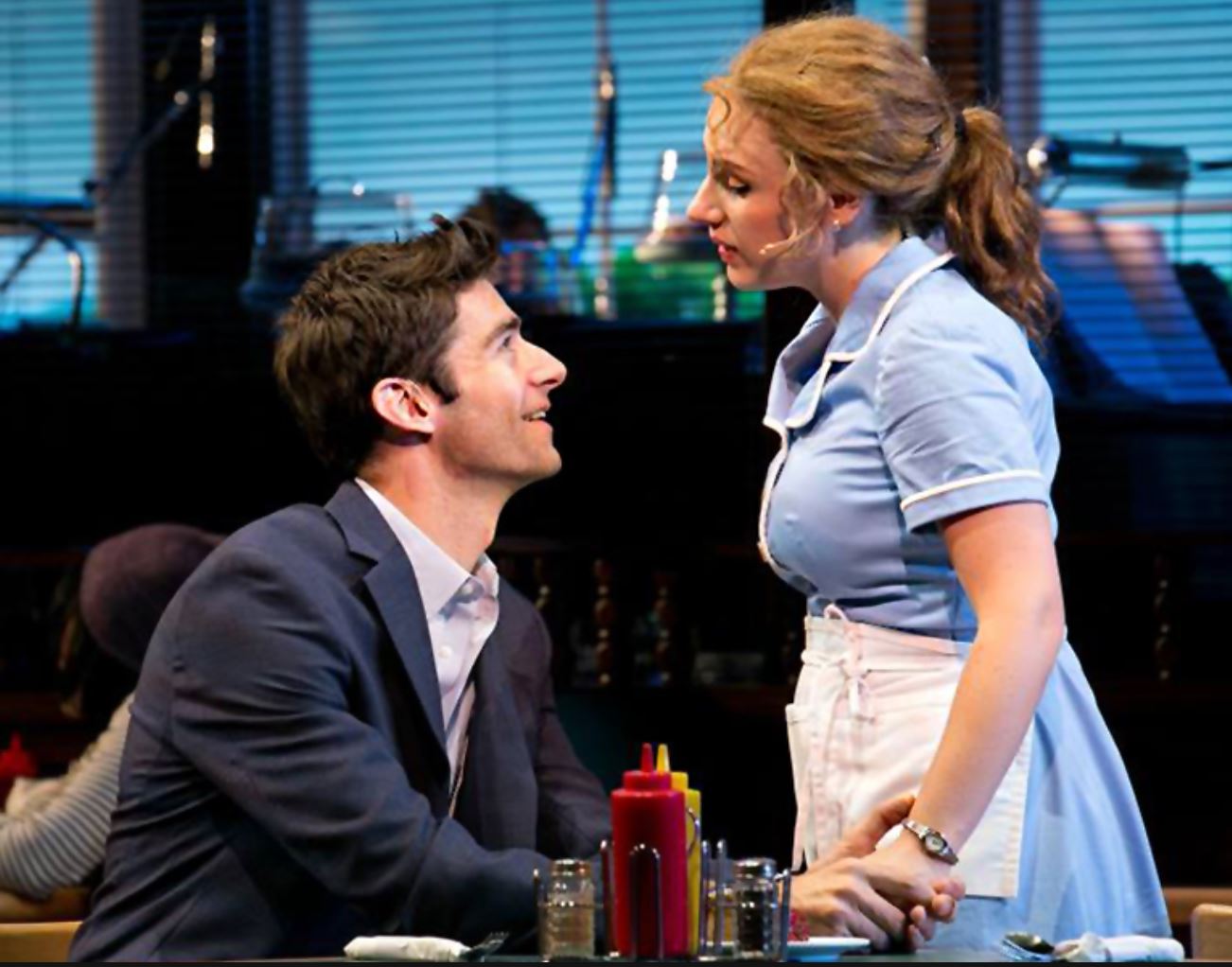 Jenna and her love interest Dr. Pomatter.
This new original musical is a faithful retelling of that movie with much of the very clever dialogue in the movie. The show's creative team is all women—pretty much a first on Broadway. Music is by Sara Bareilles, and starring last year's Tony award winning Jessie Mueller who handles the difficult octave jumping music with ease.
The staging is clever and as one might expect, the voices and talent are superb. The show doesn't dwell on the serious, but has some very high moments of humor with very likable and quirky characters. The only criticism would be the too-high decibel volume of the microphoned voices, but that seems to be the new normal. Interesting observation—upon entering the theater's lobby the fragrance of baking pies is everywhere. At intermission, they have little pies in jars for sale…$10.00.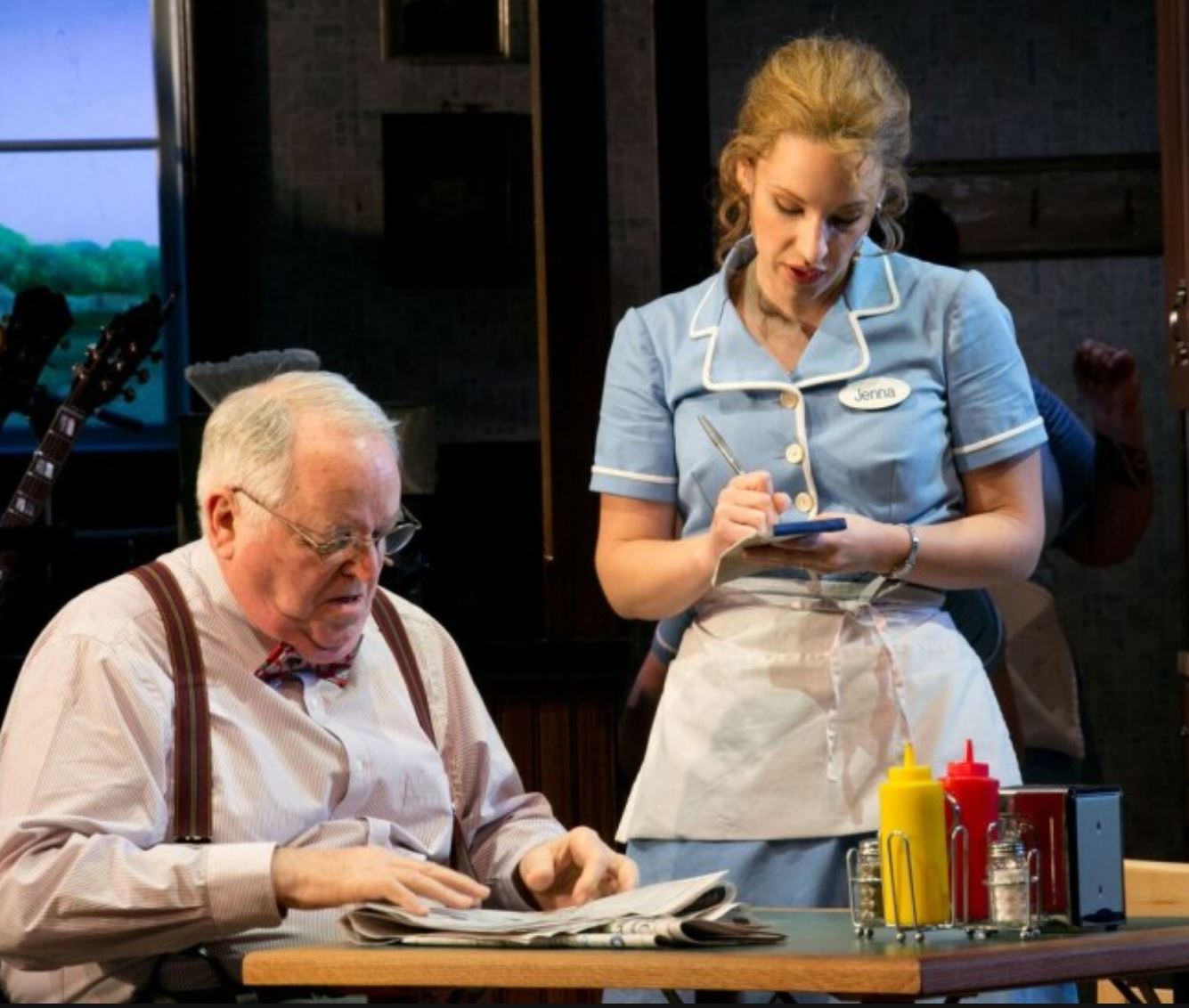 Regular customer Joe (SF ACT actor Dakin Matthews)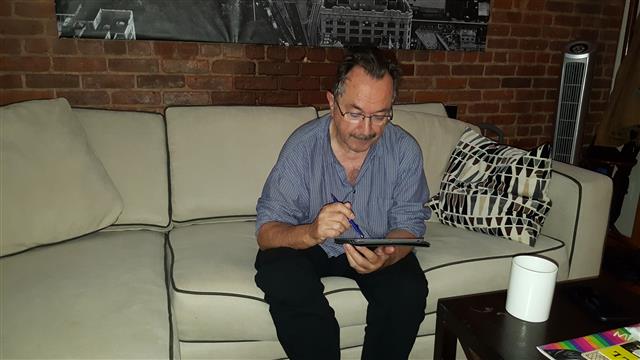 Ken relaxing "at home"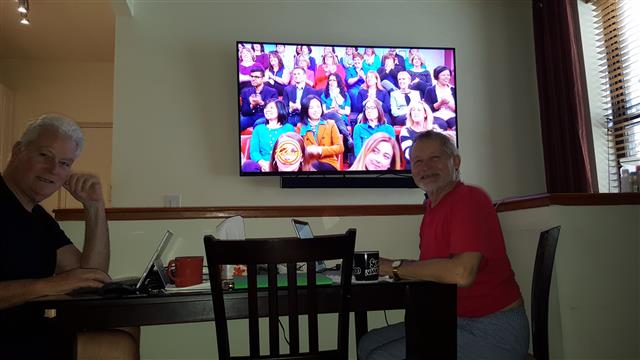 Greg and Tom at their computers beside the largest tv screen we've seen.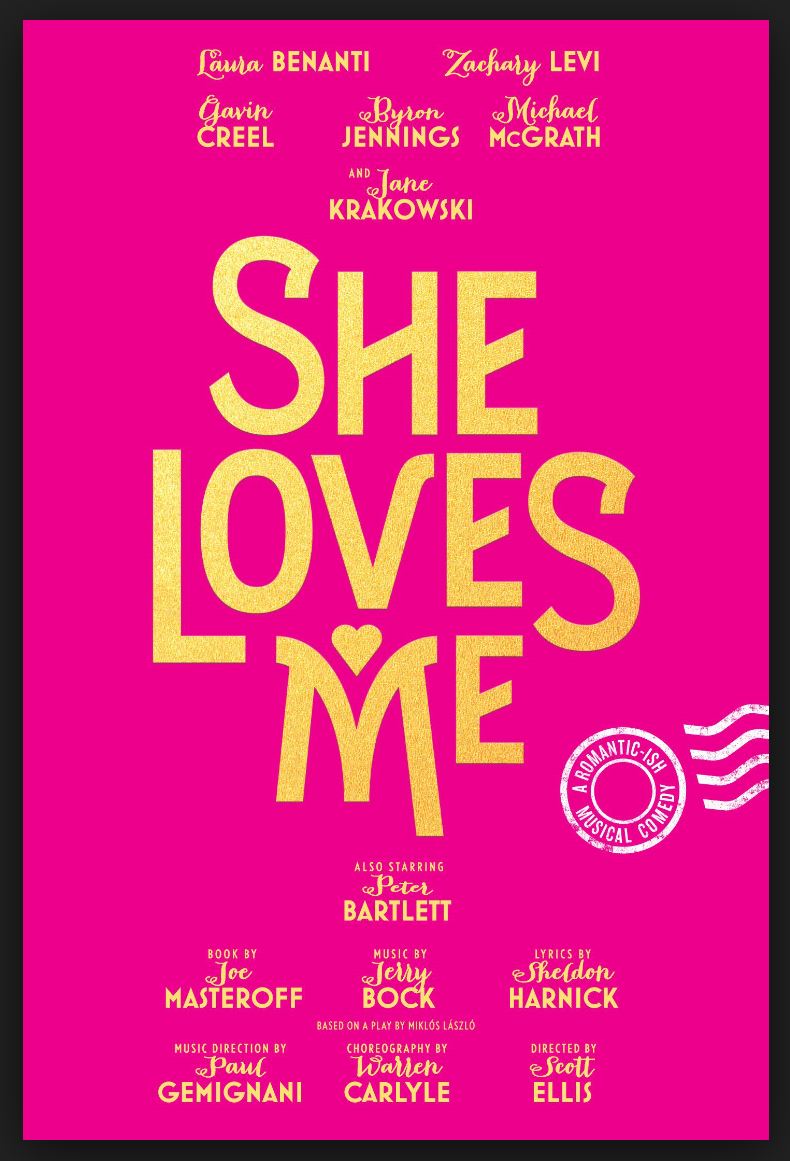 She Loves Me.
In 1964 Greg purchased the album of a new musical "She Loves Me" and proceeded to play it repeatedly for himself and all of his friends. It seems that it was full of lines which could cleverly be used by college students in almost every conversation. This show took on a life of its own. 52 years pass (ugh!) and Greg gets an email from one of these friends who wants to go to NYC to see this production. Well, last night we were joined by Teri and Leroy Coppedge and continued to throw those lines around. Time recycles, for at least a short moment.

Laura Benanti and Zachary Levi
Starring Zachary Levi (from TV series Chuck), Laura Benanti and Jane Krakowski (whose stand-in played at our performance). All the characters are beautifully portrayed. The show is intimate, the music is hummable in the old fashioned way, and the set is elaborate and detailed. It was refreshing to see it done with so much love.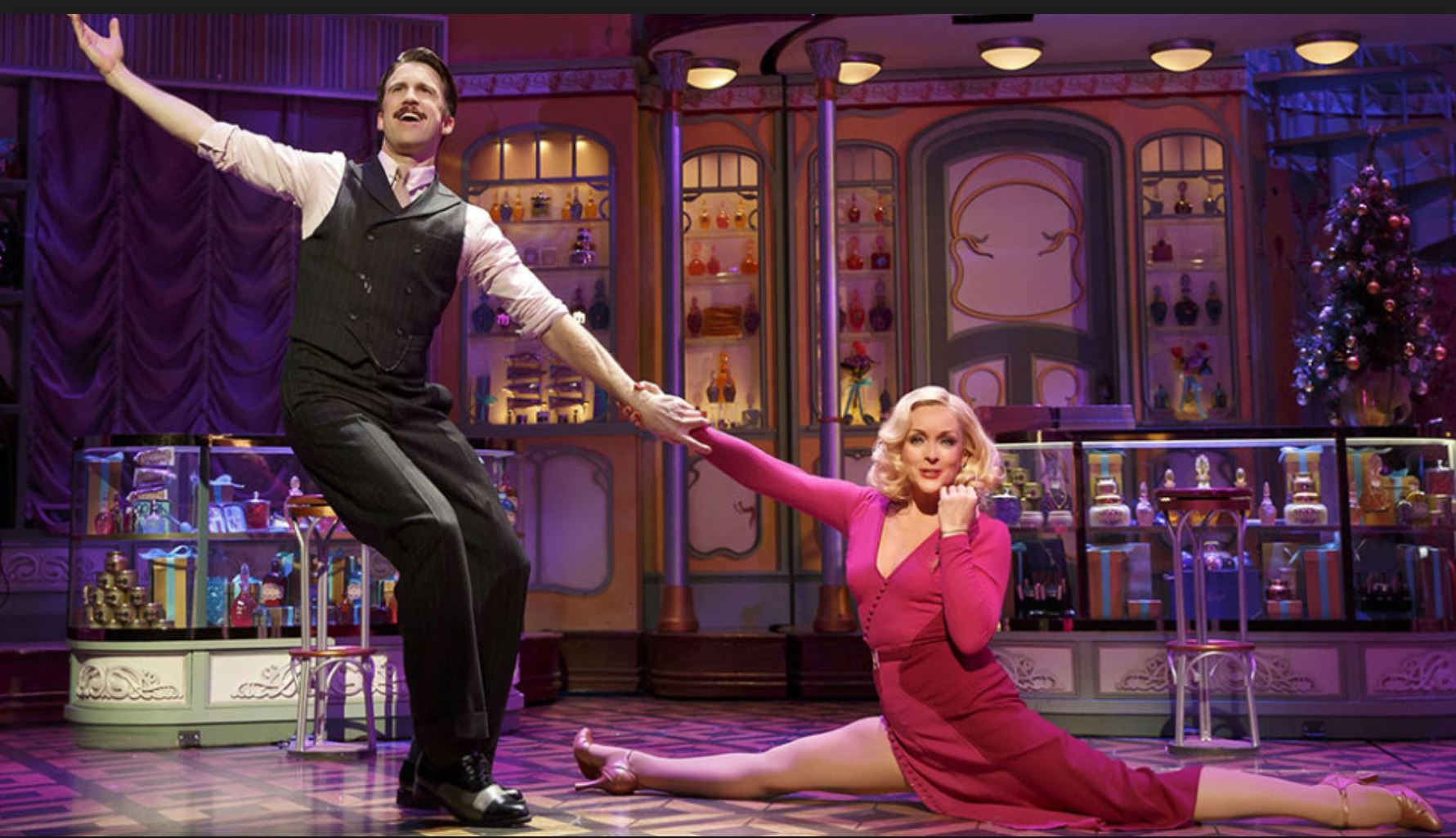 Gavin Creel and Jane Krakowski (whom we didn't see!)
She Loves Me is a story which has been repurposed many times. In 1937, it's Miklos Laszlo's Parfumerie. In 1940 it's The Shop Around the Corner. In 1998 it's You've Got Mail. But all along it's the story of opposites who secretly communicate through "lonely hearts" letters where they share their real sentiments which they are unable to express in person. We know the story, and we know how it's going to end, but we always love the story as it is told.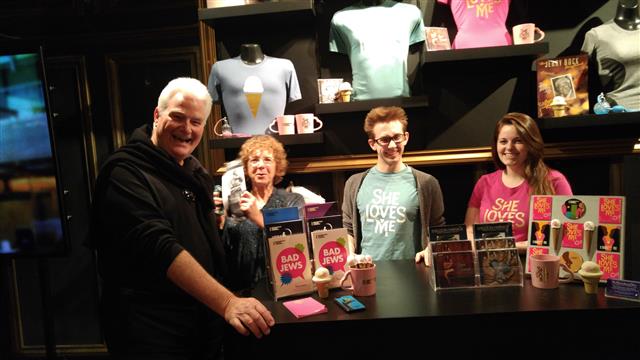 Greg and Teri with "merch" vendors for She Loves Me.
Mr. Daniels, I am a close friend of Ken's and I love, I mean love, getting these updates. Keep them coming!!! I am living vicariously through you guys:) --- Lisa S.
Clever fellows to find a way to work some pie into the travels!! Yum
--- Jim
Just wonderful! And I'll bet now Greg wants one of those "biggest TVs ever seen!" Keep having fun boys! --- Nick
Dear Tom-- Sounds like you're having a fabulous time in NYC. Was Oprah and Gail offering "free cars" to audience members? Keep me on your mailing list. Best wishes, Kim
Eight shows seems like an incredible amount, but it sure looks like you're having fun! I don't think I'd have recognized Oprah if I'd seen her! Love, Nancy D.
Thursday - April 21, 2016
We took it easy this morning as we didn't really have to get going until 6PM when we were to meet friends for tonight's show, Fun Home (which is really not a "fun" home.)
(BTW, Greg is our show critic in this blog Tom and Ken edit and Tom combines it with photos and sends it out.)

For lunch we walked down 9th Avenue past the Port Authority complex on 42nd Street and found a neat "industrial tech" restaurant called HK Hells Kitchen. (l-r, garden burger, asparagus and brie omelet, portobello mushroom sandwich.)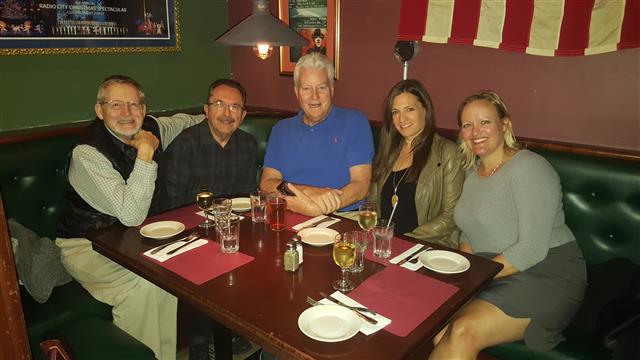 This evening we met Jen, her friend Allie at The Irish Pub on 50th Street, across from the theater of tonight's performance. We had enough time to sample fried chicken nuggets, fried calamari and hot pretzels.
Joining us at this performace were Greg's "niece" Jen, Ashland (Oregon) friends Teri and Leroy and NYC friend Dorene.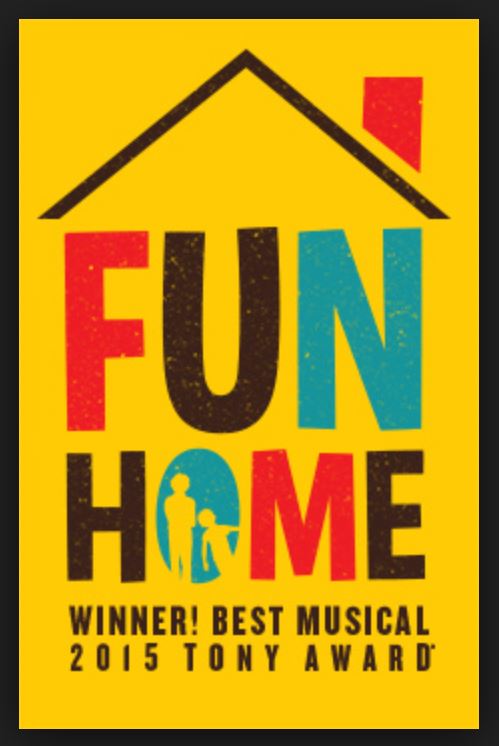 Fun Home
We were here in NYC last year at the same time that "FUN HOME" opened (before the "BUZZ".) This show went on to win 5 Tonys, including best new musical. A "seemingly" simple story told in a "seemingly" simple way through flashbacks. But, as you might expect, NOTHING was simple about this production: butch lesbians, a funeral home ("Fun Home"), homosexuality and suicide—very hummable.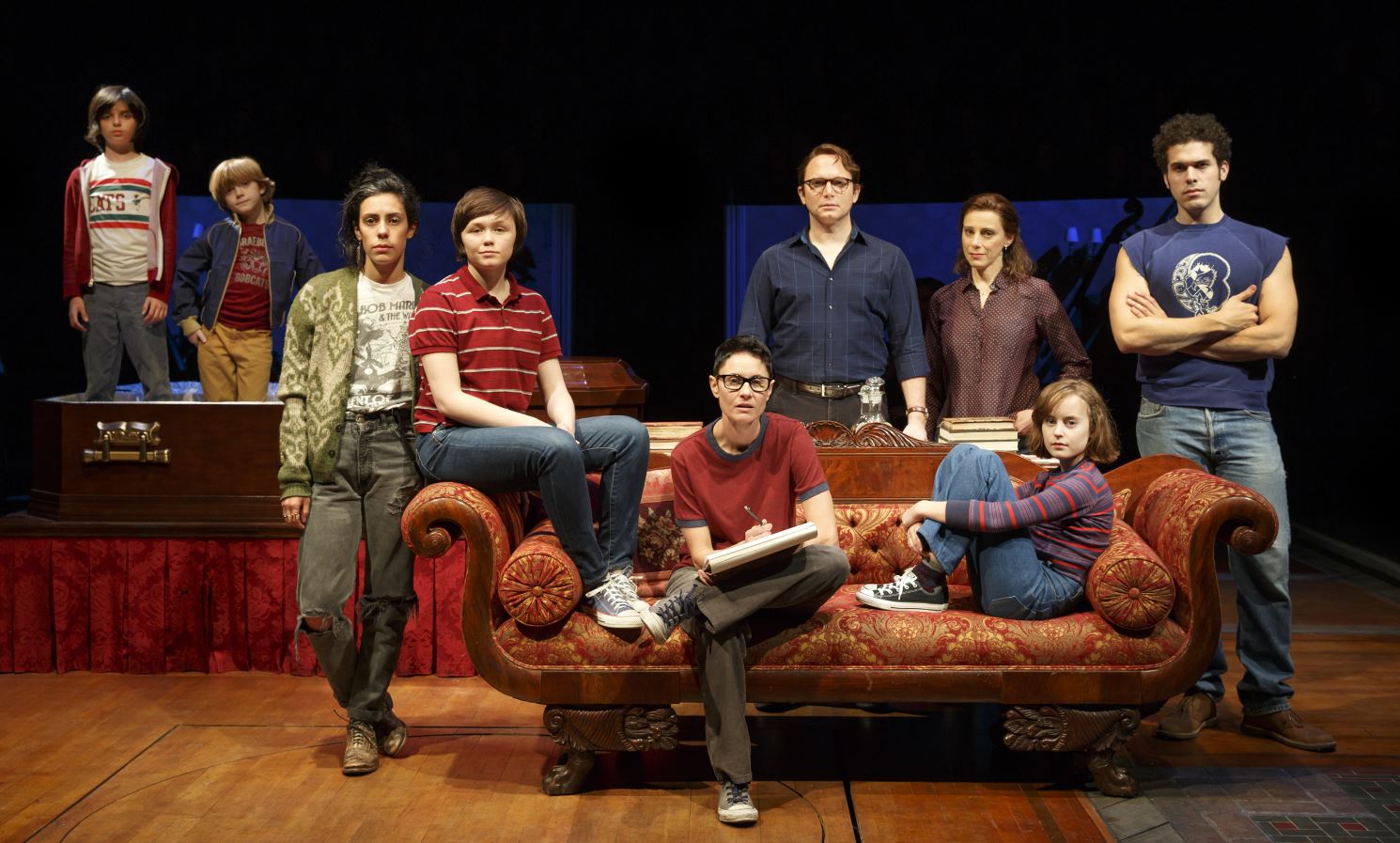 The female lead actors on the couch are (from left to right), Medium Alison, Alison and Small Alison.
Just as the characters have much to hide, the set is completely hidden away, and appears and then disappears through trap doors in the stage like moments recalled in the past. Set in the round, the audience is able to see the same room from every angle as objects appear in different locations around the stage—as if WE are revolving around the story. Deep treacherous holes appear and disappear giving one a fear of moving forward.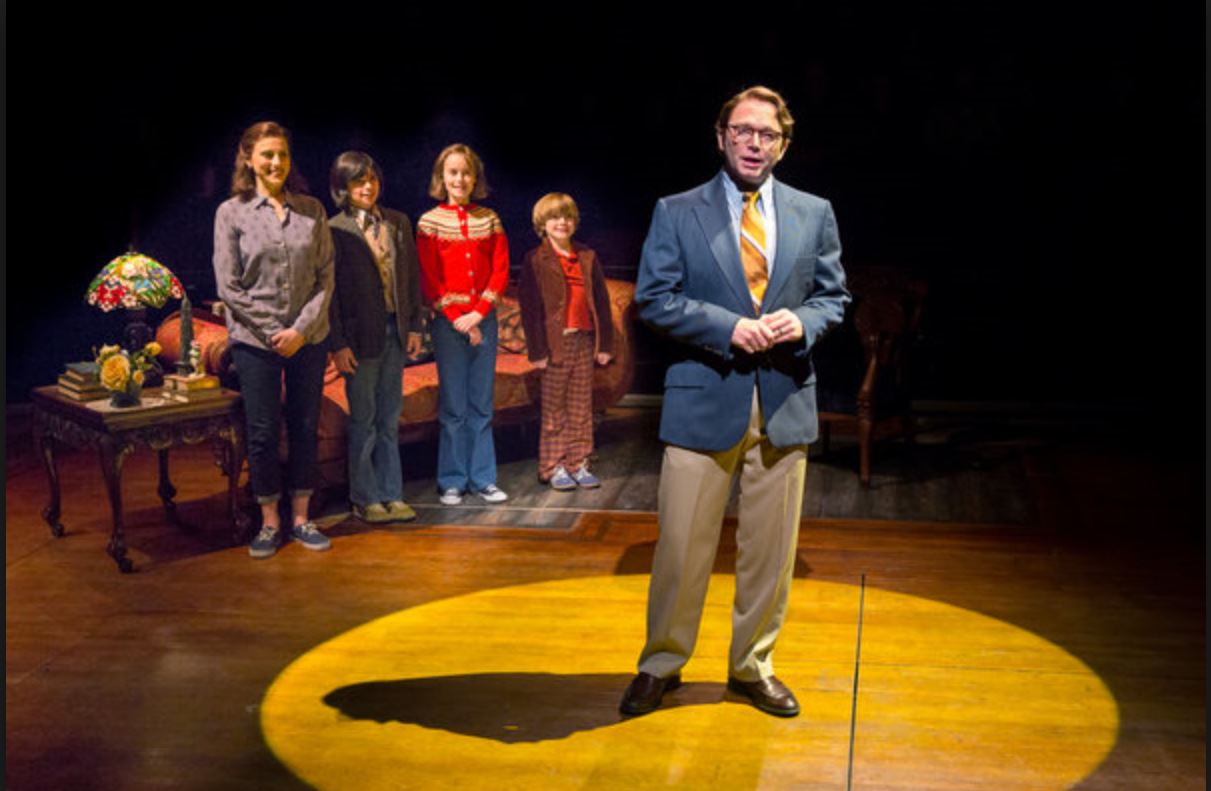 Music is incorporated to facilitate the task of recalling various moments in the main character Allison's past which contribute to her profession of being a graphic artist of cartoons. There is humor, but just as in life, the past fits together to make us the adult that we are—flaws and all.
Strong performances from all of the characters, including Michael Cerveris as the father, who won the Tony for best actor. Three Alisons: small, medium and adult guide us through her discovery of why she has become who she is.
This "seemingly" simple production is as complex as the act of understanding who we are and how we came to be who we are.
As we were leaving the theater, the cast was also leaving and Tom got the autograph of Small Alison and the "boy friend".

l-r Ken, Greg, Teri, Leroy, Tom, Dorene (standing).


This is a "selfie" panorama without a self.
For our after show dinner we returned to Lydia Bastianich's Becco Restaurant. We've eaten here three times now and each meal was in a different room. This time we were upstairs.
Looks like another "fun" day in NYC. Glad you boys are behaving yourselves out in public. I always worry…. Sylvia K.
Friday - April 22, 2016
Today we Uber'd uptown to the Museum of the City of New York, on 5th Avenue at the NE corner of Central Park. A 22 minute film of the history of NYC started us off going back to the sale of Manhattan for $24.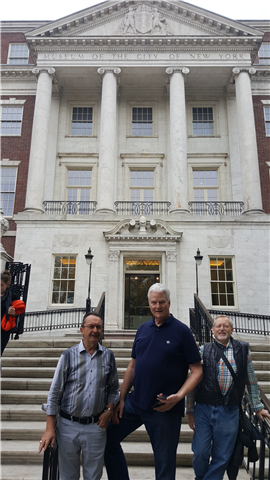 Ken, Greg and Tom outside the Museum of the City of New York
A featured exhibit was the art of Roz Chast (cartoonist for The New Yorker). She has a very interesting style and point of view. Another gallery was of 18th and 19th century American oil portraits including George Washingtons by Gilbert Charles Stuart. Then we saw a display of NY Yiddish Theater, Activism in NYC, and lush jewelry, gowns, etc. in the new Tiffany & Co. Foundation Gallery.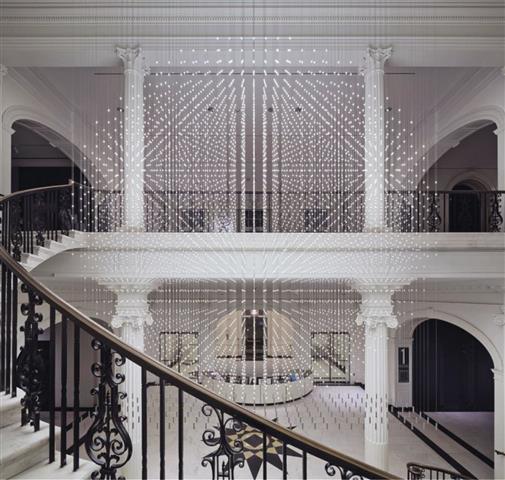 Starlight, a celestial array of 10,486 brilliant LEDs is suspended from the dome ceiling of the rotunda of the museum. It appears to shoot star bursts in all directions for viewers spiraling the staircase.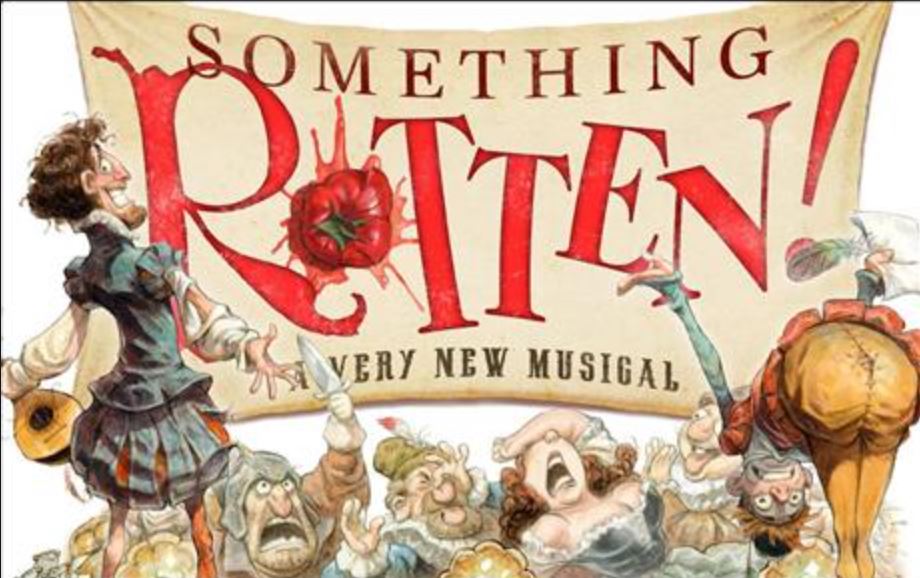 Something Rotten, a Very New Musical

… and then sometimes you need to just have a good time. You see, it's the Renaissance and apparently everyone overly adores Shakespeare except, of course, for the 'other' playwright team of the time—Nick Bottom and his brother Nigel. They are in desperate need to find a story to keep their theater away from the creditors. Nick consults with a soothsayer named "Nostradamus" to find out what Shakespeare's next play is going to be and ends up with —wait for it — "The MUSICAL!" He writes a show where people stop and sing—about 'omelets and ham" (you see where that's going? ... Hamlet?)

Nick Bottom (Brian d'Arcy James) and Shakespeare (Christian Borle)
We then are treated to every cliché and Broadway references about musical theater from the beginning of time. Tap dancing peasants, Shakespeare with back-up singers, puritans with sexual double entendres, auditioners holding hand drawn head shots over their faces; these are just a few of the recognizable conventions that fly by. The more you know about musicals, the more fun you have. But, even those who are new to the theater will have a good time.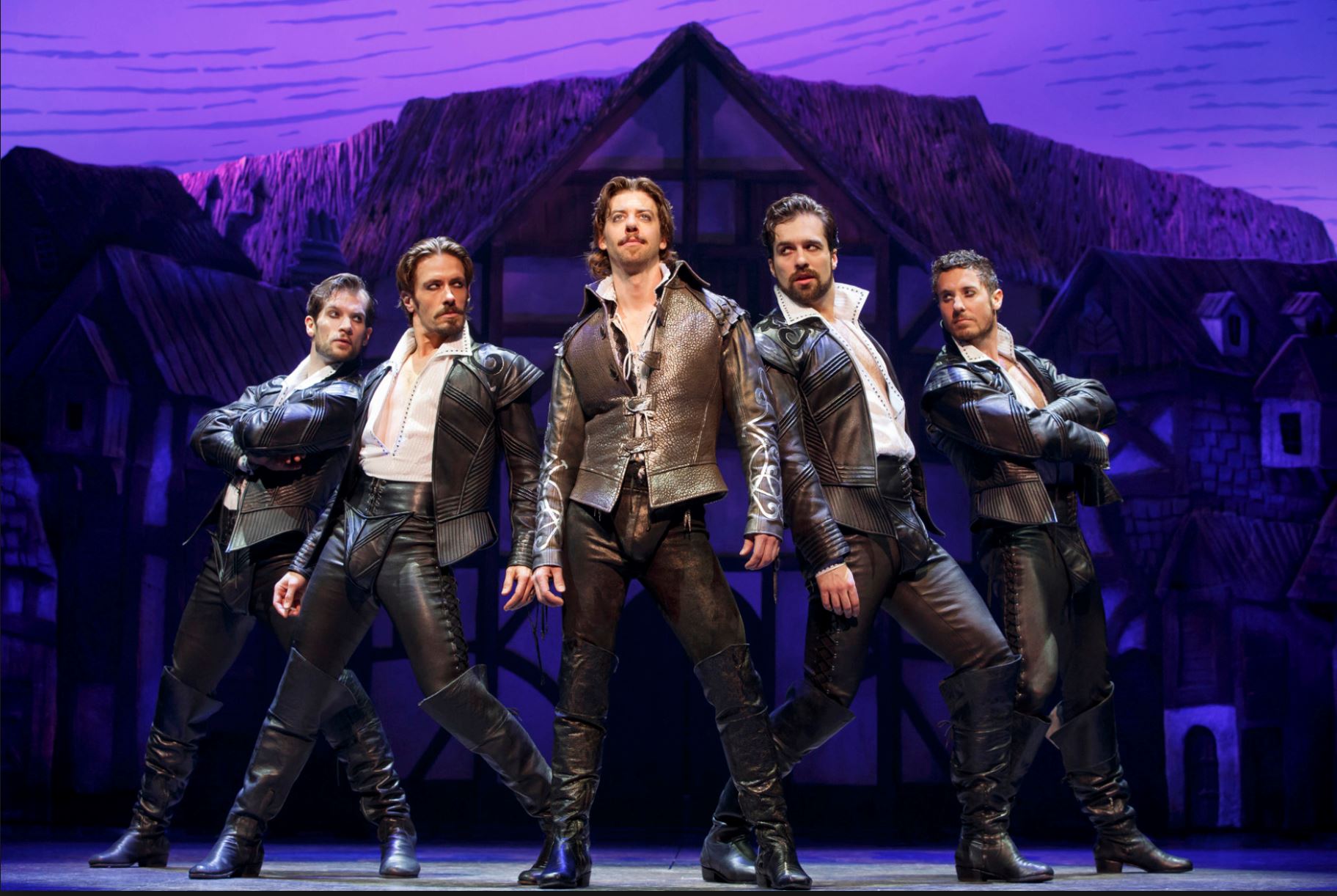 The show opened one year prior to last night, and the cast was celebrating the fun that they have had over the year. The original cast is still performing nightly: Brian d'Arcy James as Nick, Christian Borle as Shakespeare and a perfectly cast group of powerful performers keep you on the edge of your seat with laughter. Tom sat next to a rabid 'crown wearing', ear-drum-piercing screaming fan who has seen the show 24 or 25 times! (She, of course, stood after every number.)
Everyone in the audience had a great time. But the people on stage were the ones who were enjoying themselves the most, never tiring of the jokes or the reaction of the audience.
Bravo!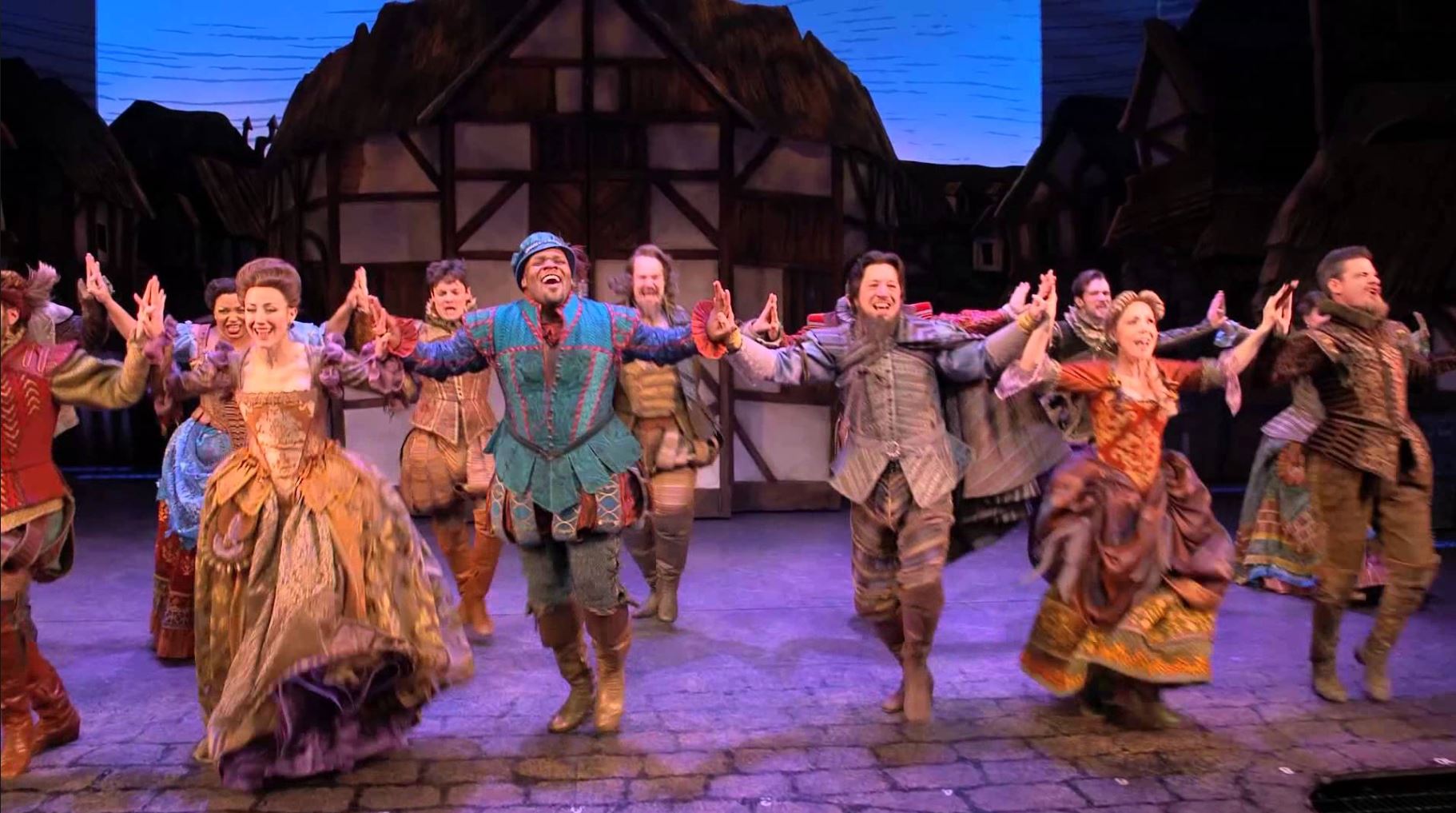 Dances and singers in the ensemble.
Because tonight was a special performance of Something Rotten (the 1 year anniversary of the show's opening), Christian Borle came forward at curtain call to thank everyone who has worked on this production ... cast, crew, repeat audience members, etc. Borle then had the audience hold up the Shakespeare fans (see below) so he could take a selfie with us in the background.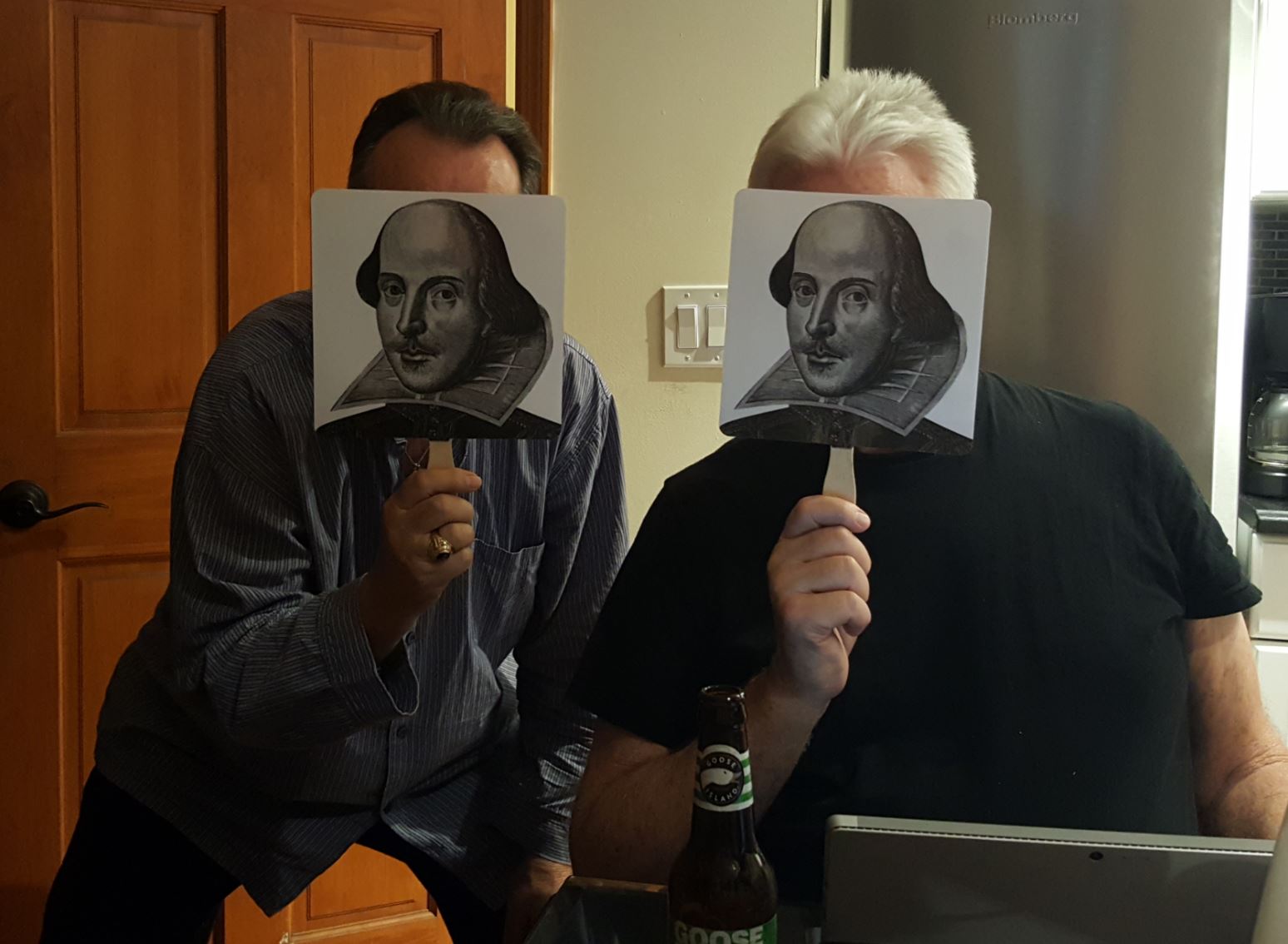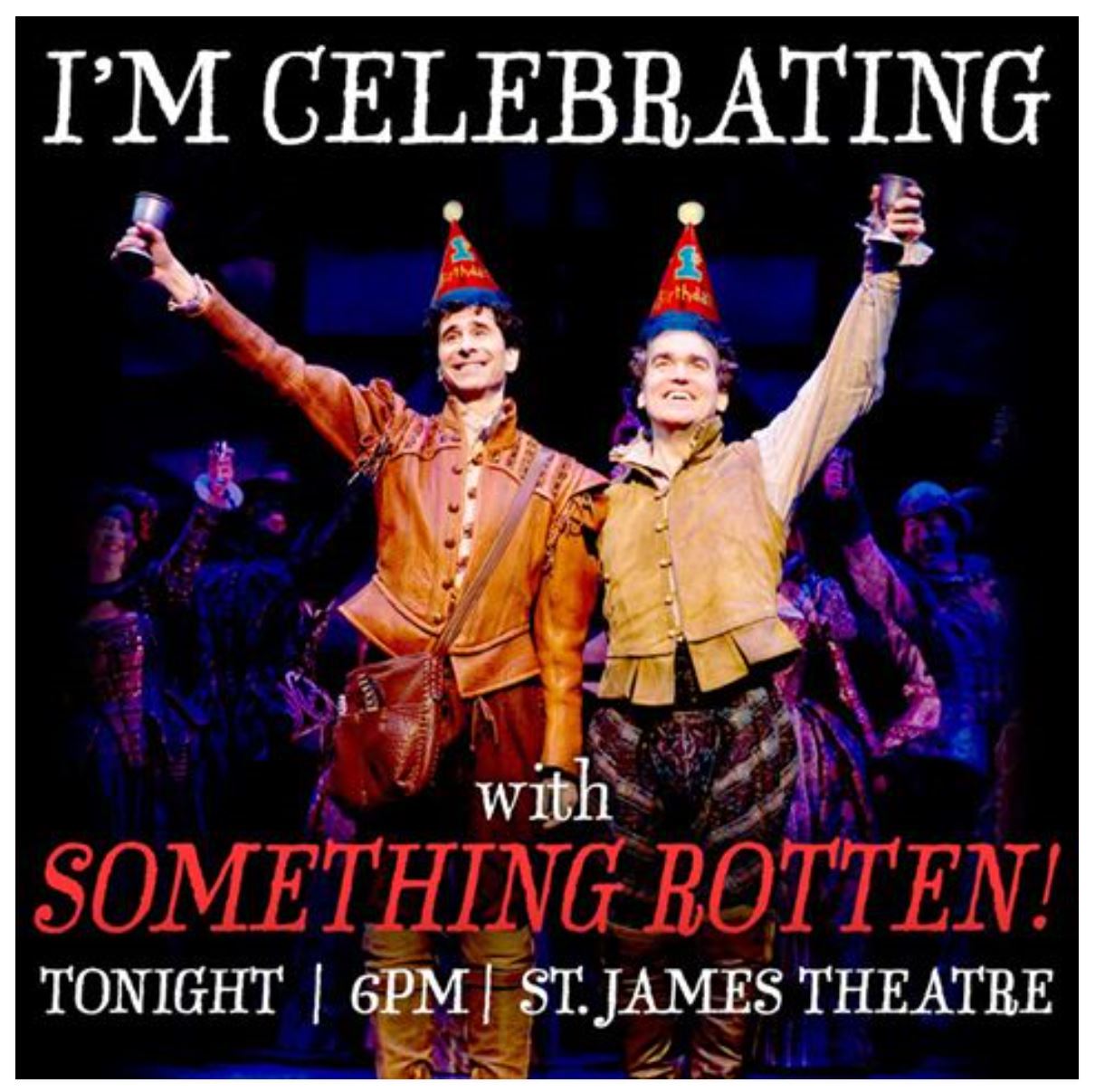 The one-year anniversary of the opening of this show.
==================================
Hi Tom Elaine would love to be added to your email list. See her address above. Thanks! Hope alls well! --- Dianne
Thanks for adding me! Elaine F.
So clever... Thanks for all the recaps. ... Linda B.
Beyond jealous !!! --- Maxine
Looks like an amazing trip. Love the updates. You all keep getting more professional each year..... have you thought about taking your show on the road? :) Keep the updates coming.... loving them! Todd
Hi Tom, Both Richard and I "wish we were there!" We can enjoy NYC theater vicariously. Here's wishing you a safe journey. Best wishes, Kim
(and in the sarcasm section:)
A 22 minute film cost $24?! Geez, New York is expensive! Nick
Saturday - April 23, 2016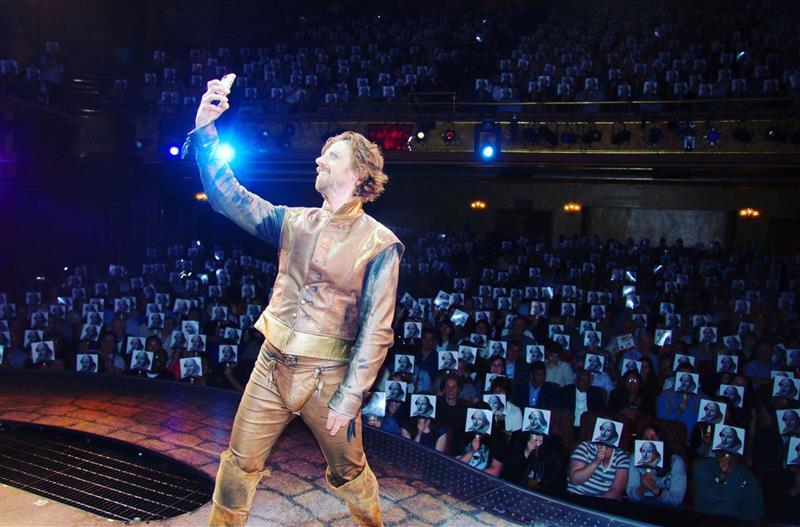 Christian Borle taking a selfie of the "Shakespeares" the night we were in the audience. And April 23, 2016 is the 400 anniversary of Shakespeare's death. Tom is sitting in row K, in the middle to the right of Borle. Ken and Greg are sitting at the right aisle in row J by Borle's left arm.
Two shows today!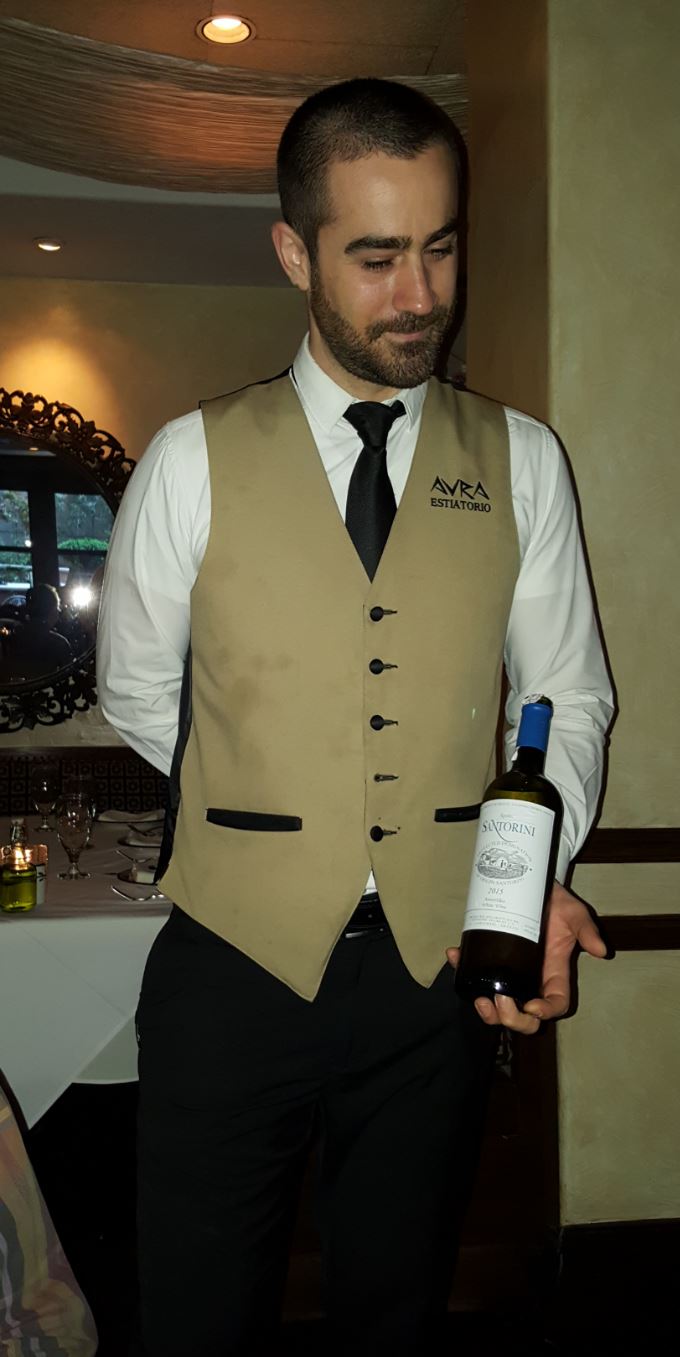 What kind of wine would you like with your supper?!?!?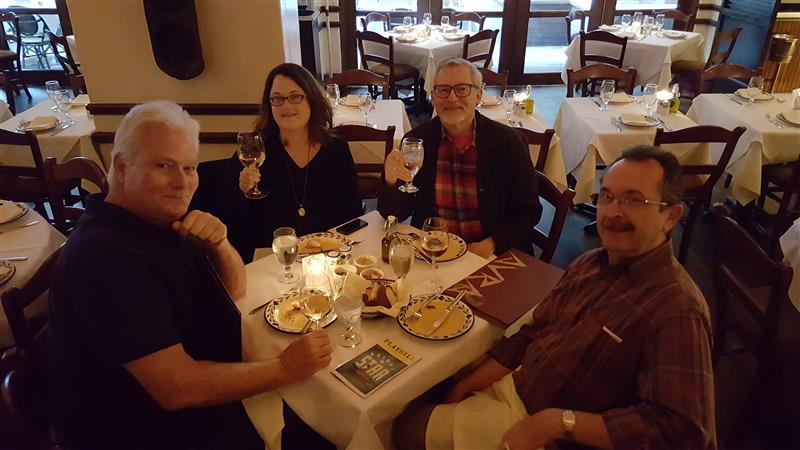 Greg, Dorene, Tom and Ken at Avra Estiatorio (estiatorio. Noun. A Greek restaurant, especially one that is more upmarket and elaborate than a tavern) at 48th and Lexington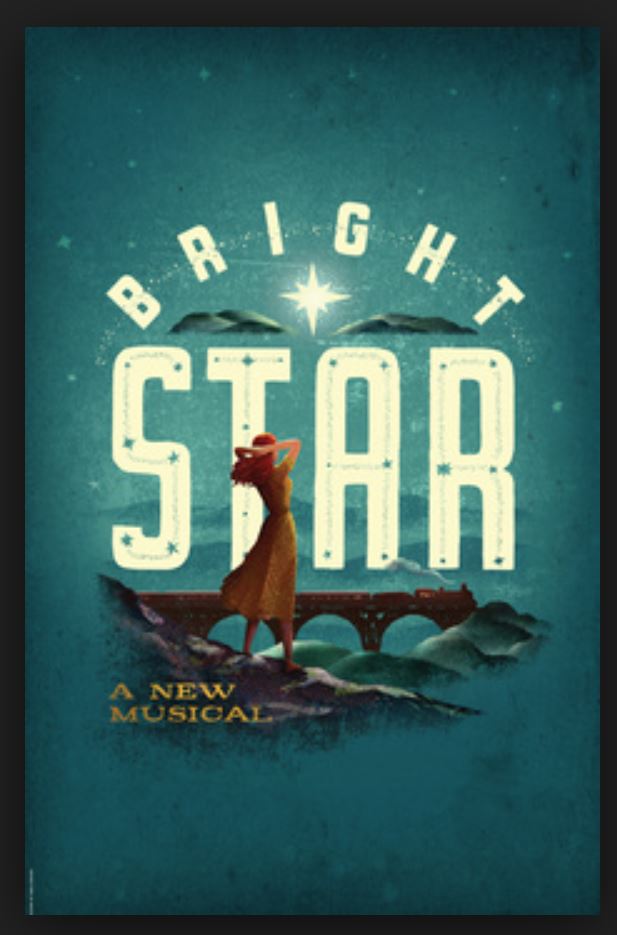 Bright Star by The New 'Steve and Edie!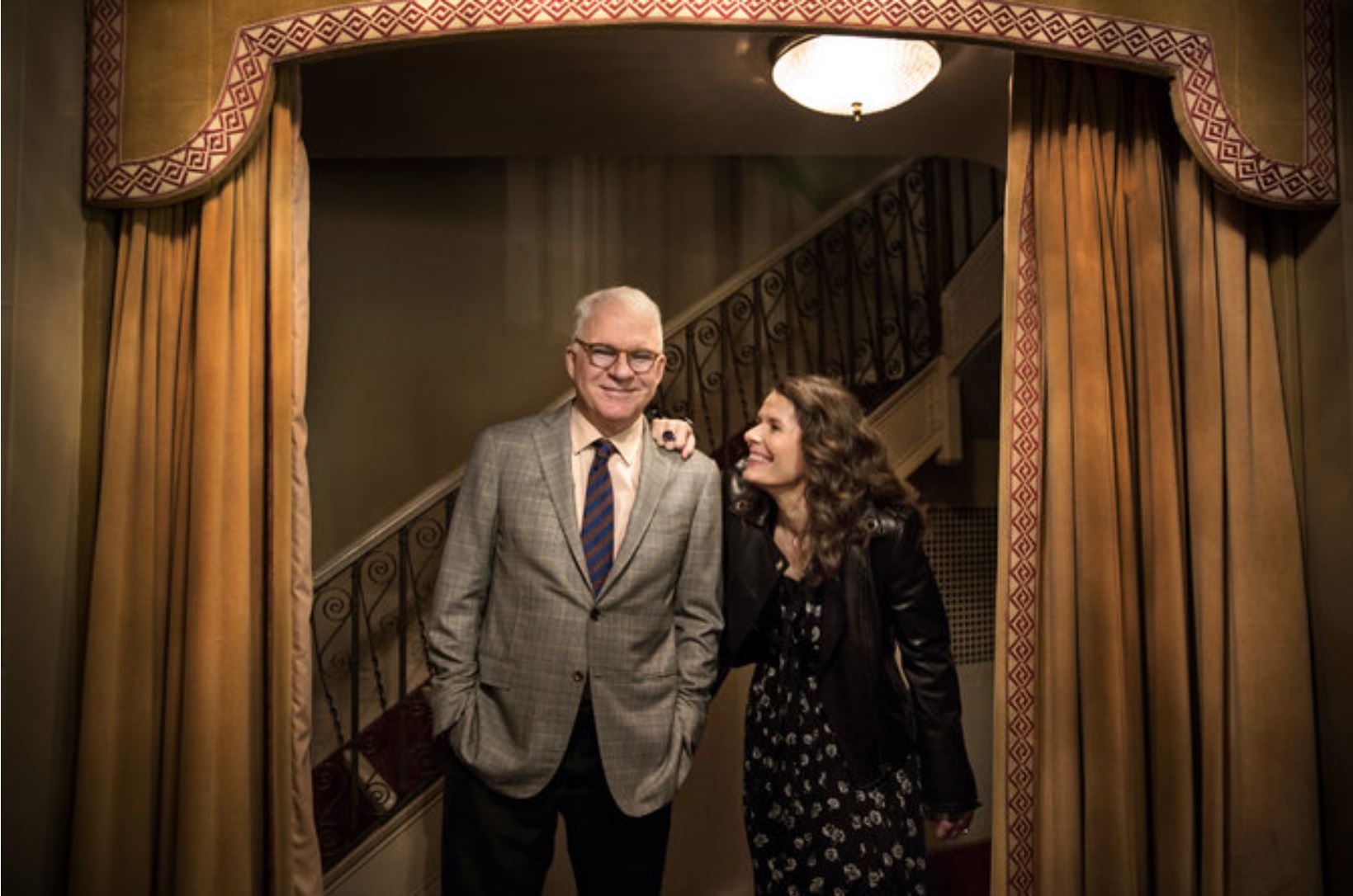 Steve Martin and Edie Brickell
Wild and crazy comedian Steve Martin and composer Edie Brickell have teamed up to tell a story. Steve has pulled back his wild image to write the book and lyrics of a North Carolina tale told in a scaled down way. Edie has written music which conveys that bluegrass feel which they both love.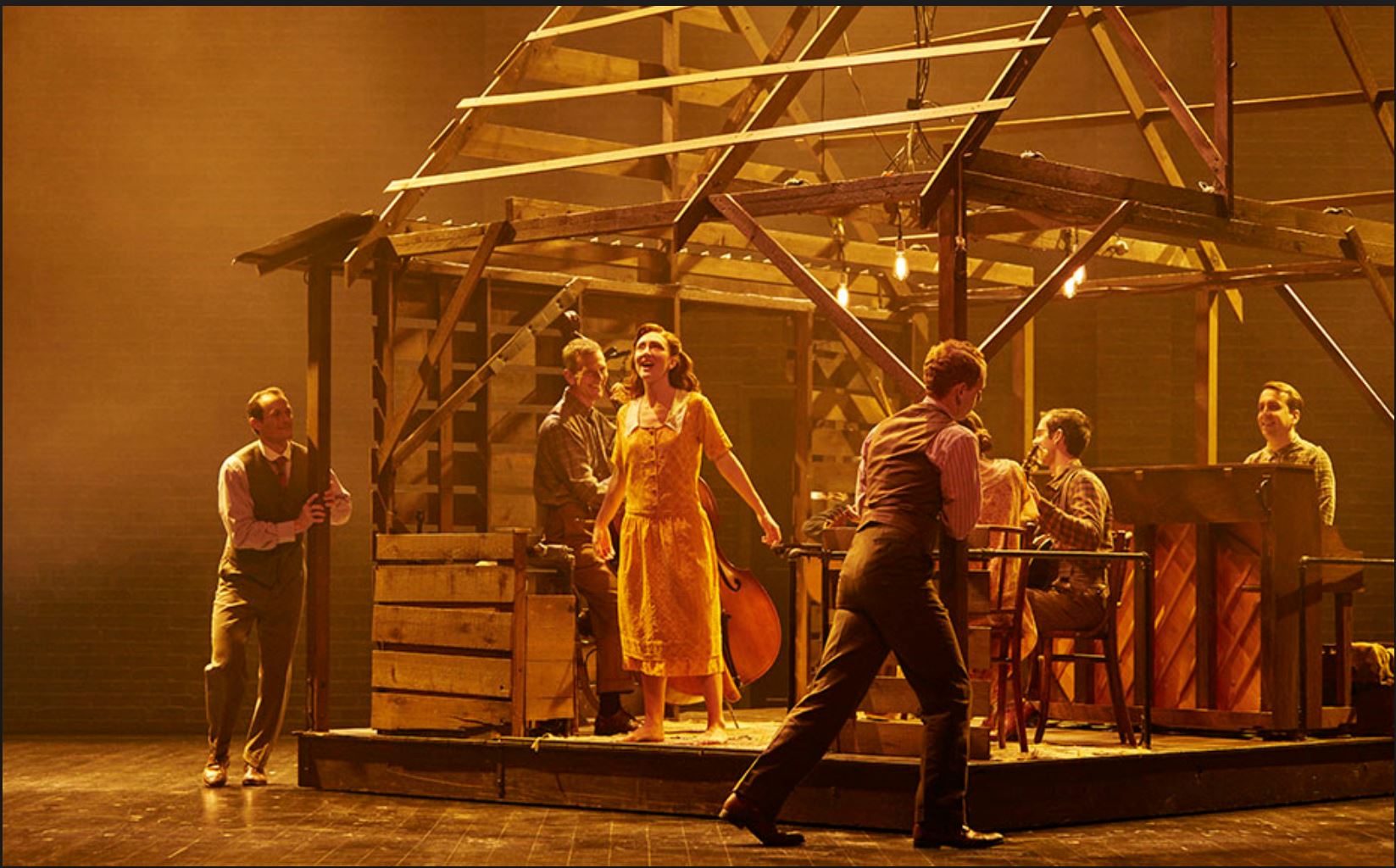 Carmen Cusack as Alice
The production is a great example of the important elements of the musical stage which when they meet magically create a complete experience. When these elements don't quite come together you become aware of the complexity of creating a Broadway show. In this case the staging is very clever bringing the importance, physically, of the musicians to center stage, then replacing them with the actors telling their story.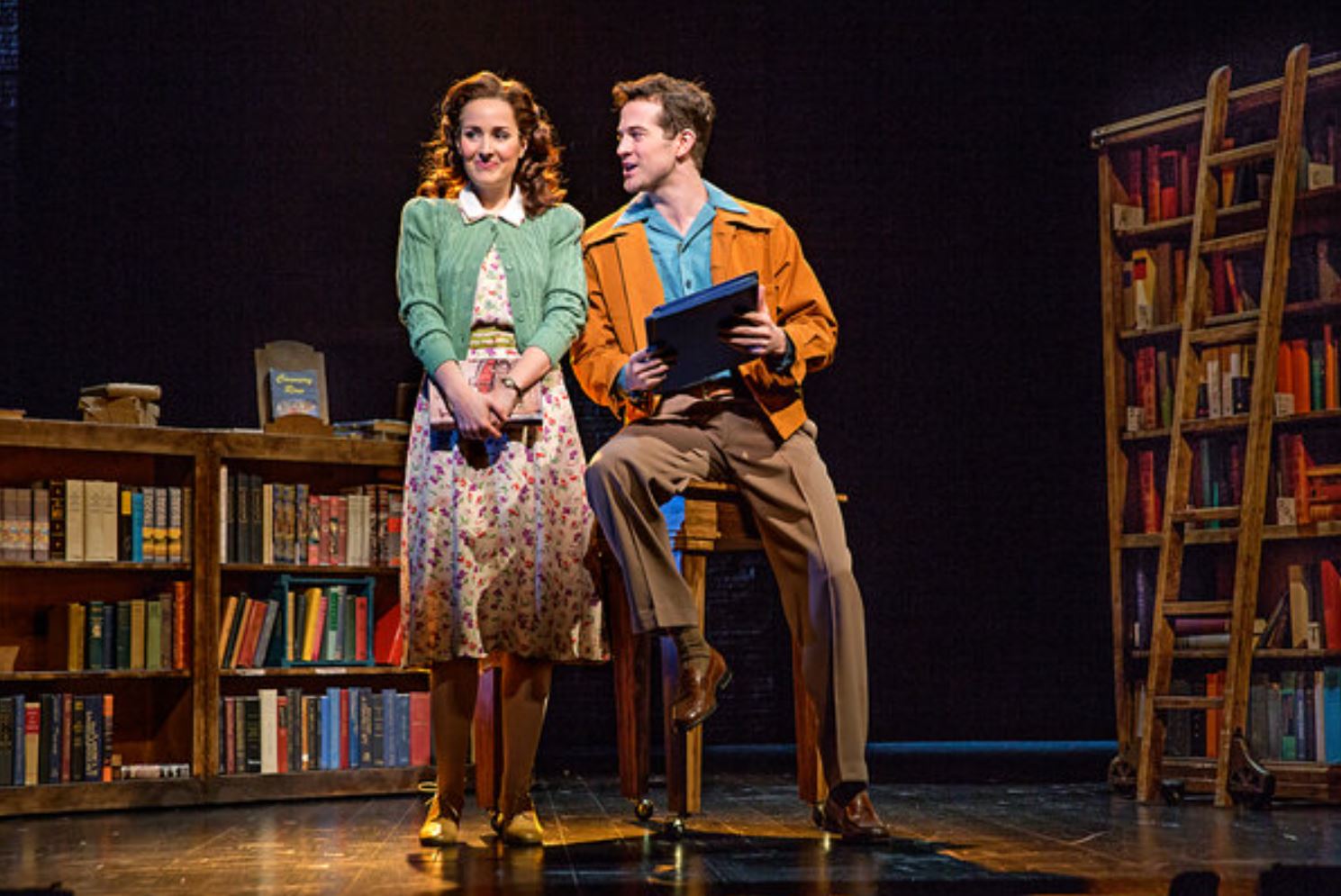 The performances are very strong, particularly the lead with her first Broadway show, Carmen Cusack. The lighting beautifully sets the mood. The story is told in such a way that it straddles tragedy, sentimentality and reality. The songs and lyrics are clear, but a bit too repetitive. The delicate balance of all of these elements don't quite come together. (IMHO) (In My Humble Opinion—Greg.)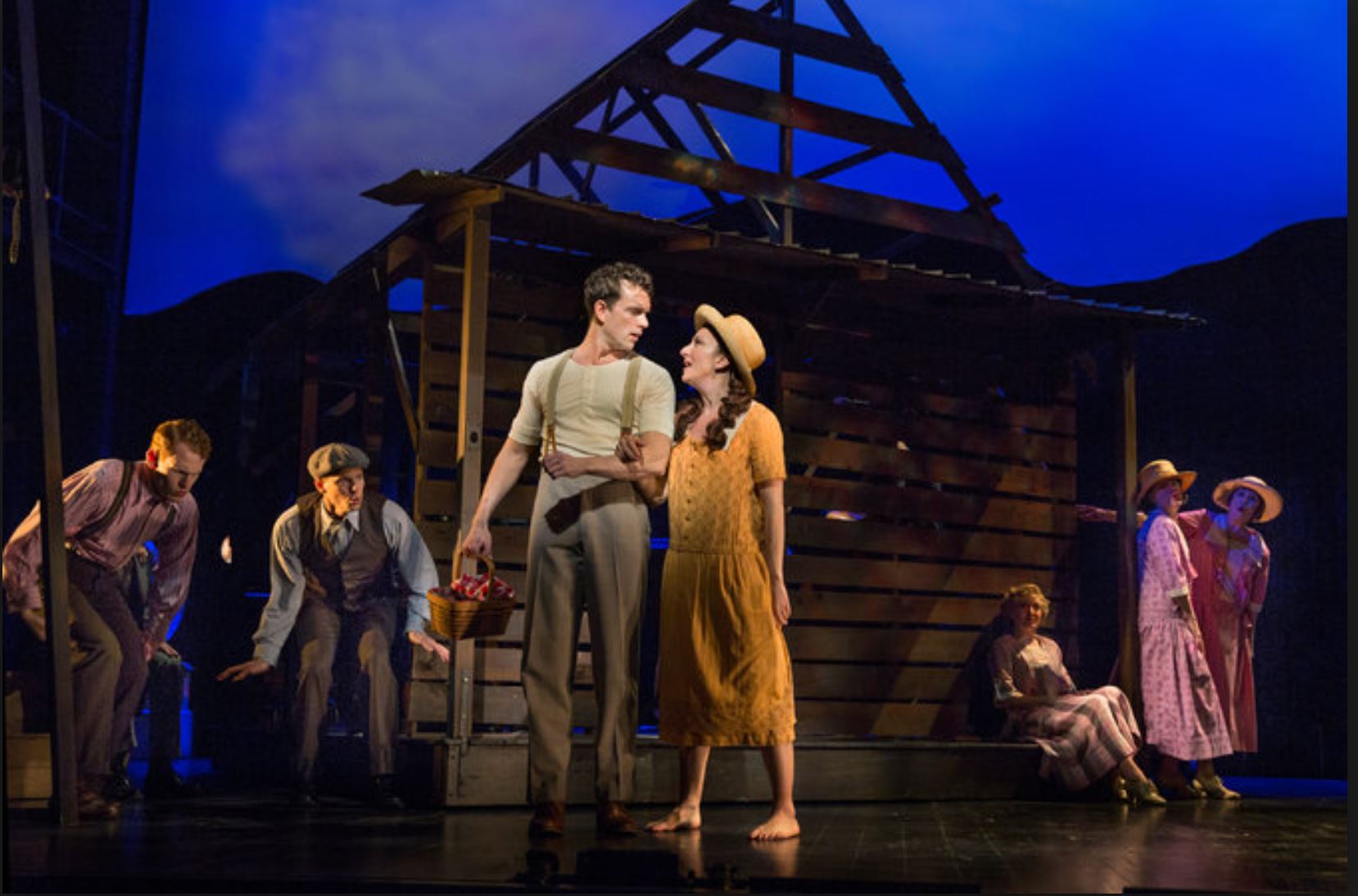 Paul Alexander Nolas as Jimmy Ray and Carmen Cusak as Alice. We saw Patrick Cummings playing Jimmy Ray.

At the end of the show you feel invested in the characters, and you have laughed and cried. But you also have figured out what was going to happen long before the people on the stage. Nevertheless, it takes you on a journey which you might not have ever taken.
Fully Committed
Behind the scenes it takes not a village, but a city to create a Broadway Show. Probably more than 50 creative people were involved in this production from the lighting, costumes, set, producers, accountants etc. etc.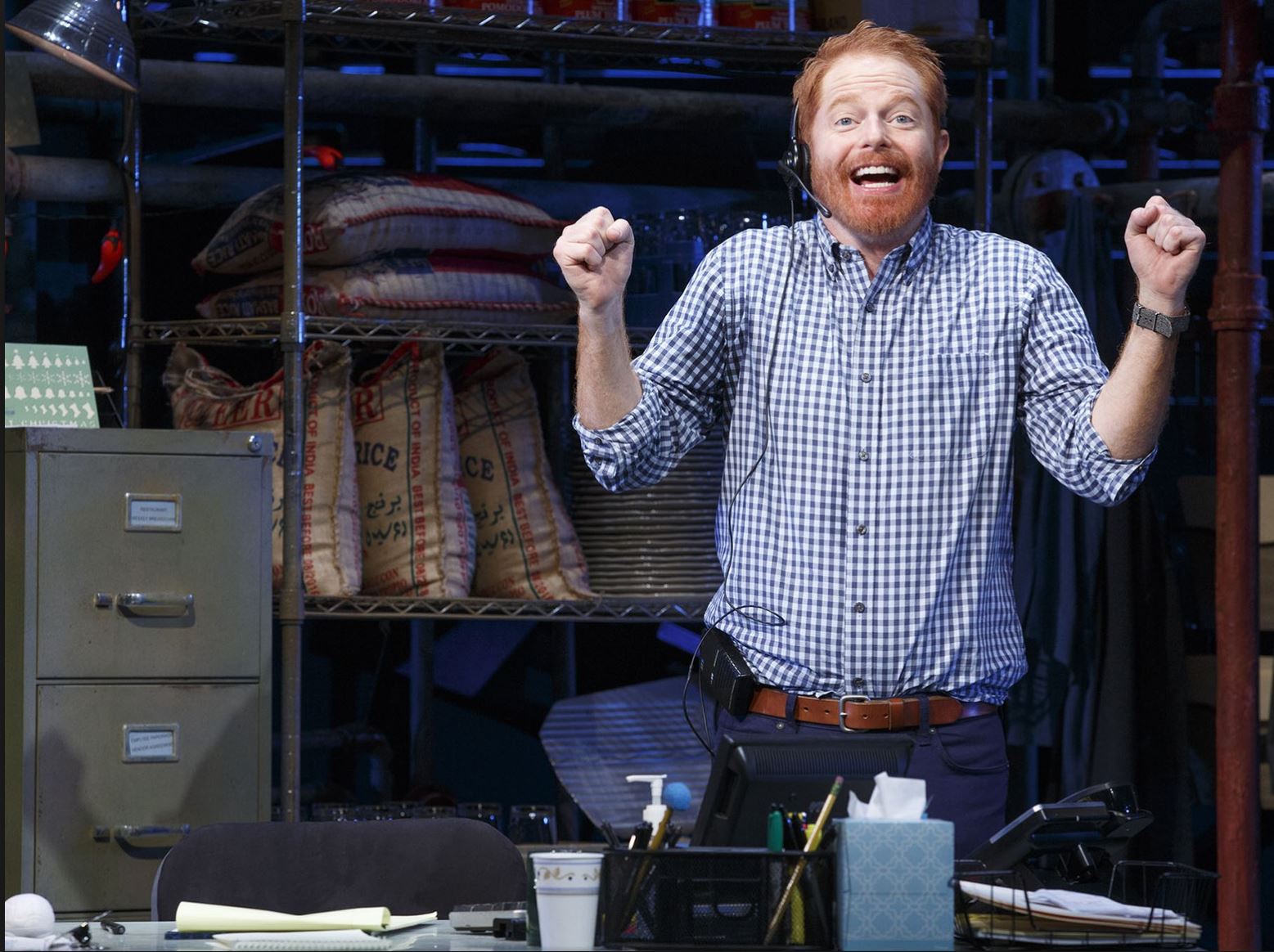 And, all of this rests on the not so broad shoulders of one man: Jesse Tyler Ferguson. We know him as Mitchell Pritchett on Modern Family. He is alone on the stage, and yet, there are about 40 characters who come and go during the show. You see, Sam (Ferguson) works in the basement of a "world-renowned, ridiculously red-hot Manhattan restaurant" and he takes the reservations. Every type of person calls in to get a spot in the restaurant, as well as the chef, maître d, busboy and critic.
The performance is a tour de force of concentration and memory. We all know the characters that he has created, whether we like them or not. Jesse's range is surprising. There is an ad for the show in which Jesse states: "Doing a Broadway show, I'm taking a pay cut, working long hours and every weekend….What was I thinking?"
We liked his kind of thinking.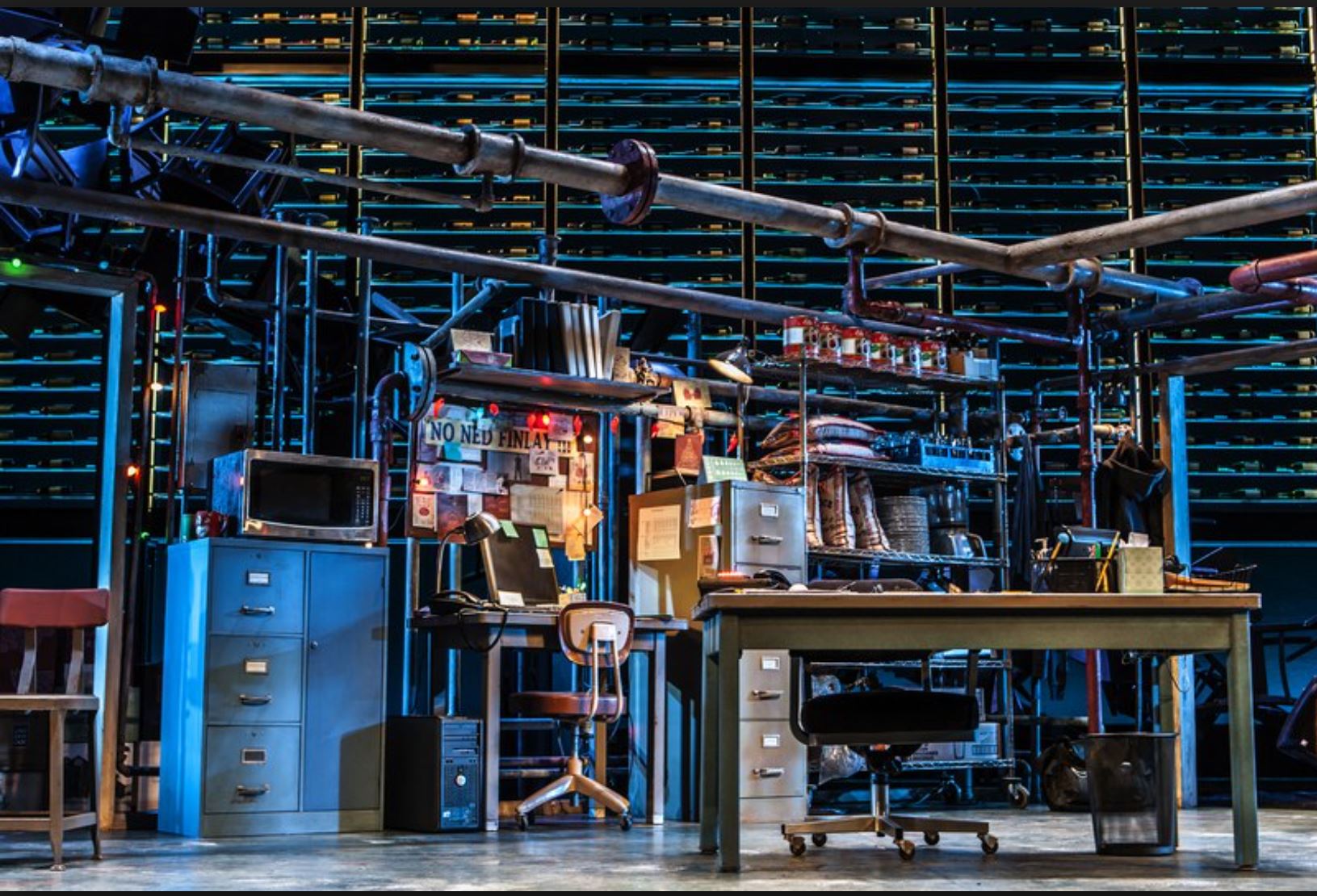 This restaurant is known for the chef's use of molecular gastronomy. Menu items include monkfish liver, peppermint snow and a risotto "infused with a tea made from pipe tobacco." Lavender foam was another choice.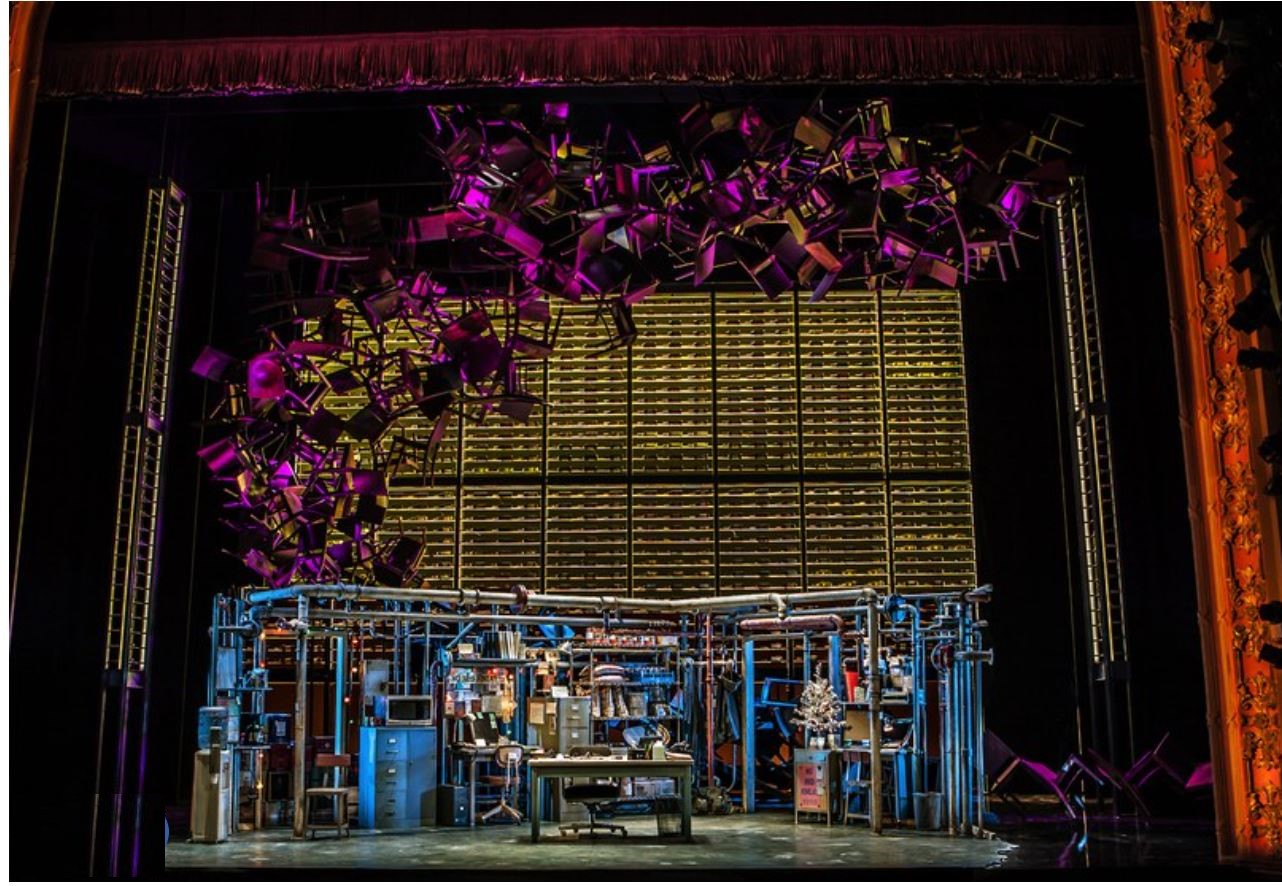 The set is framed by a "tornado of chairs" at the top and a wall of wine bottles at the rear. The reservation desk is dwarfed by all of these props including the plumbing (pipes)
.
Sunday - April 24, 2016
Museum day!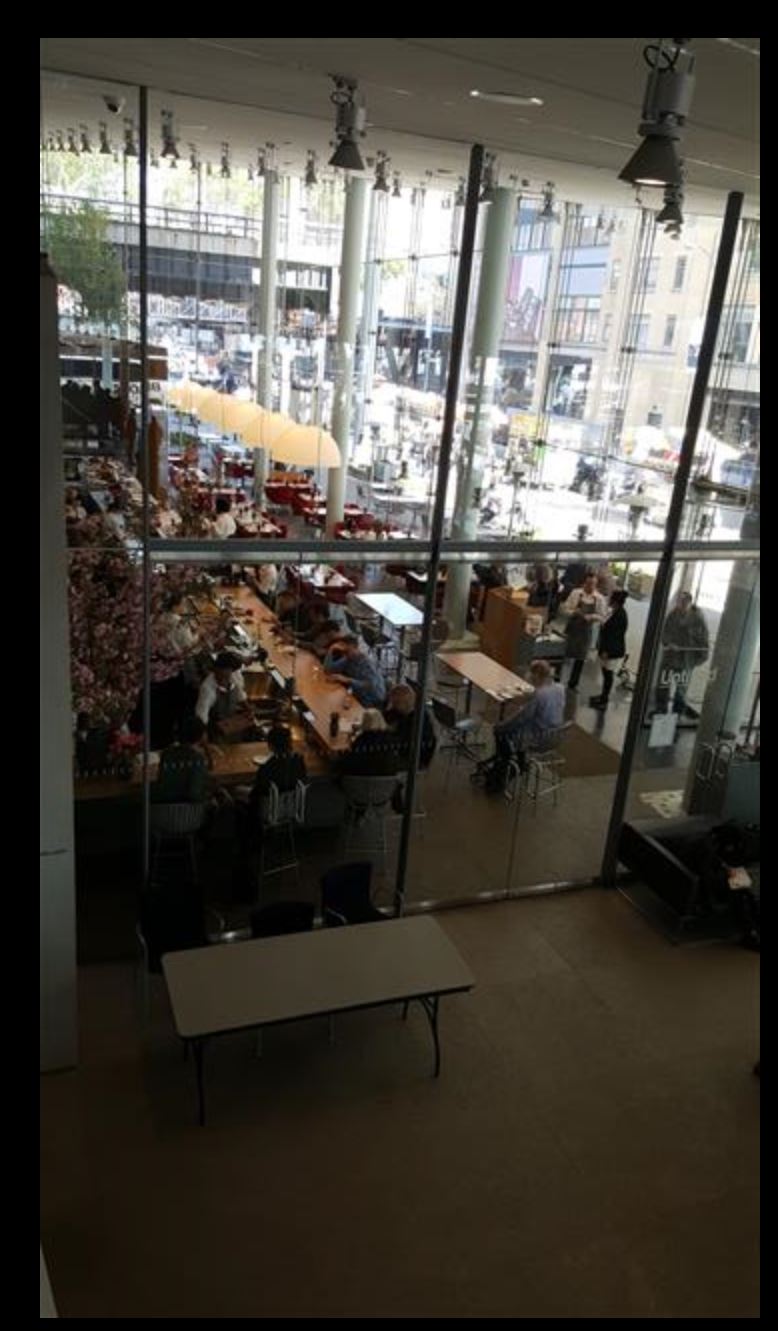 "Untitled" Restaurant on the ground floor at the Whitney. We sat at the counter that you can see through the glass window.
Gertrude Vanderbilt Whitney was Gloria Vanderbilt's aunt and guardian. She was a sculptor. She founded this museum of American Art when her offer of a donation of her collection to the Metropolitan Museum was refused.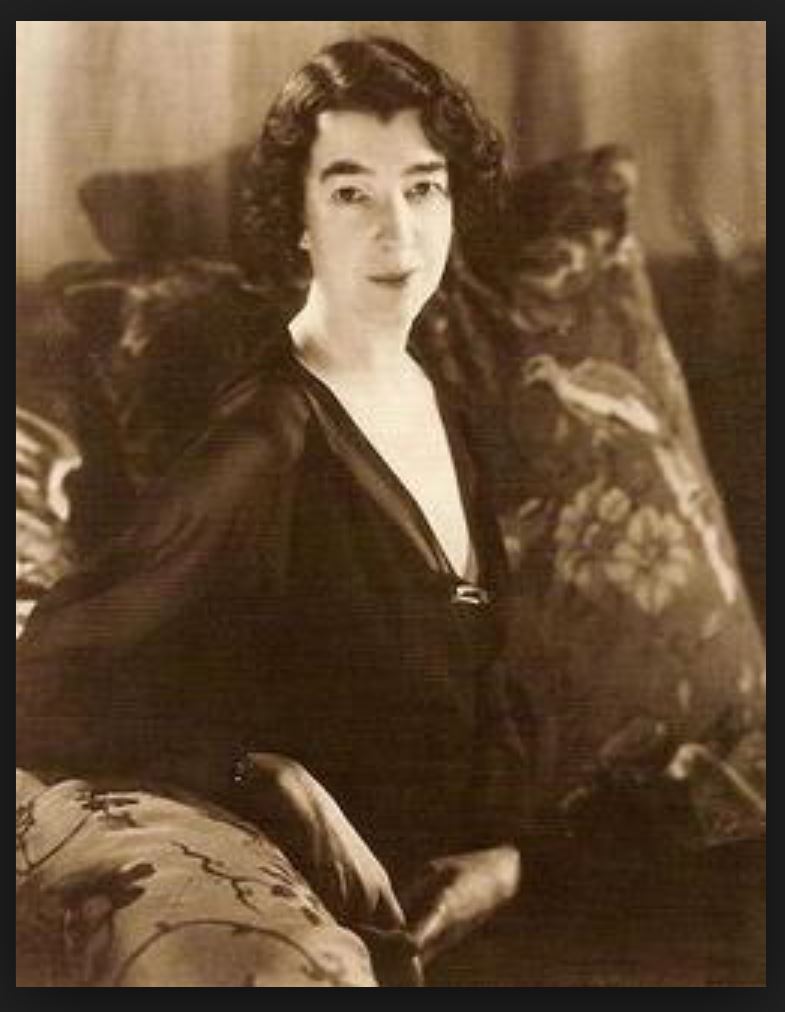 Gertrude Vanderbilt Whitney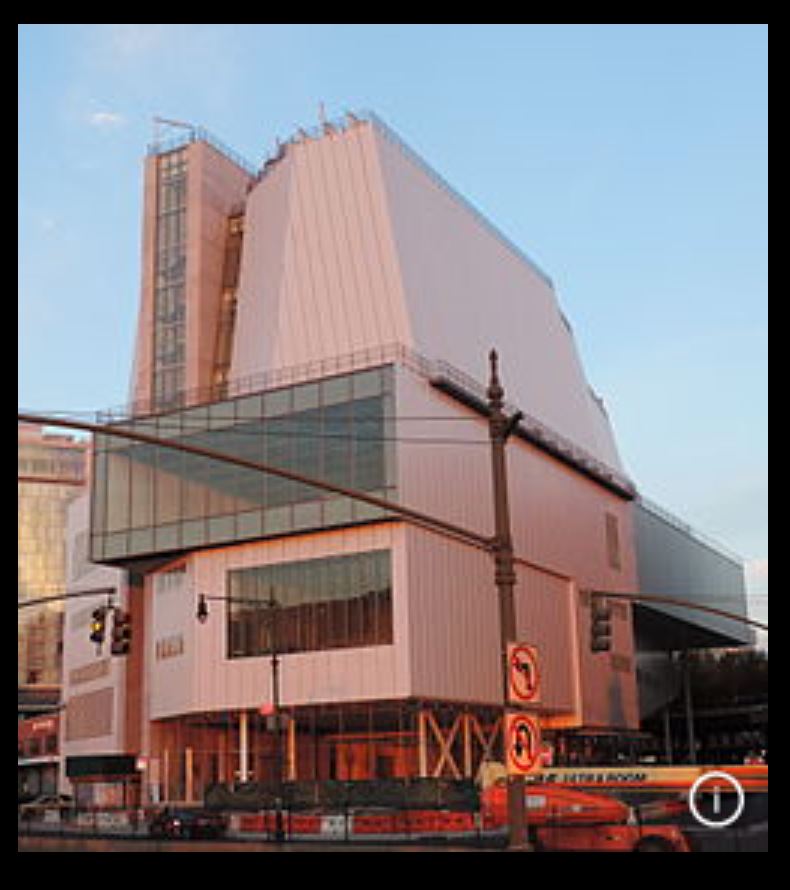 Whitney Museum of American Art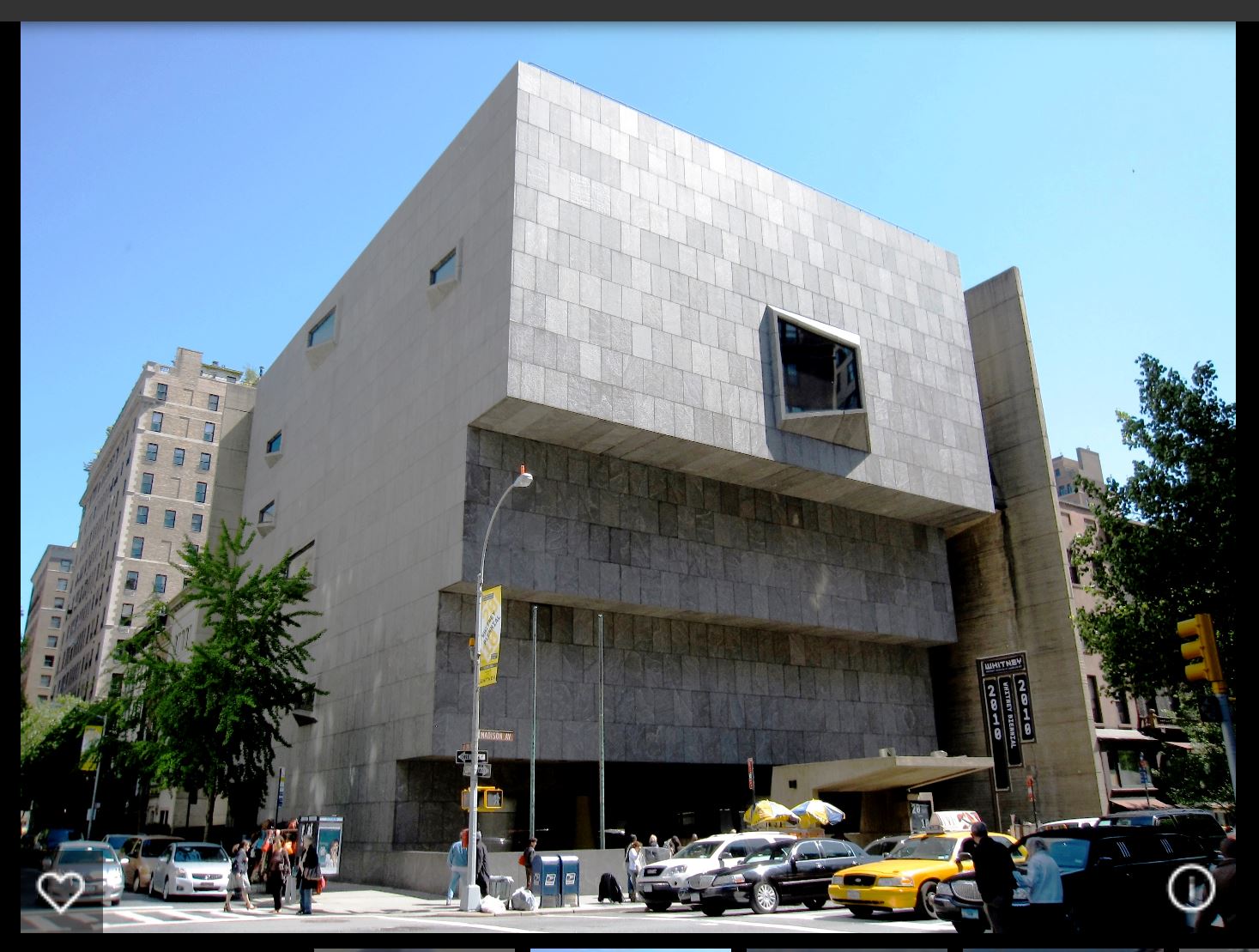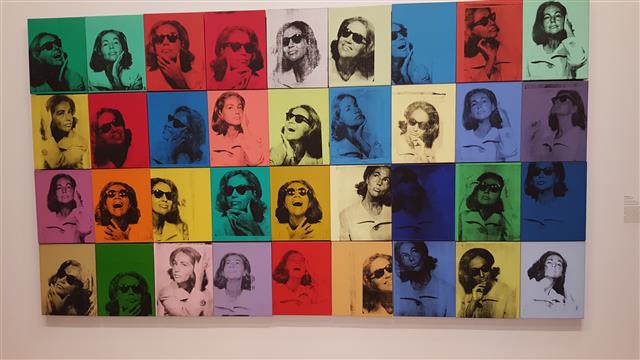 An Andy Warhol as part of the "Portrait" exhibit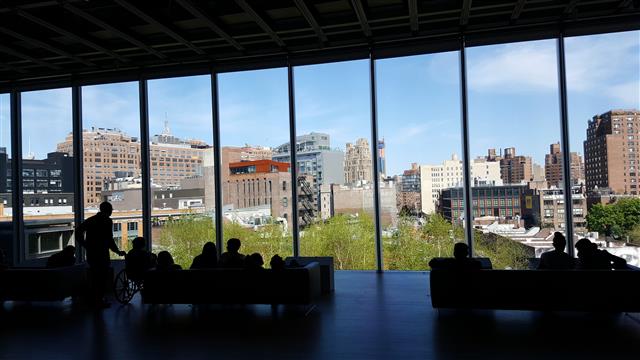 Floor 5: view through the "Open Plan" ... a huge space for musical performances ... walls of glass at each end.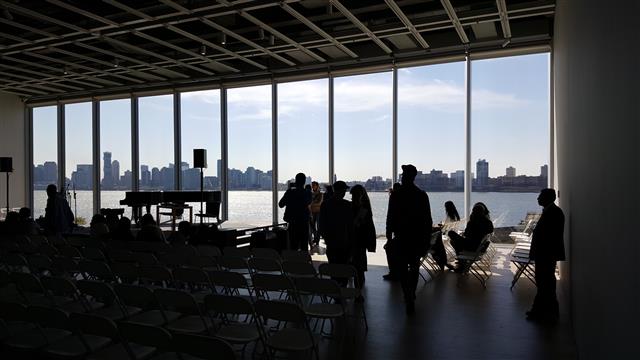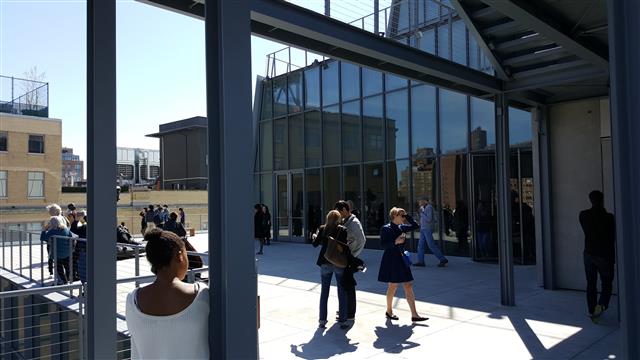 One of the several outdoor display spaces at the Whitney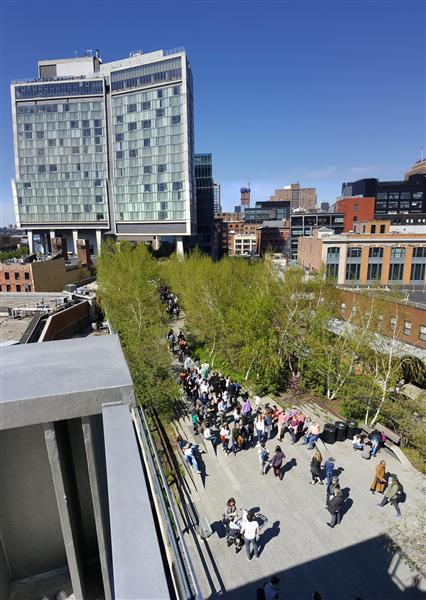 Looking towards the High Line which begins here.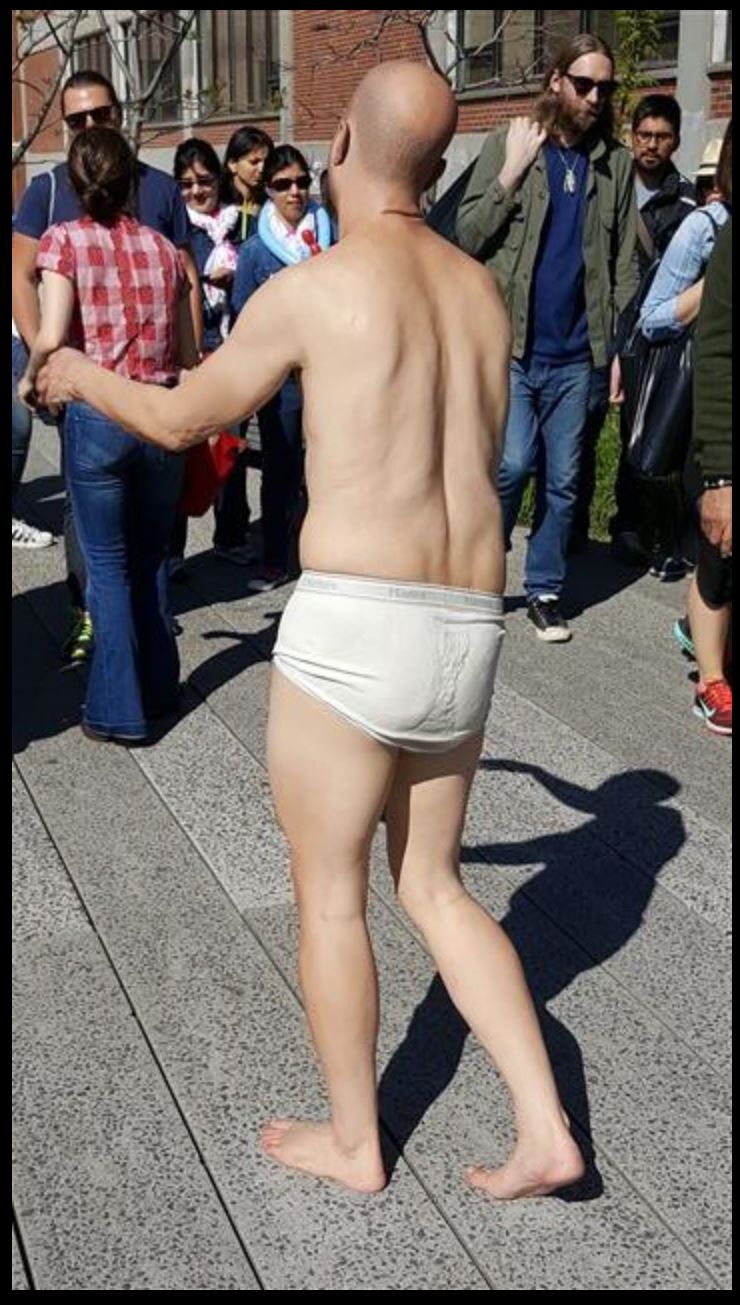 Sleep walker on the High Line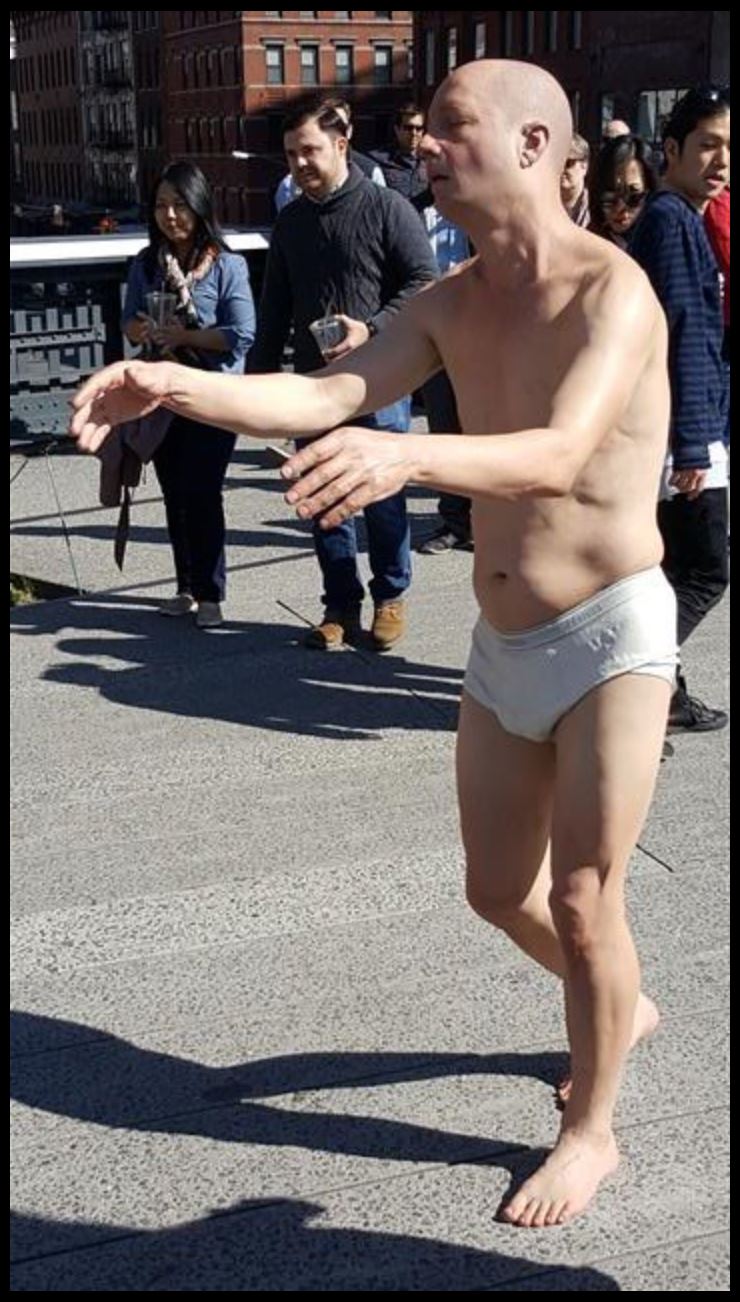 New Yorkers do not like this Sleep Walker statue. On the news, one persons said this statue should be wearing "appropriate clothing". What should you wear when you sleep walk? ?
===================
Pajamas, of course! --- Nancy D.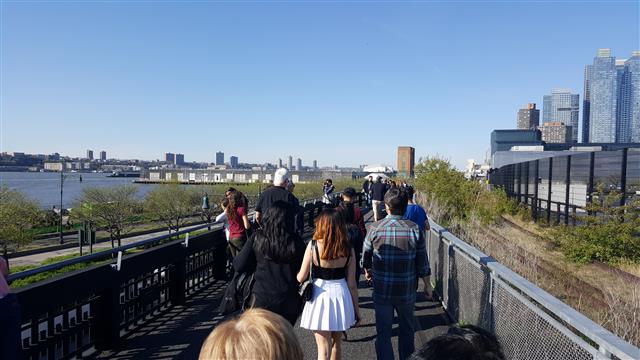 This part of the High Line is a extension that was not there last year. It goes along the Hudson River to 34st Street. Today we walked 2.5 miles to go from the Whitney Museum, the full distance of the High Line and back to our apartment.
===================
That sleep walker looks real. Are you sure it isn't? The weather looks like it is a lot better there in NY than on your past trips. --- Randy
Tom, thanks again for sharing your adventures.............. always very enjoyable and informative. Is the Sleep Walker truly a statue? Looks like a real person................ Enjoy the rest of your time in the Big Apple..............my best to the boys.............. Tom S.
Hey Tom, did you see "Hamilton?" That's definitely on my priority list, but may have to wait until it comes here. Tell me what other shows you saw; I'm an avid theater-goer! Charlotte
Thanks for the views of the Whitney, Tom. The High Line was one of my favorite experiences when I was last in NY. Sylvia S.
Tom, Rolf and I wanted to say thank you for including us in your New York travelogue. We so appreciate reading of your exploits in the Big Apple. We assume your trip has come to an end. Hopefully, your flights, etc., were noneventful. Again, many thanks. --- David and Rolf
Monday - April 25, 2016
This evening we went cross-town and uptown to visit Mick and Julian at their apartment. Mick is Joel's classmate from Reed.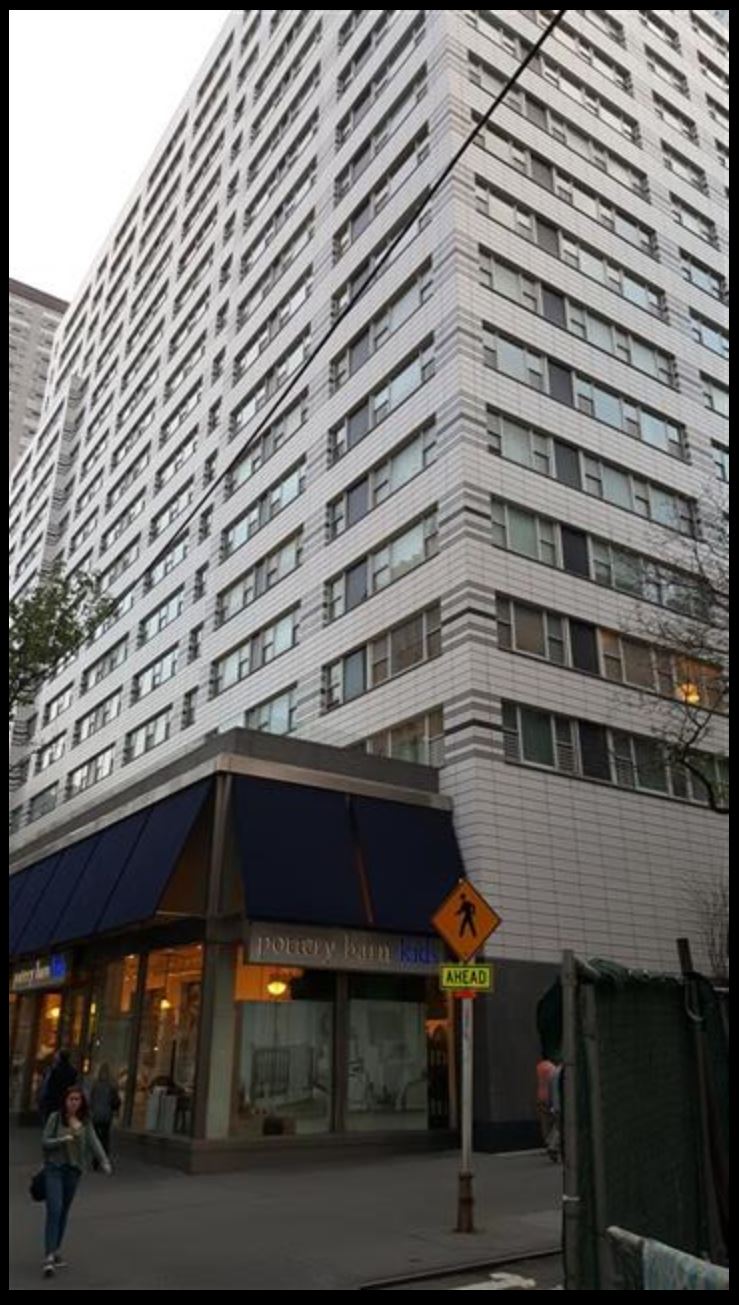 Mickey and Julian's building on the upper East Side.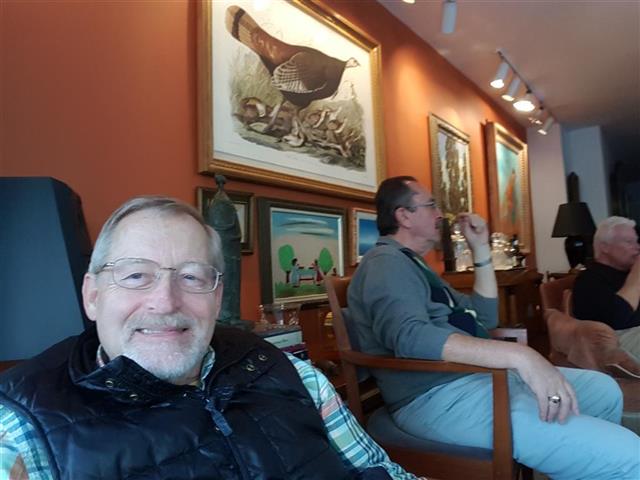 Tom and Ken in the living room at Mickey's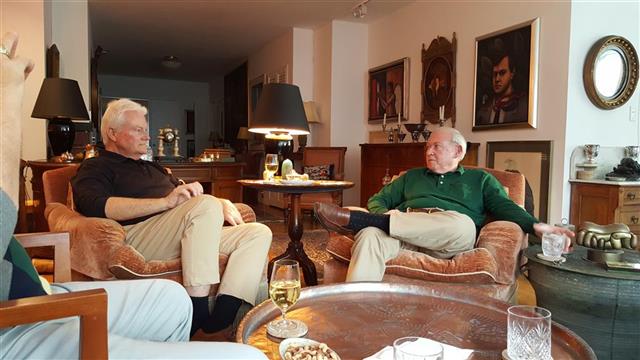 Greg and Mickey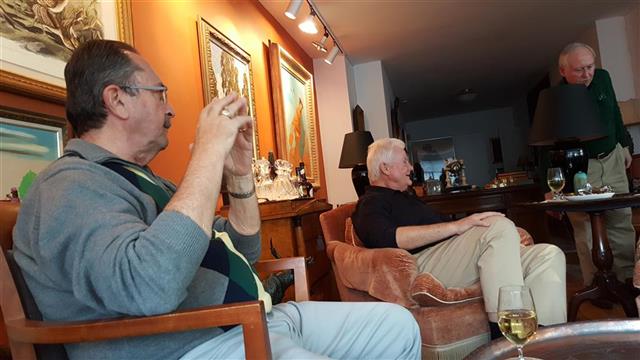 Ken and Greg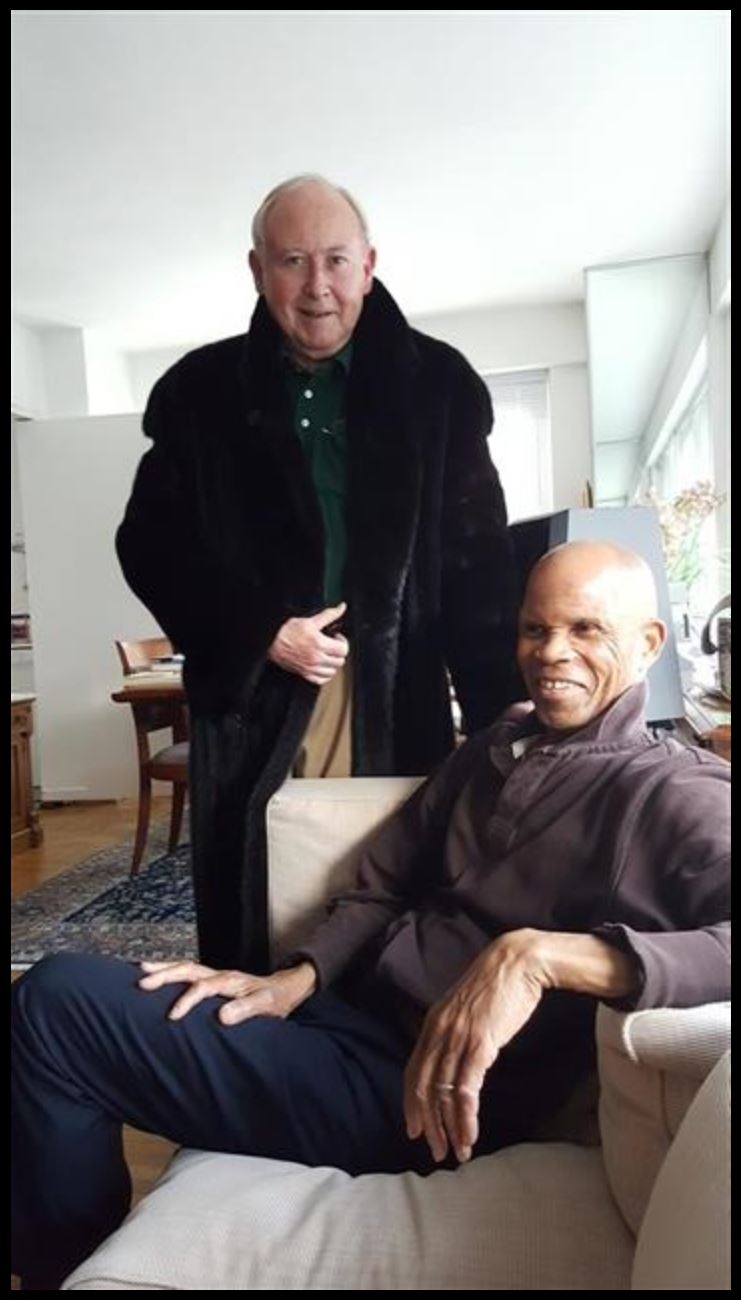 Mickey and Julian.

Warm Turkish bread

Mixed Grill of lamb, beef, chicken (times THREE)


Falafel for vegetarians

Mixed vegetable appetizers. Soooooo good and filling.
Tuesday - April 26, 2016
This is our last day and last play in NYC. We got up at 3:30AM on Wednesday morning to get our car to take us to JFK. After a few fits and starts we are all back to our respective homes!
Our last meal in NYC was at Sangria 46 on 46th Street, near our appartment. Teri and Leroy met us.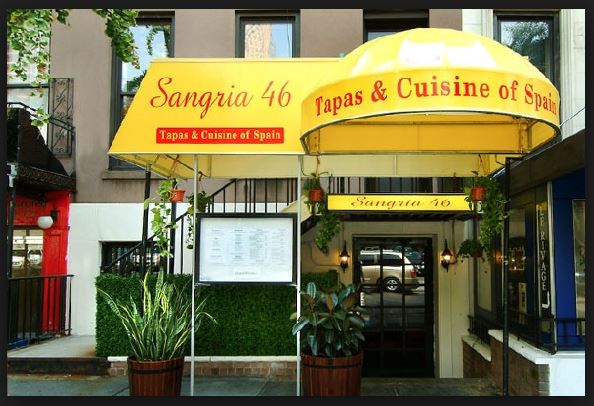 Greg, Ken, Teri and Leroy had the fixed price meal (2 huge pork chops) and of course Sangria! Tom had tapas consisting of a Spanish tortilla (potato omelet), Yucca croquettes and a vegetable cheese scramble.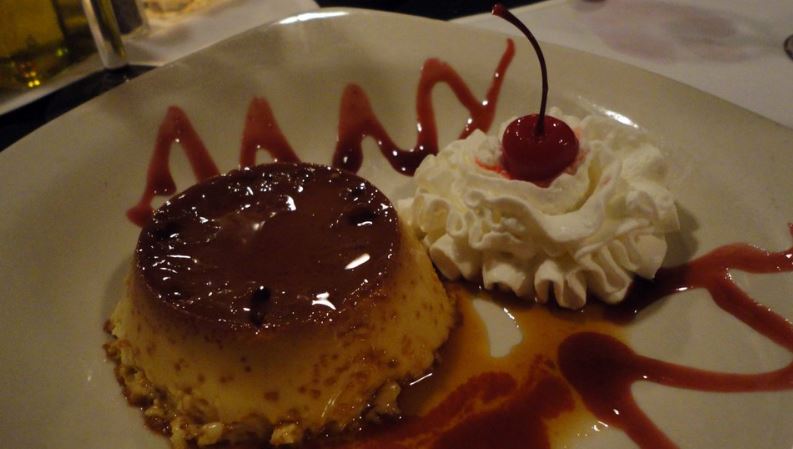 We each had flan for dessert.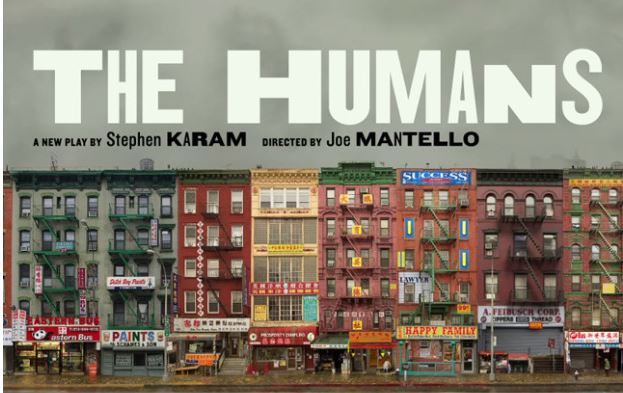 The Humans
You can expect when a family gets together for Thanksgiving that there will be repercussions.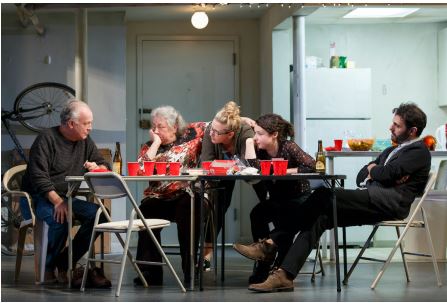 This working family of 5, plus one "outsider" (the long-term fiancé) gathers in an empty apartment in Chinatown, NYC-not far from the old World Trade Center. The furniture hasn't arrived, yet, so card tables and folding chairs are the centerpiece. The apartment is spacious. That's the good part. Otherwise it consists of a ground floor and a basement room with no windows. The one window on the ground floor looks out onto a dark interior "court" (wall.) Light plays an important part to this dark story.
The apartment is also plagued with noise from upstairs—not just shuffling, but explosive noises that stuns you in your seat. The family proceeds to expose the story character by character. The dialogue is so natural that you don't really think that it's a play but an observation of people who must have been living in their skin for a long time. It's an American tale of a family that is obsessed with hurricanes and terrorist attacks, but the real monsters are the day to day worries of unemployment, illness, romance, infidelity and money. The show is not free from humor, as no family can be free from sarcastic digs at each other.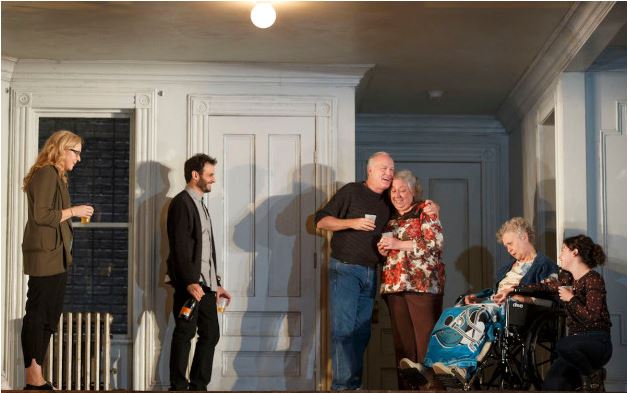 What is unique about this show is that it subtly sneaks up on you. It is a realistic portrayal of what many families are dealing with in our current society. Light is shed on what has happened to each of the characters as it brings us to this point in their lives. The cast is well known in the Broadway world, and unlike most other shows now, does not contain a movie/TV star. And just as in real life, it leaves us (literally) in the dark as to the future.
=======================
Welcome home guys. I thoroughly enjoyed the emails with additions from all. Thank you again for sharing. xo Kevin
Thanks for keeping me in the loop. Linda B.
Looking forward to an in person account next Tuesday! Sylvia S.
Your trip sounded fabulous! You're home now and I am sitting at LAX waiting to go to Hawaii. Terry H.
Wish our cities' streetscapes looked so colorful as the photo (not sure if that was your photo or an ad). I'm so full of caprese and cheesecake that I can't get into the food photos, but it looks sinfully good. And the play looks wonderfully realistic. We'll be in NYC in mid-May--maybe we can get to a show. Thanks for the fun updates and great reviews.! R&R (Roberta G.)
That last one sounds very sad, despite what you said about there not being a lack of humor. But I'm glad your whirlwind Broadway play immersion was fun for you, and happy you made it safely home again. I always enjoy your trip letters. They have their own special folder in my email box! --- Love, Nancy D.