Randy, Bob, Ruben flew into Honolulu from Los Angeles on Saturday. Richard, David and I met them. We had several hours to kill so we roamed the airport and drank some Starbuck Frapachinos.
The Hawaiian Airlines flight to Papeete was 5 1/2 hours on an Airbus A330. I watched another 2-7/8 movies which I've forgotten already. However, I do want to know who murdered the nanny!?!?!
We landed at 9PM or so. It took a long time to get our baggage although bags quickly started appearing on the carousel. Immigration was quick as well as customs. We were able to get money from an ATM, walked to the start of the line for a taxi which took us to our hotel (Sarah Nui). By the time we got to our rooms is was after 11:30 PM.

Up early the next day for our 8:30 AM ferry ride to Moorea (50 minutes). We have rented a "villa" here and our host Clement met us to collect our luggage and haul it for us. Bob and Ruben immediately walked over to the Avis office to pick up our Dacia Lodgy (???) van.
Next stop was the big Champion Supermarket (the only one open on Sunday) to get food stuff for breakfast. Lots of bread choices.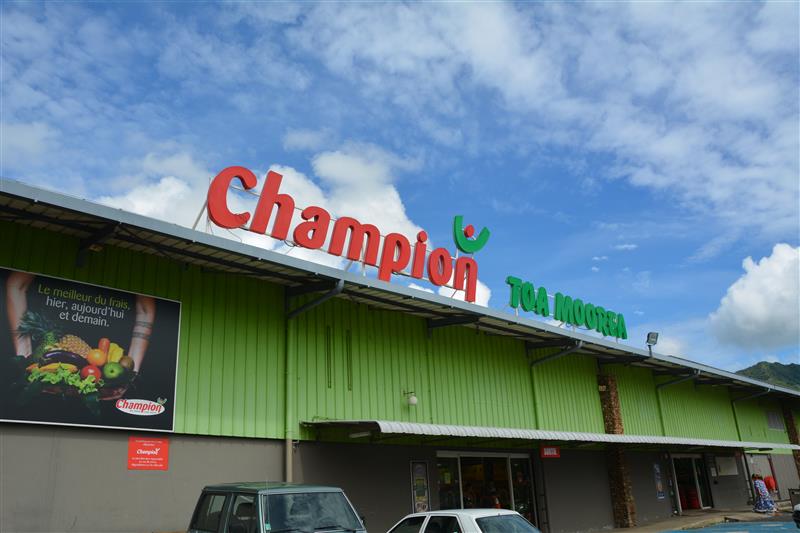 The Moorea Beach Cafe is immediately adjacent to our place. This is where we ate the first night here. They had a prix fixee choice ($44) as well a pizzas ($24). I had a vegetarian pizza which was very, very good and huge.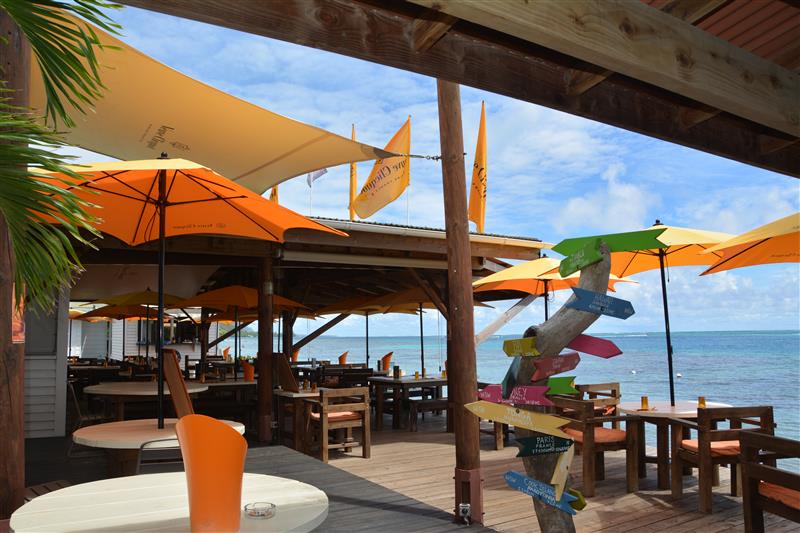 Moorea Beach Cafe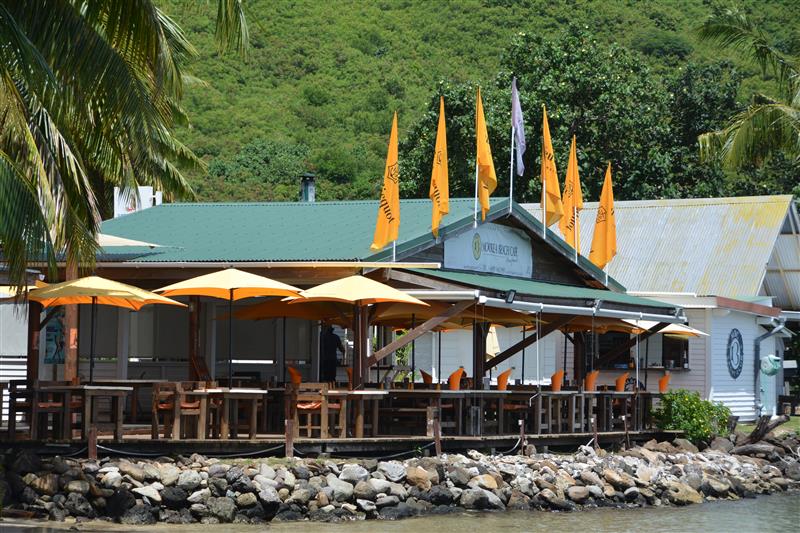 Moorea Beach Cafe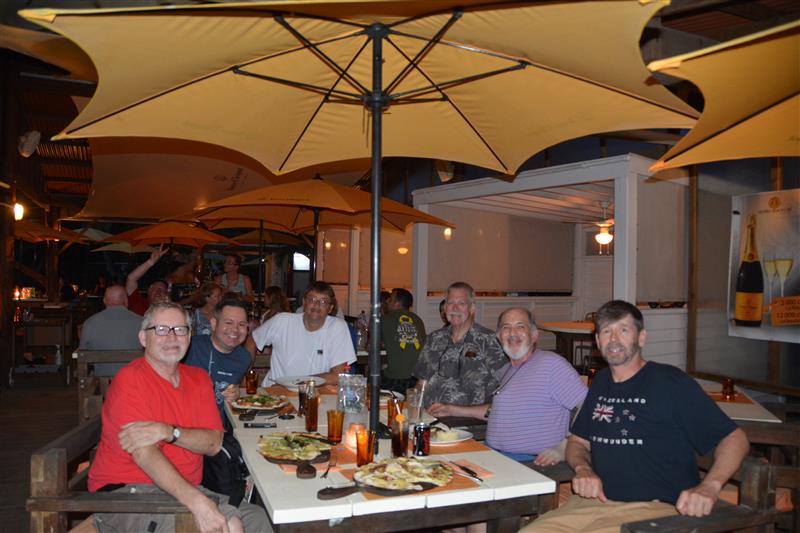 Tom, Ruben, Bob, Dave, Richard and Randy: Pizzas at the Moorea Beach Cafe .

Ruben's Margarita Pizza.
Frency Polynesia is a territory (department) of France. Instead of the Euro, the Tahitians use the French Pacific Franc (XPF) as their currency. One XPF is approximately 100 to 1 US dollar. If find an item in a shop for 8,500 XPF, they may offer to sell it for $85. You'd be better off paying in XFP because you can buy 8,500 XPF for about $78.

The lawn at our place (back to the ocean).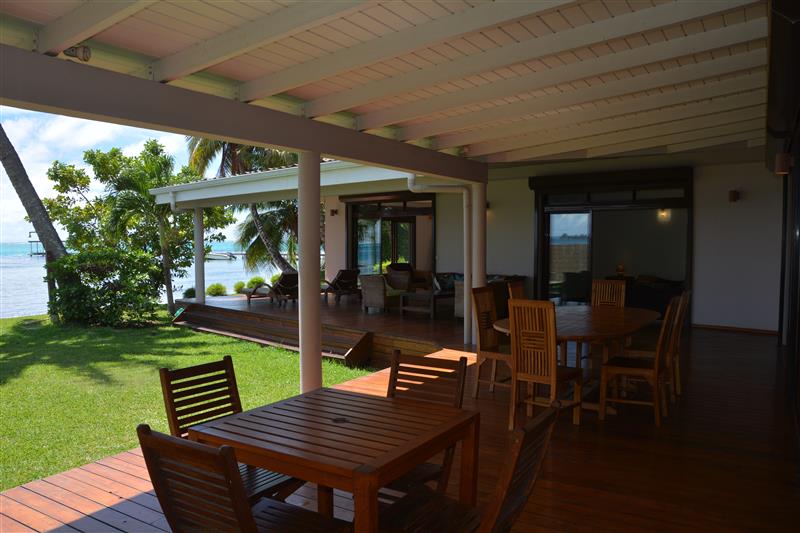 Dining room on the deck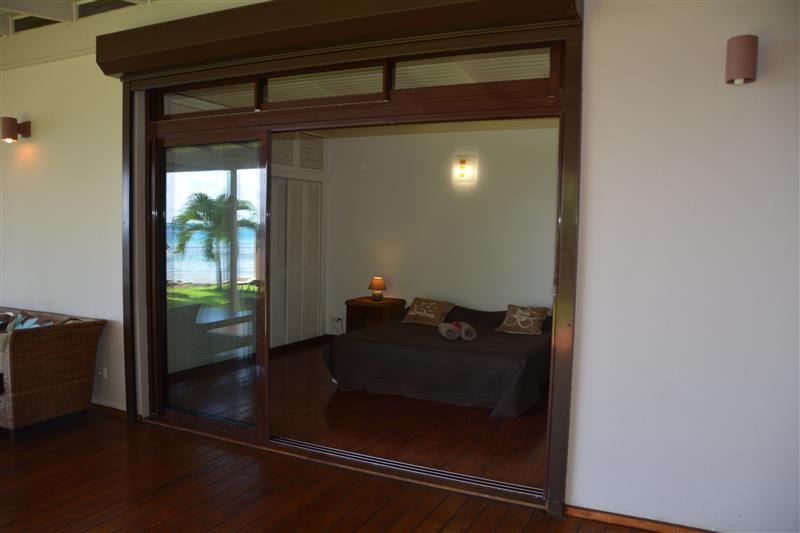 One bedroom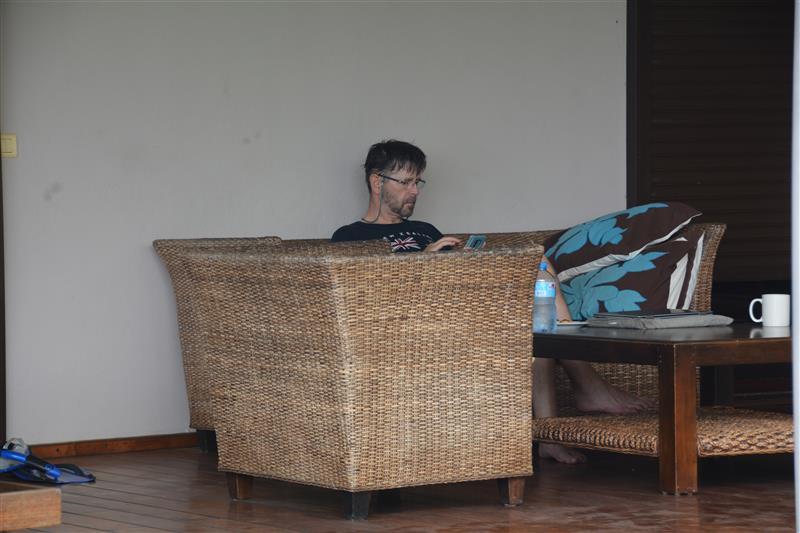 Randy on the deck.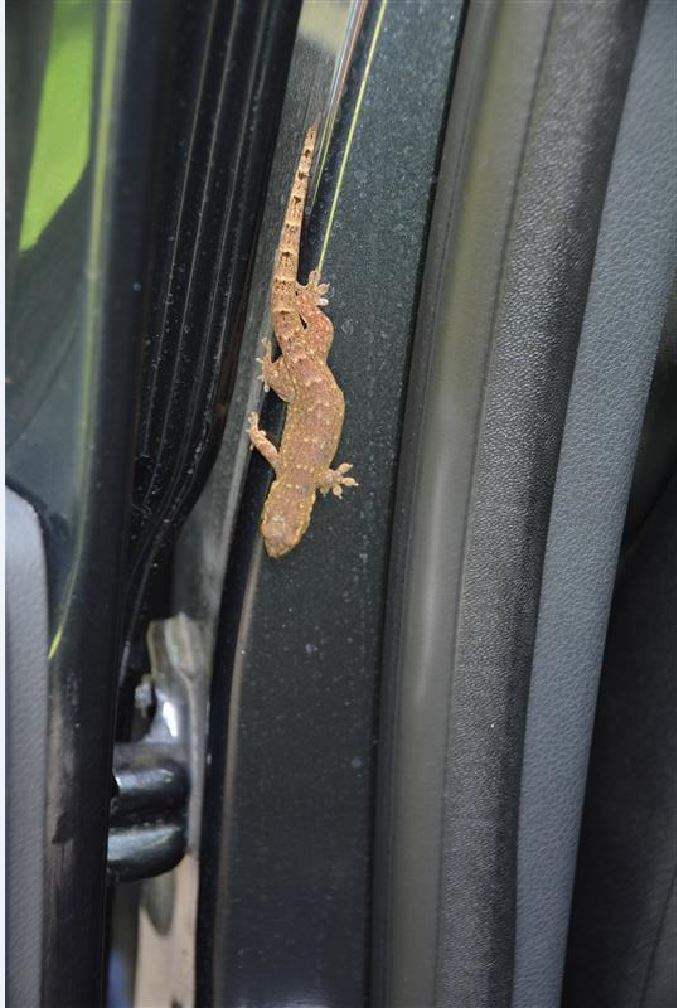 This gecko almost got squished in the jam of the car door. Another jumped out of the cargo door when we opened it. Hmmmm?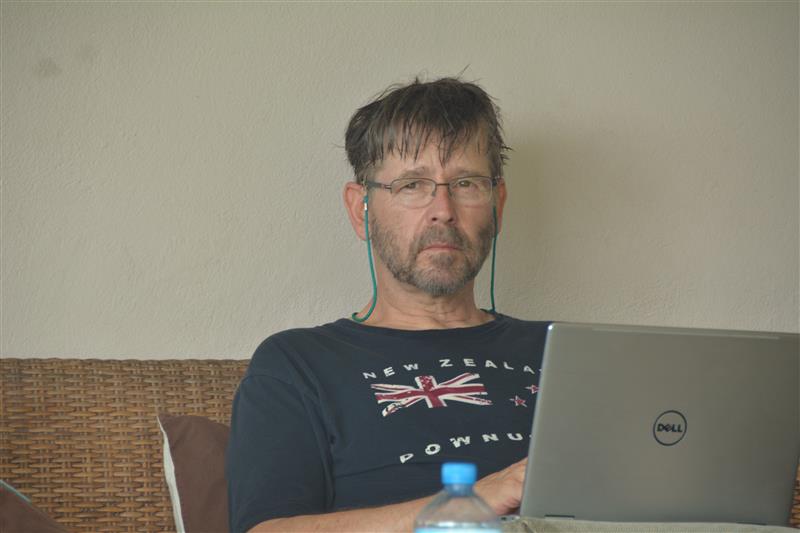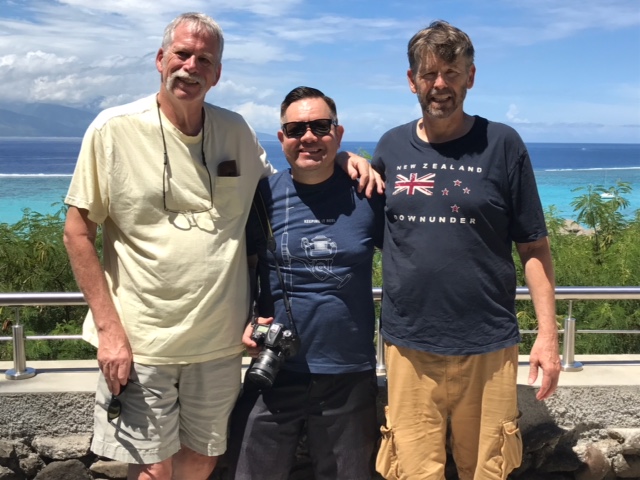 Dave, Randy, Tom at the Moorea look-out point. Papeete in the distance.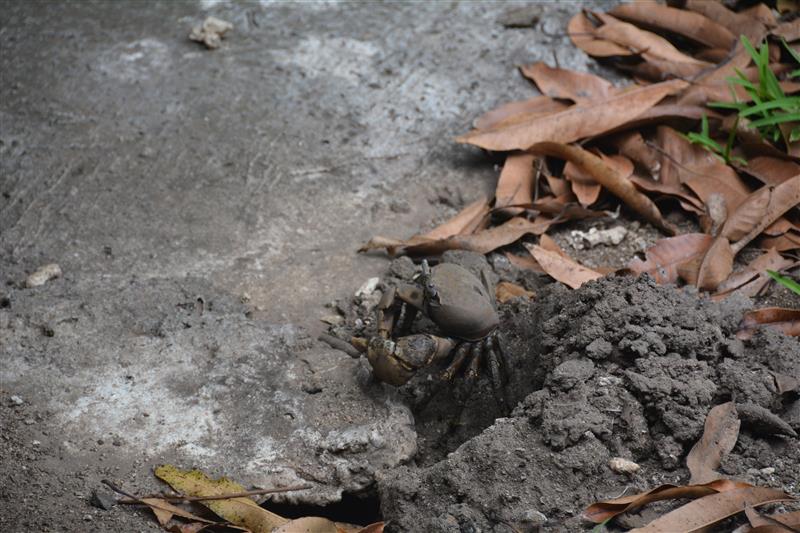 Coconut crab. These largest of the arthropods live on land and have dug burrows all periphery of the lawn. They can climb the cocount trees and they eat fruit and other stuff like that.
The following a photos that Ruben took from our place as the sun was setting.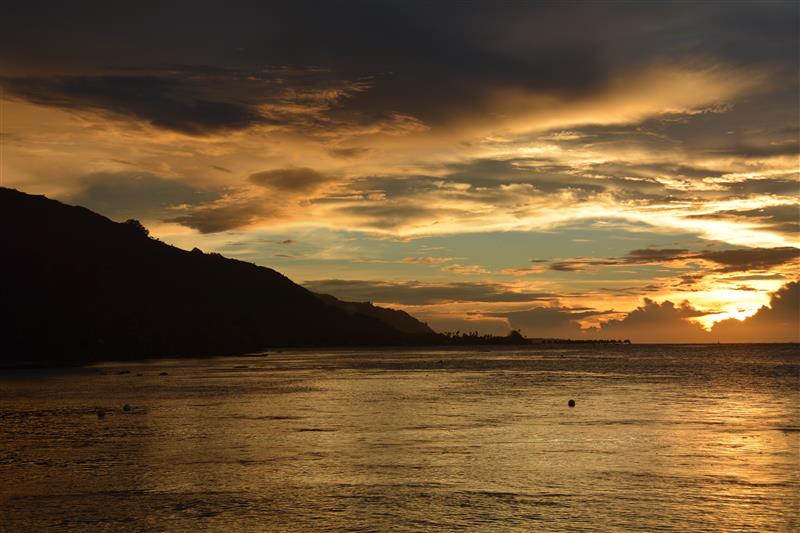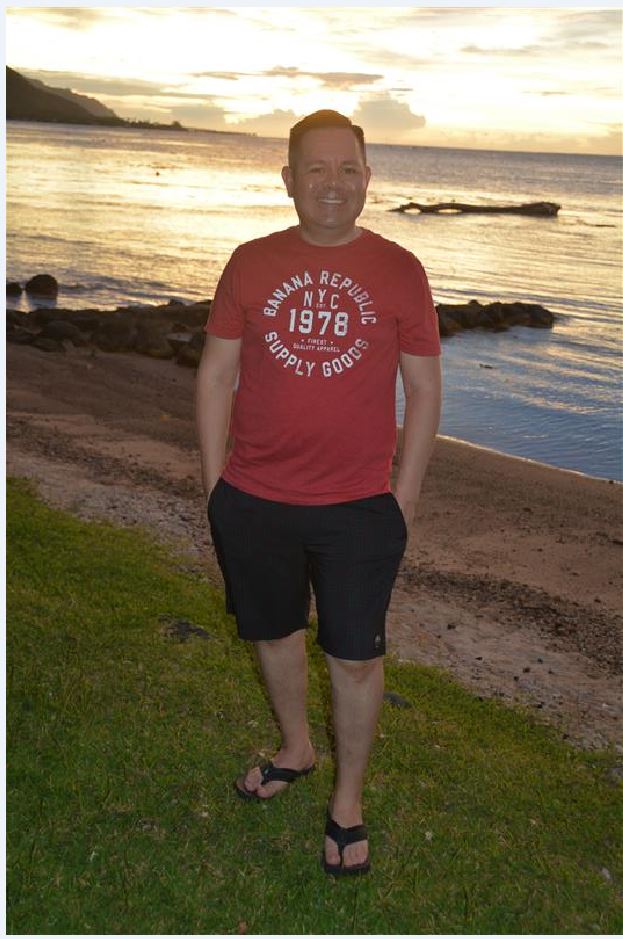 Ruben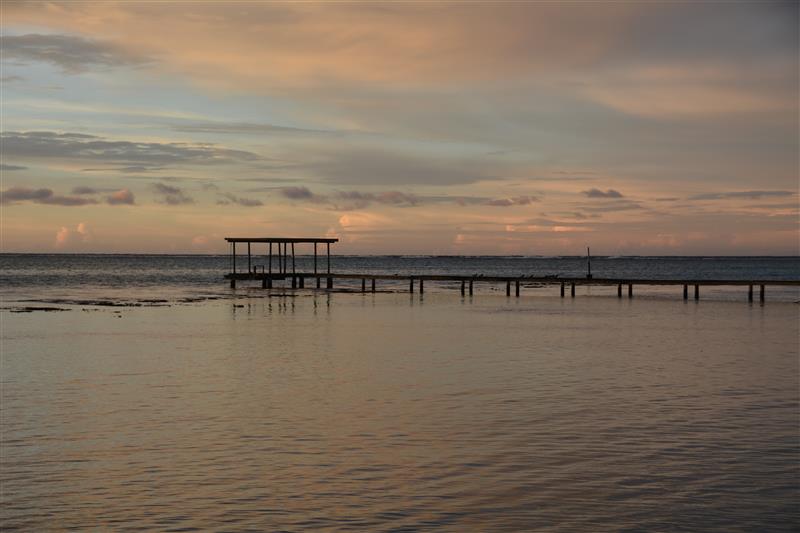 This pier belongs to the house next door.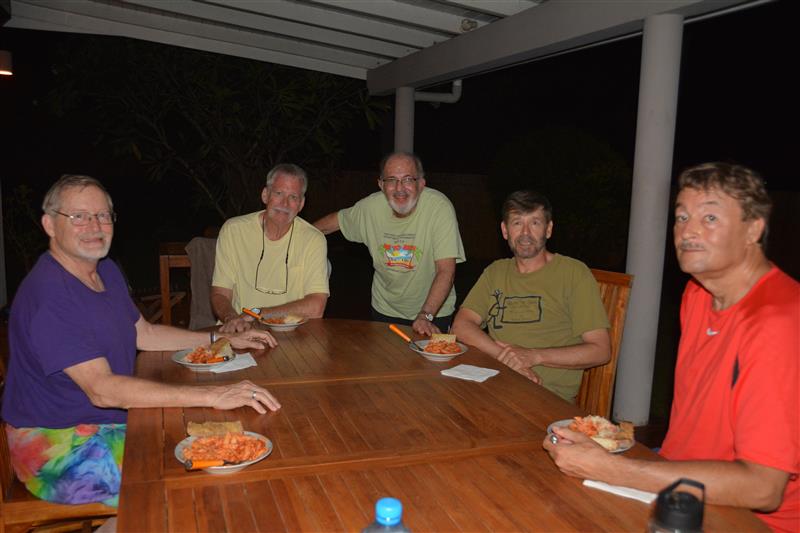 Tom, Dave, Ricahrd, Randy and Bob. Our second meal was on the deck: Pasta with sauce and garlic bread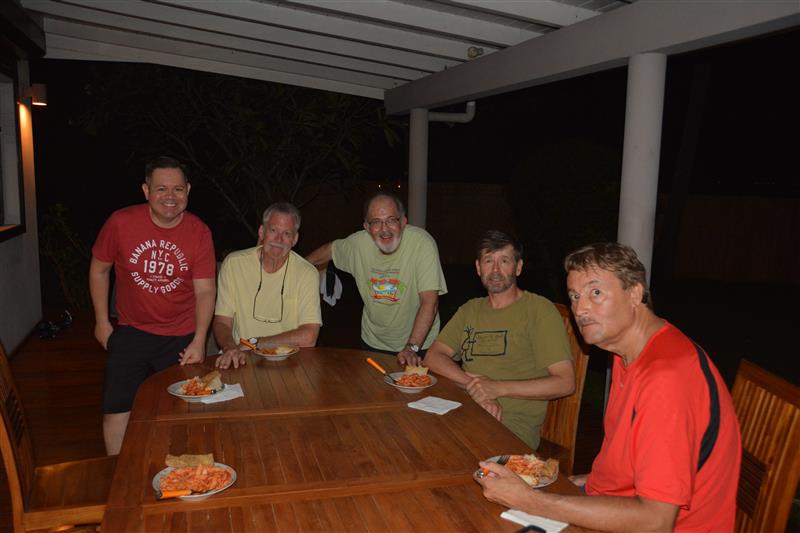 Ruben, Dave, Richard, Randy and Bob.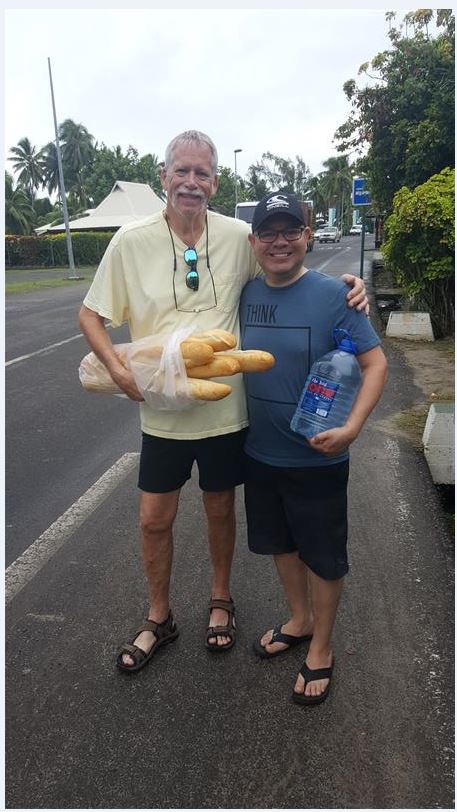 Dave and Ruben: We have gone shopping almost every day. On each shopping list is water and bread. These loaves of French bread (large baguettes) are so good. The day before we took the empty 5 liter bottles to a machine outside of the super market and filled them up ($0.55 each).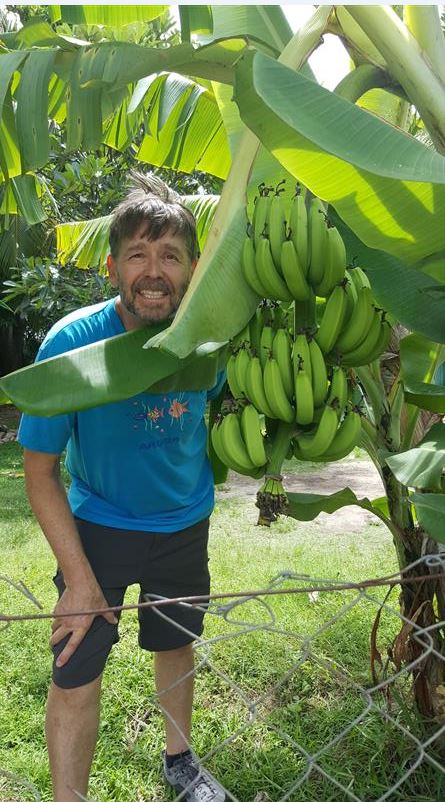 Randy is standing next to a banana tree which was next to the road by our villa. When we drive around there are little fruit stands selling fresh fruit. The bananas we see are a lot smaller that what we are used to but they have a nice flavor.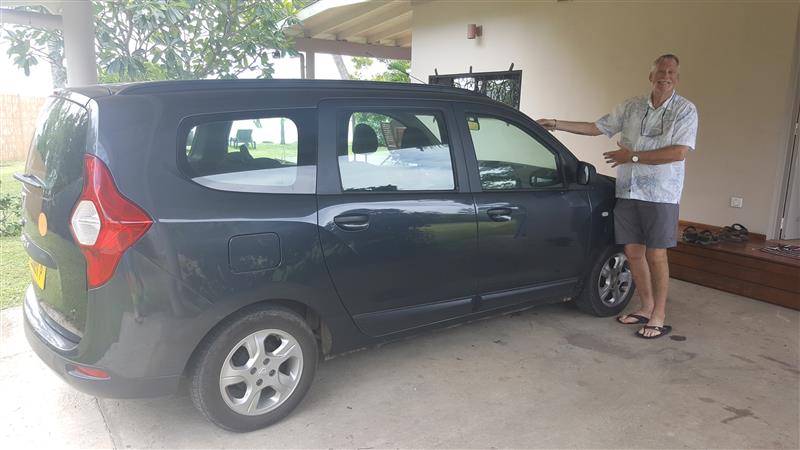 Dave is showing you the van we've rented. It is called a Dacia Lodgy. I has luggage space for 4 very small bags (like ladies hand bags). Dave is tall and only fits in the front seat.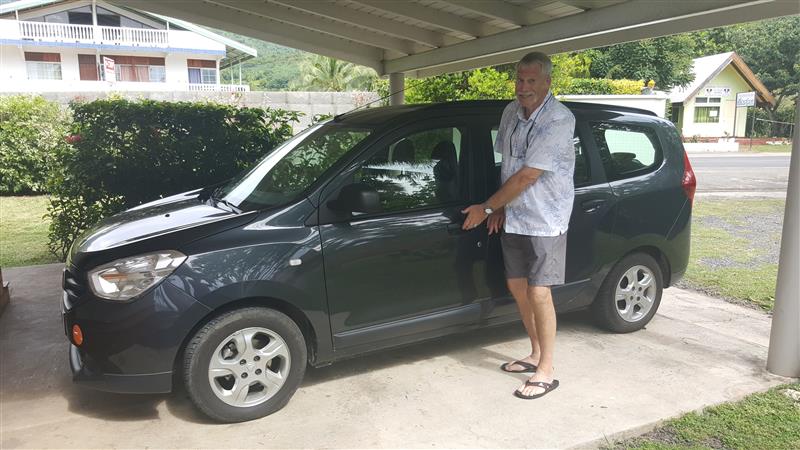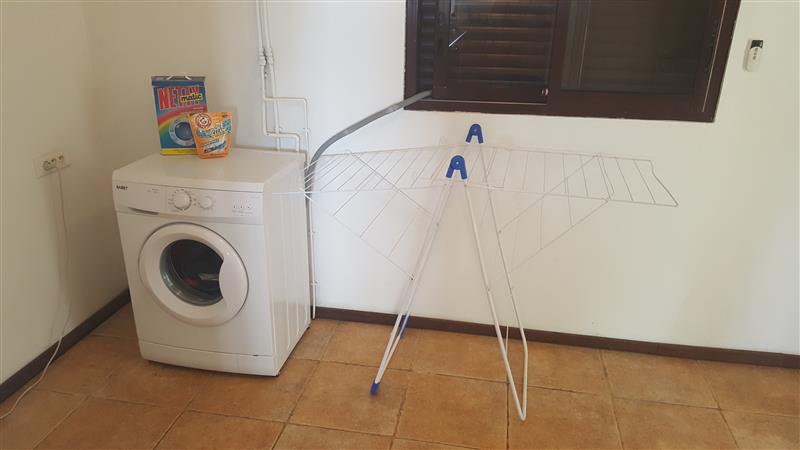 This is where we can wash clothes. The wastewater goes out the window through a hose. We've been using the rack to dry the loads.
We have been doing wash in this small washing machine and hanging on the rack. It dries slowly in the house. I put some on the line outside and it was dry when I went to check a couple of hours later.