Wed April 24, 2:00 PM - Burn This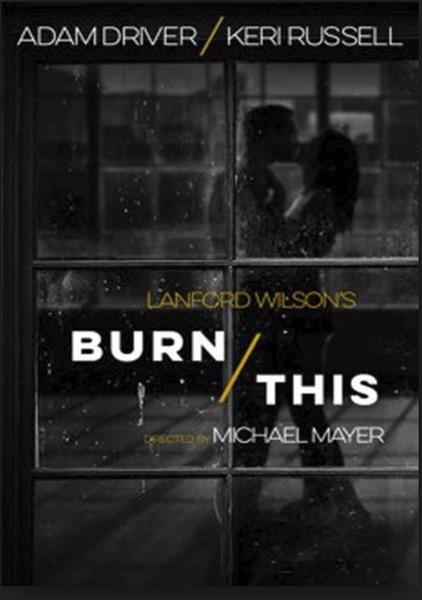 Burn This a play by Lanford Wilson (1937 - 2011), an off-Broadway playwright whose works made their way to Broadway in the 60's – 80's was a master of dialogue in daily circumstances. Being an OUT gay man at that time, his works revolved around his experience and observations. 'Burn This' was first performed on Broadway in 1987 with an all star cast of John Malkovich and Joan Allen (who won a Tony for her performance.) This time around it stars Adam Driver and Keri Russell.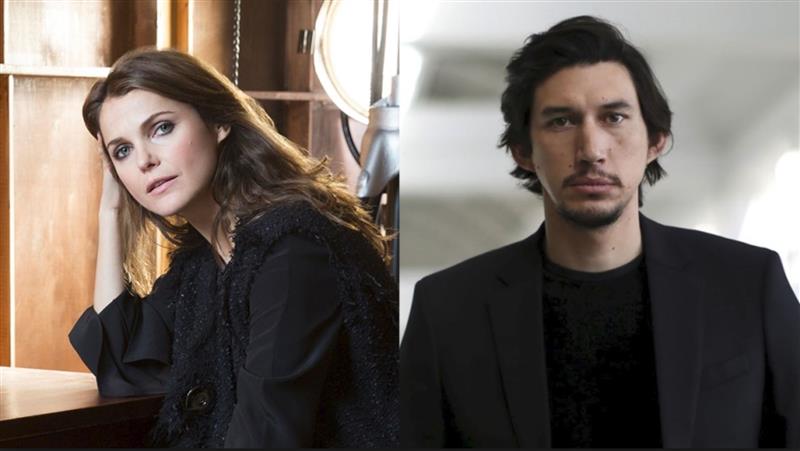 Keri Russell (the Amerikans) and Adam Driver (Girls, Star Wars)
The story begins shortly after the funeral of Robbie, a young gay dancer and his partner who drowned in a boating accident. Anna (Keri Russell), a choreographer, shared an apartment with Robbie and another gay ad man, Larry. They are reliving the funeral; Robbie's family didn't really know him at all. Anna and Larry, on the other hand shared a "chosen family" deep relationship. The conversation progresses into the late night when there is a LOUD pounding at the door. At this point 'Pale' (Adam Driver) enters the room and by his mere presence, sucks the air out of the stage (and the entire theater). Several minutes of a rant which has become one of the most famous entrances of all time takes place where Pale, cocaine laced and hyperactive, dominates the stage. This tirade involves a stream of consciousness about parking places, new shoes, psychic pain, his clothing and his loathing of almost everything. At the completion of the rant, Anna asked the next question: "Who ARE you?" Well it seems that he is Robbie's brother, and he has come to pick up his things.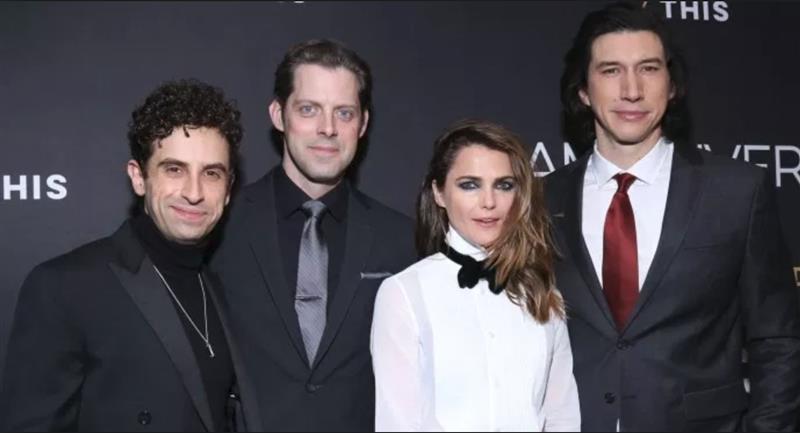 Brandon Uranowitz, David Furr, Keri and Adam
No need to explain it all, however, but Adam Driver's performance changes the energy of the entire production. Those of you who know of Adam Driver realize that he has moved into "Star" stratosphere and this role gives him the space to pull out all the stops. This large frightening man is going to have to come crashing down with the same intensity.
Adam Driver is a rare force. I mean, just look at him! He is not handsome; his features are exaggerated; he's 6'2" according to Google and dwarfs everyone on the stage. And yet, there is that animal power that you know is going to become irresistible to Anna (and to all of us in the audience, as well.) One might criticize him for going over the top, but he creates a fully realized character.
There are life changes for all. Relationships are explored: chosen family vs. blood family; acceptance of gay life; allowing risk and the unknown to change one's path, and one of the most explosive performances on Broadway this year.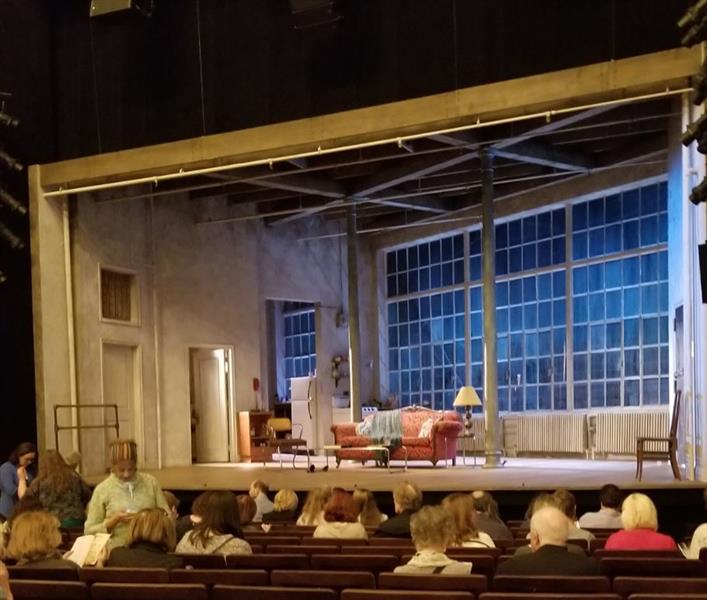 We saw this at the recently restored Hudson Theater on West 44th ... Very roomy seats!
Wed April 24, 8:00 PM - The Cher Show
Broadway has been experiencing a series of what are now called "Jukebox Musicals." That would be a show around a performer's life using all of the music that contributed to making them a star: Jersey Boys, Beautiful (Carol King), Ain't too proud (the Temptations); On Your Feet(Gloria Estefan), Summer - The Donna Summer Musical to mention only a few of several dozen.

At the Neil Simon Theater on West 52nd
Well, now it's Cher's turn. Few of the other jukebox musicals have as many decades of story to deal with than Cher. She has such longevity, with over 6 decades, that you need 3 Chers-- the Babe, the Lady and the Star to tell the story. We go from age 6 all the way up the "Star…and beyond" that we know today.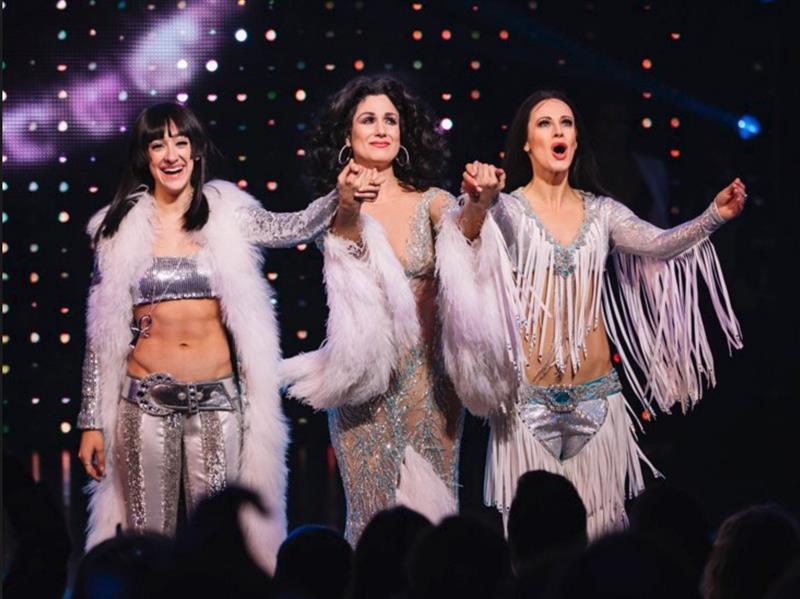 The 3 Chers: Nicaela Diamond, Stephanie J. Block and Teal Wicks
The show is bright, glittery, fast moving and full of reflection between the 3 Chers about their choices in life. The "STAR" Cher is a well-known Broadway actress, Stephanie J. Block, who has mastered the Cher sound and is able to sing (I don't know how many songs—I counted at least 34) with incredible strength for the entire show. Not knowing all the recordings of Cher, I had no idea that there was such a variety of her songs.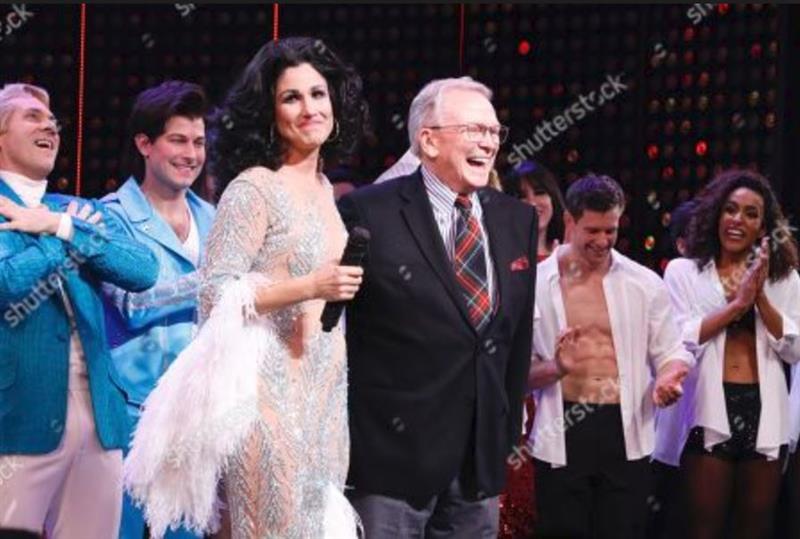 Bob Mackie took a bow and an earlier performance ... his character was played by Michael Berresse, far left.
The small supporting cast is quite strong. They play the many characters associated with Cher. This is in addition to the lovely/beefy, male/female dancers. Something for everyone!
Not only do we associate Cher with her music, but also we cannot visualize the woman without putting her in a wardrobe which has gone "BIG" (which means quite small.) All of these costume creations were imagined by the one, the only Bob Mackie who was a huge part of Cher's success. The costuming has again been done by Mr. Mackie who has recreated many of his iconic outfits, as well as hundreds more. This show has the fastest costume change sequences that I have ever seen.
When the story slows down, the visuals take over and ultimately take your breath away.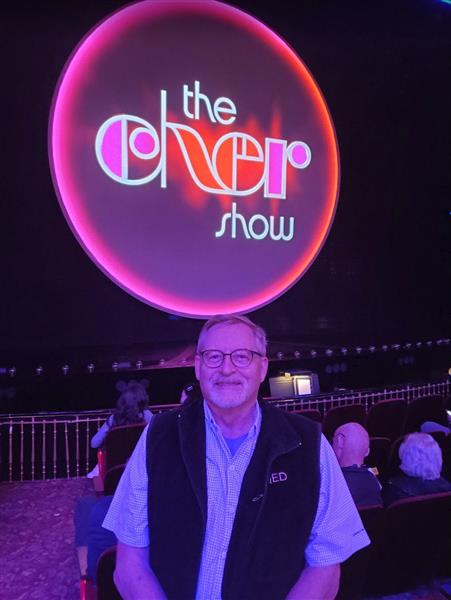 Before the show began!
Enjoyable as ever Tom and you do a great job capturing it all. Keep your wonderful commentaries coming. Hope to see you soon here in the desert. Cheers, Nick V
Thanks, Tom! Keep em coming! Dianne and Elaine
Hugs. More hugs. Lisa M
Sounds like you gentlemen have once again "taken" Broadway! Great reviews and visuals.
You go, guys! Noreen M
Wonderful that you are still doing your Broadway week! Hope the shows all lived up to expectations and that weather is favorable. Love, Sylvia S
No, No, A Thousand Times No ~ that Would cause too many worries! Wish I could have been there with you all for these blogs plus the text and photos!!! Keep me on your worry free mailing list, please! Best Regards from your California ex-Fromm girl ~~~~ Peggy M
Wow, you guys seem to have had a fabulous and very intense day. Enjoy! Love hearing about it! Ruth K.
You are always handsome.... Tendo
So glad you are there again. It has been so busy here I forgot it was theater time. Always happy to see the reviews and pictures. Donna H.
Hi, Tom. This is Leroy C. Teri and I met you in NY in 2016. Thanks for sending your reviews to Teri. I would love to see all the rest of your reviews. Teri and I may be going to NY in October with our boys and their partners and your reviews will likely help make the call of which plays to see while we're there. If it's all right I'd like to send your reviews along to our sons and partners for their benefit.
Hope you three have another great time on the Great White Way. So far, so good, I'd say. Leroy
PS: Hi Greg! Hi Richard!
Please keep me on your list. I love seeing your travels. Miss you at Fromm. Maybe next year. Sorry we didn't have a chance to catch up at David and John's dinner. Happy TRavels! Rosemary J
Dear Broadway Critics, I'm surprised Cher has forgotten Sonny. I don't blame her though since he was not very atractive and a Republican. Randy and I used to ski at Heavenly where Sonny crashed into a tree and expired. Have fun in NYC! Bob and Randy
Thu April 25, The Vessel at Hudson Yards
This morning we took an Uber due west to Hudson Yards ... a big real estate development next to the High Line park and the Hudson River. In the middle of all of these tall, architecturally interesting buildings, is a public art installation: The Vessel.
We got free reservations/tickets in advance and arranged to meet Oakland friend Gladys and her 2 travel friends. The following photos were taken in the Vessel.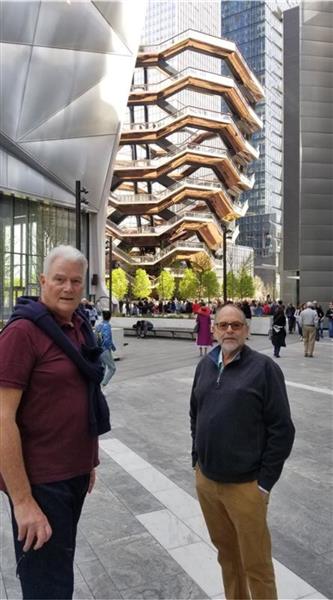 Greg and Richard getting ready to enter the Vessel!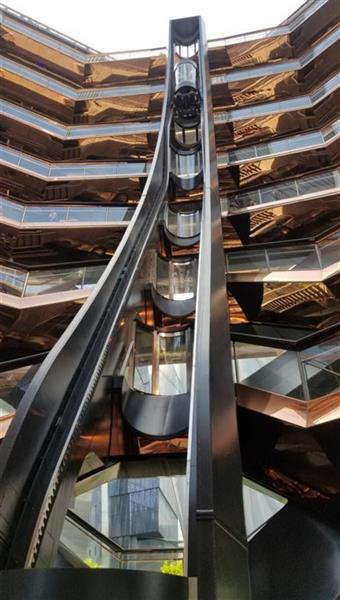 The elevator runs on cogs and swerves as it rises to the top.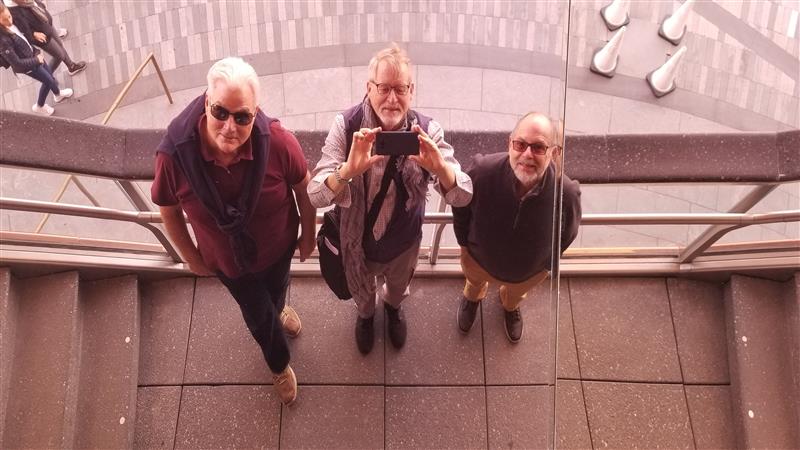 The surface of the Vessel is highly reflective copper.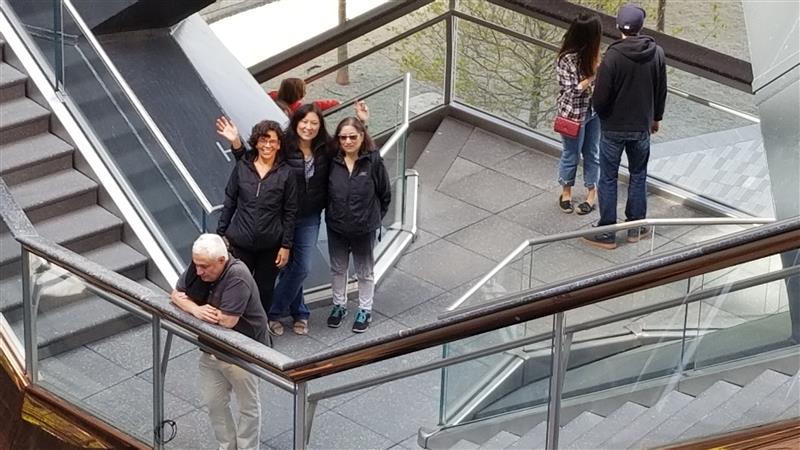 Gladys, Maureen and Margo ... across the way.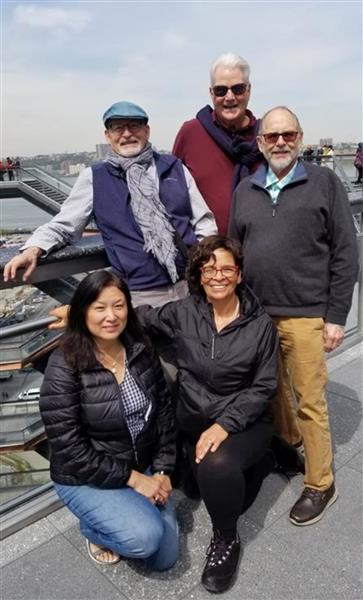 Photo from the top: Standing, Tom, Greg and Richard, Kneeling, Maurseen and Gladys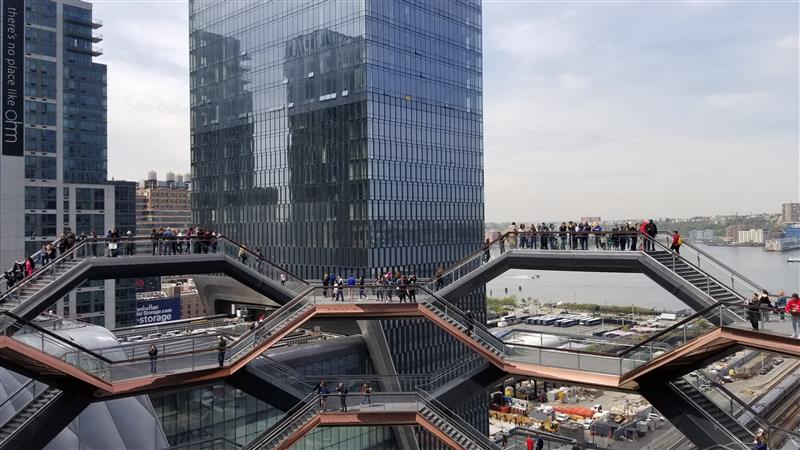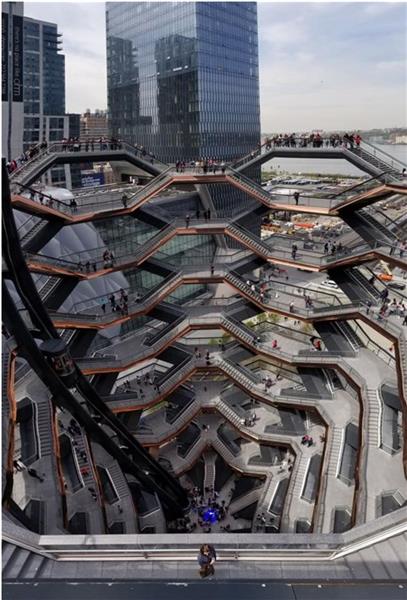 Looking down into the bottom of the interior of the Vessel.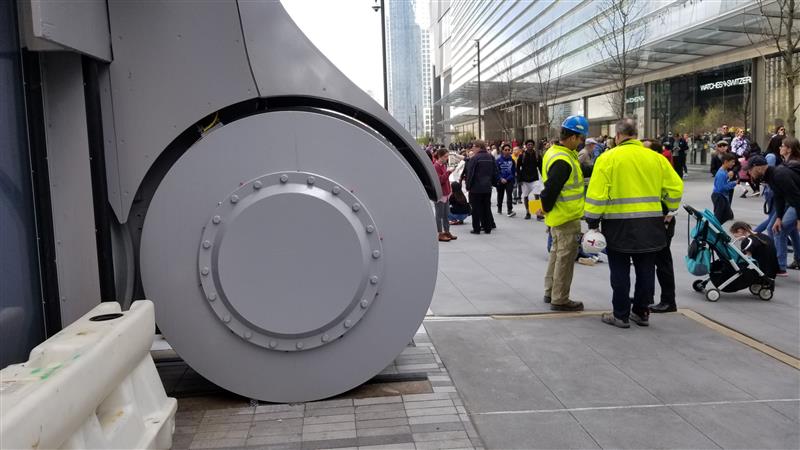 This is one of a number of actual wheels which moves the cover of the Shed back to create a large open-air performance space.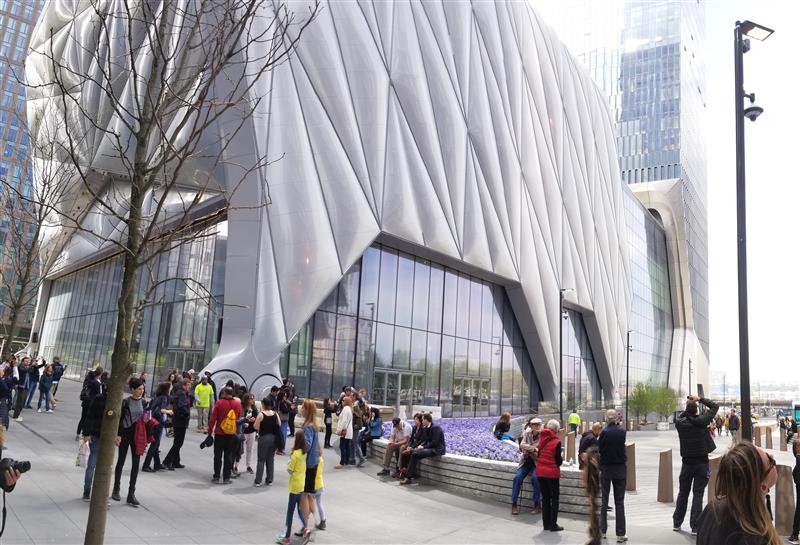 This "puffy" cover, rolls towards the back to create an open air space.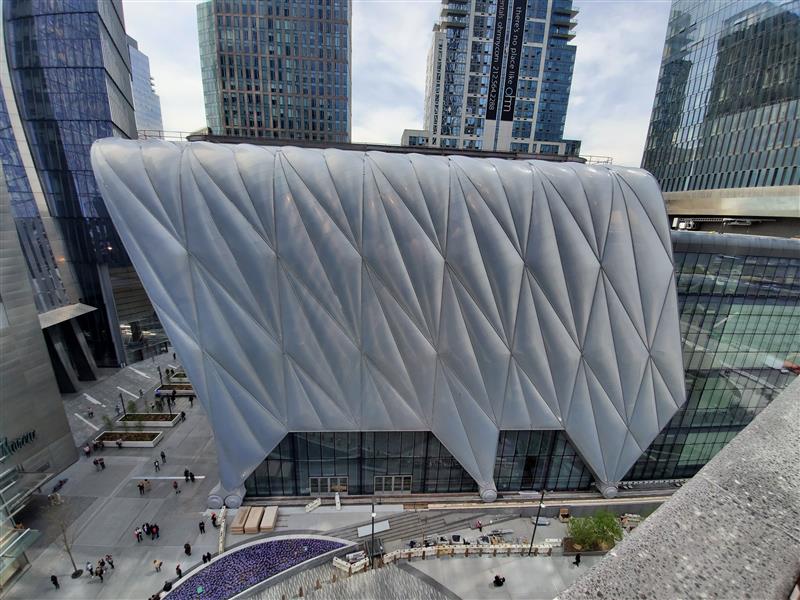 The cover moves on huge wheels to the right.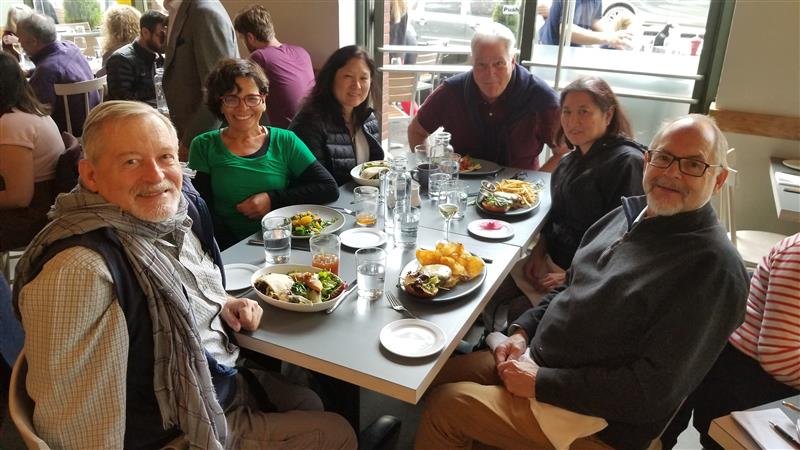 Lunch at Cookshop Restaurant at 20th Steet and 9th Avenue. Tom, Gladys, Maureen, Greg, Margo and Richard.
Gladys and Tom ordered an unusual drink: Expresso coffee and grapefruit juice!
Thu April 25, 7:oo pm - Gary: A Sequel to Titus Andronicus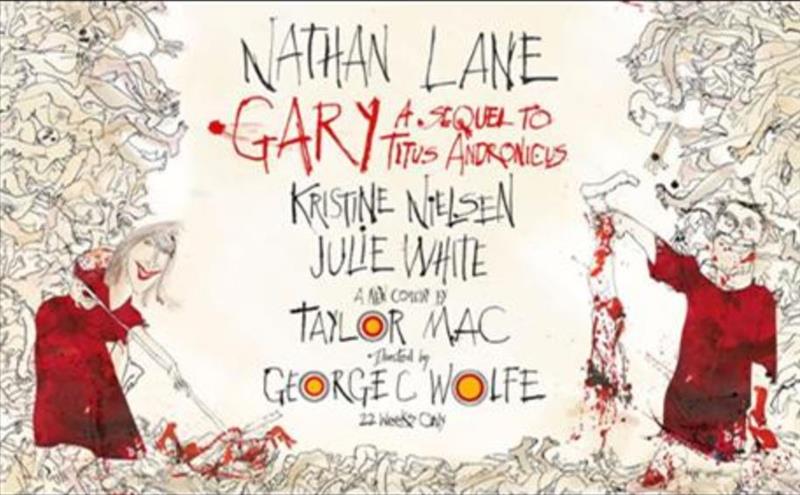 A rare show on Broadway!
Shakespeare's "Titus and Andronicus" was his first tragedy, often seen as an attempt to emulate the violent and bloody "revenge plays" of his time. It is his bloodiest and most violent work, and traditionally was one of his least respected plays. The story is fictional, not historical, unlike Shakespeare's other Roman plays. It is so violent and bloody that over 400 years it has shocked the public. So violent that it tends to evoke a laugh a minute: fathers killing raped daughters, mixed race babies being killed, limb dismemberings and chest deep burials to be left to die. See what I mean? Ultimately everyone of importance is corrupt and dead. This sets the scene for the "Sequel to Titus Andronicus."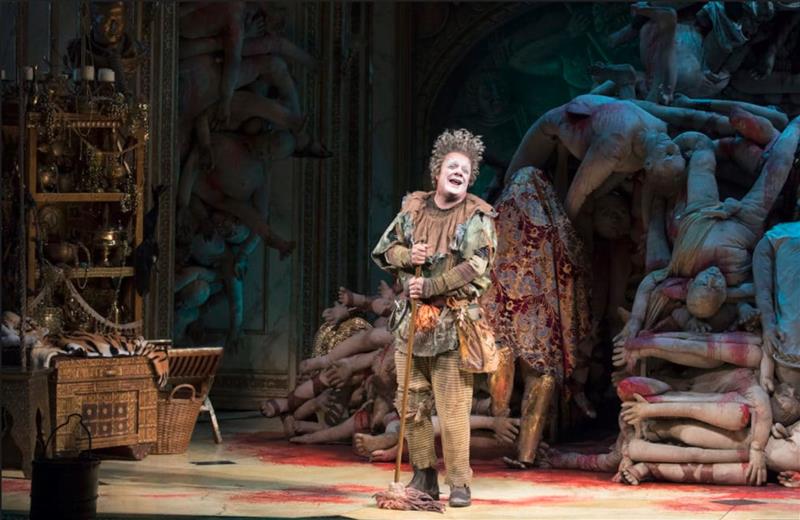 Gary (Nathan Lane) is a clown (at that time a lowly peasant) who has been assigned to clean up the carnage. As the curtain opens we have a pile of several dozen dead bodies piled up in what was an elegant dining room. The floor and the stage is stained with blood. He is joined by a maid, Janice, who has cleaned up at other important carnages, and knows the system of stripping, draining blood and bile, pounding out the methane from the corpses and dodging penis projectiles. The rest of the play is Gary, Janice and Carol (a mid-wife) trying to better their station in life in a world that has completely disintegrated into chaos. All this is done with a sometimes-rhyming Shakespearian style of dialogue through a Cockney accent (and no sub-titles.)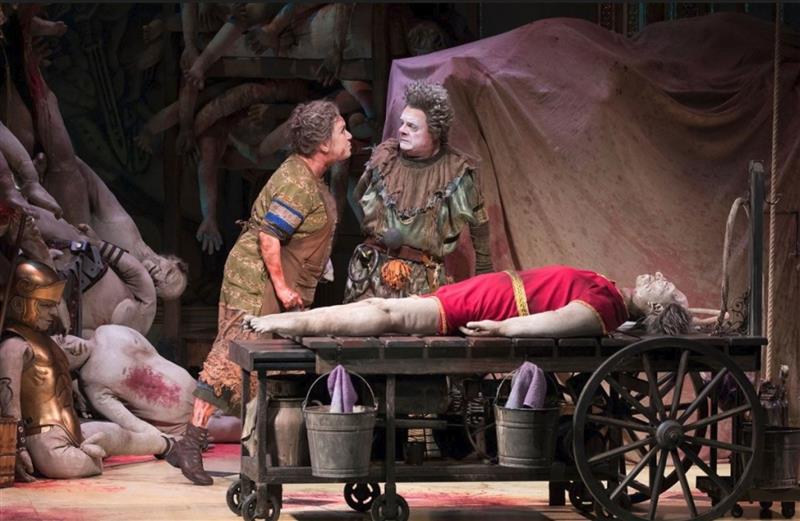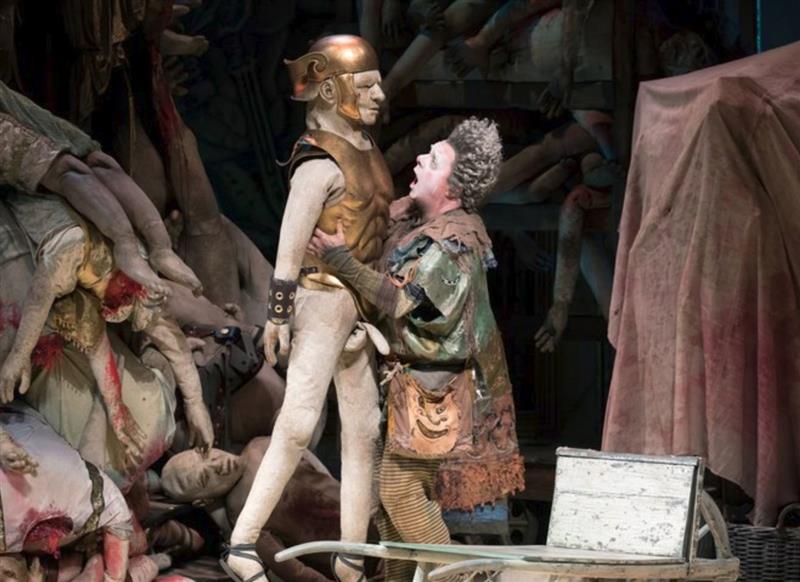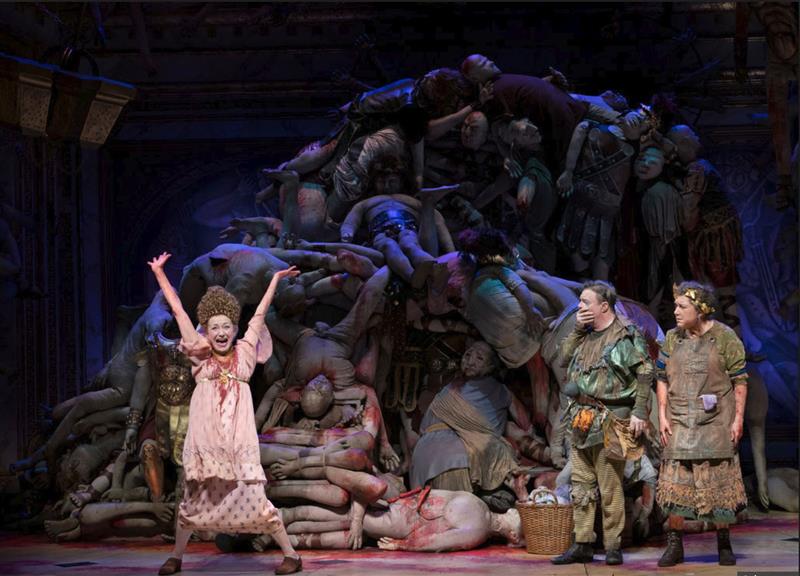 One would ask who created such a play? Well this comes from the mind of a "new" genius-Taylor Mac. Taylor was raised in Stockton, California and knew that he was going to go places. So far he is an actor, playwright, performance artist, director, producer, singer-songwriter, drag queen and plays the ukulele. Mac was the recipient of a "genius Grant" from the John D. and Catherine T. MacArthur Foundation, and numerous other awards.
As you can see it is impossible to categorize him, and he even uses the pronoun 'judy' (lowercase) as a gender pronoun. One of his most ambitious performance pieces is a "one-judy" show called: "A 24-Decade History of Popular Music," a performance that covers music popular in the US from 1776 to 2016. One hour is dedicated to each decade, with corresponding costumes which add up to a 24 hour performance, with breaks, so that judy and the audience can use the loo. For those of you whose interest is peaked, check out taylormac.org.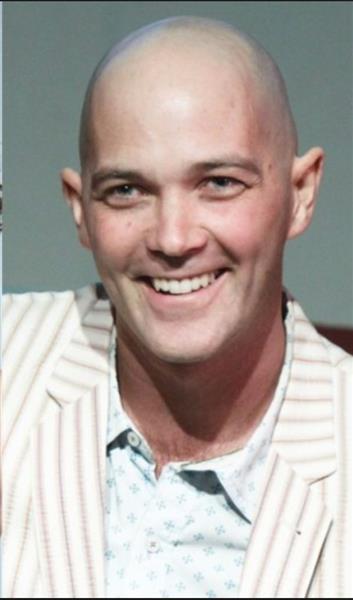 Taylor Mac
You might understand how we were intrigued to see this show. If you are so intrigued, then I would suggest that you read the synopsis of Shakespeare's Titus Andronicus before you go. It would explain many of the details. I didn't.
What a great start to the week of Broadway. I wish I was there with you!! Glad to see you are keeping up the tradition of eating at Becco. Next, I want to see the photo when you eat that wonderful pizza place. Ken B
Actually it sounds like they sanitized Cher's life a bit. Cher was a high school drop out and met Sonny in 1962 when she was 16 and he was 28. Sonny basically committed statutory rape since she was a minor. Cher also dated Gene Simmons after she and Gregg Allman divorced. Gene Simmons is the leader of the rock band KISS and he used to brag about the thousands of women he slept with. Simmons is also a Republican so Cher obviously has poor judgment in men she dates and marries. Randy and I went to the Rock N Brews restaurant at a casino in Highland a couple weeks ago. Simmons and other members of the band KISS own that restaurant and others in the restaurant chain. Their restaurant is much better than their music. Bob
Dear Greg, Tom and Richard, OKAY you have blown my mind and turned me absolutely GREEN with envy. Three fabulous shows appear in your fist blog. And now Taylor Mac! YES your posting intrigued me to look at judi's web site. OMG - a major talent. How have I not heard of this person before? I love the work, the audacity, the free-spirit, the voice. The "Vessel" at Hudson Yards - how could anything upstage Broadway?? Well it almost did! Not sure who your photographer is but very nice pics. Meanwhile back here we bake in the heat in preparation for the really serious summer heat. Continue having a great time!!! Some of us are there vicariously. Greg, we need to get together for coffee!! NOT One-Ps related!!! Paula A
Looks like Hella fun! You guys must be enjoying yourselves. We're in Windy norhtern AZ now, for a while. Have fun in the Big Apple!! Roberta G .
Hi Tom, Many thanks for including me in the mail. Seeing NY and the plays and musicals has to be one of our greatest pleasures. I am out of it now so I really appreciate hearing all your thoughts and descriptions. Dick and I leave for our annual trip on May 16th. Look forward to your next episode.
Dick P
Such a fantastic tradition you all have! Jeff S.
Thank you for sharing with us your New York trip. Its always fun for us to see where you have been to or going to. Thank care and have fun Aloha from Hawaii Douglas and Sharlene
Great job on the reviews and accompanying photos. I especially appreciate some of the background that the Times managed to leave out, namely Lanford Wilson's status an out gay playwright. Good job spelling playwright correctly, too. Charles B.
Dear Tom, Greg & Richard, Have a wonderful time. Should your travels take you to see King Lear ………. please let Glenda Jackson know that I still love her. Best Lisa M
Oh, what fun you must be having! What an amazing building The Vessel is! Sort of Escher-staircase-like, yes? No? Well, did you enjoy the Titus Andronicus play, or was it dreadful? Despite taking three terms of Shakespeare in college, that's one I never read [and from your description, am very glad of it!]. Love, Nancy
Wonderful addition to the architecture of our great NYC. Sylvia S.
Gorgeous! Jon H.
I think the Vessel is a fantastic installation and would love to see it some time. The "puffy" covered building looks interesting as well. I don't know about the "Sequel". It does sound rather bizarre. Ken B
Fri April 26, 8:oo pm - Tootsie
At noon we took the subway to the Brooklyn Museum. For lunch we went to the resaurant at the museum called "The Norm". As it was fully booked, we opted to eat at the counter. Very nice. At the Mexican cousine was delicious. Richard did not choose the item made with crickets!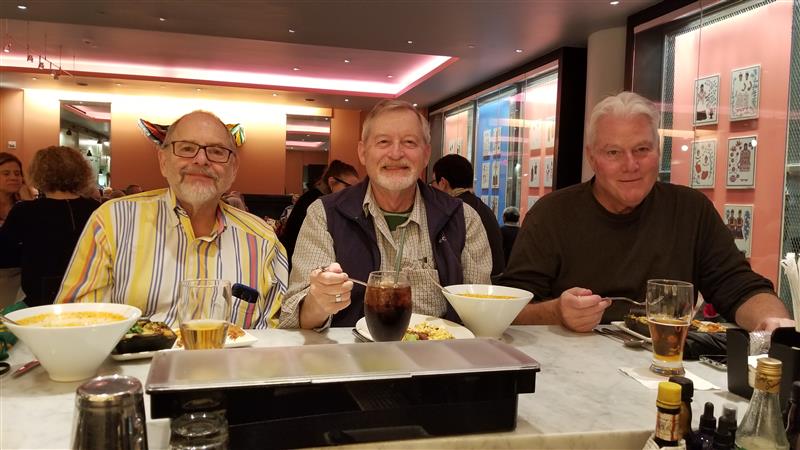 Richard, Tom and Greg at The Norm in Brooklyn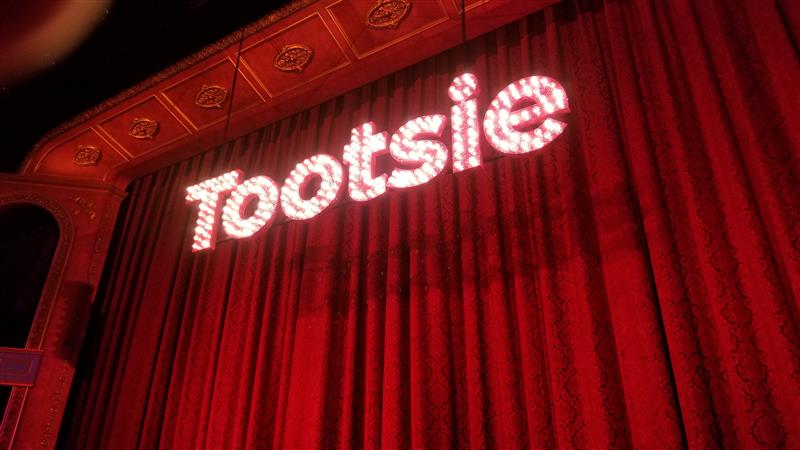 It hurts a little to think that 37 years have passed since we all saw Tootsie "the movie." Were we concerned about the "Me too movement" in those days? Certainly not enough. Would that old "chestnut" stand up today and be relevant? Is a man in a dress a guaranteed laugh? No, but good writing is. And not every joke worked, but a refreshing number of them did.

It was fun to see an "old style" musical again. There was a full orchestra Overture, sets flying in and out, ridiculous choreography (on purpose) and broad humor. The pace of the show was like clockwork as you can only see on Broadway in New York.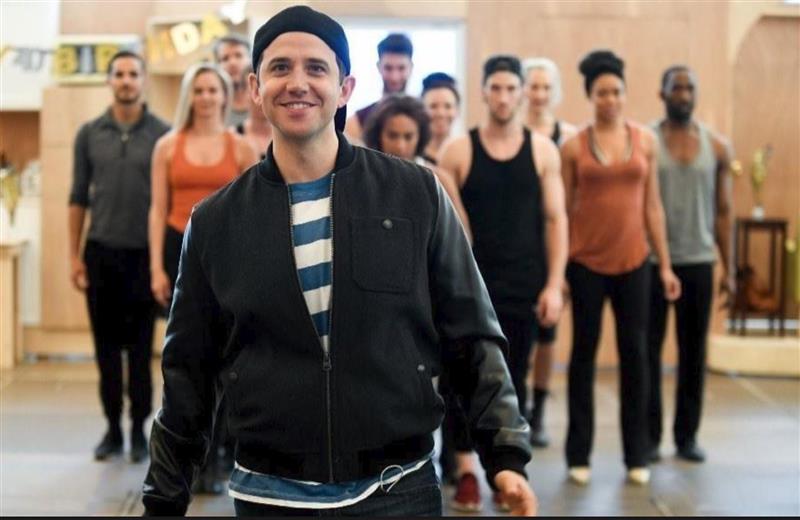 Santine Fontana plays Michael Dorsey/Dorothy Michaels.
Michael Dorsey (Santino Fontana) is a New York actor who is having trouble finding work. It seems that he wants to tell the directors how to do their job at every audition he takes. This leads, of course, to him not getting any jobs. The explanation for a MAN like that would be that he's a reality based actor perfectionist. But really, he's a jerk. Because no one will hire him, he decides to be someone else. Seconds later, out pops Dorothy Michaels, a 'sturdy' lass with nail polish, eye lashes and an Adam's apple. Just as in the movie, "she" has run-ins with the director, but this time, prevails.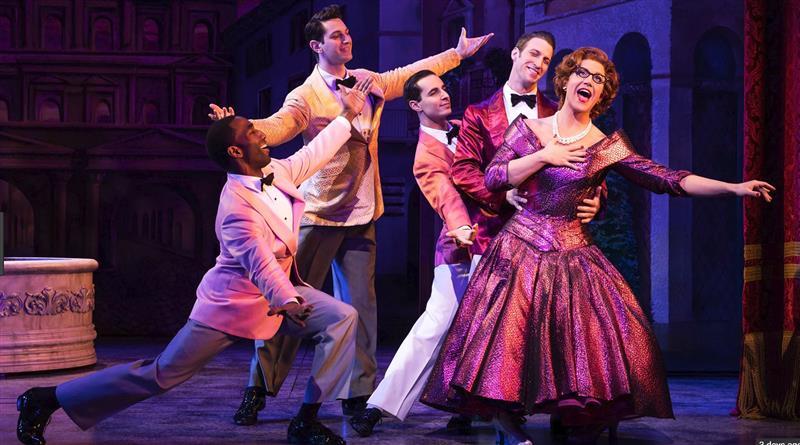 She soon is the lead of a Broadway show about to open, and falls in love with the leading lady. This could be, and was, awkward for Dorothy. Little by little, Michael realizes that it takes a 'real man' to be a woman. A woman cannot respond in the same way as a man, and be accepted. A woman must veil her reactions to men so as not to wound the delicate insensitivities of men. A woman is able to behave differently with other women and receive strength from the relationship.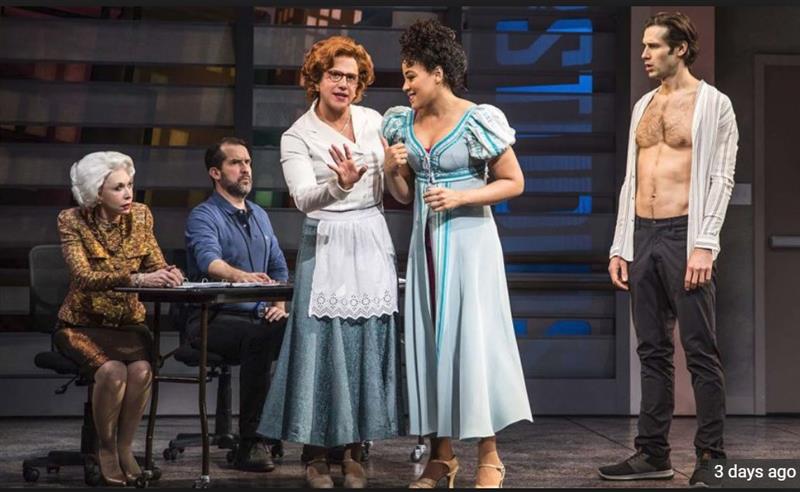 We see the constantly bare torso body of John Behlmann (who plays Max, right). He, of course, falls in love with Dorothy
Interesting characters were created, and the casting was superb. The music, written by David Yazbek, who also wrote last year's winner "The Band's Visit" was hit and miss, but carried the story nicely. Sandy, Michael's hyperactive actress girlfriend, stops the show with a "patter song" that out patters even "Getting Married Today" from Company.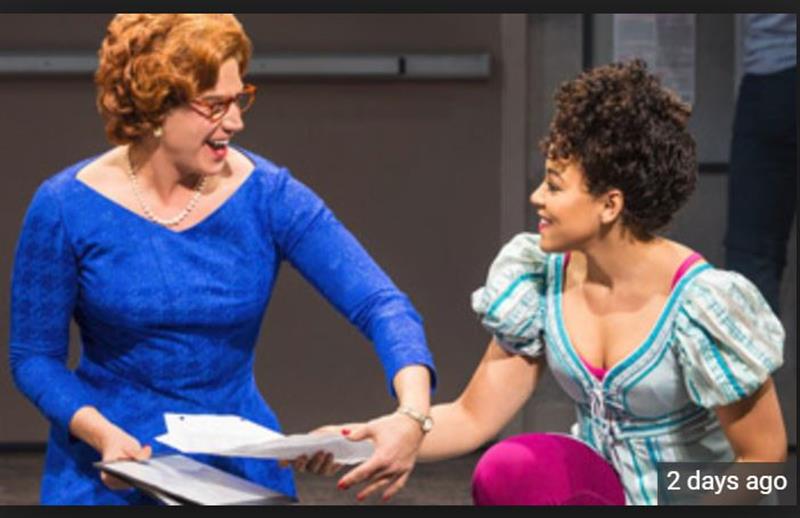 Santino Fontana and Lilly Cooper, the leads in Tootsie.
Each character has a chance to shine, but none takes on the brilliance of Santino Fontana. His ability to go from Michael to Dorothy in seconds can only be matched by the precision of his dressers. His voice is superb in two distinct voice types: baritone and Mezzo Soprano. He has the comic timing of a Borsht Belt comic, and the arc of his character becomes quite sympathetic as he realizes the mistakes that he has made.

You don't leave the theater humming the music, but you do have a refreshingly good laugh and a great time. Isn't that what it's all about?
Yum. Hope the art was as good as the delicious mexican food! Peggy M.
What great fun!! Love that you guys are sharing the expeeriences. Thanks.
So, did Richard find another protein source at lunch? Tee hee!! Hugs, Ruth
Hi, Tom, this is Teri. Thursday must have been an unusual day for you in NYC. The Vessel looks very strange and gets terrible reviews. Did you like it? I think I'd feel very uncomfortable up there in the thin air, but it might be fun to try. I doubt I would see Gary. Looks a bit too gory for me. What did you all think? It's fun to visit vicariously. Thanks for the notes. Teri
Hi Tom, Really enjoyed the coverage of the Vessel. You truly showed so much that I am very pleased that I now understand what its purpose is in this area. Certainly controversial and either loved or hated.. I saw a brief discussion with the artist which was not as convincing as you presentation. I doubt I will get to see it so Thank you very much. Best, Dick P
Yesterday the Vessel
Today Tootsie You are having a BALL Almost makes want to go to the Big Apple!!! Have enjoyed the mails very much!!! Dick
By any chance, did you see Warhol's collection of 'Jews of the 20th Century?' I believe they have all 12. Enjoy! Richard L.
Saturday April 27: Into the Underworld
++++++++++++++++++++
2:00 PM: Beetlejuice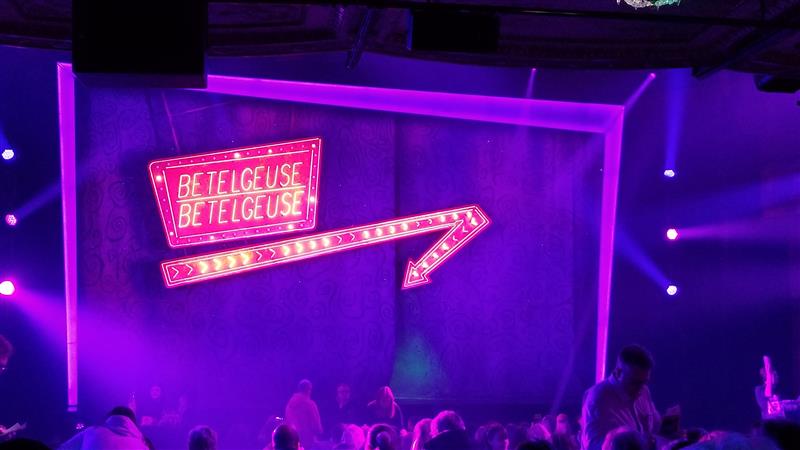 It seems that there never is a shortage of movies which become musicals. Well, why not? It almost assures an instant audience if the movie was a big success. This is the case for Beetlejuice (Betelgeuse.) From the dangerous imagination of Tim Burton came a successful vehicle for Michael Keaton. It was a small movie which grossed a big return. It also grossed out the audience by dealing with DEATH in a disrespectful way. Well, here we go again. I must admit that I didn't have big expectation for this show.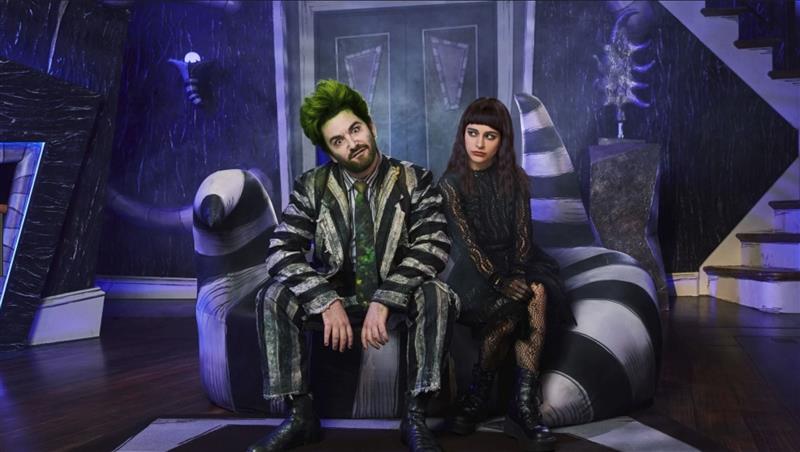 Beetlejuice and Lydia
From the very beginning the main character 'Beetlejuice' sang a song which put everyone's mind to rest: "This whole being dead thing" where we learn of all of DEATH's wonderful advantages. It is hilarious. From that point on, we are no longer grossed out and sit back and have a wild wonderful ride. The storyline follows loosely the movie's plot: happy couple dies, new people move into their house, happy couple haunts house to scare away the new owners—all of this with the help of one "wild and crazy" ghost from the underworld.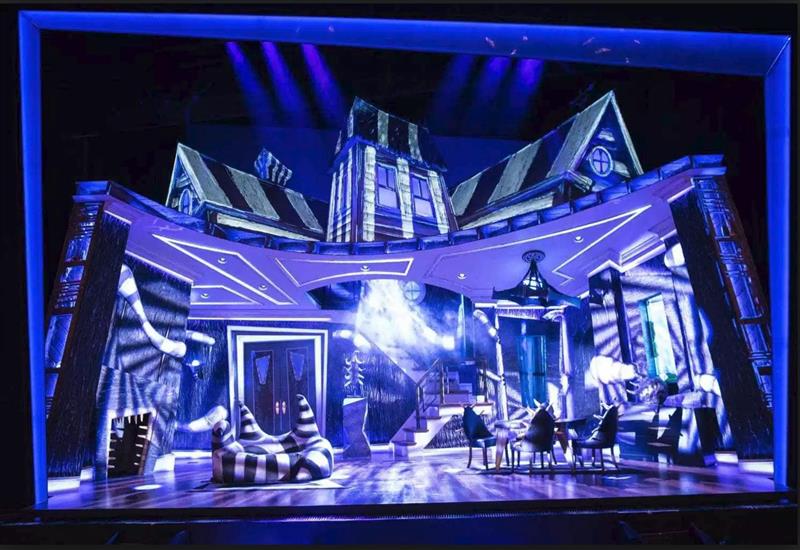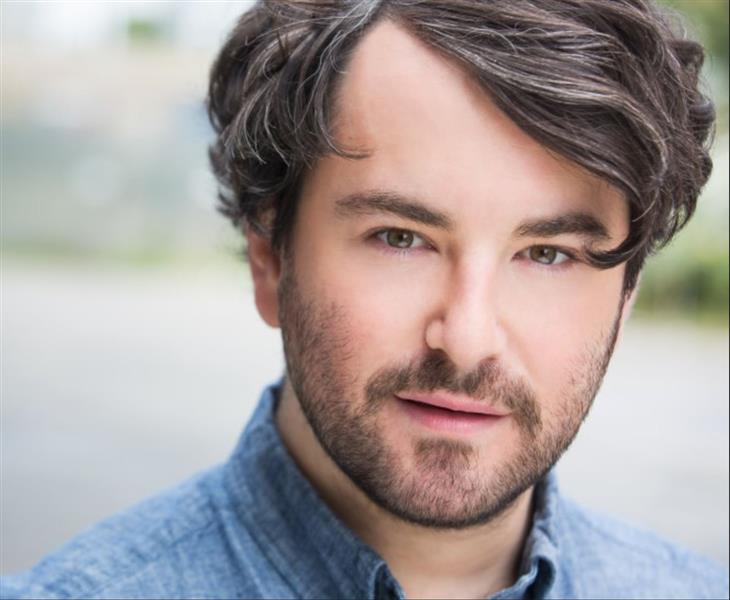 Alex Brightman plays Beetlejuice
Alex Brightman (Beetlejuice) is all over the stage with a timing as sharp as a pin. In a movie, an actor can do and redo a scene to make it perfect. Alex Brightman does not miss a beat in the entire show and is spot-on. The production can take advantage of all of the new enhancements that technology has provided the Broadway stage. Who needs CGI? One leaves the theater happily exhausted.
Return to Don Antonio Pizza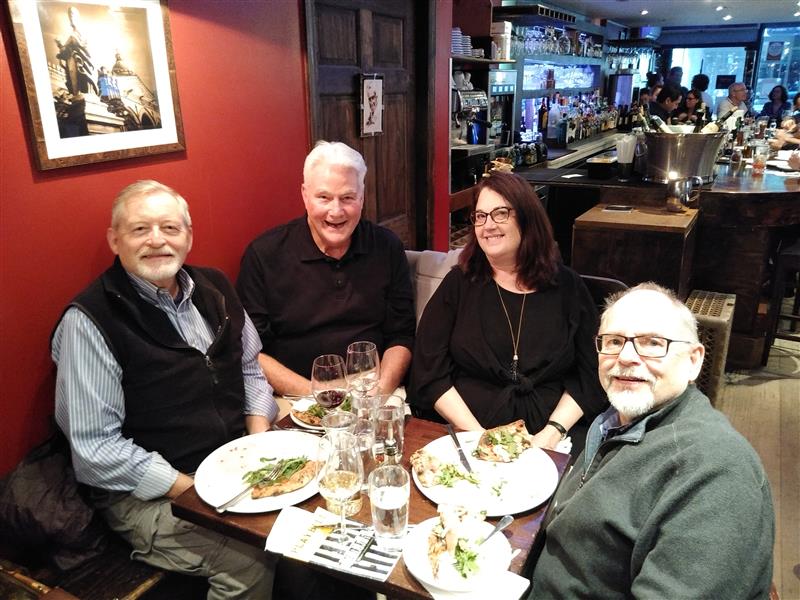 Tom, Greg, friend Doreen and Richard. Our tiny table matched our tiny apartment!
We ate at Don Antonio's between shows. Great pizza. We couldn't order all of them at one time because the table wasn't big enough ... so we ordered them "in shifts".
8:00 PM: Hadestown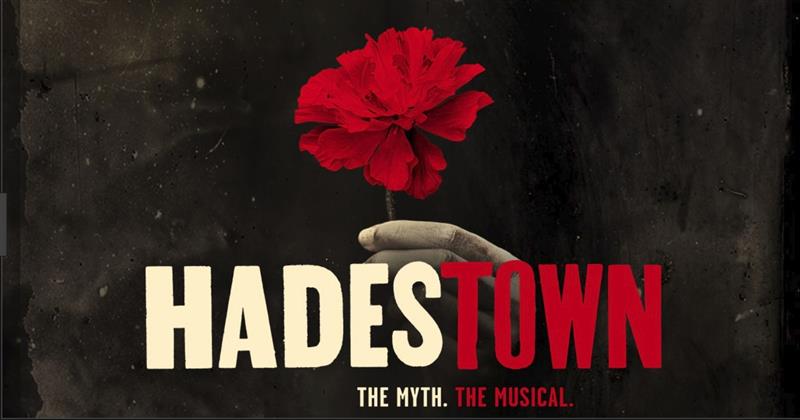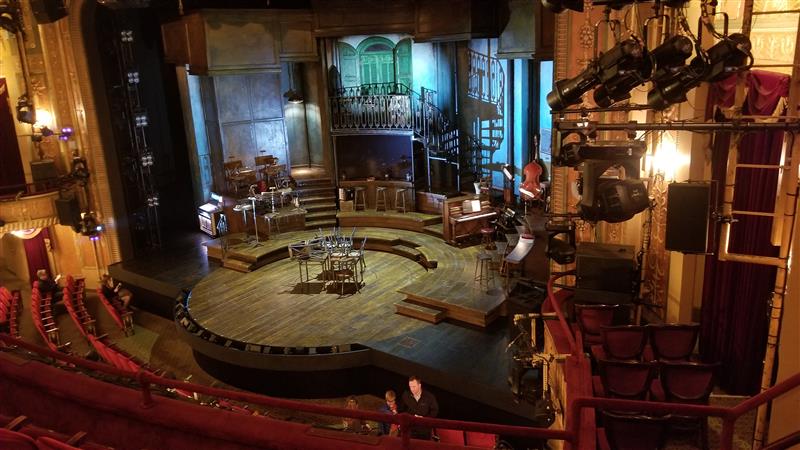 The stage/sets from our mezzanine seats.
In 2010 a concept folk opera album came out by Anaïs Mitchell by the name of "Hadestown." It told of the story of Orpheus and Eurydice set in a post-apocalyptic Depression-era America. The folk music-- a little bit New Orleans Blues, a little bit Tom Waits, a little bit Leonard Cohen, dealing with the underside of U.S. Society.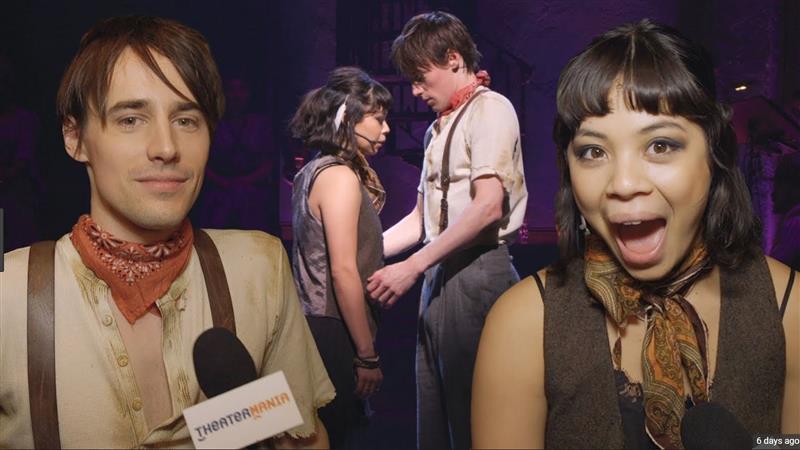 Orpheus and Eurydice
Anaïs Mitchell (only 38 years old), more and more, wanted to create a stage version of Hadestown while writing and recording new material. In 2016 the newly expanded theatrical version of Hadestown opened at New York Theatre Workshop and Vogue magazine predicted that it "will be your next musical theatre obsession." On April 17, 2019, the full blown Hadestown opened on Broadway.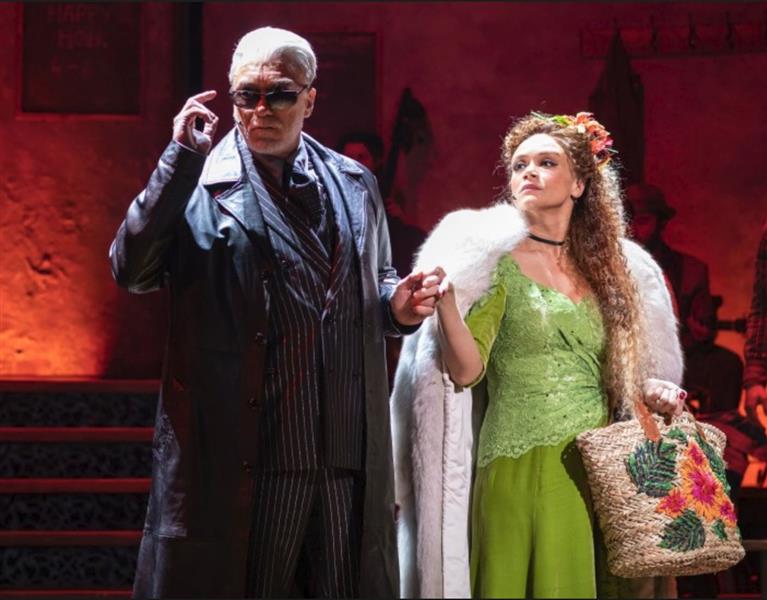 Hades and Persephone

The story follows the Greek Mythology with two love stories: Orpheus and Eurydice and their descent into the Underworld; and Hades and Persephone, the god of the underworld and goddess of the seasons. As with all operas, the music carries the story with very little dialogue. The action on the stage is stylized and highlighted with dramatic lighting. There are nods to classic Greek Theater with the use of the "Fates" and Greek Chorus. The cast is strong and needless to say, the voices are dynamic.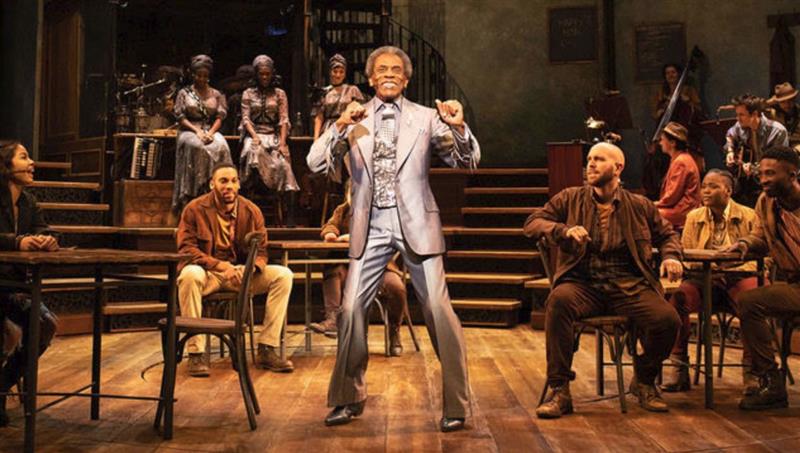 This is NOT your Grandmother's Broadway Musical; however you will be hearing about it this year.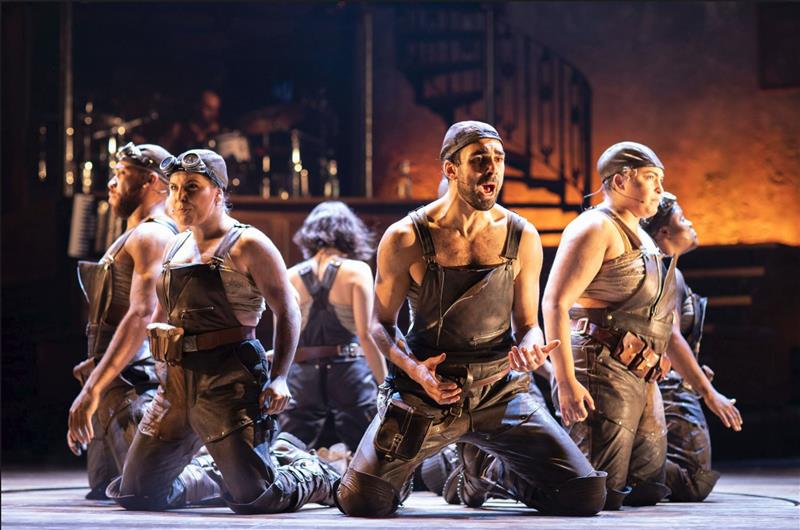 Hi Tom, Thanks again for including me in on your NY adventures. I'm actually with Margaret at her place on Cape Cod. If we were in Manhattan I'd definitely would like to see you boys, but since that won't happen this time around., You all have a great time and enjoy the rest of your stay in the Big Apple.. Tom S.
Hello Tom, Henry and Debbie H. here, friends of Greg. Looks like you all are having a fun time! Thx for mail, hey to Greg. Have MORE fun!!!! Cheers - Henry
I would love to see the Cher show, but doubt it'll ever be in Portland. Enjoy! Linda D
Betelgeuse. How clever —and timely — of them to be doing a show about the Mayor of South Bend. Ken C
Sunday April 28: The Prom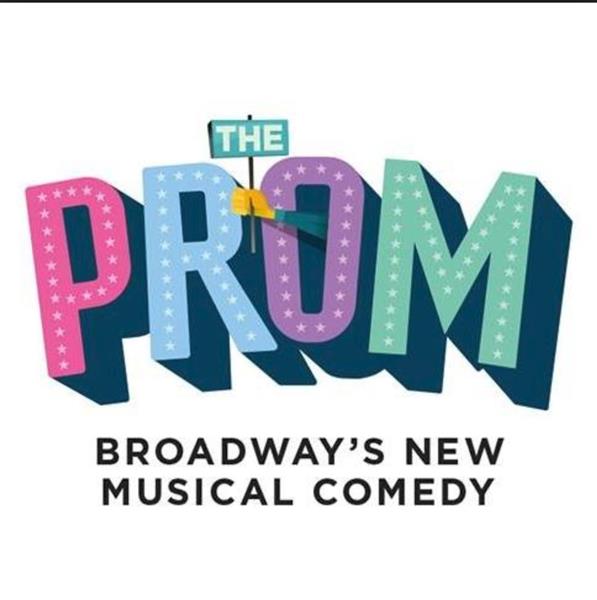 It's probably not a bad idea for Broadway to be featuring musicals with young people. It seems that only the "blue haired" attend the revivals. The Prom joins the list of high school musicals in recent years: Mean Girls, Be More Chill, School of Rock, Spring Awakening, Dear Evan Hanson, to name a few. However, that is not to say that there isn't something important about lessons to learn, and it brings young people to Broadway to encourage the magic to continue.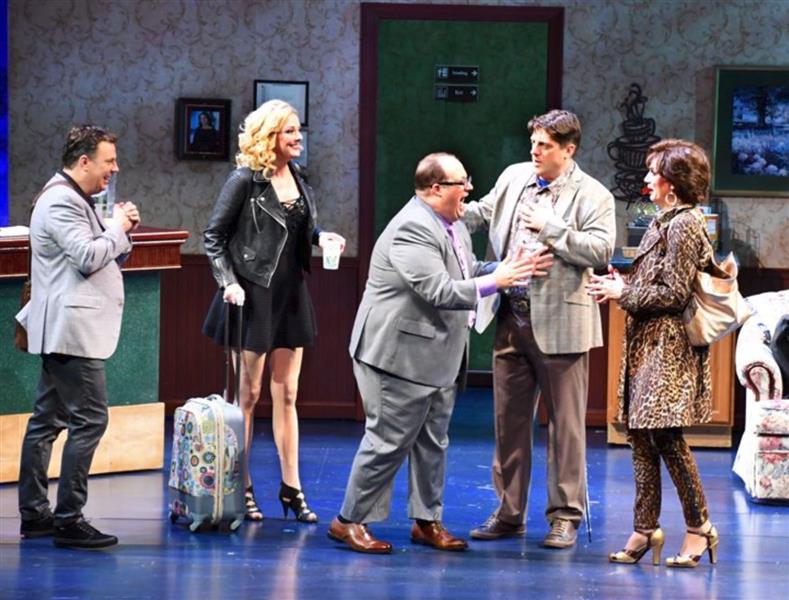 The four actors with their agent (center)
The Prom begins on Broadway with 4 actors whose glow in the spotlight has faded. We soon find that they are obnoxious narcissists who are surviving on memories of their past successes. When abandoned by their "fans" they decide that what they need is a "Cause Célebre" where they can be seen as sympathetic and relevant by the press, and therefore popular again. Collectively they don't have enough smarts to grasp any political controversies so they search for something that they might understand. They read of a town, Edgewater, Indiana where they have cancelled the prom rather than allowing a graduating lesbian attend with her girlfriend. Well, off they go to apply their "star" power to this issue.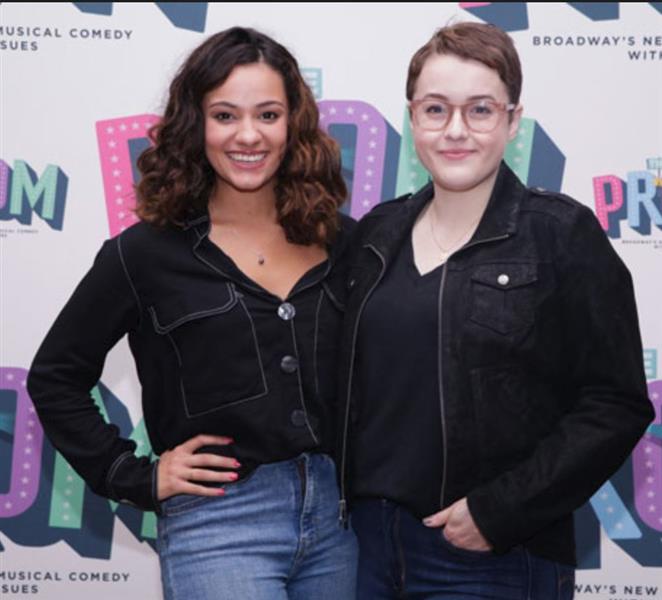 The lesbian couple: Alyssa (Isabelle McCalla) and Emma (Kaitlin Kinnunen)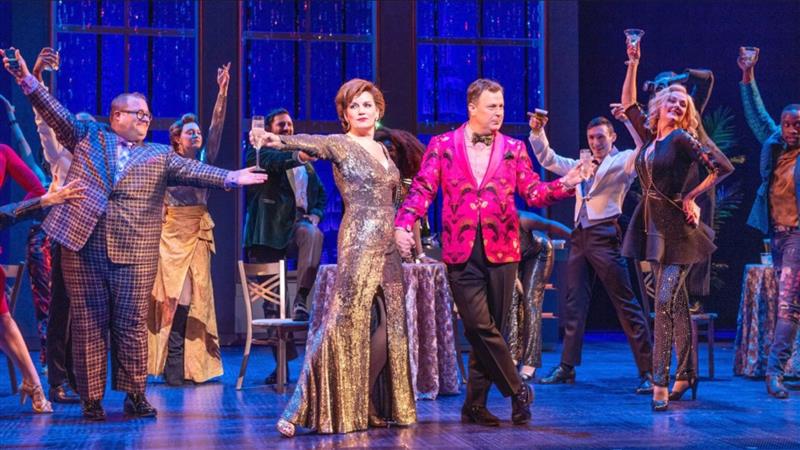 You can pretty much predict what happens when you have clueless "famous" actors in a small town with a demanding closed-minded PTA. What makes this fun is the casting and the writing. There are big laughs, big dance numbers, big emotions and even a tear or two. The success of this show has been word of mouth because of the really good time that one has. The attendance has also been boosted by a shocking display at the Macy's day parade when one of the numbers had two women kissing on national TV. Perhaps the story is not as far fetched as one might think.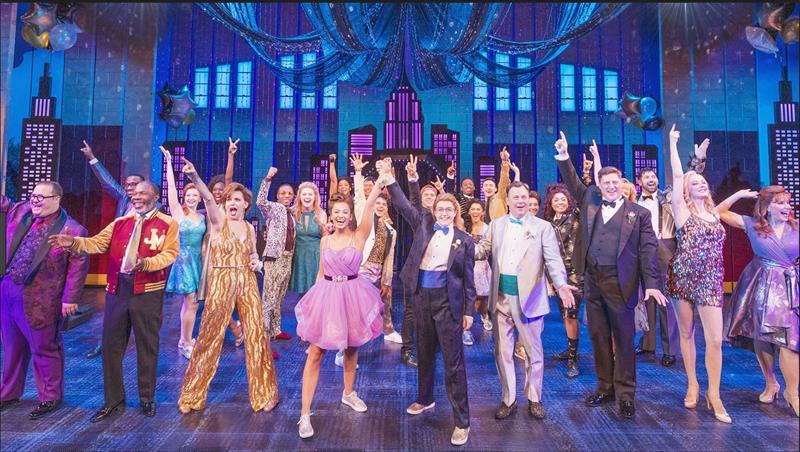 Dinner at The Eataly, Flatirom District
Greg heard about this "vibrant Italian market place, featuring cafes, counters, restaurants and cooking schools". We decided to go there for dinner.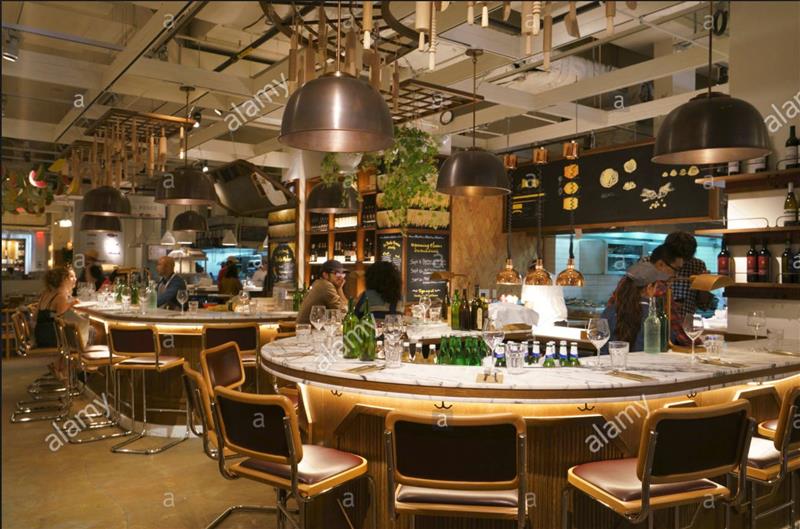 We ate at this counter area which featured pasta.

We ordered the special starter (sun chokes) and various pasta dishes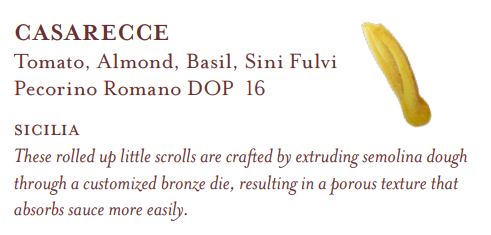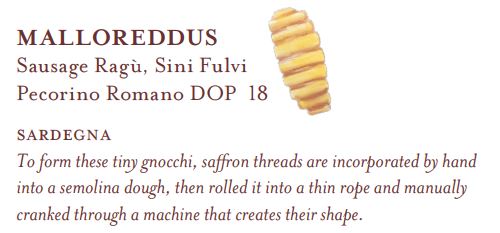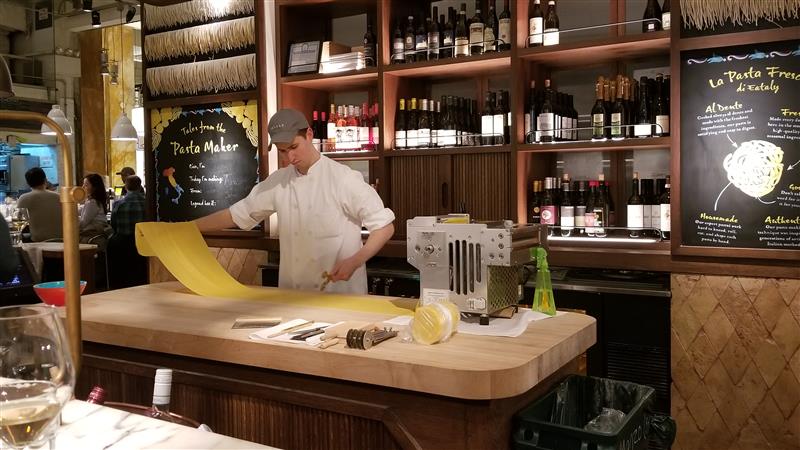 This was going on in front of us. Semolina pasta dough was rolled into wide flat strips.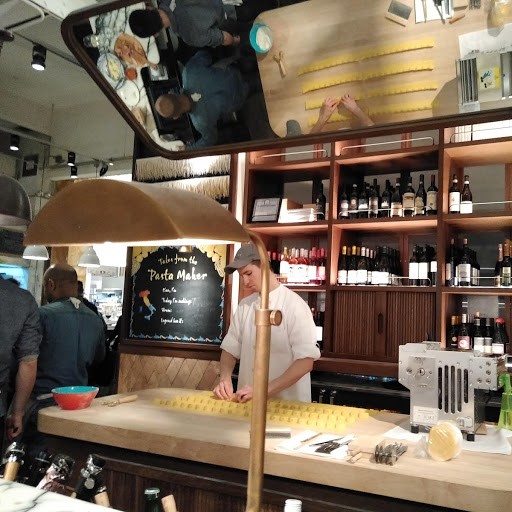 Large mirror above the prep table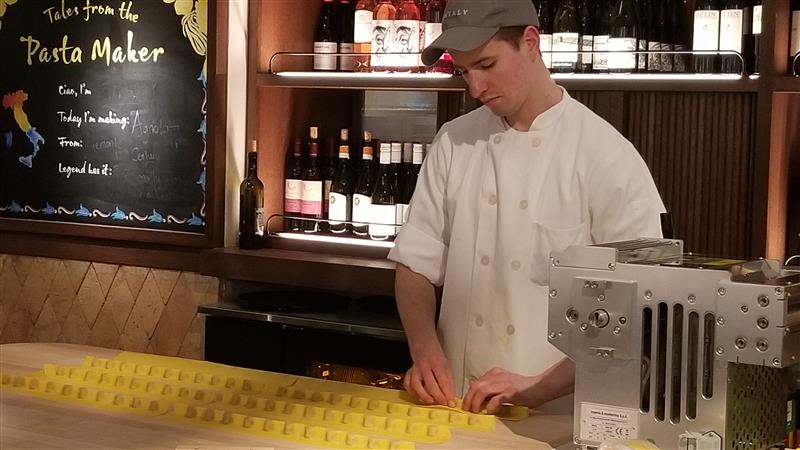 A filling was piped into little blobs which became "slow-roasted veal-filled agnolotti del plin of Piemonte"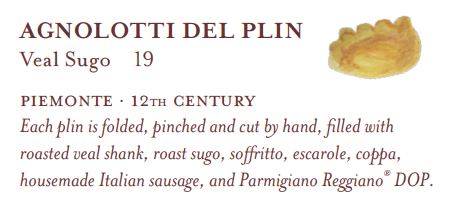 Thank you, Tom, for once again taking me along on your NYC adventures. I have loved being a part of the shows and restaurant fun. I'm still practicing my tele transporting skills. Perhaps by next year, I will show up in the flesh. In the meantime, I'm looking forward to seeing what's in store for today... Besos to you all, Sylvia K.
Geeze.....youse guys are certainly finding some gems on Broadway. First "Tootsie" and now "The Prom." It all gives me the encouragement to try and see these shows my next time in NYC. (And to think I've been wasting my time all these years on re-runs of "Cats.") Continue to have fun. I'm extremely jealous. Larry M.
What did you think of Eataly? Kind like Disneyland for foodies? Dorene K.
Hi, Tom and Richard and all, Great photos of the Italian "market place;" thanks for sharing. What a great week of theatre you have had...and such well written recaps of the haps on Broadway. Know you are having fun! Sandra B.
Great synopsis. Thanks. FYI, this morning in CBS Sunday Morning there was a piece on "Gary" and Taylor Mac. Interesting piece. David P.
Ah, pizza at Don Antonio's. I'm jealous once again. Ken B.
Tue April 30, 7:oo pm - To Kill a Mockingbird
Yesterday was a "free" day (no shows). We took up Dorene on her suggestion of a wood-fired pizza restaurant, called Cecconi. It was located in the Dumbo area which we think means (Down Under the Manhattan Bridge Overpass). They also serve pastas & other Italian dishes and views of Manhattan.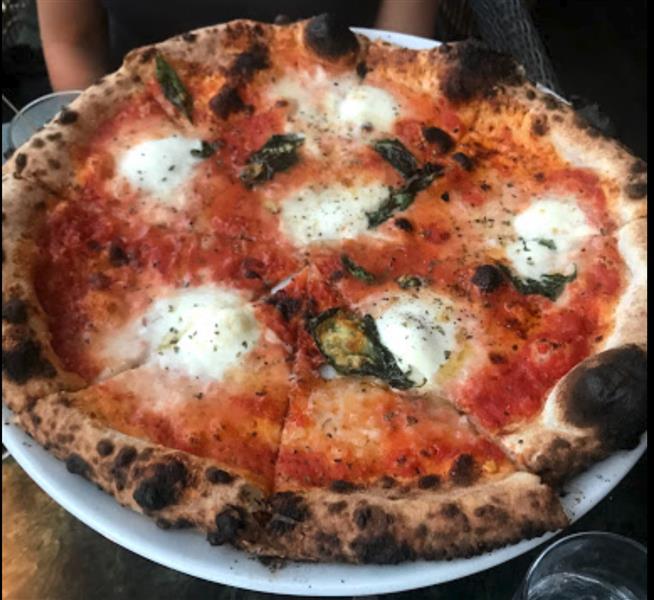 Greg's wood fired margherita pizza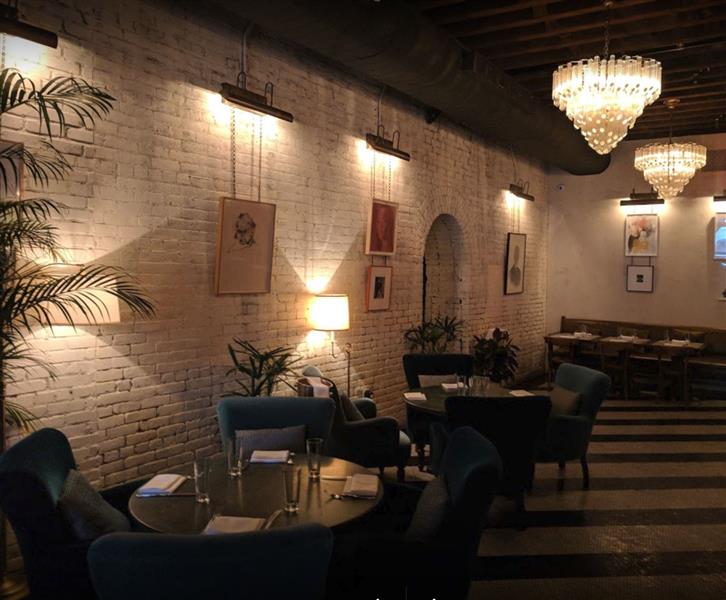 Our table with low slung upholstered chairs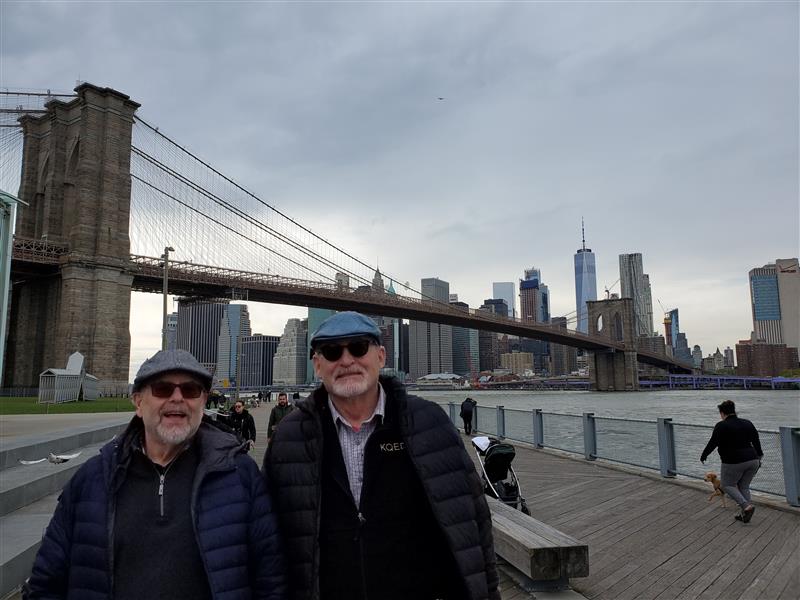 Richard and Tom on our way to the Brooklyn Bridge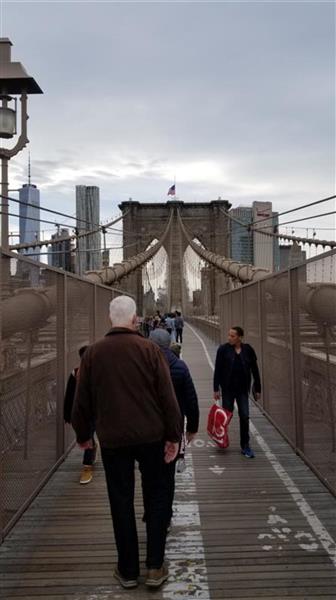 Greg on the bridge walkway. Tom wanted to do a "Kathleen Turner" on that guy walking in the bike-only lane!
Tue April 30, 7:oo pm - To Kill a Mockingbird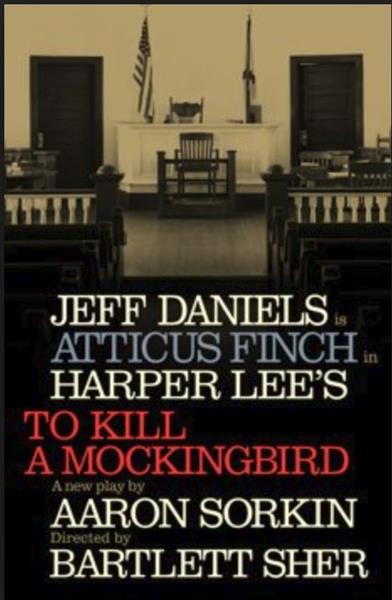 Harper Lee's To Kill A Mockingbird
This morning was "Tony Tuesday" where they announced the nominations for the 2019 Tony Awards. In general, the plays that we saw fared well with nominations. However, no sooner were they announced than the BUZZ started about the snubs and the overlooked. Up until 8:30 AM ET, "To Kill a Mockingbird" was a shoe in for the best play of the year.
(All of the Tony nominations are at the bottom of this page.)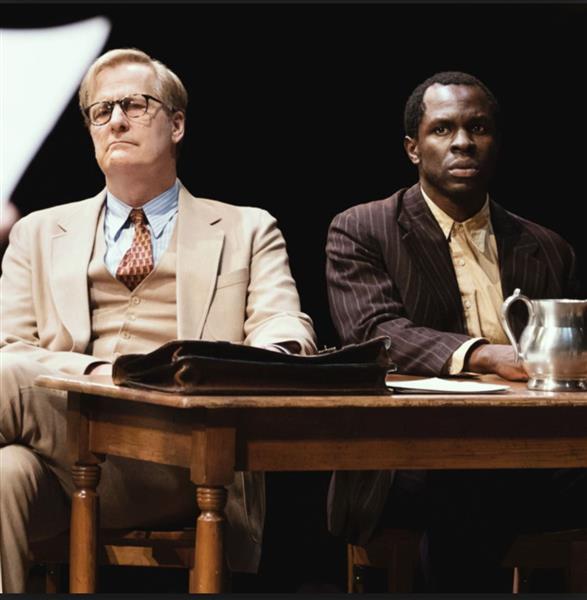 Atticus and defendent Tom
Well, it received 9 nominations, but not for the Best Play. There was controversy about this version, as it was billed as: "A new play by Aaron Sorkin." I won't go into all of the claims, but this version had some differences. One of the most important differences was that the two young kids of Atticus Finch (Jeff Daniels), were played by adults, suggesting their young age, but appearing more mature. The story was narrated by them: Scout Finch (Celia Keenan-Bolger) and Jem Finch (Will Pullen.)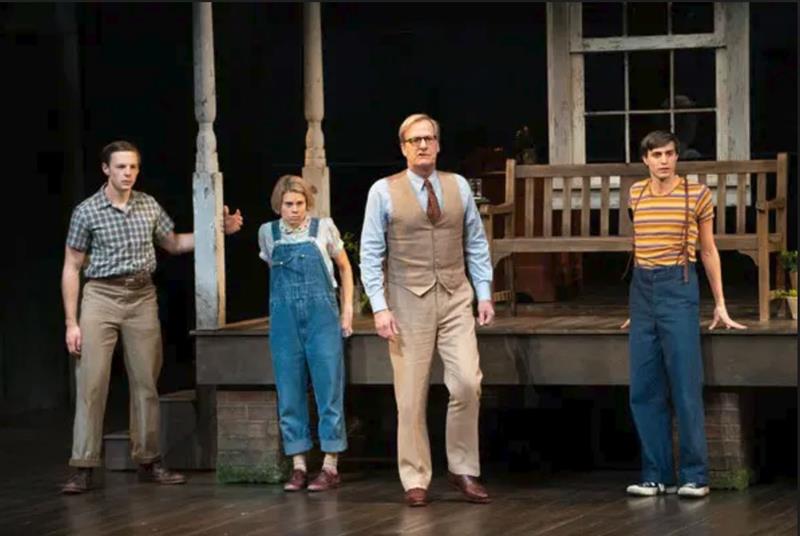 Jem, Scout, Atticus and Dill

The courtroom scenes were interrupted with exposition about the town, and the subplots were handled a bit differently. I have to say that I must go home and see the movie again (or read the book, again) to clear up some issues. What I can say is that the power of the words and the search for justice is as strong as ever. The audience was brought to a pin-drop hush on several occasions. It was a treat to see Jeff Daniels wielding his acting chops—never too much, but just right. Gregory Peck would have been proud. The presence of a younger crowd in the audience was also an optimistic thing to see. American Theater at its finest.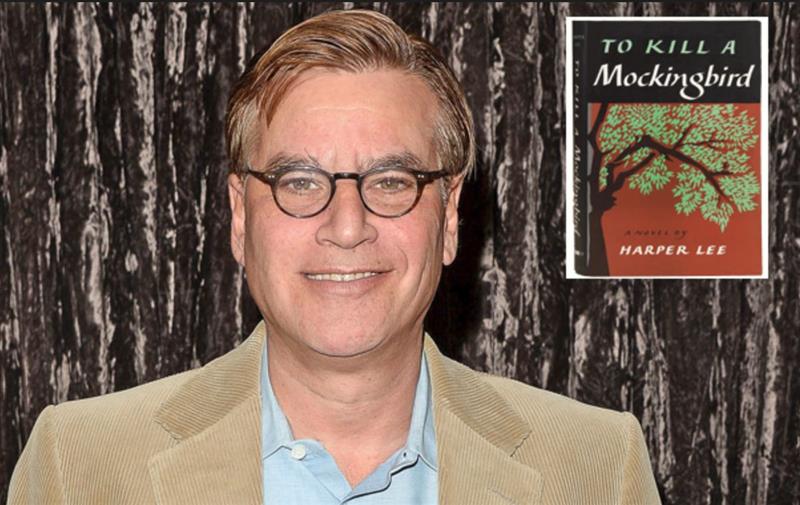 Aaron Sorkin wrote the script adaption for this play
Best Musical
Ain't Too Proud—The Life and Times of The Temptations
Beetlejuice
Hadestown
The Prom
Tootsie
Best Play
Choir Boy by Tarell Alvin McCraney
The Ferryman by Jez Butterworth
Gary: A Sequel to Titus Andronicus by Taylor Mac
Ink by James Graham
What the Constitution Means to Me by Heidi Schreck
Best Revival of a Musical
Kiss Me, Kate
Rodgers and Hammerstein's Oklahoma!
Best Revival of a Play
Arthur Miller's All My Sons
The Boys in the Band by Mart Crowley
Burn This
Torch Song by Harvey Fierstein
The Waverly Gallery by Kenneth Lonergan
Best Performance by an Actor in a Leading Role in a Musical
Brooks Ashmanskas, The Prom
Derrick Baskin, Ain't Too Proud
Alex Brightman, Beetlejuice
Damon Daunno, Oklahoma!
Santino Fontana, Tootsie
Best Performance by an Actress in a Leading Role in a Musical
Stephanie J. Block, The Cher Show
Caitlin Kinnunen, The Prom
Beth Leavel, The Prom
Eva Noblezada, Hadestown
Kelli O'Hara, Kiss Me, Kate
Best Performance by an Actor in a Leading Role in a Play
Paddy Considine, The Ferryman
Bryan Cranston, Network
Jeff Daniels, To Kill a Mockingbird
Adam Driver, Burn This
Jeremy Pope, Choir Boy
Best Performance by an Actress in a Leading Role in a Play
Annette Bening, Arthur Miller's All My Sons
Laura Donnelly, The Ferryman
Elaine May, The Waverly Gallery
Janet McTeer, Bernhardt/Hamlet
Laurie Metcalf, Hillary and Clinton
Heidi Schreck, What the Constitution Means to Me
Best Book of a Musical
Ain't Too Proud, Dominique Morisseau
Beetlejuice, Scott Brown and Anthony King
Hadestown, Anaïs Mitchell
The Prom, Bob Martin and Chad Beguelin
Tootsie, Robert Horn
Best Original Score (Music and/or Lyrics) Written for the Theatre
Be More Chill, Joe Iconis
Beetlejuice, Eddie Perfect
Hadestown, Anaïs Mitchell
The Prom, Matthew Sklar and Chad Beguelin
To Kill a Mockingbird, Adam Guettel
Tootsie, David Yazbek
Best Direction of a Musical
Rachel Chavkin, Hadestown
Scott Ellis, Tootsie
Daniel Fish, Oklahoma!
Des McAnuff, Ain't Too Proud
Casey Nicholaw, The Prom
Best Direction of a Play
Rupert Goold, Ink
Sam Mendes, The Ferryman
Bartlett Sher, To Kill a Mockingbird
Ivo van Hove, Network
George C. Wolfe, Gary: A Sequel to Titus Andronicus
Best Performance by an Actor in a Featured Role in a Musical
Andre De Shields, Hadestown
Andy Grotelueschen, Tootsie
Patrick Page, Hadestown
Jeremy Pope, Ain't Too Proud
Ephraim Sykes, Ain't Too Proud
Best Performance by an Actress in a Featured Role in a Musical
Lilli Cooper, Tootsie
Amber Gray, Hadestown
Sarah Stiles, Tootsie
Ali Stroker, Oklahoma!
Mary Testa, Oklahoma!
Best Performance by an Actor in a Featured Role in a Play
Bertie Carvel, Ink
Robin De Jesús, The Boys in the Band
Gideon Glick, To Kill a Mockingbird
Brandon Uranowitz, Burn This
Benjamin Walker, Arthur Miller's All My Sons
Best Performance by an Actress in a Featured Role in a Play
Fionnula Flanagan, The Ferryman
Celia Keenan-Bolger, To Kill a Mockingbird
Kristine Nielsen, Gary: A Sequel to Titus Andronicus
Julie White, Gary: A Sequel to Titus Andronicus
Ruth Wilson, King Lear
Best Choreography
Camille A. Brown, Choir Boy
Warren Carlyle, Kiss Me, Kate
Denis Jones, Tootsie
David Neumann, Hadestown
Sergio Trujillo, Ain't Too Proud
Best Orchestrations
Michael Chorney and Todd Sickafoose, Hadestown
Larry Hochman, Kiss Me, Kate
Daniel Kluger, Oklahoma!
Simon Hale, Tootsie
Harold Wheeler, Ain't Too Proud
Best Scenic Design of a Musical
Robert Brill and Peter Nigrini, Ain't Too Proud
Peter England, King Kong
Rachel Hauck, Hadestown
Laura Jellinek, Oklahoma!
David Korins, Beetlejuice
Best Scenic Design of a Play
Miriam Buether, To Kill a Mockingbird
Bunny Christie, Ink
Rob Howell, The Ferryman
Santo Loquasto, Gary: A Sequel to Titus Andronicus
Jan Versweyveld, Network
Best Costume Design of a Musical
Michael Krass, Hadestown
William Ivey Long, Beetlejuice
William Ivey Long, Tootsie
Bob Mackie, The Cher Show
Paul Tazewell, Ain't Too Proud
Best Costume Design of a Play
Rob Howell, The Ferryman
Toni-Leslie James, Bernhardt/Hamlet
Clint Ramos, Torch Song
Ann Roth, Gary: A Sequel to Titus Andronicus
Ann Roth, To Kill a Mockingbird
Best Sound Design of a Musical
Peter Hylenski, Beetlejuice
Peter Hylenski, King Kong
Steve Canyon Kennedy, Ain't Too Proud
Drew Levy, Oklahoma!
Nevin Steinberg and Jessica Paz, Hadestown
Best Sound Design of a Play
Adam Cork, Ink
Scott Lehrer, To Kill a Mockingbird
Fitz Patton, Choir Boy
Nick Powell, The Ferryman
Eric Sleichim, Network
Best Lighting Design of a Musical
Kevin Adams, The Cher Show
Howell Binkley, Ain't Too Proud
Bradley King, Hadestown
Peter Mumford, King Kong
Kenneth Posner and Peter Nigrini, Beetlejuice
Best Lighting Design of a Play
Neil Austin, Ink
Jules Fisher and Peggy Eisenhauer, Gary: A Sequel to Titus Andronicus
Peter Mumford, The Ferryman
Jennifer Tipton, To Kill a Mockingbird
Jan Versweyveld and Tal Yarden, Network
Hello Tom, You certainly are seeing there best shows on Broadway. I have really enjoyed your mails with such vivid descriptions. Many thanks for this wonderful connection to the Big Apple. Best, Dick P.
Have fun dear Tom,your chinese sign the monkey from your birthyear has a lucky year this year according to my chinese astrologybook english version. Bye from René T.
Let's touch base when you get back. Maybe we can get the gang over or something for the debriefing. Interesting comments on Hadestown, but I must say, it didn't look like an attractive show to me either. I am dubious about To Kill as well, but then it does have Jeff Daniels, whom I like. Enjoy. Happy Falafel, and safe flight home. Our best to Greg and Richard. Charles B.
Tom, I have thoroughly enjoyed receiving your Broadway reports! Thank you. I will be going through withdrawal along with the three of you. You write with such clarity I feel I was there - and of course the pictures add much to the feeling. I don't know about you guys but I am looking forward to your next trip and reports:) Paula A.
Thanks again for sharing . I had a good time. Yes it is good to see young people enjoying the theatre. Donna H.
Love your rating reviews. We saw a To Kill a Mocking Bird play in Honolulu last year, but it seemed that play was done years ago. Is this a revival? The pizza looks delicious - and the reviews are priceless! Safe travels as you head home. Love to all, Norma (Maureen M.)
You're lucky you saw some of the Tony nominees. Hades Town seems like the hot show since it gets rave reviews and lots of Tony nominations. I bet tickets for it are sold out way in advance and are really expensive though. Have I good trip back. I bet you sprang for business or first class. Bob C.
Hope you are arrived home safely. Looked like you had a good trip form the photos and emails that were sent. Looking forward to hearing about it. Bae S.
From Jonas, Linus, (Andreas, Marija E.)