Easter 2021:
I flew up to Portland to spend some time with my family. Joel and Elaine met me at the airport. The terminals in Oakland and Portland were very busy! Why can't those people stay home!
Joel's grandchildren were home for Spring Break.

Joel, Andrew, Marina, Helen, Benjamin

Marina just turned 21 and was experiencing her very first alcoholic drink!

Joel and I went over to the cemetery to install a headstone in the cremation garden. Every thing is so green this time of the year.

Joel and Elaine's dinosaur tree is still there waiting to be cut down somehow without getting killed. Does any one need firewood???

Elaine found a recipe for "Carrot Cake" pancakes. The only flour is ground up oatmeal. Very tasty and healthy!


Discovery Bay, Washington
We drove up to a resort on this bay in the Puget Sound, E-NE from Seattle. It is between Port Townsend and Sequim/Port Angeles.

Out 2 bedroom unit was right at the water's edge. One day Joel spotted otters playing in the water near the shore.
One day we went to the Olympic Game Farm in Sequim. When you pay to enter, you buy loaves of sliced whole wheat bread to feed the animals. Do not stop your car near the buffaloes. We had to nudge one out of the way with the car as it wouldn't move!

Feed the animals!

We ate at the Dock Side Grill in Sequim. Joel had fish tacos with couscous.

Joel and Elaine outside of the Dock Side Grill in Sequim

In the Olympic National Forest ... just before we found out it was closed. (Open on weekends.)

Metal animal sculptures outside of the Olympic National Forest visitor's center.

In Port Angeles, we ran into this small pig which was out for a walk with its owner. When it wandered into the middle of the street, we knew who was having a yummy Easter ham dinner that night.

On our drive back to Oregon, we stopped in the little Norwegian village of Poulsbo.

While eating our maple bars at the Poulsbo bakery, we took a photo of even larger glazed gingerbread donut men.

William came to visit when we got back. He had just gotten his first vaccination.

After Easter dinner in the sunroom. L-R Elaine, Joel, Levonne, Rick, Dan and Mark. Everyone vaccinated.

On Monday we came to Smyrna Church to change the pews around to form a center aisle. Jane had hung new banners.

The pew changing crew: L-R: Sheila, Jane, Joel, Barbara and Rev. Catherine.
Cooking light
We found a recipe called "Cheesy Cauliflower Waffles. It was made from cauliflower rice, grated carrots, eggs and mozarella cheese. It tasted good but was hard to get out of the waffle iron without falling apart.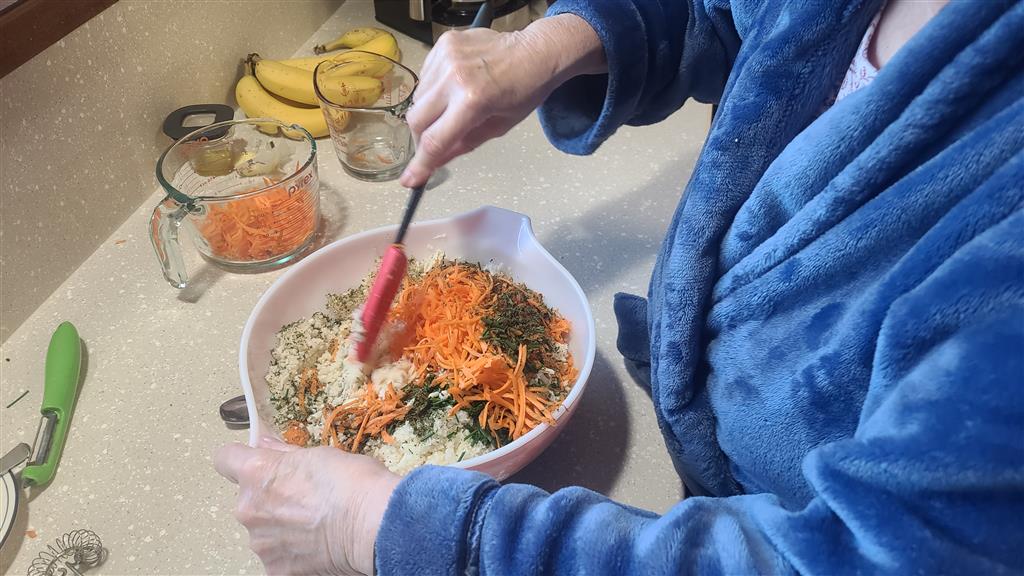 If I ever make this again, I will fry them as pancakes. We ended up adding some flour and more eggs.
Free Geeks
On Wednesday we loaded up the van with desktop computers, laptops, printers, etc. to take to Free Geek in Portland. We pulled into their parking lot and they gave us a cart to fill up. They refurbish and give away to schools.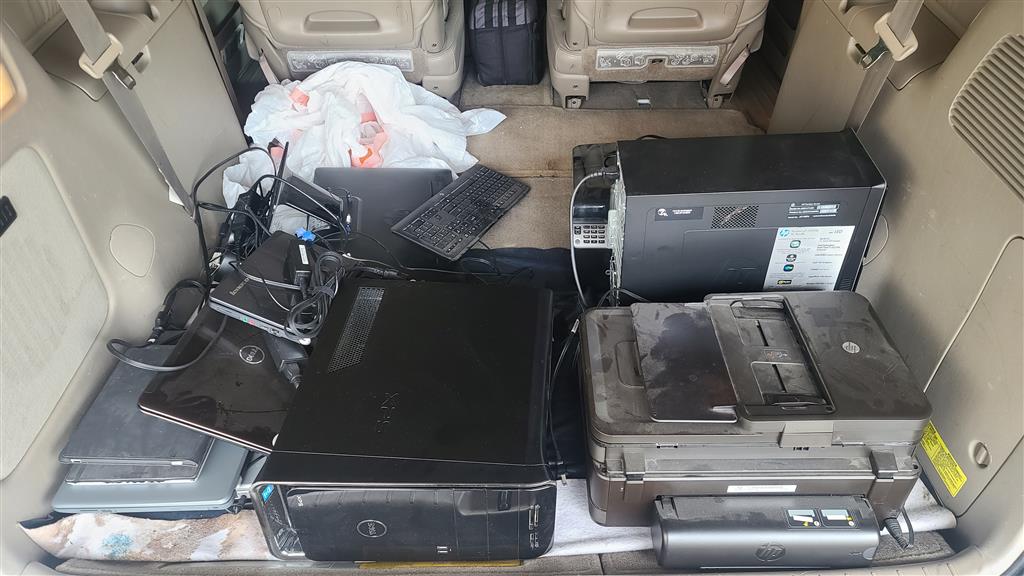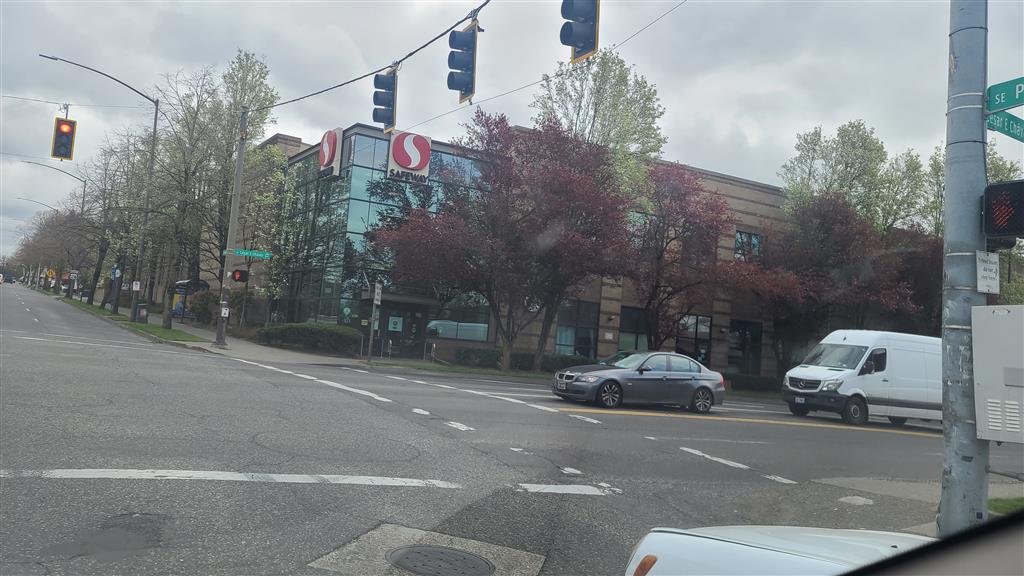 In Portland we drove past this Safeway. It doesn't look like a typical store. Parking in the basement.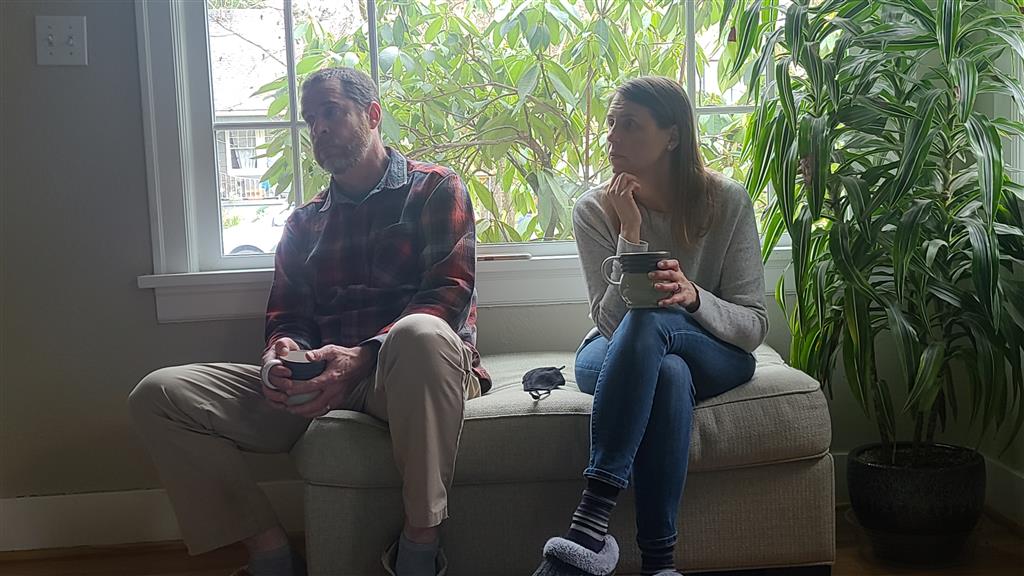 We stopped by niece Beth and Ben's in SE Portland for a cup of coffee and quick visit. They have made some amazing changes to their home ... kitchen, basement living space, etc.