On Saturday, October 13, 2012, Randy drove me to BART to catch a train to SFO. Before I knew it, I was aboard USAir Flight 464 on my way to Charlotte, North Carolina. There was absolutely no entertainment offered on this flight. I watched a movie on my laptop called The Ring. A strange, scary movie.
On Sunday, I picked up our rental car. It is a Chevrolet Impala, tan with black leather seats. I drove downtown and stopped by the visitors information center where I got a map for a walking tour of the "Uptown" area. I saw historic churches, a graveyard, iconic buildings, street art. I found a street car line called Lynx where I boarded a train and rode from one end of the line to the other.
Joel and Elaine flew in and met me on very late on Sunday evening.
We stayed at the Charlotte Wingate, not far from the airport.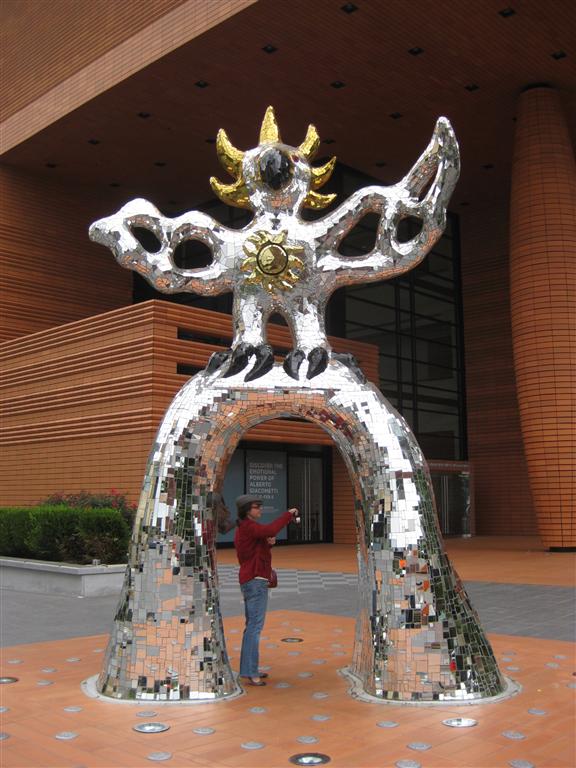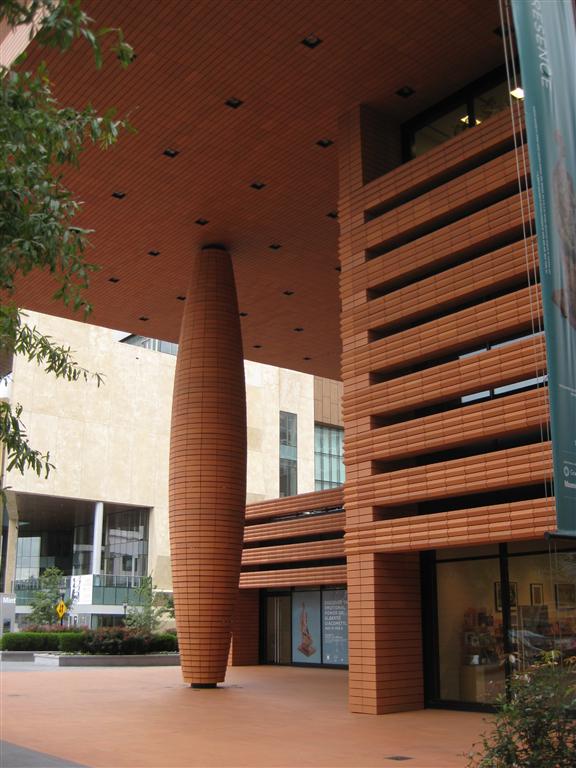 "The Firebird", by Nikki de Saint Phalle,at the Bechtler Museum of Modern Art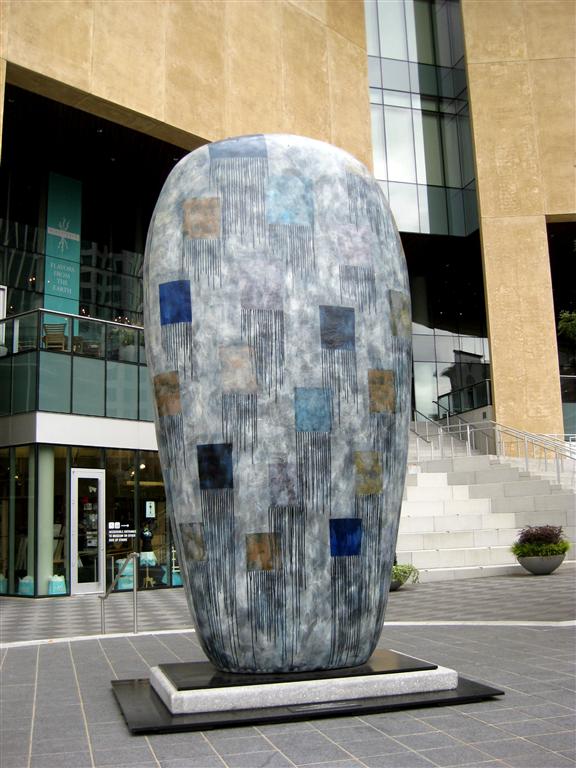 More Art on Tryon Street, downtown Charlotte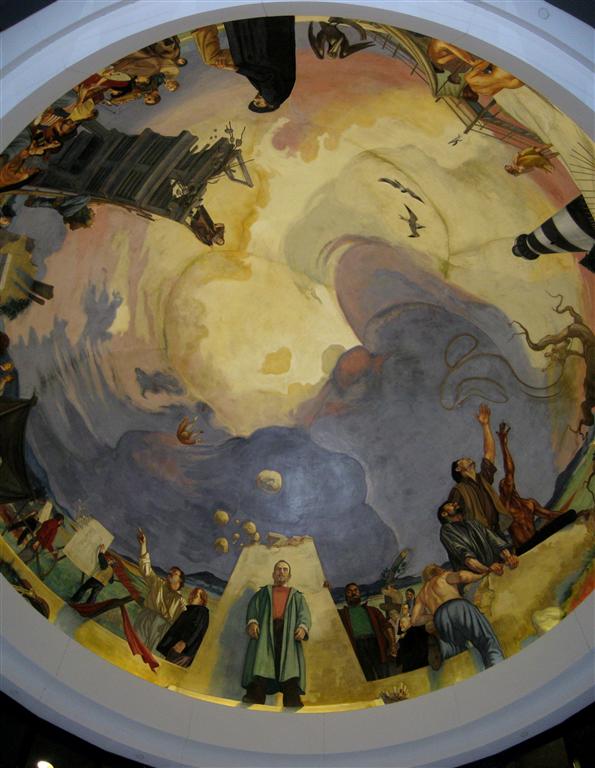 Ben Long's fresco "Continuum" at Transamerica Square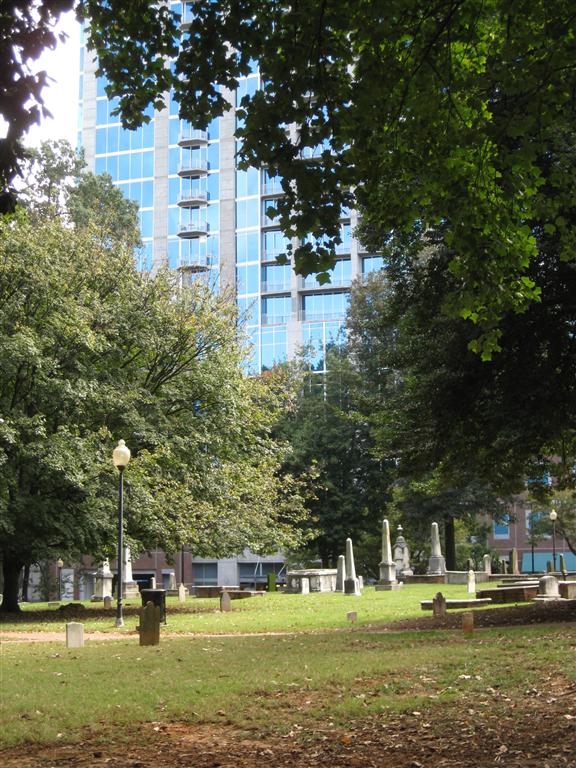 Settler's Cemetery with highrises in the background


Watering the carriage horse

The aircraft I was on was similar to the one that landed in the Hudson River, an Airbus A320. The actual plane is now on display at the Carolinas Aviation Museum which is next to the Charlotte Douglas International Airport. I toured this museum on Sunday.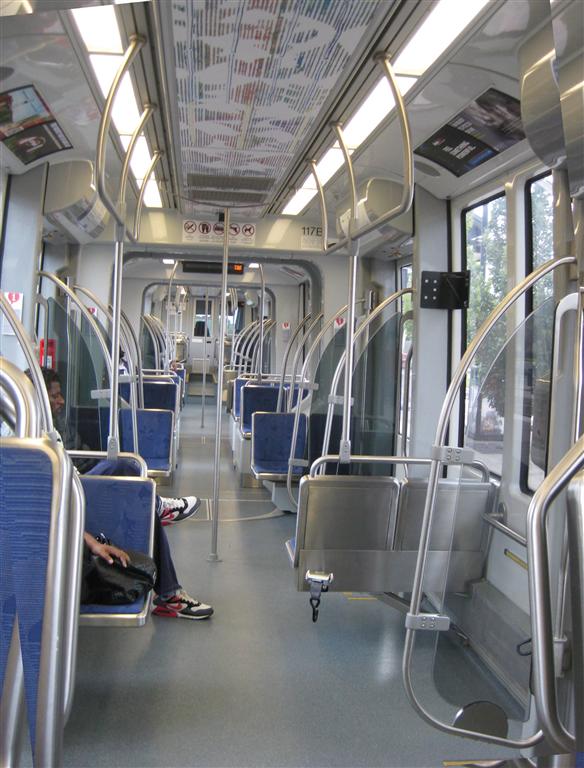 on the LYNX Light Rail system.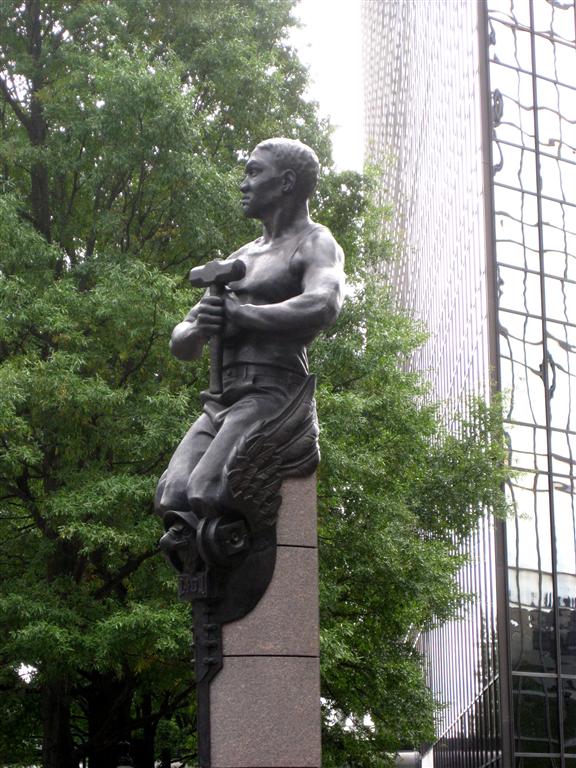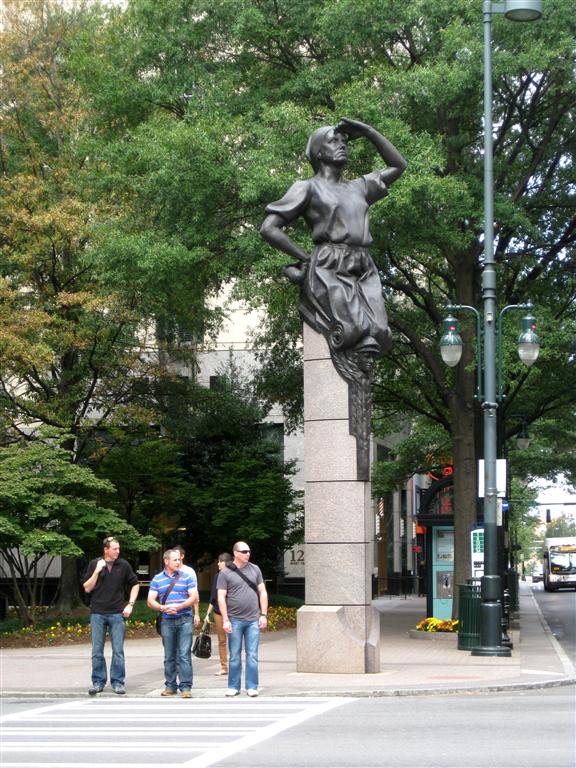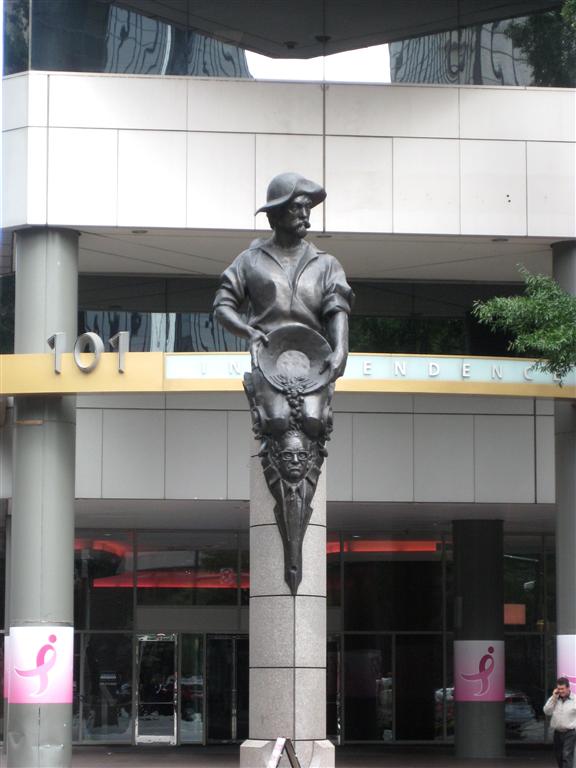 Raymond Kaskey's bronze statues at Spirit Square: Commerce, Transportation, Industry and Future.
October 14-15, 2012 Charlotte, NC to Mt. Airy and Raleigh
Joel and Elaine arrived Sunday night and after a restful night at the hotel, we started out on our drive East. First we drove north through Mooresville and Stateville on our way to Mt. Airy. This is the hometown to Andy Griffith.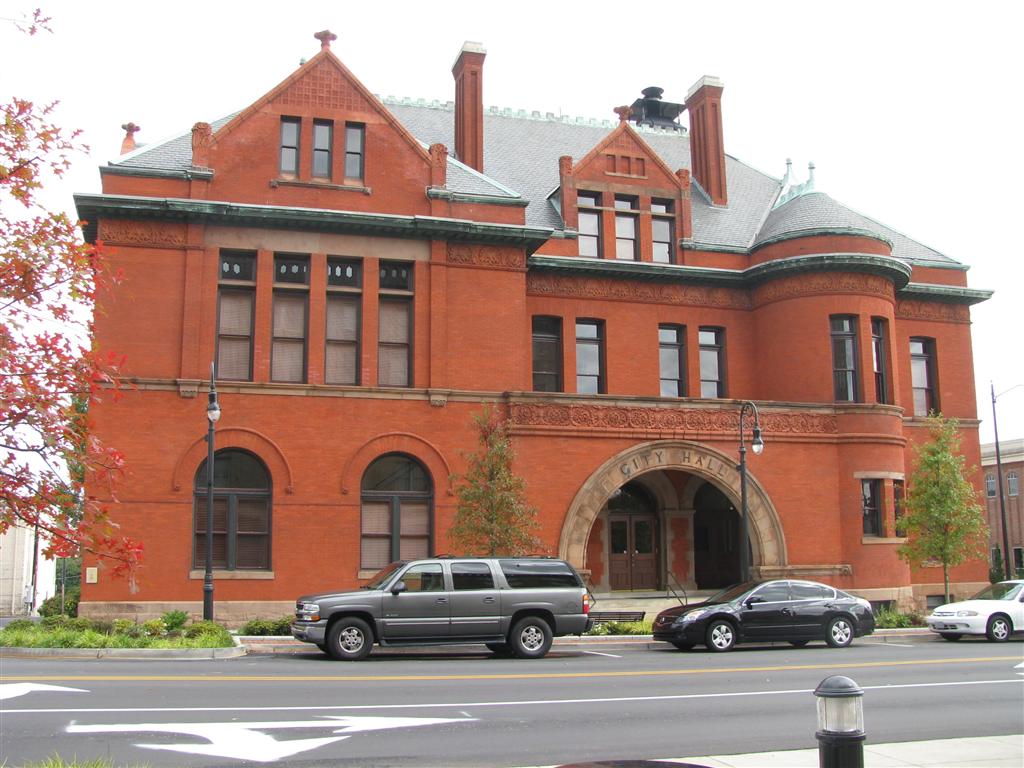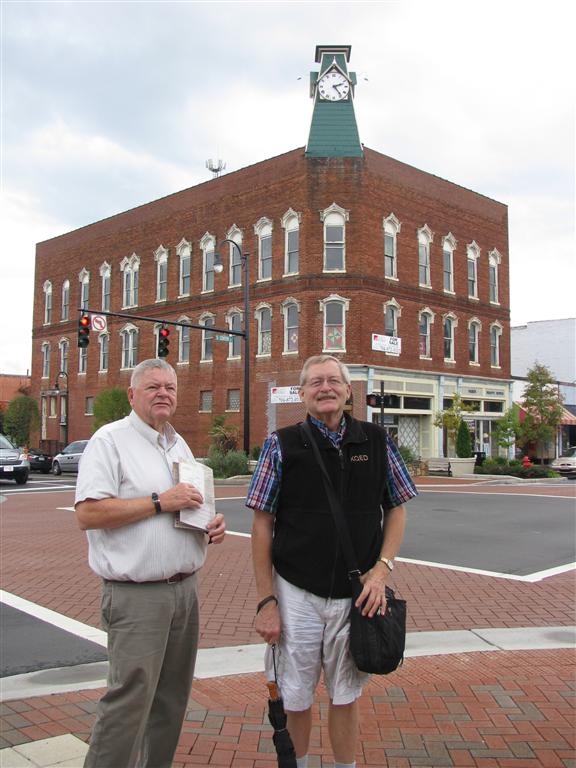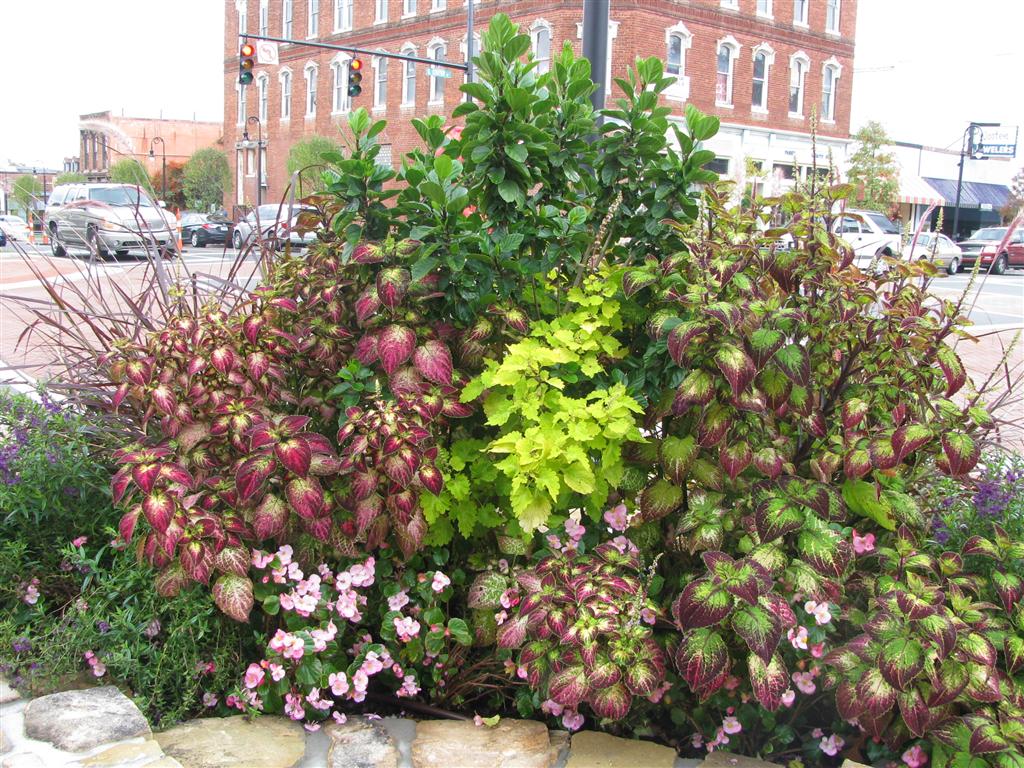 Historic buildings in Stateville, NC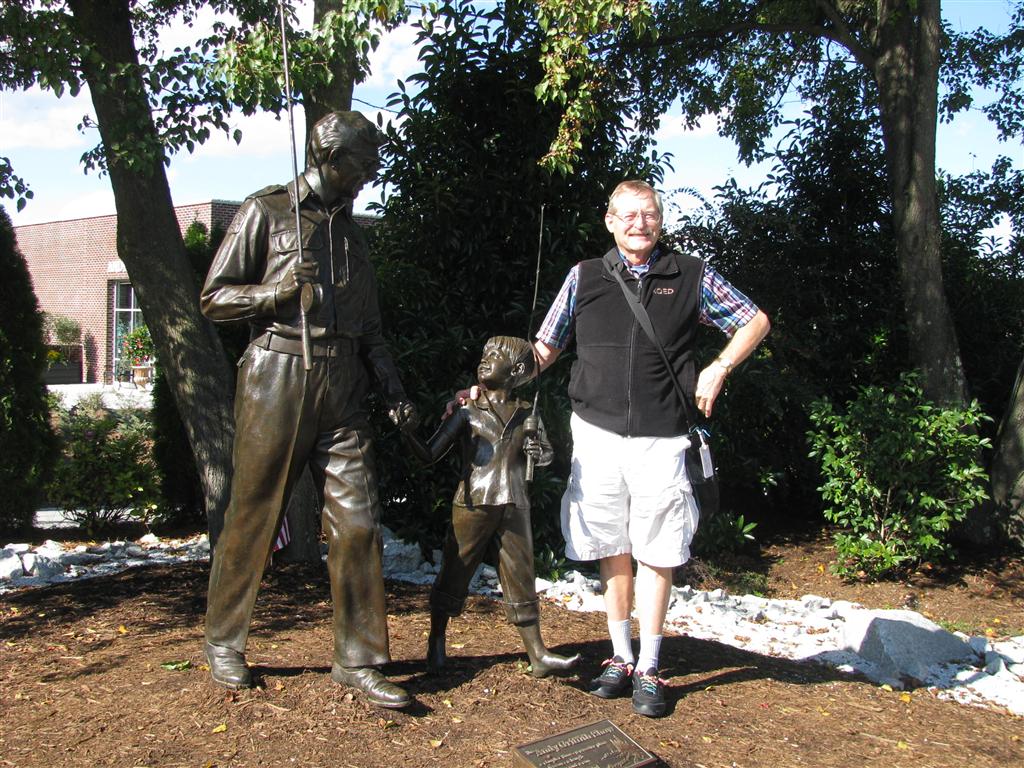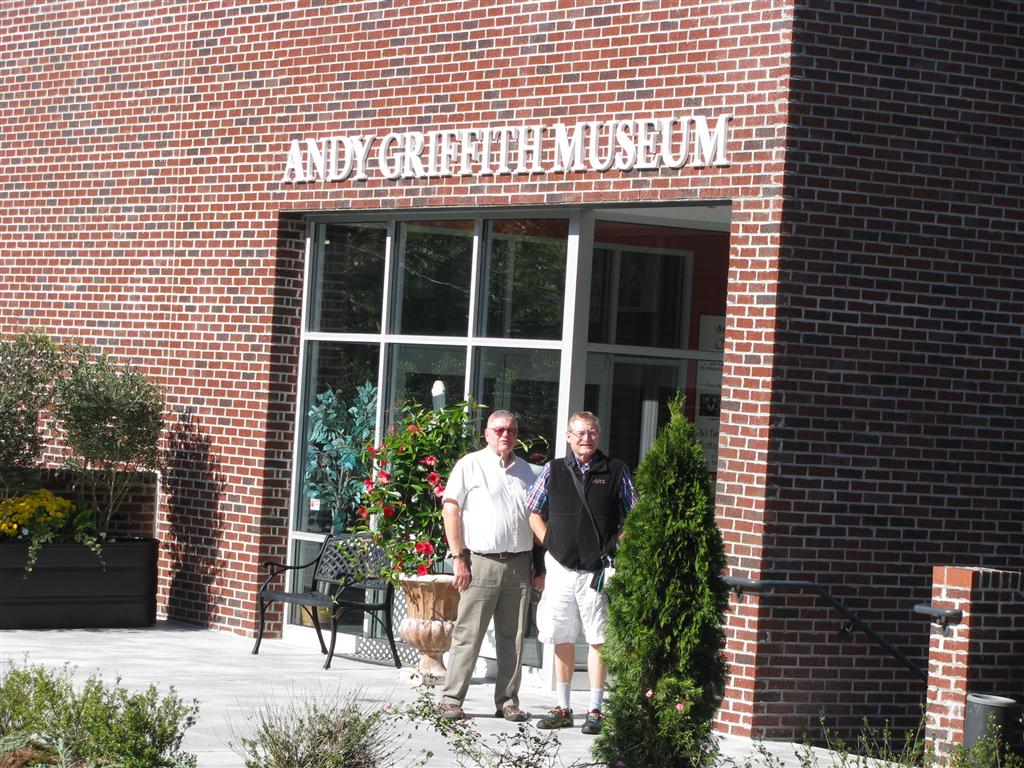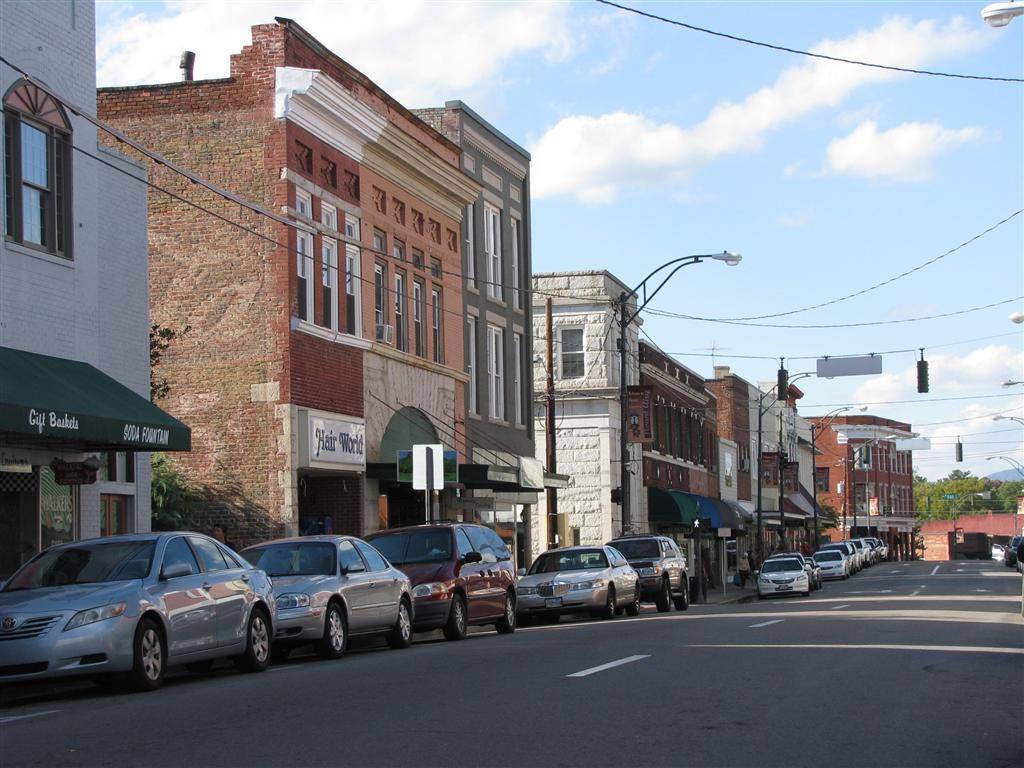 Mt Airy, NC - think "Mayberry"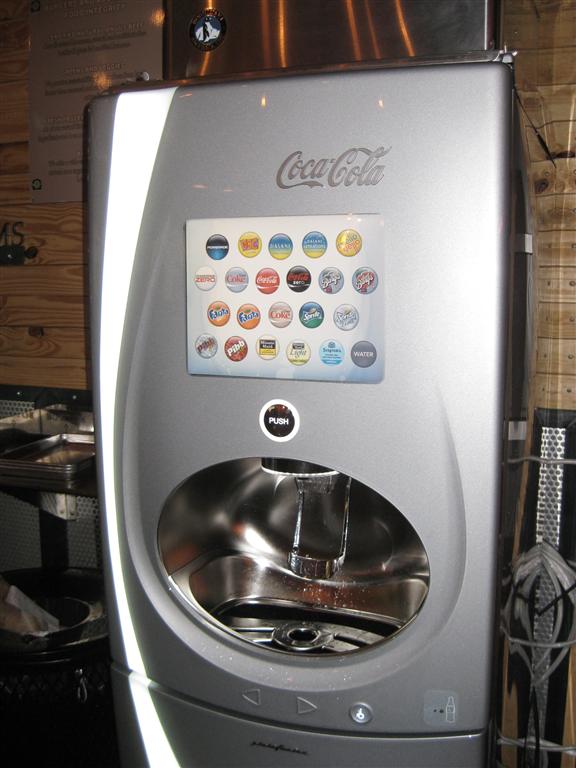 Soda machine at Burgerfi - restaurant in Raleigh, NC
October 16, 2012 Raleigh to Middlesex to Edenton, NC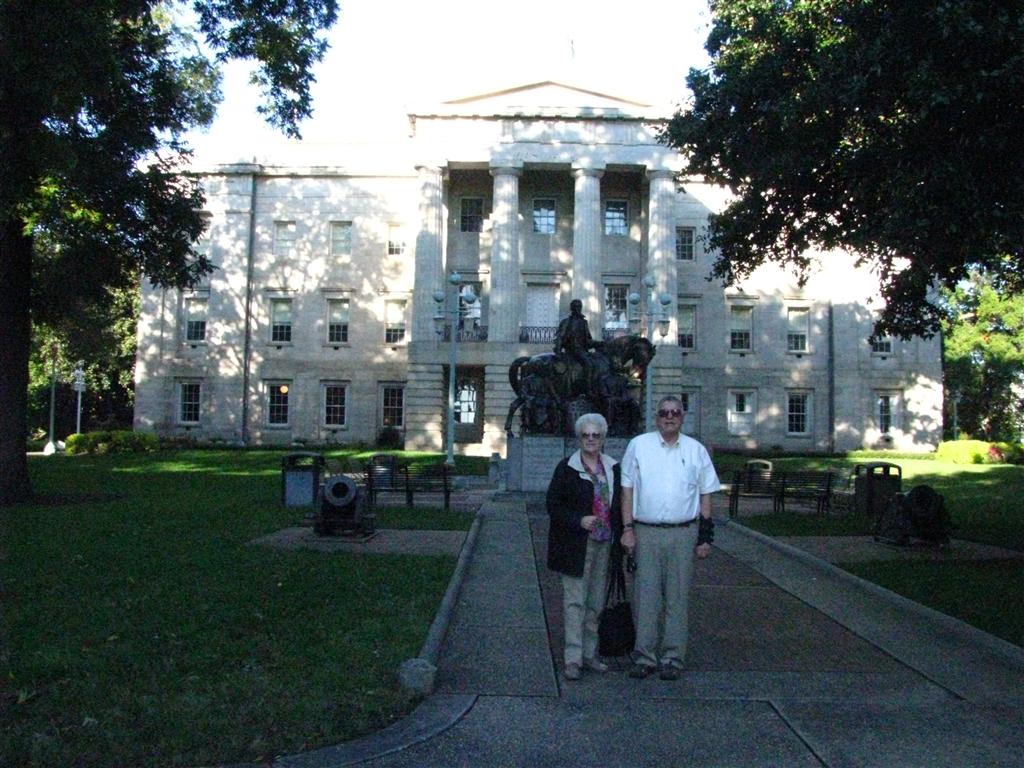 Early morning stop at the state capitol building in Raleigh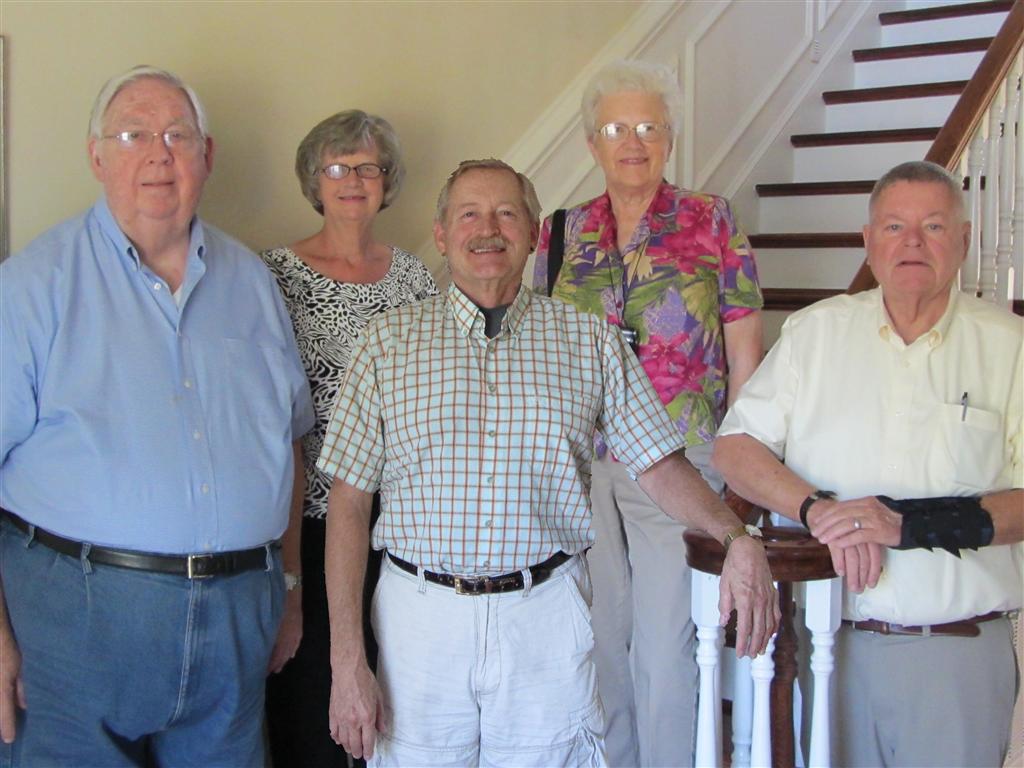 Joel T, Sue, Tom, Elaine, Joel D
We had a delightful time today with North Carolina friends.  Joel met Joel in New York at an institute at Bard College near the Roosevelt Library at Hyde Park where they did research in the presidential papers.  During that month, almost 25 years ago, they enjoyed each other's company and met his wife, Sue, when she visited.  Joel had traveled from Portland with a fellow teacher named Sue, and was surprised to see this car with the license "Joel Sue."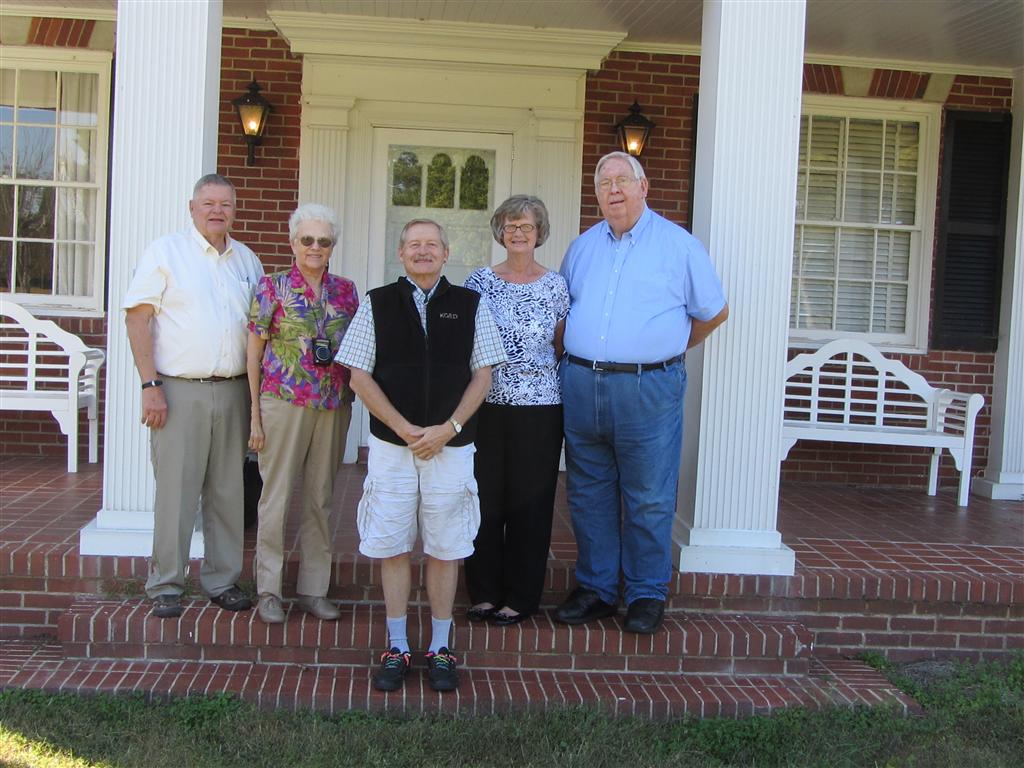 Joel D, Elaine, Tom, Sue and Joel T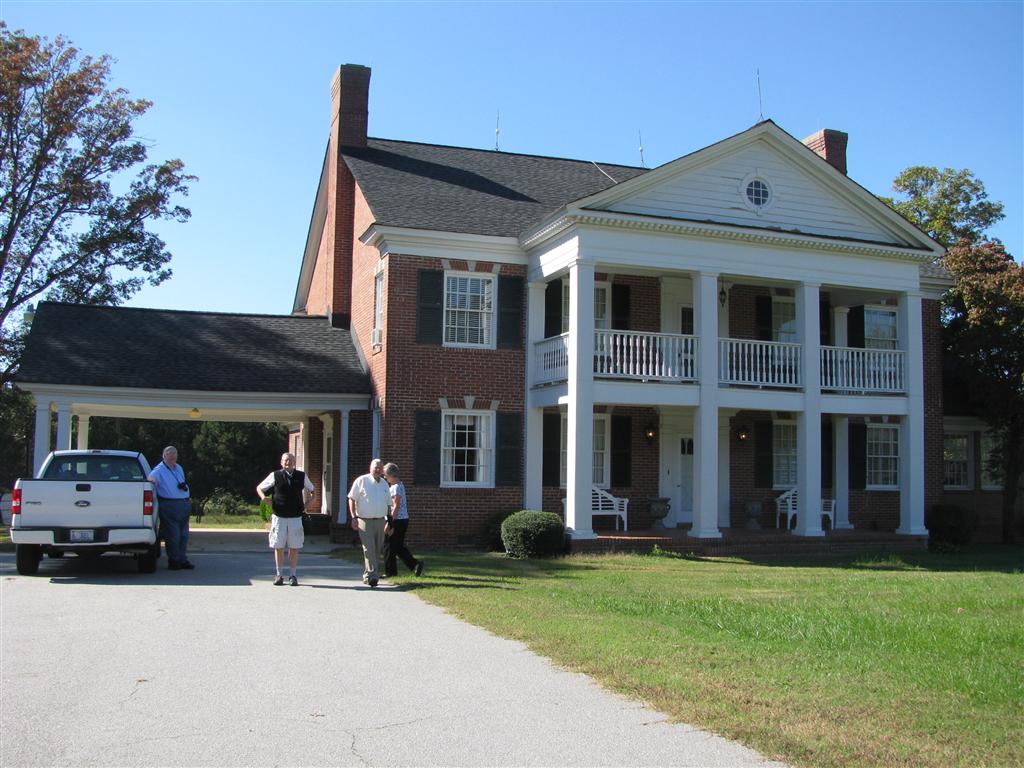 (House Sue grew up in).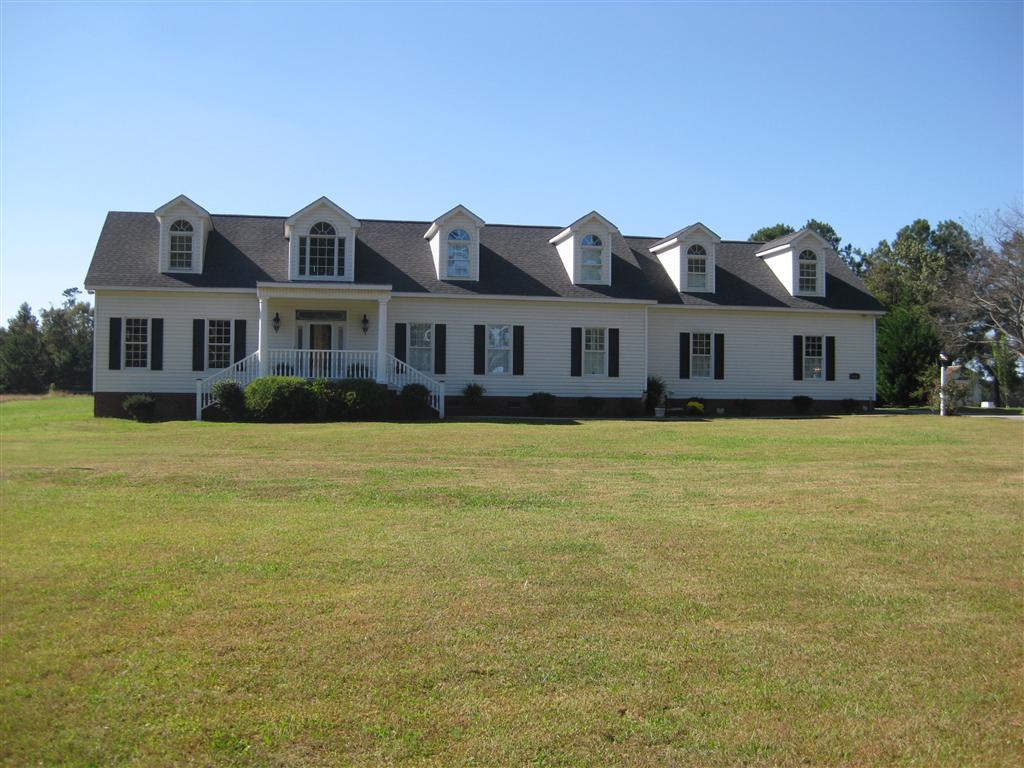 Joel and Sue's home next door to where Sue grew up.
At that time the Trammells lived in Virginia Beach, but after retirement, they built a beautiful new house on Sue's family farm close to Raleigh, NC.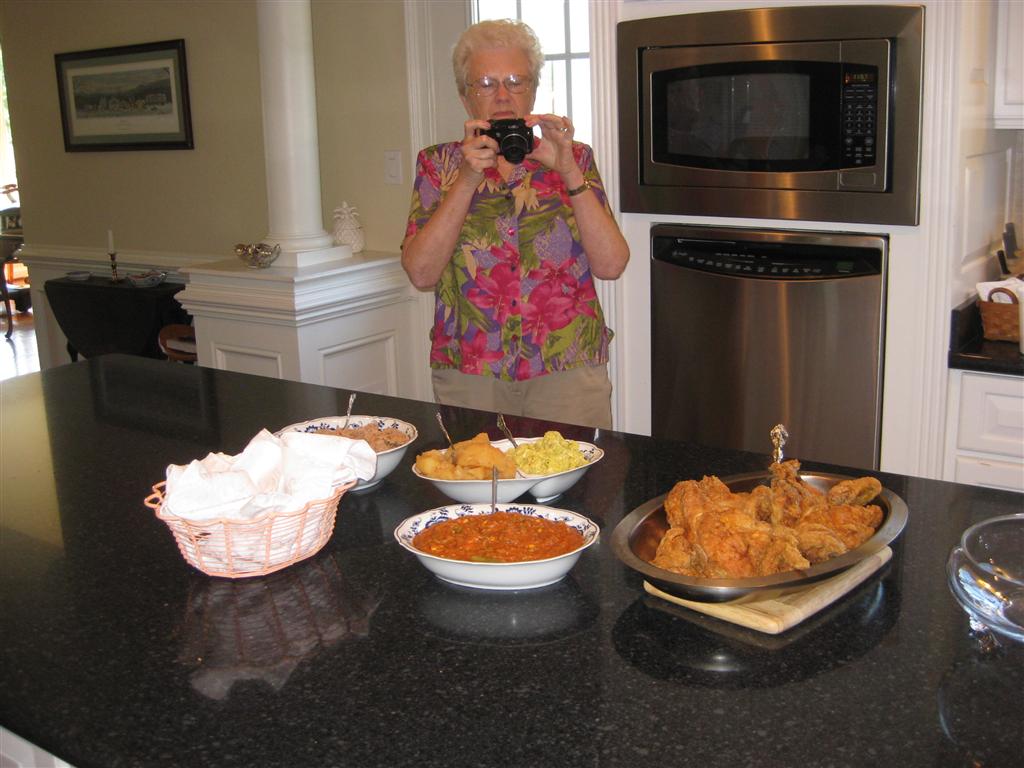 Sue and Joel treated us to a wonderful lunch including regional favorites:  vinegar barbecued pork, Brunswick stew, fried chicken, corn sticks and buttermilk pie.  After a nice walk to the house where Sue and her 27 siblings grew up, we were on our way toward the Outer Banks.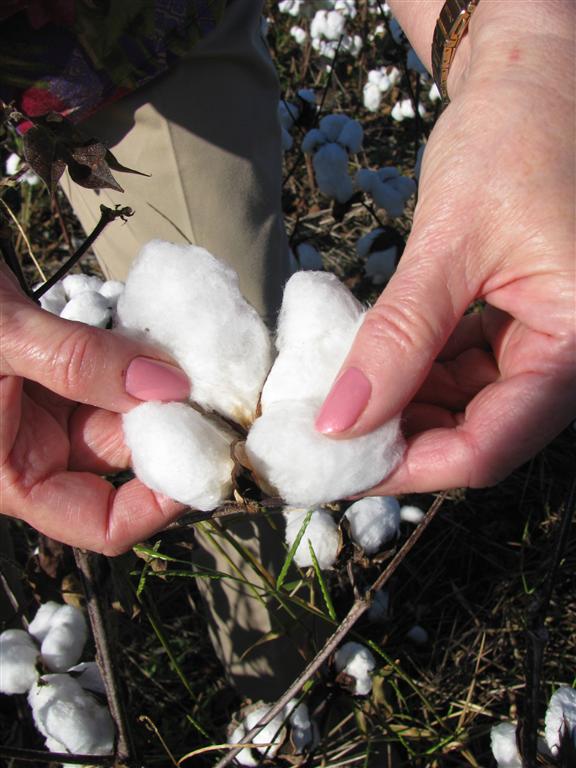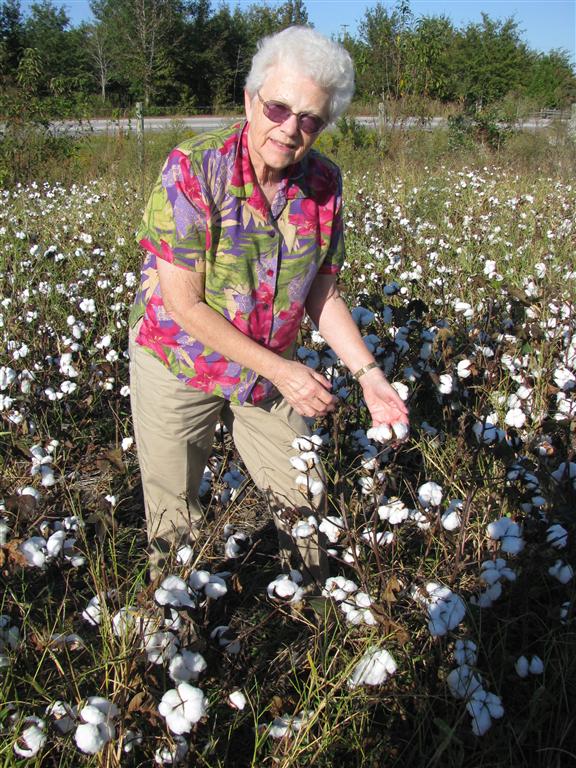 Elaine picking Cotton!
We drove on about 100 miles to the city of Edenton, site of one of the first settlements in North Carolina.  After a small supper at a local seafood restaurant, we are back in our room.  Tomorrow we go to Kitty Hawk and start south to Charleston via Myrtle Beach. 
October 17, 2012 Edenton to Nags Head on the Outer Banks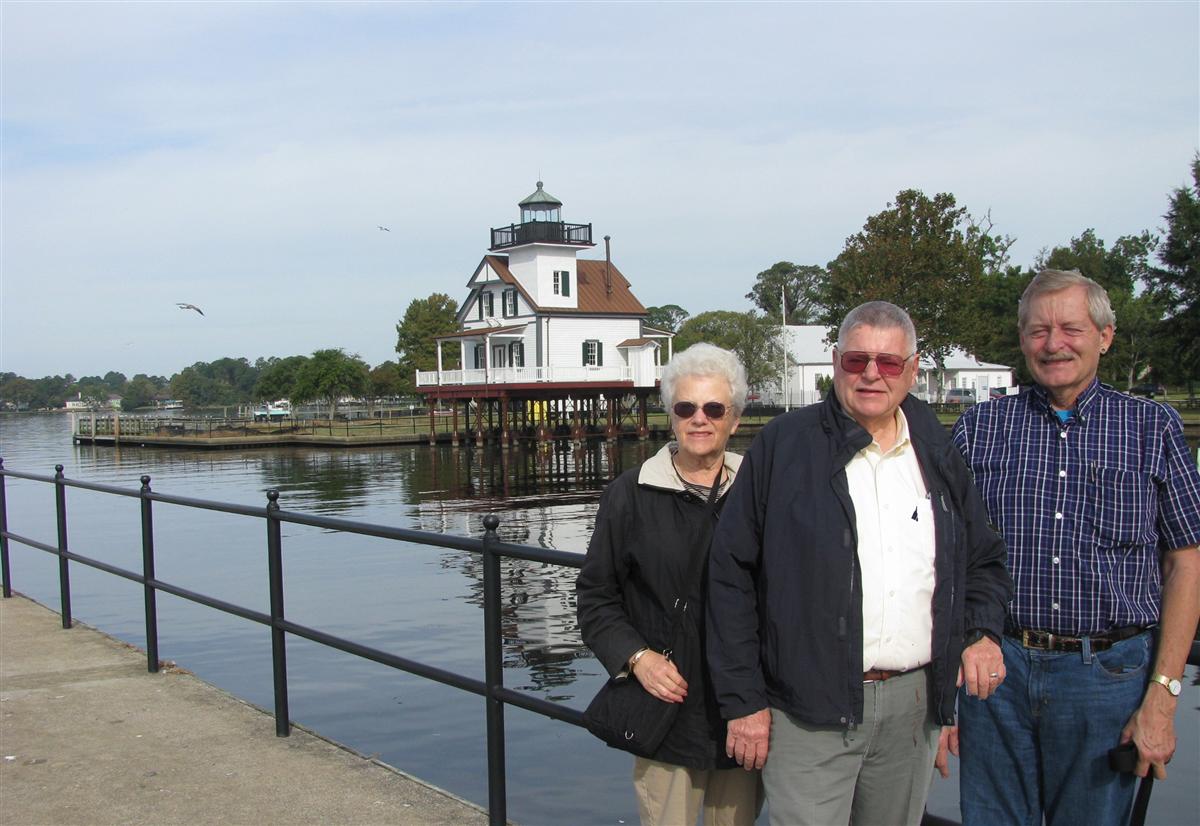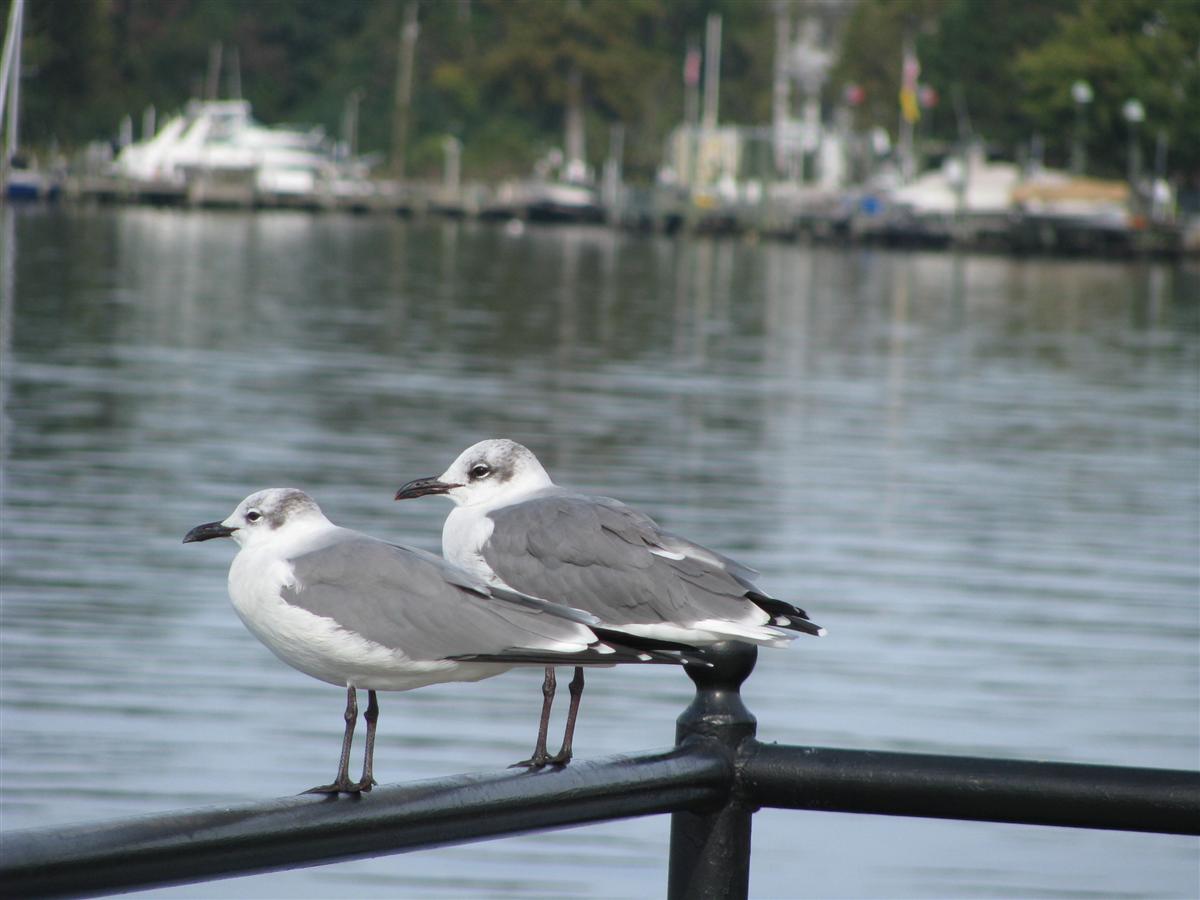 Picturesque Edenton Waterfront and lighthouse. This is just west of the Outer Banks.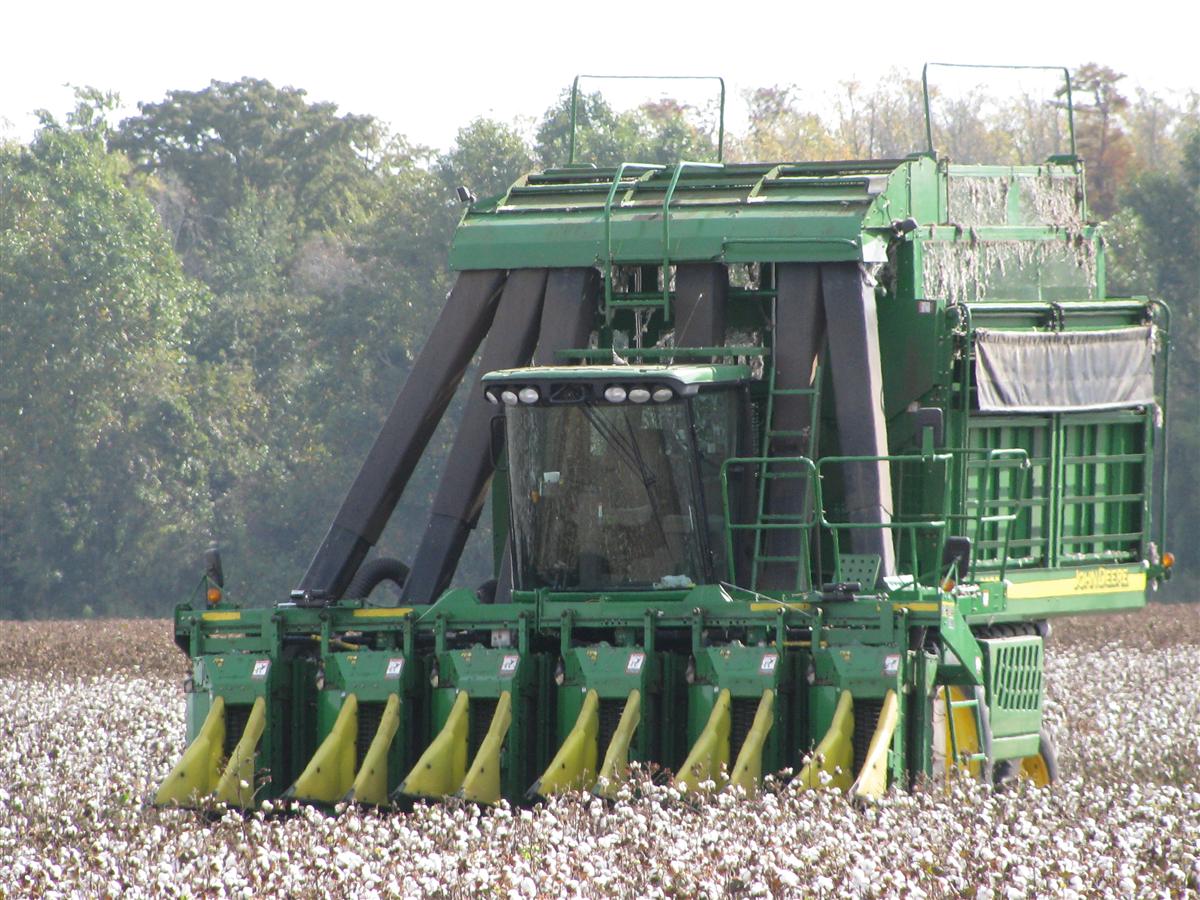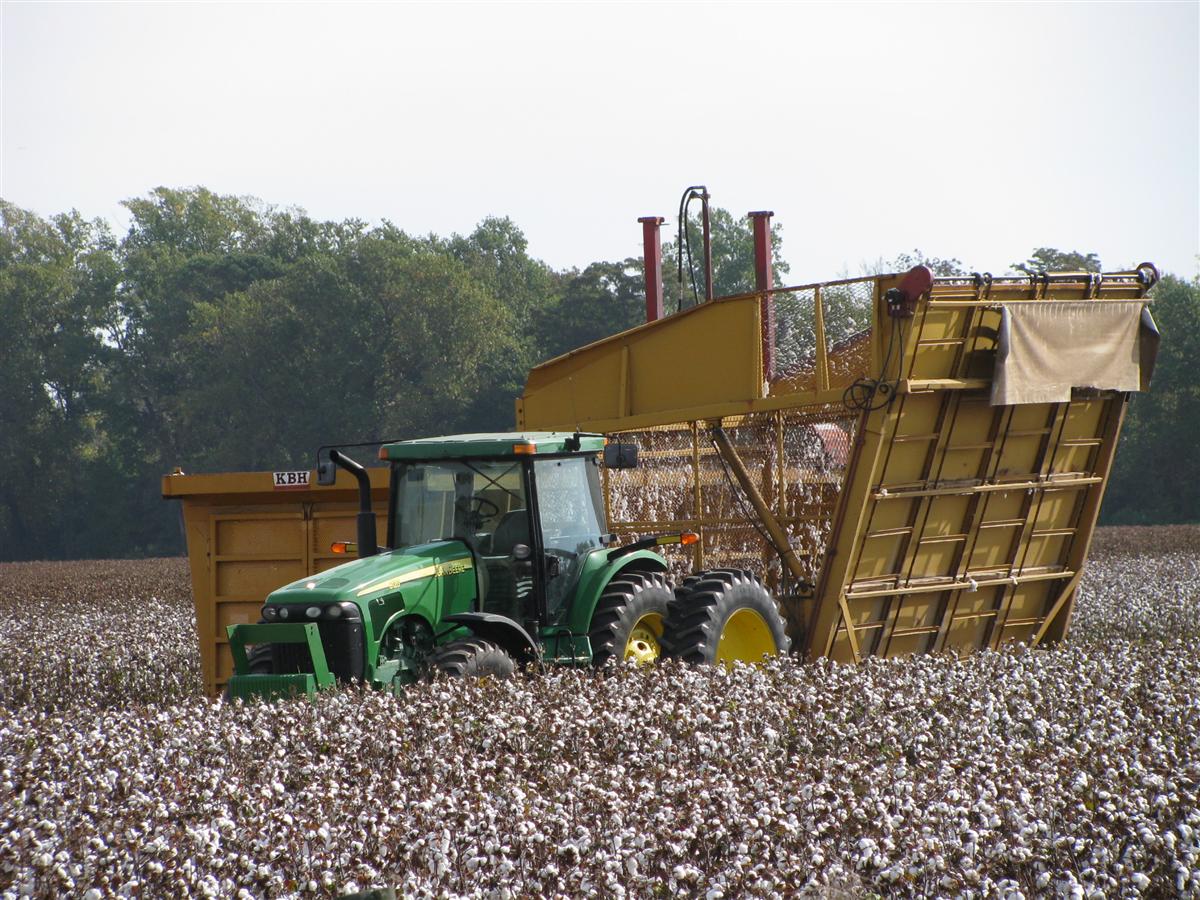 Cotton harvesting machines. We saw this along the highway.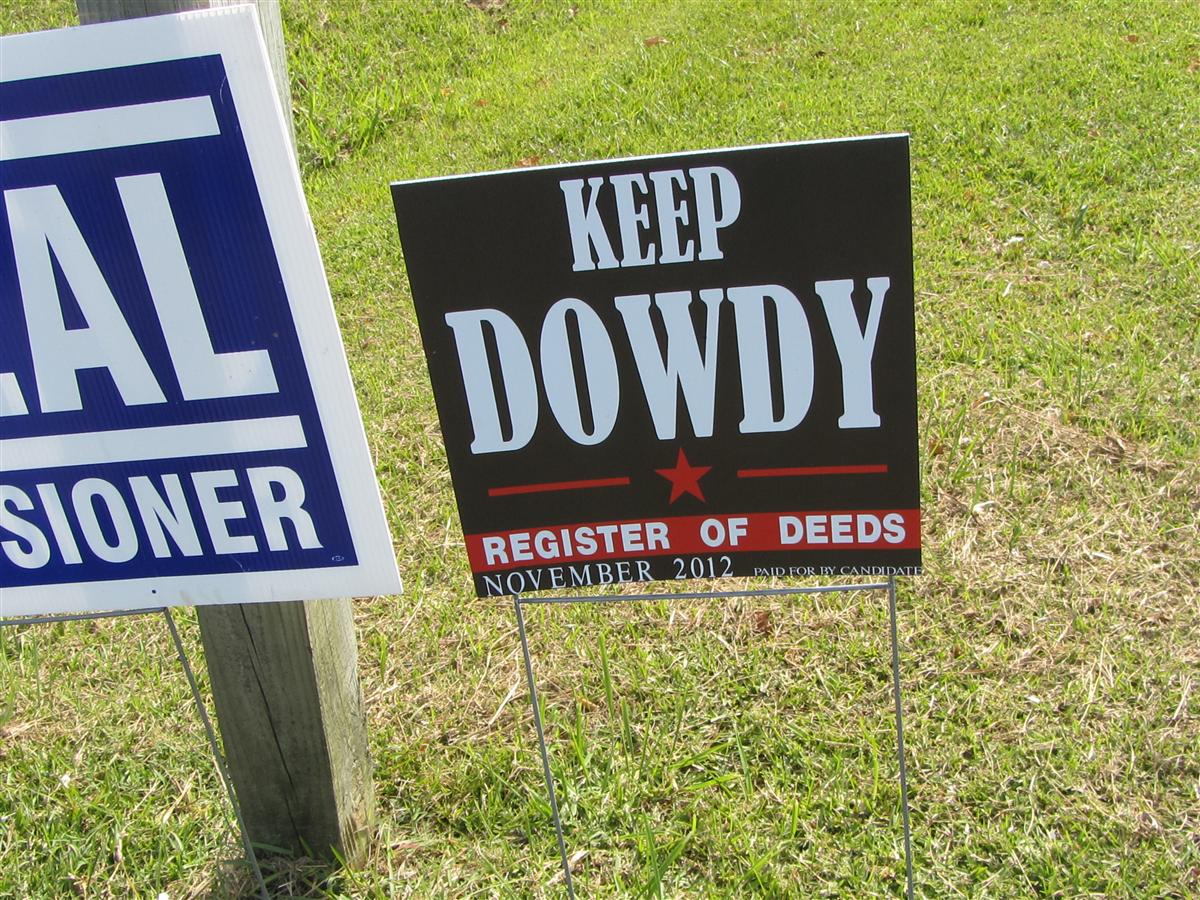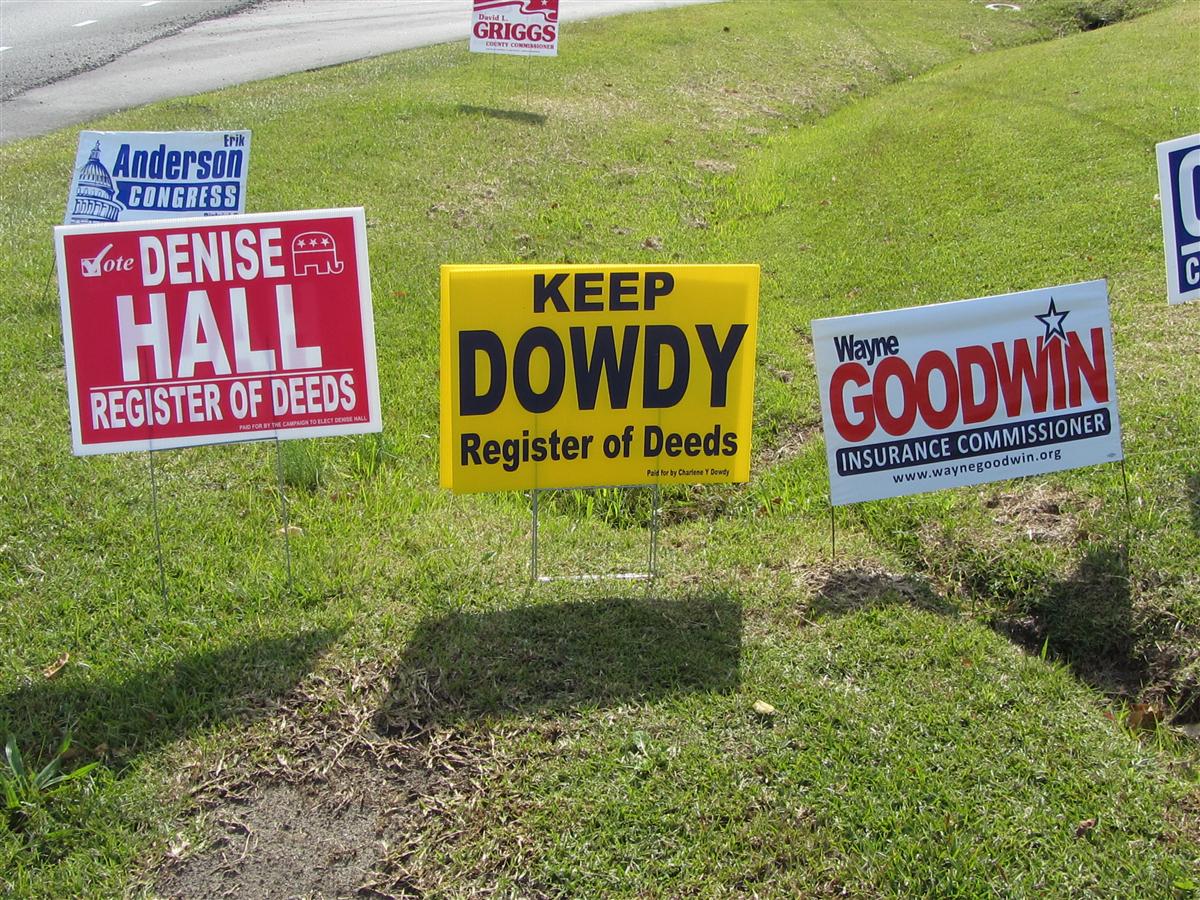 Funny political sign along highway. Keep Dowdy!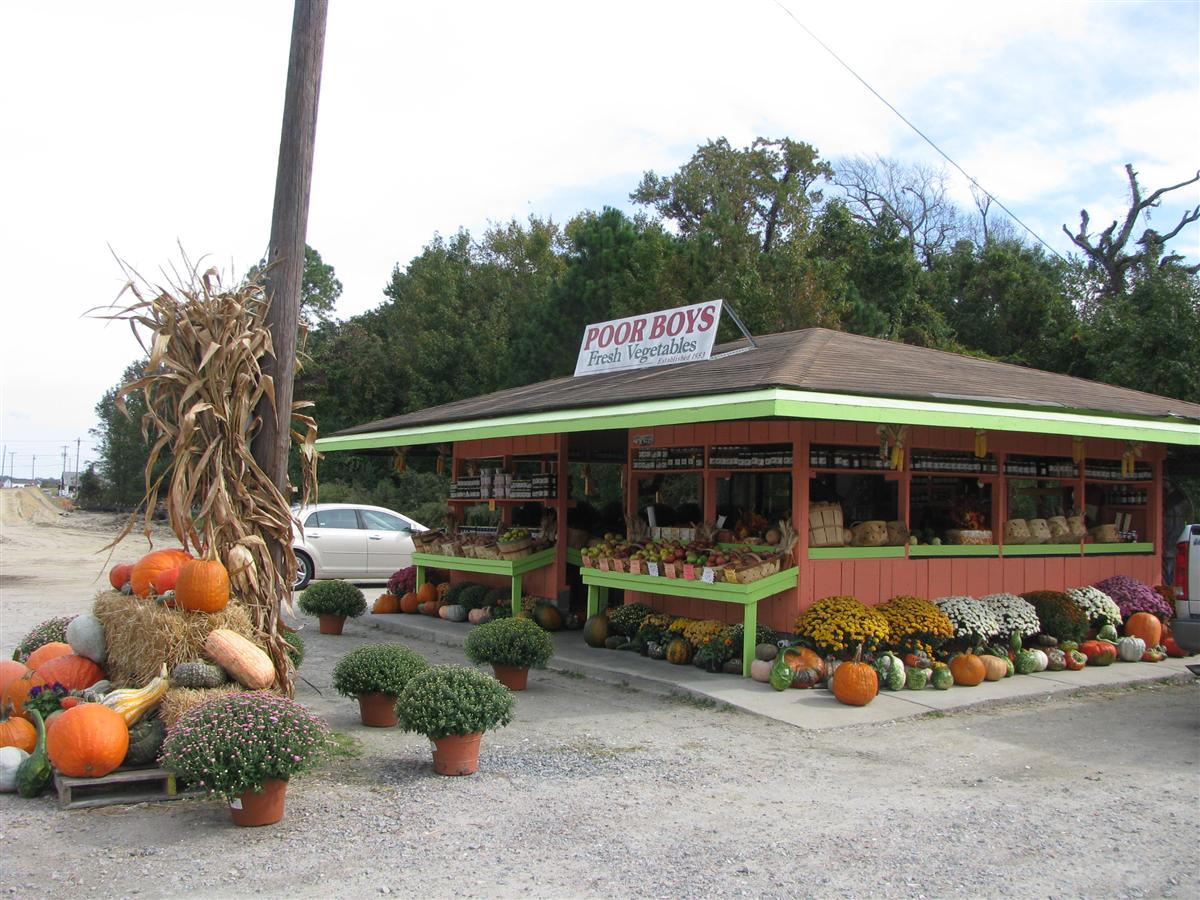 Fruit Stand. We stopped and looked at their products. The jars of preserved vegetables are produced for them by an Amish community in Pennsylvania!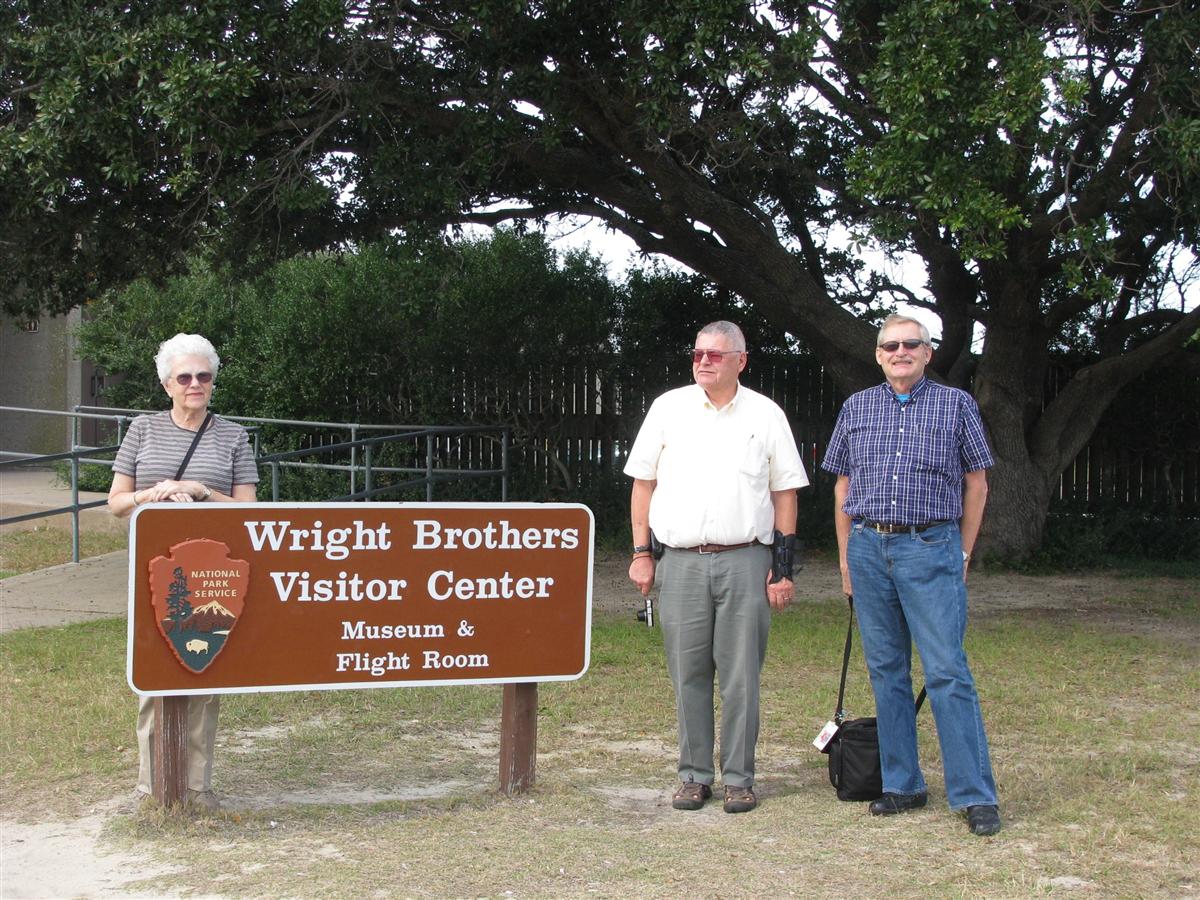 At the Wright Brothers National Historic Site at Kitty Hawk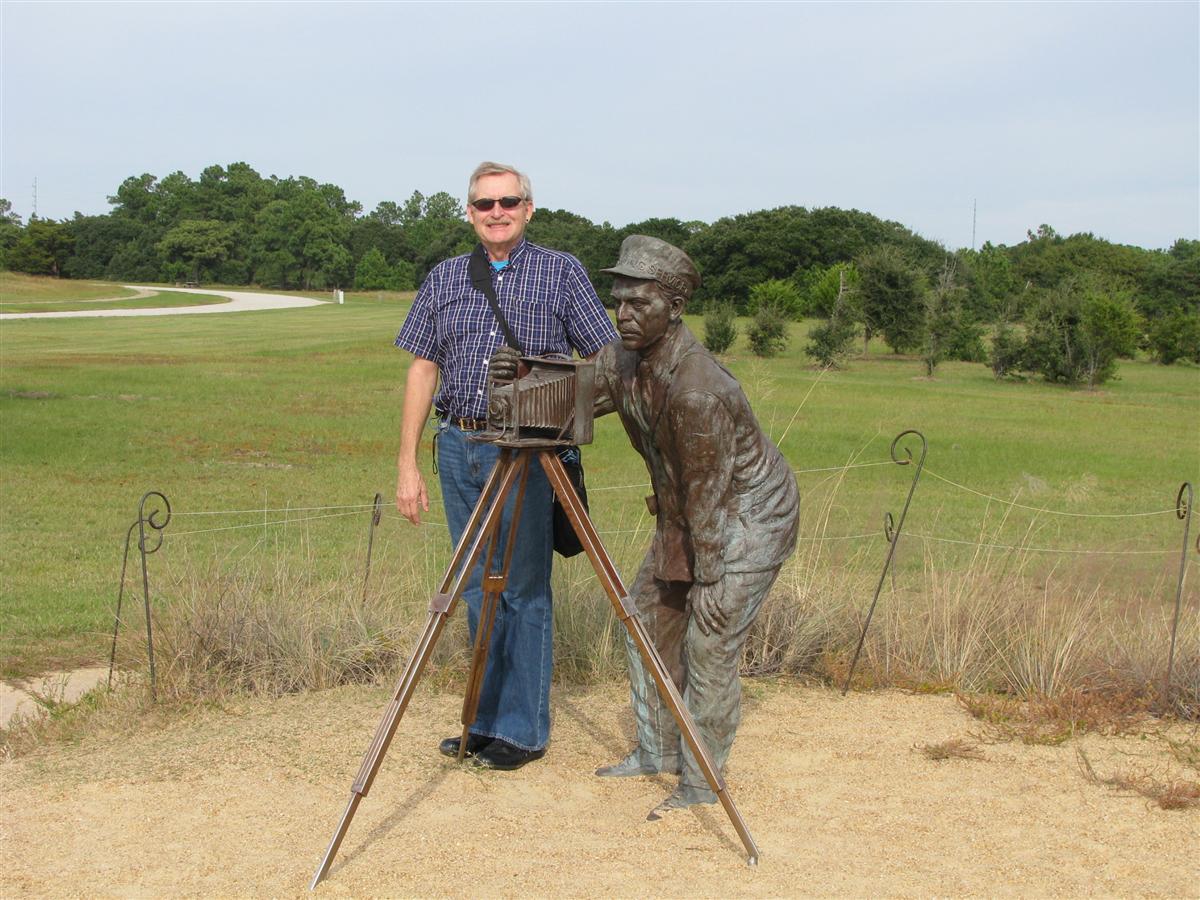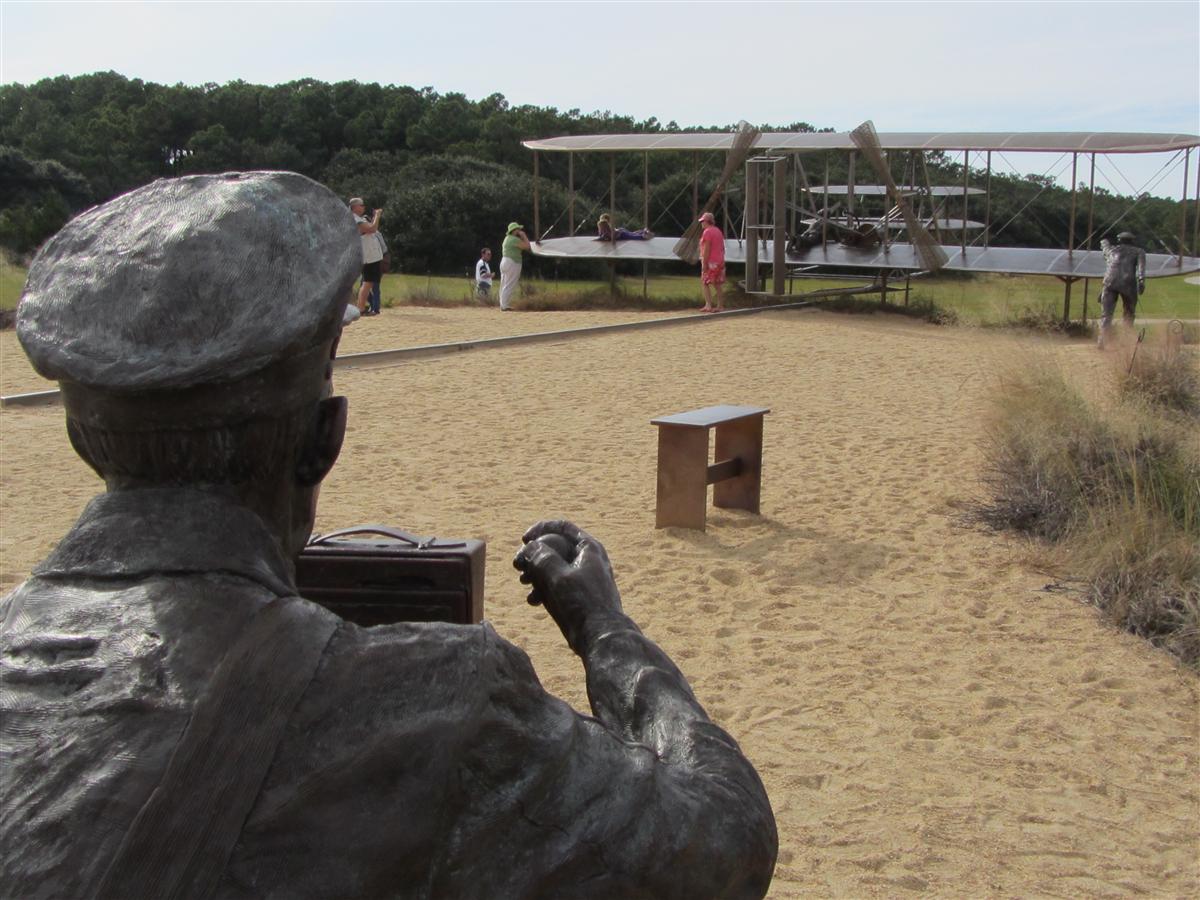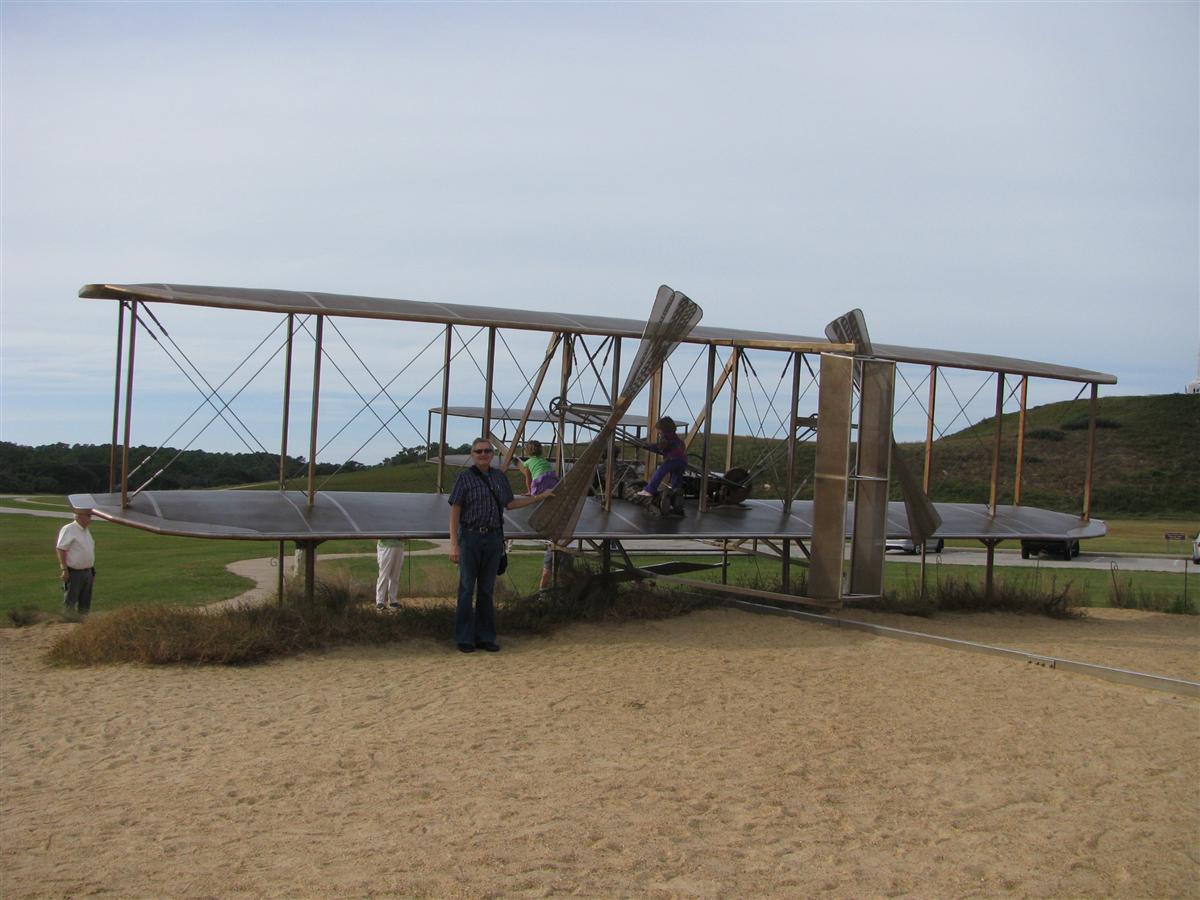 This statue is of John T. Daniels, who took the first photograph of flight.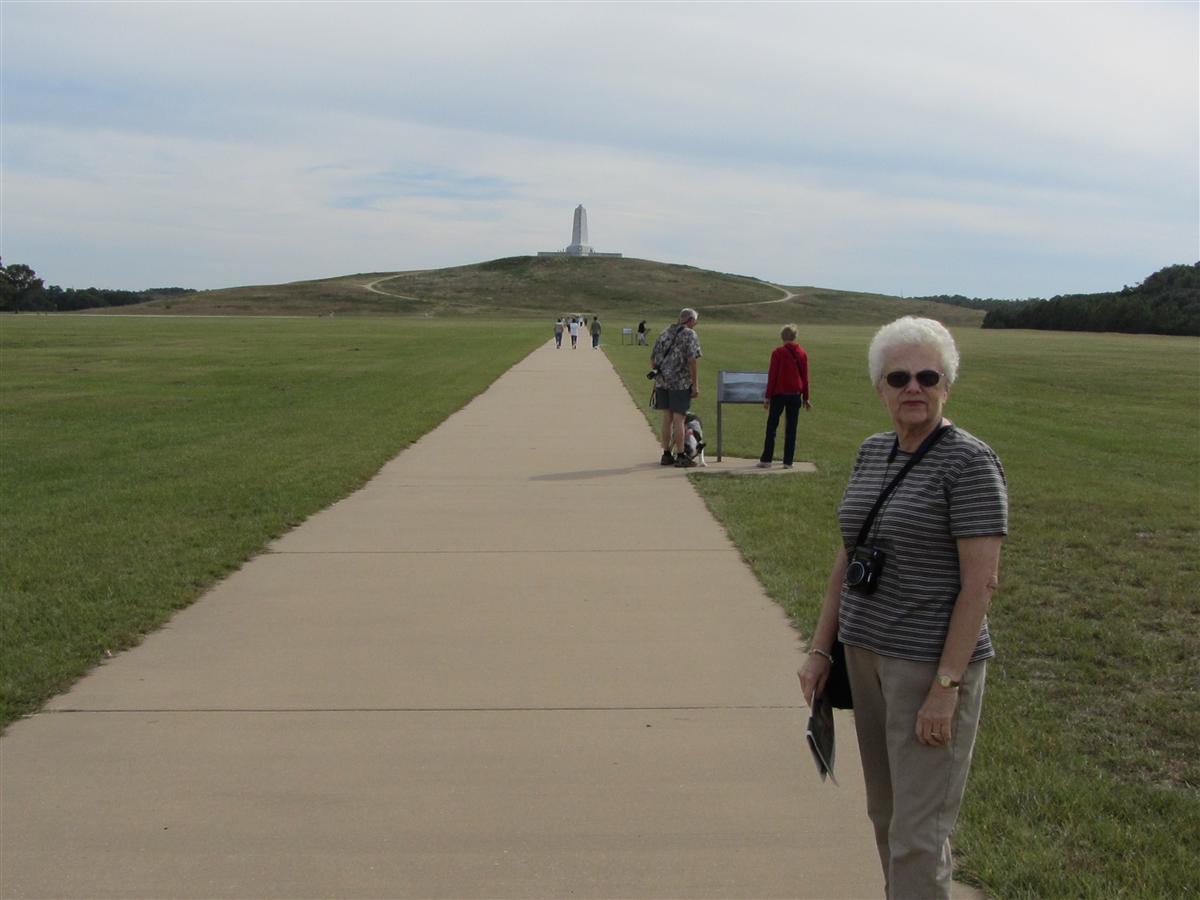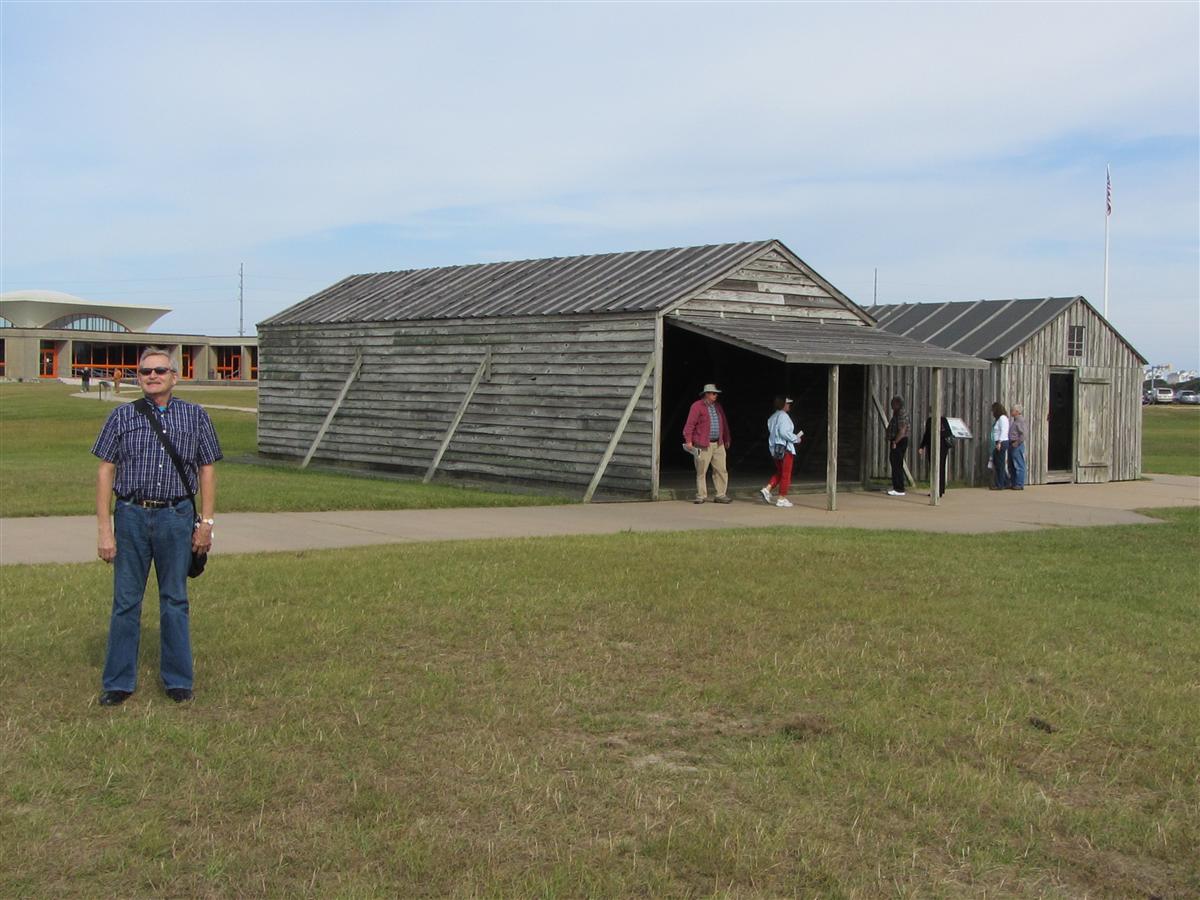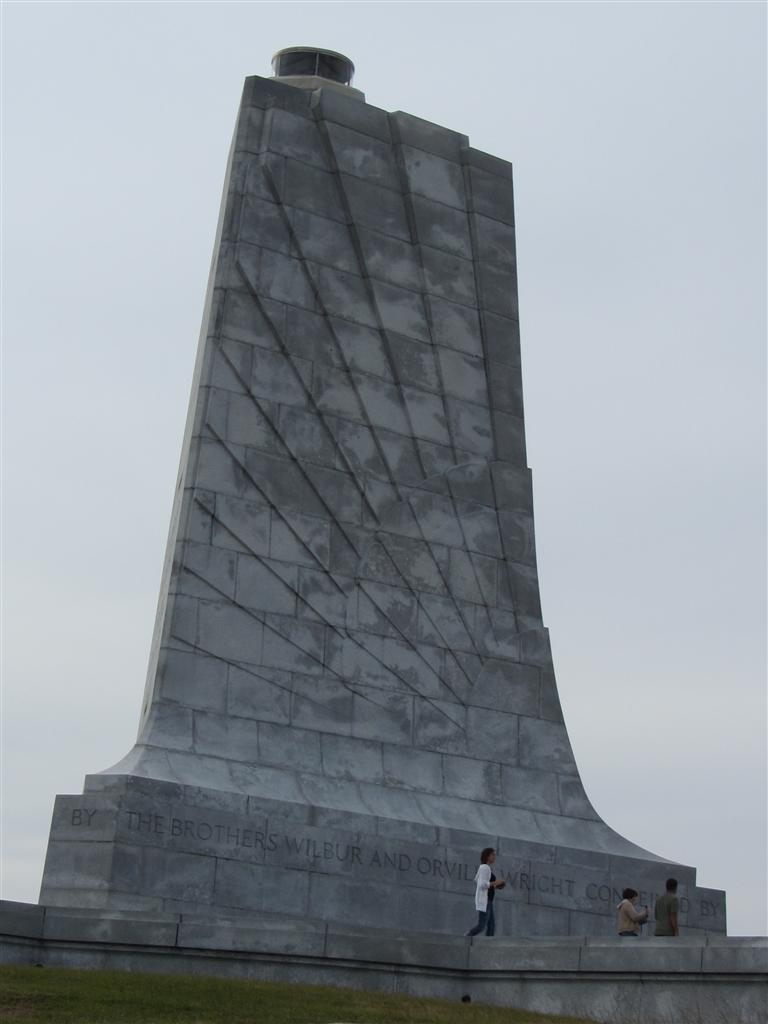 This is the monument on one of the Kill Devil Hills, next to the flight location.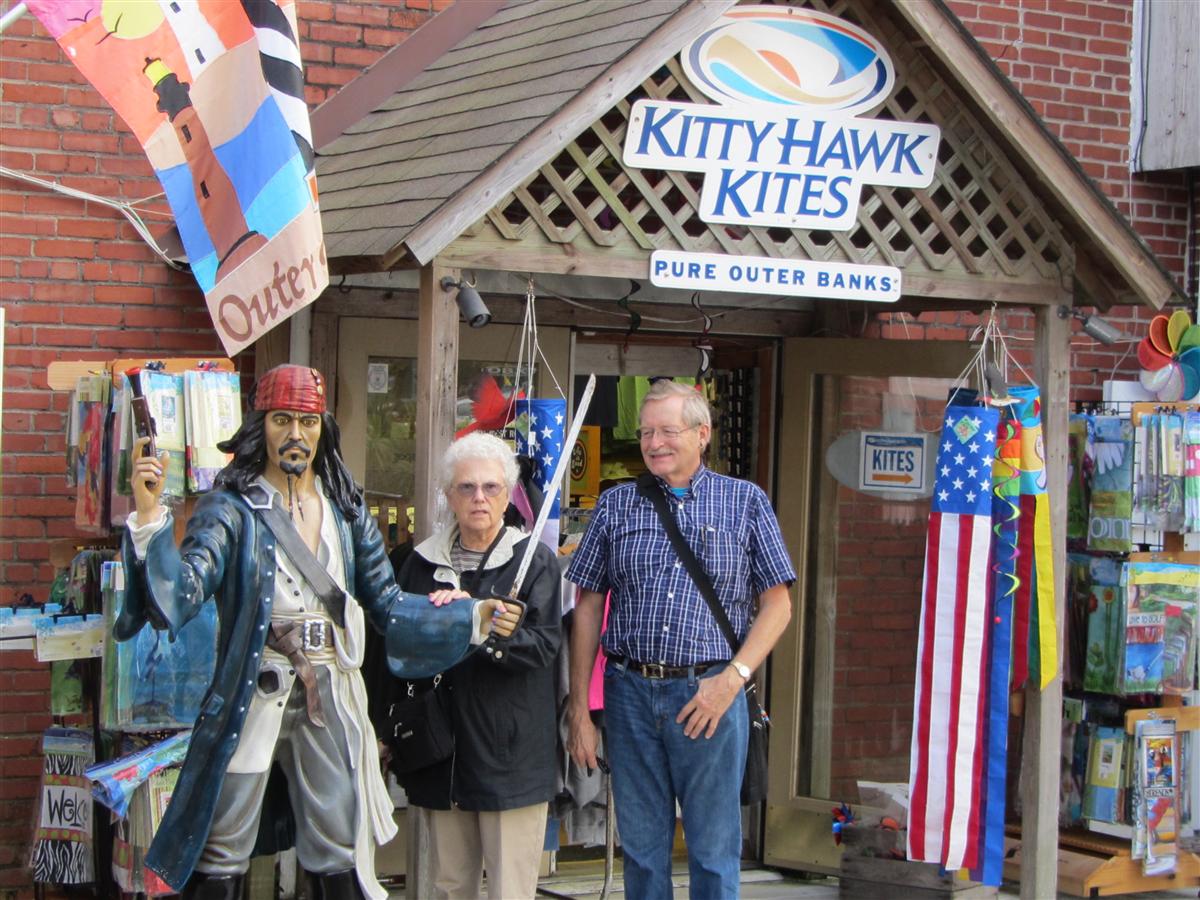 Manteo Village on Roanoke Island. The first English child, Virginia Dare was born here and it's the location of the early Roanoke Colony.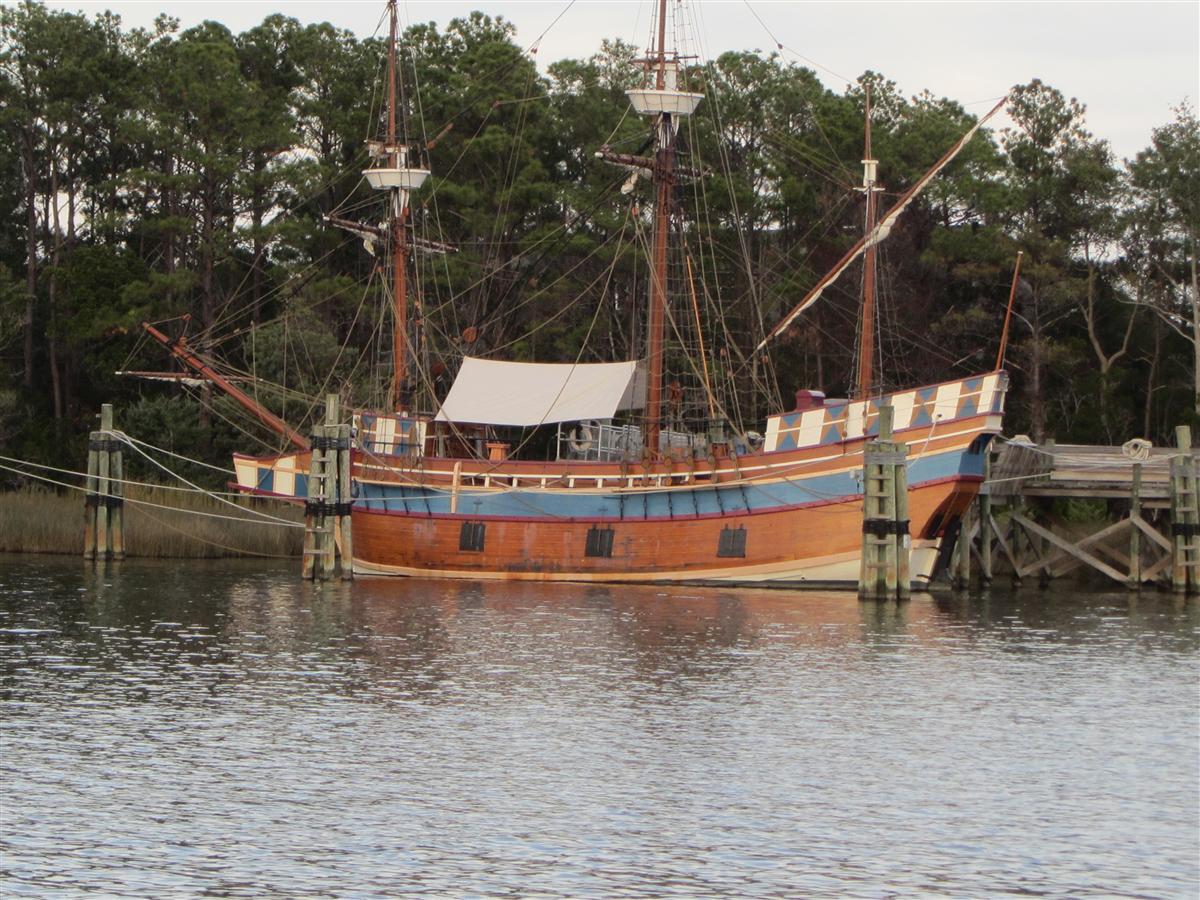 A replica of the Elizabeth II, a 16th century English ship. It is located at the historic waterfront area of Manteo Village.
October 18, 2012 Nags Head to Ocracoke via a ferry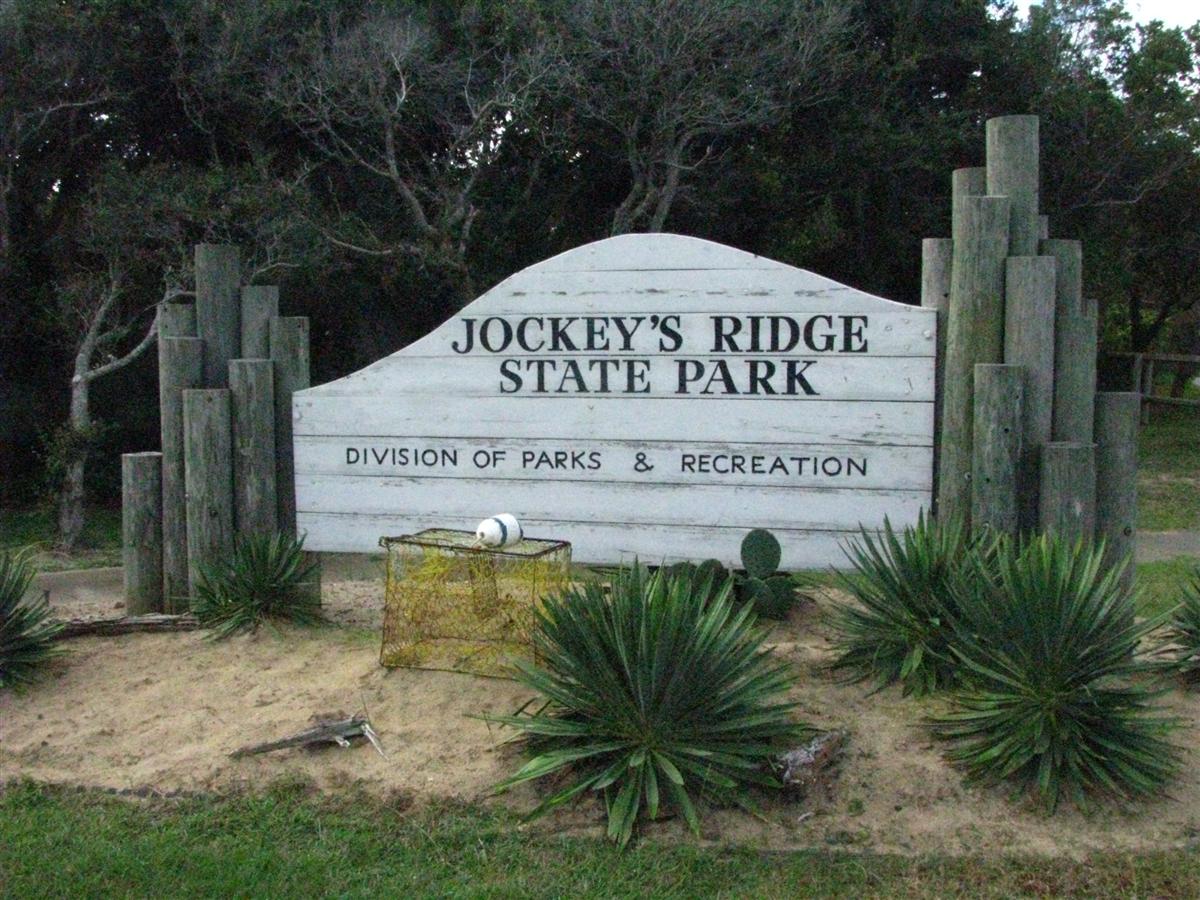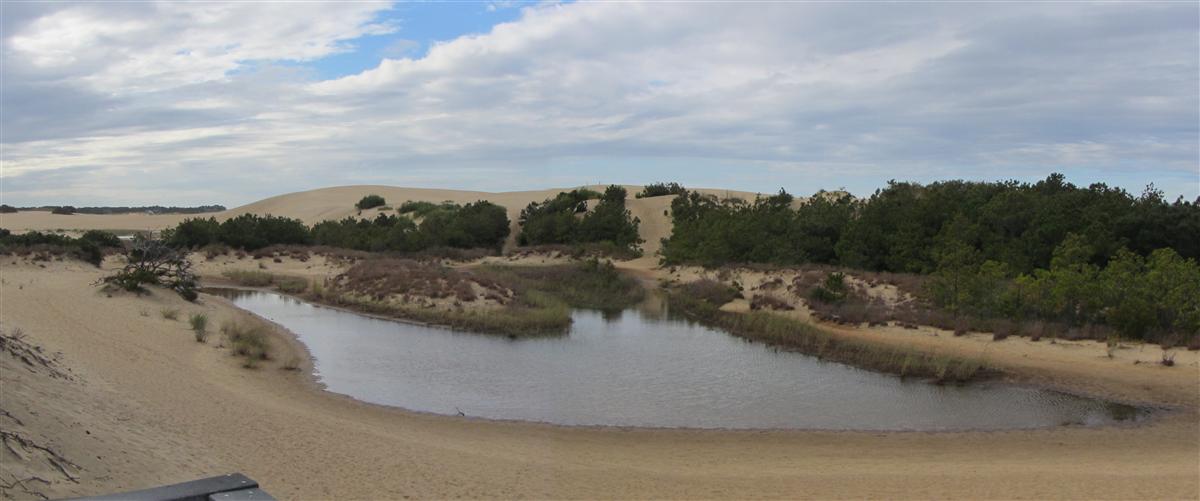 As we drove away from Nags Head, we stopped for coffee and breakfast at the near by Front Porch Cafe and then headed on to Jockey's Ridge. Today this is an area of sand dunes and on the top of the highest ones, hang gliders sail into the strong winds.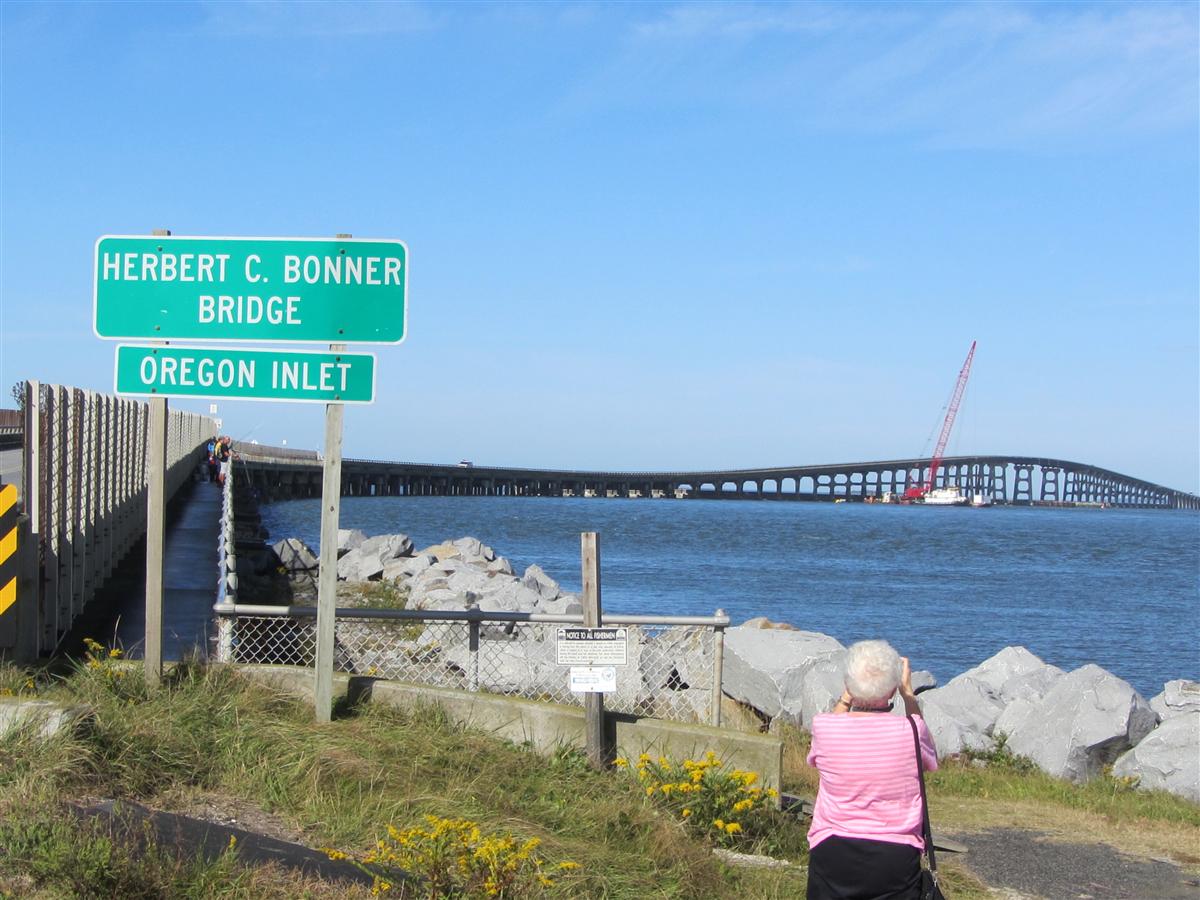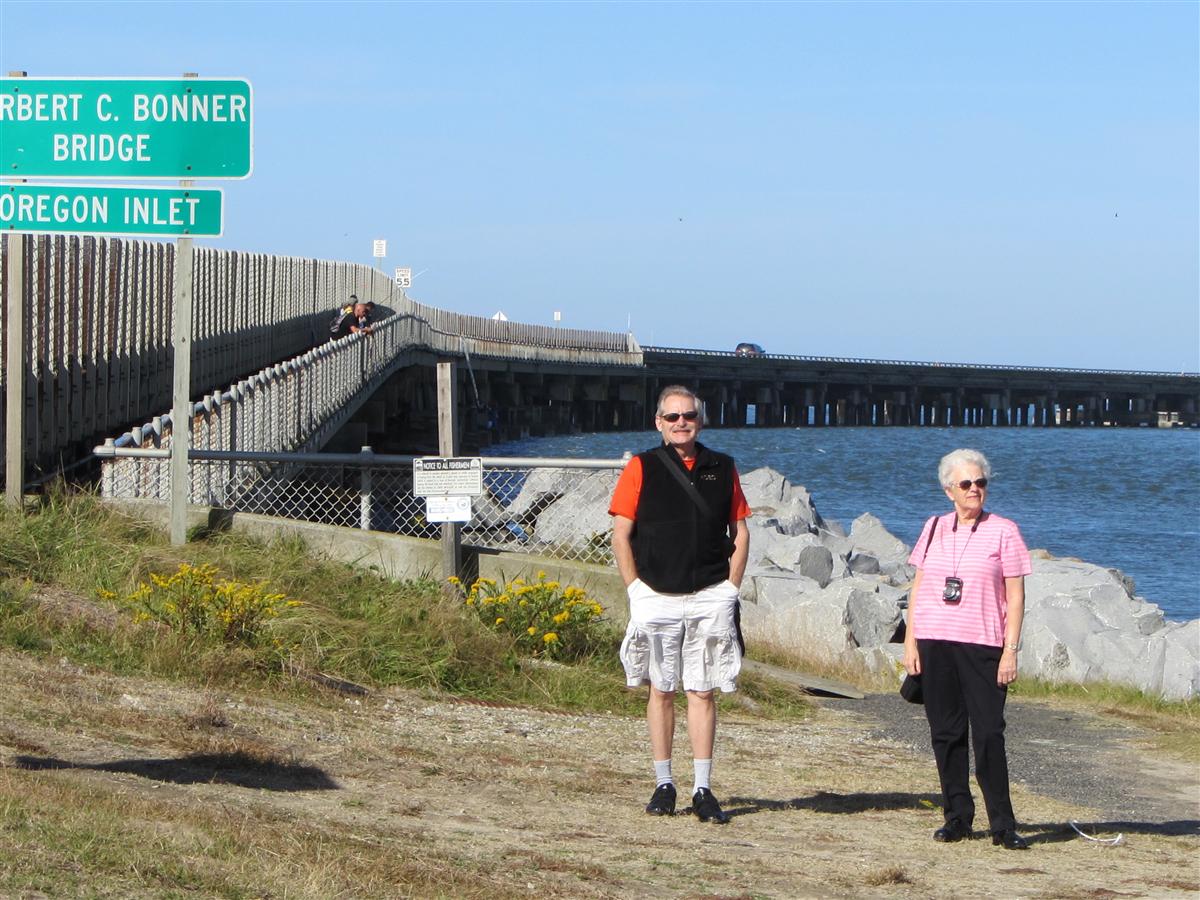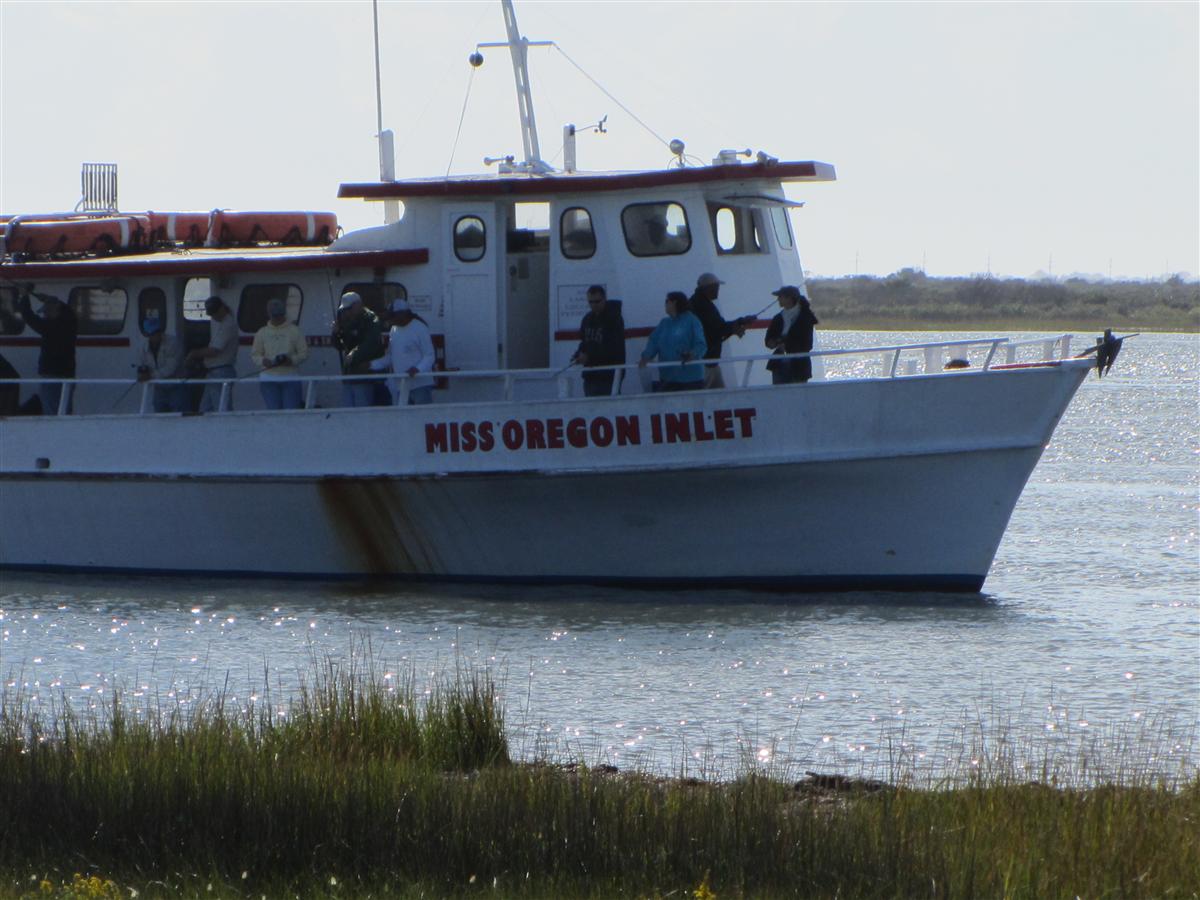 Further south, we saw a bridge over the "Oregon Inlet" and had to stop and take pictures. Nearby was the fishing boat called the "Miss Oregon Inlet"

The lighthouse at Cape Hatteras was built in 1870 and is the tallest brick structure of its kind (198.5 feet). So many ships were wrecked here, it's called the "Graveyard of the Atlantic."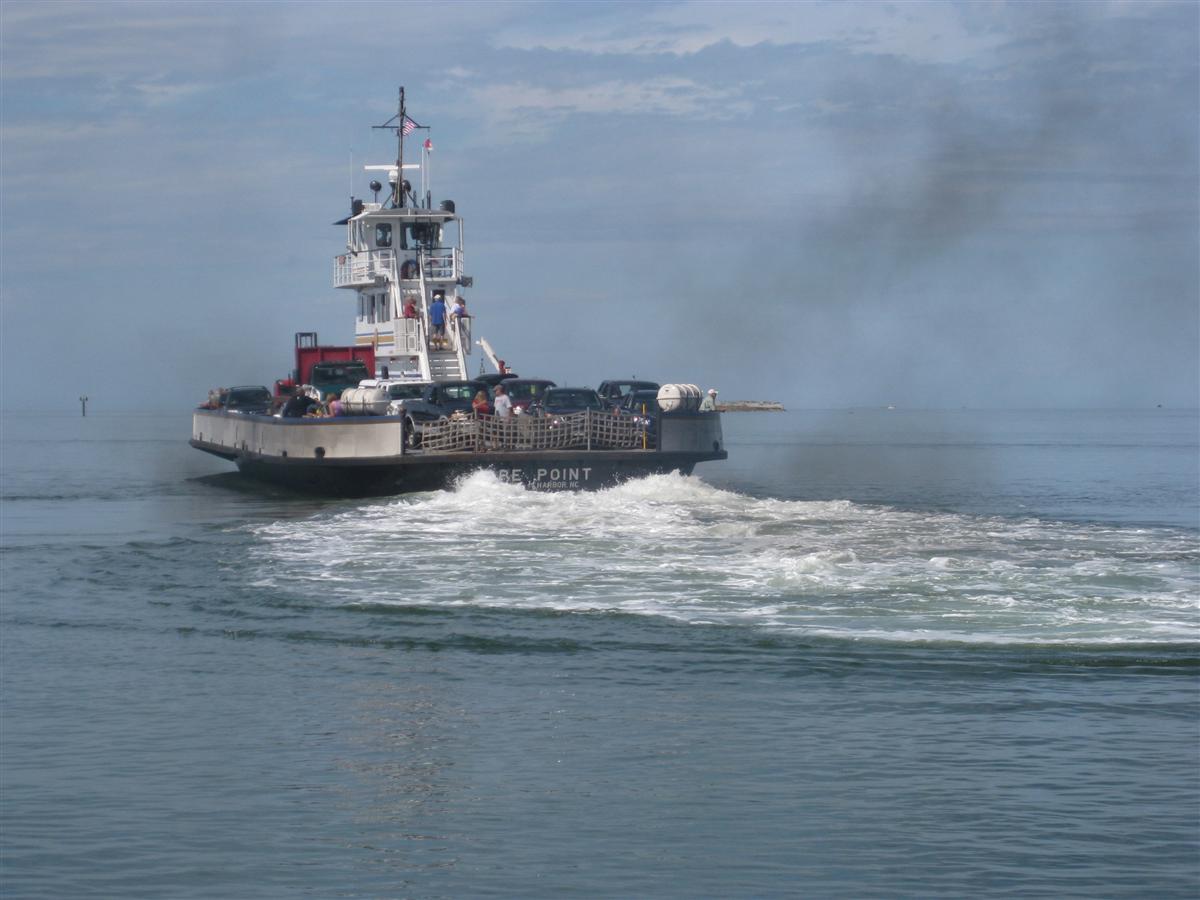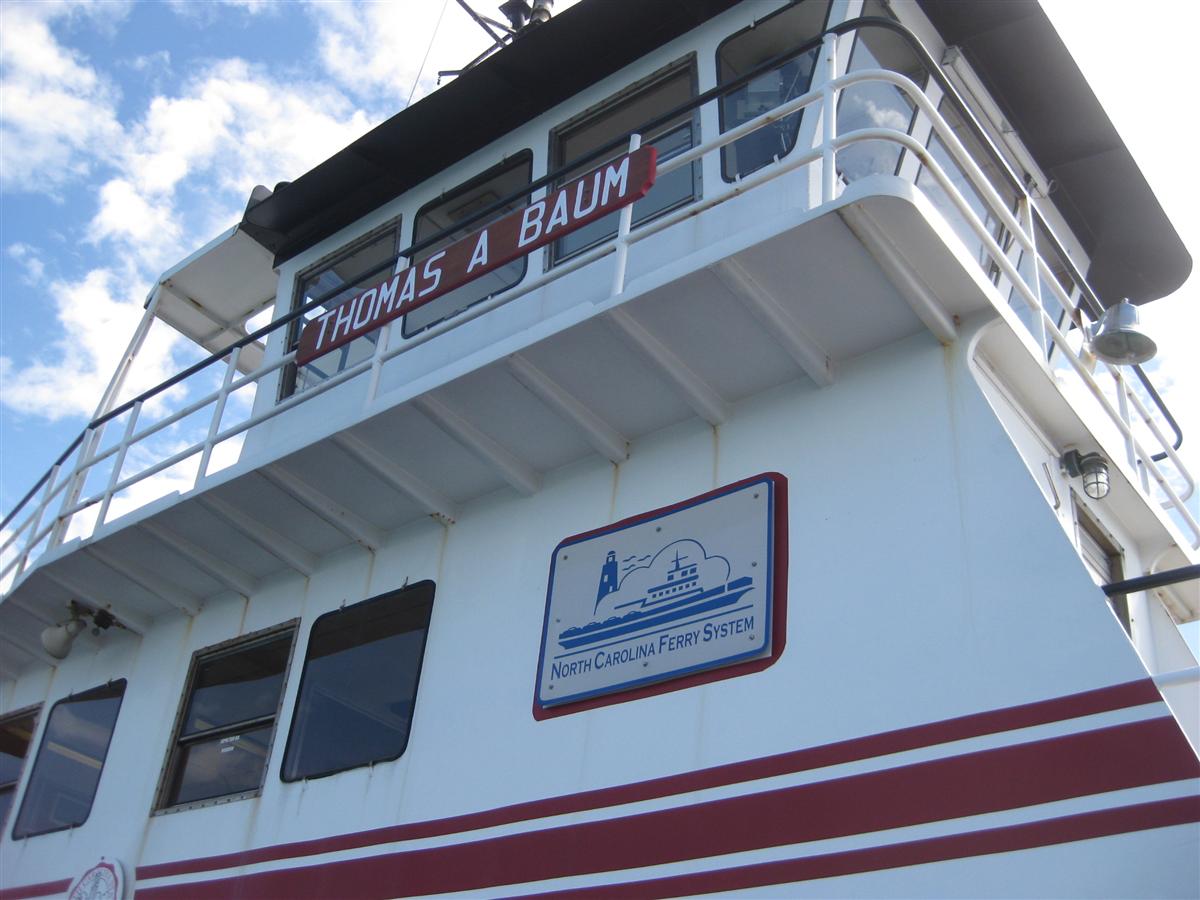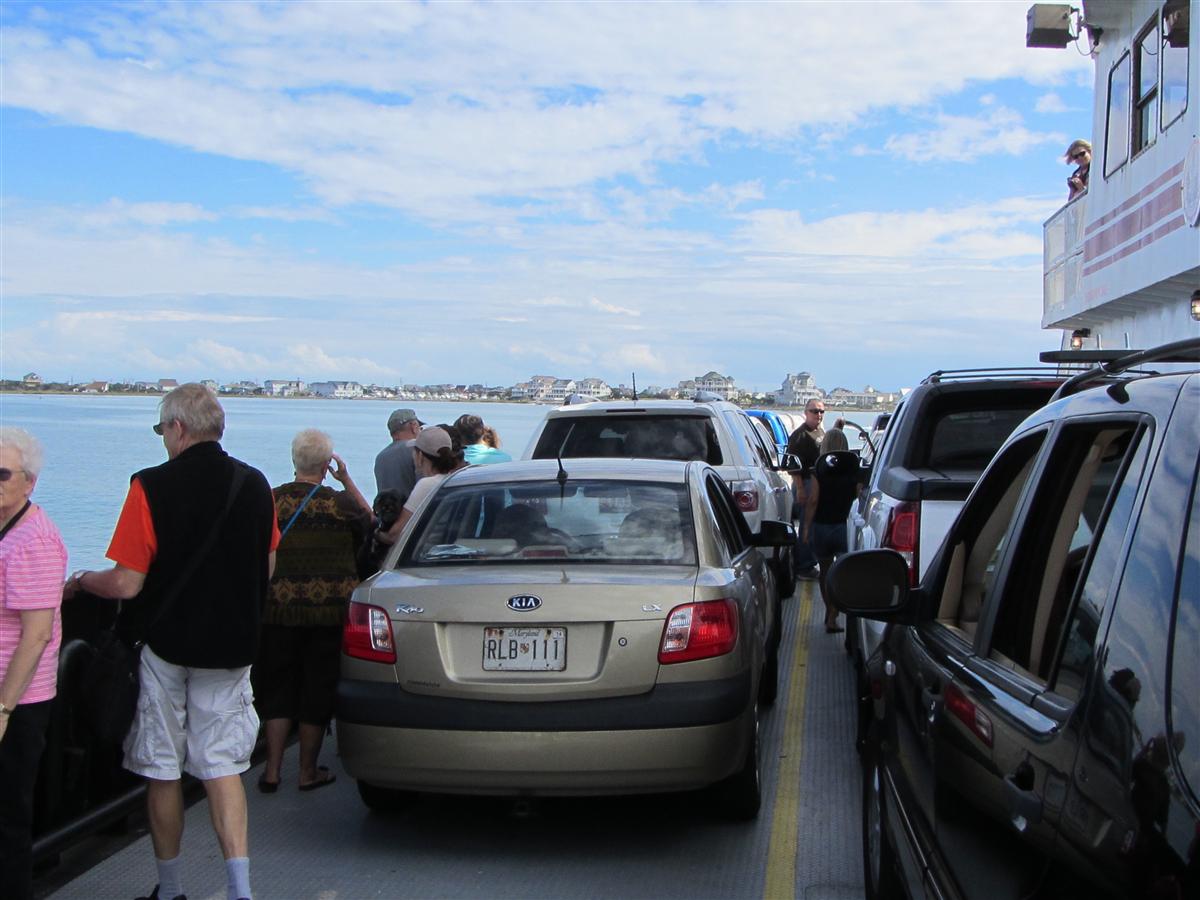 A 40 minute ferry took us from Hatteras to Ocracoke Island. There were so many cars waiting to get on and they told us it would be over 2 hours. As we waited they put more ferry boats into service and we quickly got boarded and asail. Our beige Impala was one of the last ones on.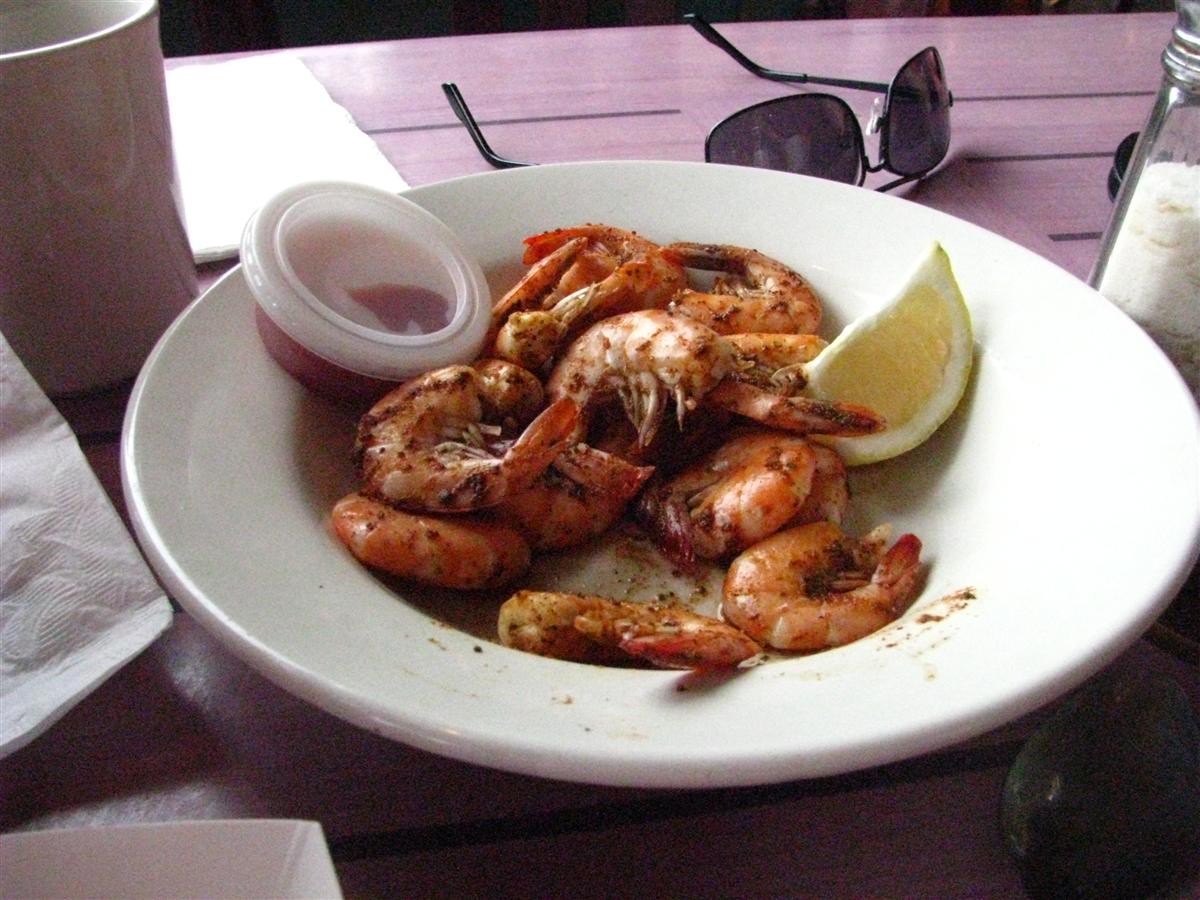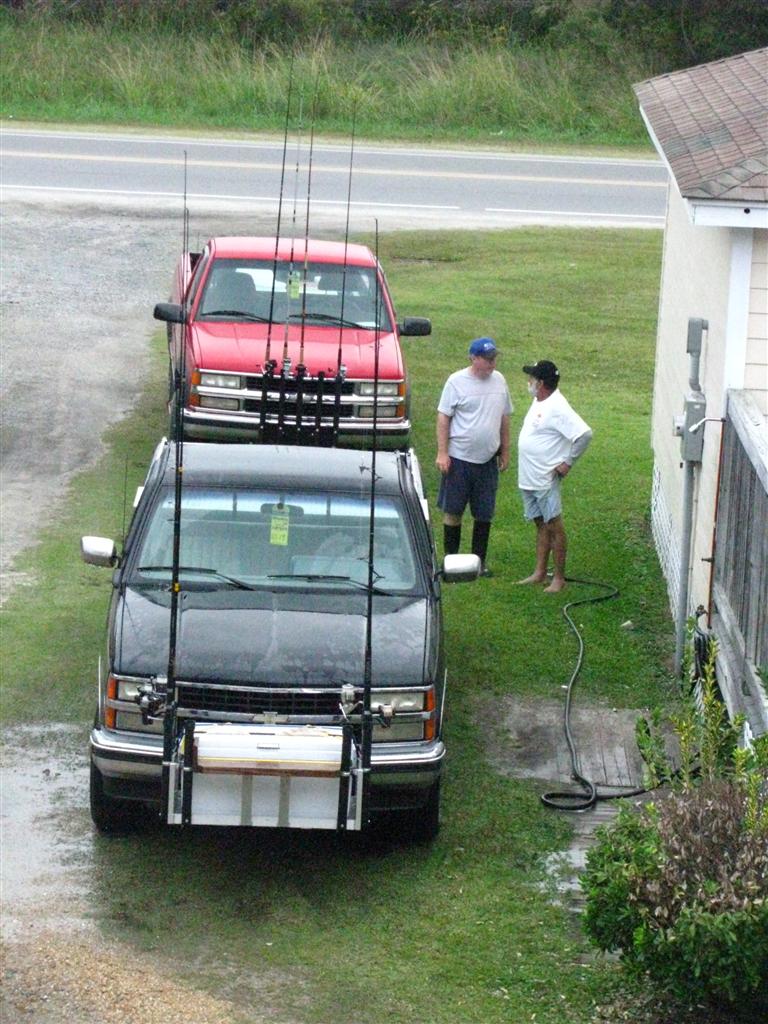 We decided to stay in Ocracoke for the night and take the first ferry to Cedar Island in the morning. Supper was a bucket of shrimp. Many pickups are geared up for fishing and have holders for many fishing poles.
October 19, 2012 Ocracoke - Cedar Island Ferry and on to Myrtle Beach, SC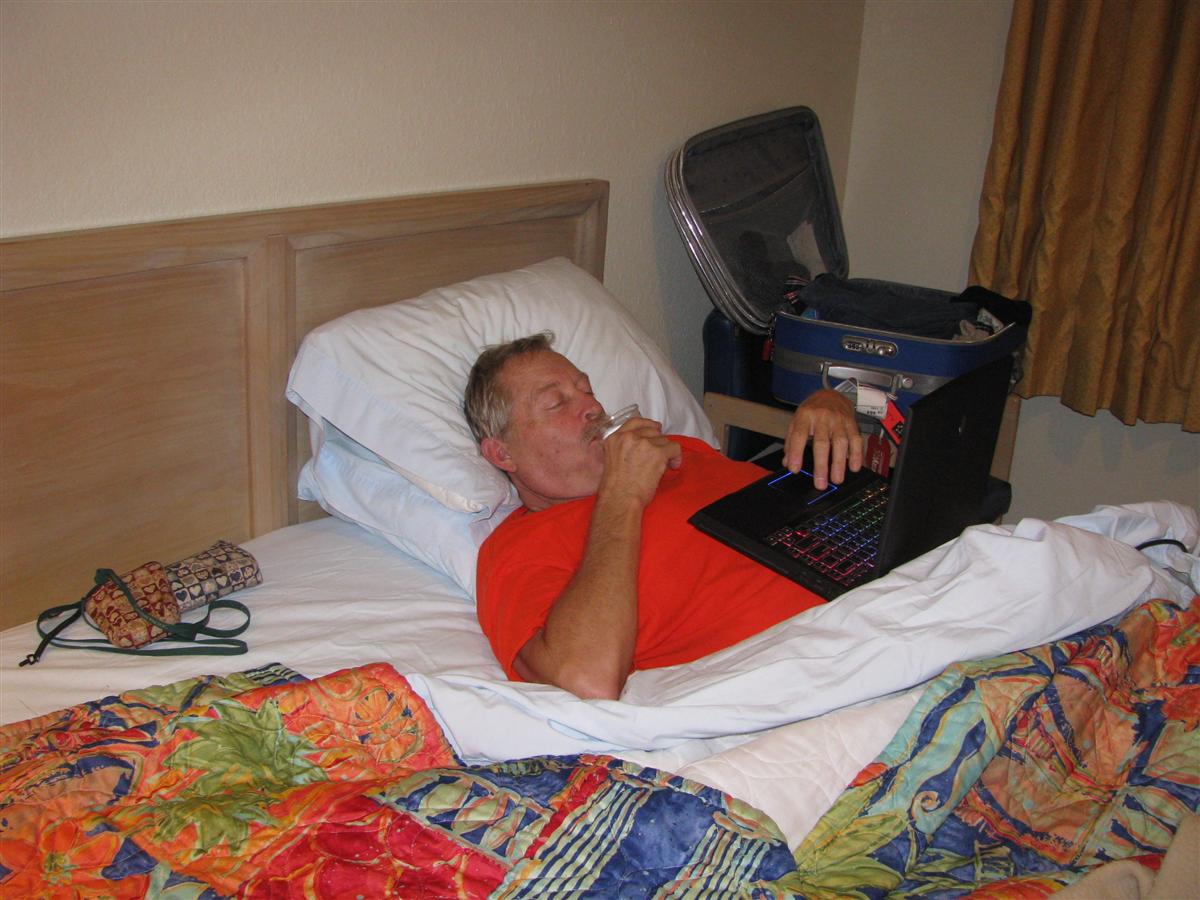 At the "Internet Cafe" in our hotel room at Ocracoke, NC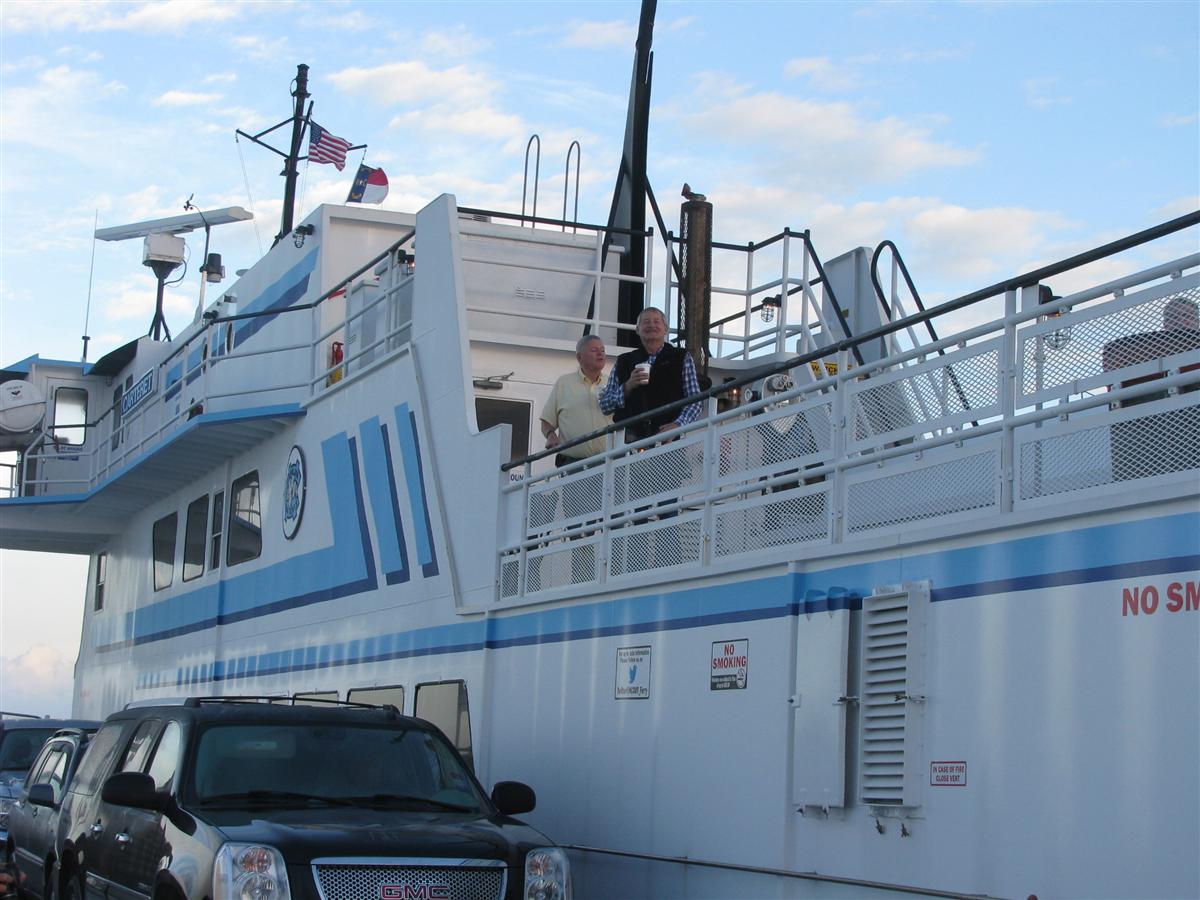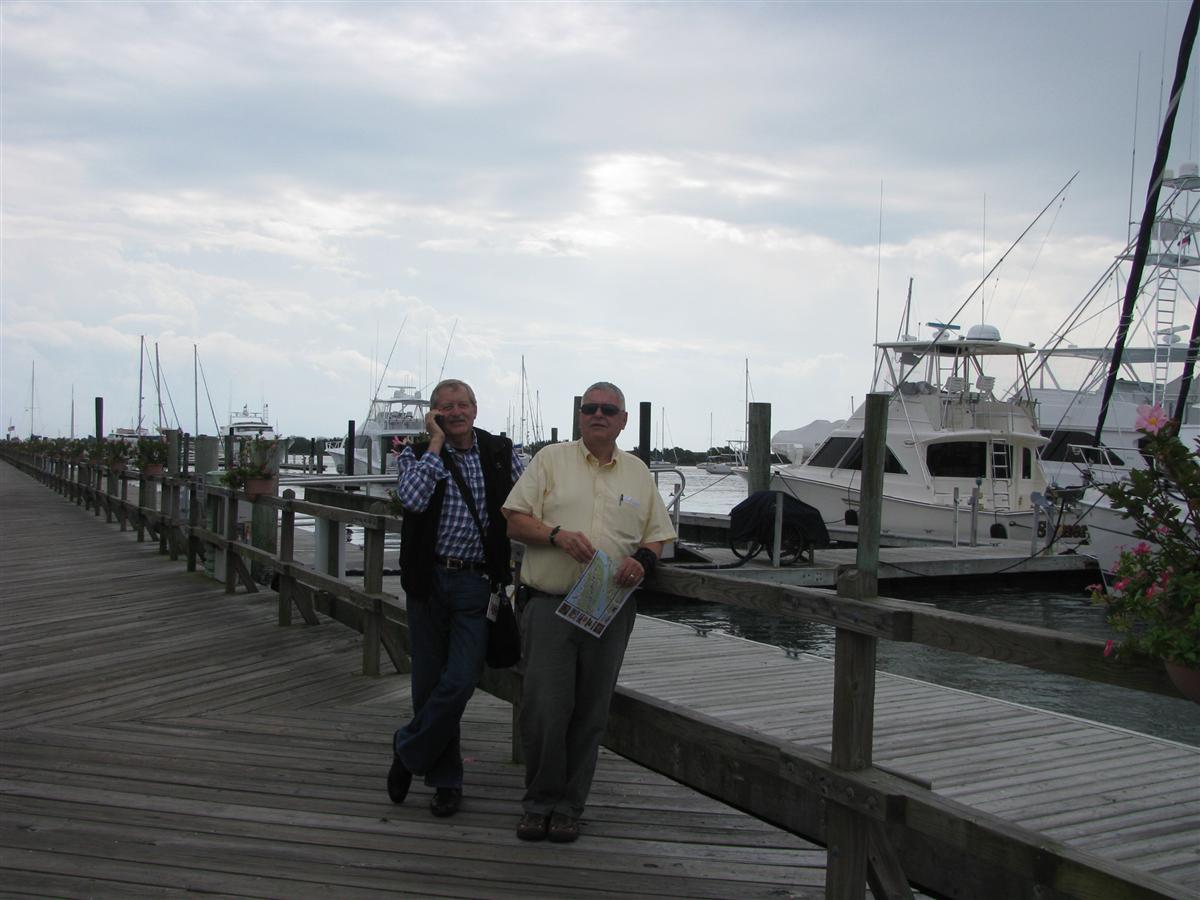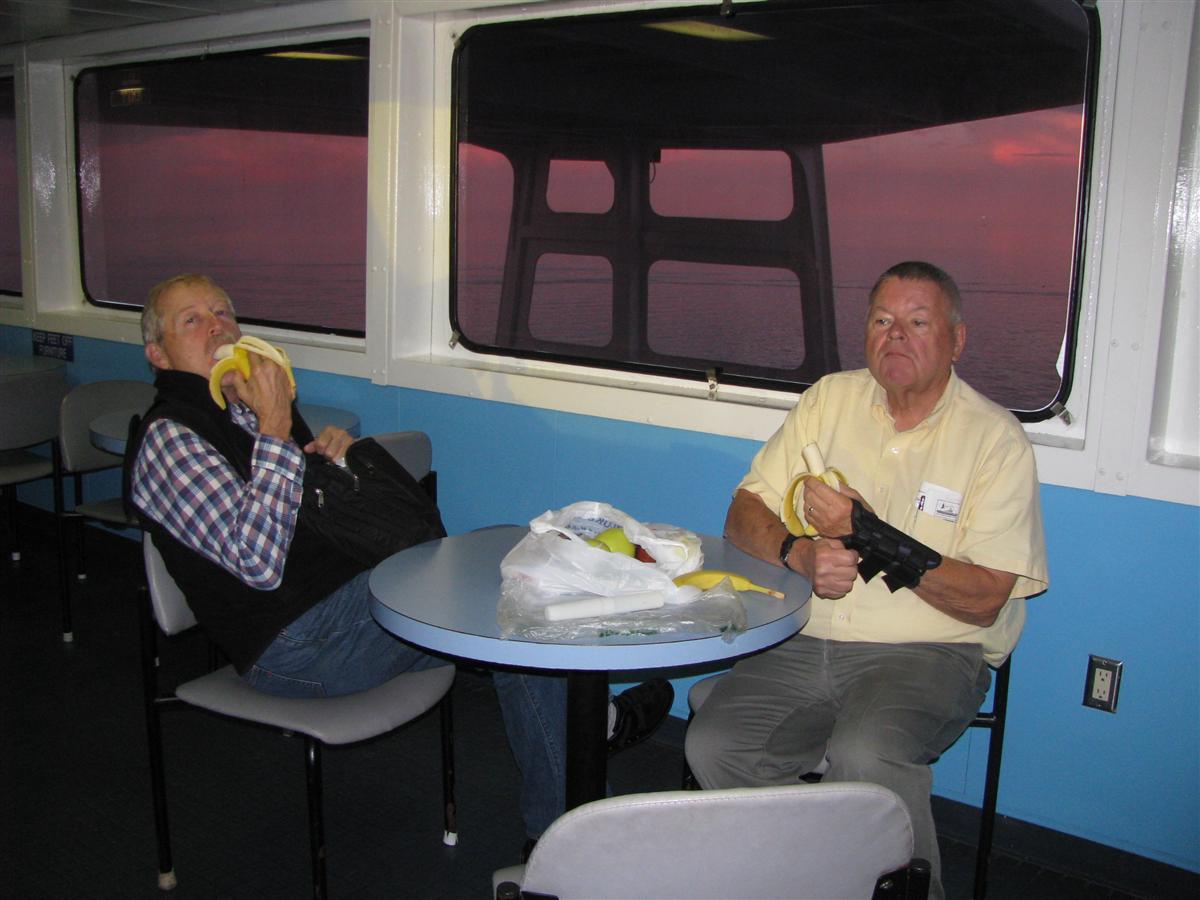 We opted to stay overnight before boarding so we could see everything in daylight. So we woke up very early. It was already 70 degrees outside at 6:30AM. We took the 2 1/2 hour ferry (called the "Carteret") from Ocracoke, NC to Cedar Island, NC.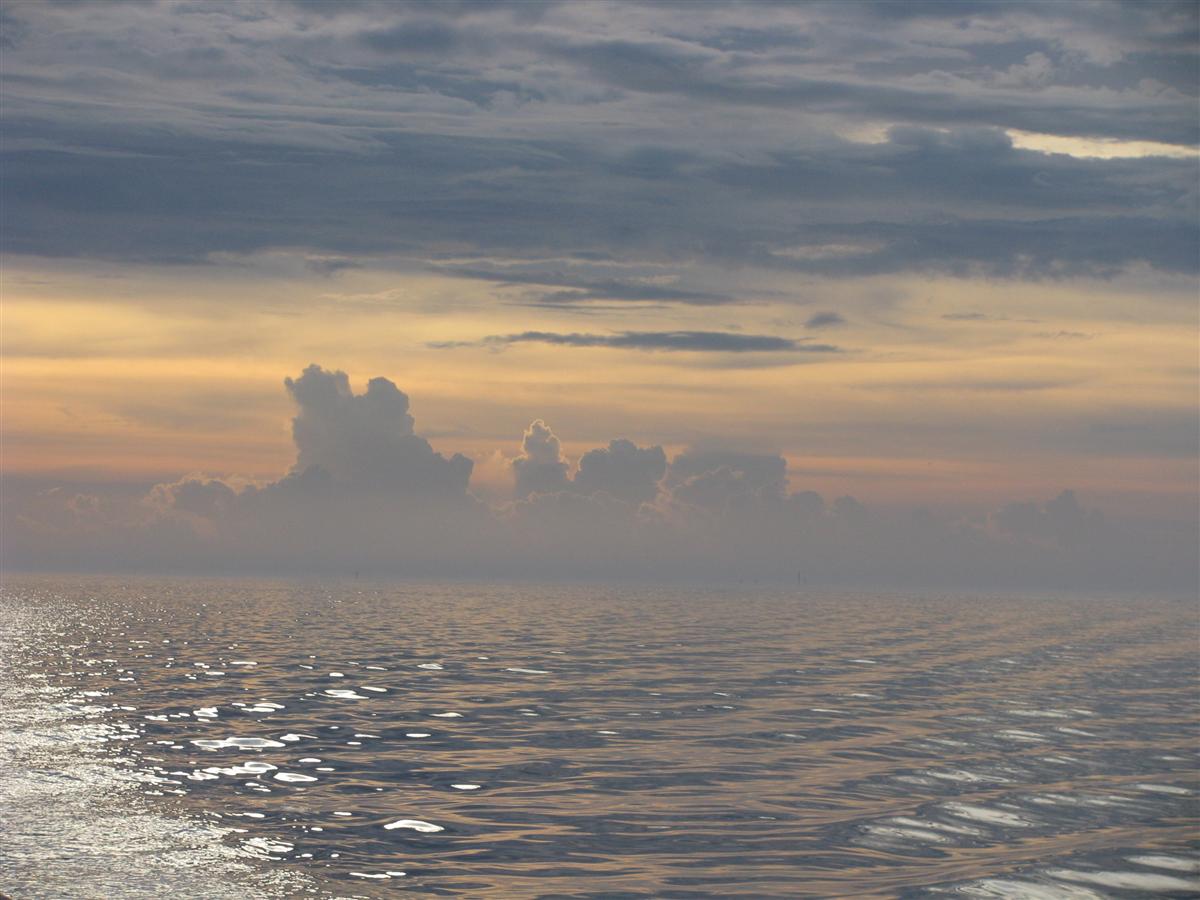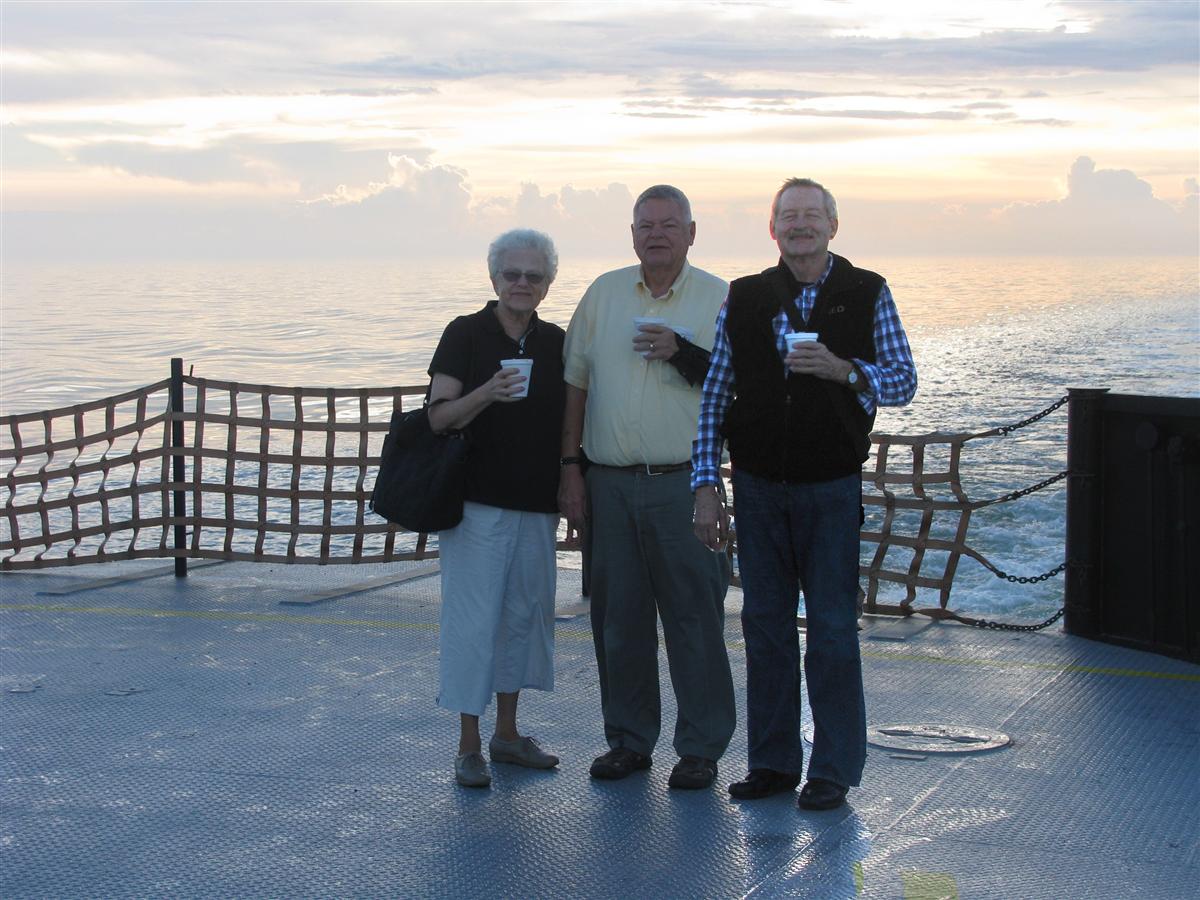 Aboard the ferry to Cedar Island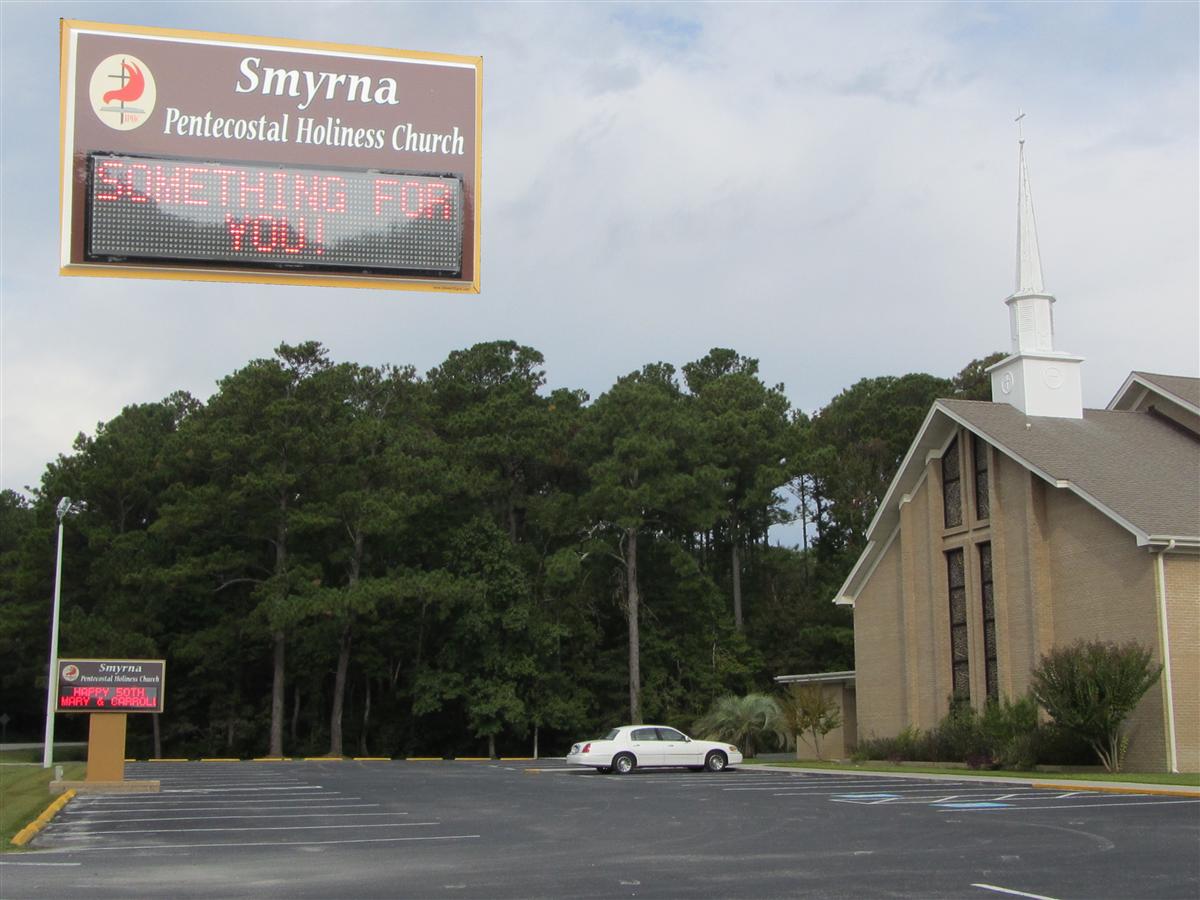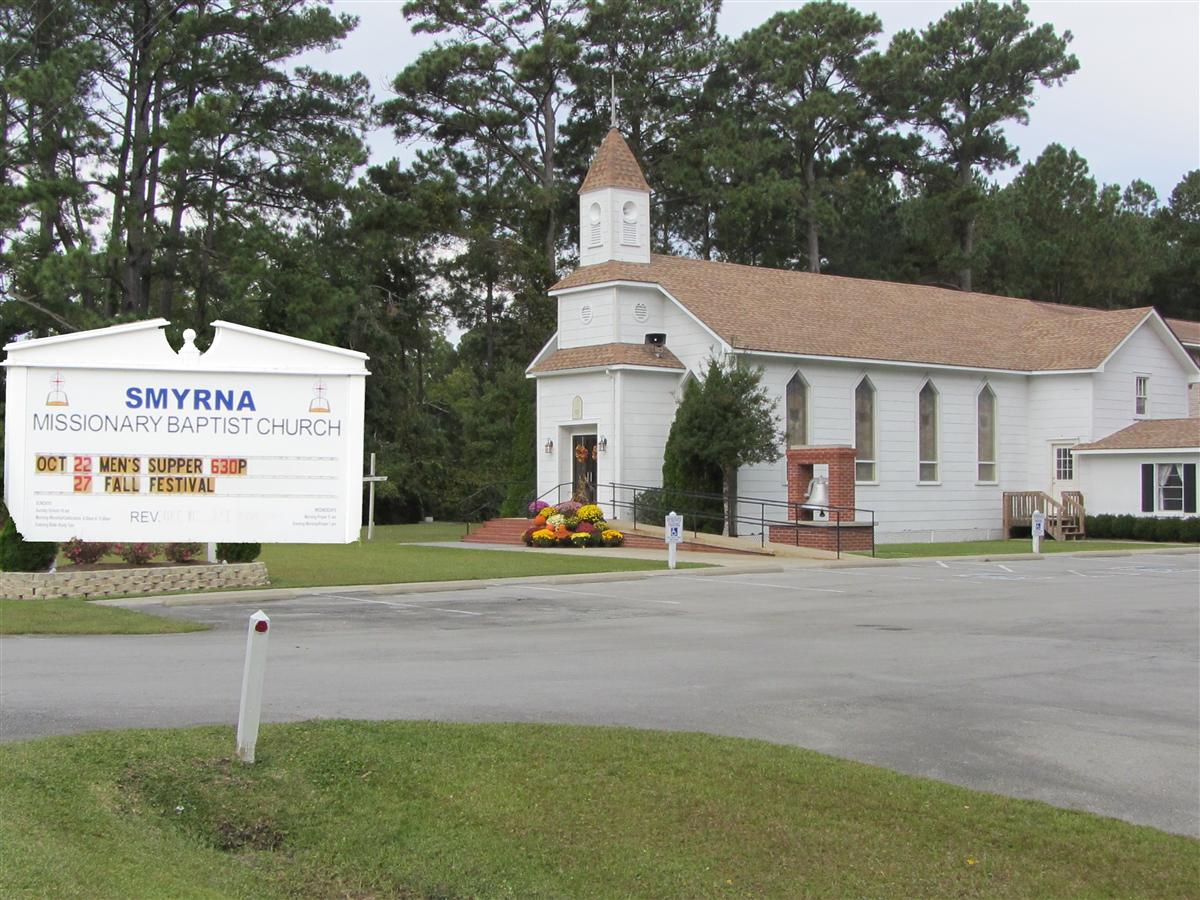 We passed by two "Smyrna" churches, in Smyrna, NC. The road took up along beautiful coastal scenes, bays, bridges, marshes and villages as we made our way to Myrtle Beach, South Carolina.
We stopped in historic Beaufort, NC and walked around the old downtown at the wharf. Beaufort is the third oldest town in NC (after Bath and New Bern). It was very charming and had many neat gift shops. One had beaurtiful carved Christmas tree ornaments from Peru.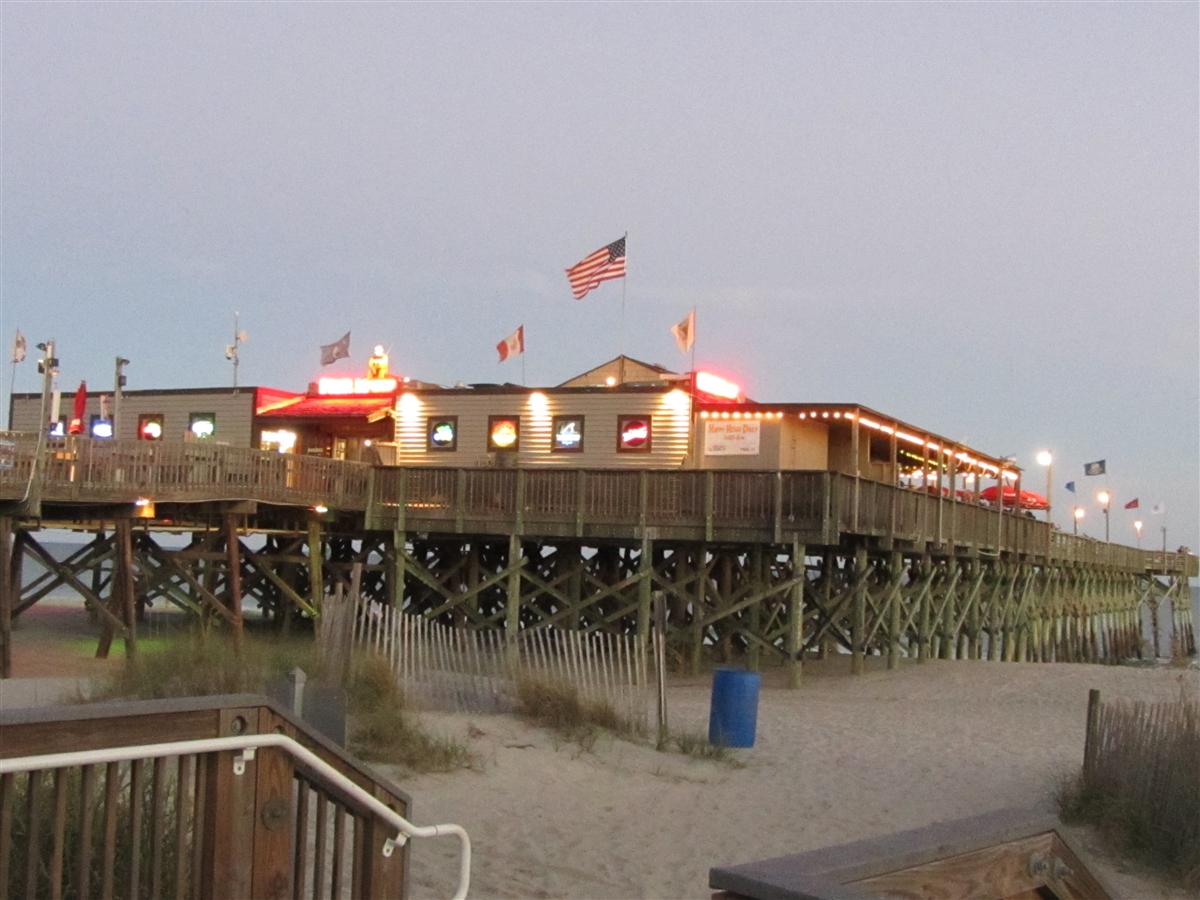 We drove down to the beach, parked and walked along the boardwalk. It was getting dark when we ate at Pier 14 Restaurant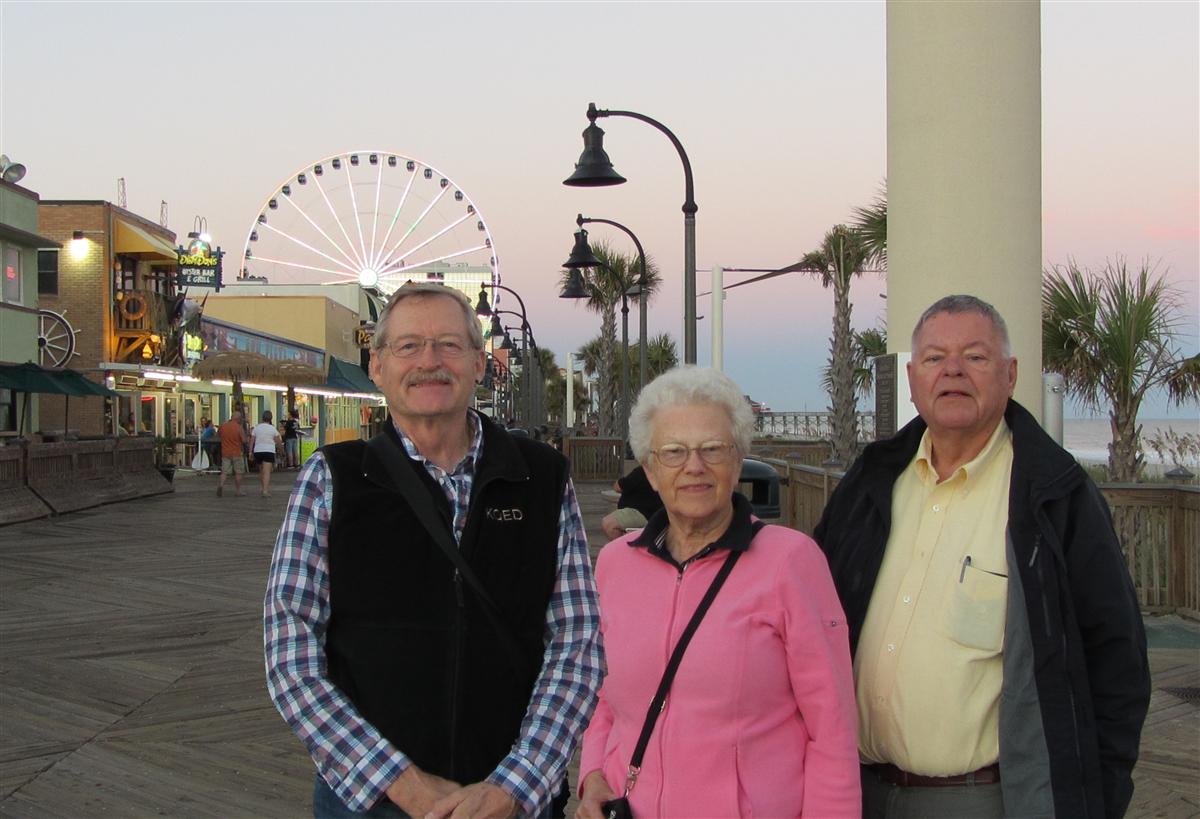 At the boardwalk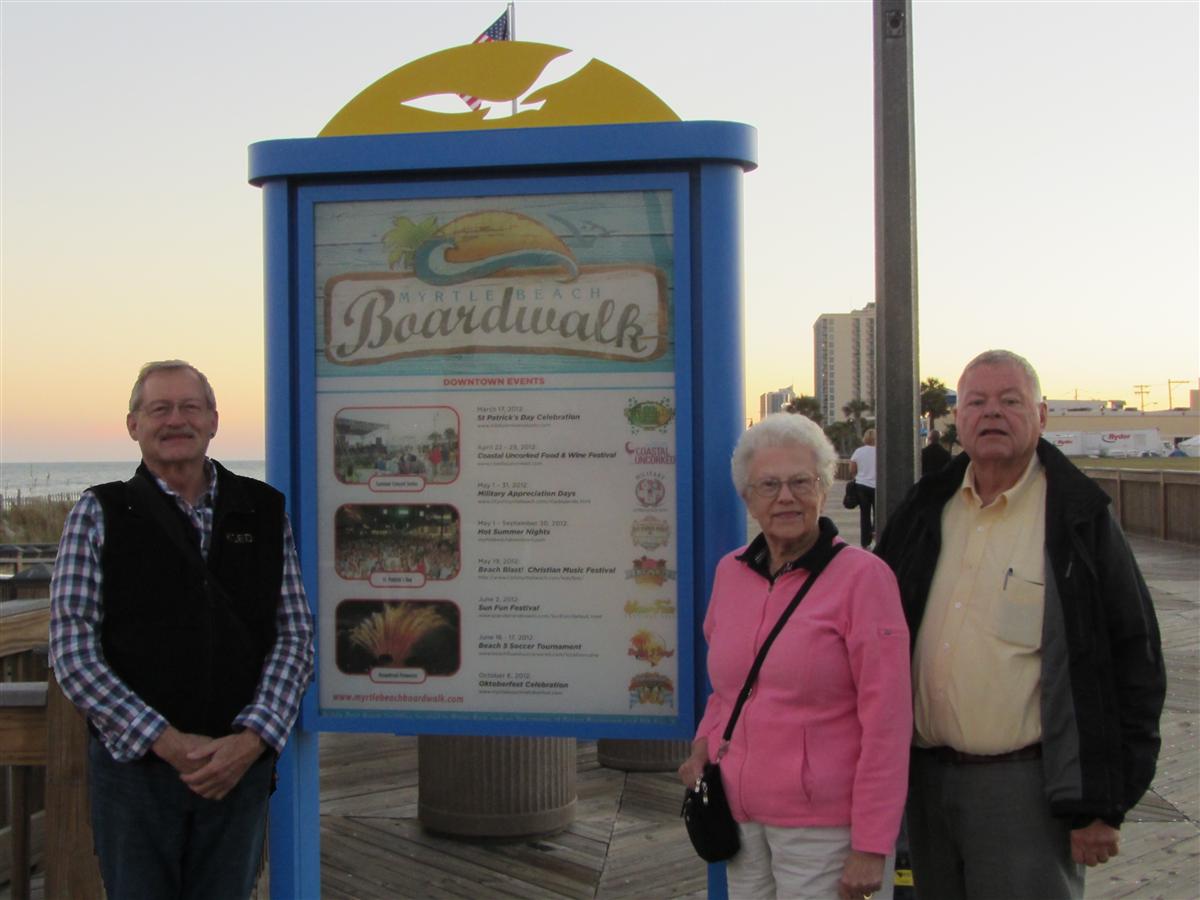 Myrtle Beach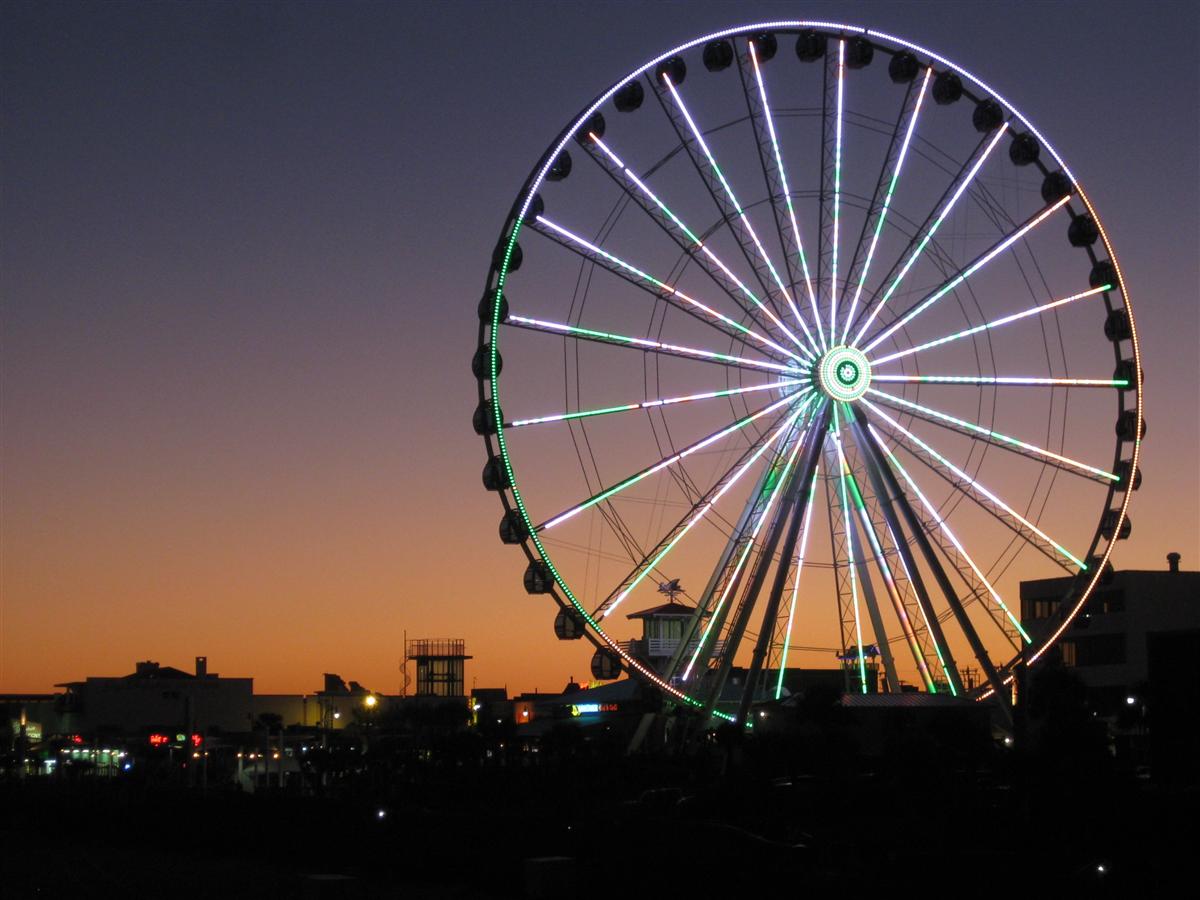 Giant Ferris Wheel at the Myrtle Beach Boardwalk.
October 20, 2012 Myrtle Beach, SC to Charleston, SC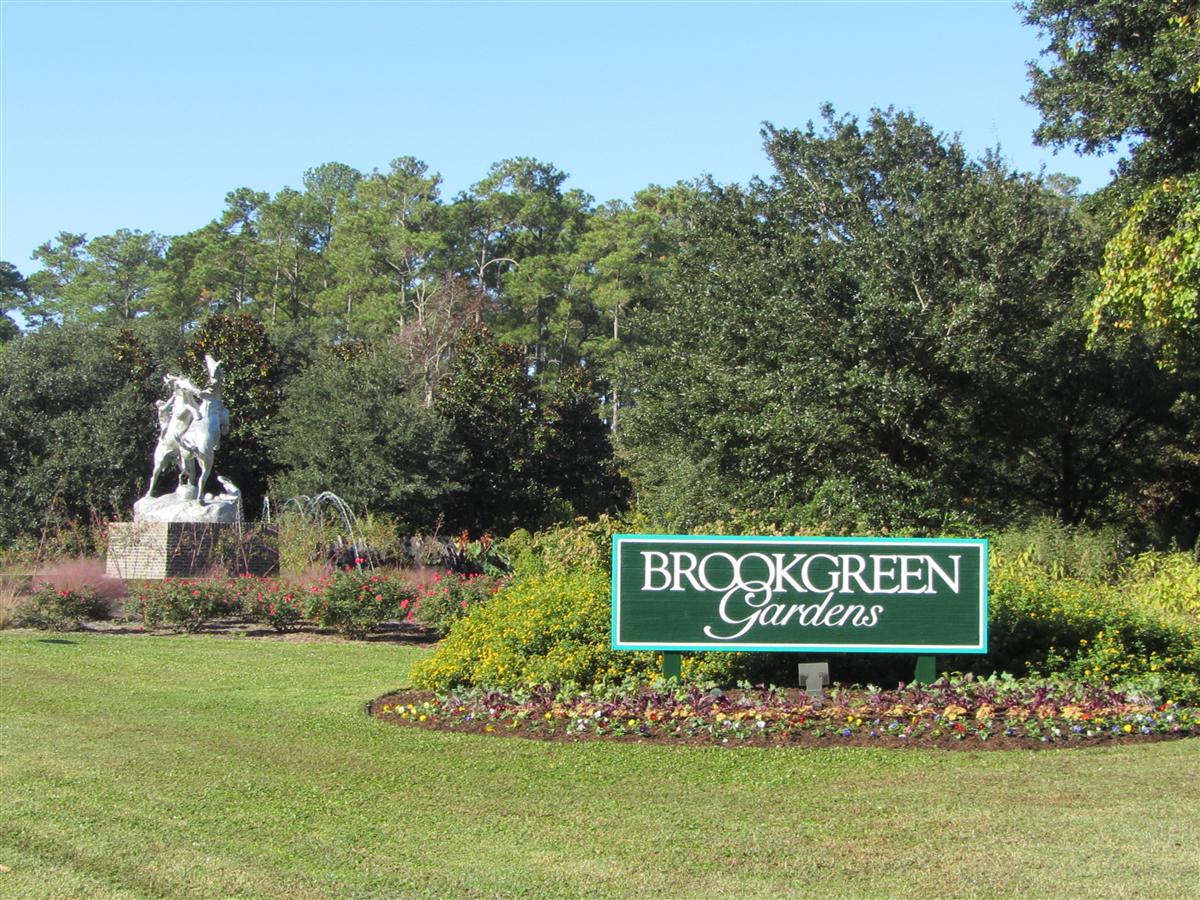 Another beautiful morning in South Carolina led us to don shorts and short-sleeves for a full day of sightseeing. We had about 100 miles to go to Charleston, and friend Robert in Greenville, SC recommended that we stop a few miles out to visit the incredible Brookgreen Gardens. Anna Hyatt & Archer Huntington, heir to the Huntington fortunes, established a park on 9000 acres in the low country of South Carolina that had been rice plantations at an earlier time.  Anna was a sculptor and the main theme of the gardens is the huge number of sculptures displayed in a park setting with beautiful flowers and trees.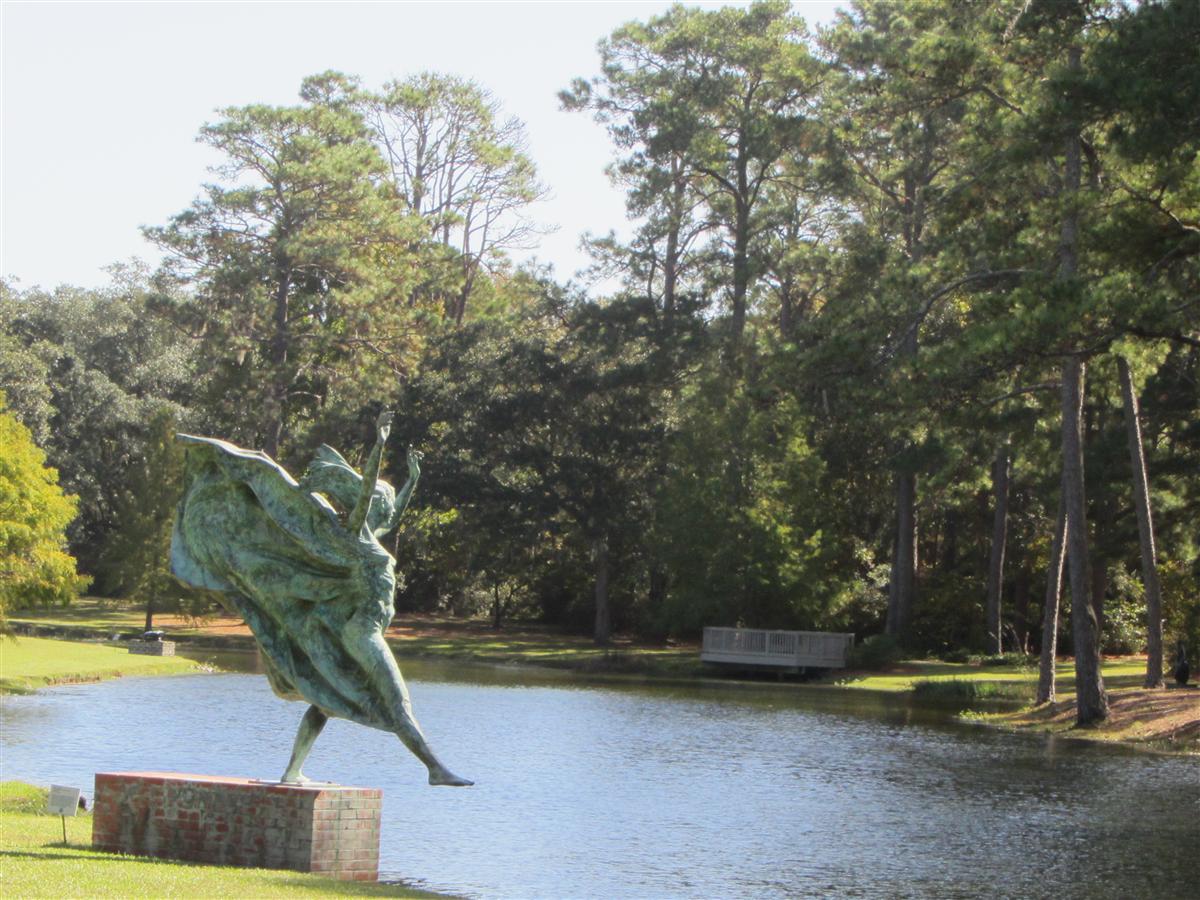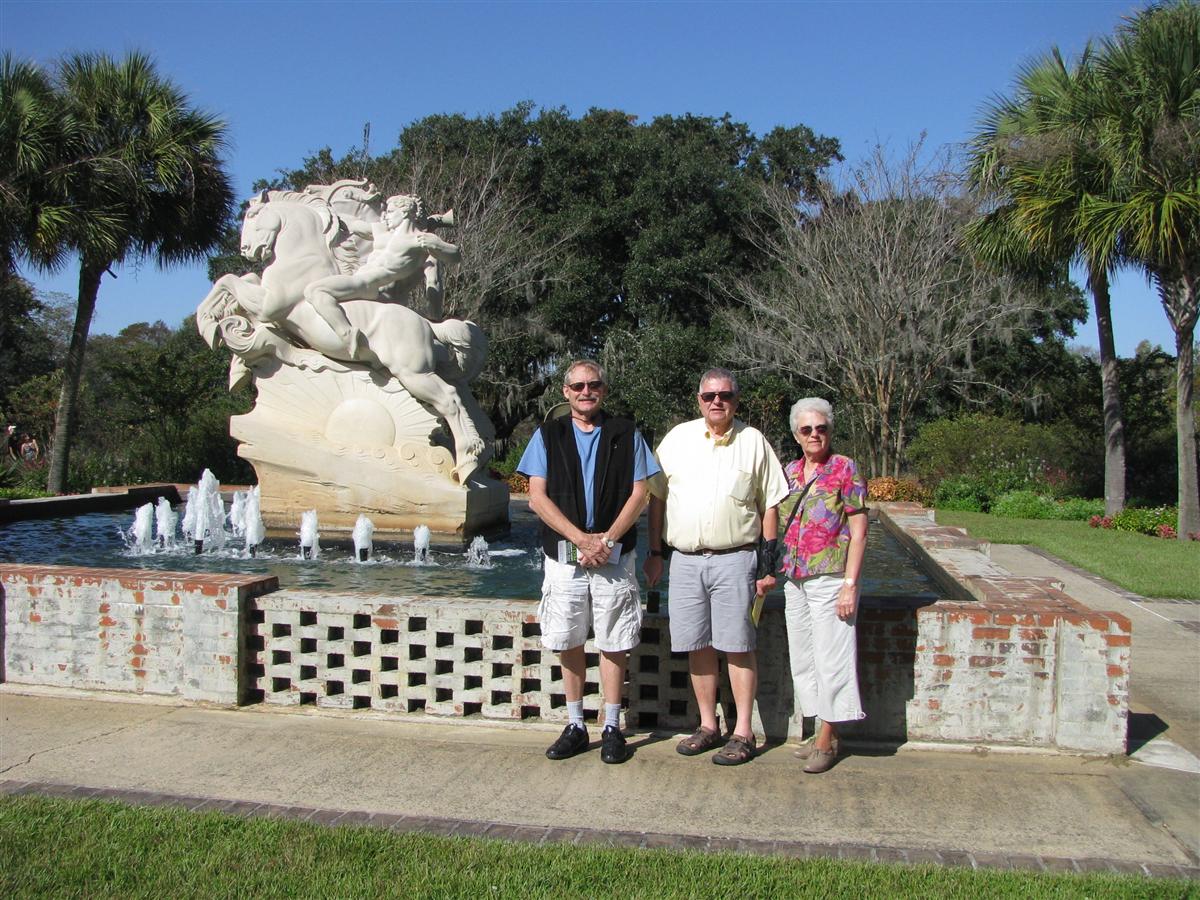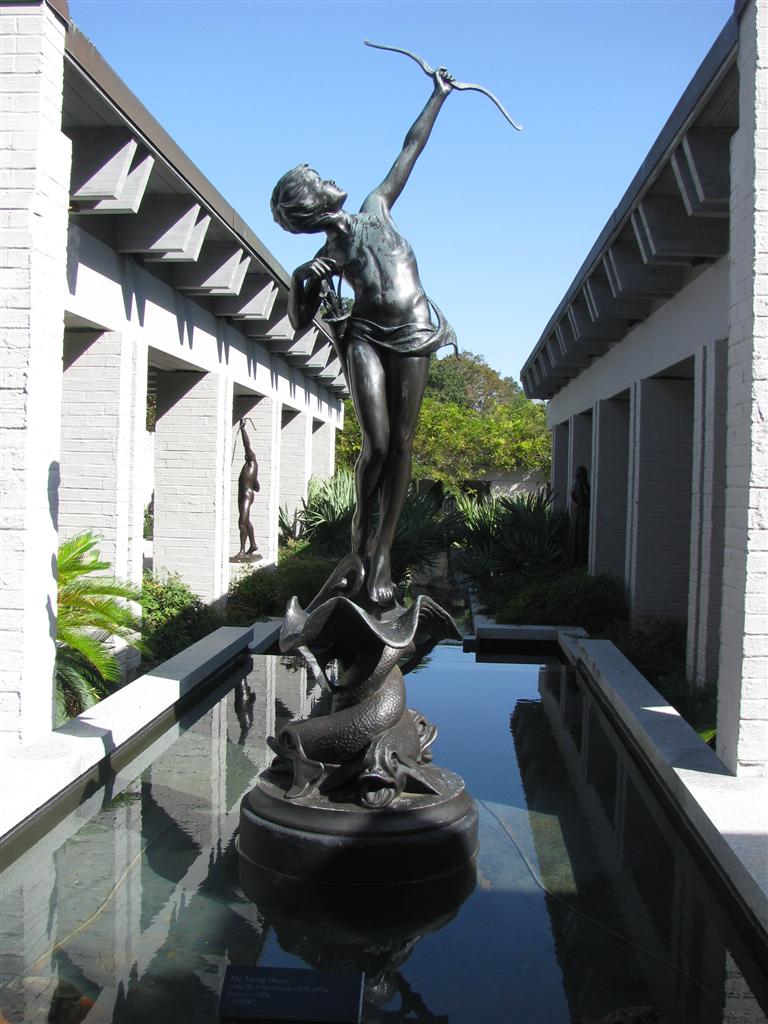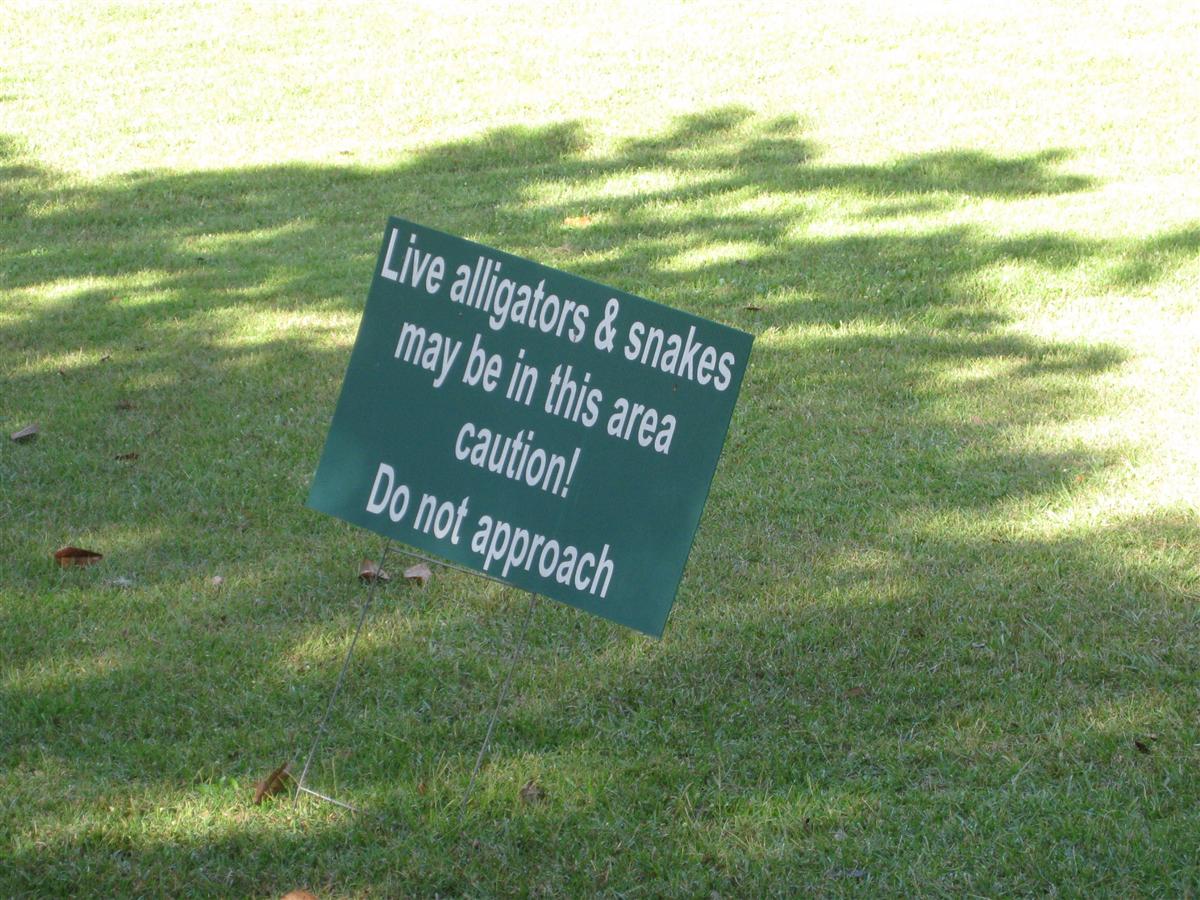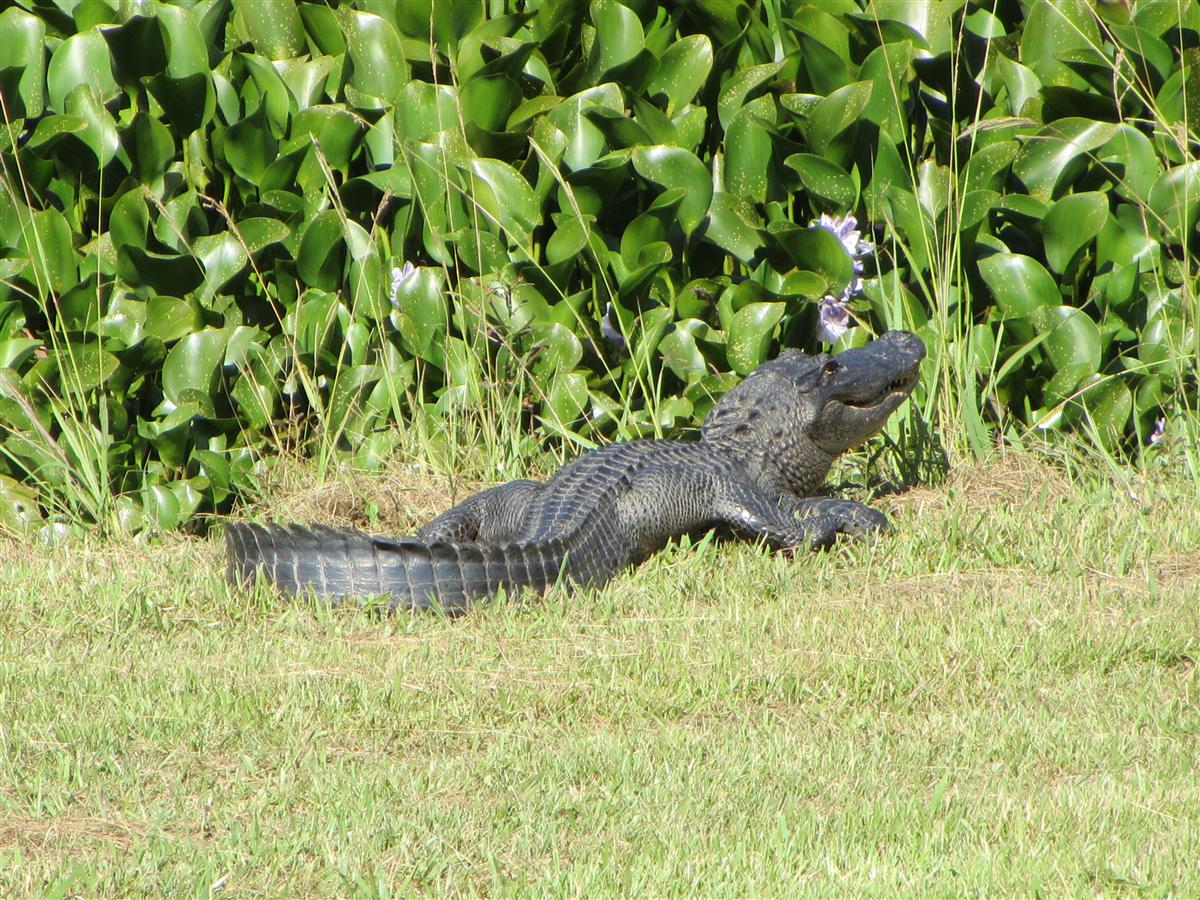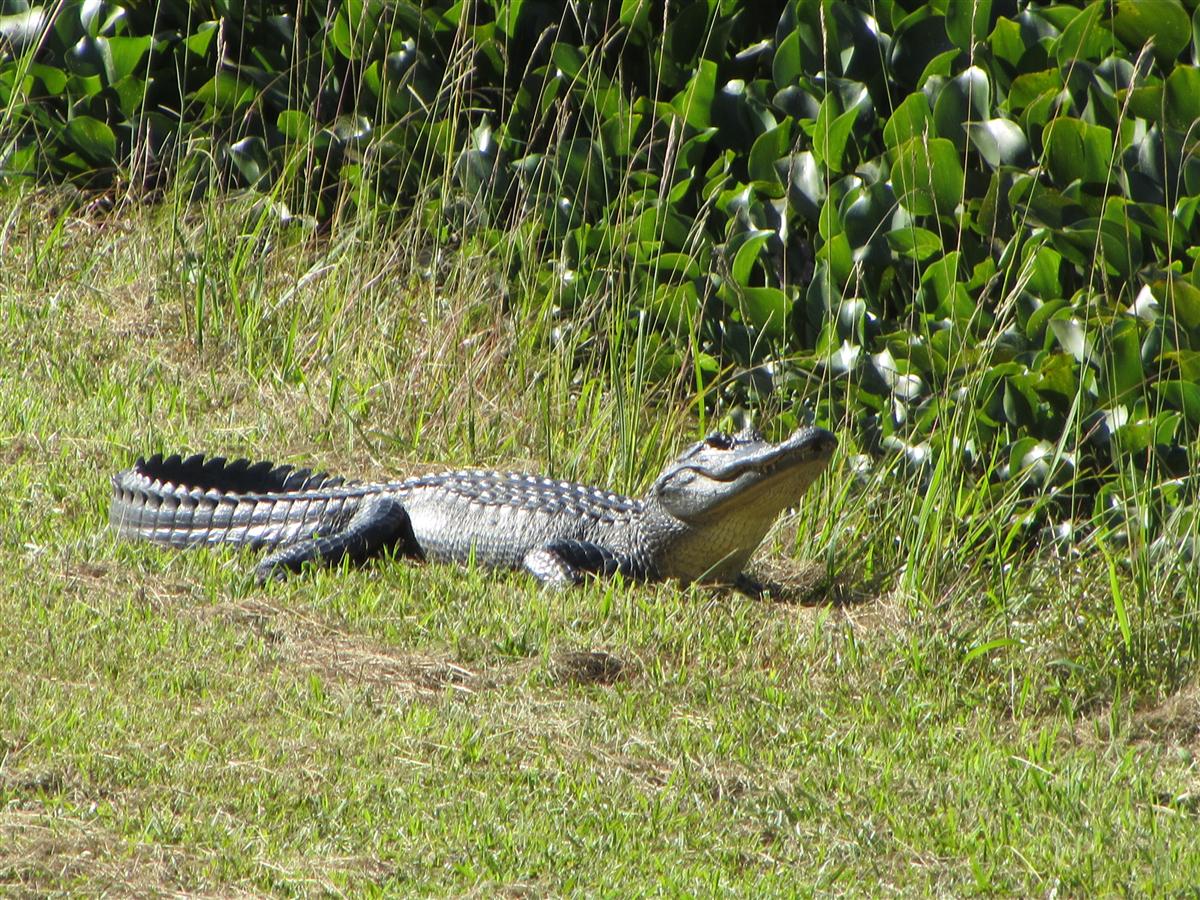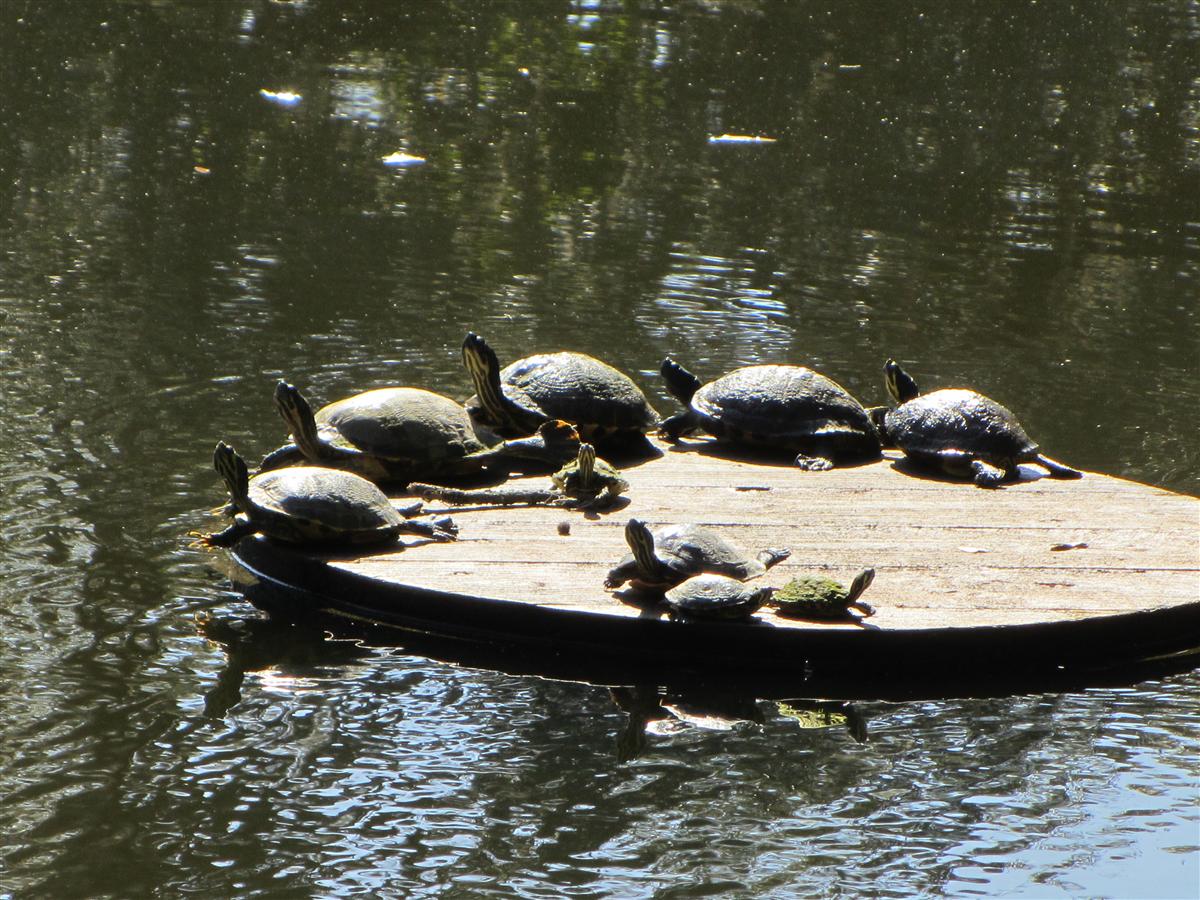 One has to be wary of critters that can cross one's path.  There is a zoo and boat tours of the abandoned rice fields, which we learned were the worst places for slaves to toil.  We had a lively debate about whether the alligator sunning himself was real or one of the statues.  When he snapped his tail, it was settled.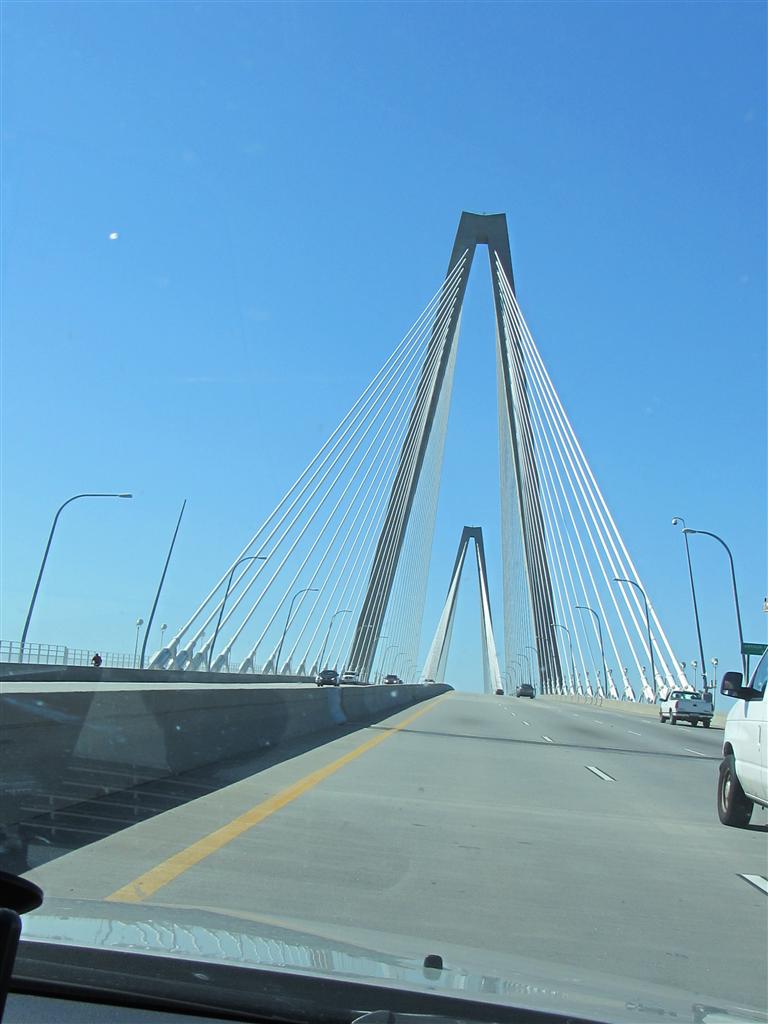 We arrived at Charleston in mid-afternoon luckily securing a scarce hotel room.  It is tourist season and everyone was out.  We could soon see why.  We drove across the splendid 2005 bridge and on into the oldest city in the state.  We walked through the blocks-long public market dating to 1807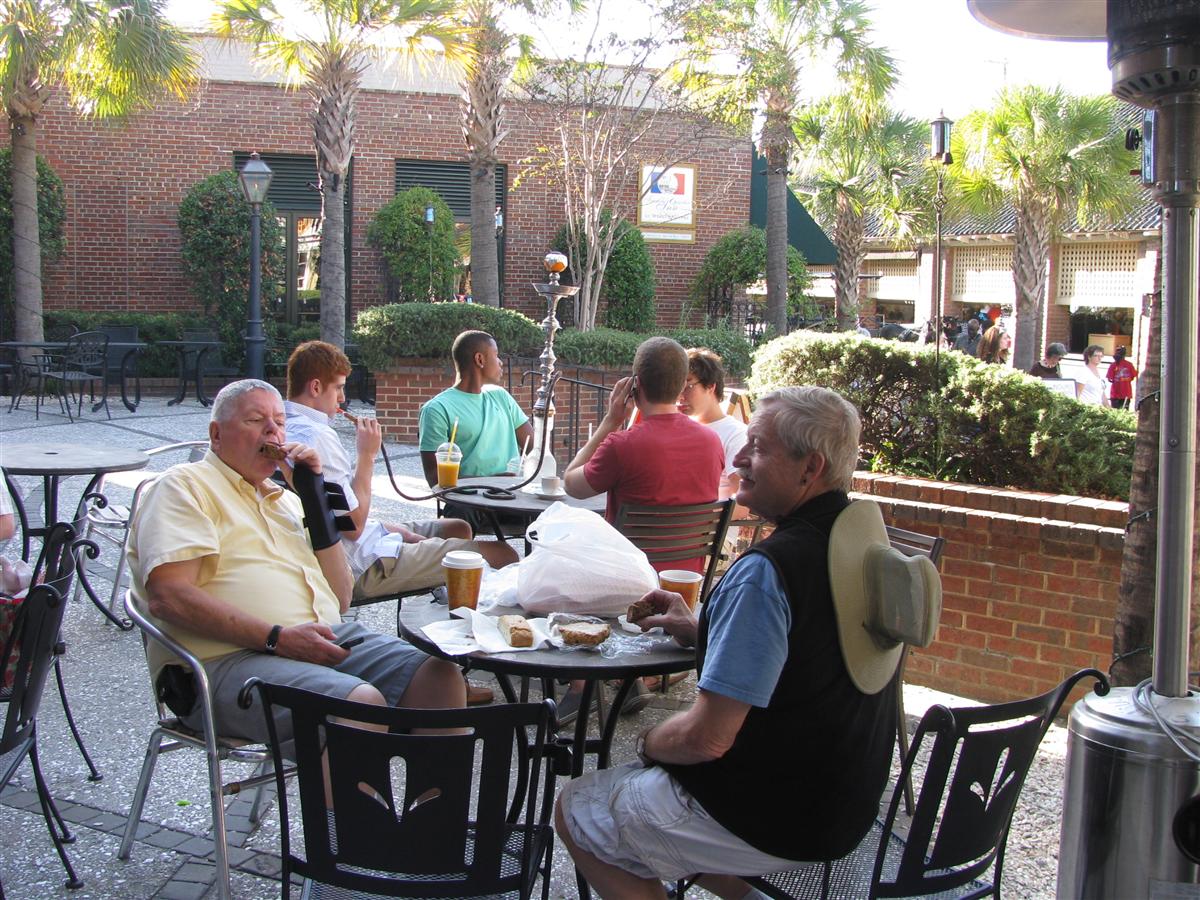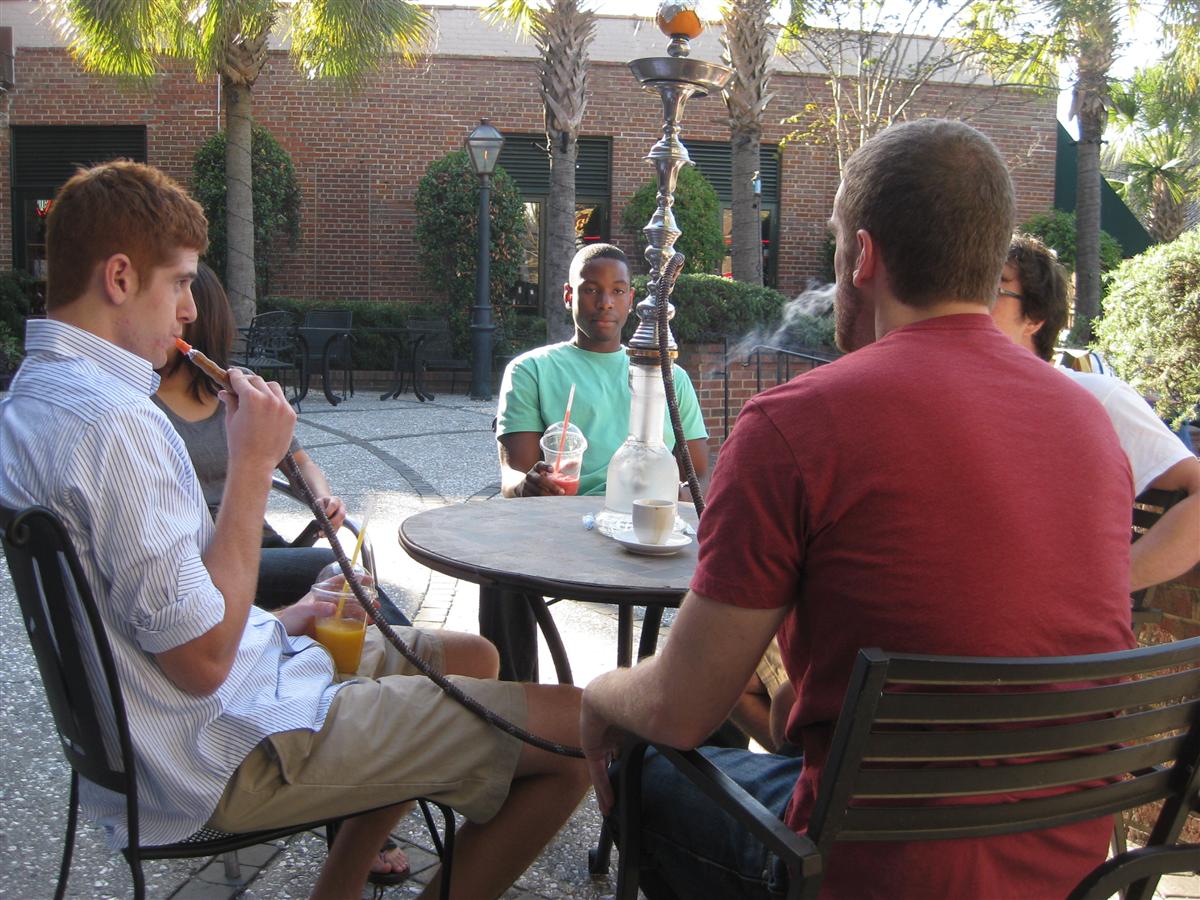 This table of young people next to our in the Paradiso Cafe had a hookah ... a water pipe. They passed the tube around and we saw the smoke bubble through the water in the bottom before they breathed it in.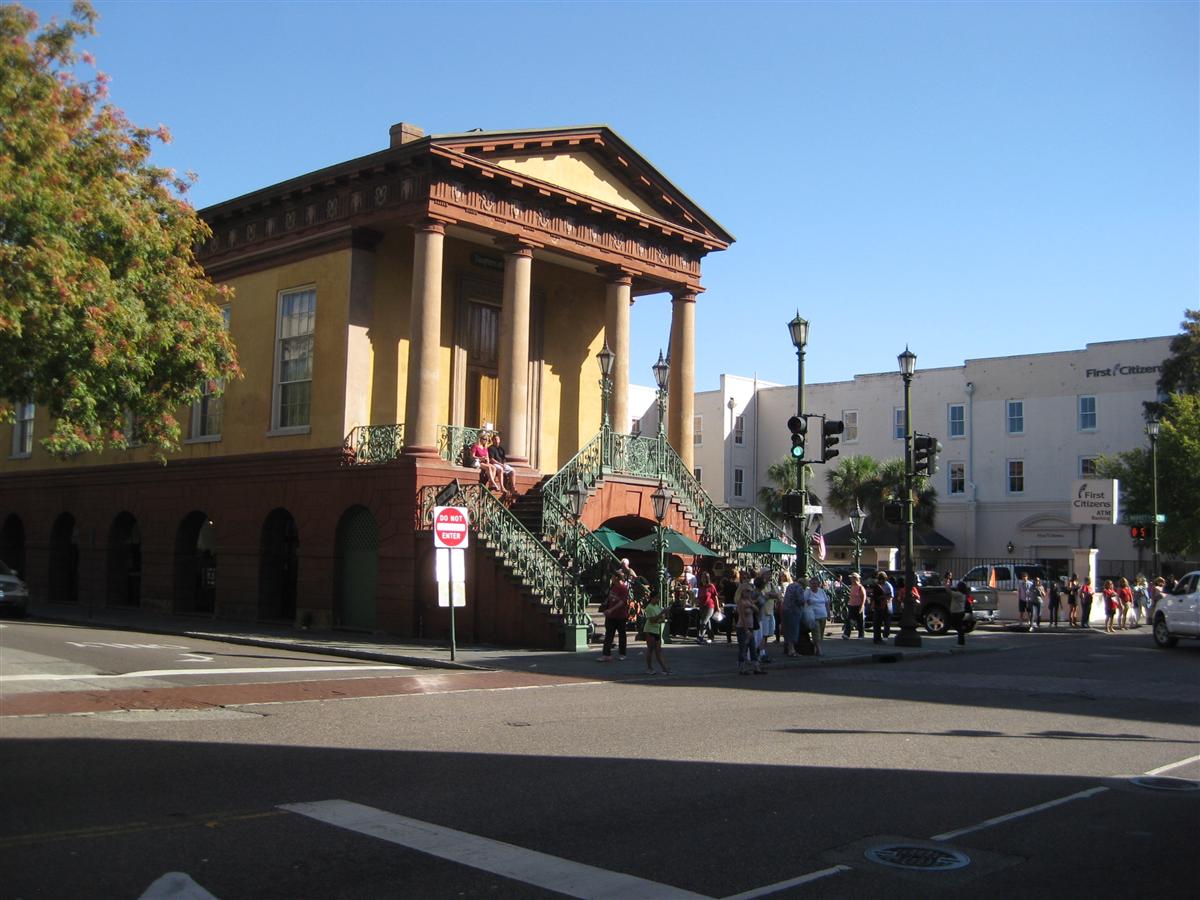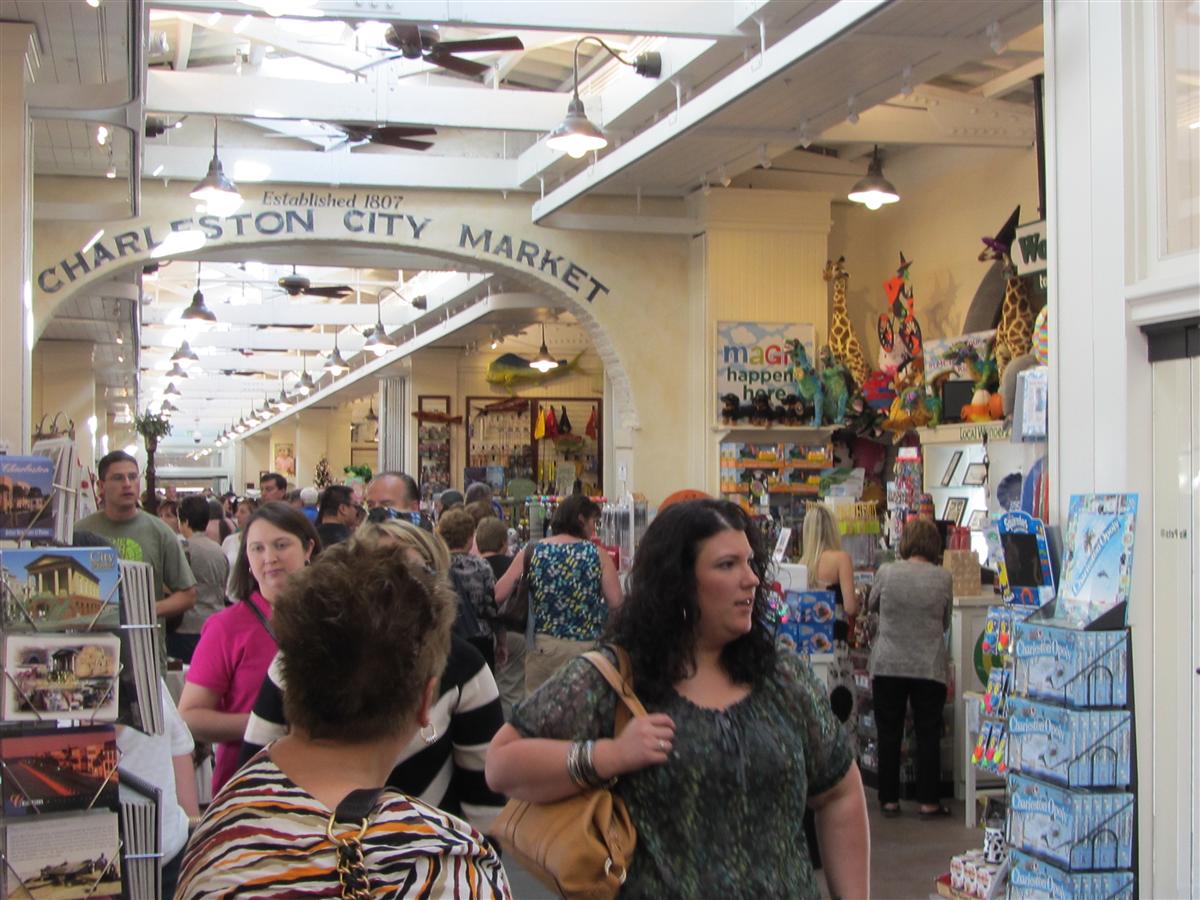 The old Charleston Marketplace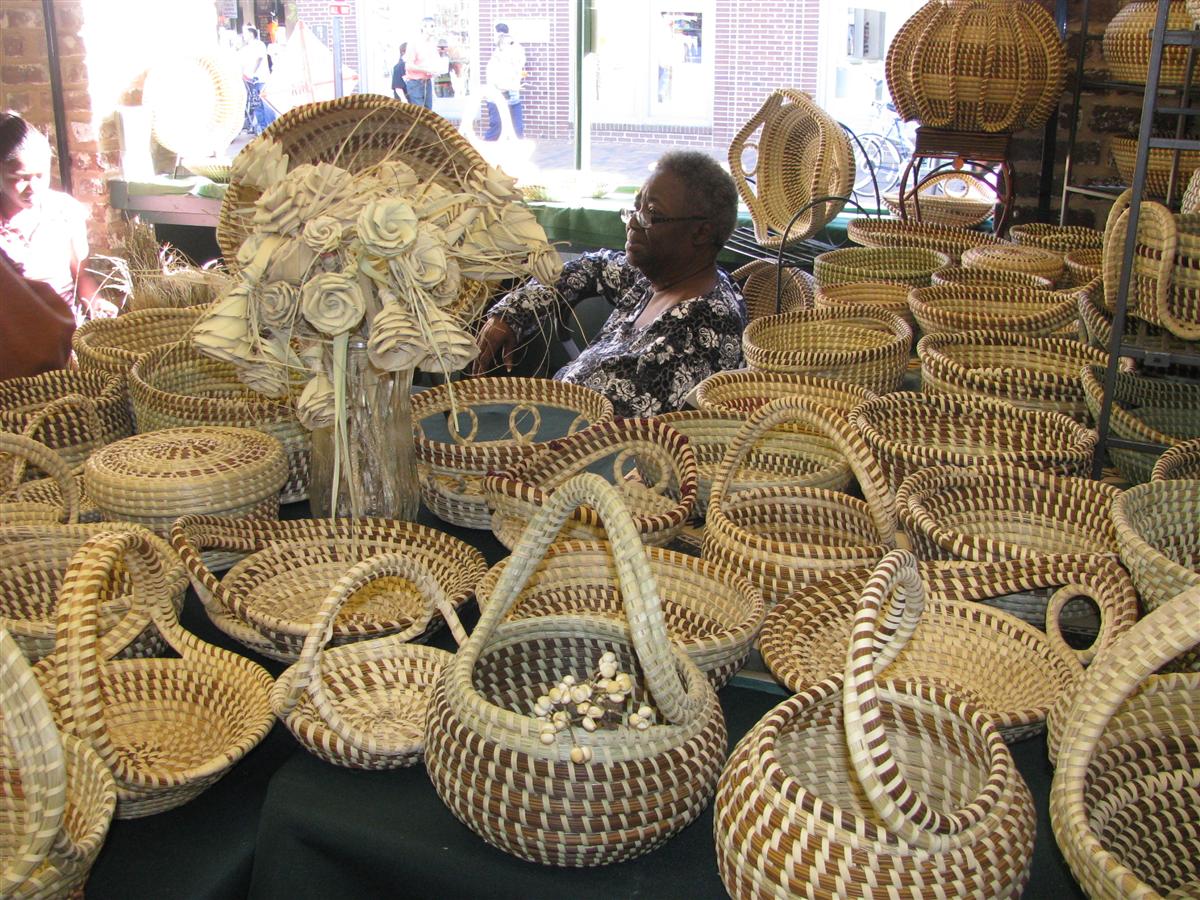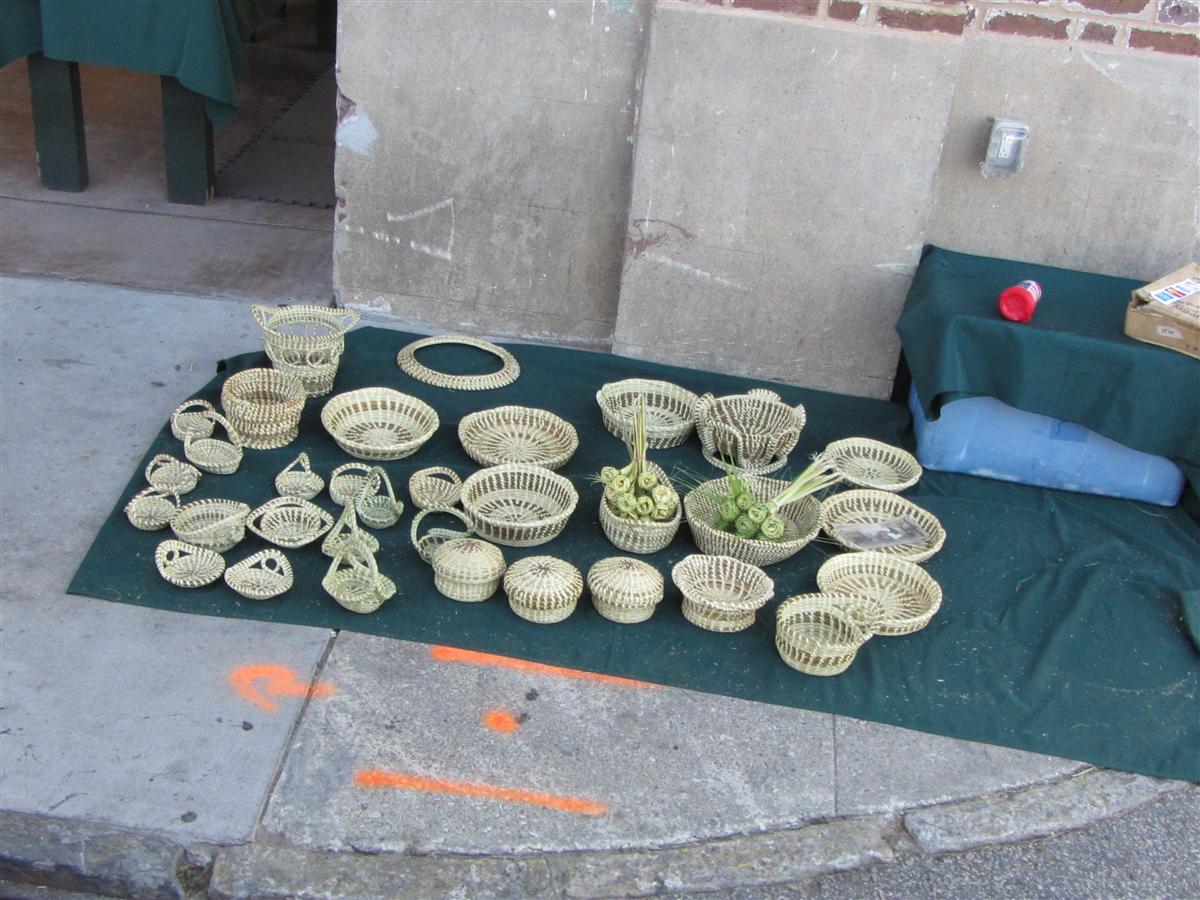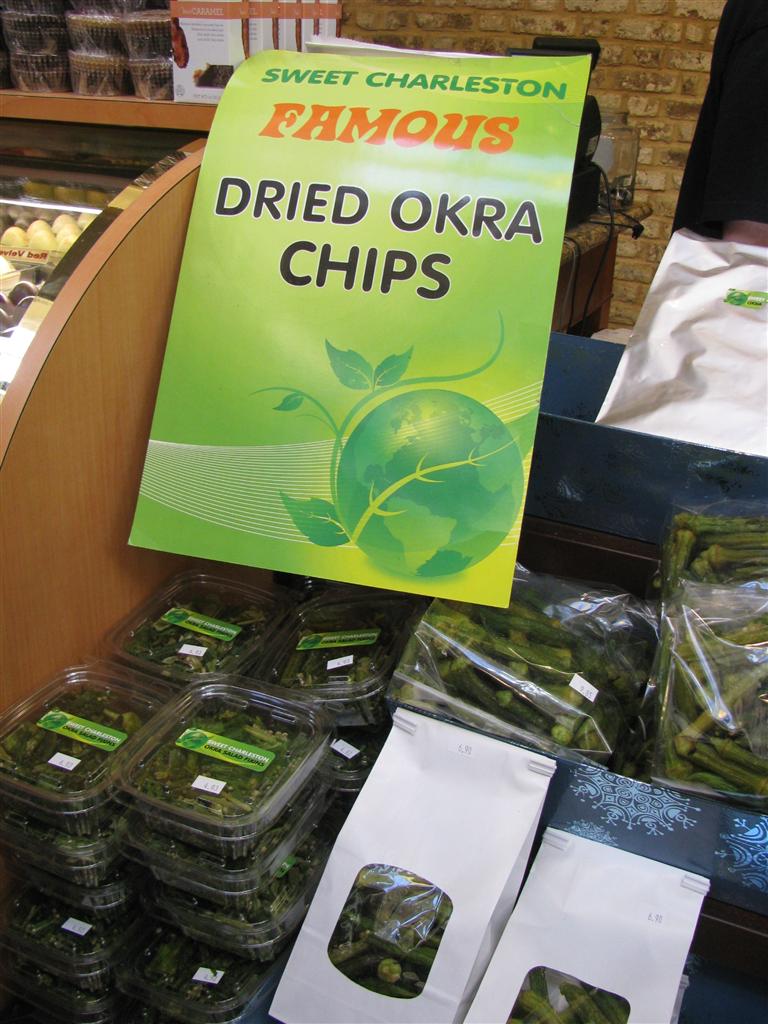 As we approached Charleston, we saw these stands alongside the freeway selling baskets. This is special to this area and they are woven out of "sweet grass". We also saw okra chips in the market place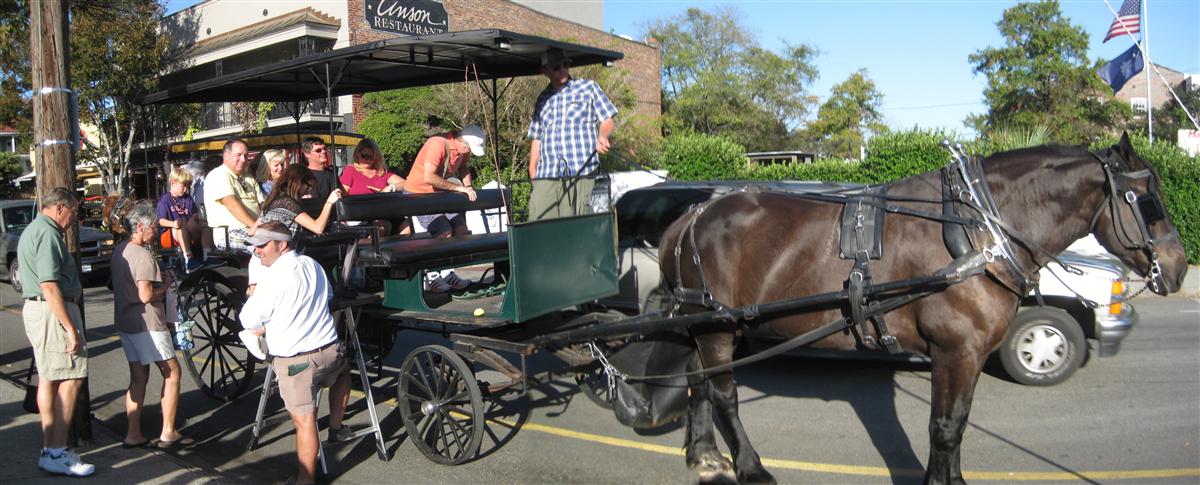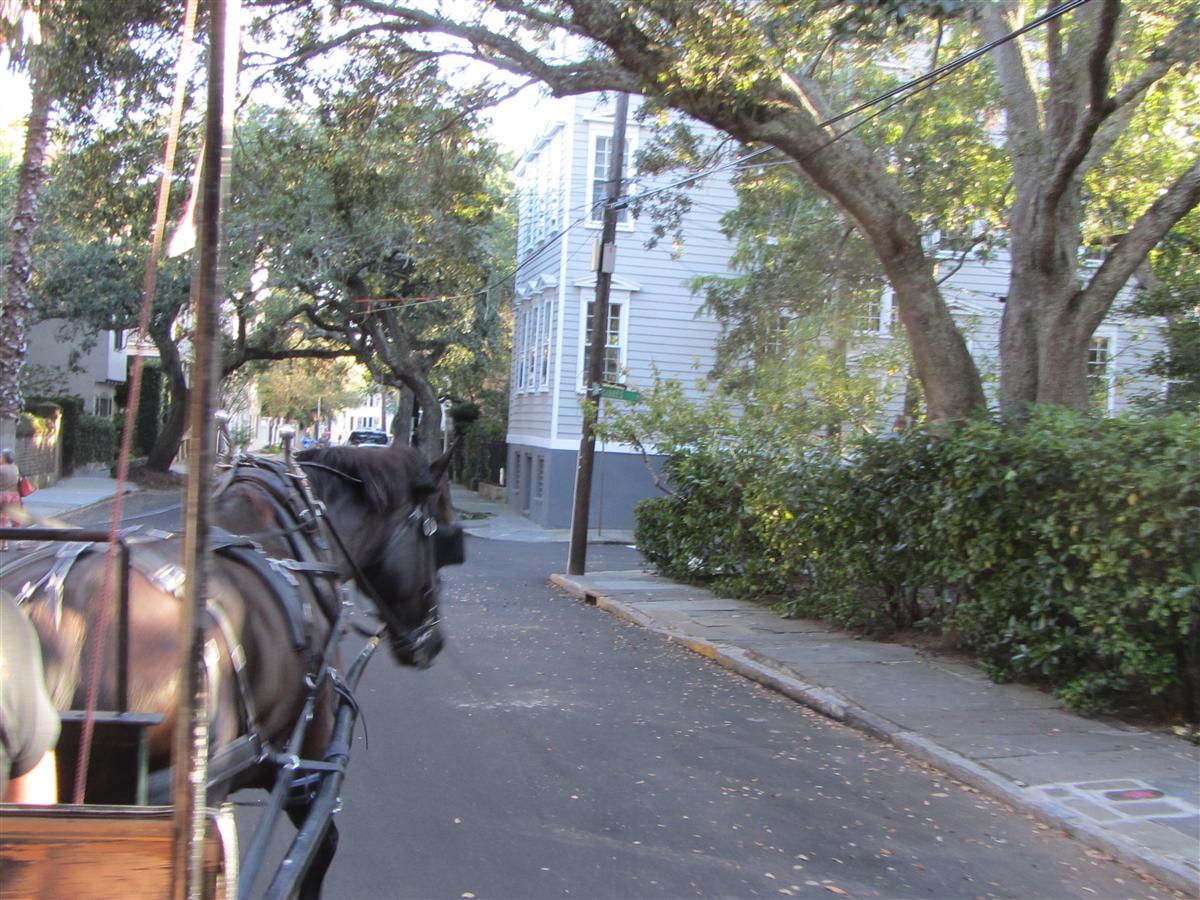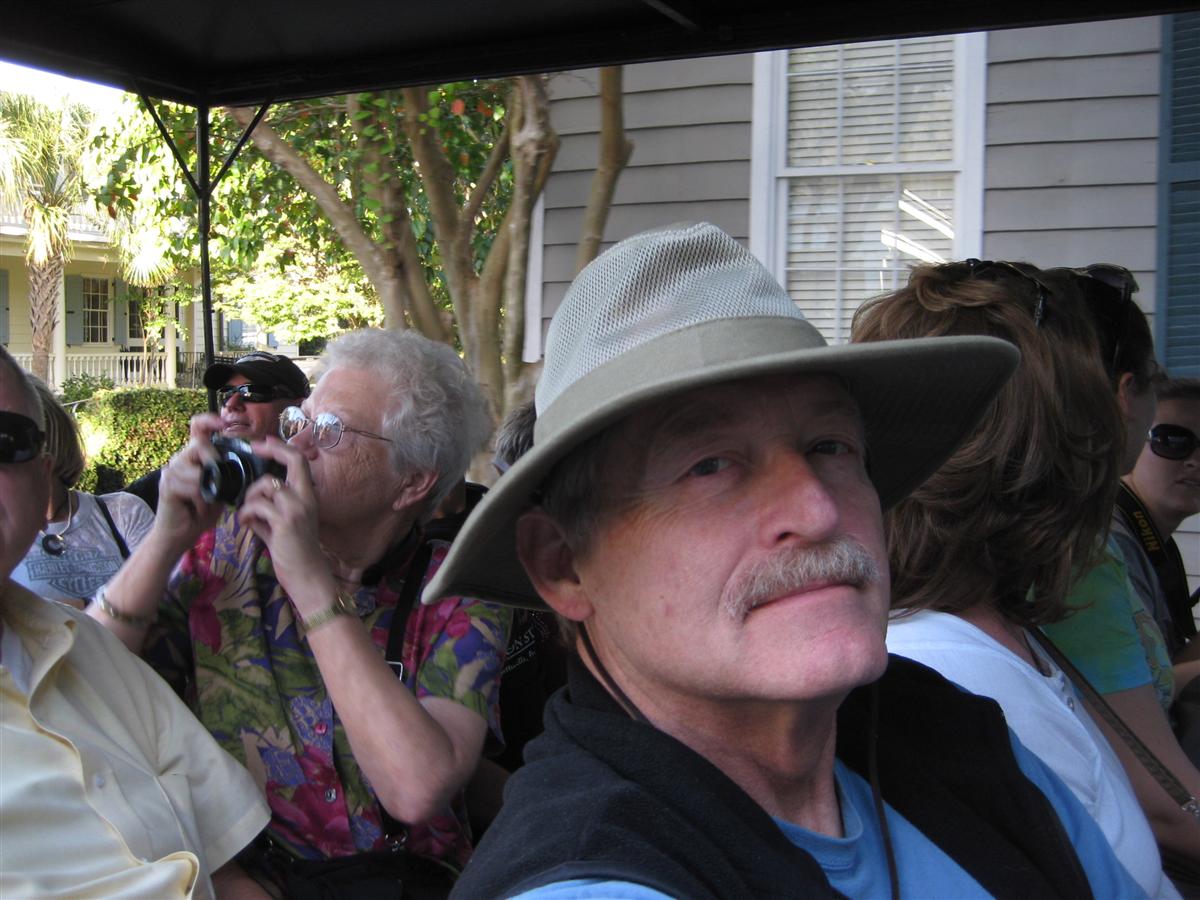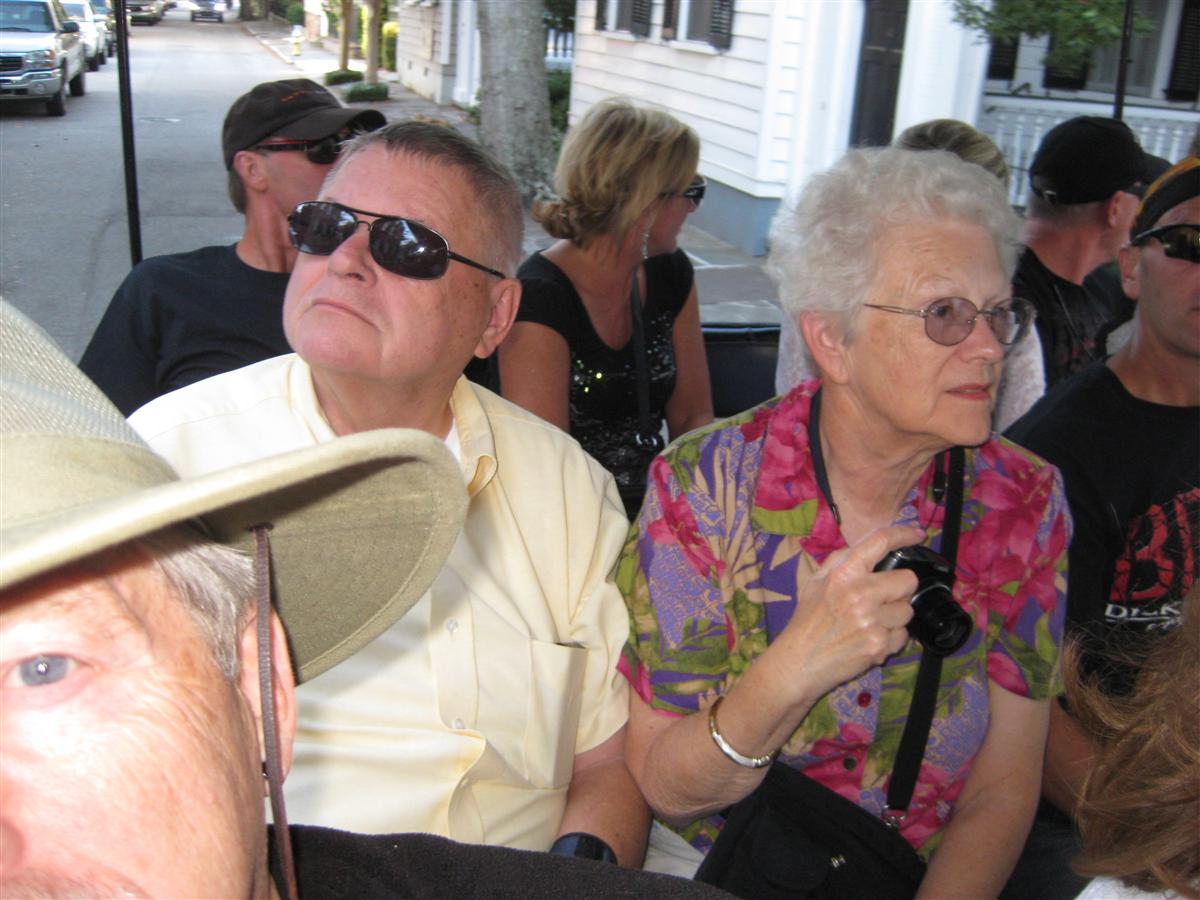 We took a horse-drawn carriage ride through the beautiful neighborhoods in the "Holy City," so named because of the proliferation or churches brought about by the religious tolerance of the colony.  Our guide was a history major and was happy to talk about any subject.  His horse was from an Amish farm in PA.  He said life for Magic was easier in the city although there are many distractions.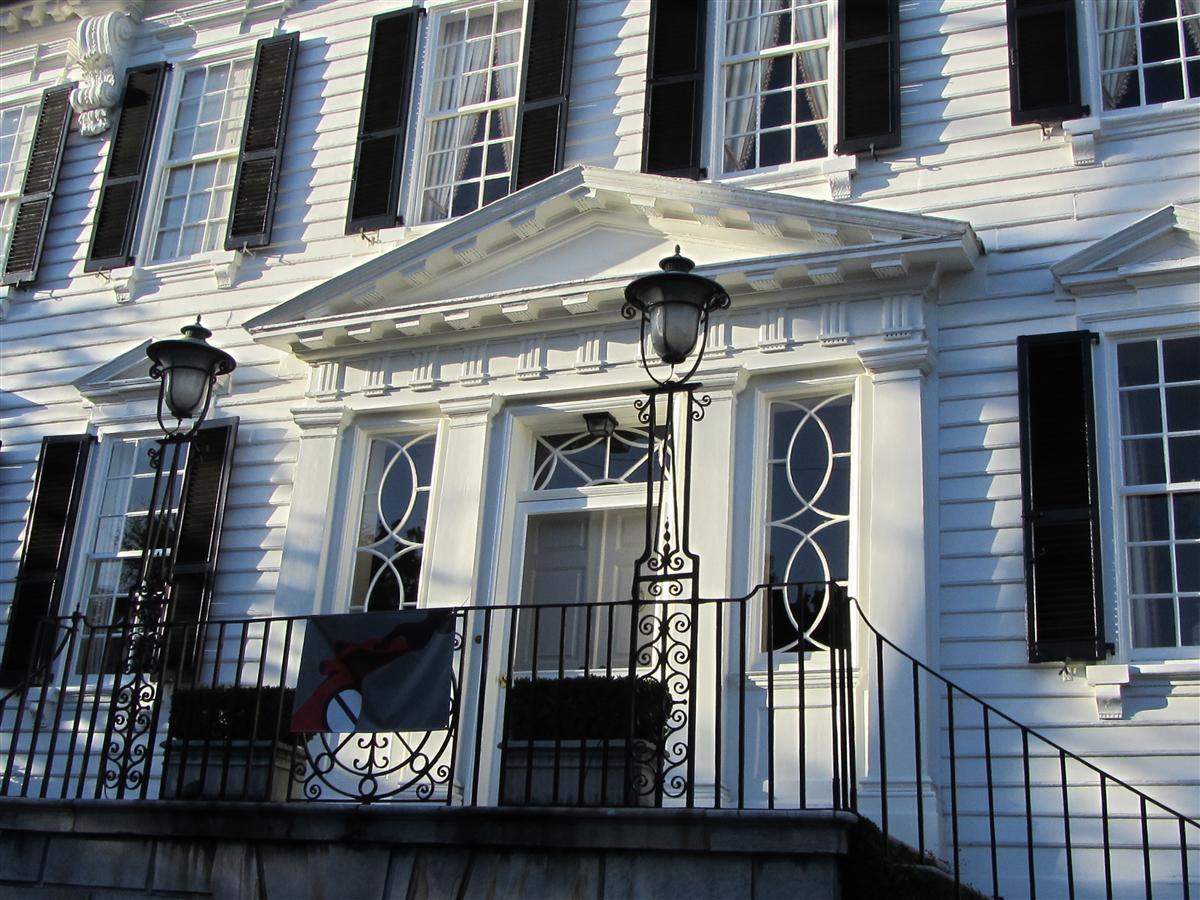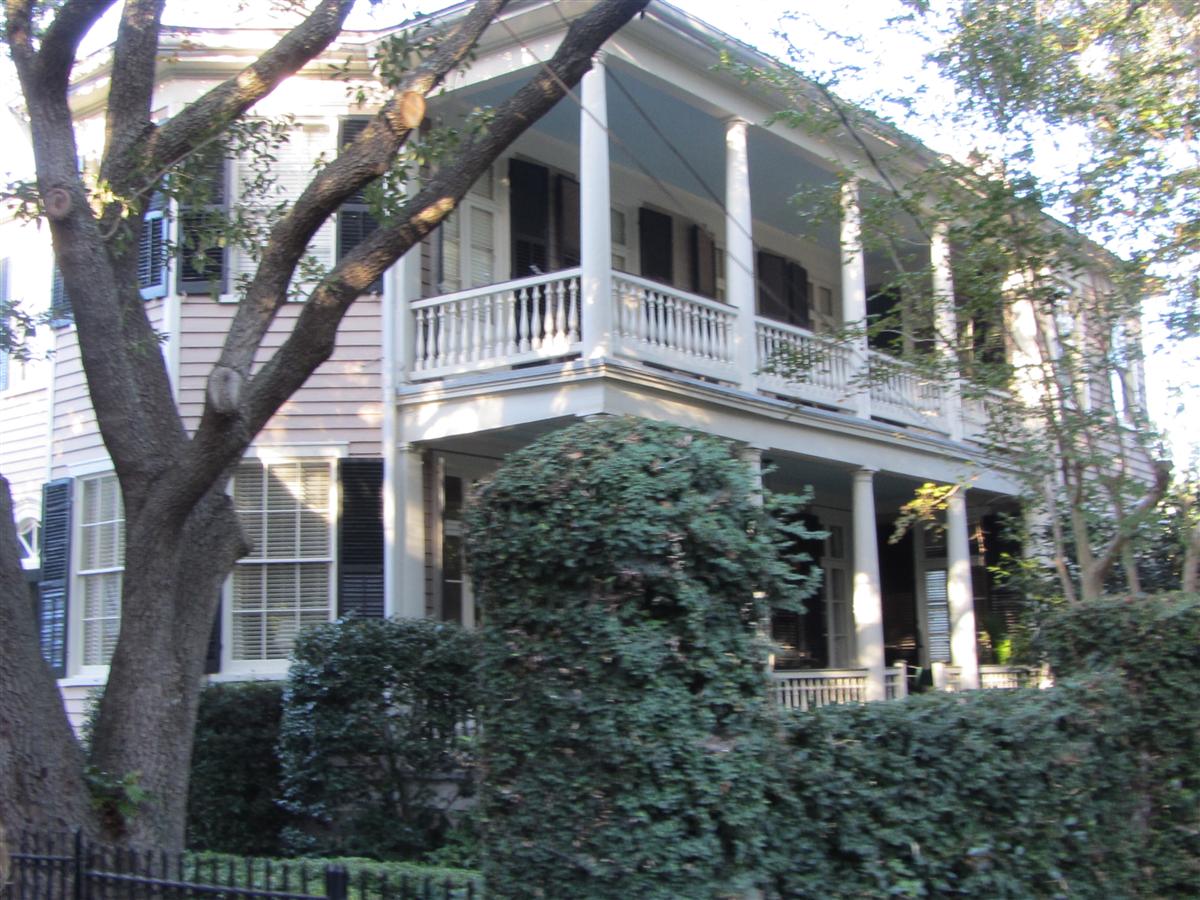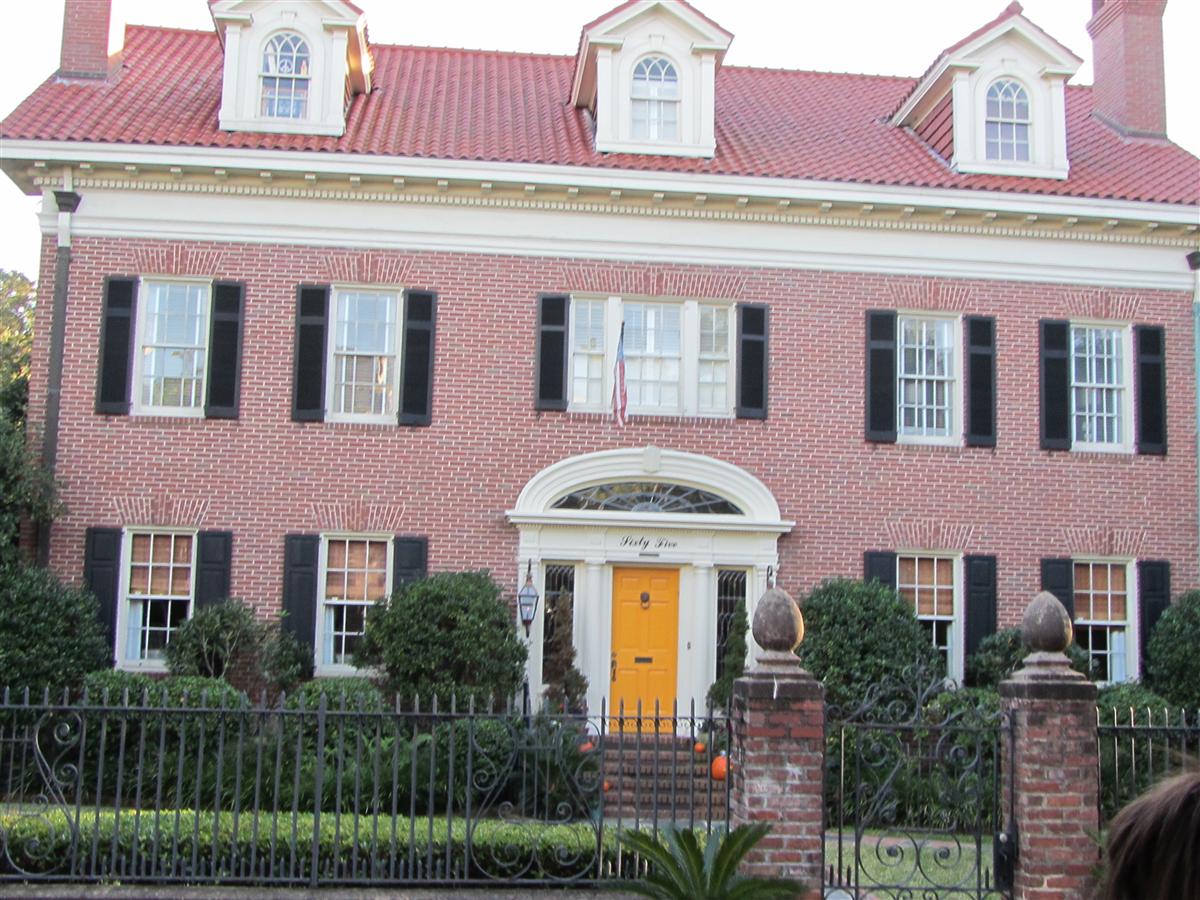 Examples of old houses in Charleston.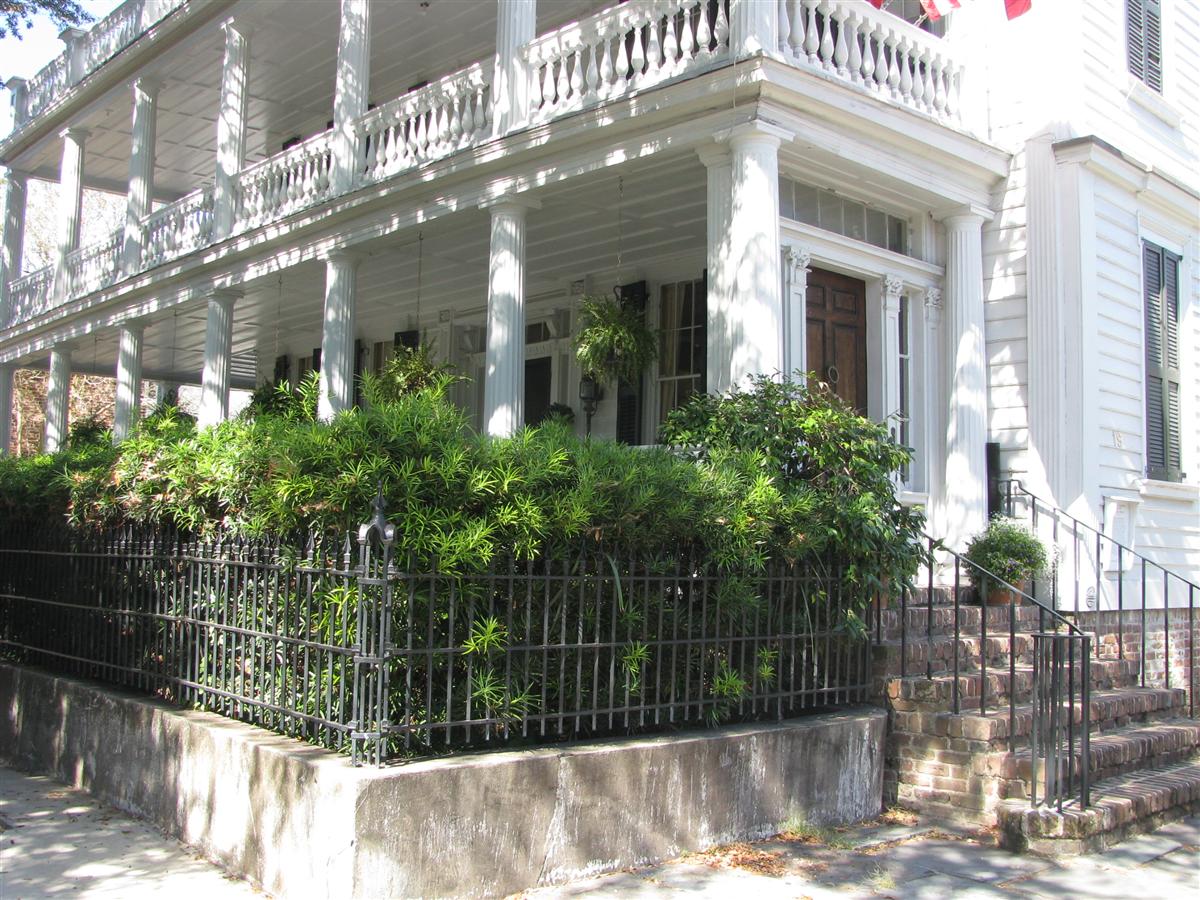 This is a common feature of these old houses ... an open porch but with a real door at the street. This is considered the front door.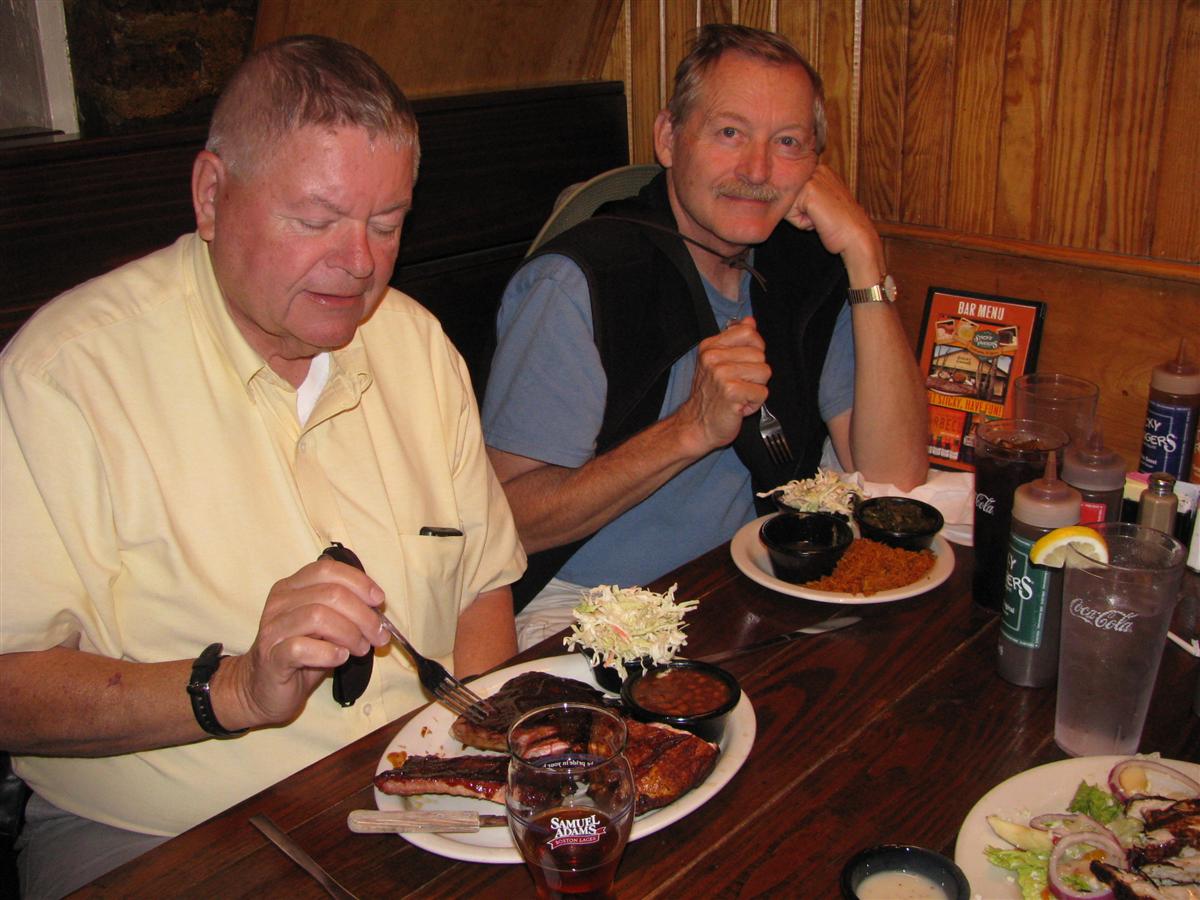 After seeing the many houses, we stopped at "Sticky Fingers" for some barbecue.  The best ribs ever!  They "teach" barbecue, we understand.   
October 21, 2012 Charleston, SC to Savannah, GA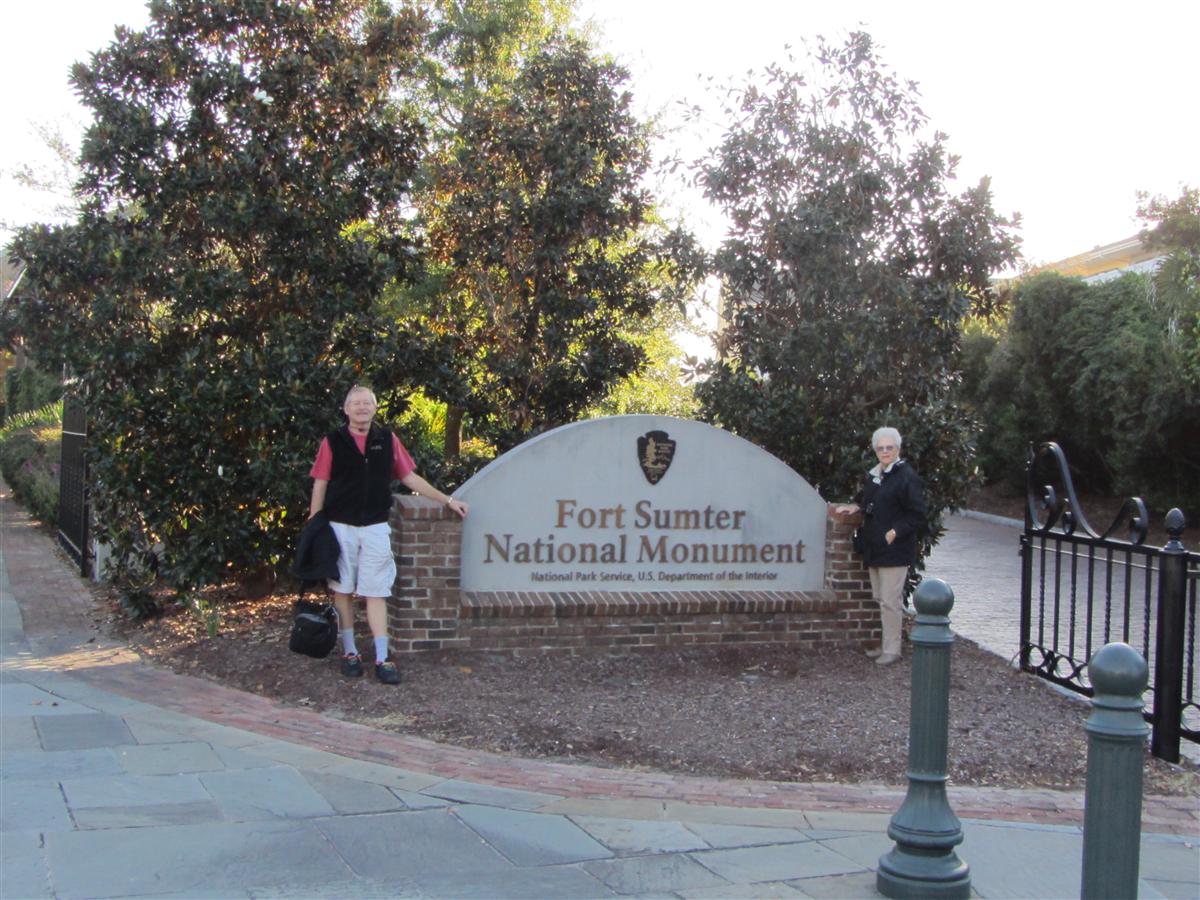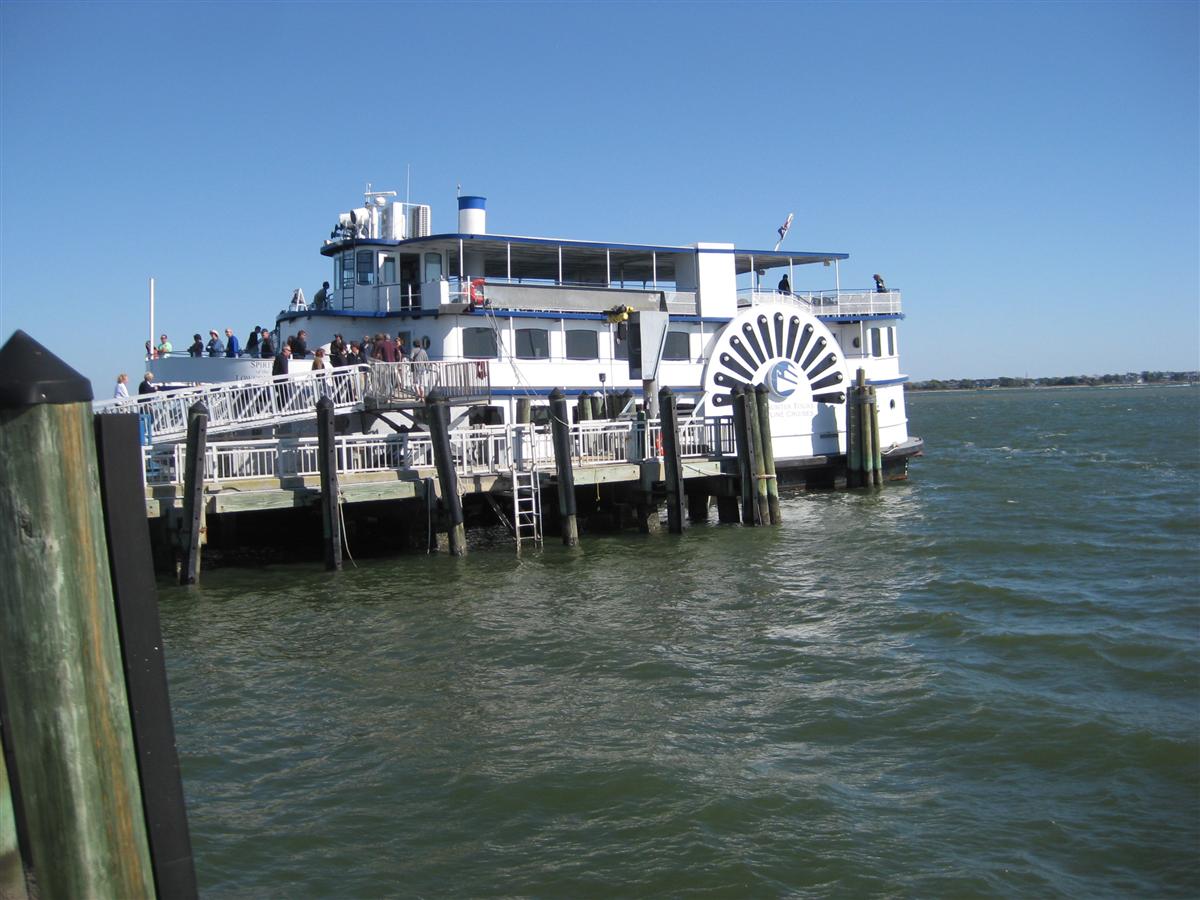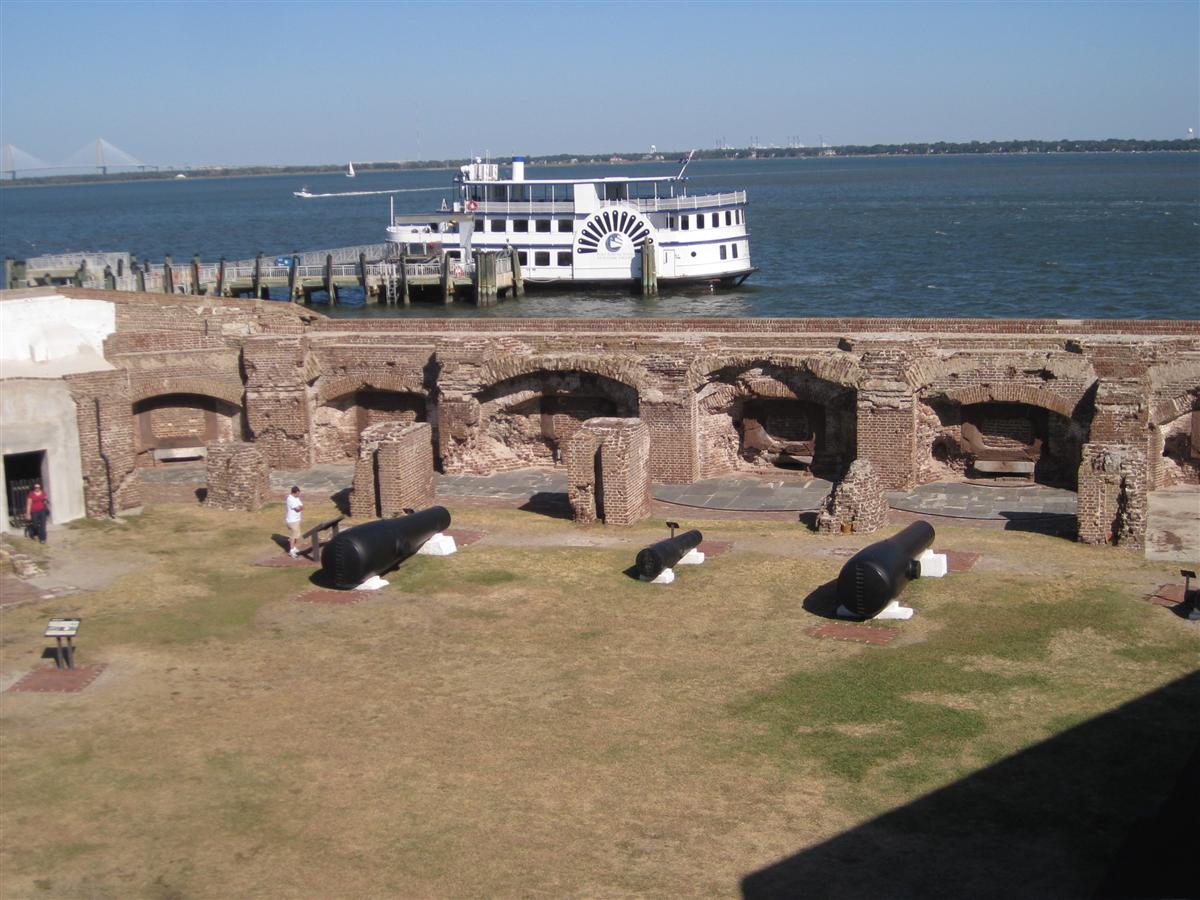 This morning we got tickets for the Fort Sumter tour. A small boat took us on the 30 minute sail across the bay.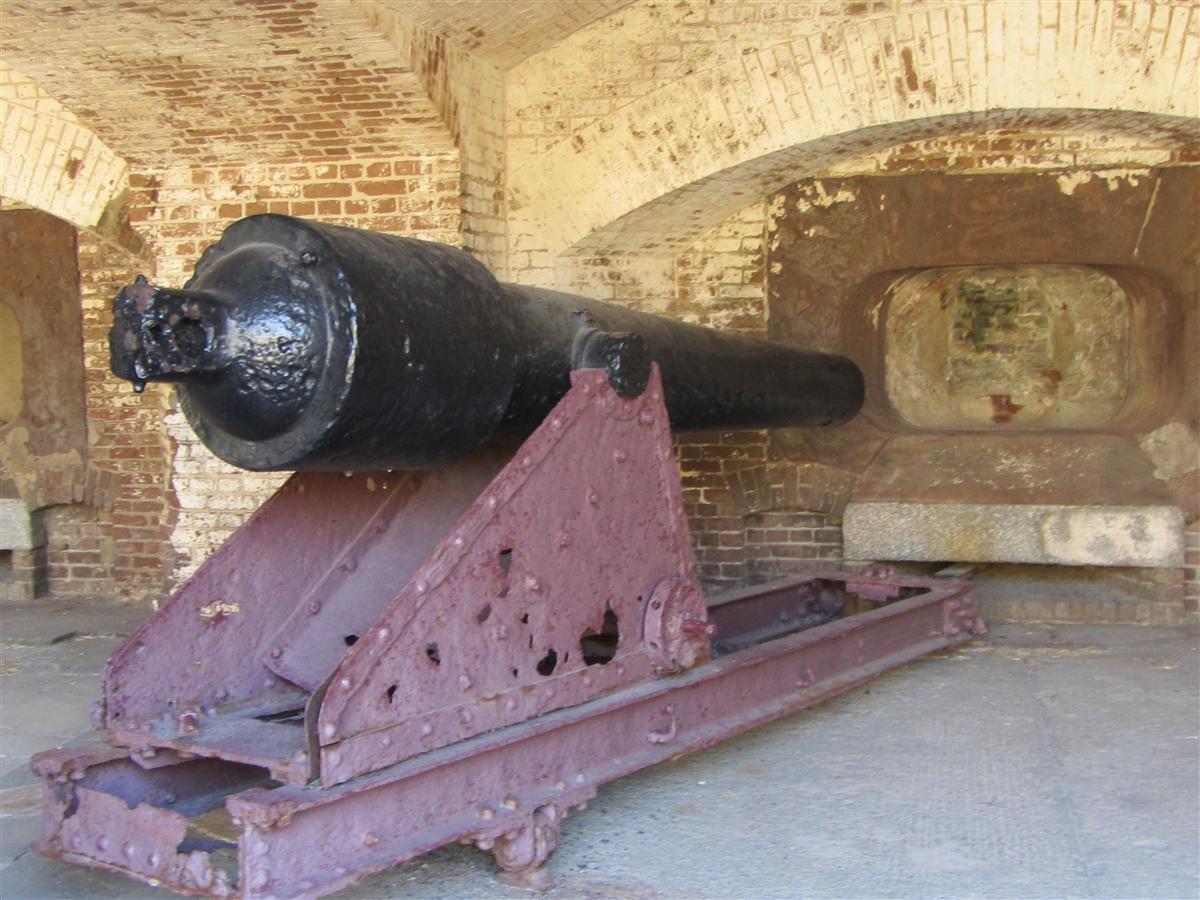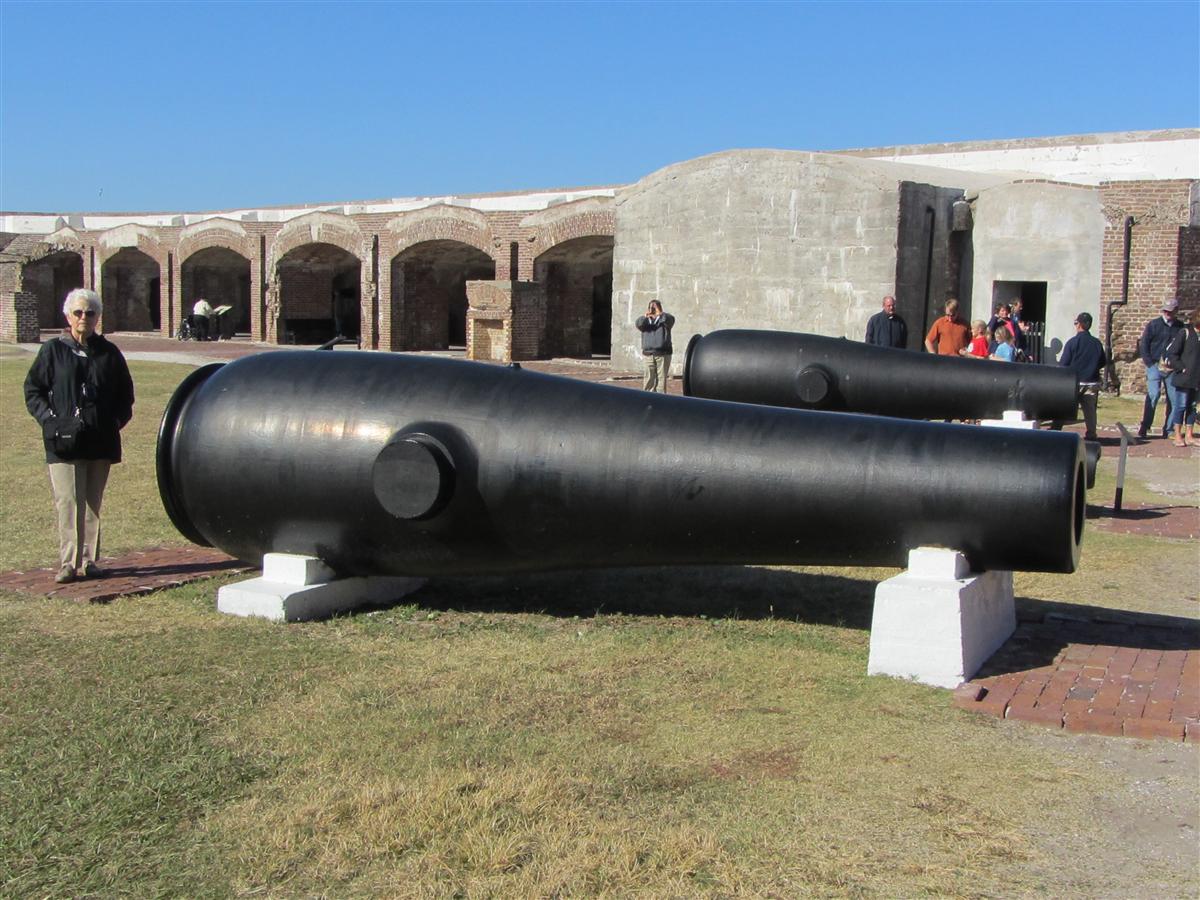 Fort Sumter was a sand bar and thousands of tons of New England granite were imported to form the base. The walls are 5-7 feet thick and are made of brick. This is the location of the shots that started the Civil War.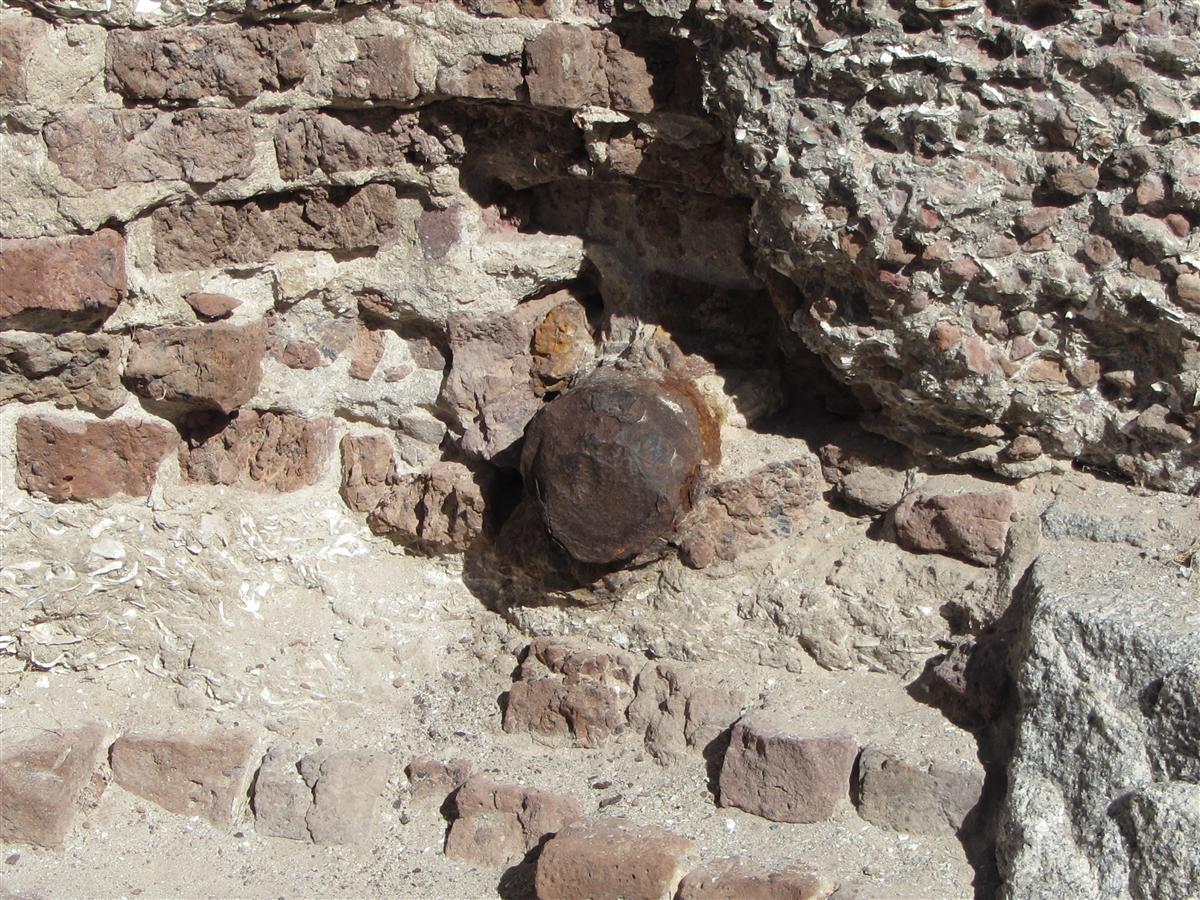 Cannon ball embeded in wall.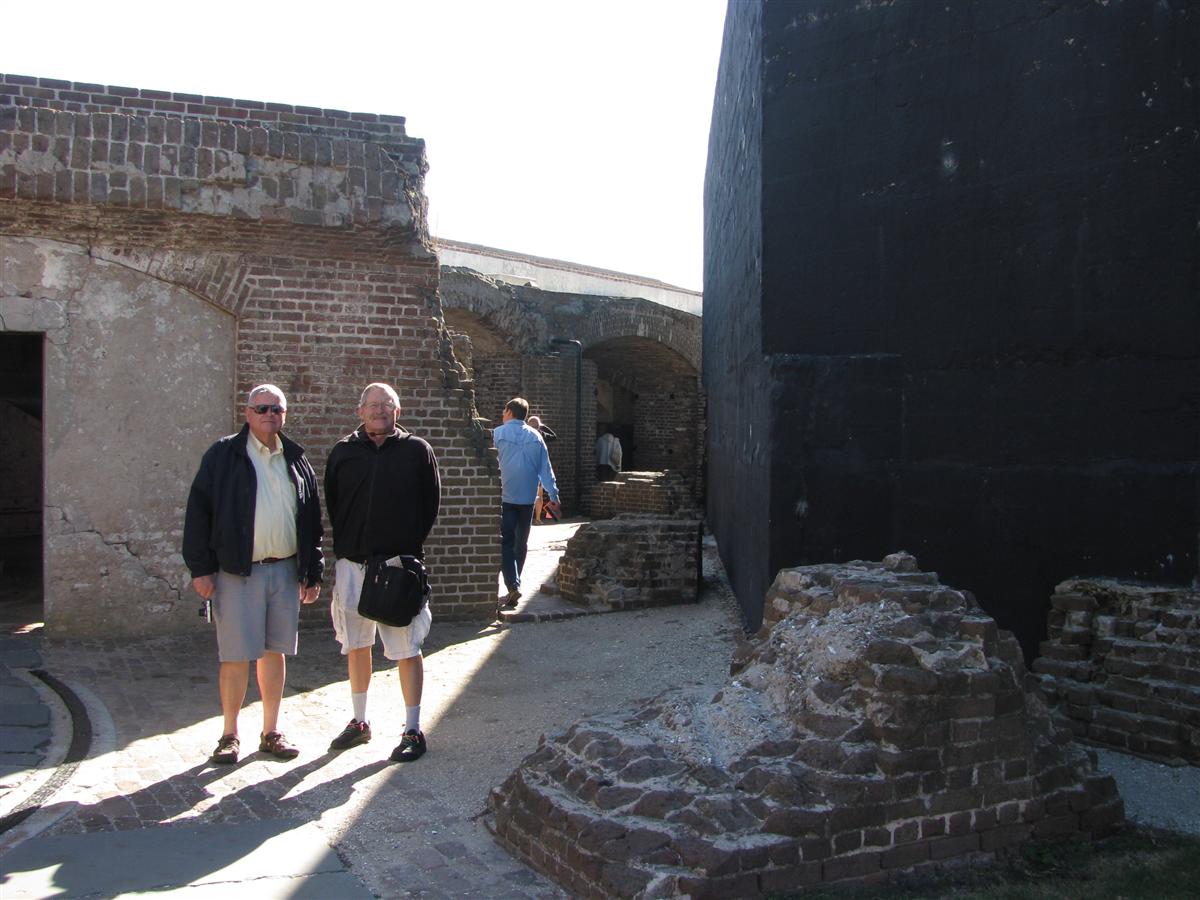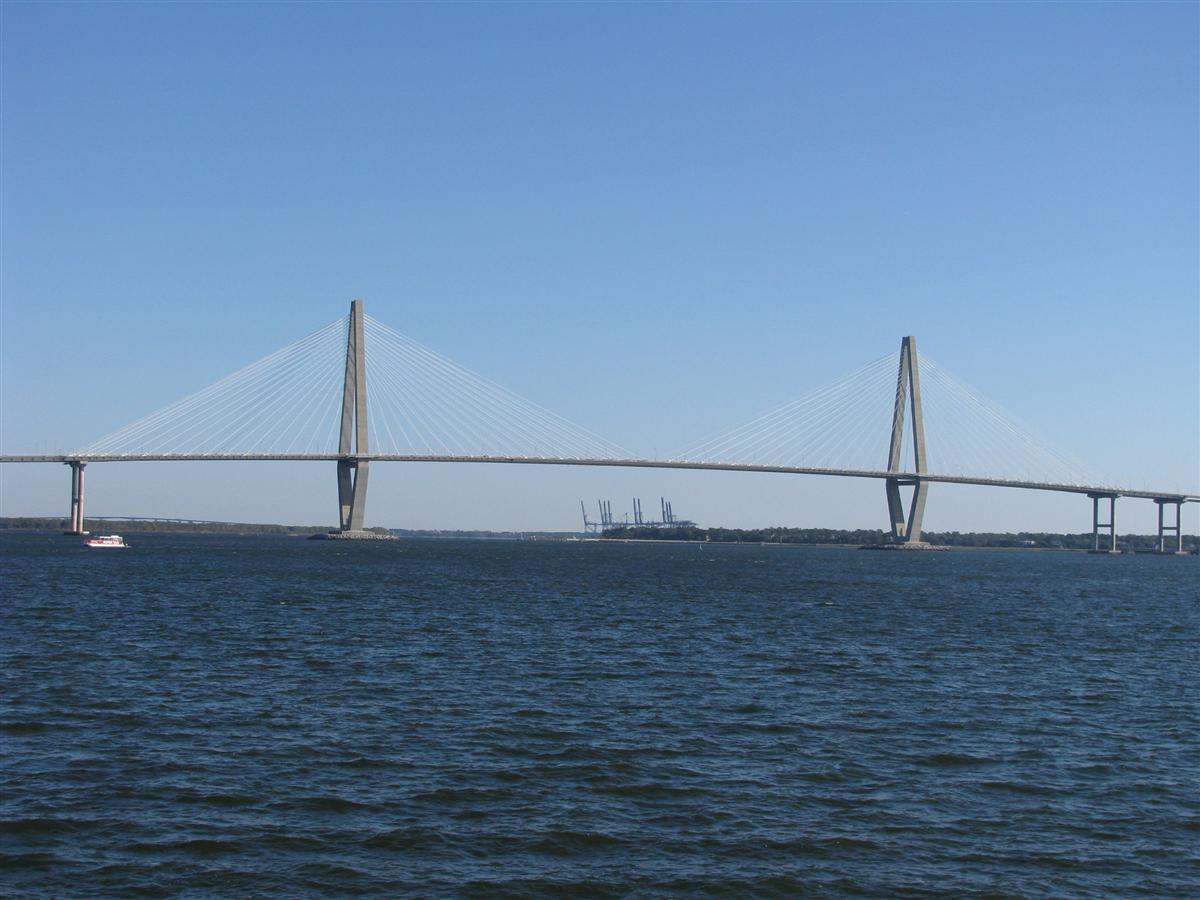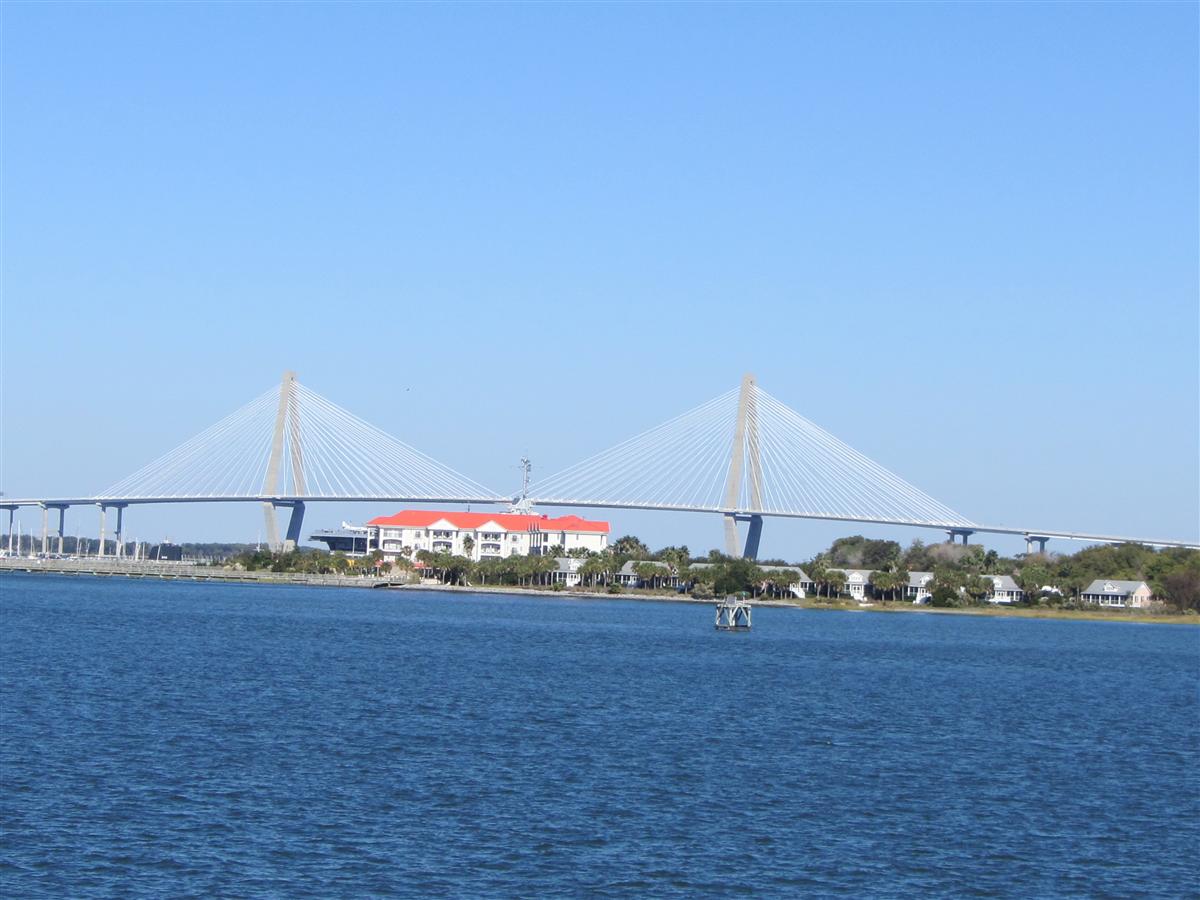 The Arthur Ravenel Jr. Bridge, also known as the New Cooper River Bridge, is a cable-stayed bridge over the Cooper River in South Carolina, connecting downtown Charleston to Mount Pleasant. It is eight lanes wide. It has 2 huge concrete towers.
Our hotel was in Mt. Pleasant, just at this approach to the bridge to go to Charleston.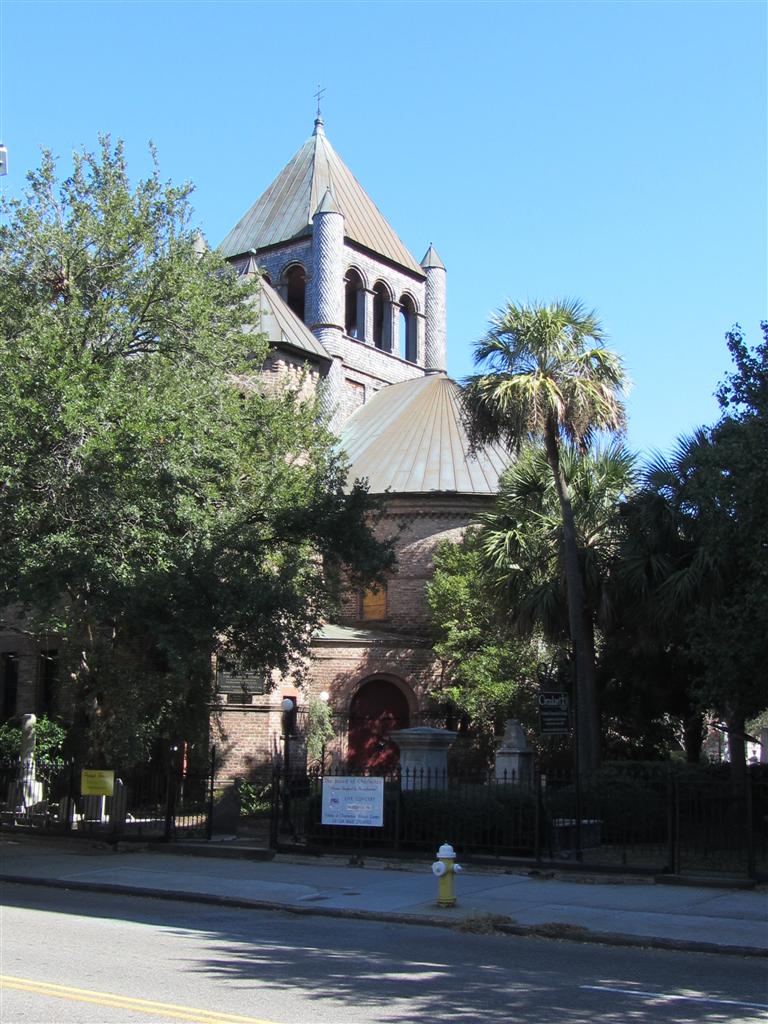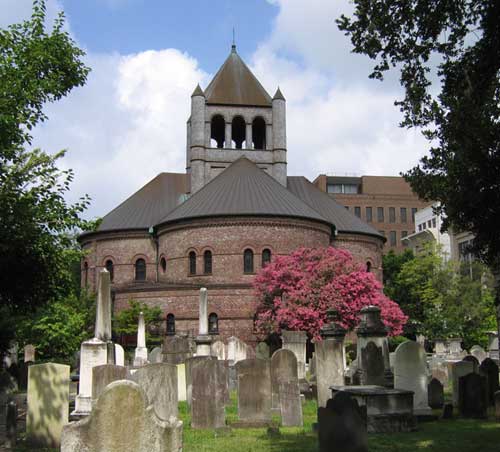 Founded in 1681, Charleston's Circular Congregational Church is one of the oldest continuously worshiping congregations in the South. This structure was built in 1804. The steeple was added to the building in 1838.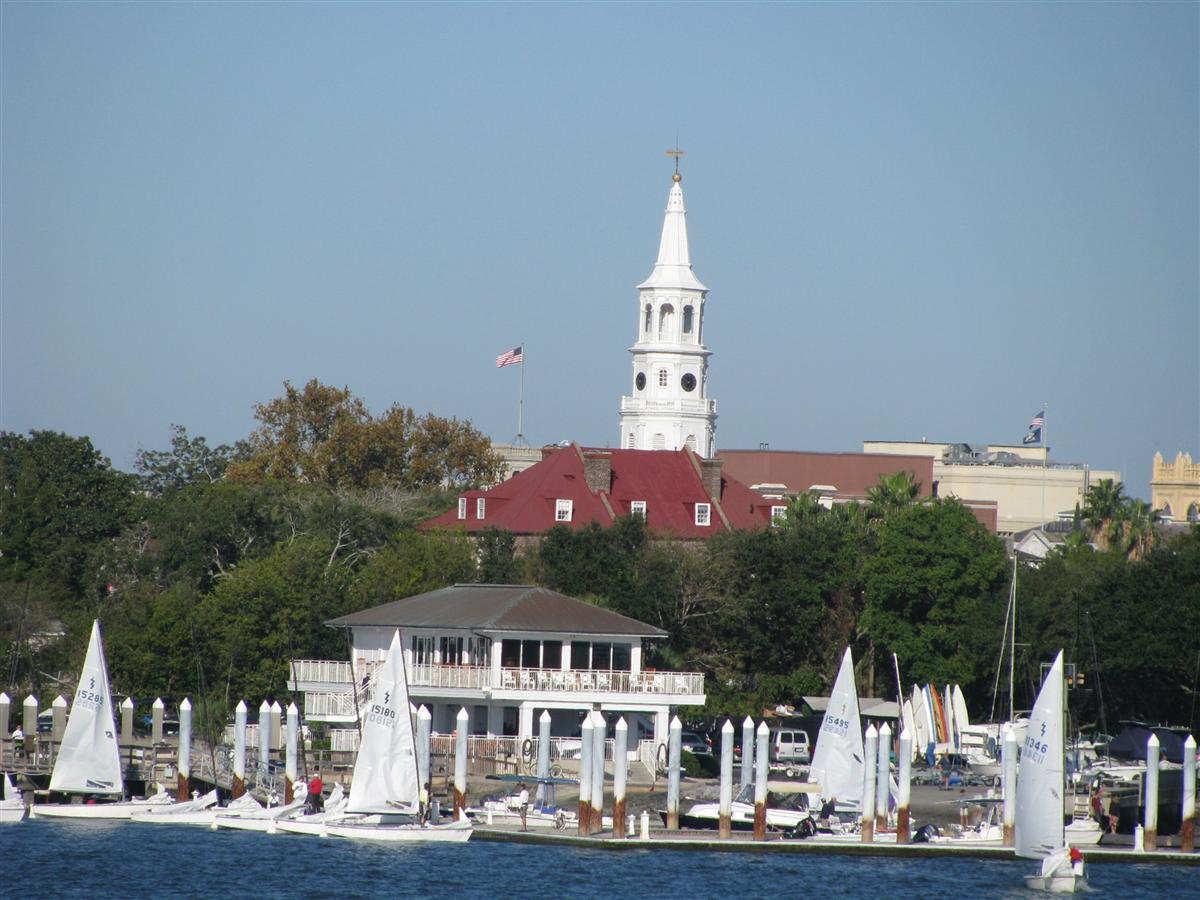 Charleston from the bay.
October 22, 2012 A day in Savannah, GA
We began this morning by driving back into the historic district of Savannah, about 10 minutes from our hotel.
A few words about the city: It is located on a bluff on the Savanna River and was the first settlement in Georgia founded by Governor James Oglethorpe. It was the last of the English Colonies. Instead of starting a village system, Oglethorpe and Col. William Bull laid out the first American planned city consisting of wards around public squares. Twenty-two squares survive and are in a geometric pattern four blocks apart.
A square spans several blocks and where a streets run into it, it acts like a traffic circle. All of the blocks down here are filled with charming old homes dating from different periods. This includes businesses and other public buildings.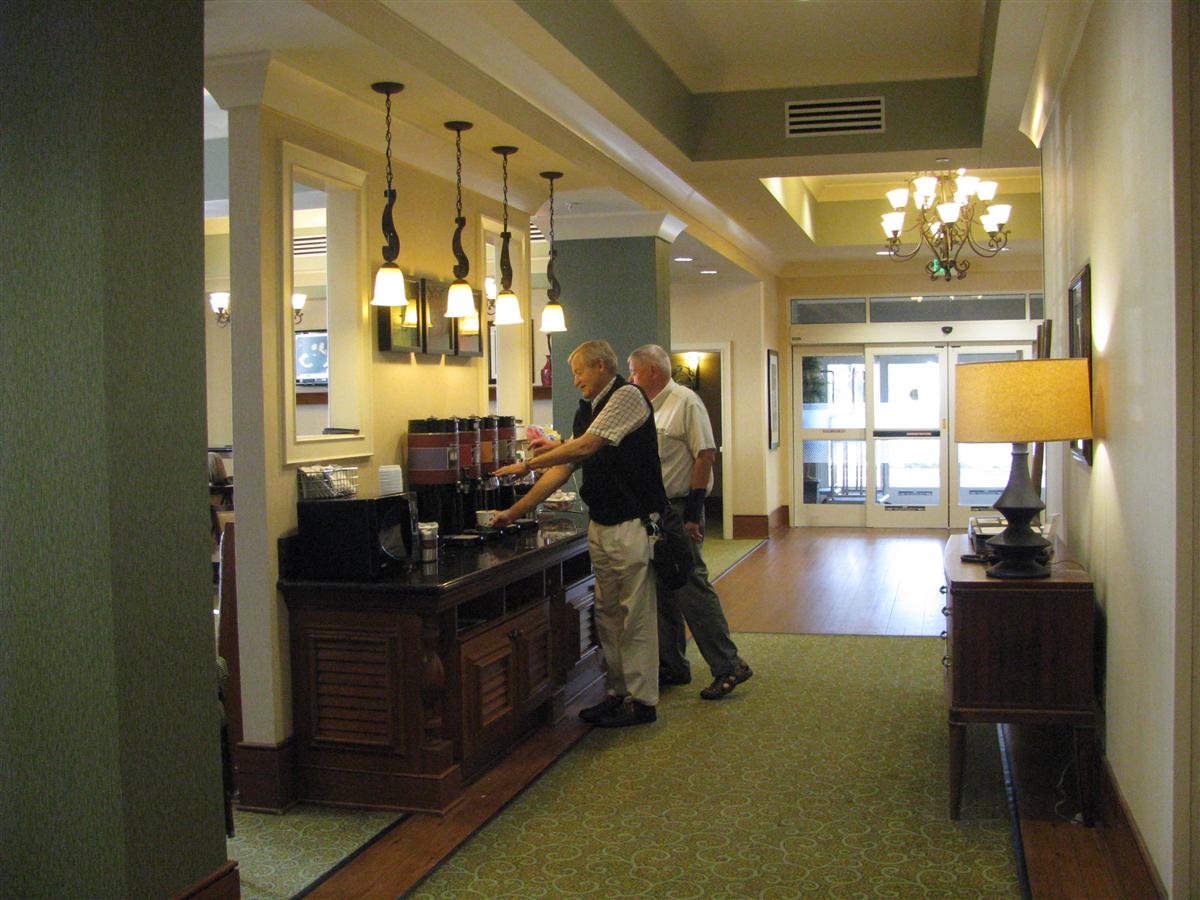 Joel and Tom getting coffee in the lobby of our Savannah Hotel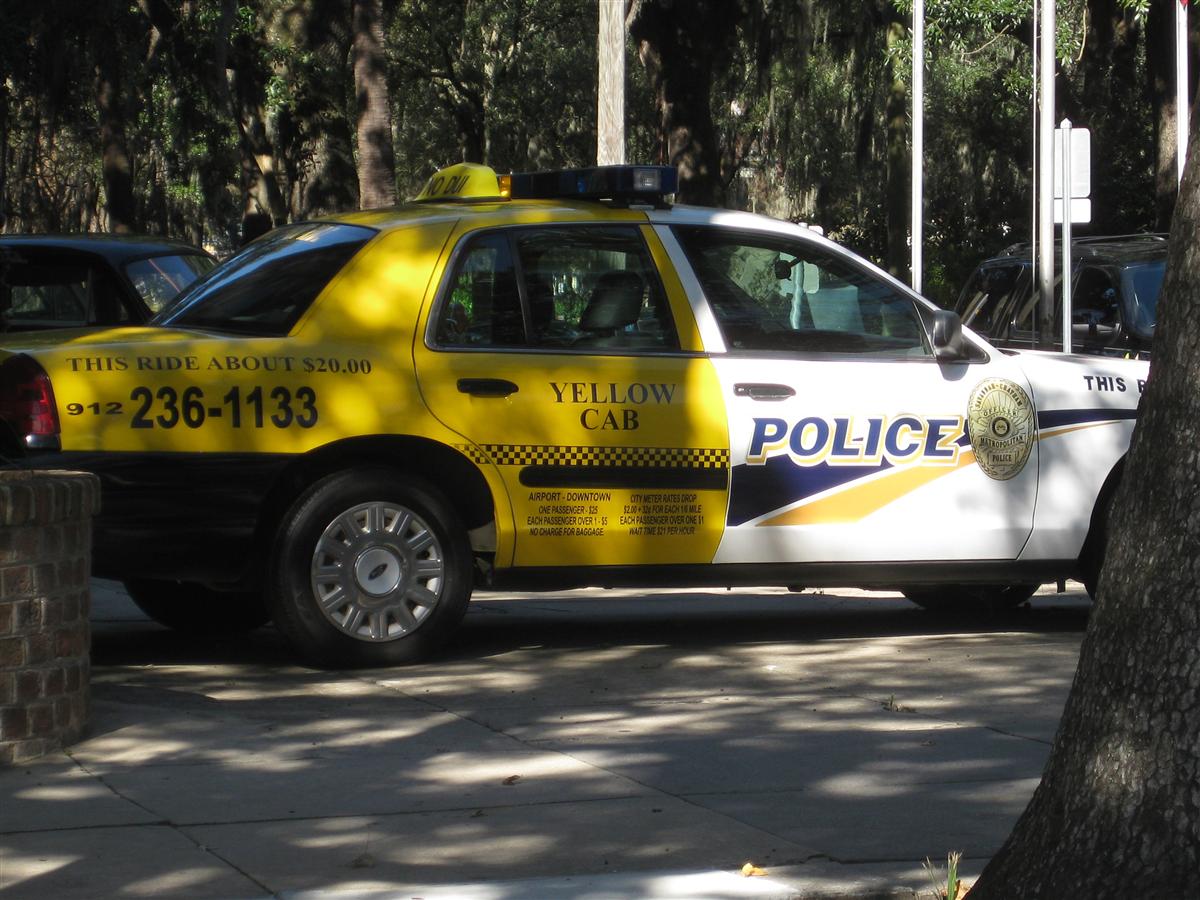 This police car had signs on it saying Taxi side: "This Ride About $20.00" and on the police car side: "This Ride = $1800.00". In which one would you rather be riding?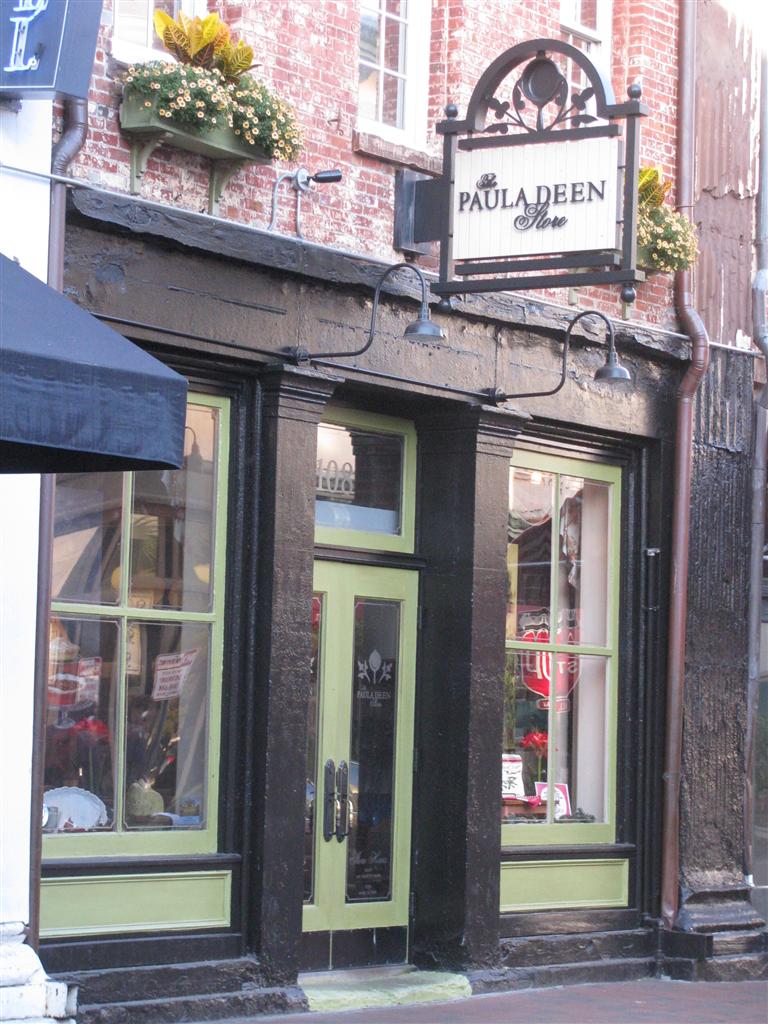 This is one of Paula Deen's shops. Her restaurant "Lady and Sons" was next door.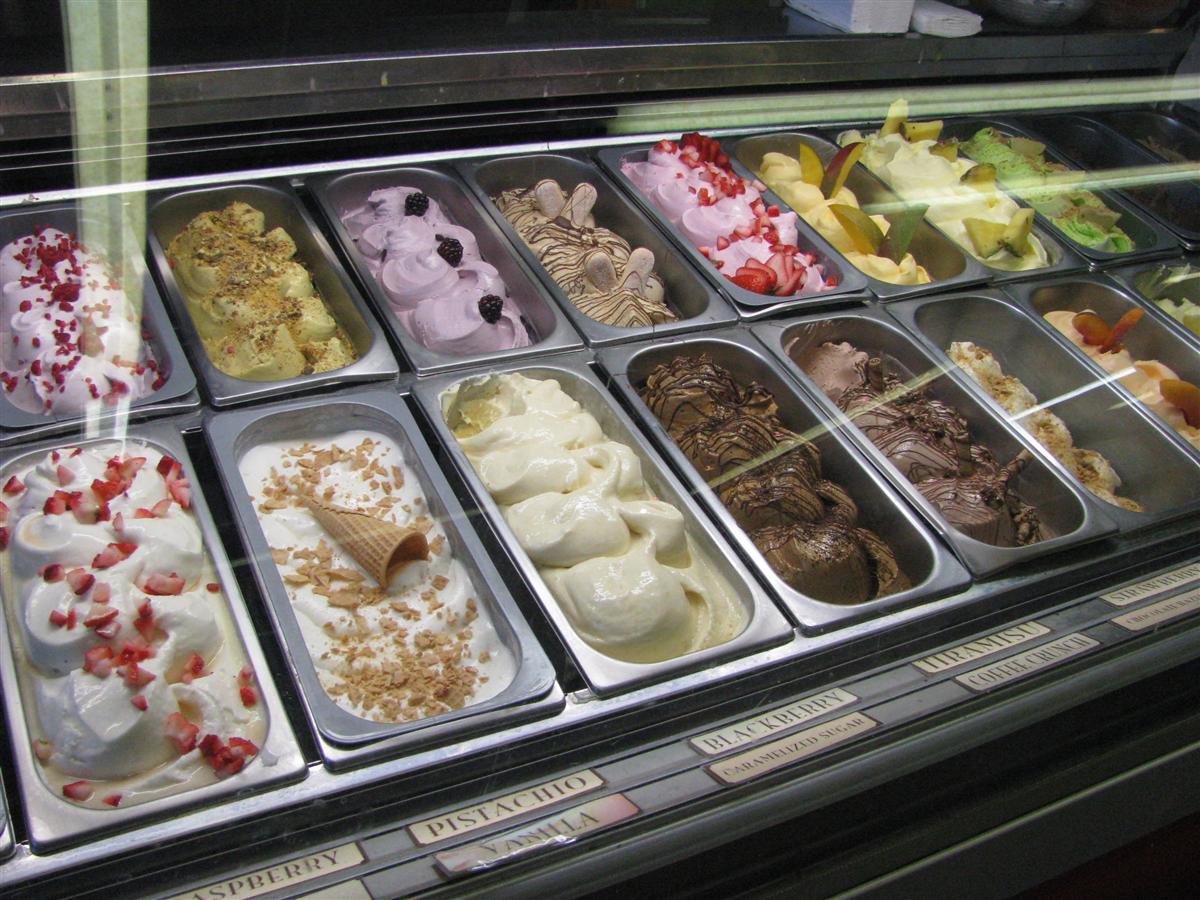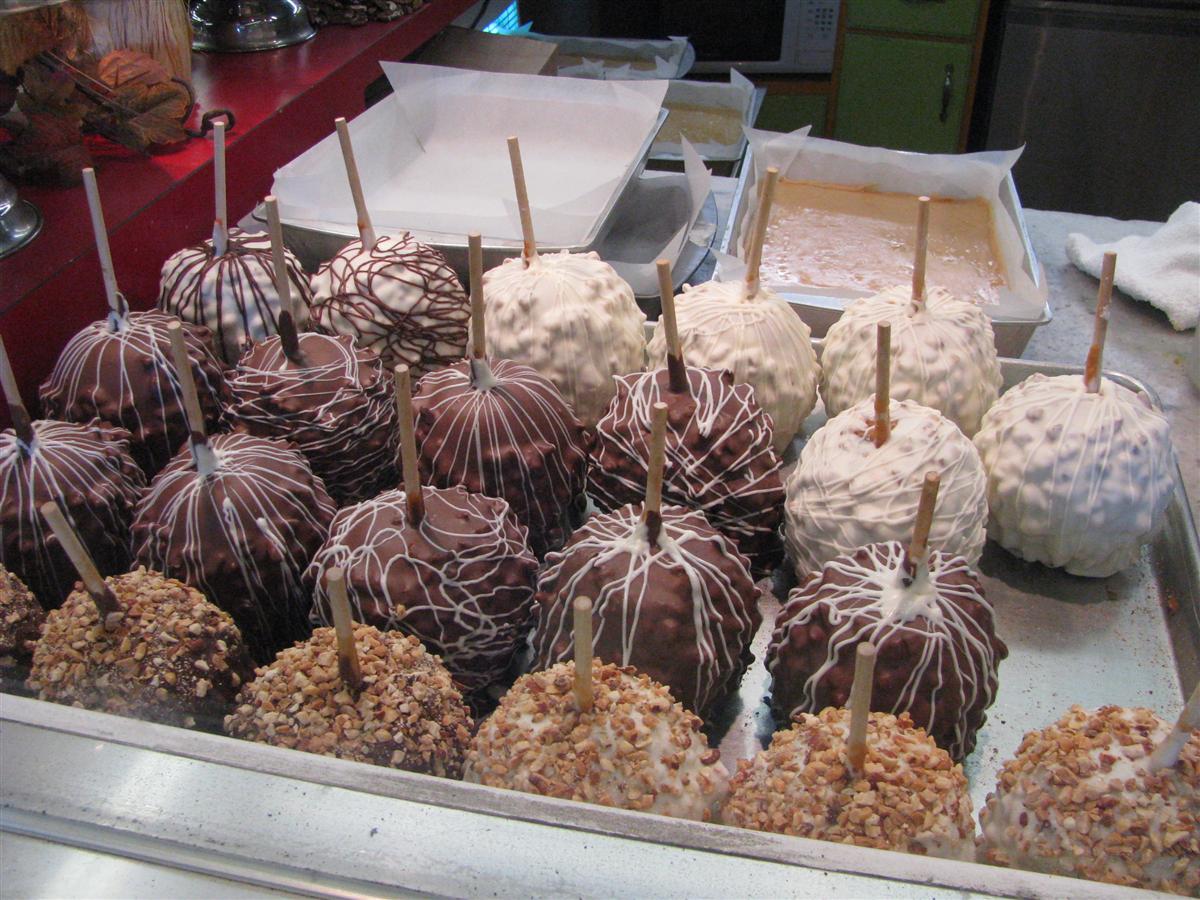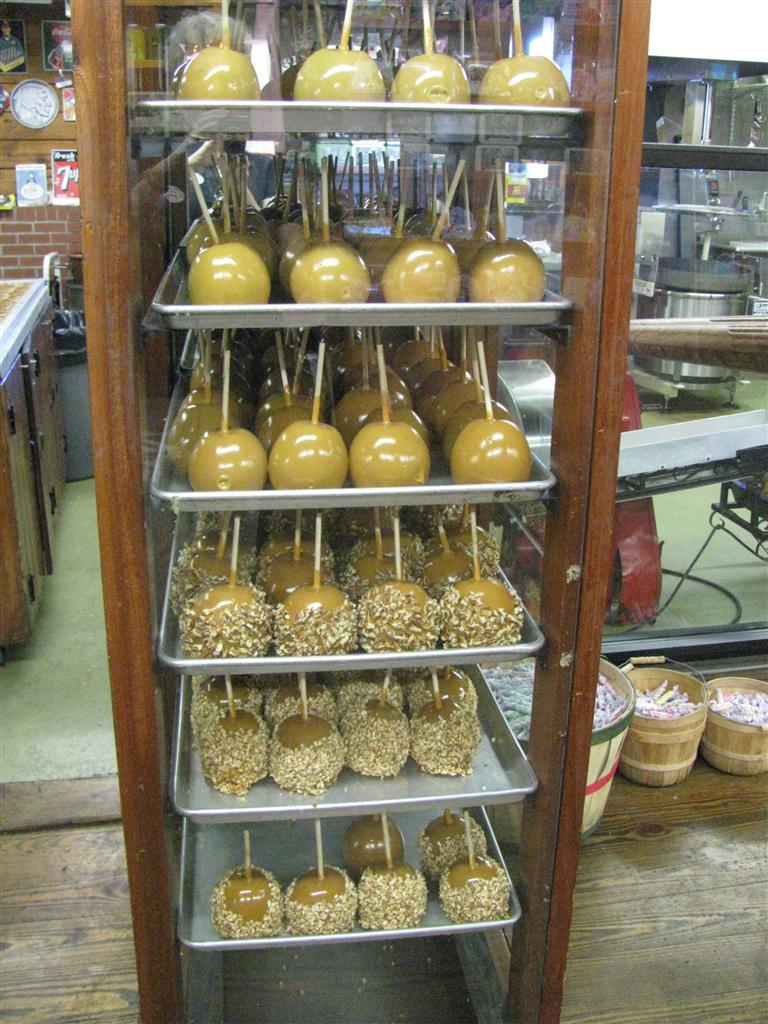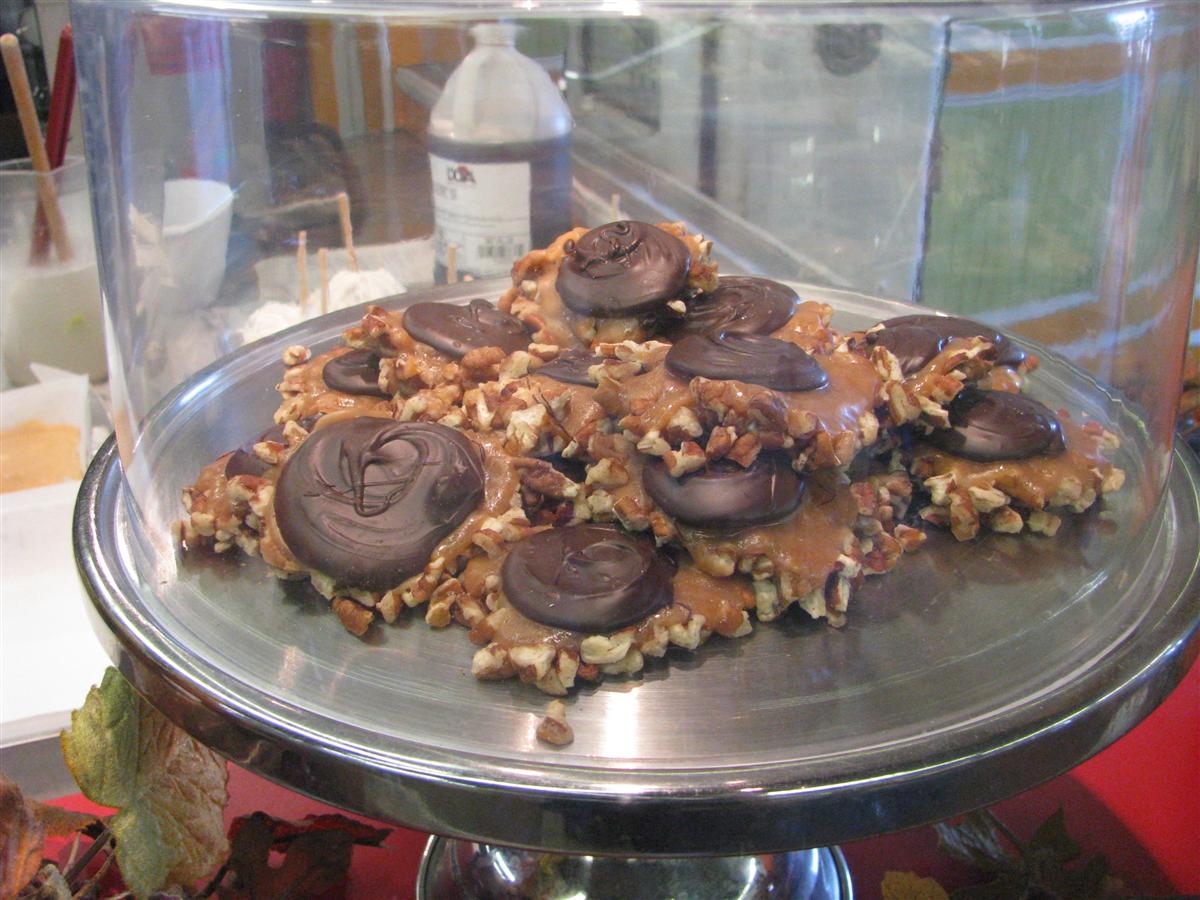 There were several very large candy shops ... they smelled sooo good. Salt water taffy was popular. Savannah is known for four "P's": Peaches, Pralines, Pecans, and Paula.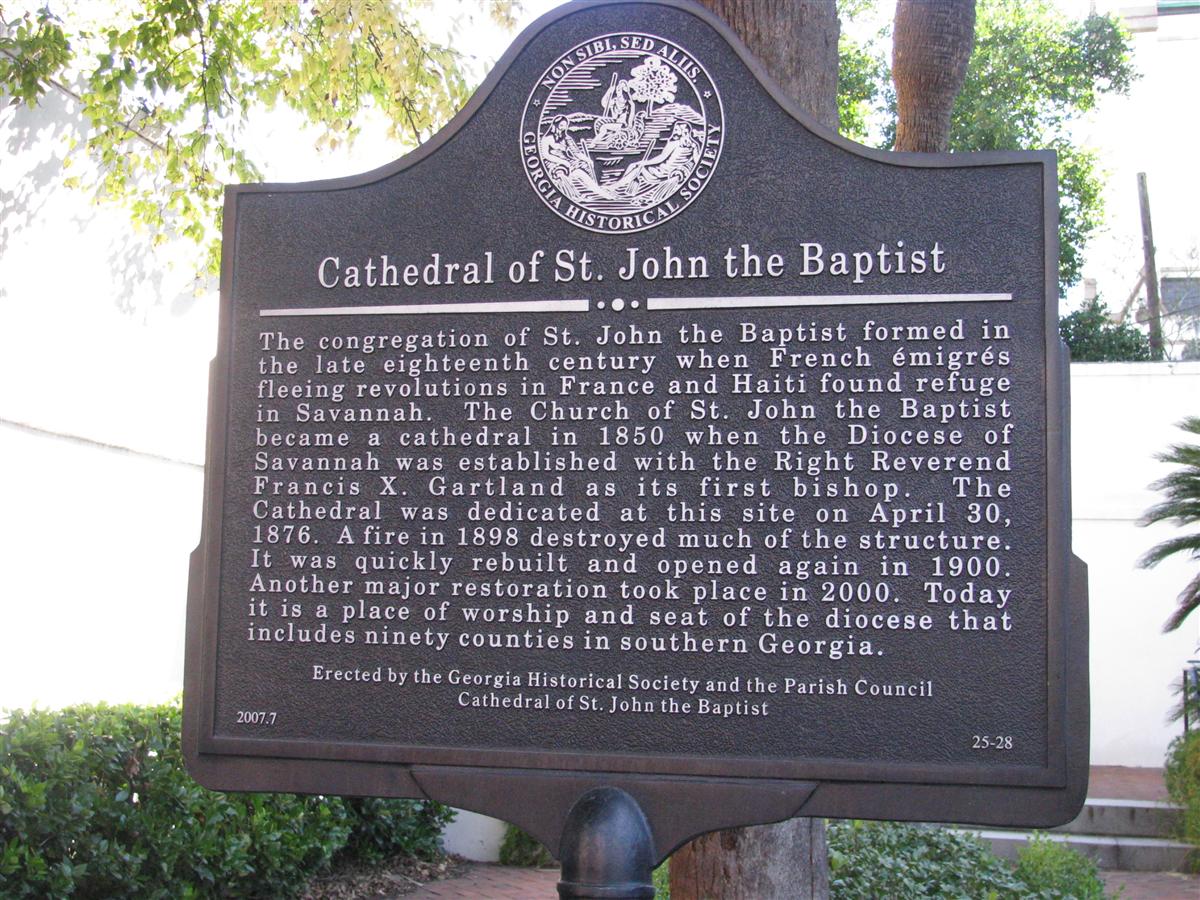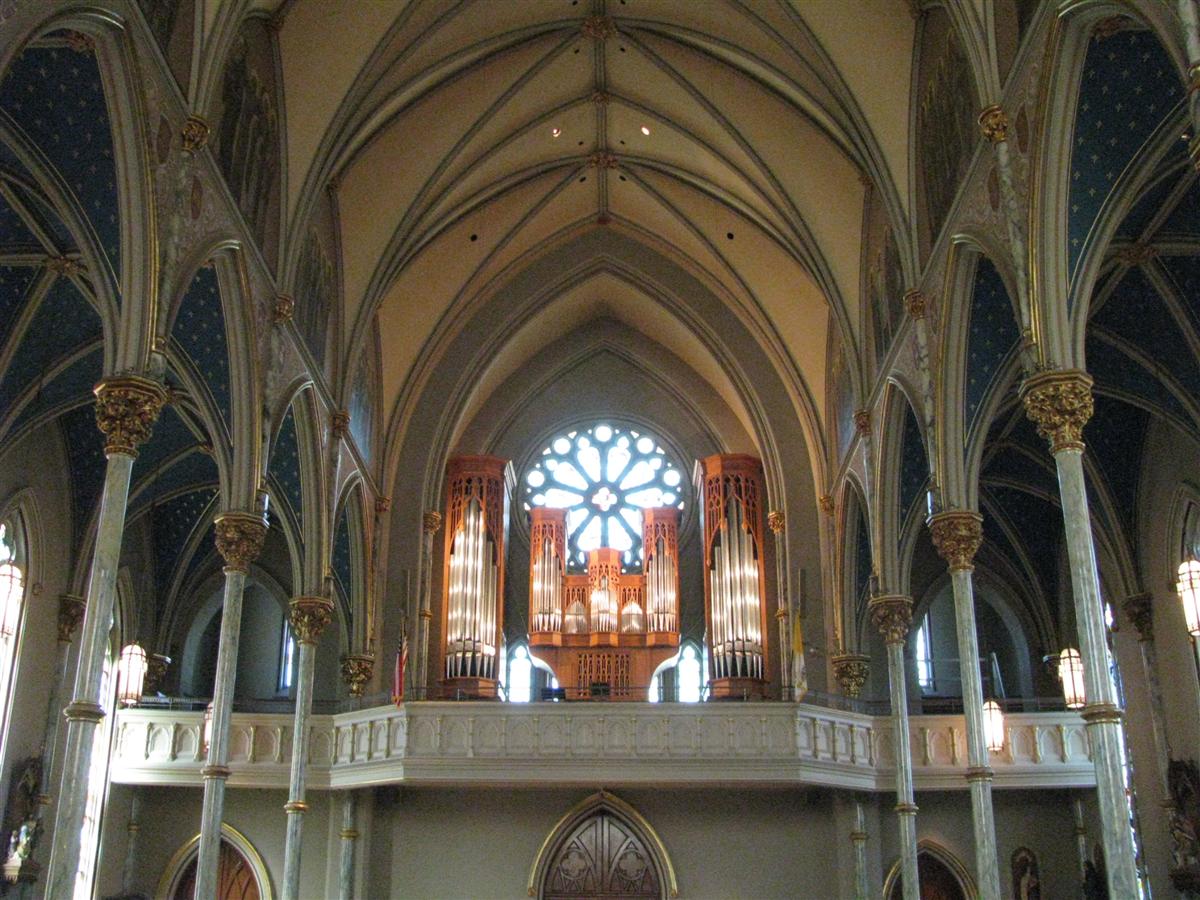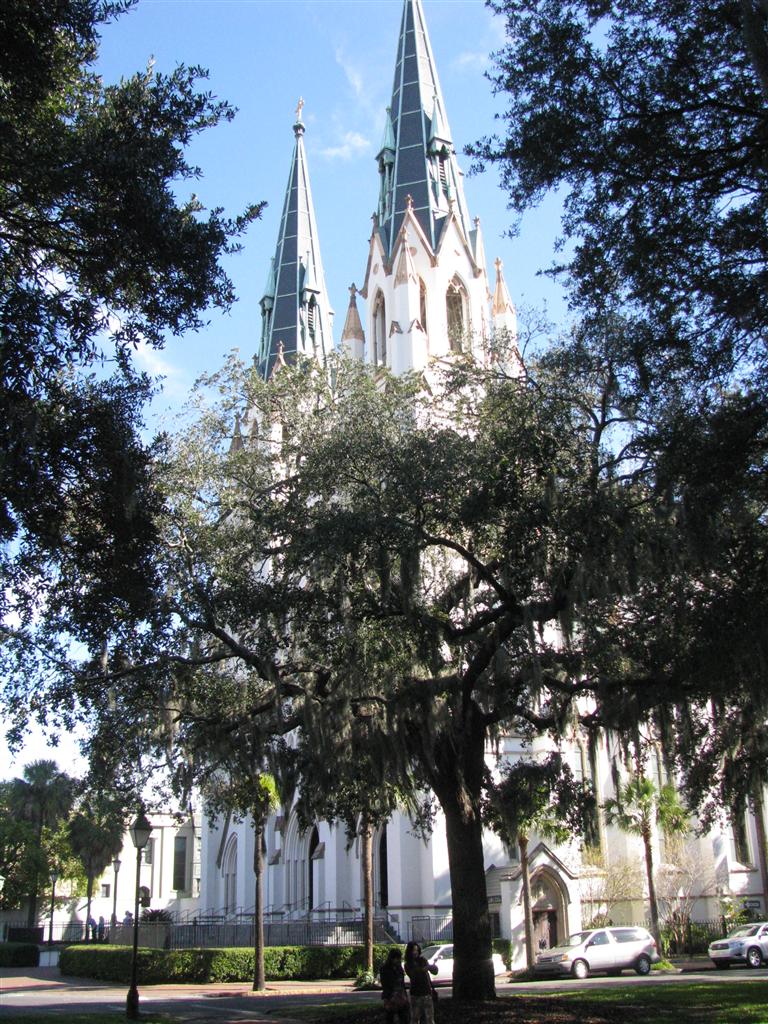 The congregation de Saint Jean-Baptiste was formed near the end of the 1700s. The Cathedral was built in 1876 and quickly rebuilt in 1899 after a devastating fire in 1898.
Beneath the bluff at the river's edge are the old cotton warehouses, which have been turned into shops and restaurants. The buildings extend upward to the street on top of the bluff and are connected by walkways and stairs.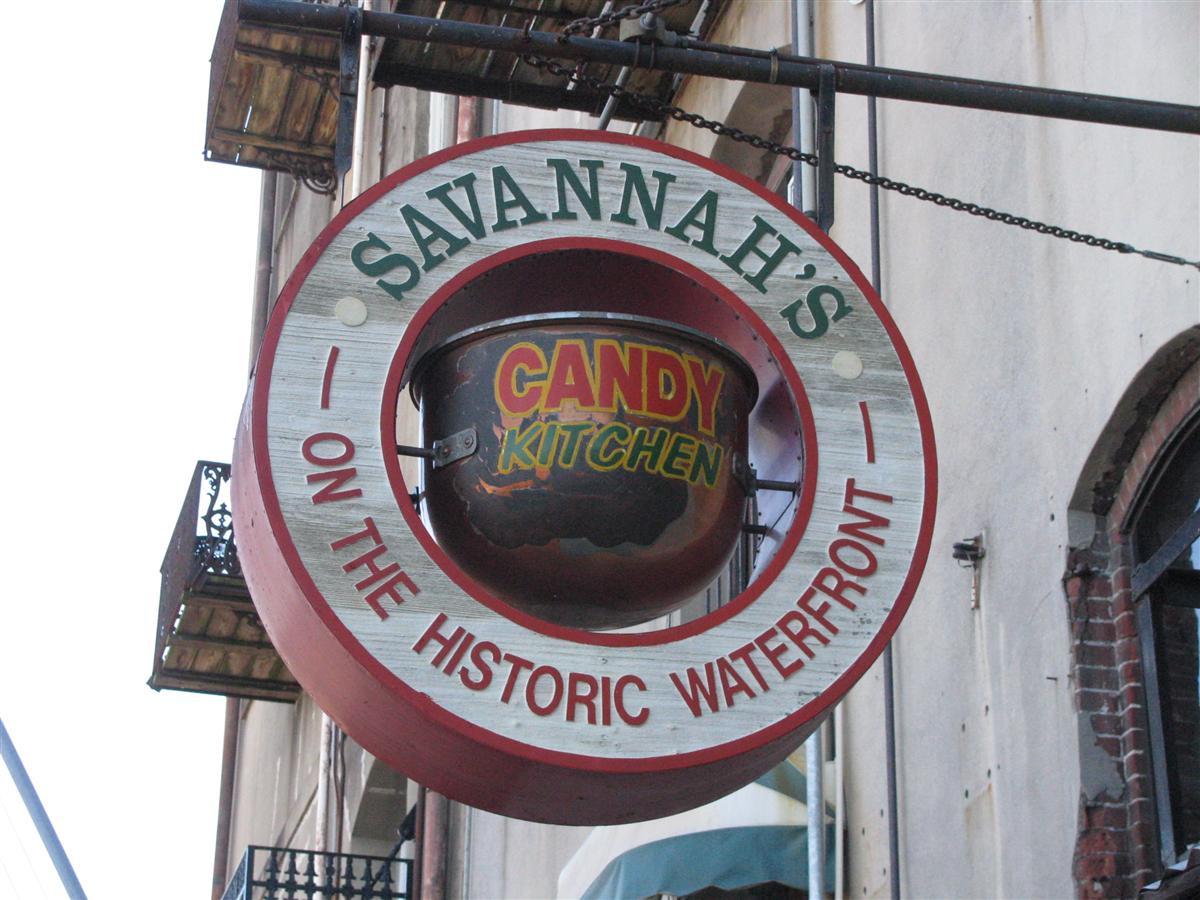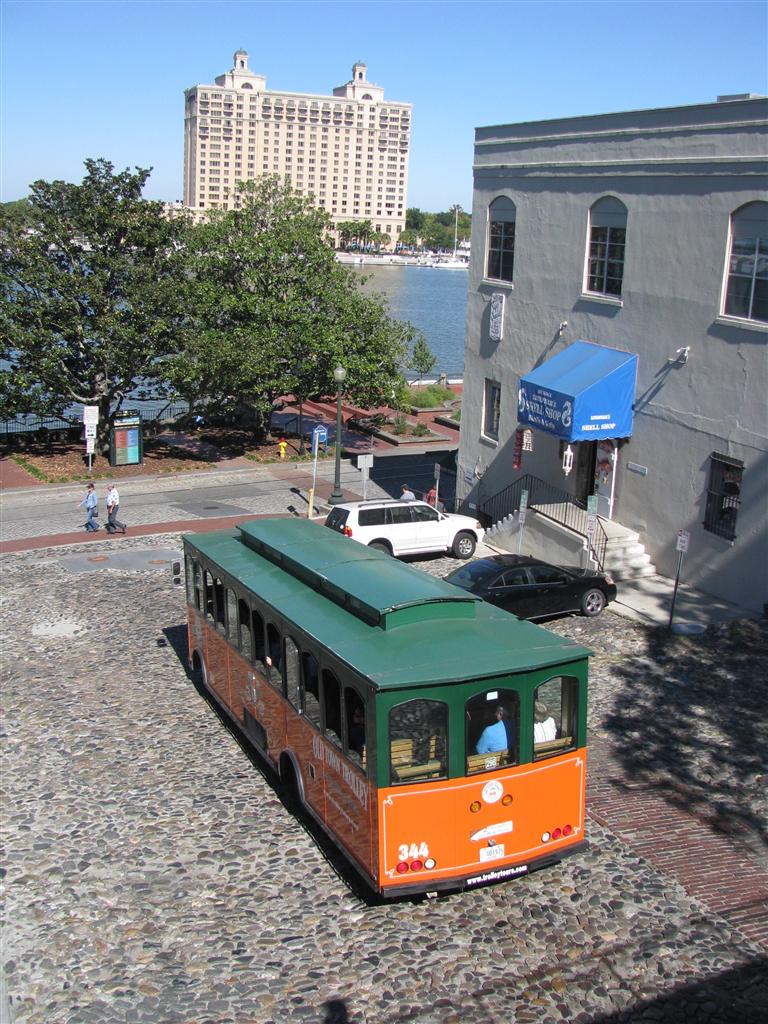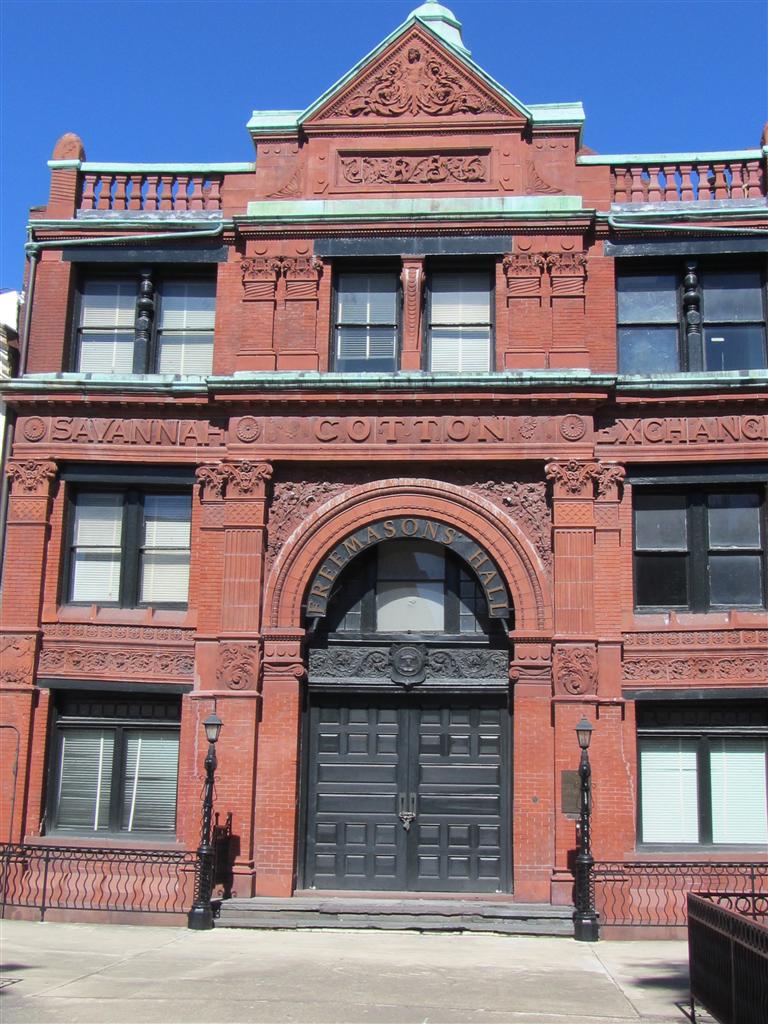 At the waterfront.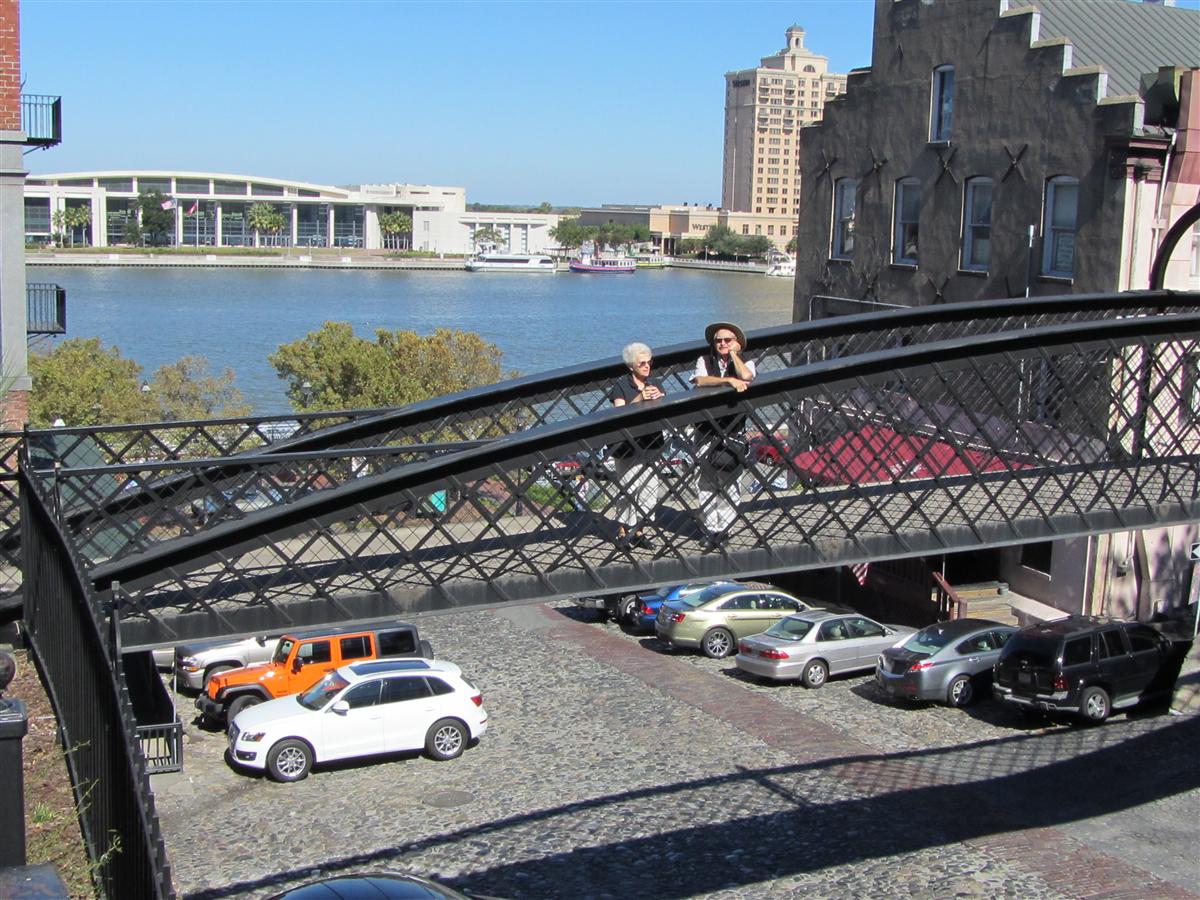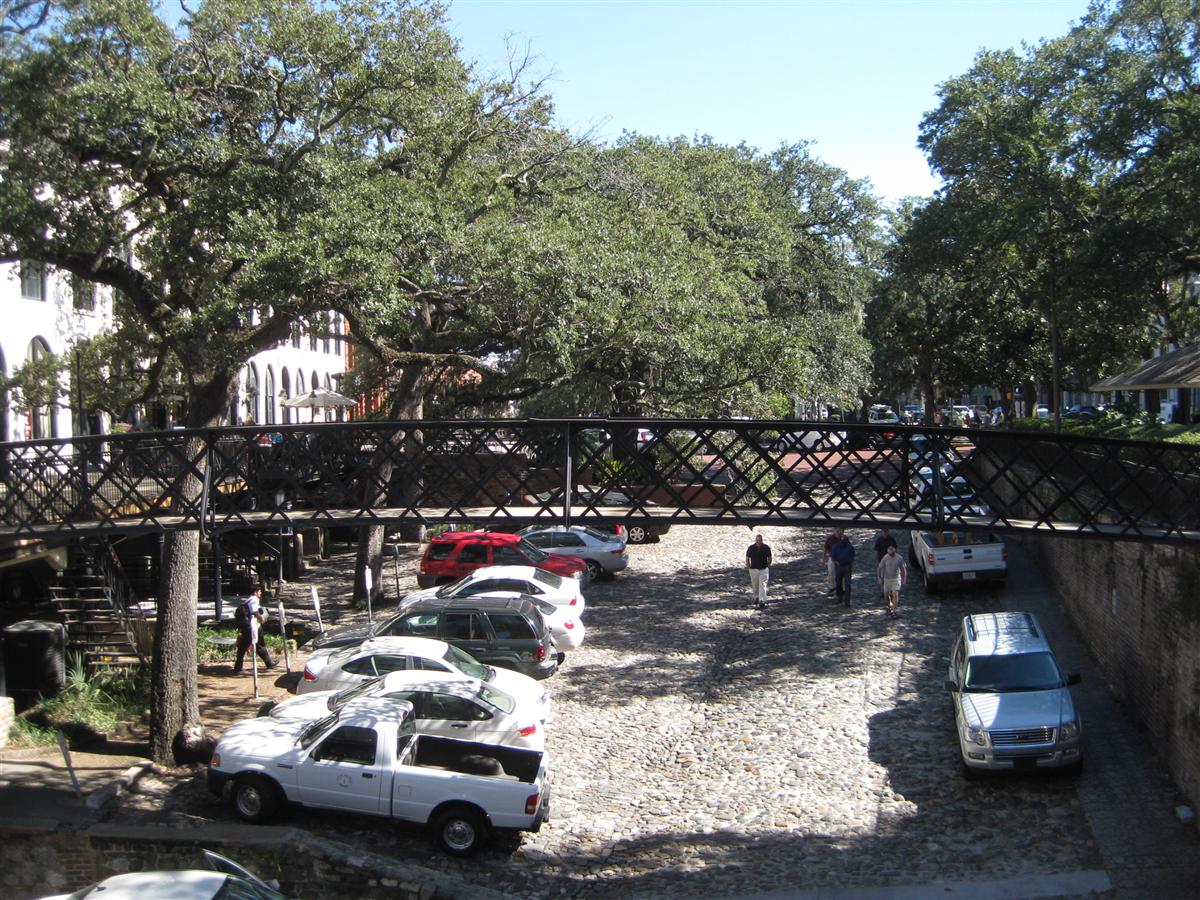 Pedestrian Bridges from the waterfront buildings to the top of the bluff above.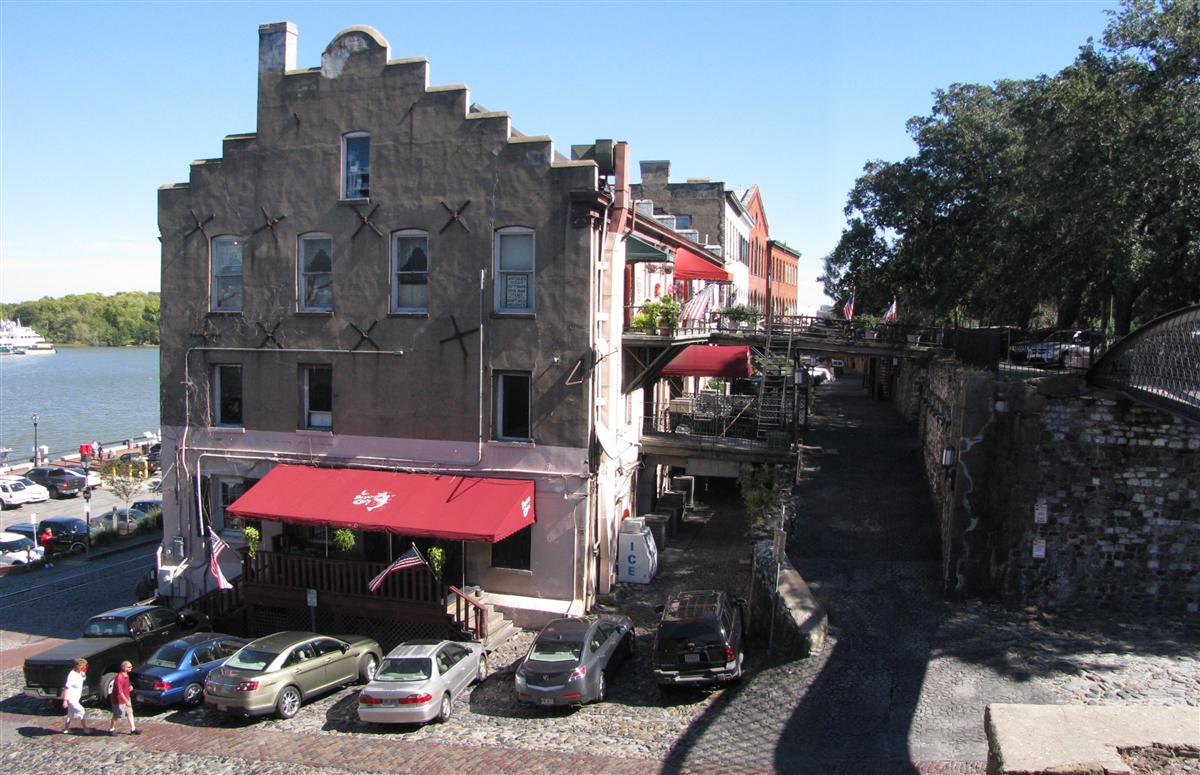 Warehouses connected to the adjacent bluff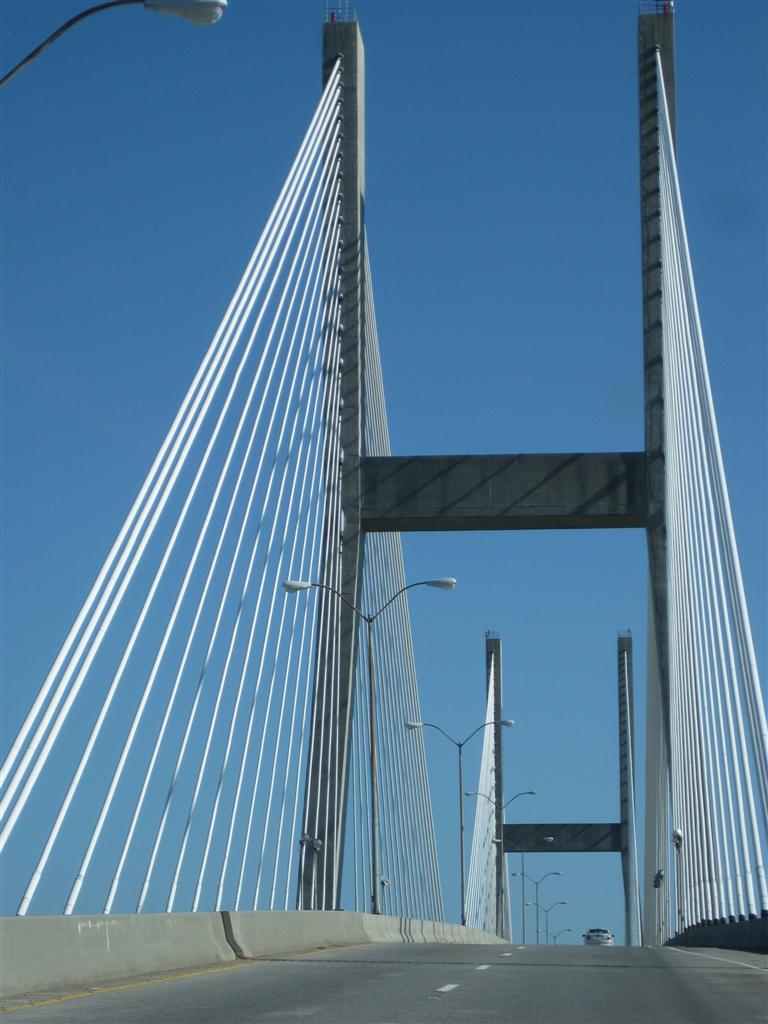 Talmadge Memorial cable-stayed bridge was completed in November 1990 and spans the Savannah River. It replaced an older bridge which had become a danger for large ships entering the Port of Savannah. This port is the nation's fourth-busiest seaport.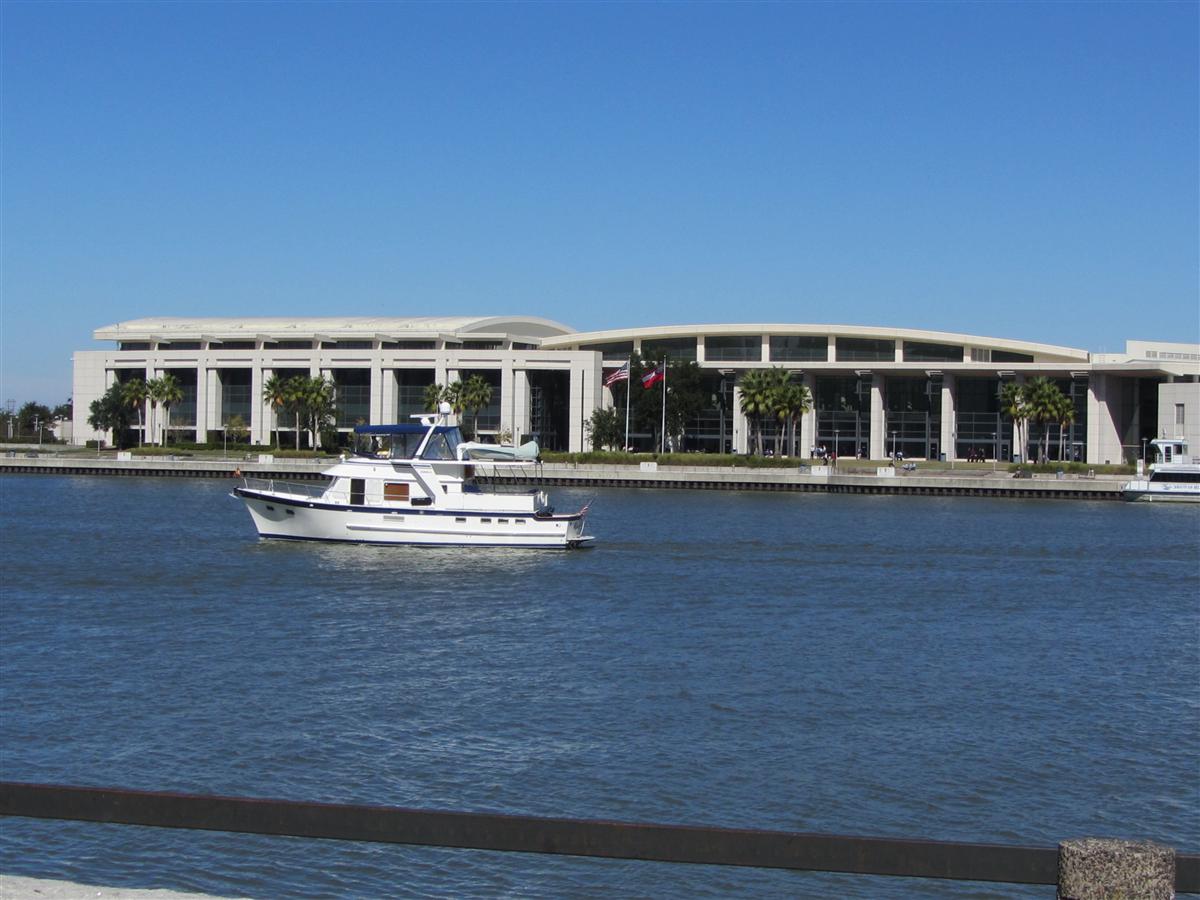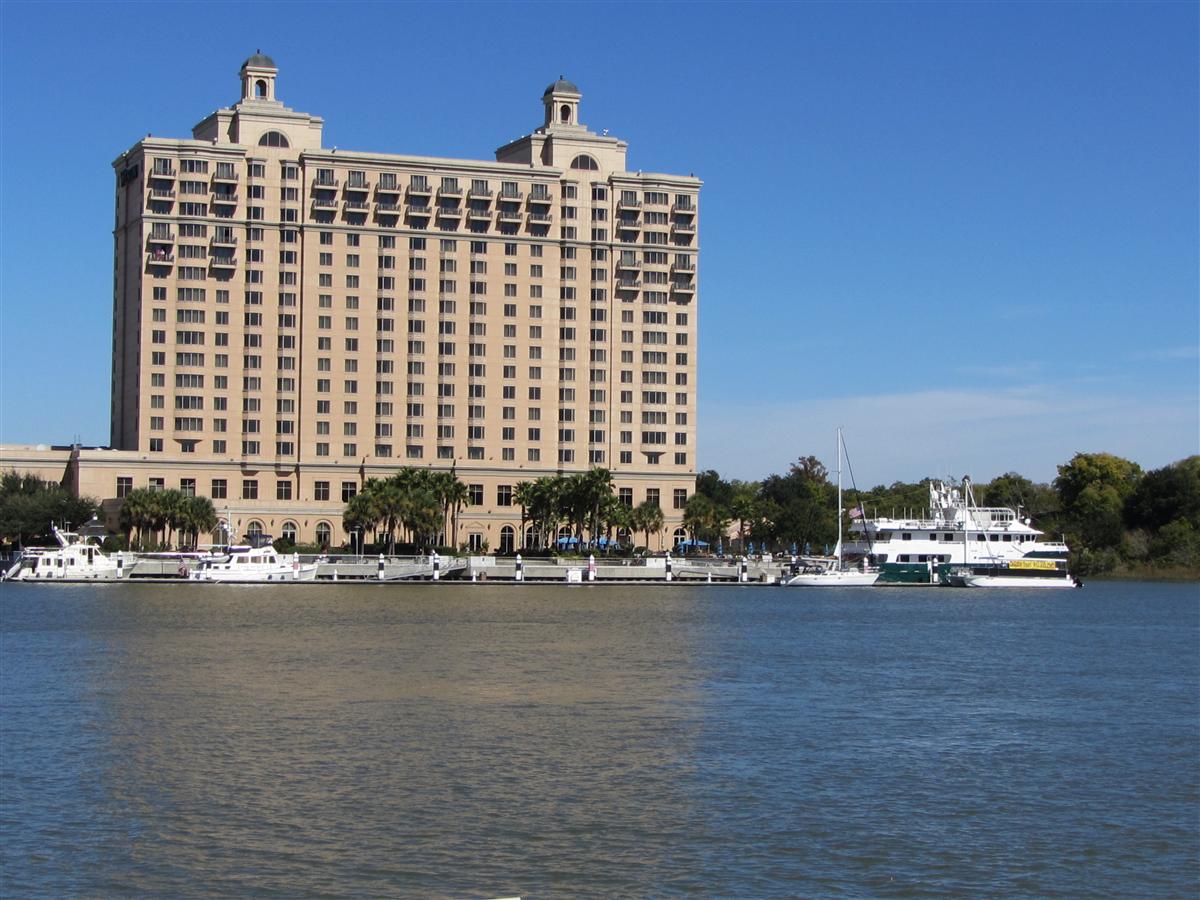 Convention and hotel on the other side of the Savannah River.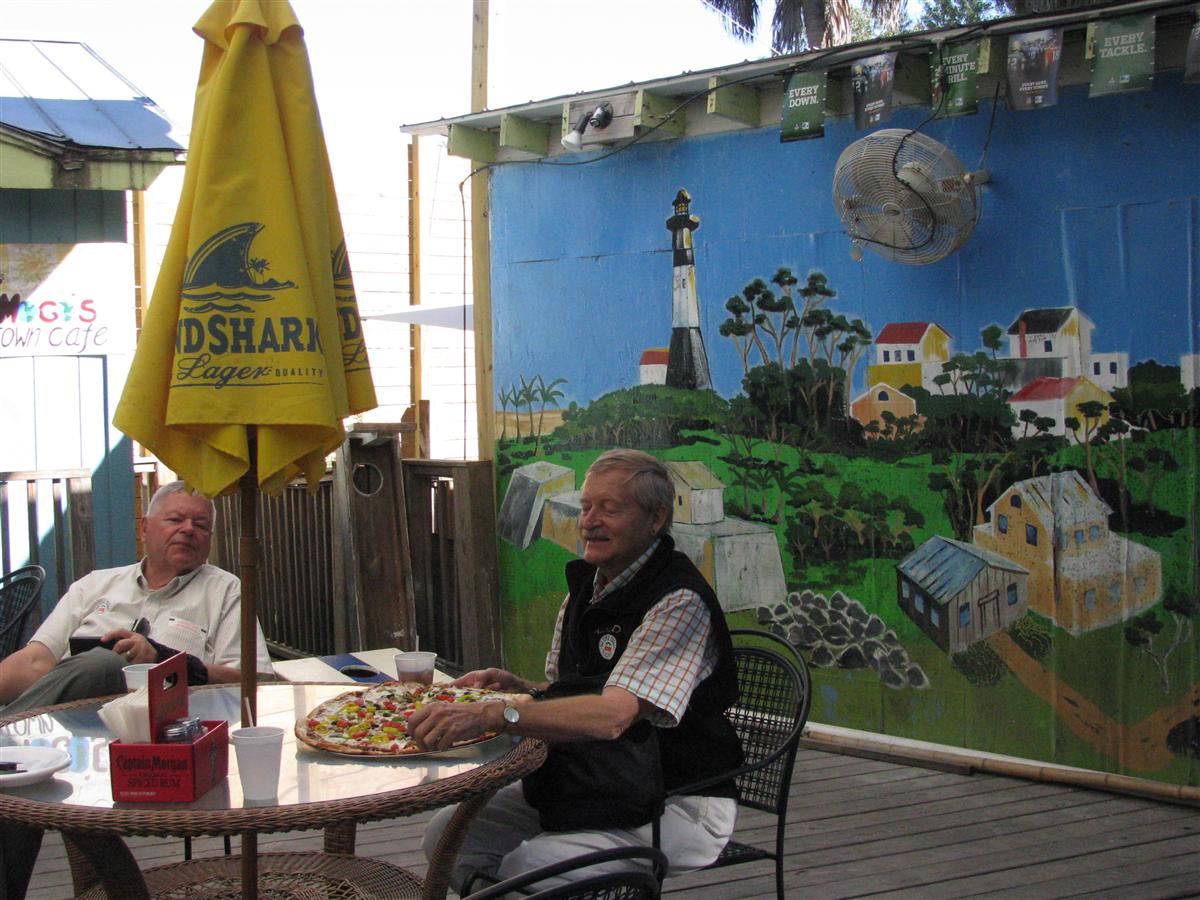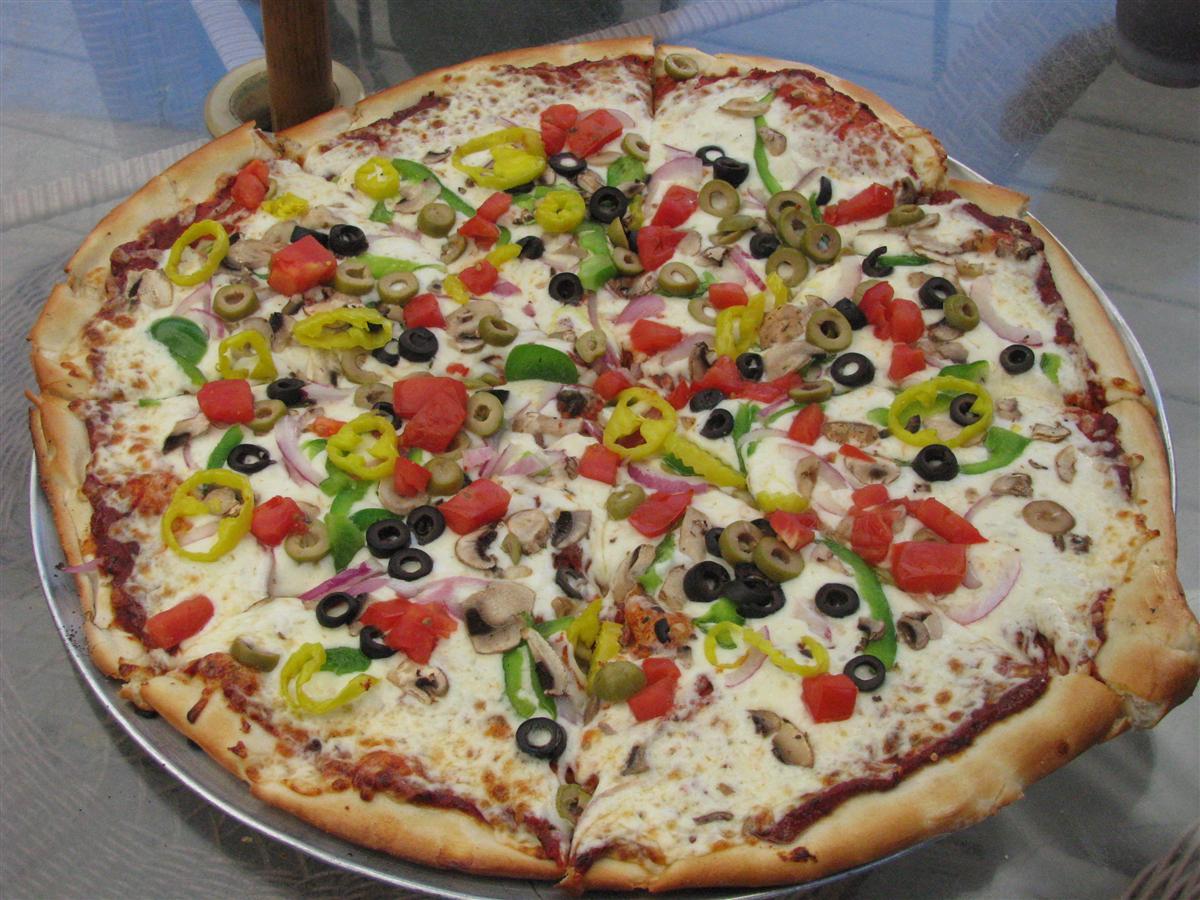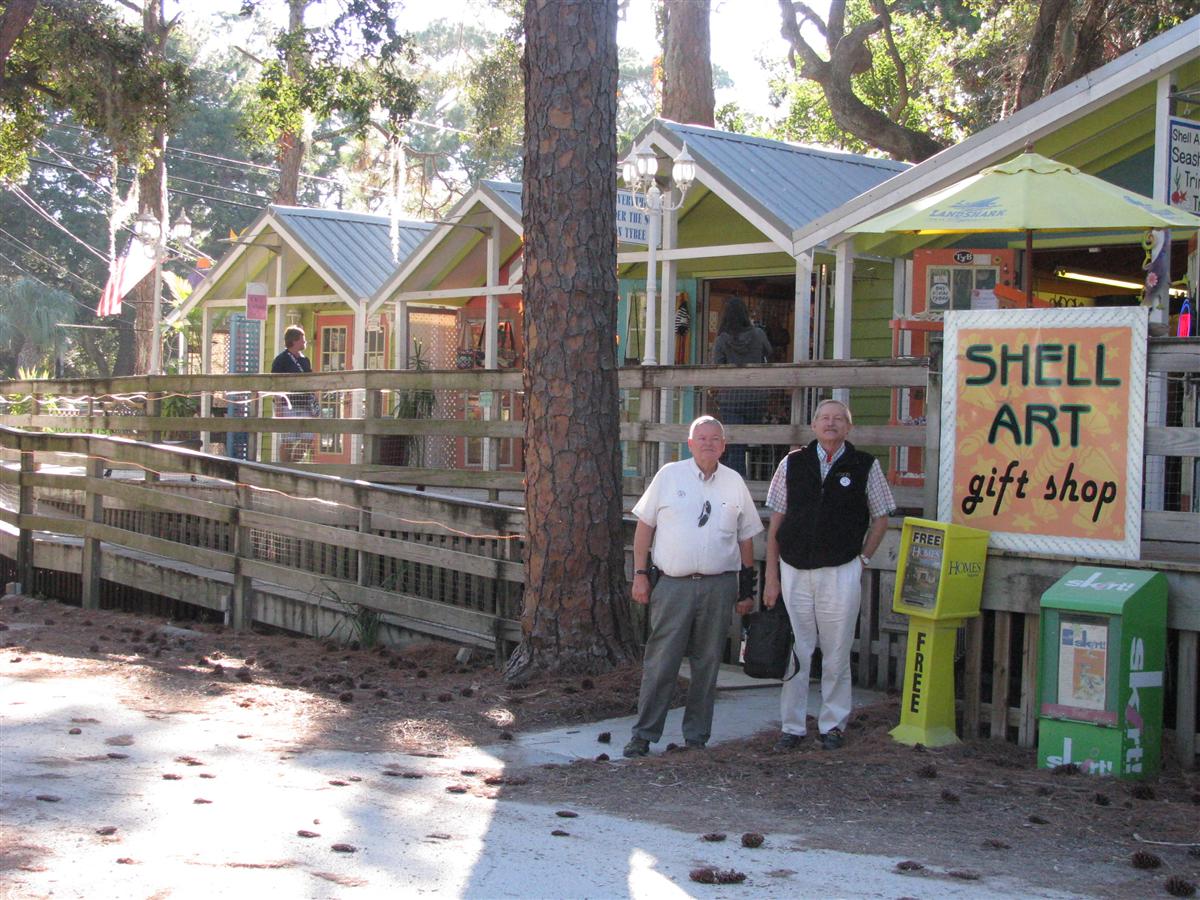 After our tour of old town Savannah, we drove about 15 miles out of town to Tybee Island. A low key fishing village ("tank tops and flip-flops"). We ate a huge pizza at Huc-A-Poo's Bites & Booze.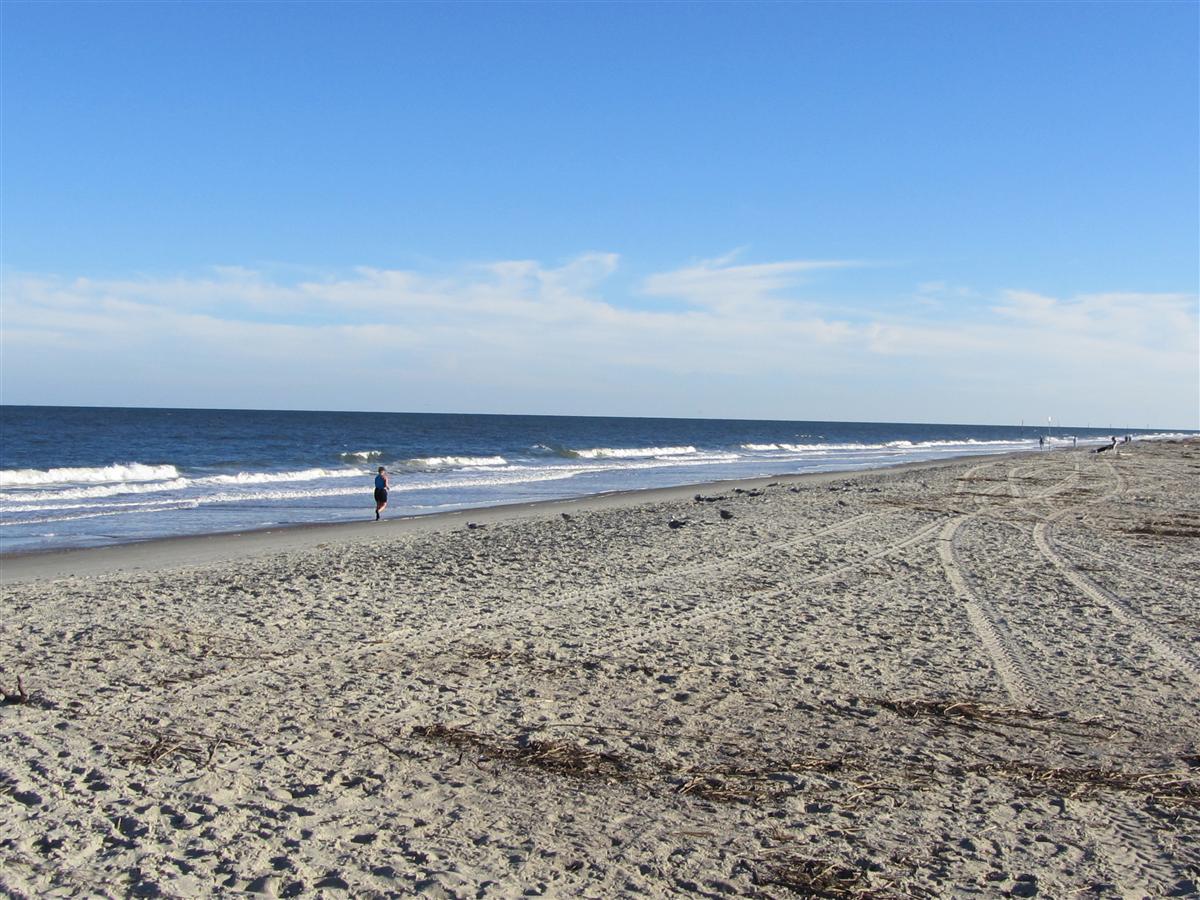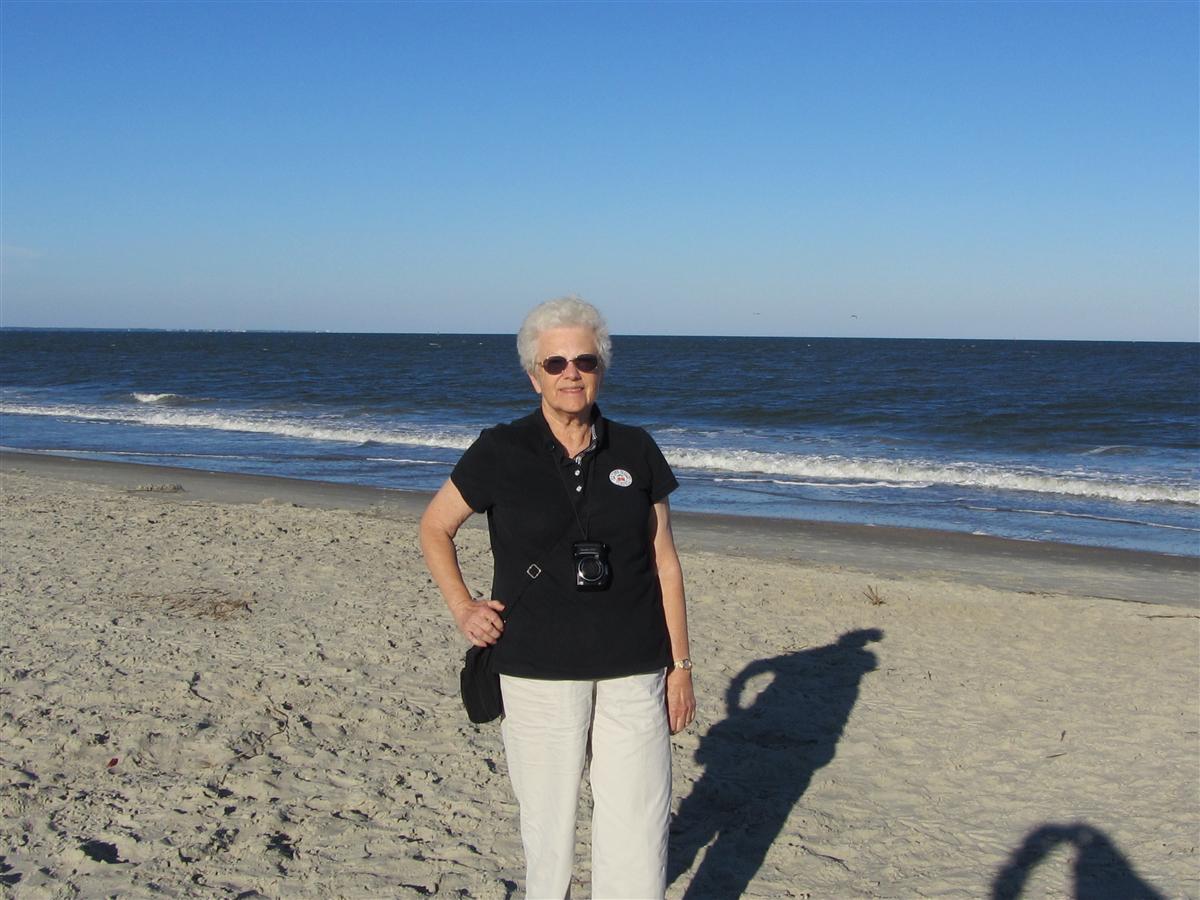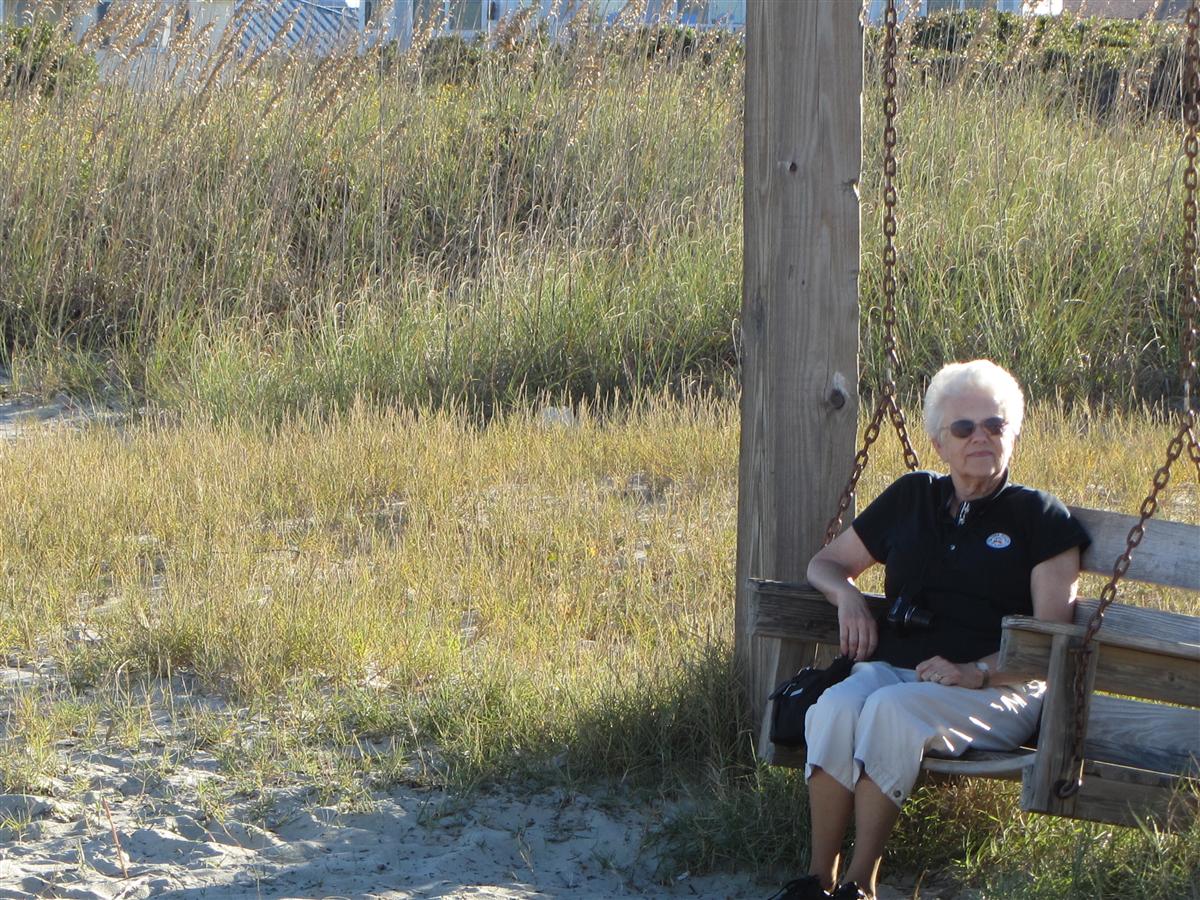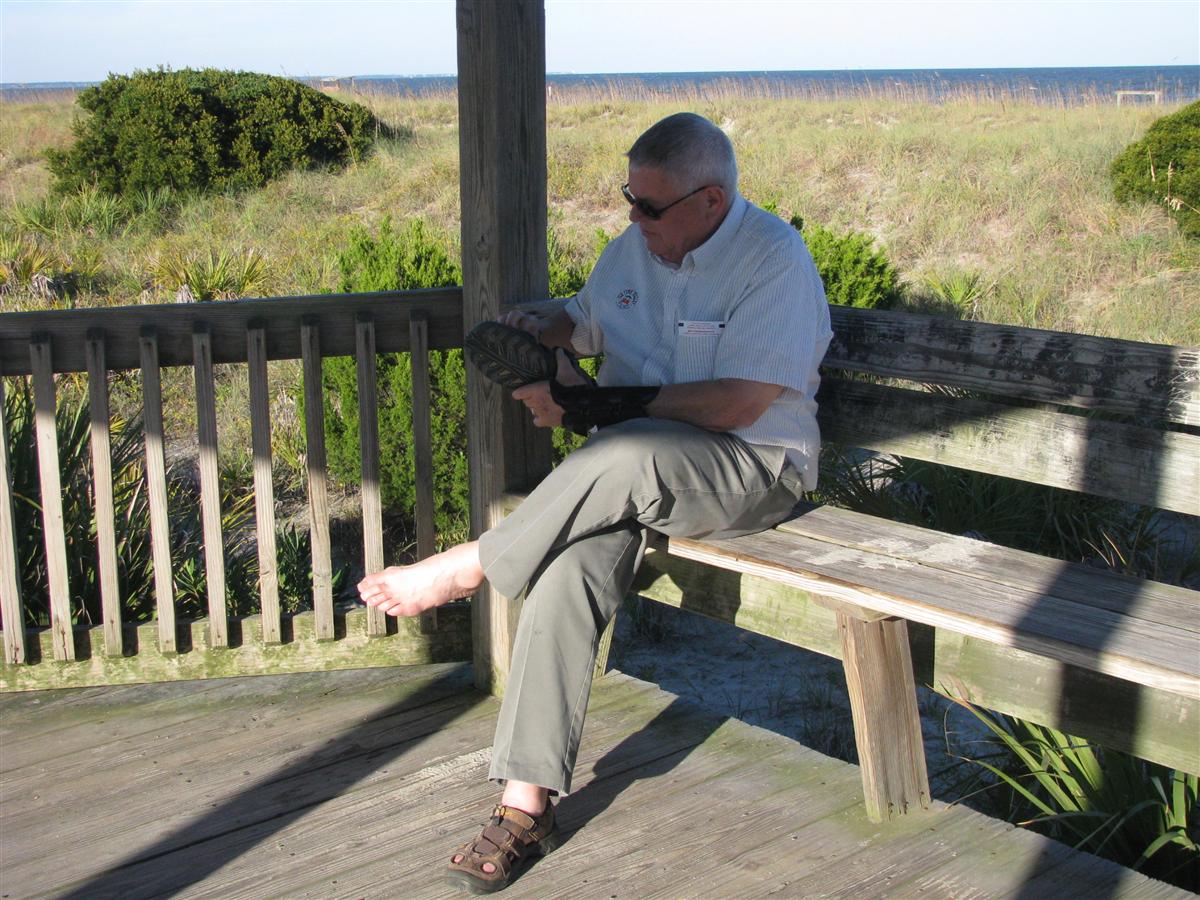 These are some shots taken at the beach and lighthouse at Tybee Island, GA
October 23, 2012 Savannah to Columbia and Newberry South Carolina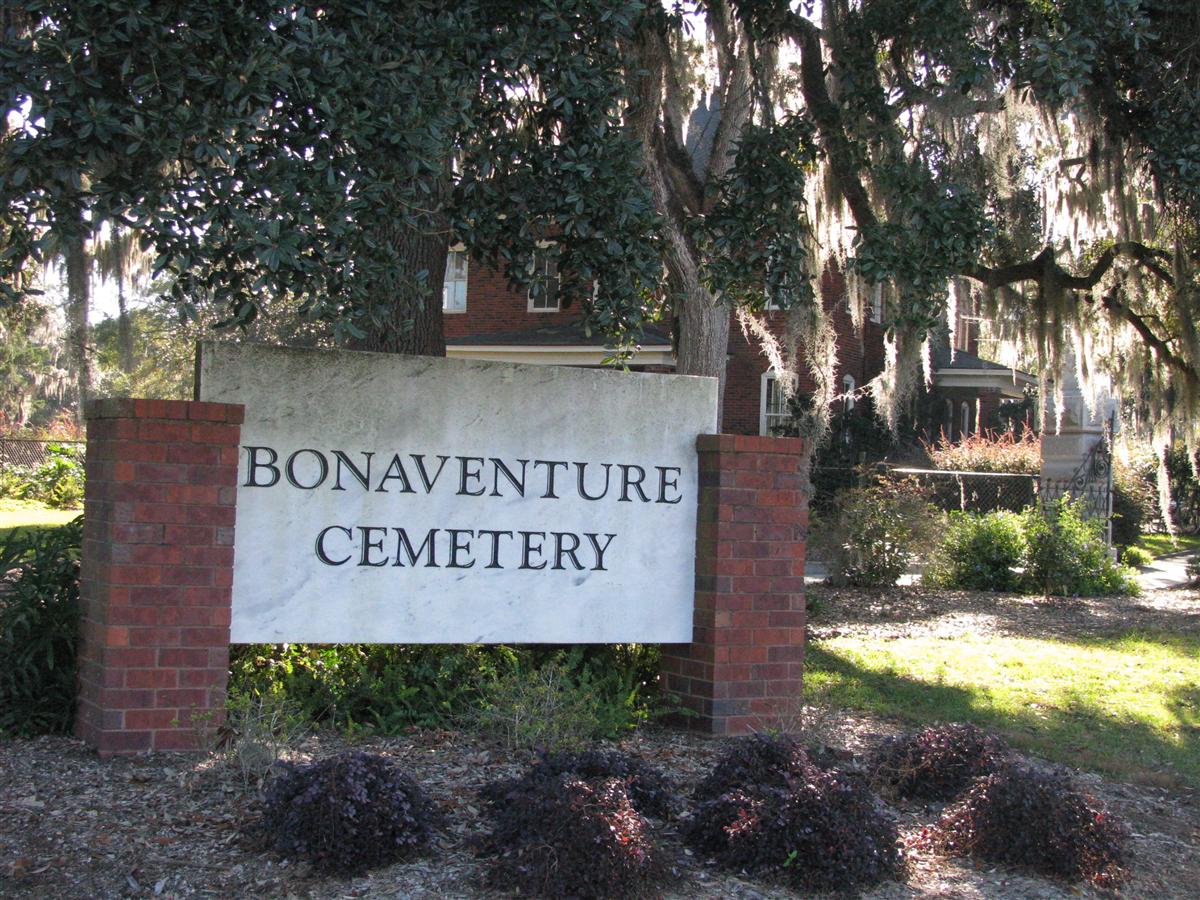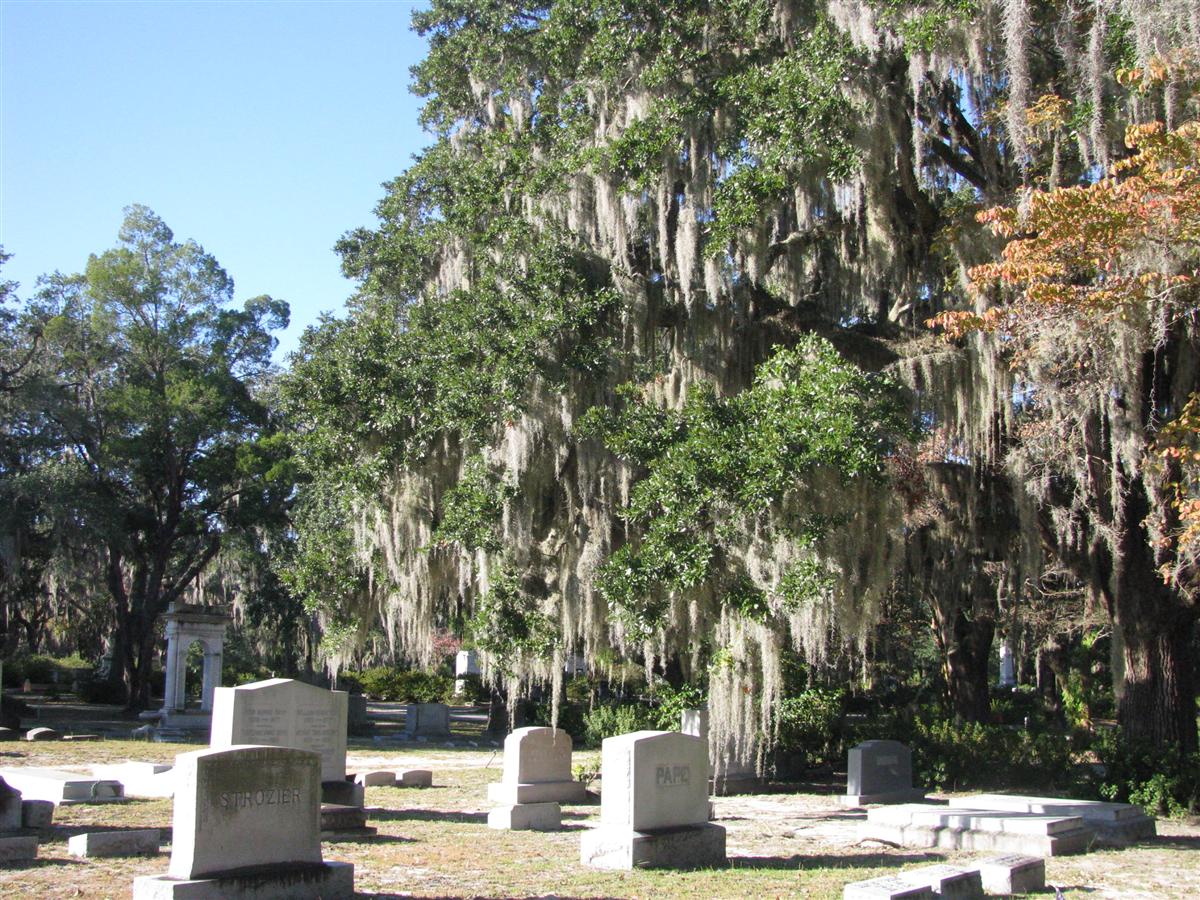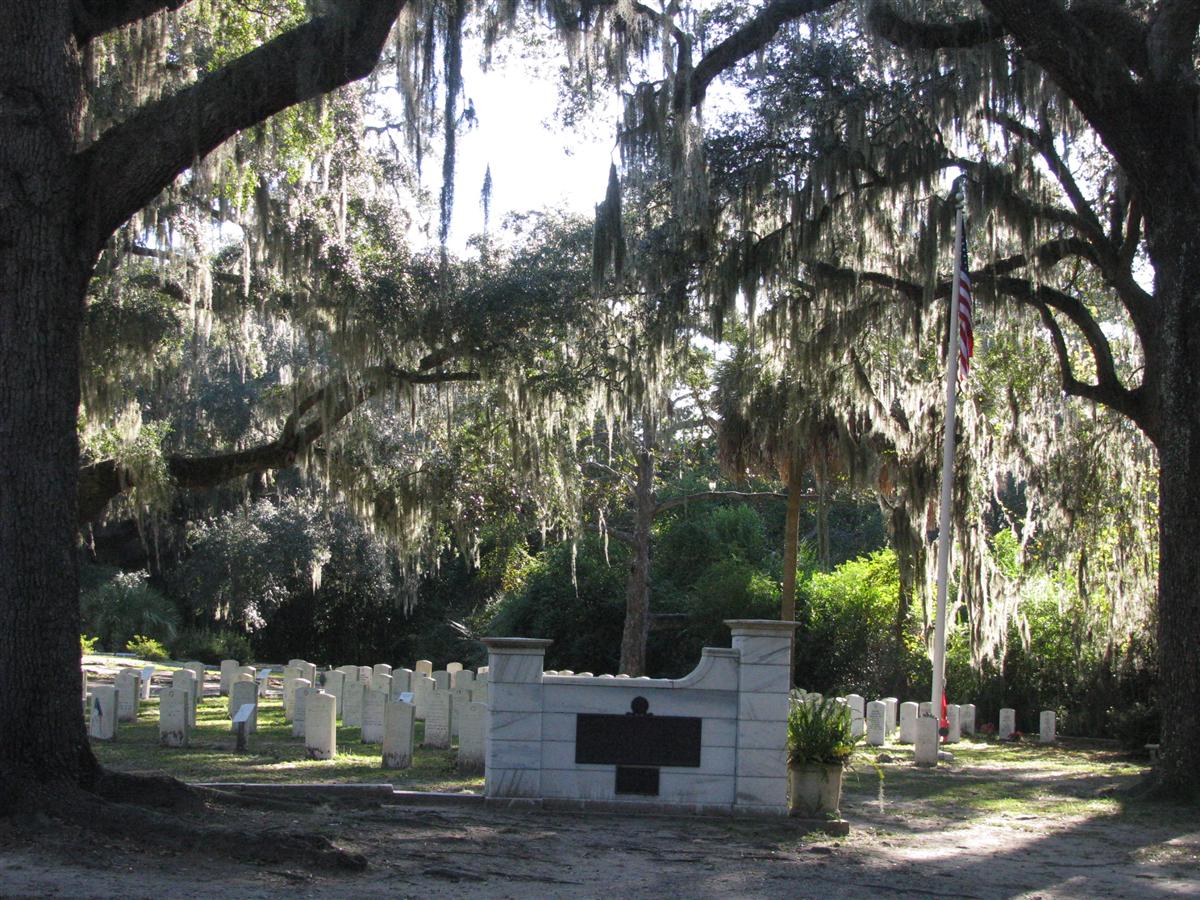 Before we drove away from Savannah, we toured the Bonaventure Cemetery, a huge, flat, park-like setting. Every tree hung with Spanish Moss. In the Jeweish section, piles of small stones marked the many visits.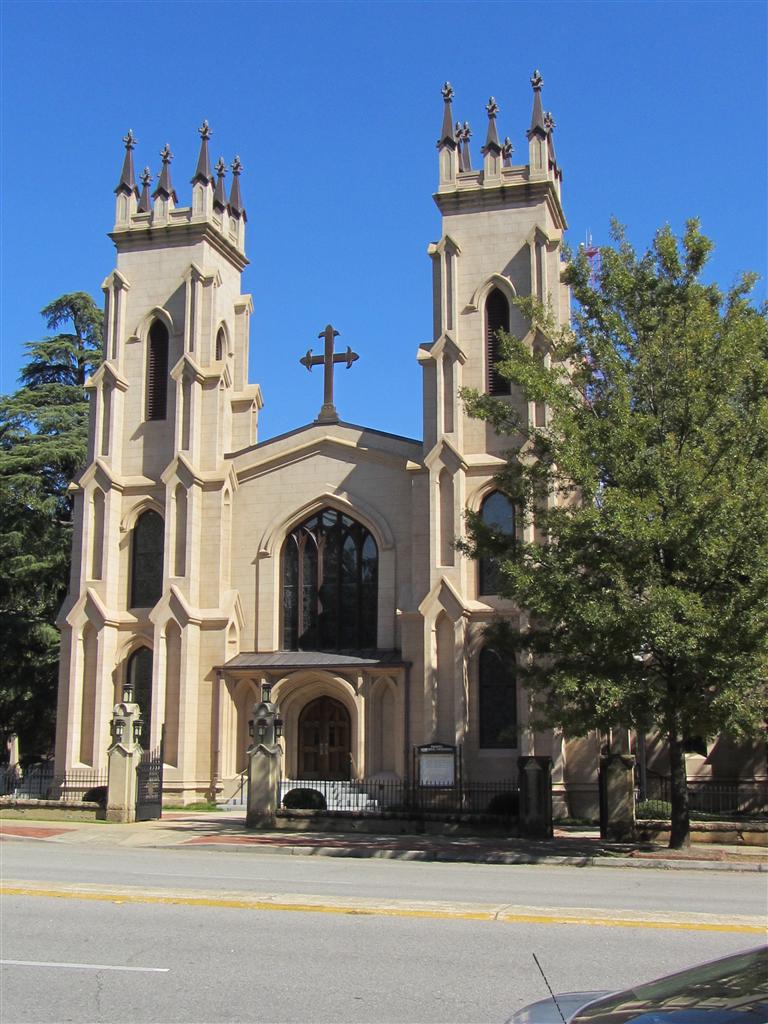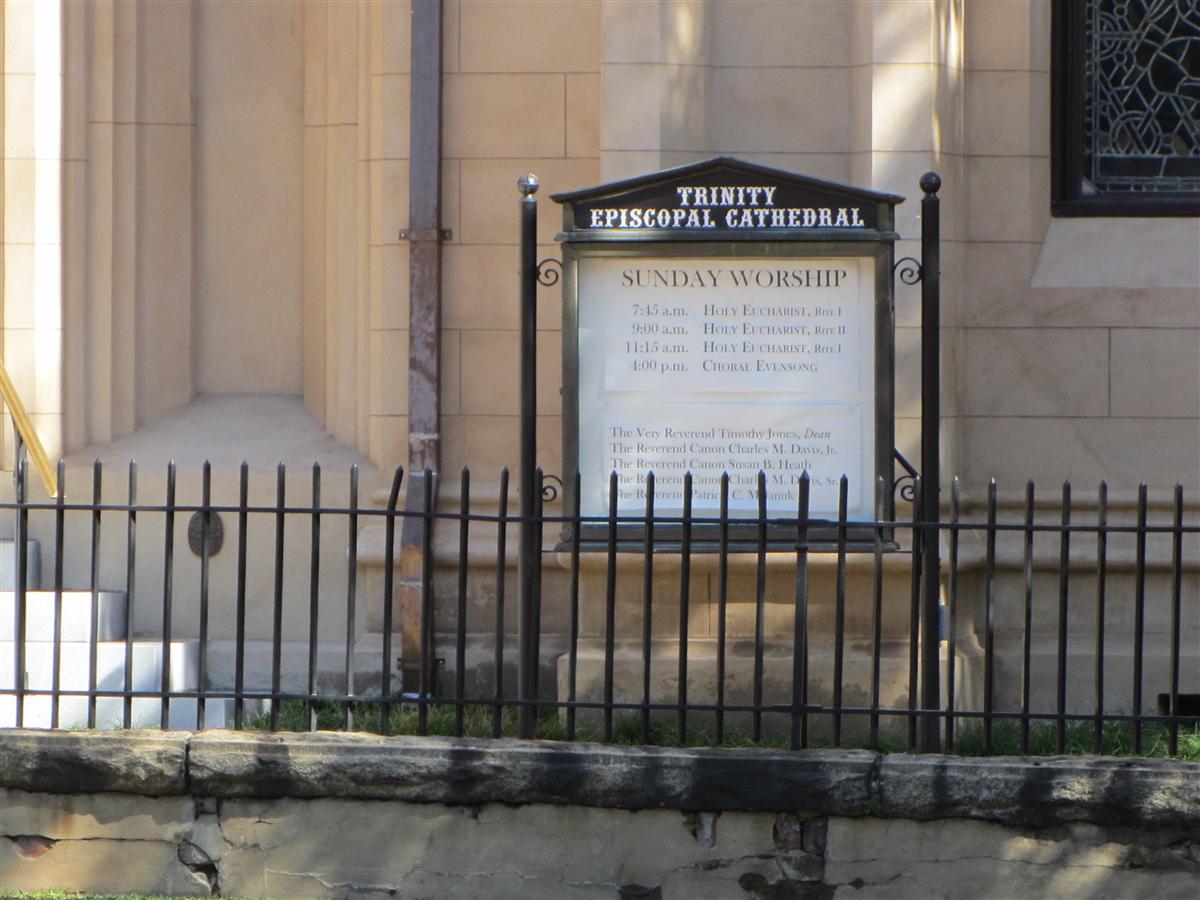 South Carolina was just over the Talmadge Bridge and we were soon on our way towards Columbia, the state Capitol. Here it is call the State House. Across the street from that building was Trinity Episcopal Church.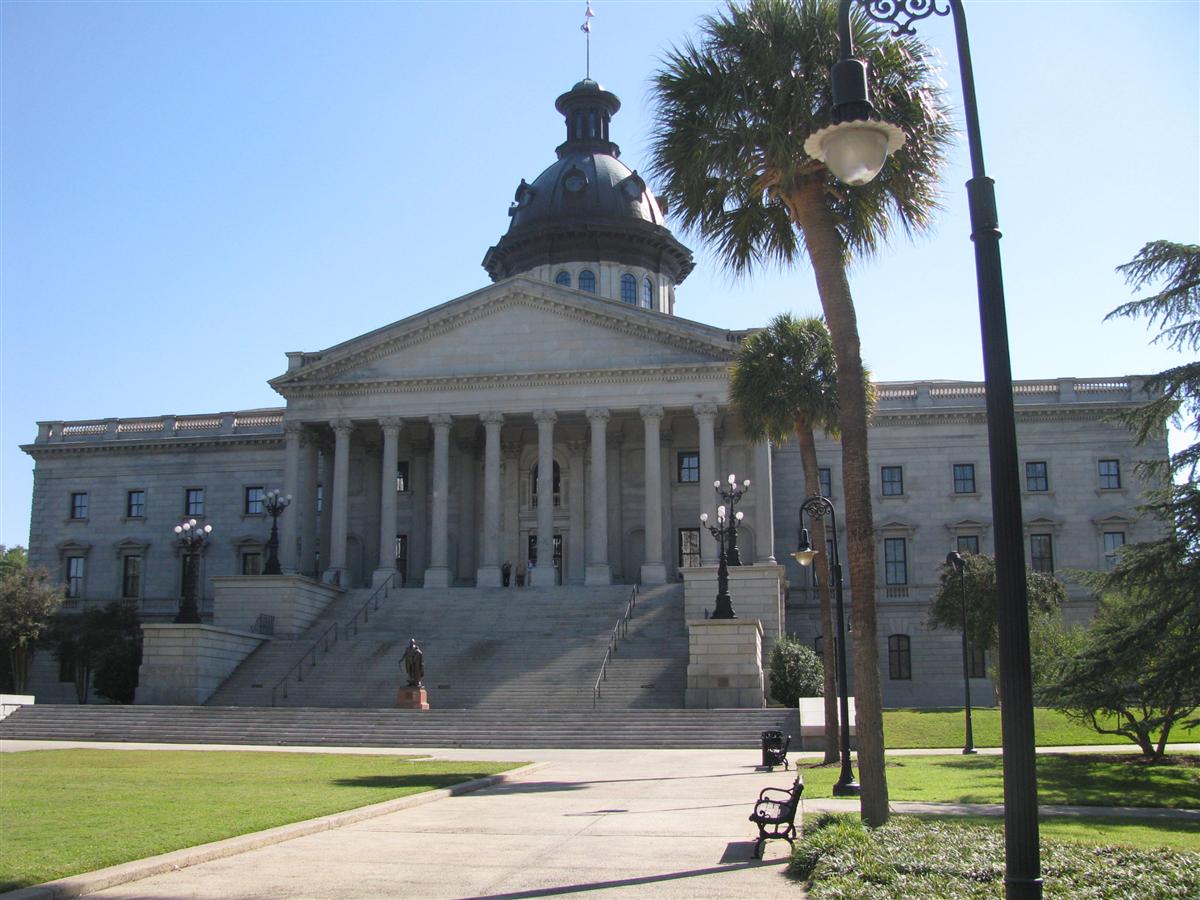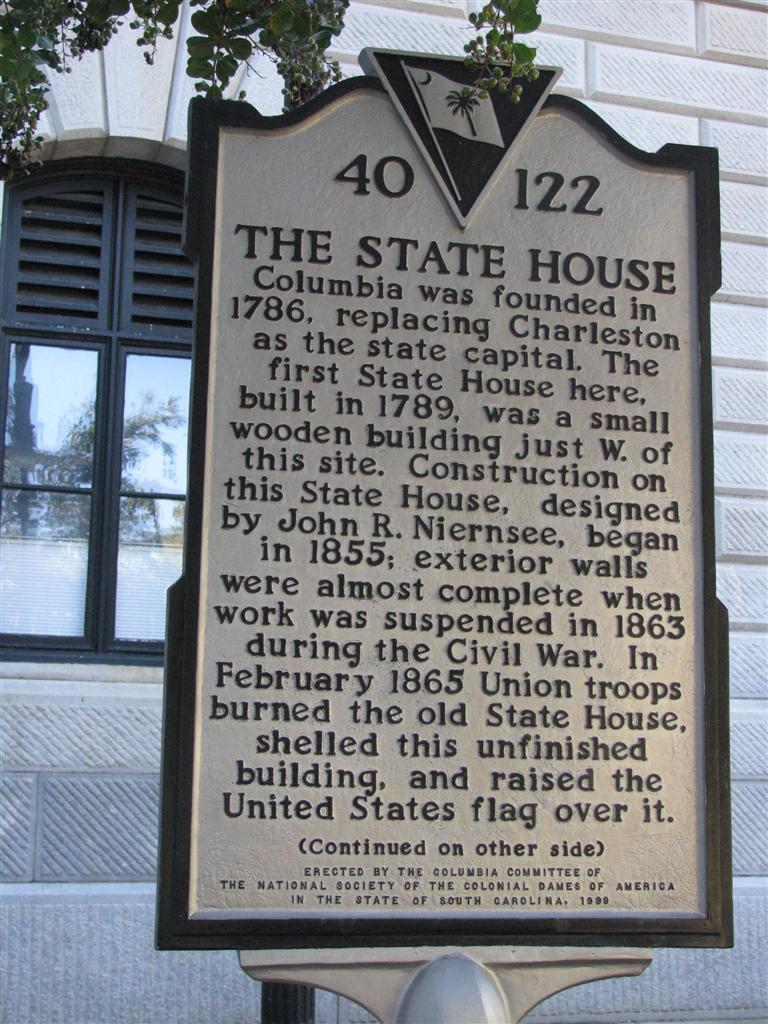 The State House of South Carolina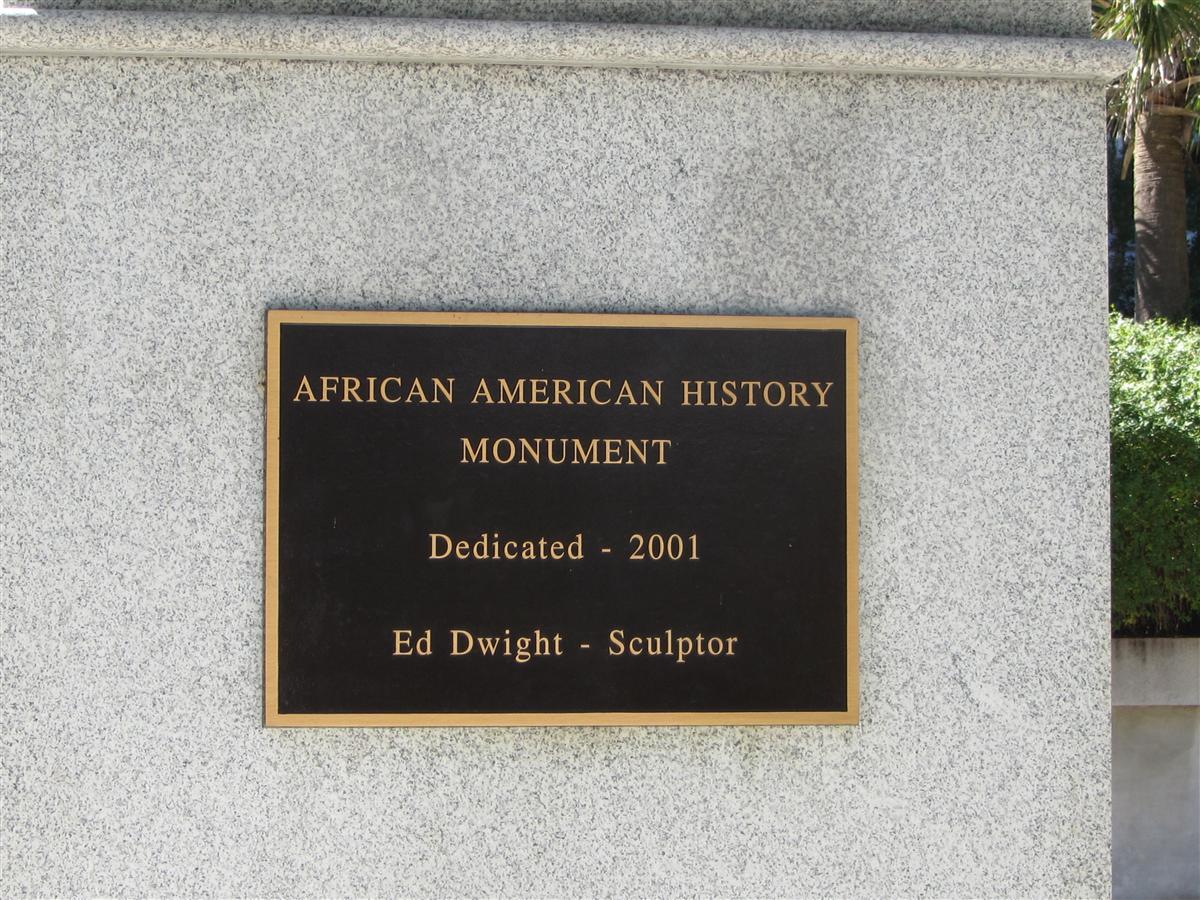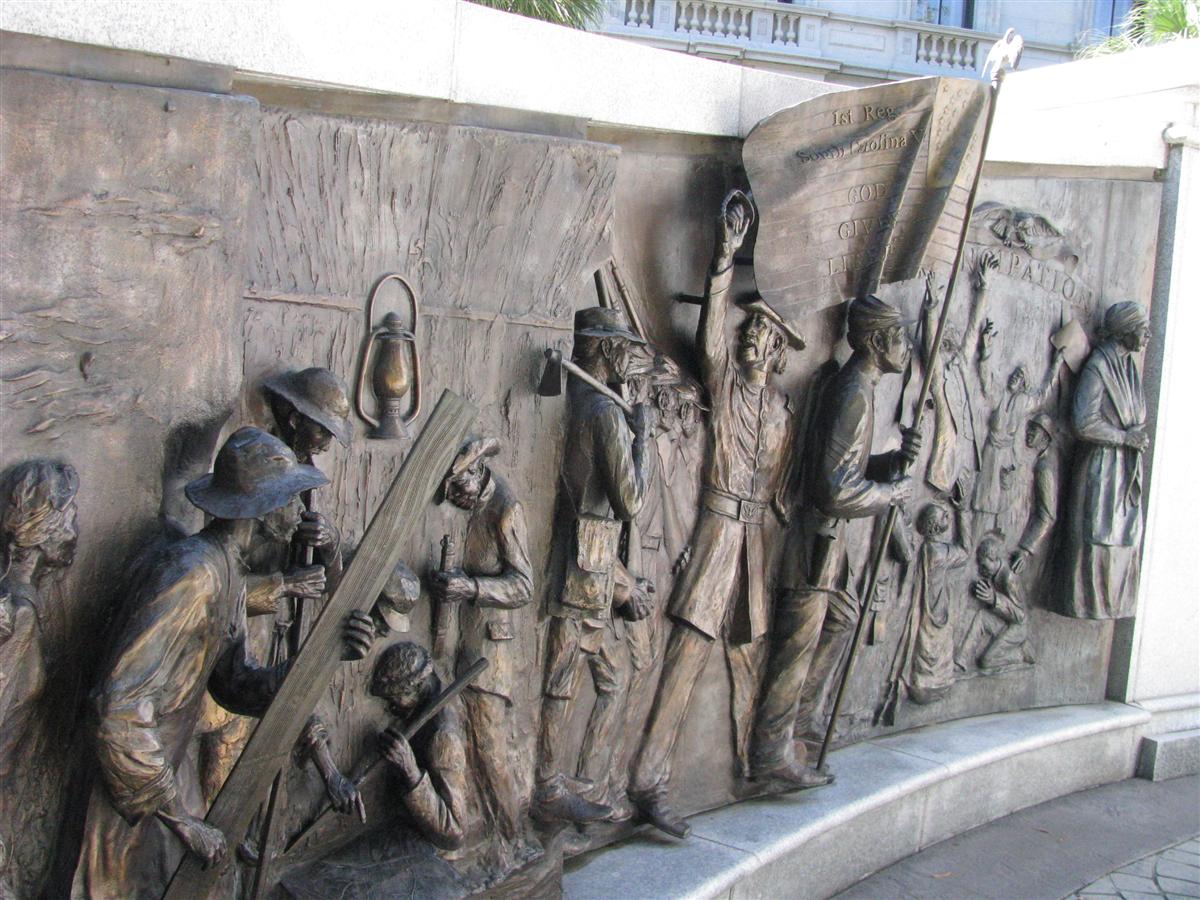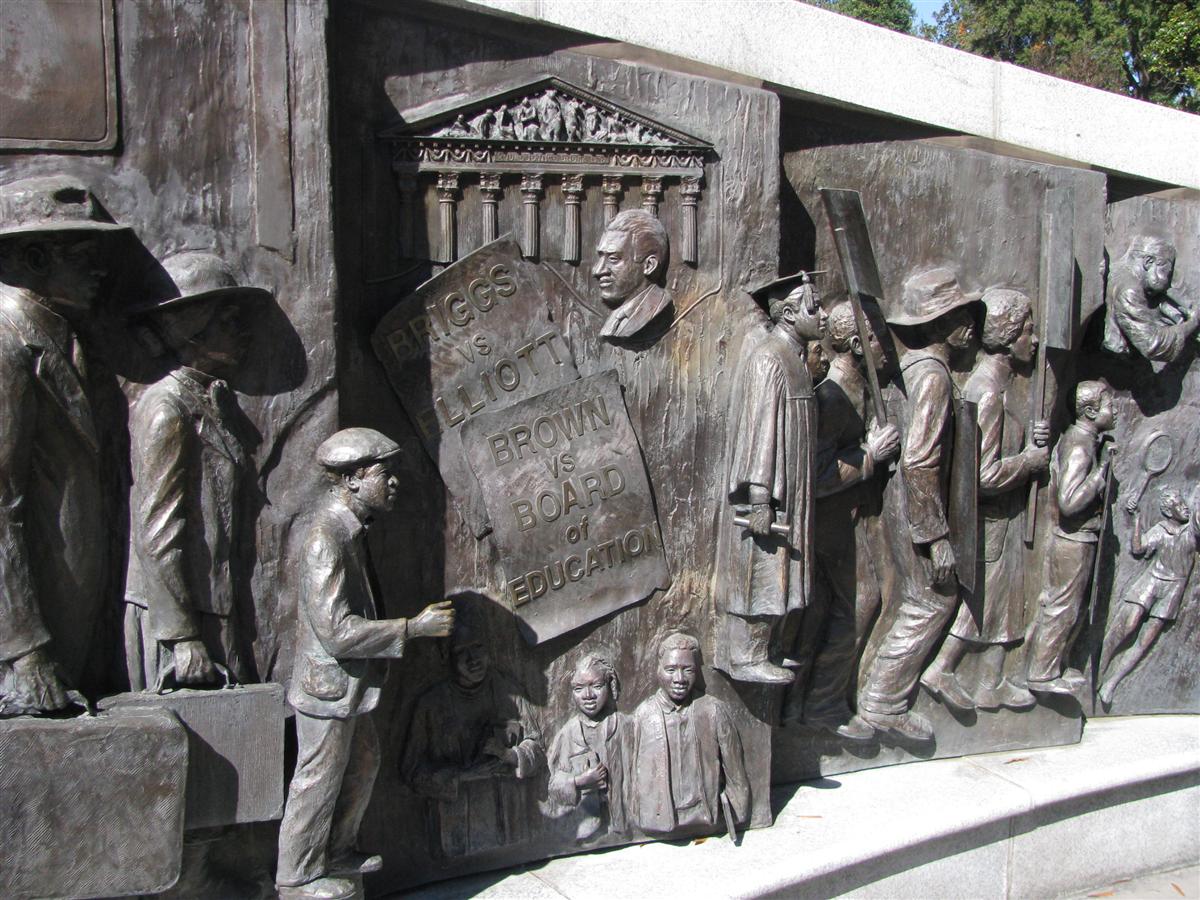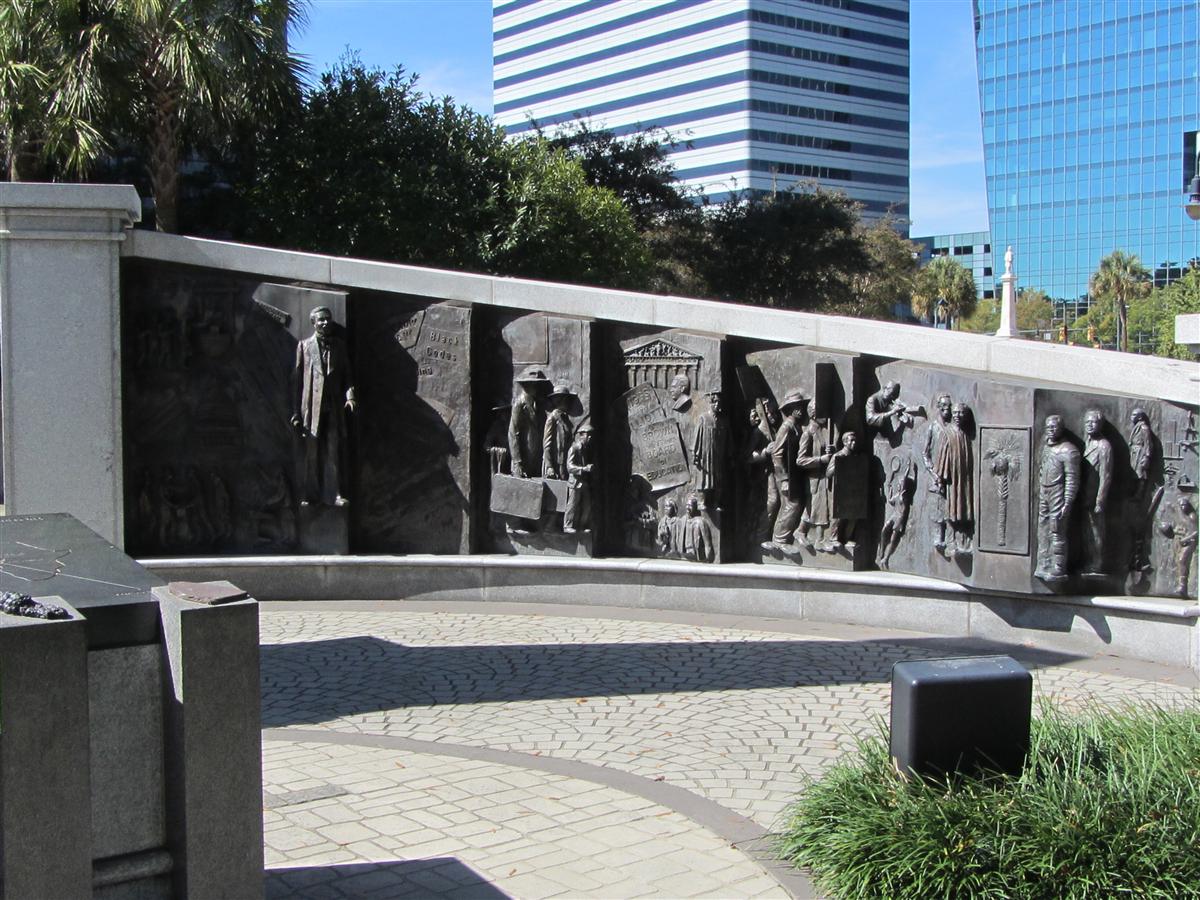 On one side of the State House was the African American History Monument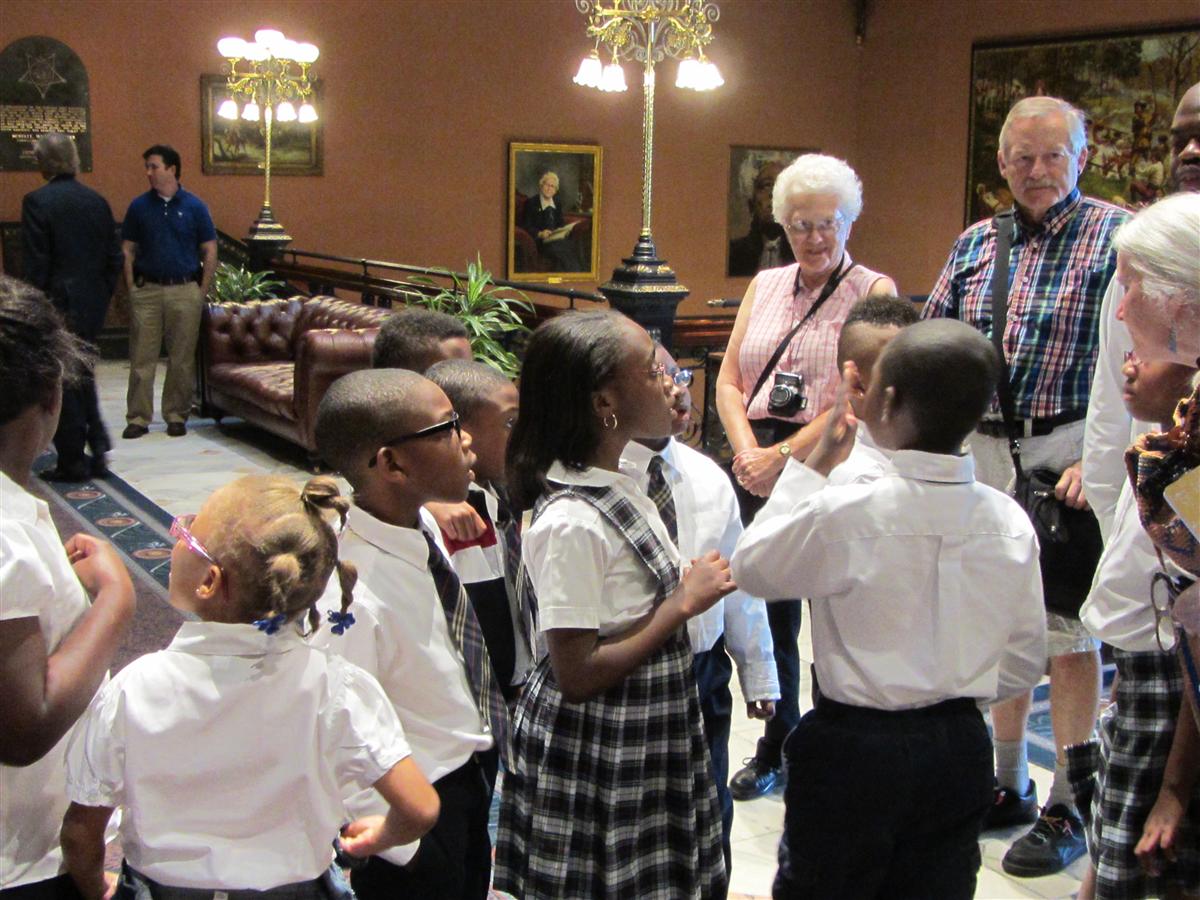 We joined a guided tour with a group of Columbia 3rd graders who were learning about the state government.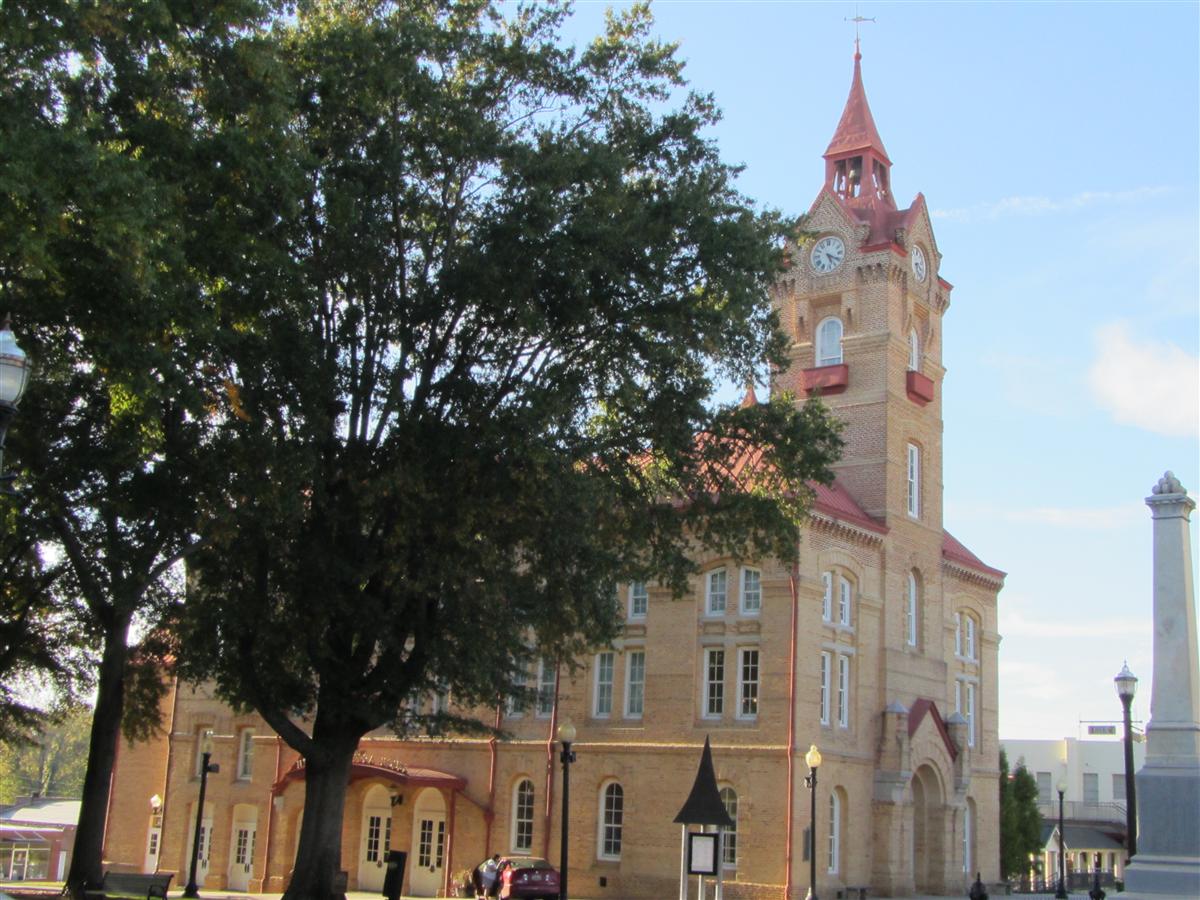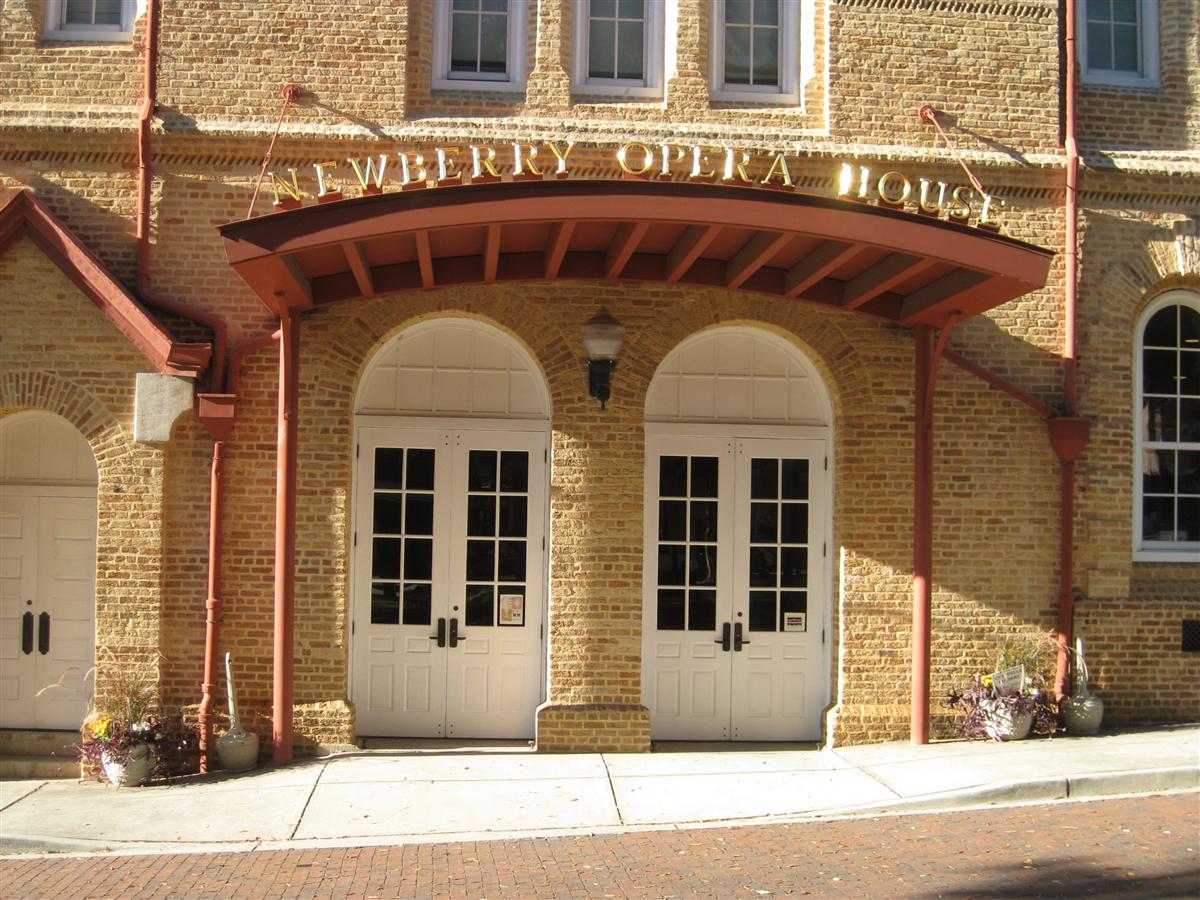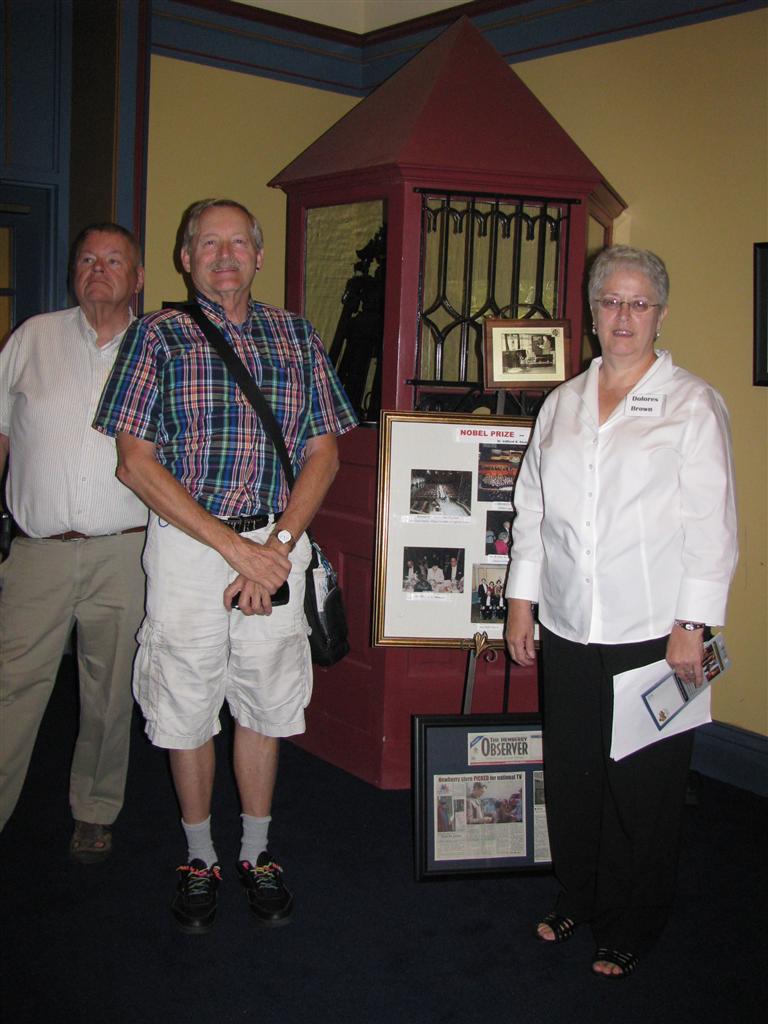 We drove on north about 40 miles to Newberry. Our hotel is right across the street from the Opera House. It was built in 1881 and was recently rennovated. There are several hundred preformances a year. Cindy Williams was here the day before in "Nunset Boulevard". Olivia Newton John is coming soon. We stepped into the theater and were given a personal tour.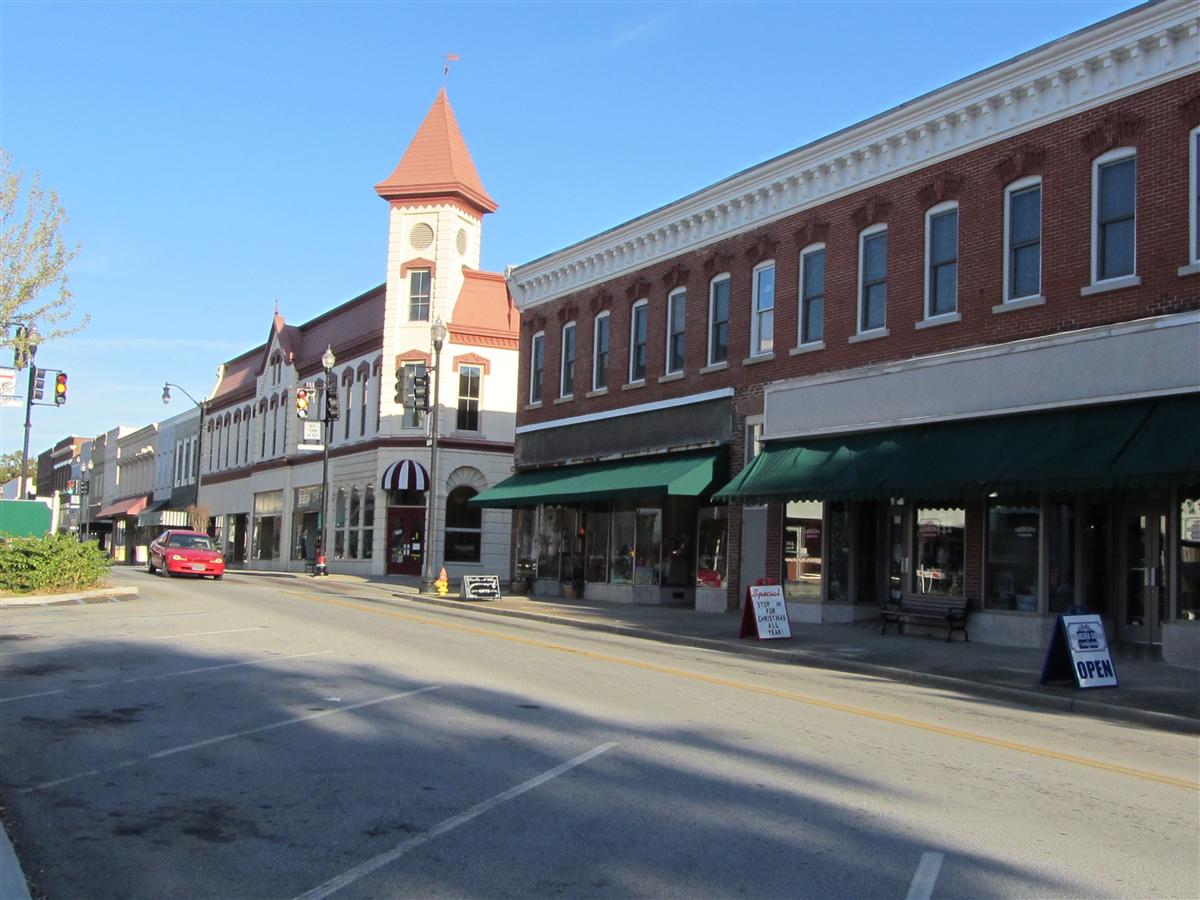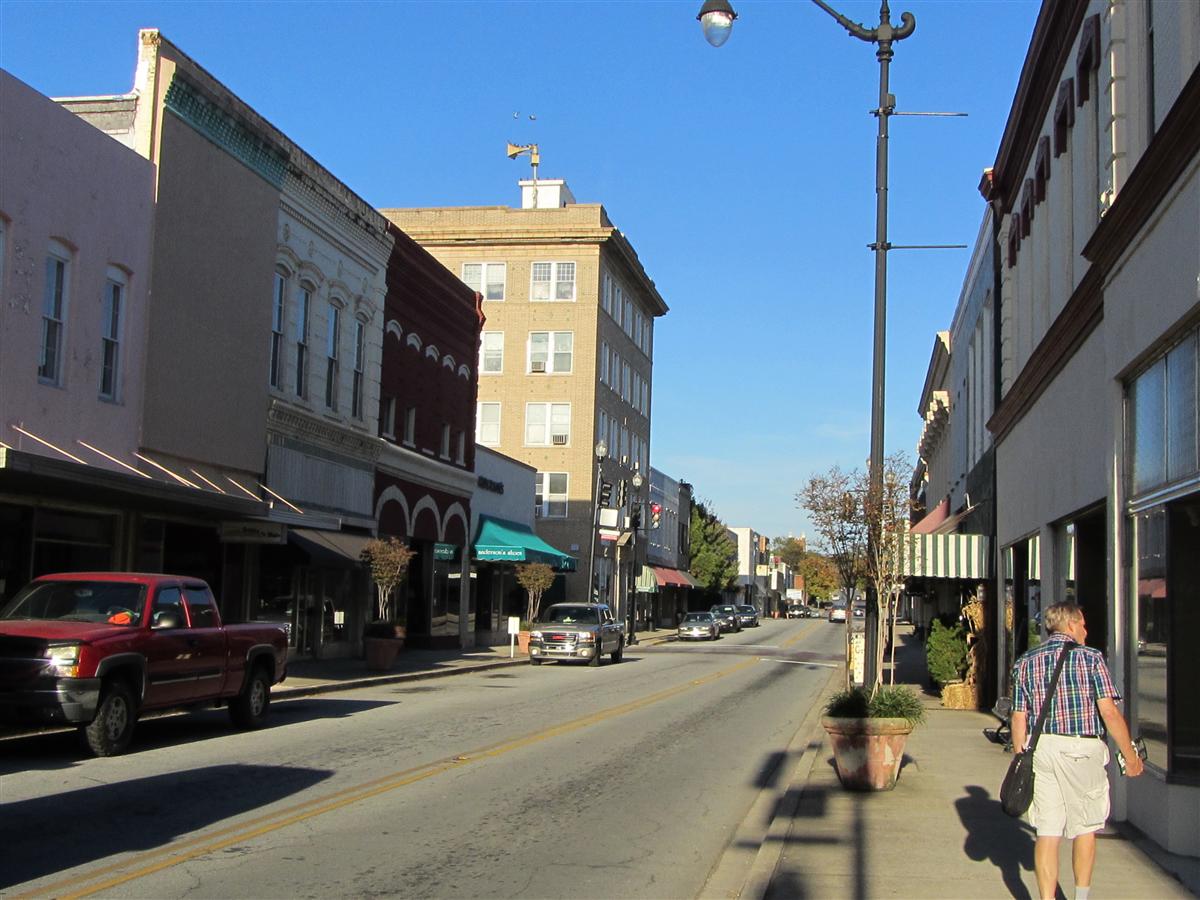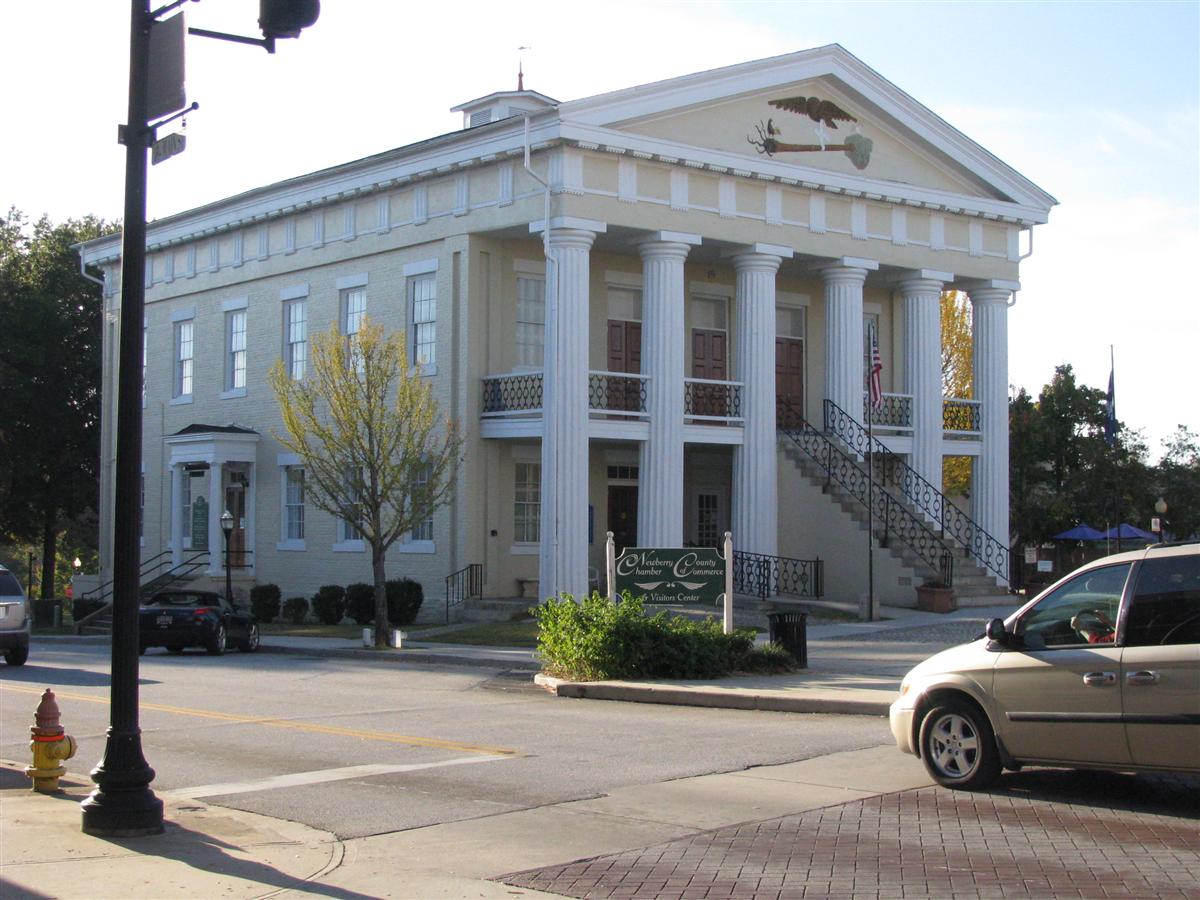 Street scenes in Newberry, SC
October 24, 2012 Newberry to Greenville South Carolina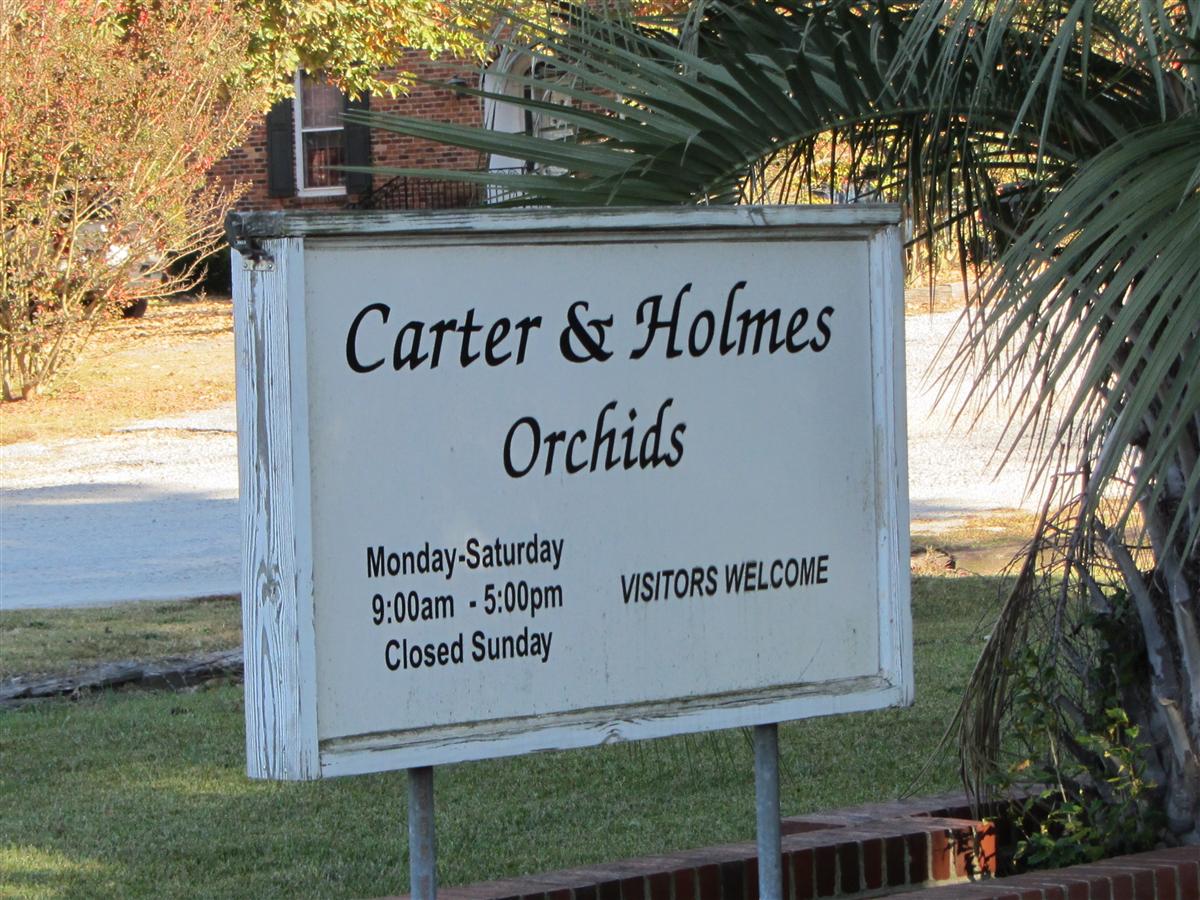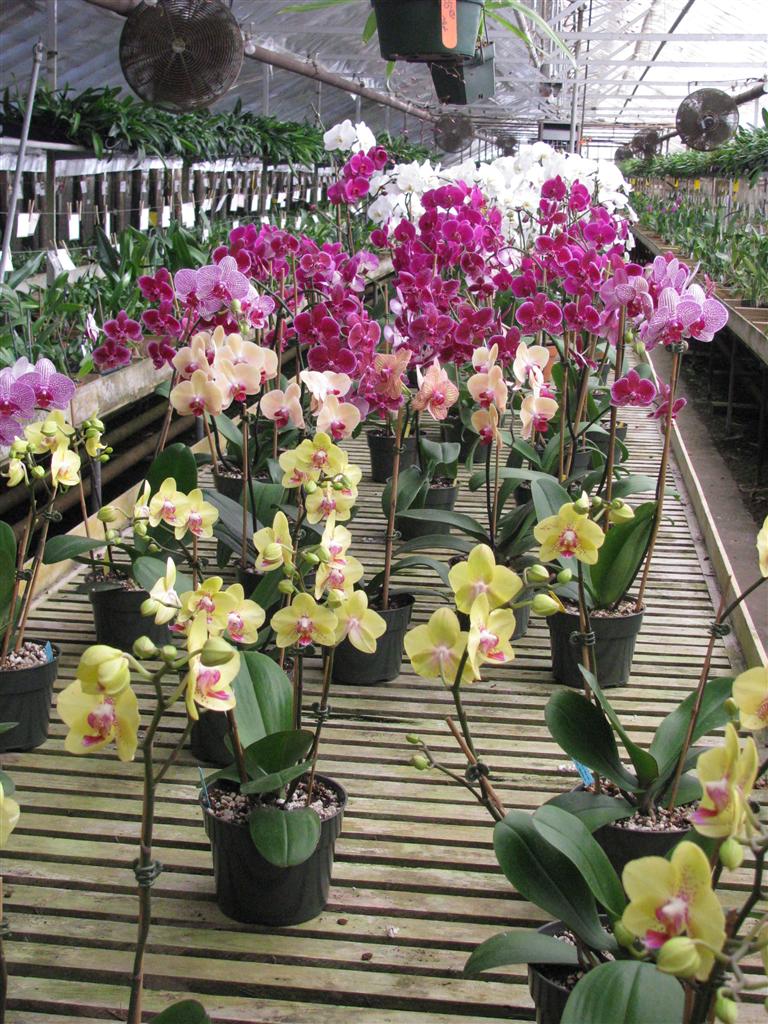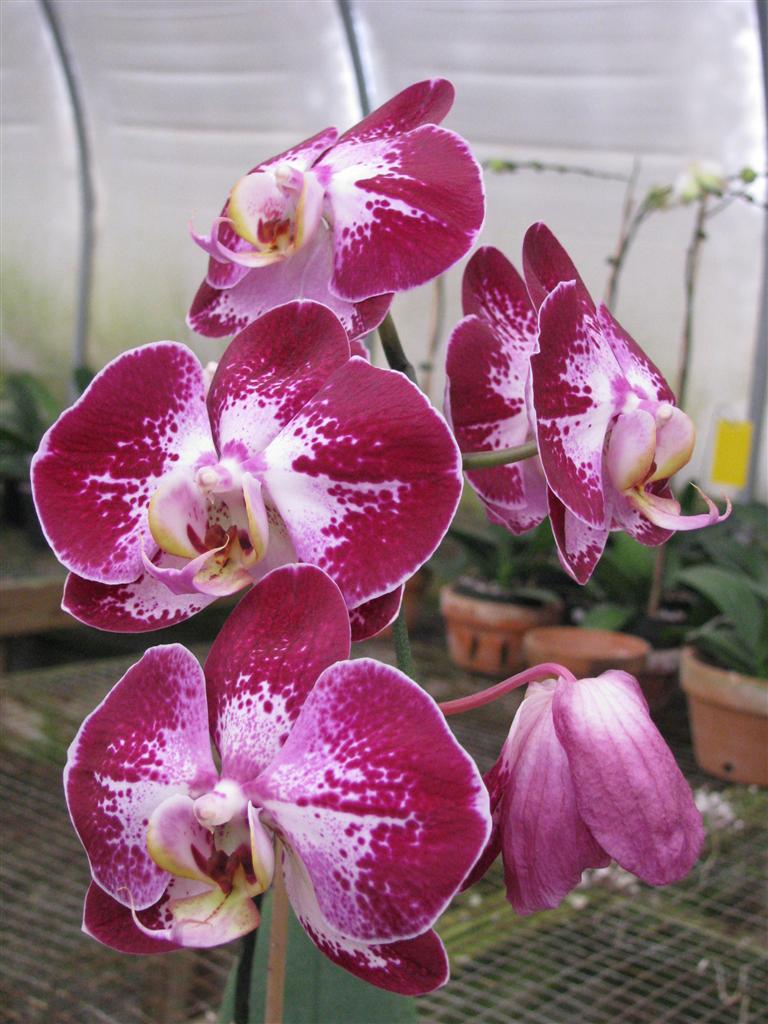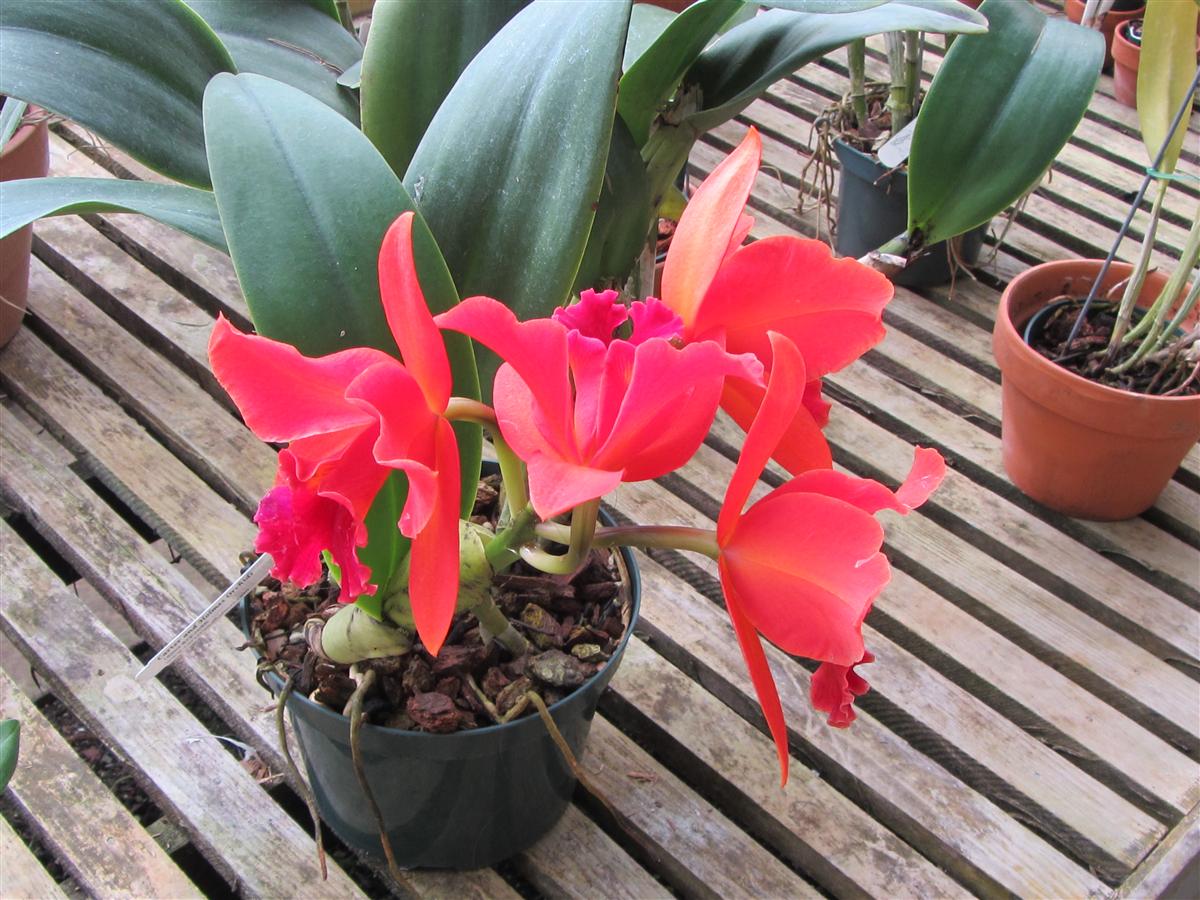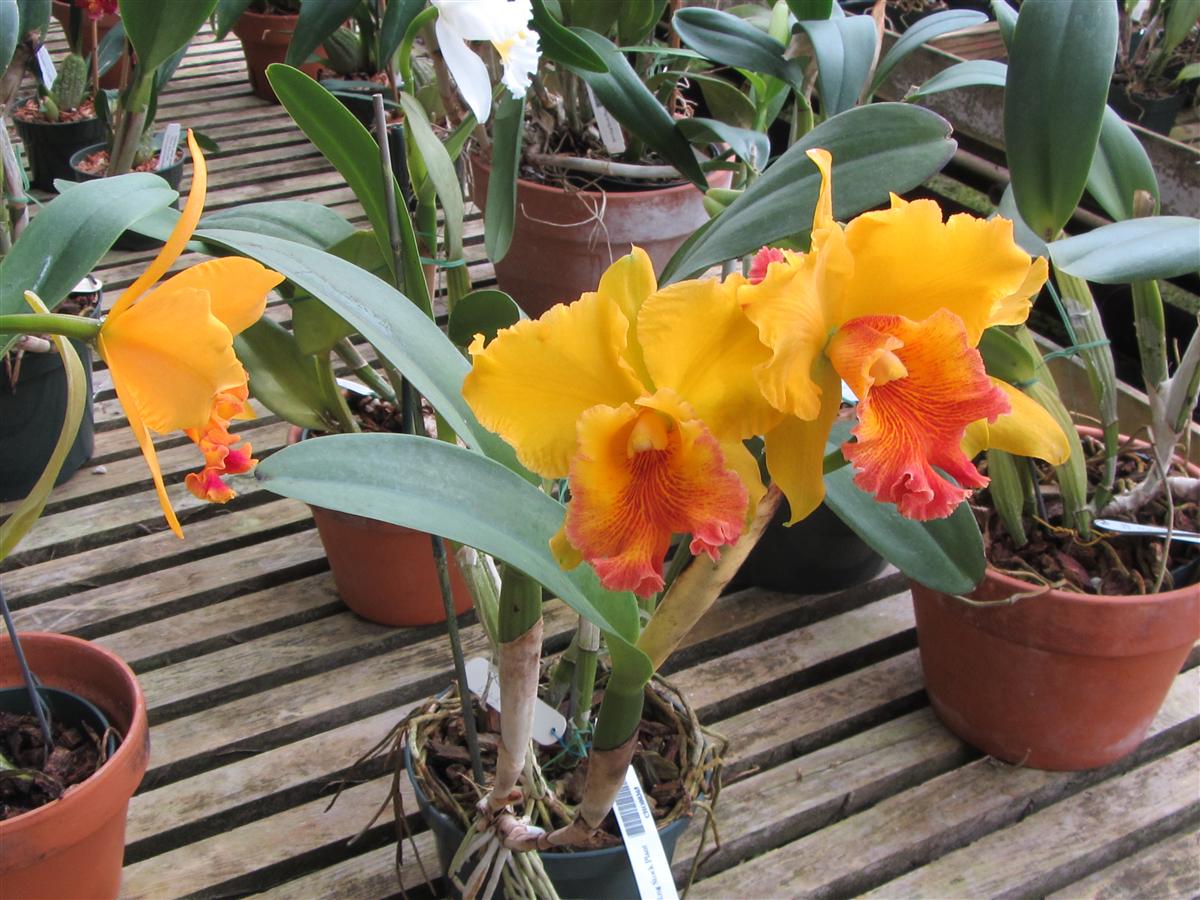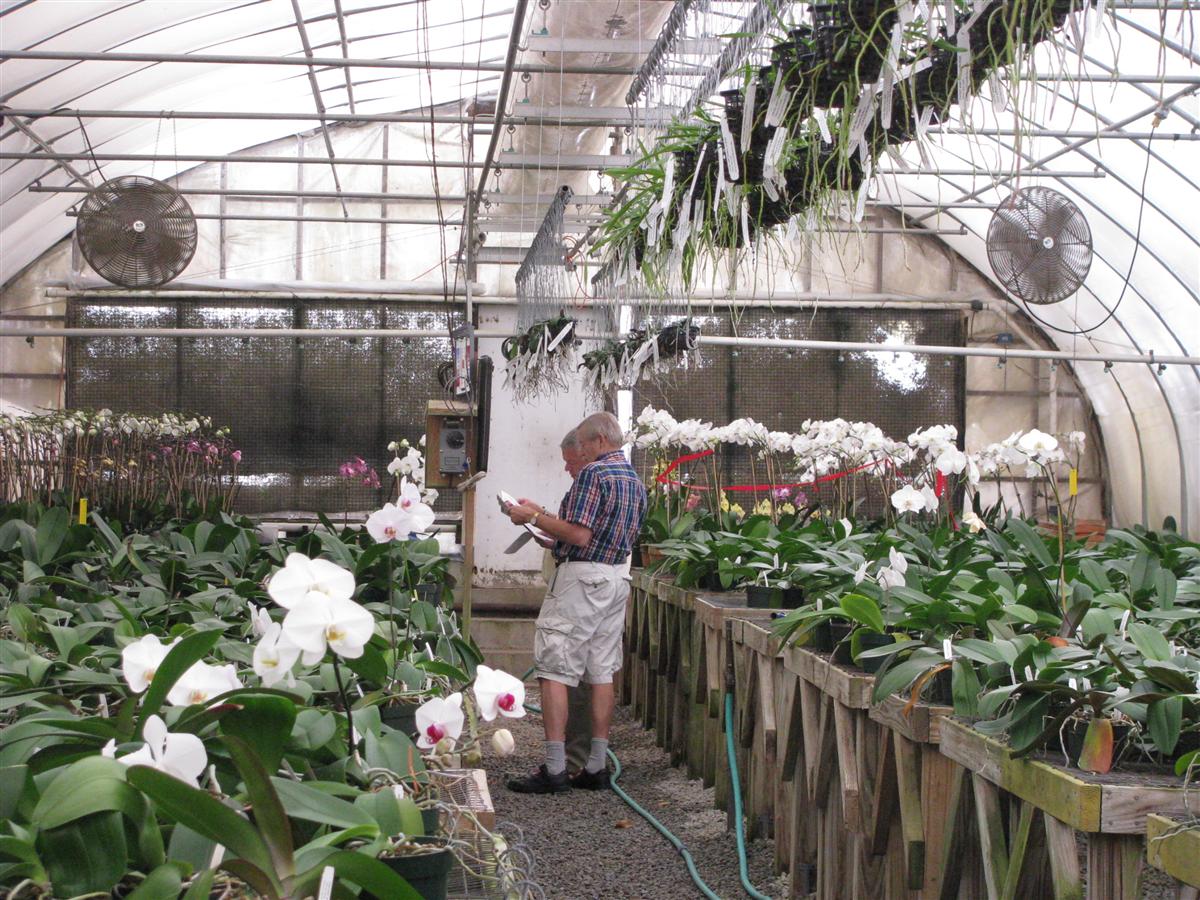 We started the day at the Carter and Holmes Orchid Gardens just outside of Newberry. Many beautiful flowers.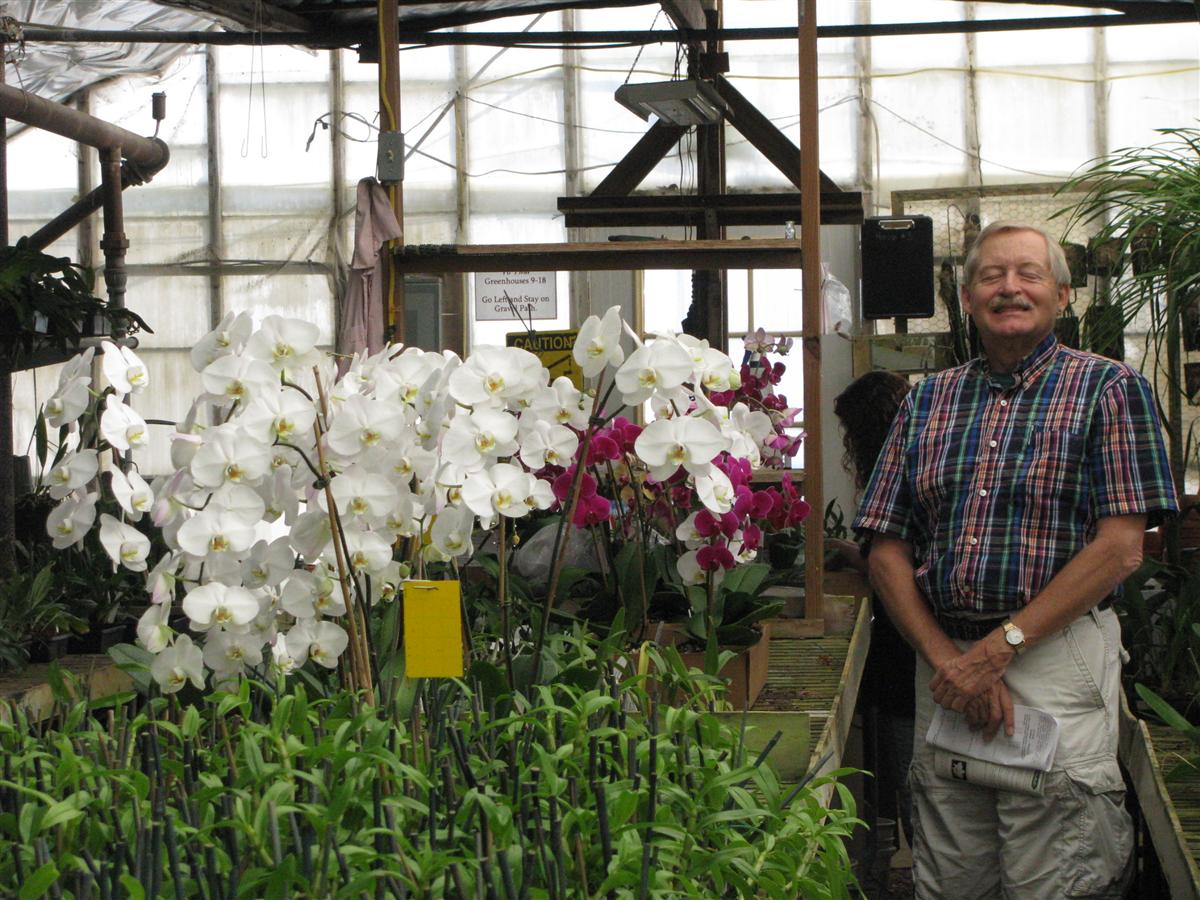 We were able to walk through the greenhouses and take pictures. They do a big mail-order business to Florida and California. At the end, we met the owner Owen Holmes III who told us about his business.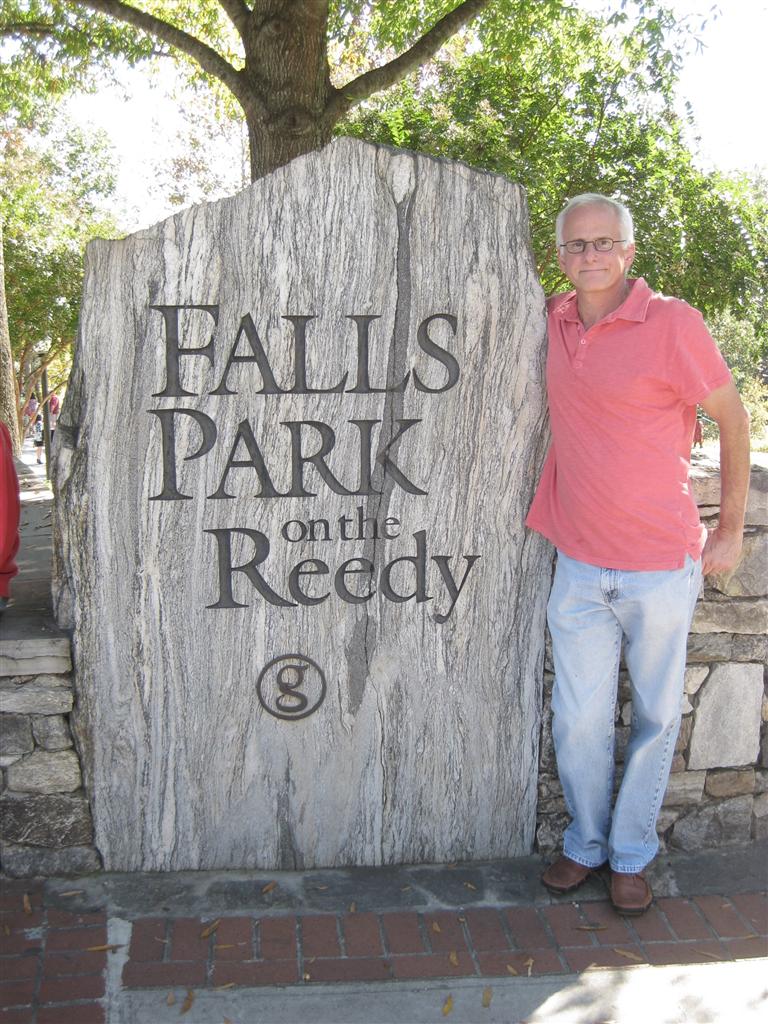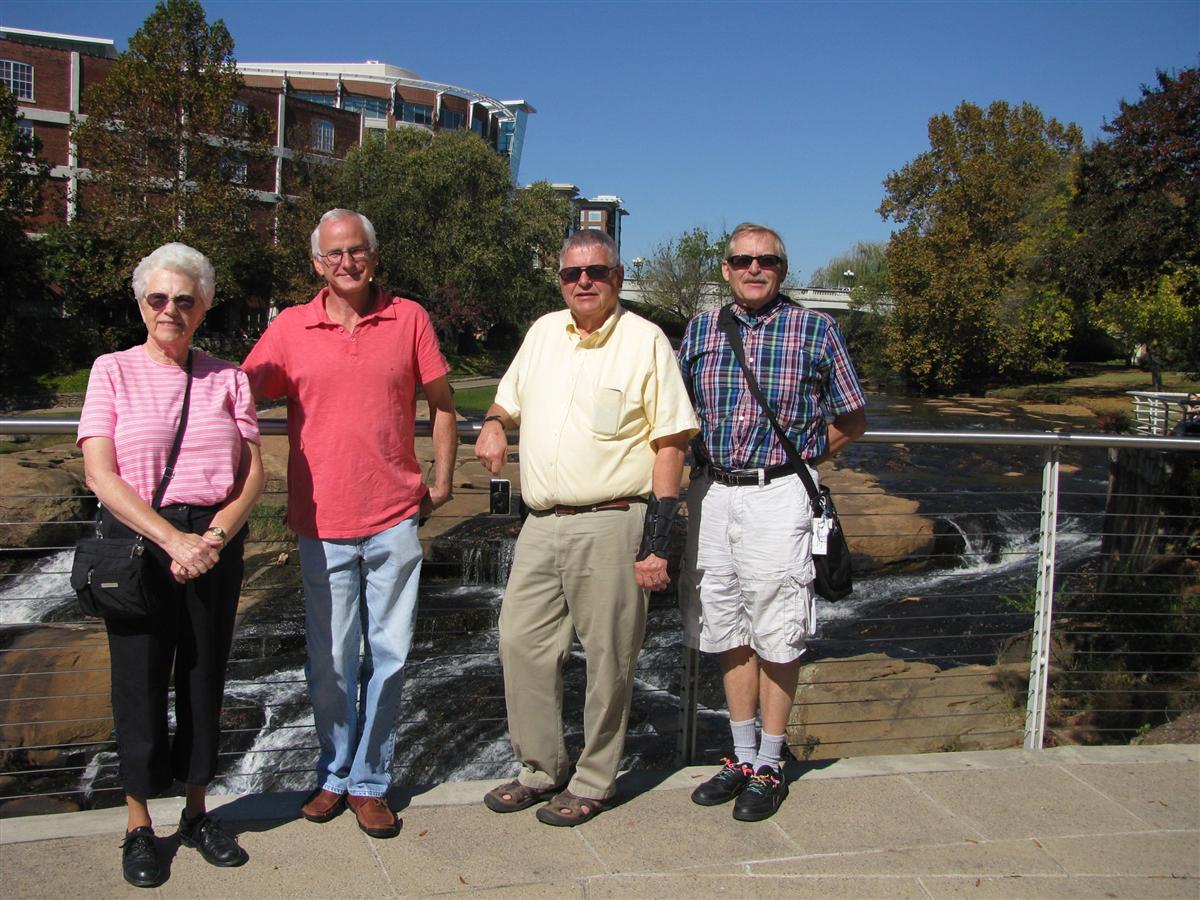 We drove on to Greenville and by arrangement, met friend Robert at his home. We then drove downtown to see the beautiful Falls Park, the central feature of the city of Greenville. In the 1700's, Richard Pearis bought much of this area from the Indians and built a grist mill on it. Later on it was purchased by Furman Institution and more mills came in to spin fibers and weave fabrics. A 4 lane bridge was built across the ravine.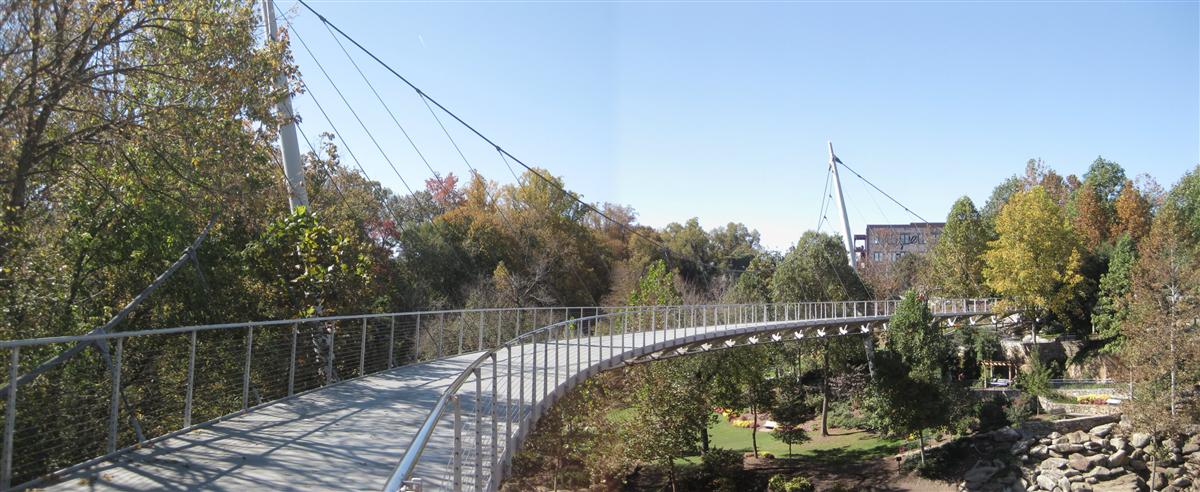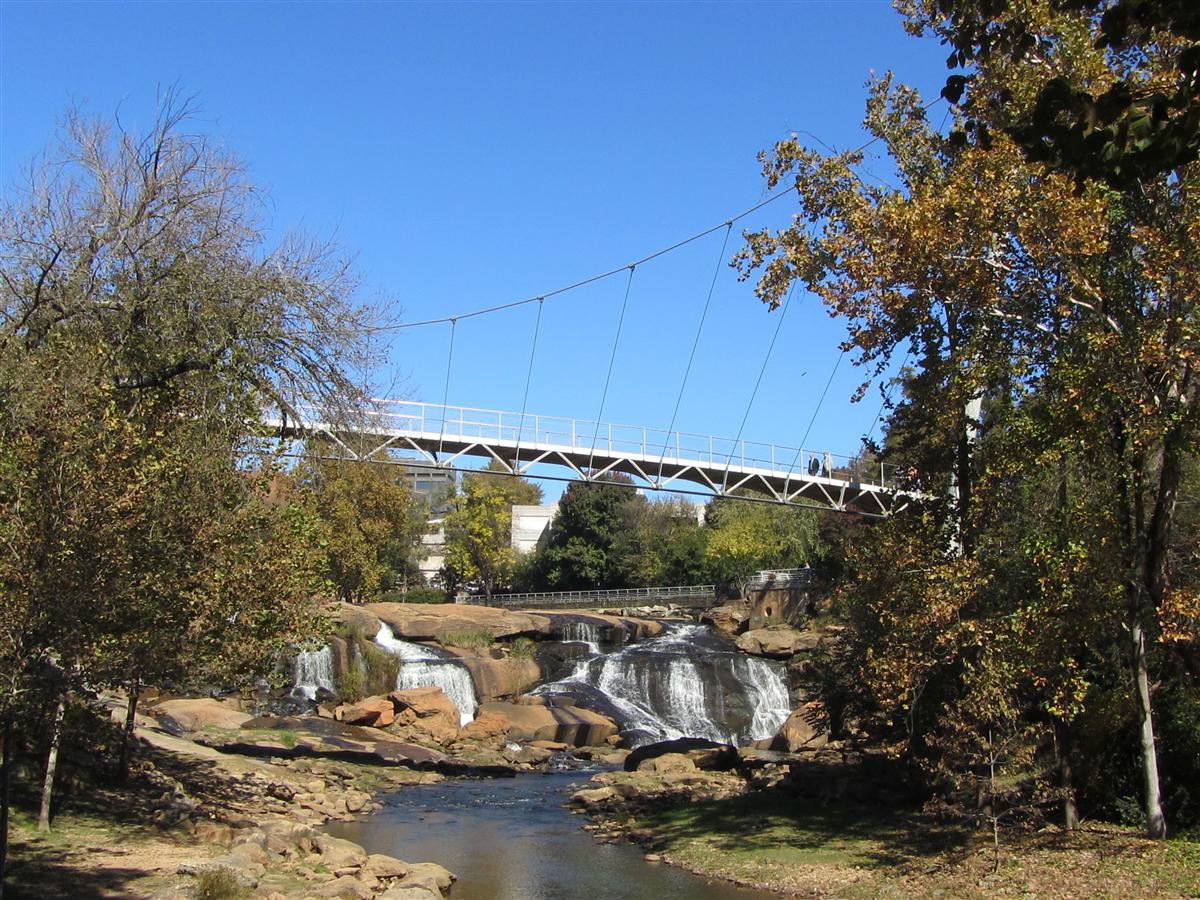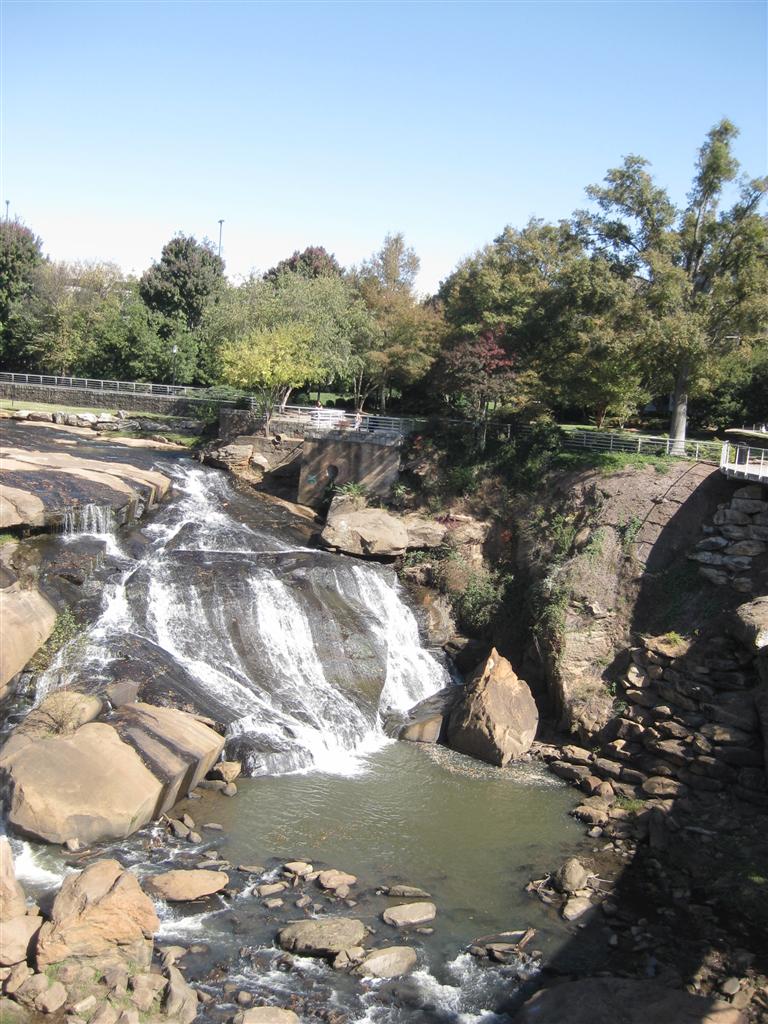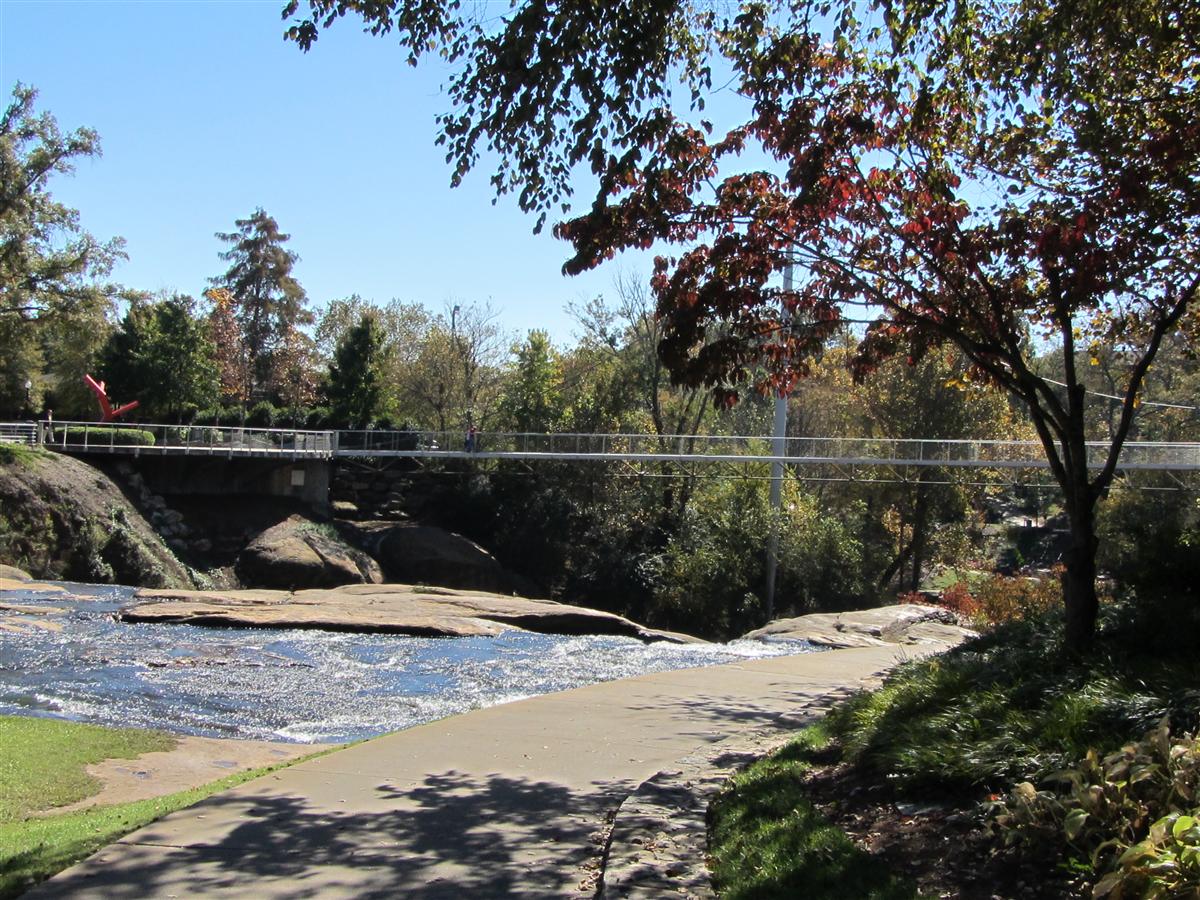 The Liberty Bridge spans the Reedy River and Falls. It was designed by bridge architect Miquel Rosales. It looks like it's floating on air. It is 345 feet long, 12 feet wide and 8 inches thick concrete reinforced deck It is supported by a single suspension cable.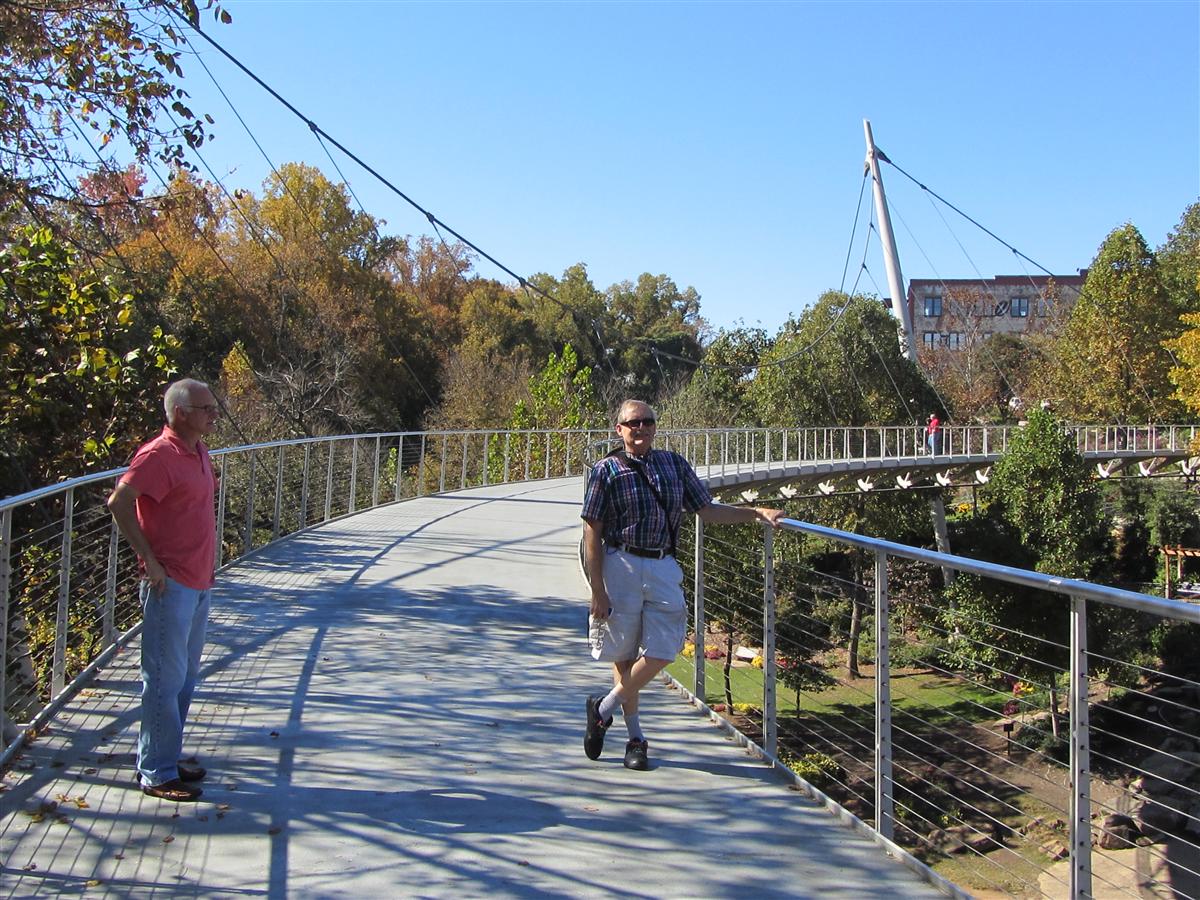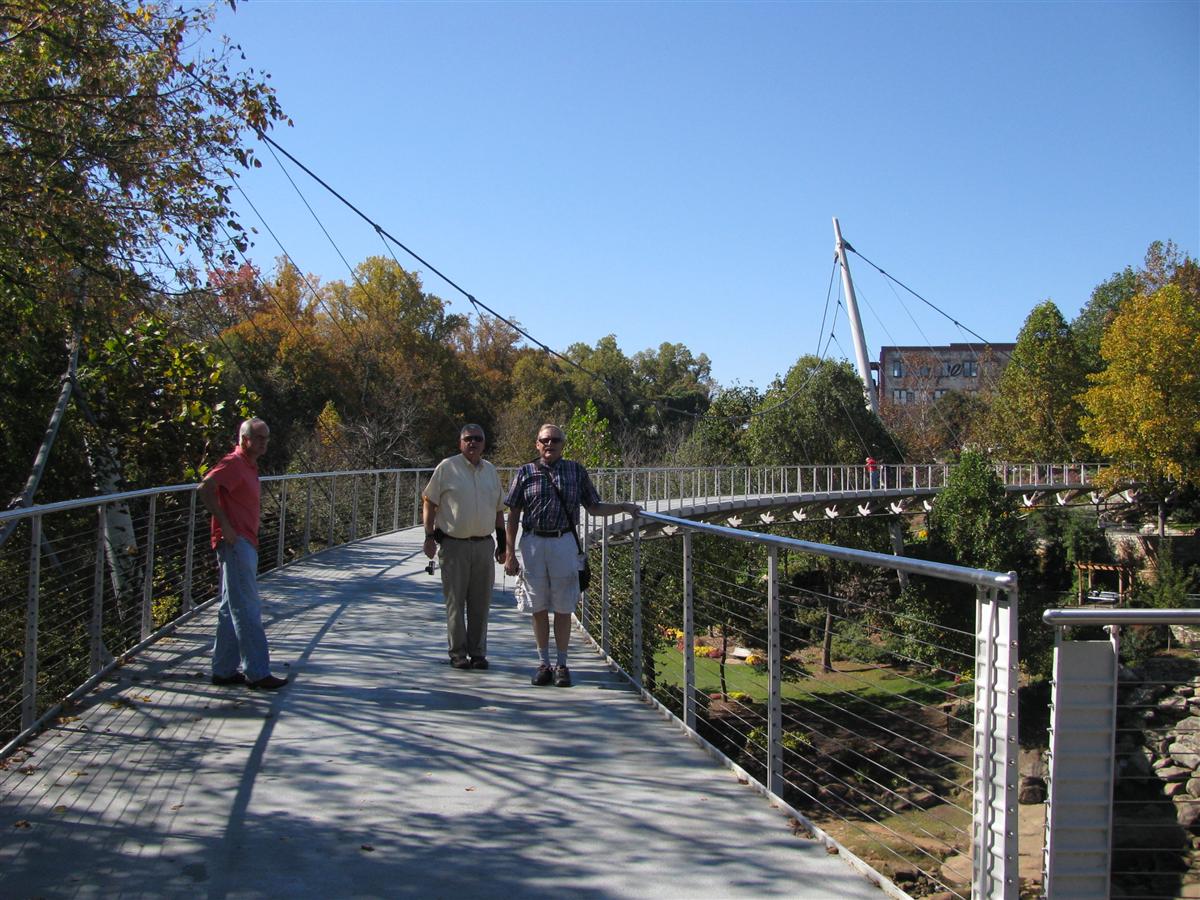 On the Liberty Bridge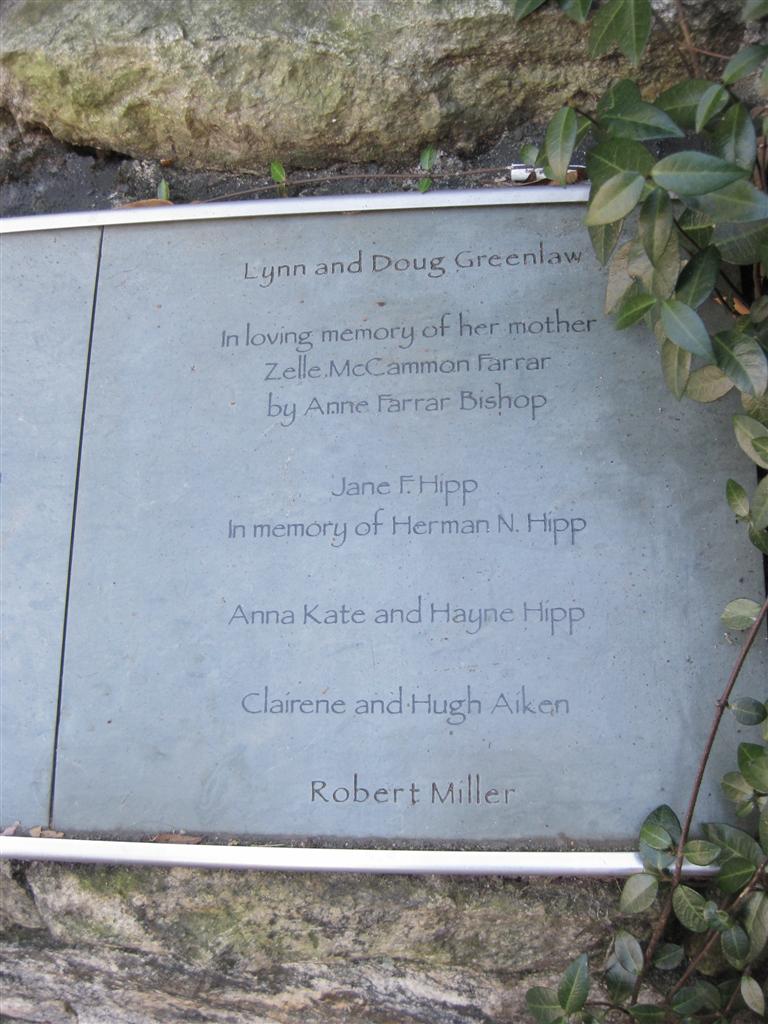 Robert is recognized for his work and contributions to this civic effort in this plaque.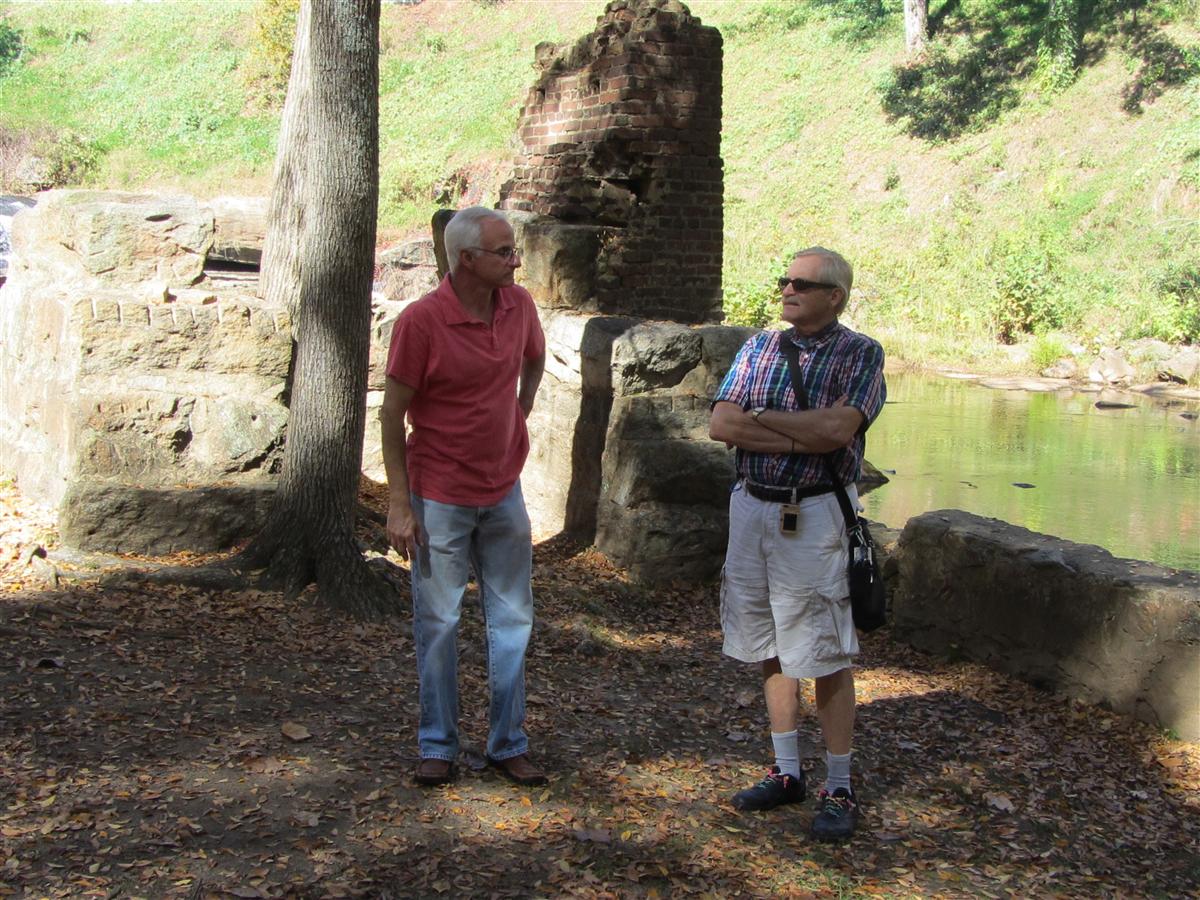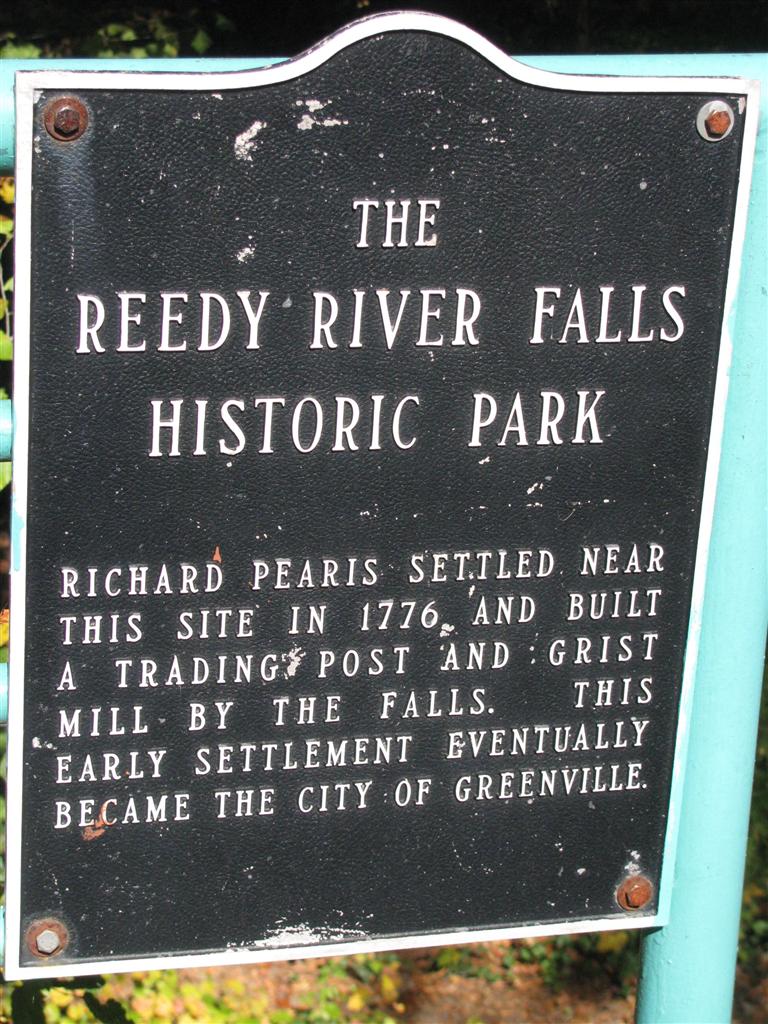 In 1967, the Carolina Foothills Garden Club reclaimed 26 acres for the current park, with the support of the City of Greenville, Furman University and the Planning Commission. Over the next 40 years, the Garden Club and the City of Greenville worked with individuals, corporations and state and federal agencies to further develop the park, clean up the river and restore the historic Falls Cottage. In 1990, landscape architect Andrea Mains introduced the concept of transforming the park into a regional attraction, with beautiful public gardens and a pedestrian bridge. The 4 lane bridge was torn down and replaced by the pedestrian Liberty Bridge.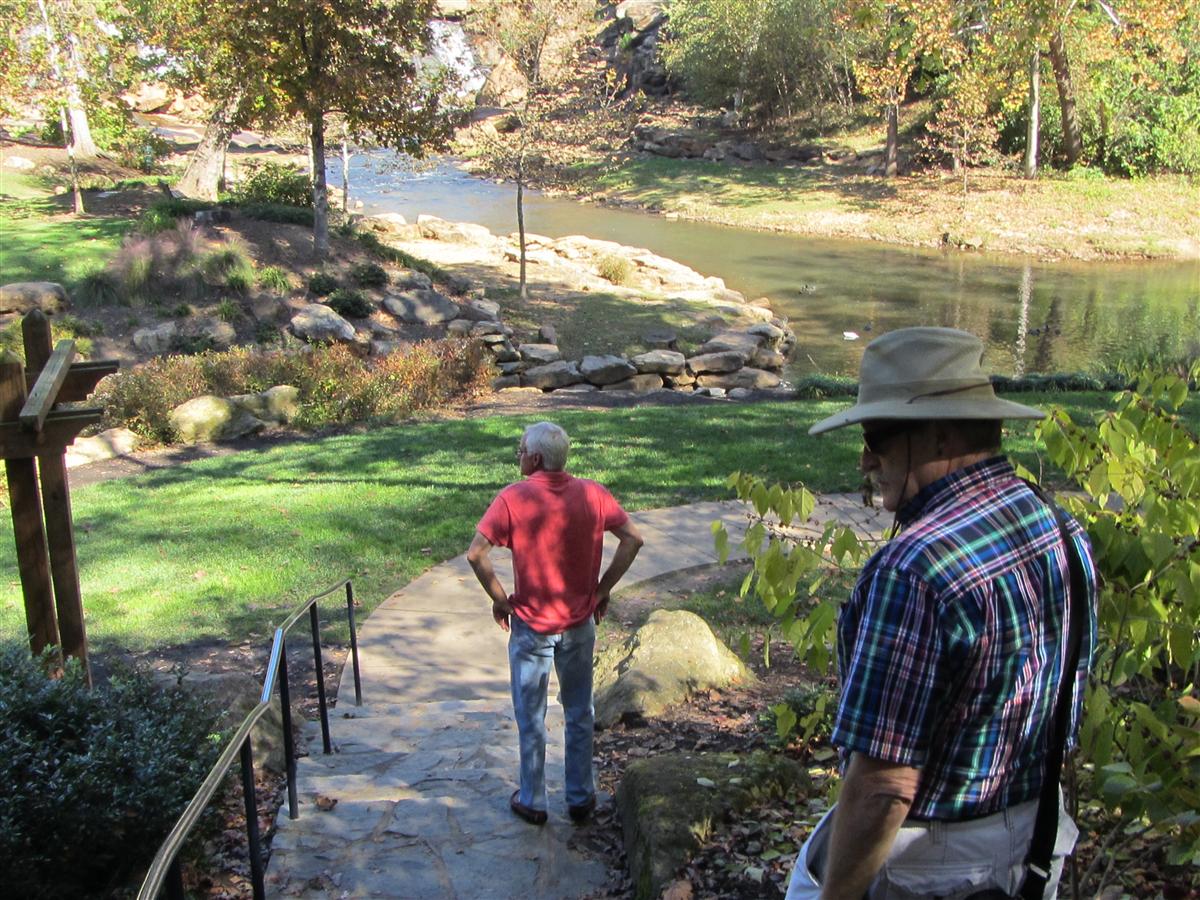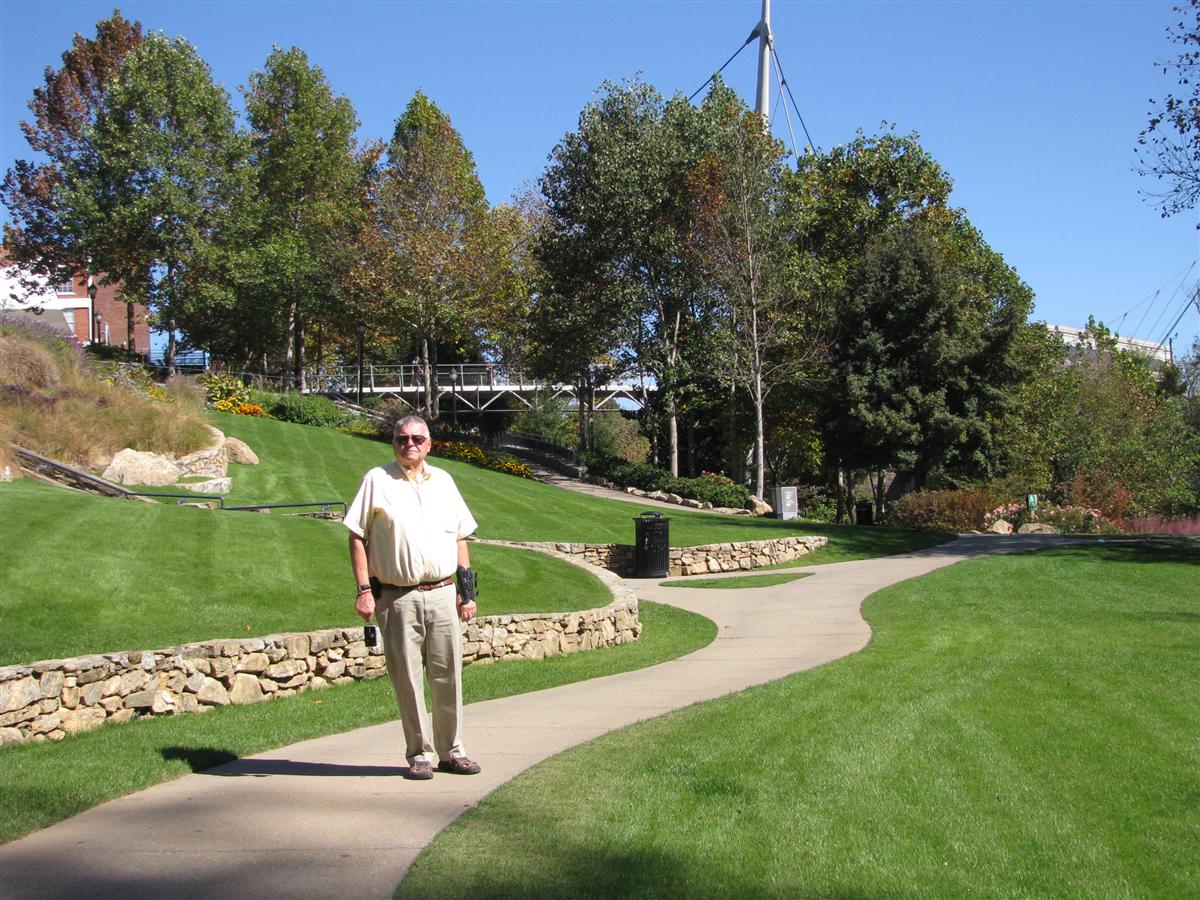 Falls Park walkways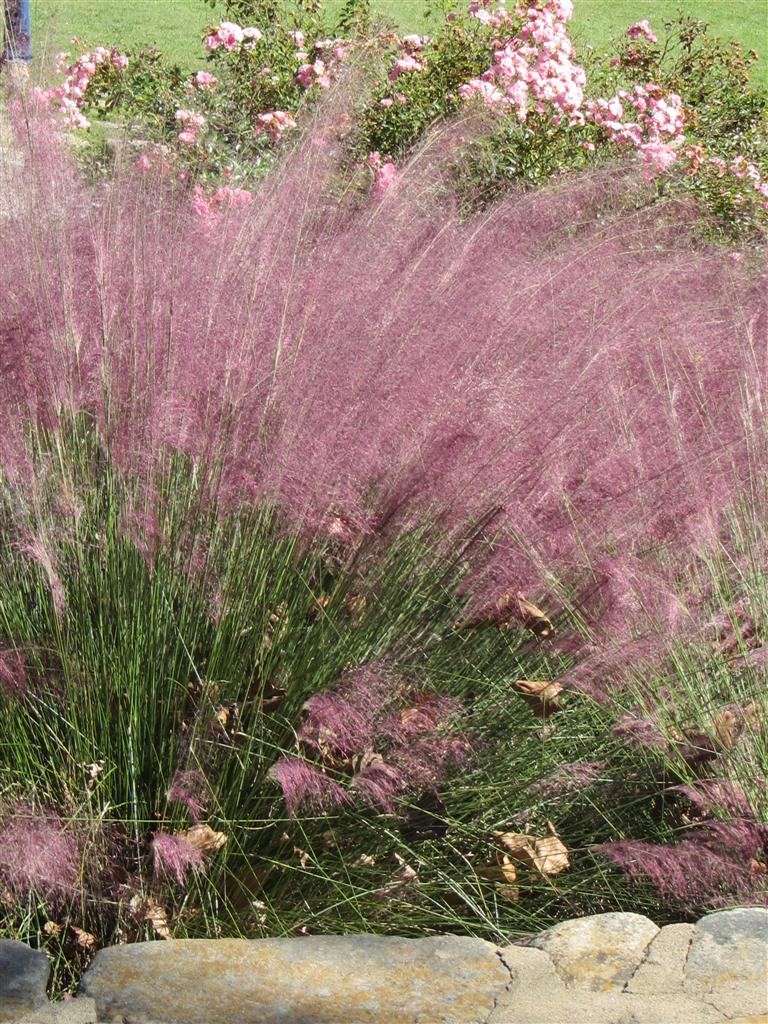 Muhlenbergia (purple grass)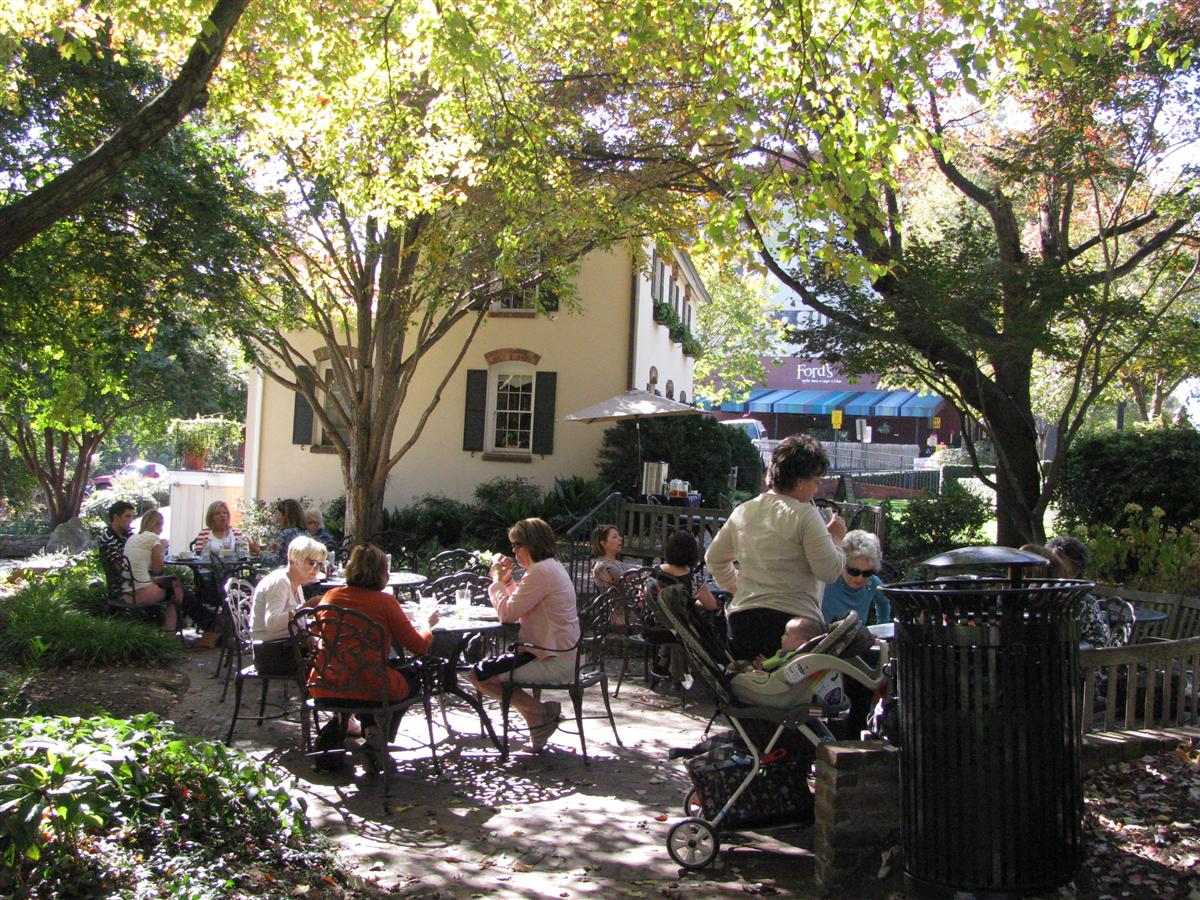 Lunch at Mary's Restaurant along Falls Park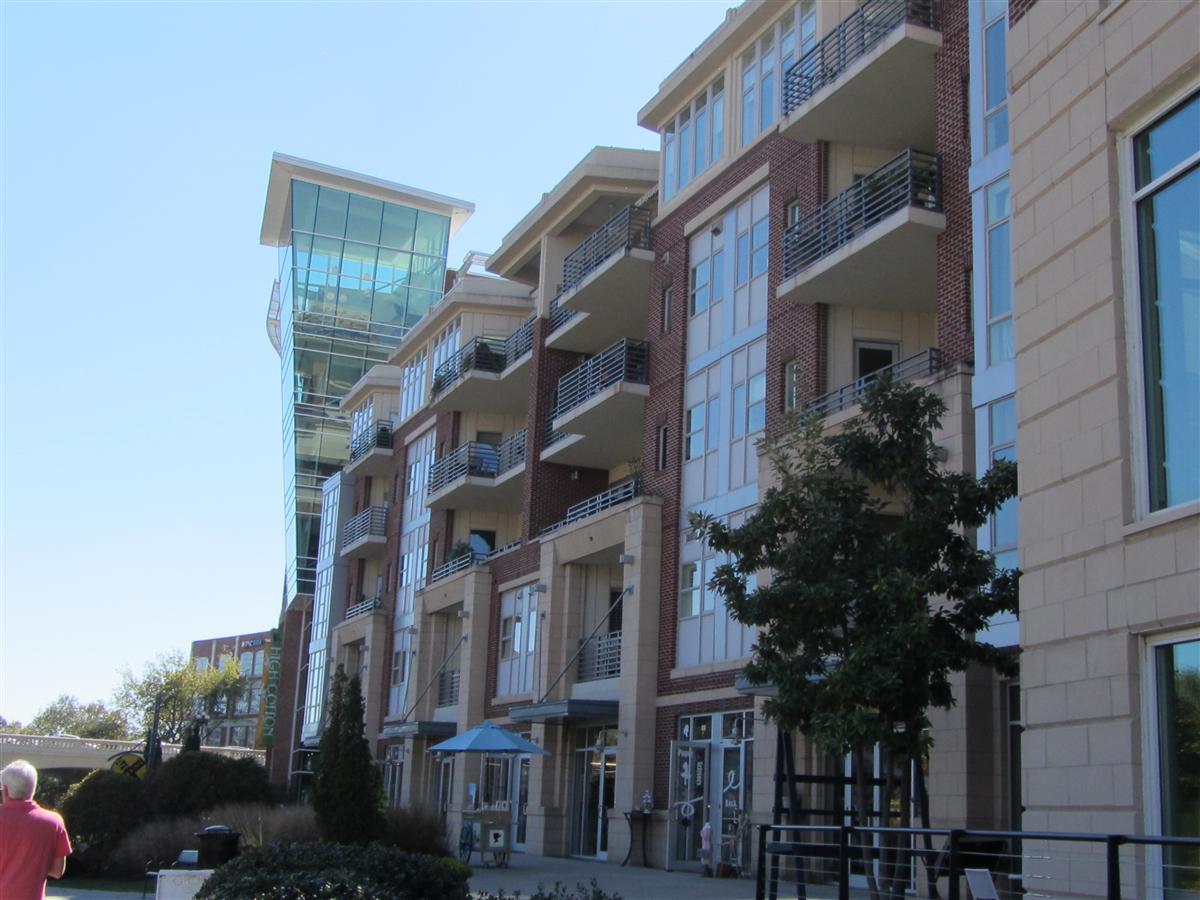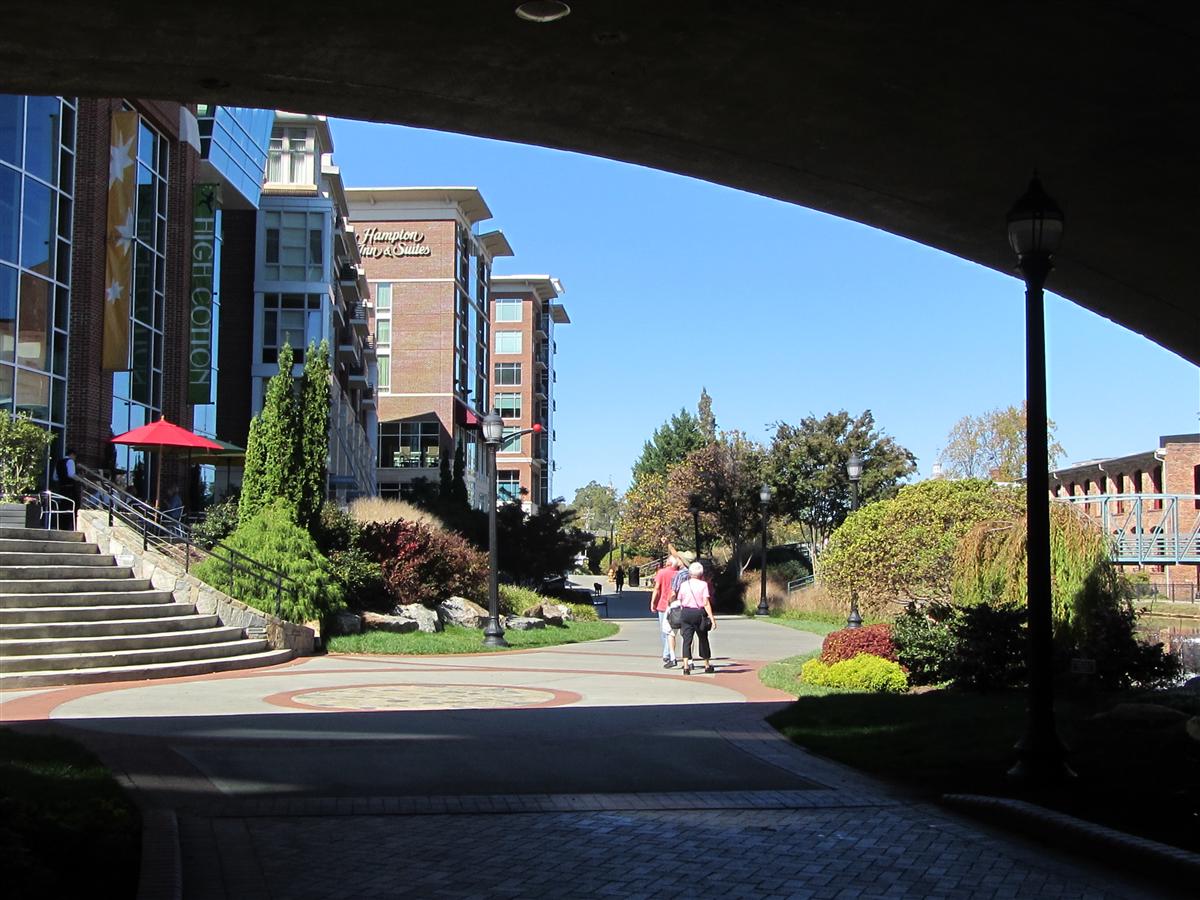 Greenville buildins and fountains.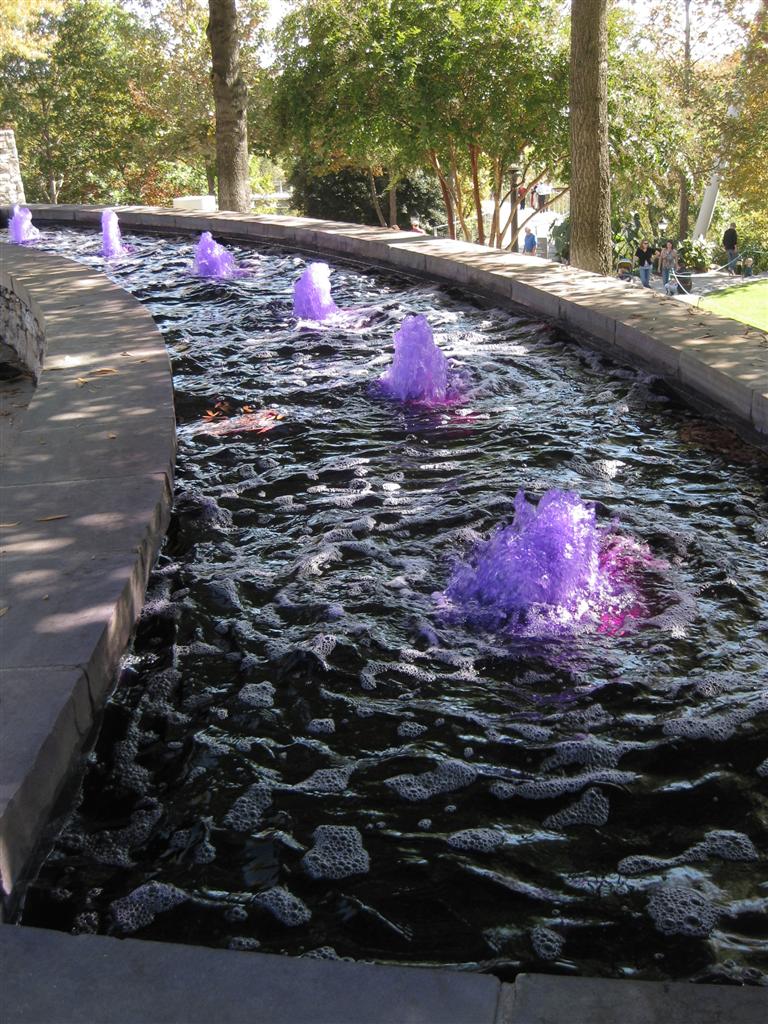 Purple water in fountain
October 25, 2012 Gaffney SC to Hickory NC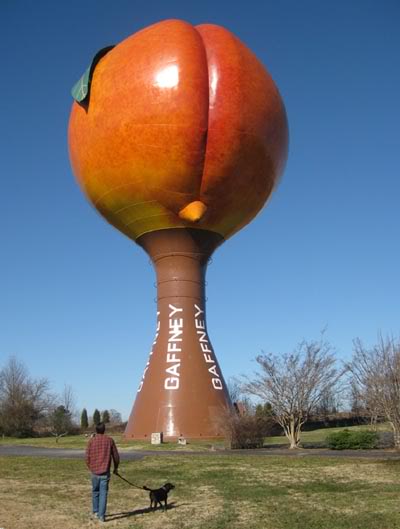 Water tower of Gaffney, the peach capital of South Carolina. (Or Big Butt City, as we have heard it described.)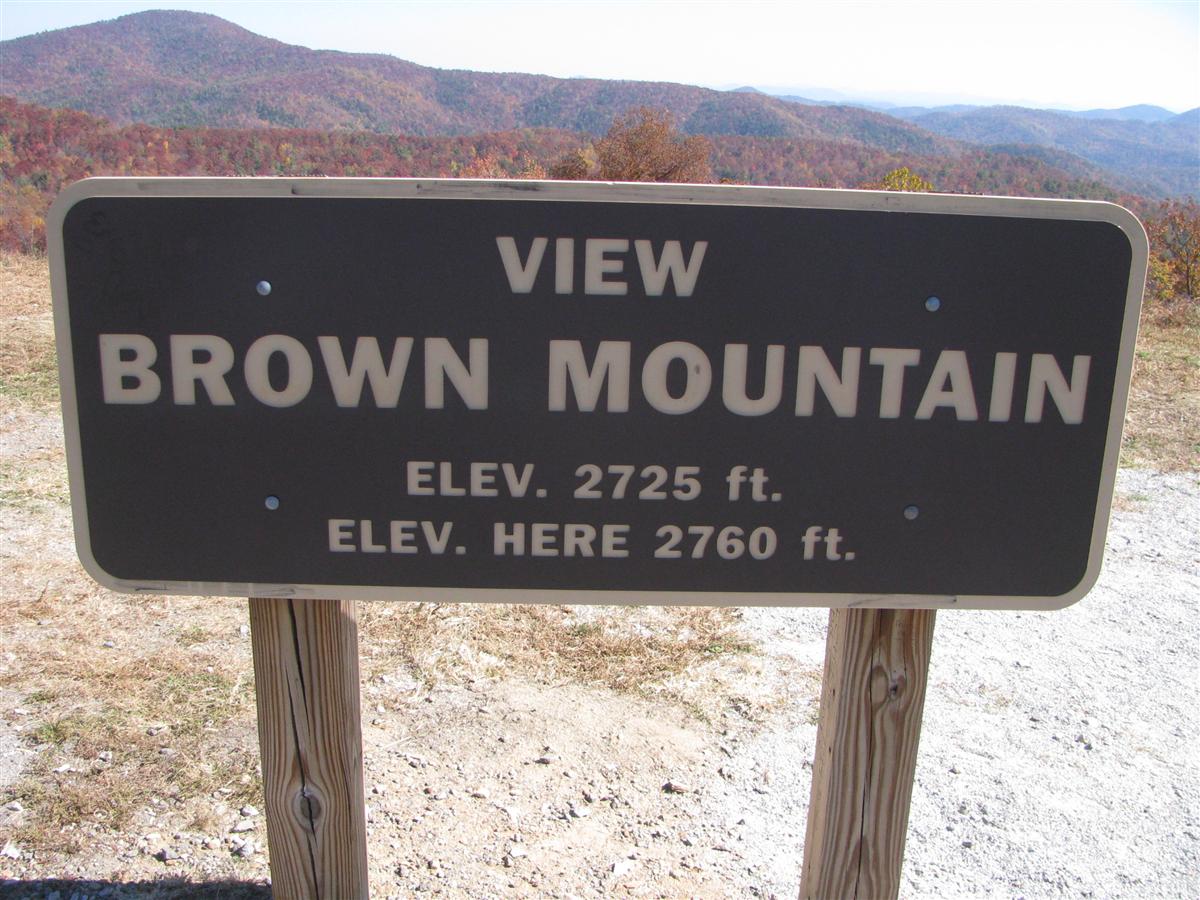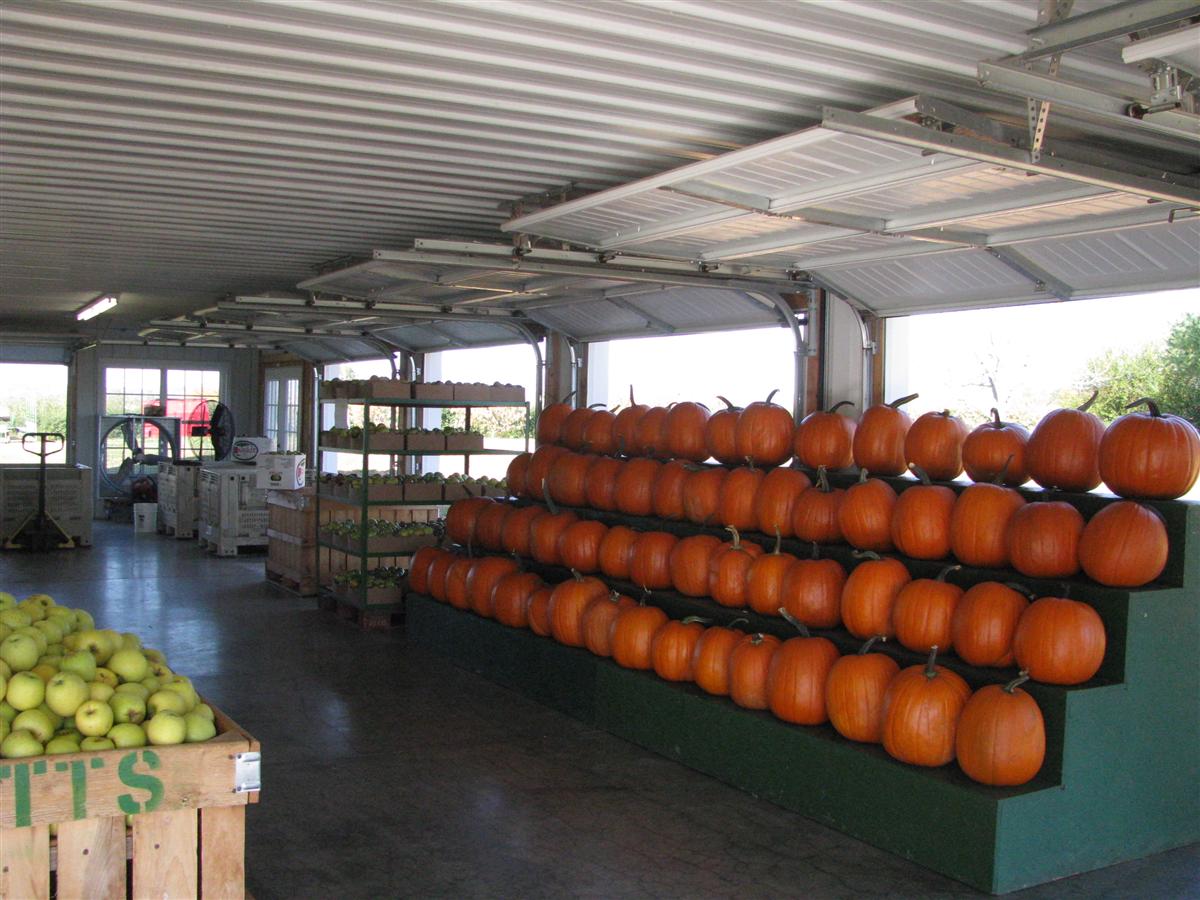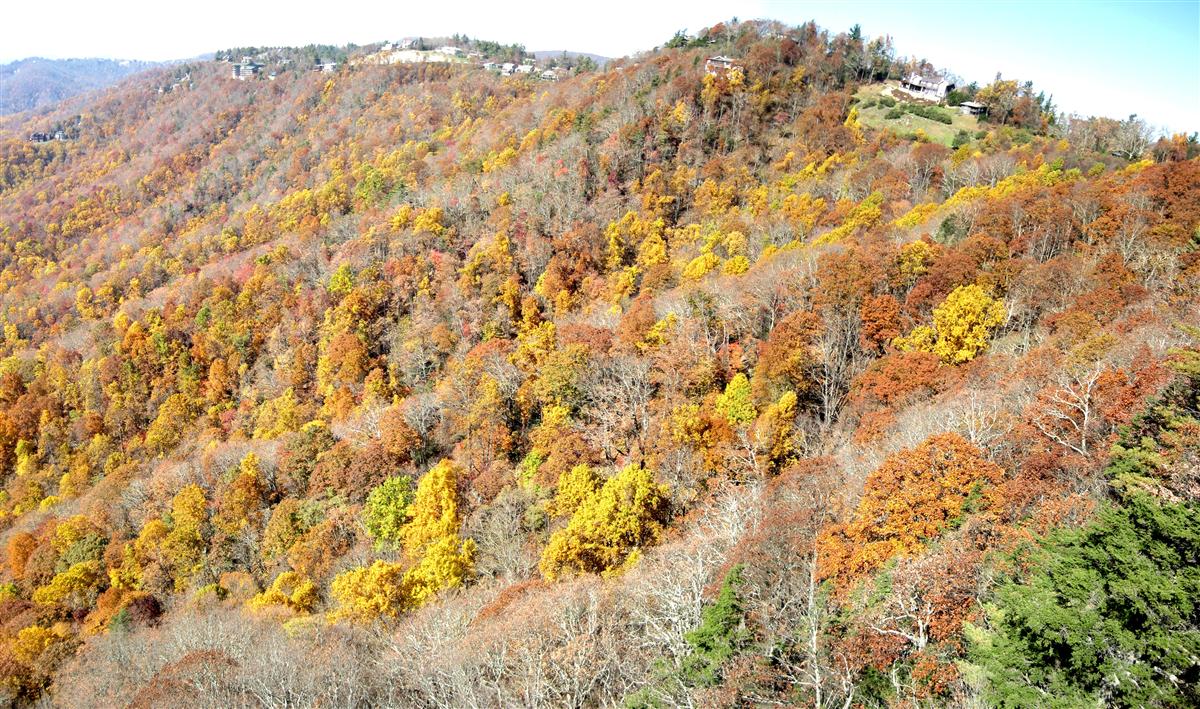 Here we were definitely in the hills of western NC and it was the perfect time to see the fall colors.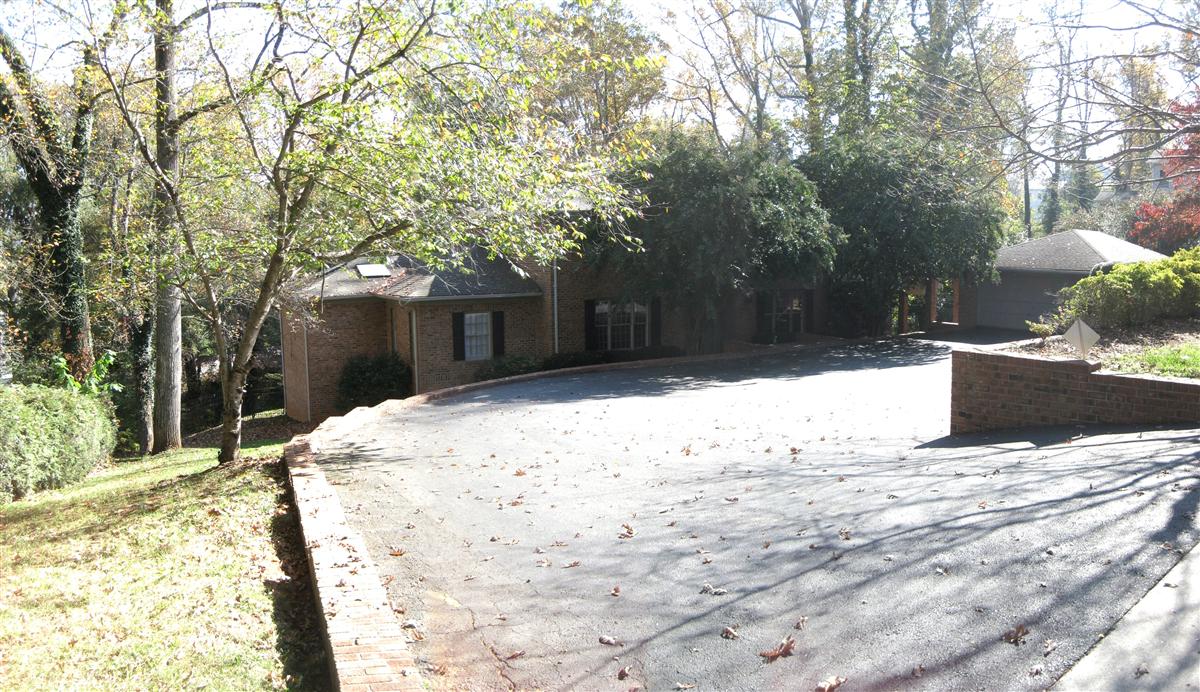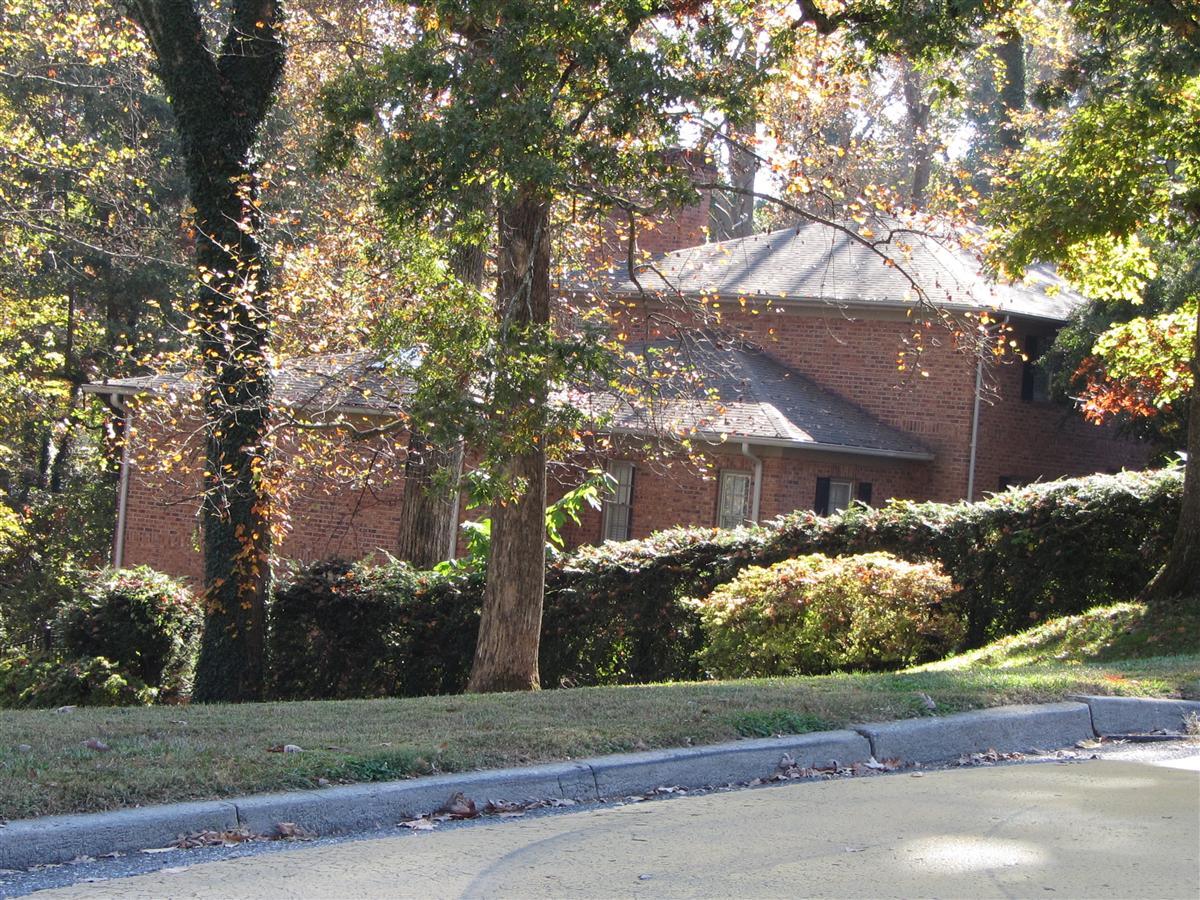 John and Jill's house when they lived in Morganton some years ago. It's for sale.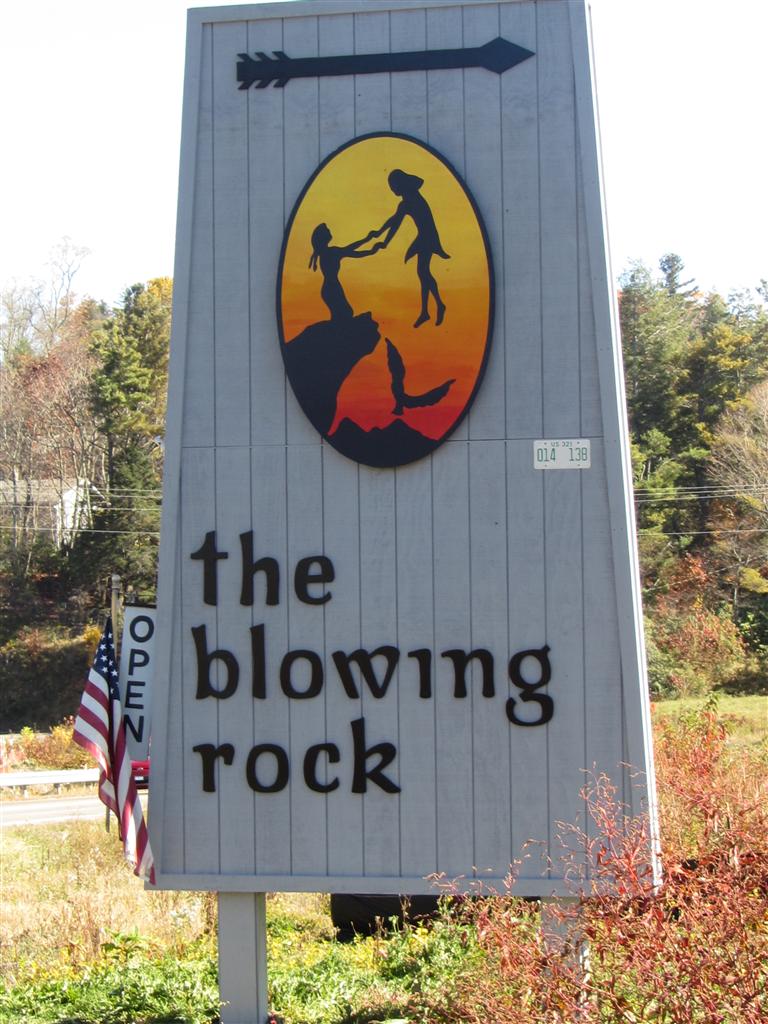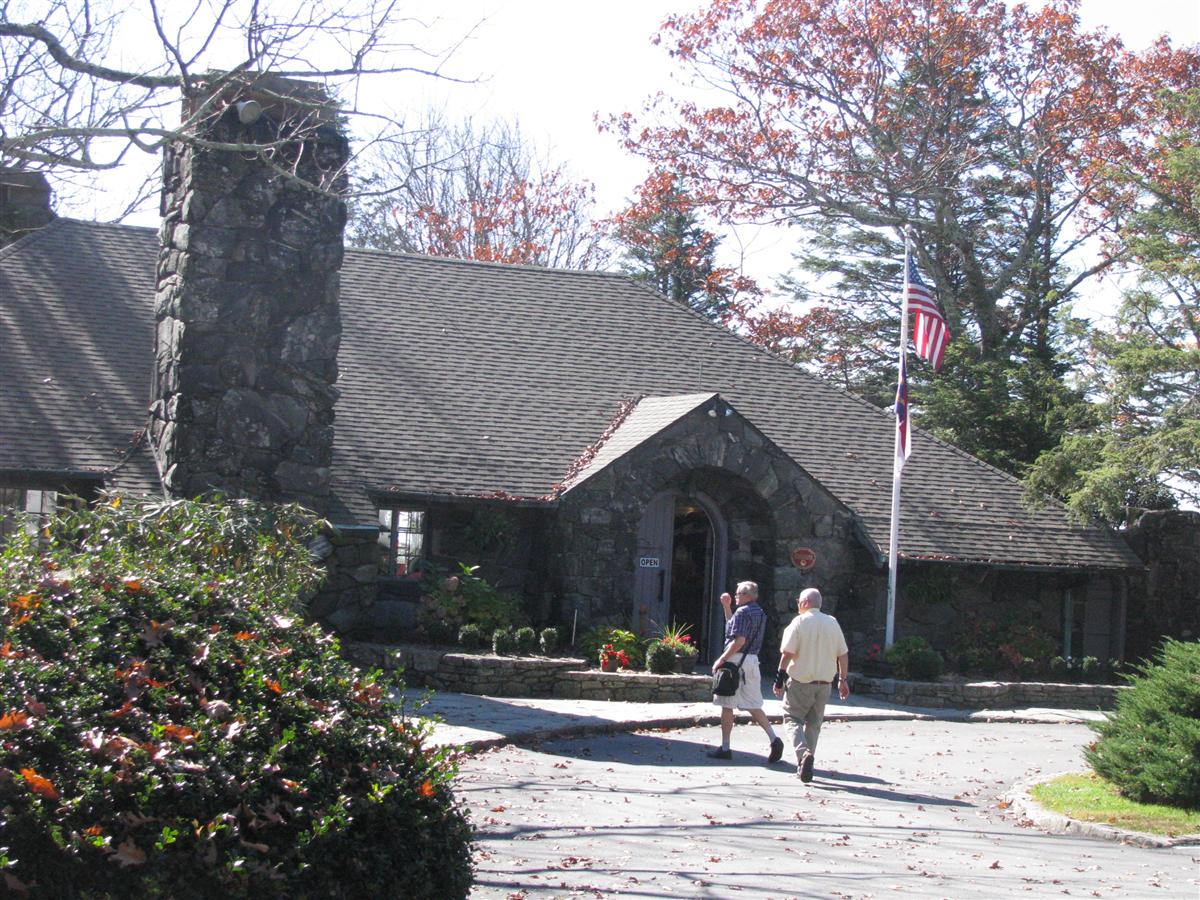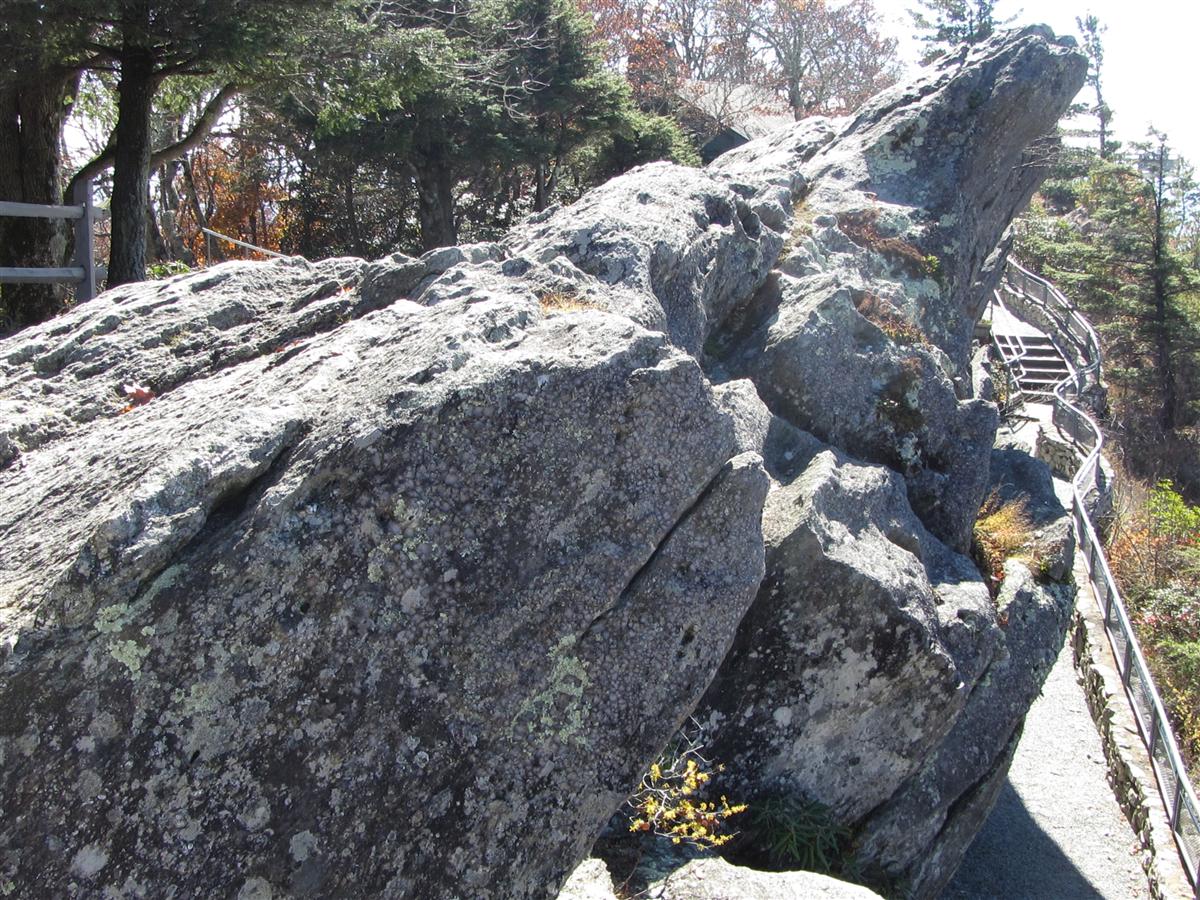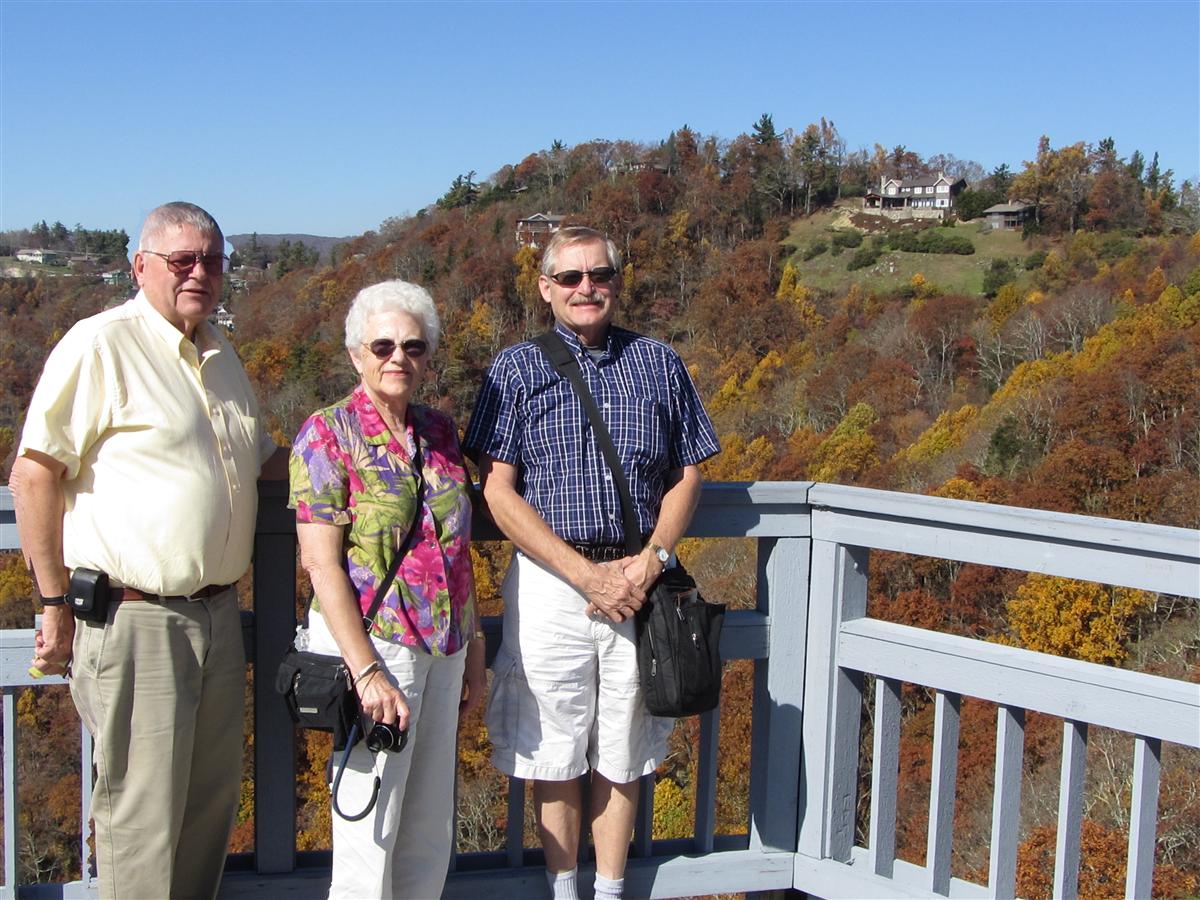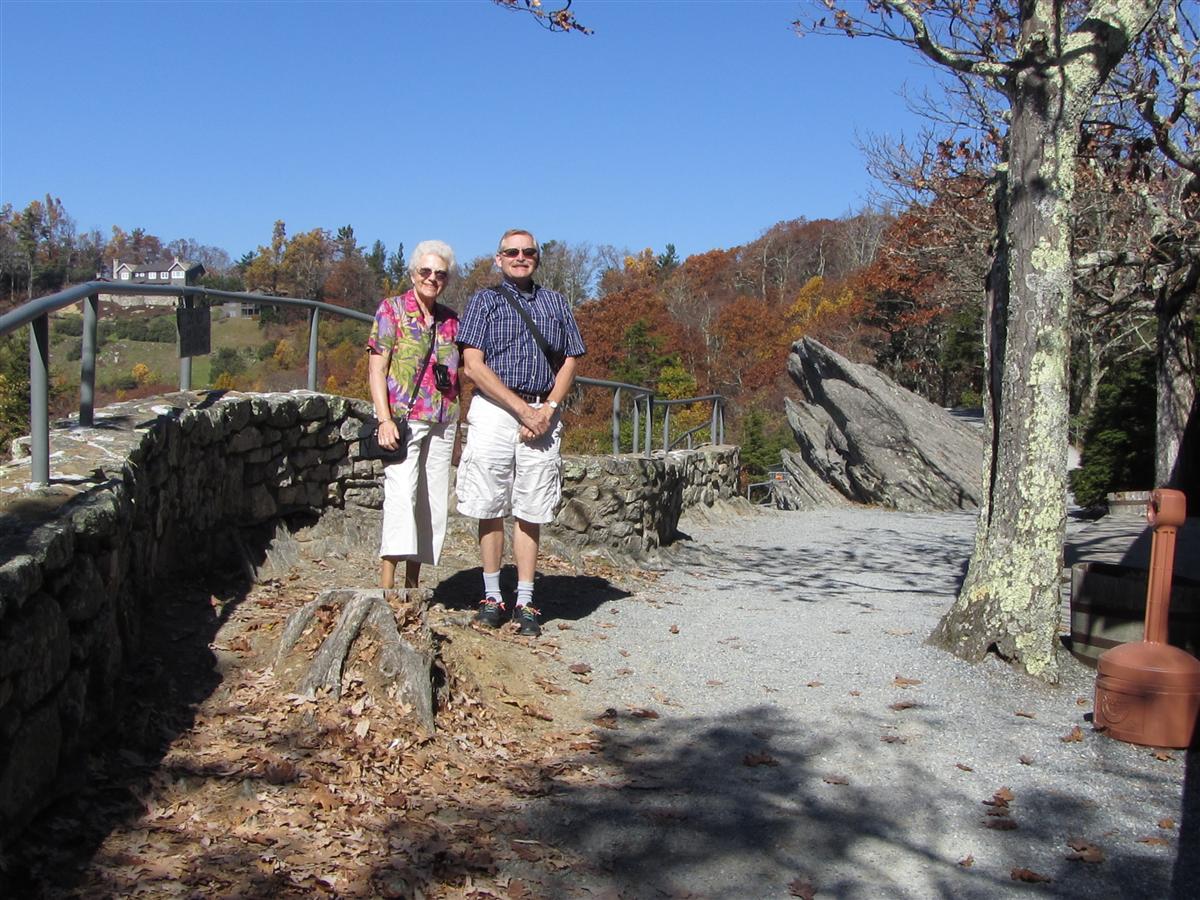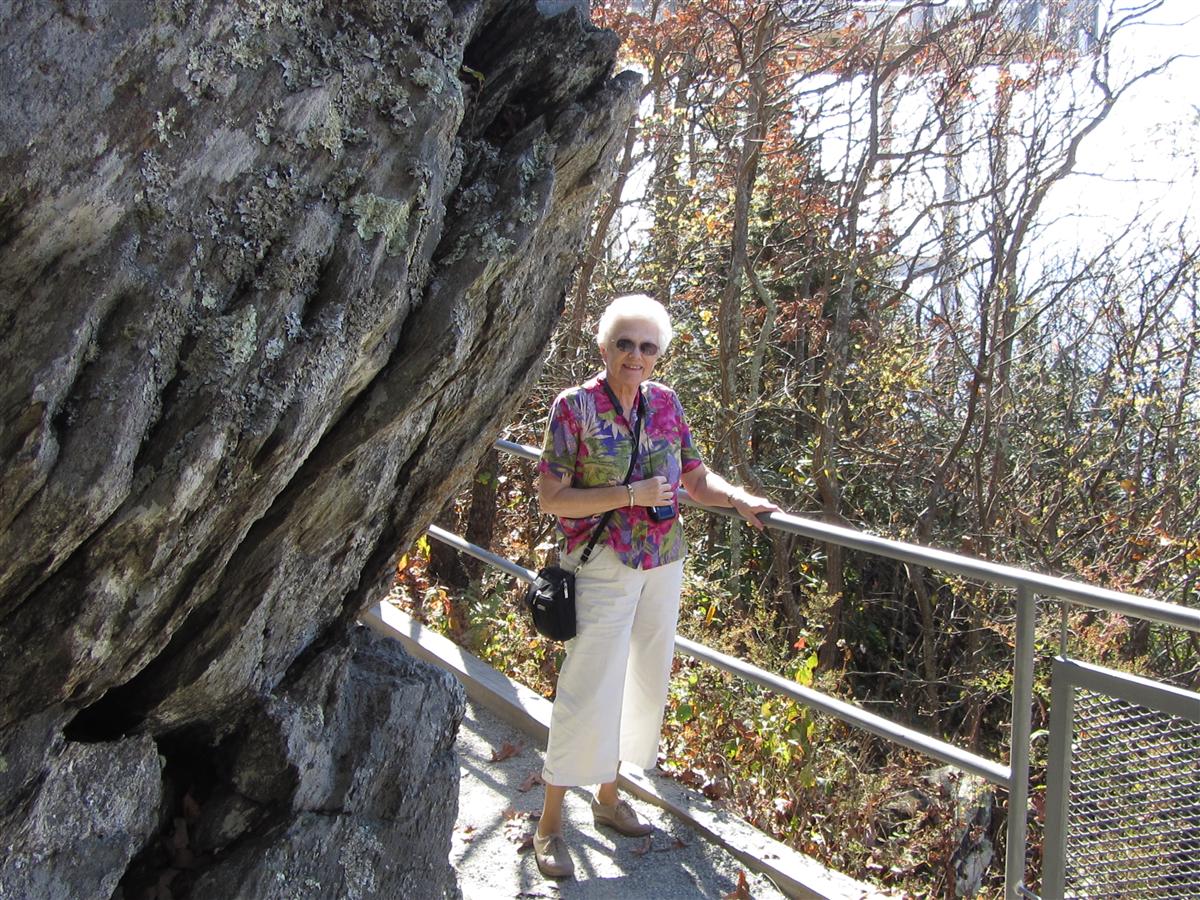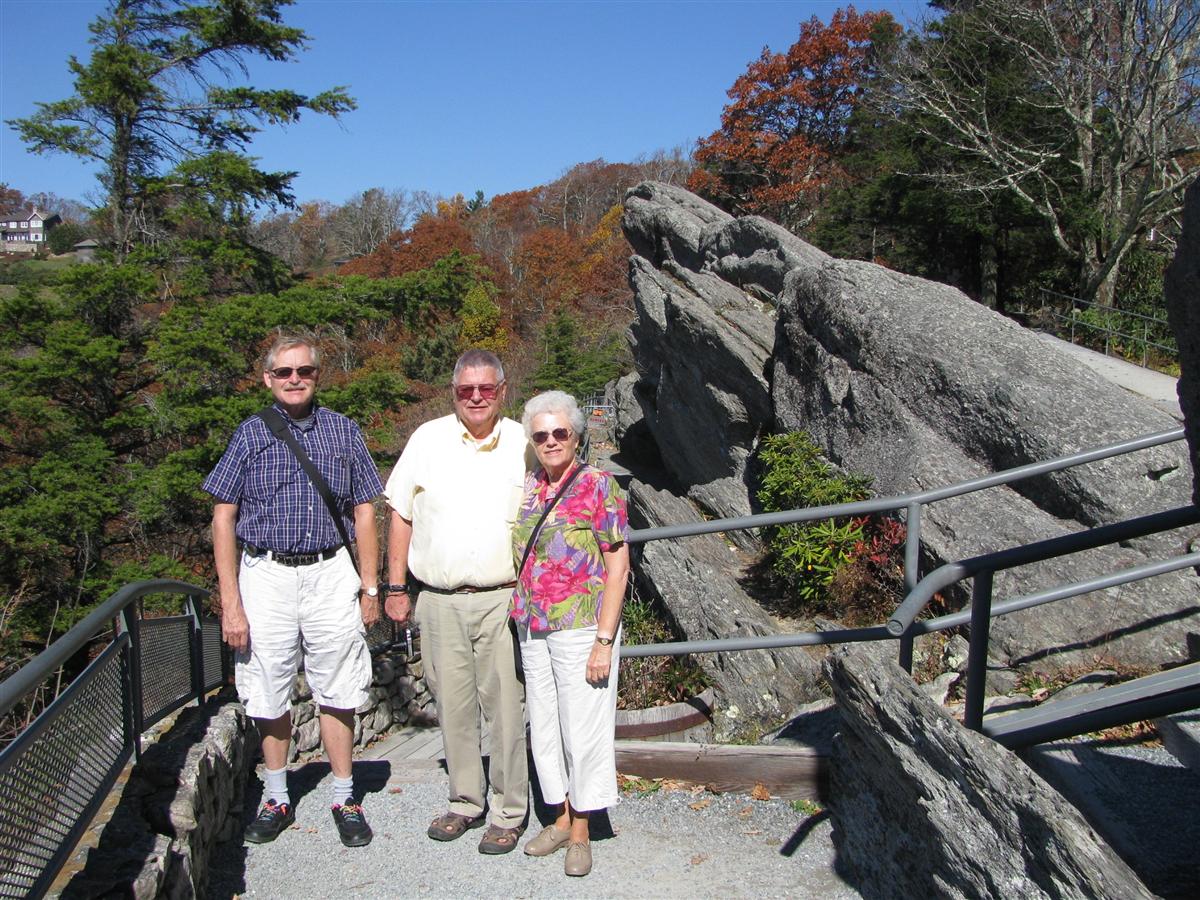 We decided we had plenty of time to drive up around Hickory on to the Blue Ridge Parkway where you can look down on the Great Smoky Mountains. No commercial traffic is allowed on the parkway and it goes almost all the way along the western edge of NC and Virginia. Speed limit is 45 with lots of turnouts to see the vistas. We left it at Blowing Rock (these slanted rock formations), which is also a charming town at about 4000 feet—a definite tourist destination with skiing in the winter.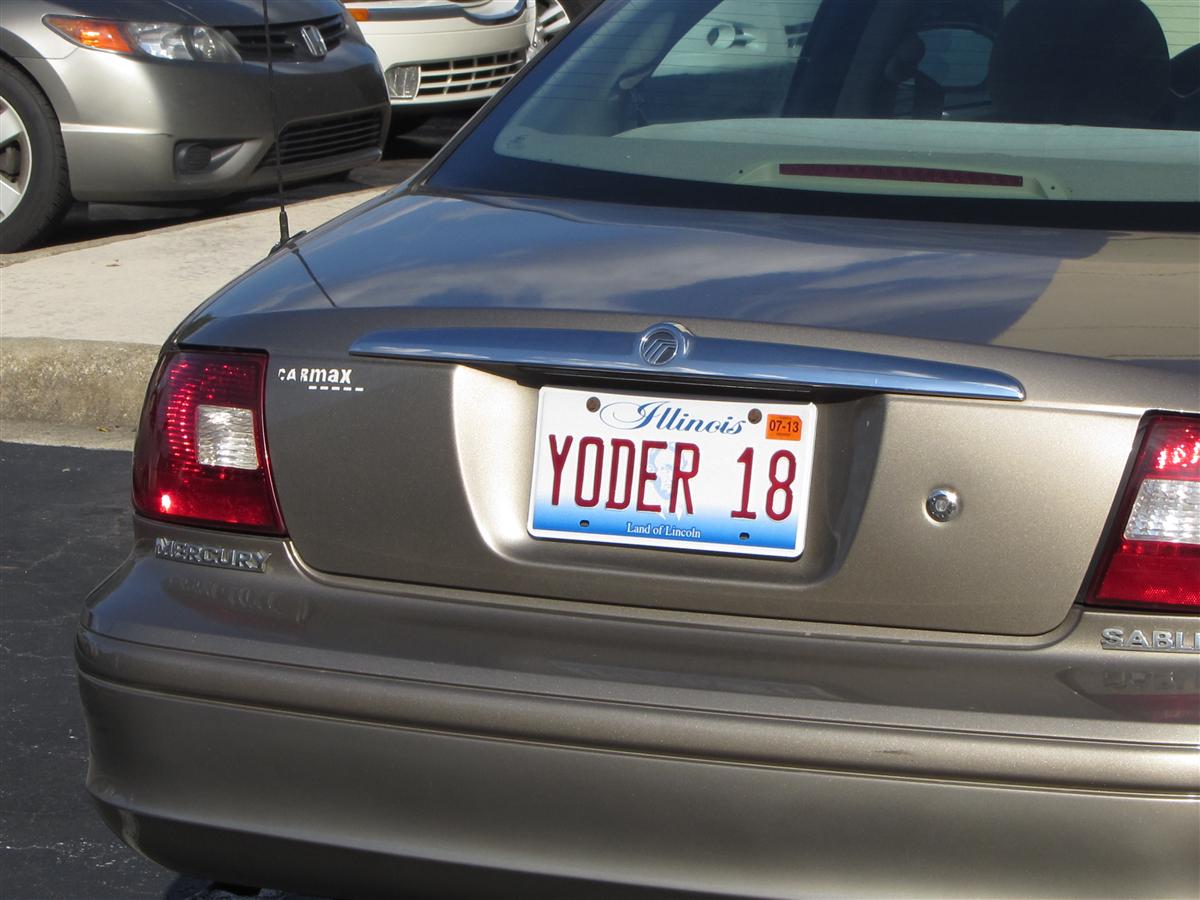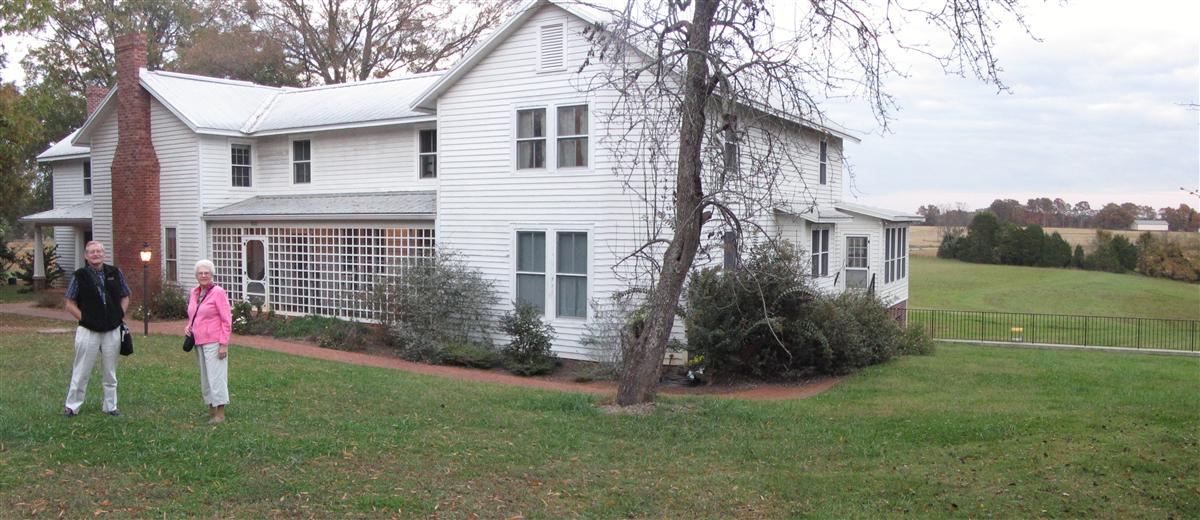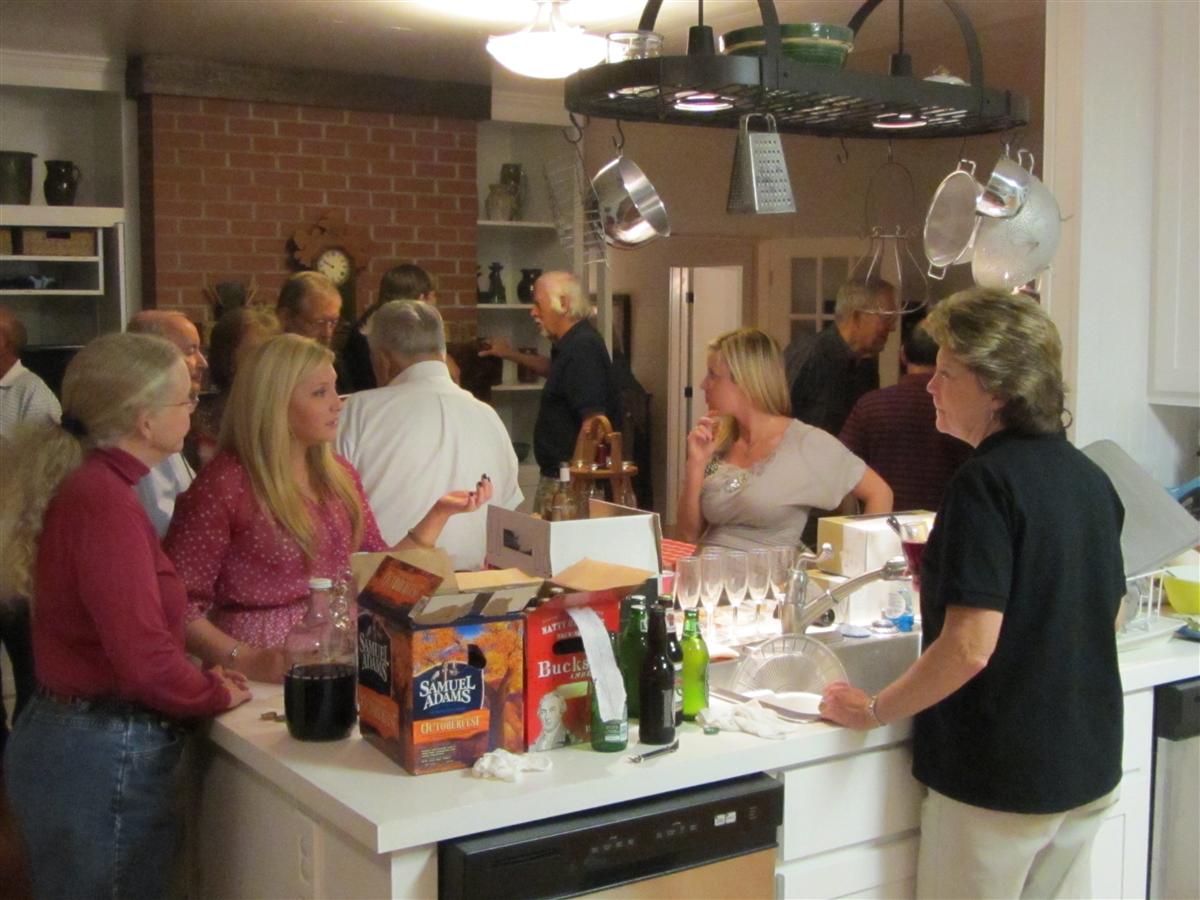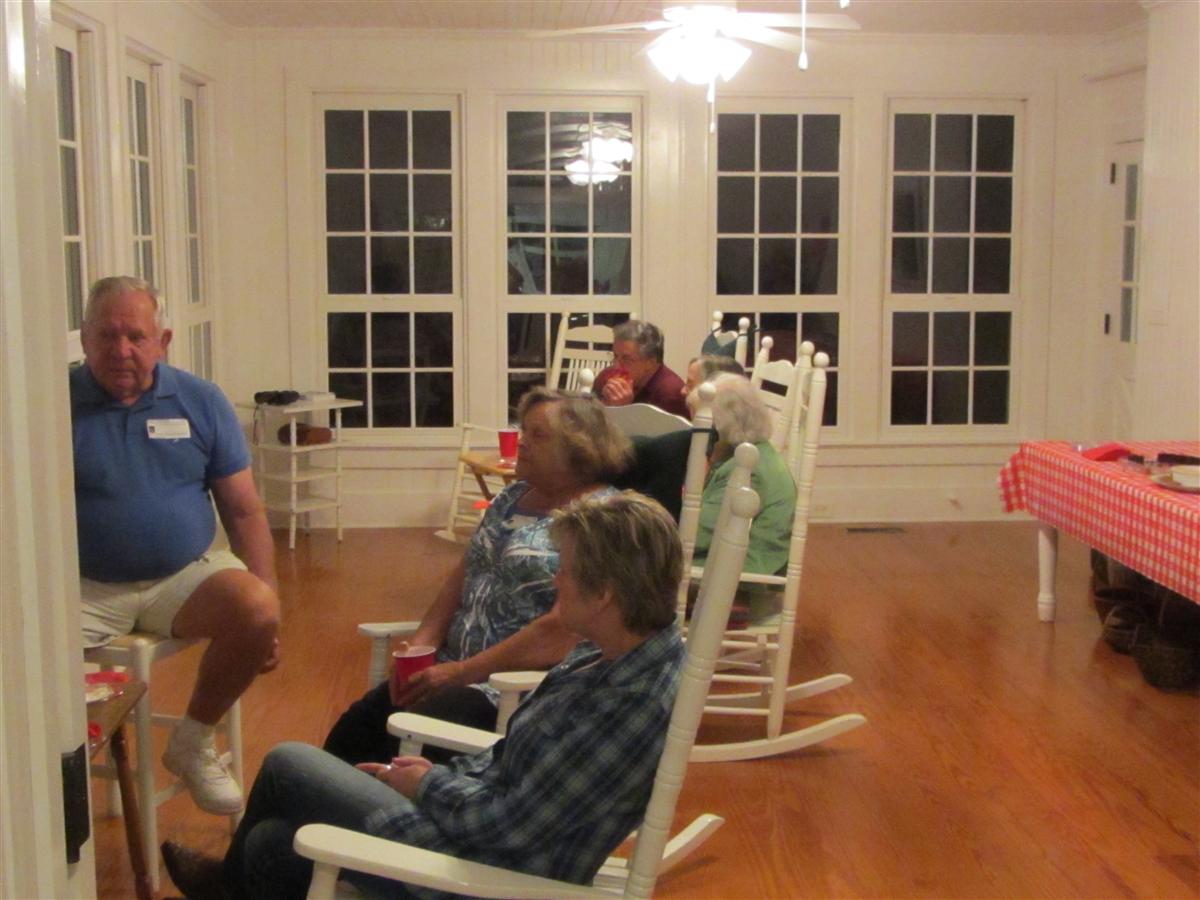 We knew we were in the right place for the National Yoder Reunion when we saw this car's license plates. We learned later that each of her children's cars have their own Yoder number. The 4 day event began with an evening reception hosted by the Rev. Dr. Larry and Marianne Yoder at their restored farmhouse a few miles out of town. It is on land that has been in the Yoder family since 1832. He is a Lutheran minister and professor at Lenoir-Rhyne University in town.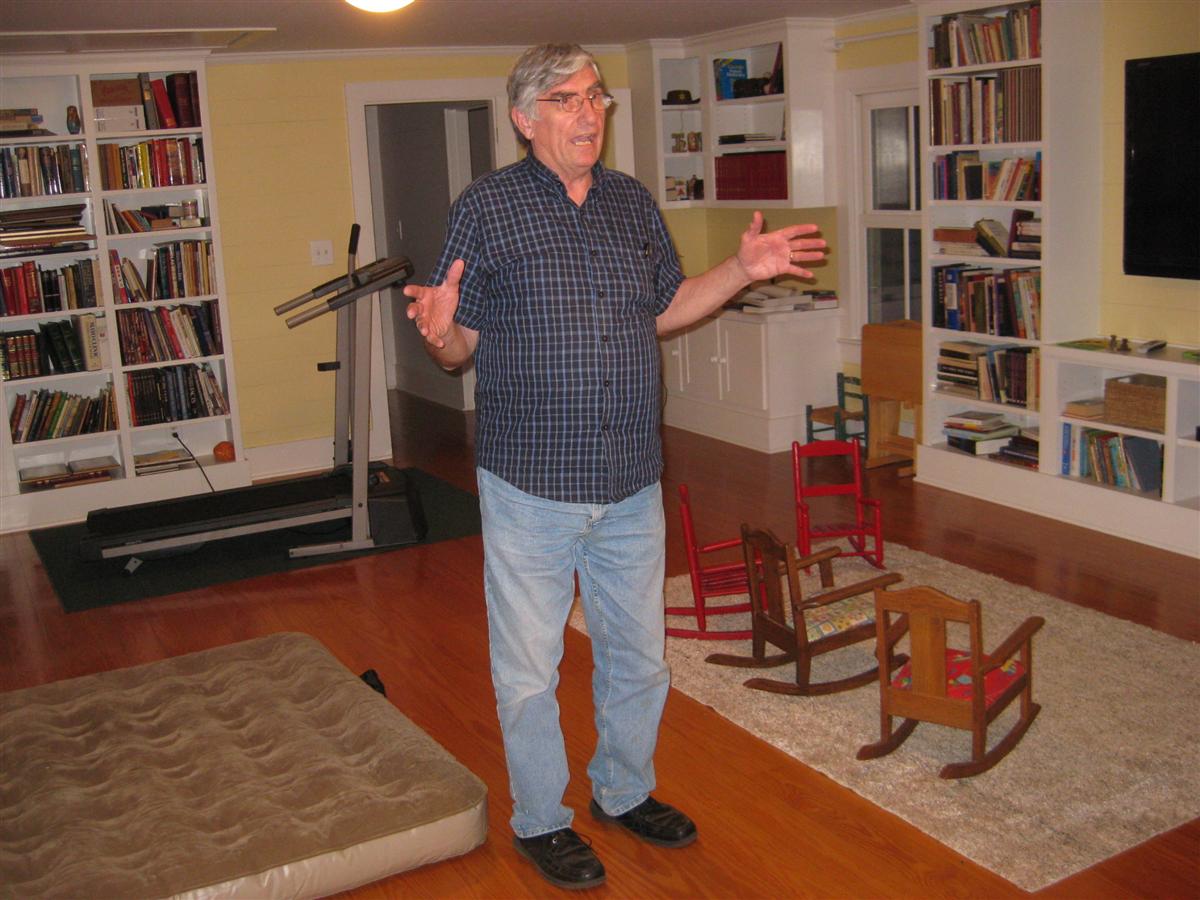 Larry Yoder gave us a tour of their home. The Yoder's in North Carolina were not Amish-Mennonite and descend from one of the earlier immigrants to America, Conrad Yoder.
When people ask who we are descended from, it usually suffices to say "We are from the Amish Mennonites", particularly the widow Barbara Yoder, who came to America with her husband who died on the way and her brother-in-law, Christian to Philadelphia in 1742 on the ship called the "Francis Elizabeth."
October 26, 2012 Yoder Reunion - Hickory NC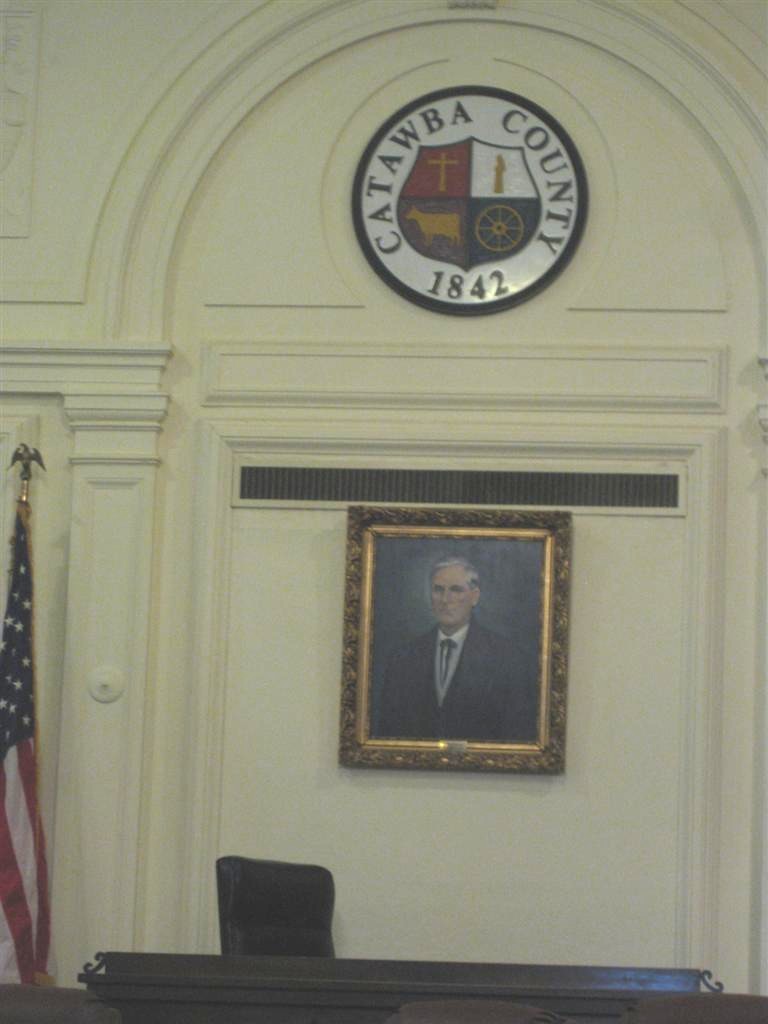 The Newton Historical Museum is located in the old court house of Catawba County. This is where the first day activities of the "2012 Yoder National Reunion in the South" took place. We heard from Yoder educators and historians about the roots of the family and how and where they immigrated (from Steffisberg, Switzerland)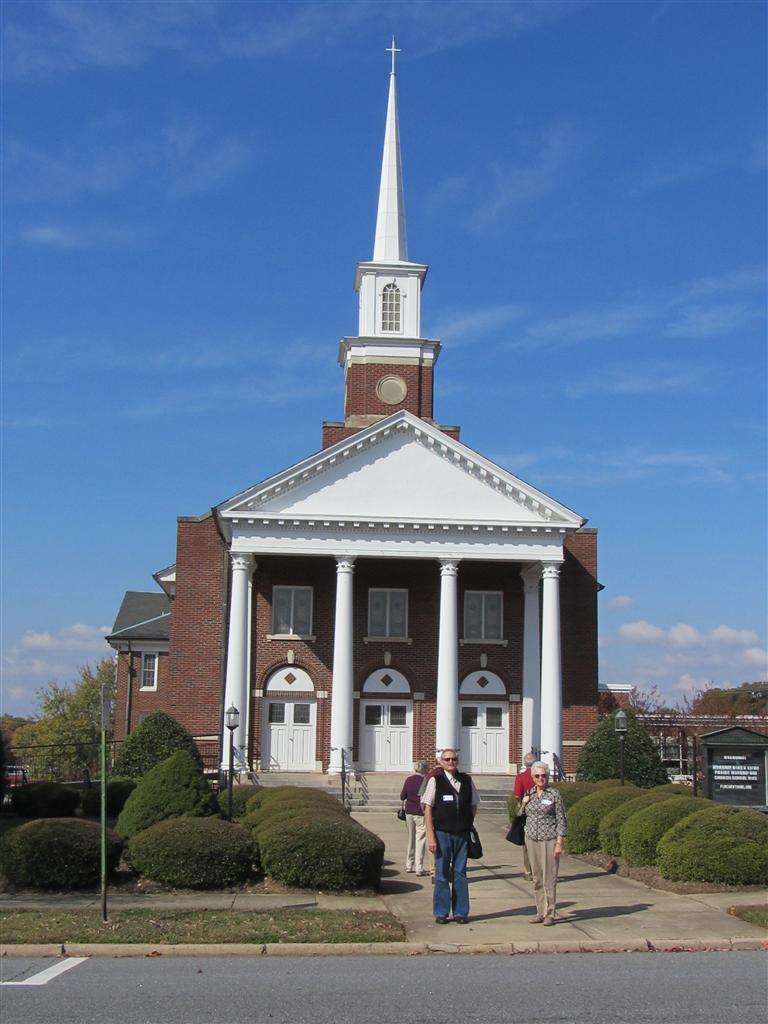 First Methodist Church - site of first "Yoder Reunion" meal.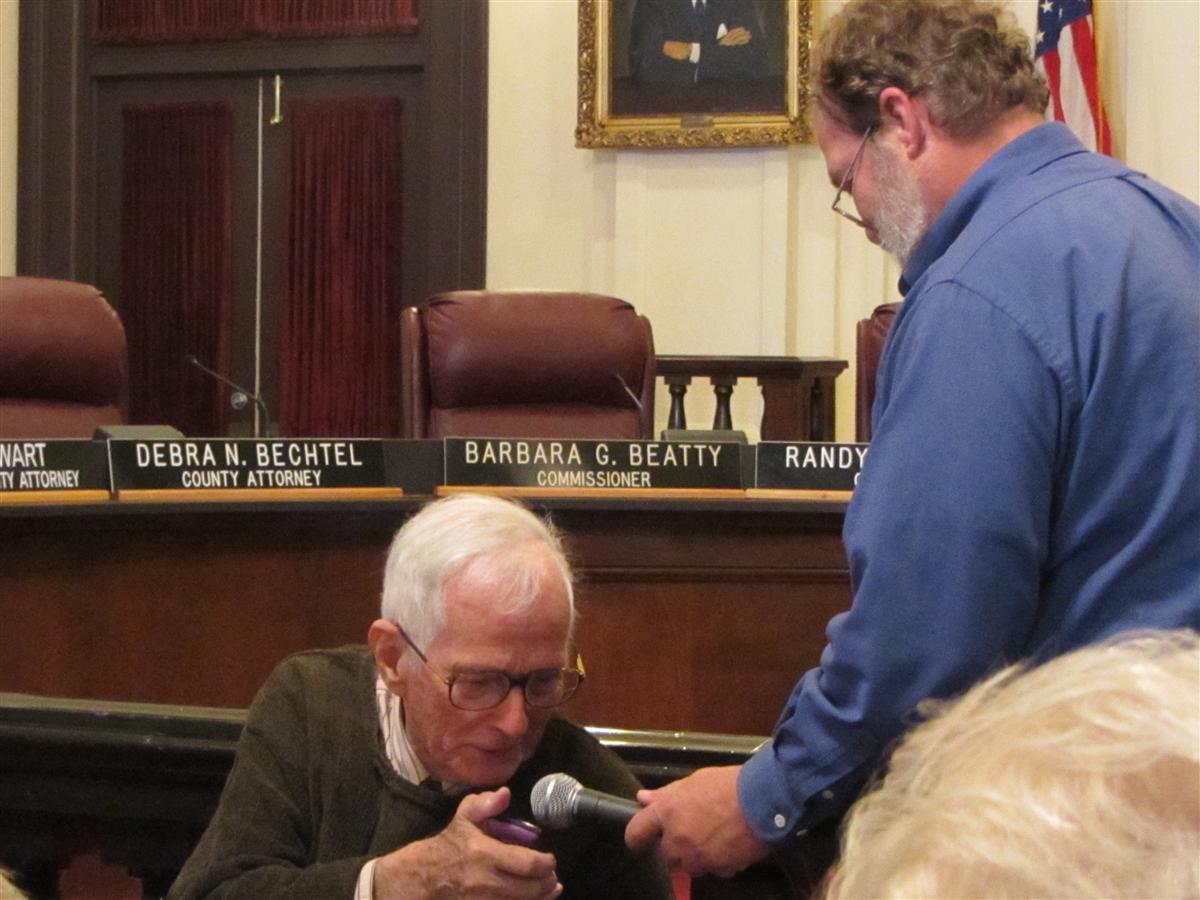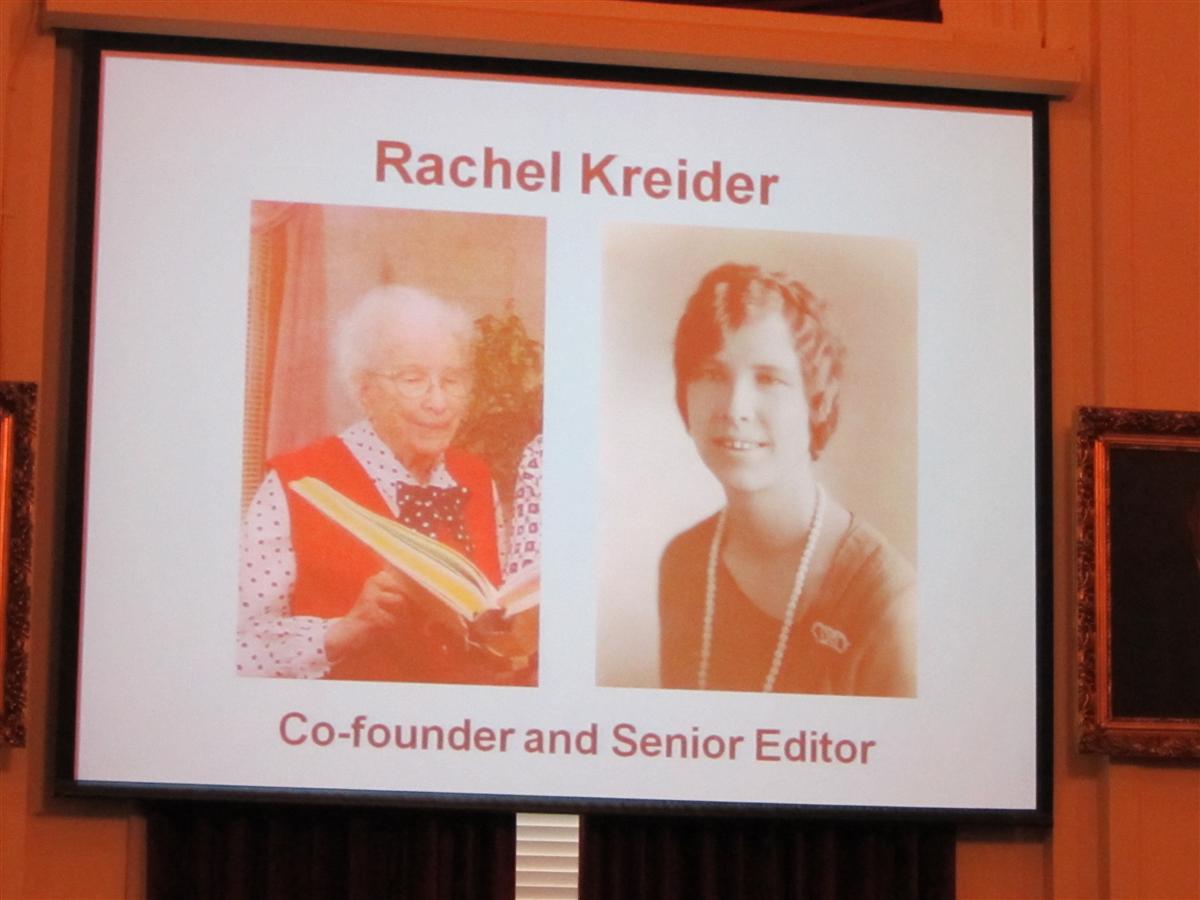 Chris Yoder (editor of the Yoder Newsletter) and Dr. Don Yoder (professor emeritus) talk via phone to 103 year old Rachel Kreider senior editor of the newsletter.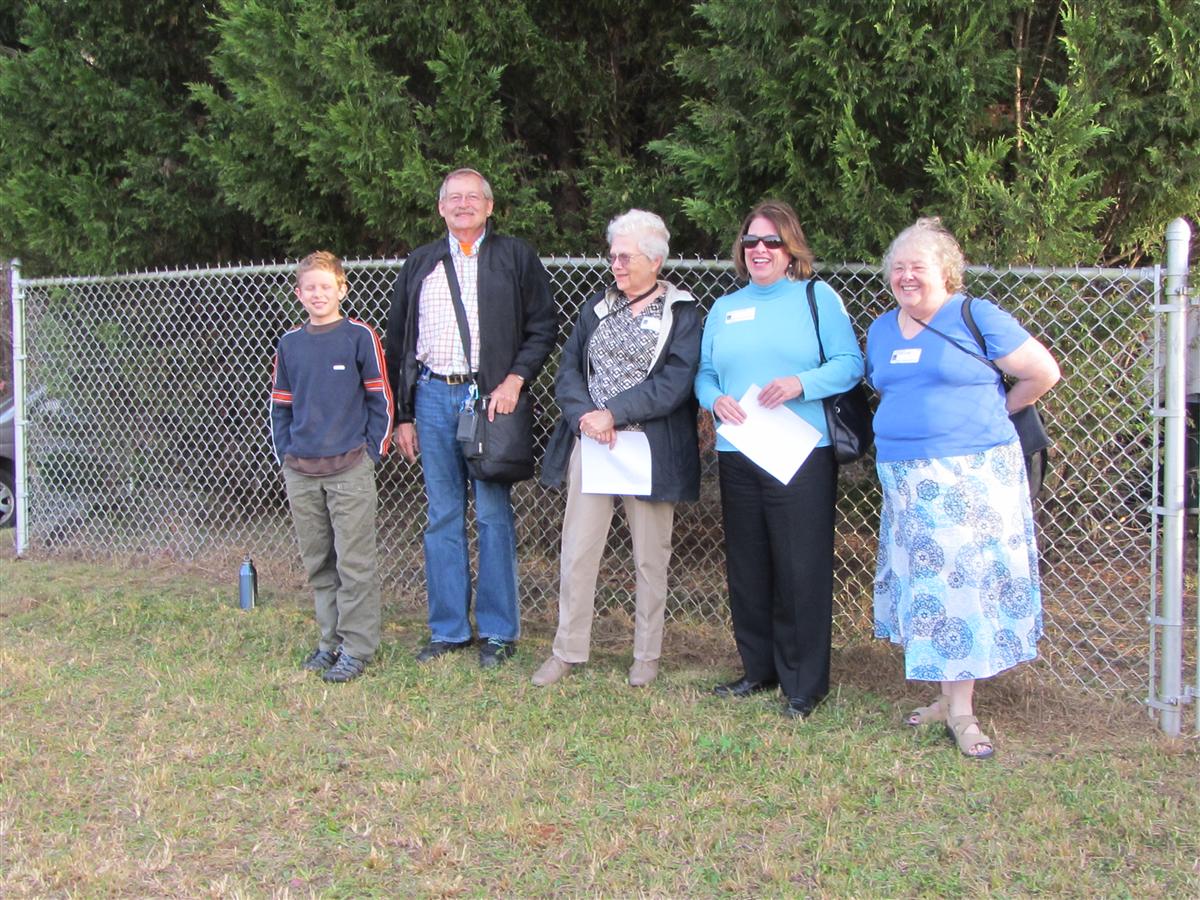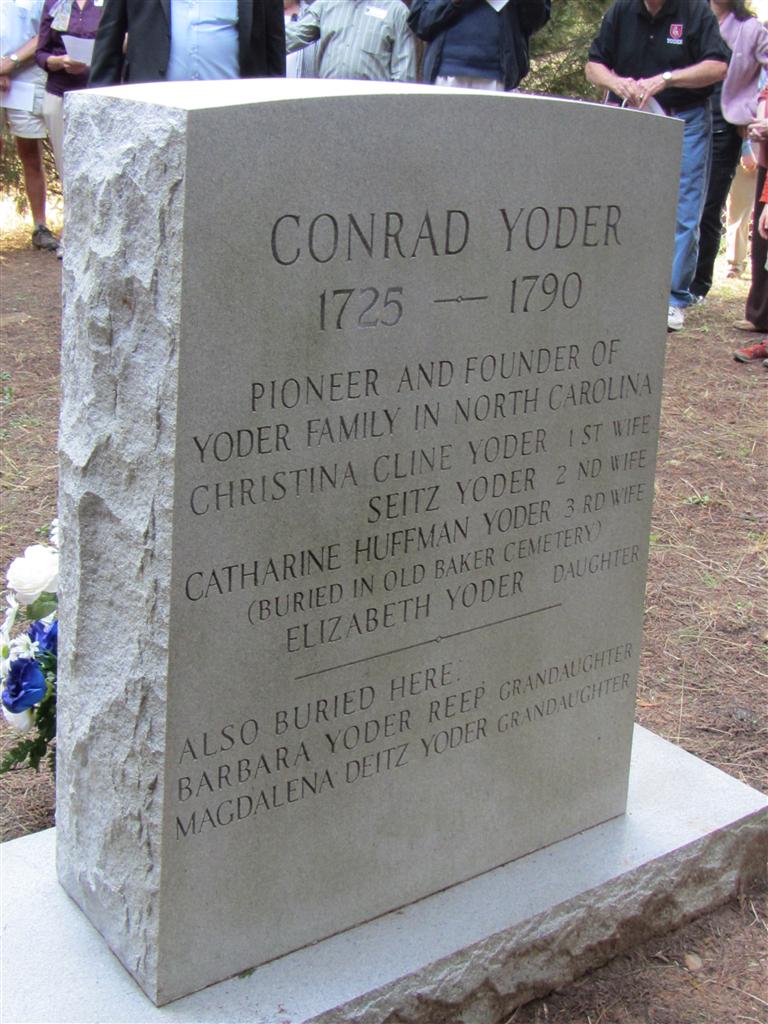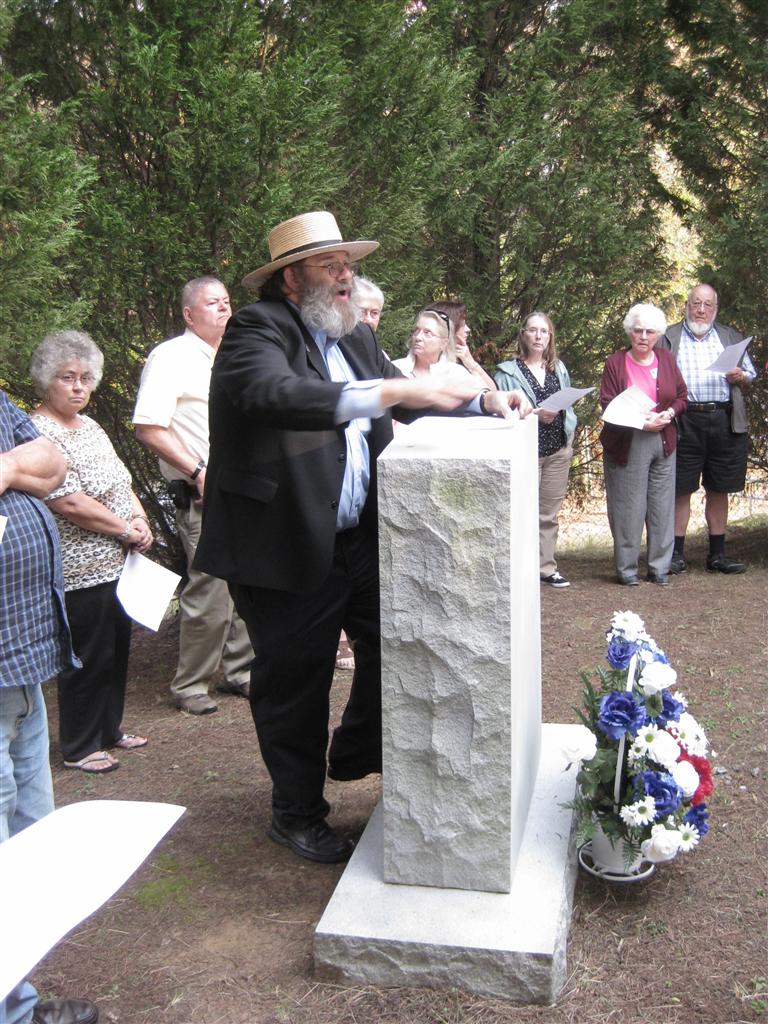 Ted Yoder led Memorial services at the Conrad Yoder stone ... a private cemetery near Newton, NC. They believe that perhaps 10 Yoders were buried there.


At Conrad Yoder Cemetery. Conrad was the first Yoder who cames down to North Carolina from Pennsylvania


Vista from near the Conrad Yoder Cemebery.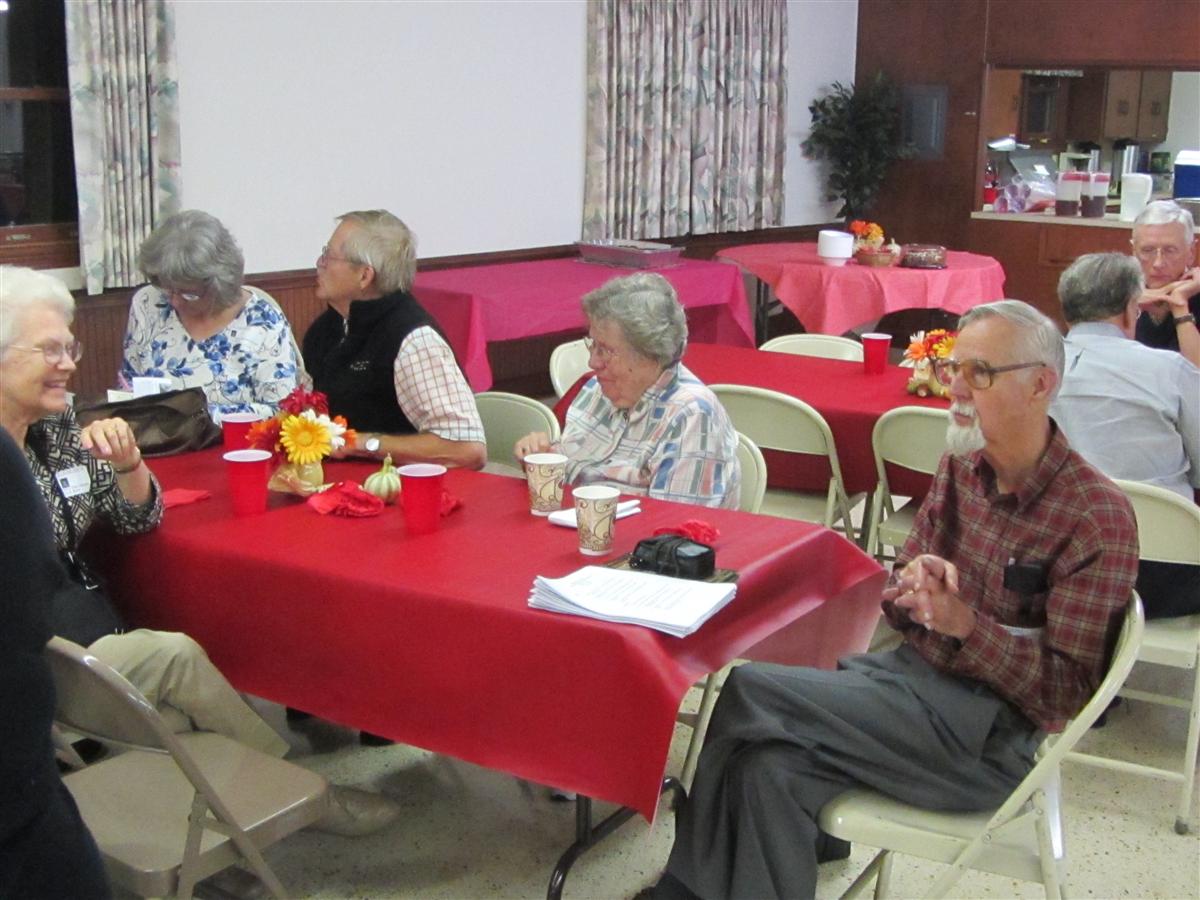 Scenes from that evening's dinner at the social hall of Grace Lutheran Church (which Dr. Rev Larry Yoder is minister.)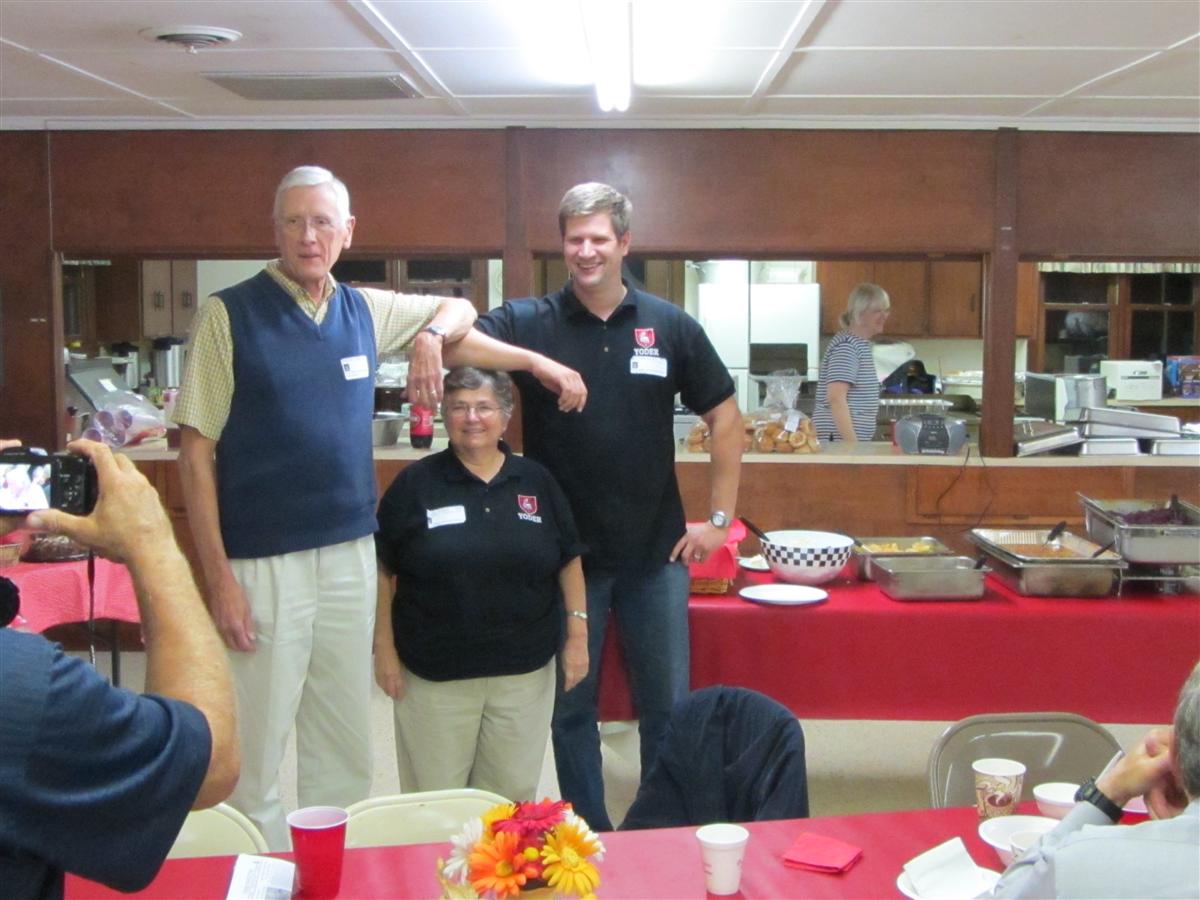 The "Tall" and "Short" of the Yoders!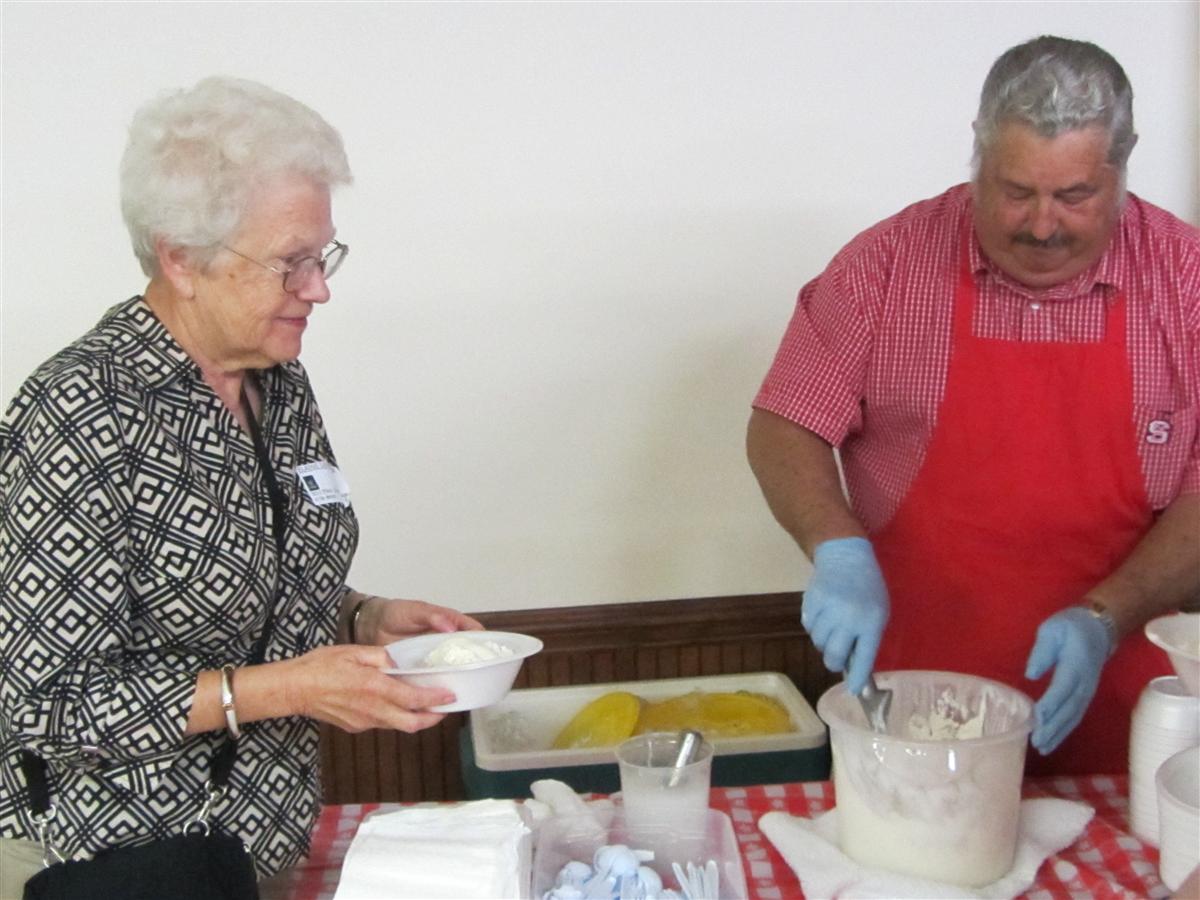 Ice cream served at the evening barbeque of "brats"
Click Here to read about the last Saturday's trip to Hart Square - a once-a-year pioneer village experience.